Overview
When this magnificent city was rediscovered, nobody visited because we already had Machu Picchu. A historian guessed that it was the Golden City, and later Choquequirao was proven to be the last refuge before the Peruvian coast.
The location of the city is close to the gods (sky, sun, moon, star, and mountain). This spectacular trek will lead you to the enigmatic last refuge of the Incas. Choquequirao (3103 MASL – 10178 FASL) is a huge archaeological complex still in a cleaning and restoration process located in the surroundings of the sacred Salkantay mountain (6271 MASL – 20569 FASL) and the Apurimac River canyon. You will enjoy amazing mountain scenery as well as lots of Andean flora and fauna.
At a glance
DAY 1: Cusco | Cachora – Chiquisqa
DAY 2: Chiquisqa | Playa Rosalina – Santa Rosa – Maranpata
DAY 3: Maranpata | Choquequirao – Chiquisca
DAY 4: Chiquisqa | Capuliyoc – Cachora – Cusco
Trekking Map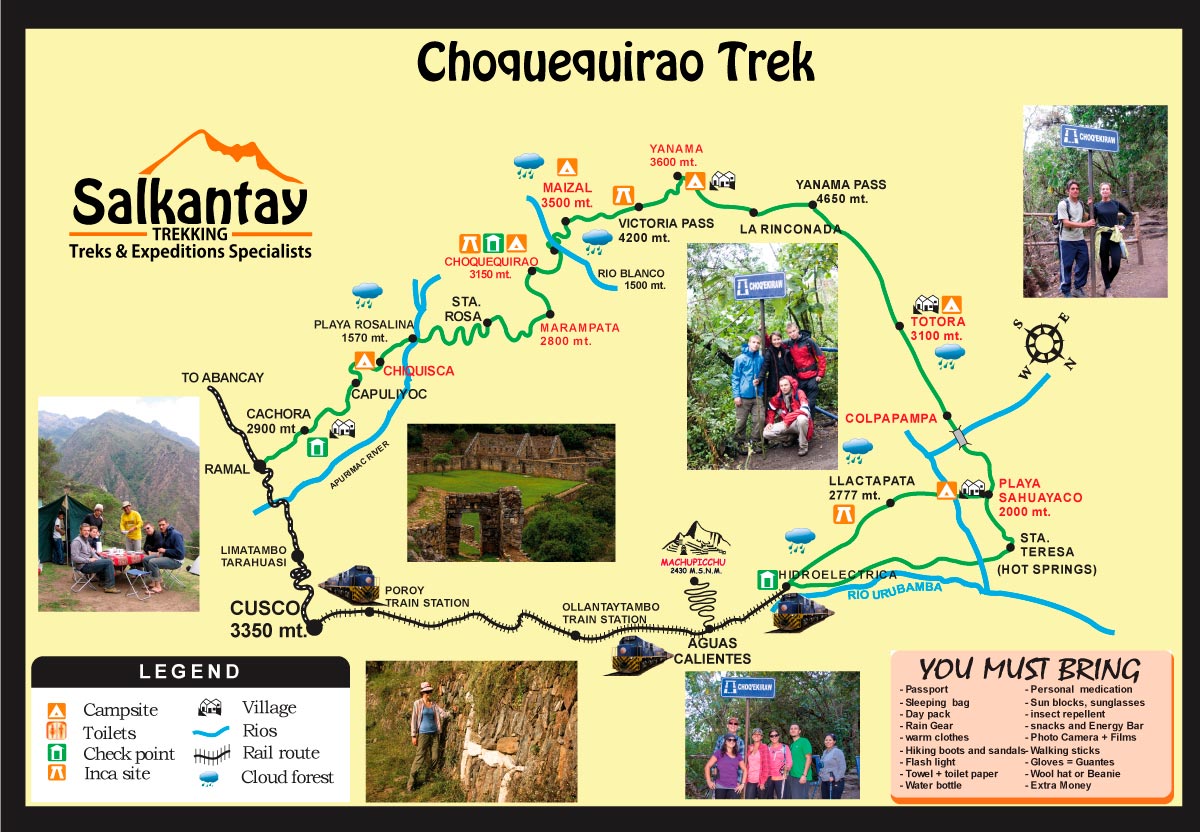 Itinerary
Full Itinerary
Cusco | Cachora – Chiquisqa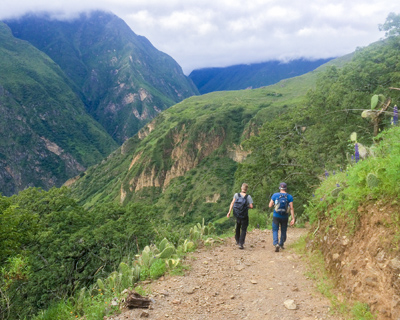 Before first daylight the day of your trek, we jump in the car to travel to where the adventure begins! Breakfast will be in your hotel at around 5 AM. Don't forget any of your gear as we then start our journey to the village of Cachora, about a 5-hour drive from Cusco to the trail head. During this morning drive, we will first move toward the Cunyac Bridge between the departments of Cusco and Apurimac. Next, we will travel through the district of Curahuasi and the Saywite Andean Comunity, then arriving at Cachora (2800 MASL – 9186 FASL) at approximately 10 AM. Here, we will meet with our horsemen and other staff will begin our trek! We will walk for about 2 hours along sloping paths leading down to the pass of Capuliyoc (2915 MASL – 9563 FASL). Here, we will have an energizing lunch with our first views of the Apurimac valley stretching below and the snow-capped peaks of Padrayoc and Wayna Cachora. From Capuliyoc, we will have the first view of Choquequirao from far away. Then, we will then descend toward Coca Masana (2330 MASL – 7644 FASL) where the climate becomes noticeably warmer and the flora and fauna begin to change. Finally, we arrive at Chiquiskä at 1900 MASL – 6233 FASL, closer to the Apurimac River, where we will set up camp and spend the night in tents. In this camping area, we will find humble huts where people from Cachora live offering refreshing soda to the trekkers.
Distance: 18 km/11.2 miles
Climate: Warm
Chiquisqa | Playa Rosalina – Santa Rosa – Maranpata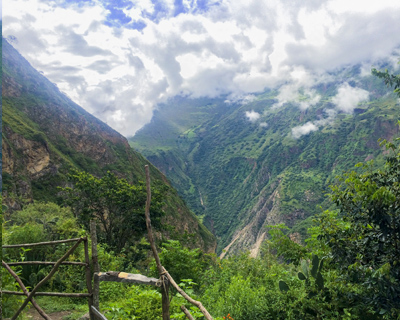 Today will be full of adrenaline as we climb up to the ancient city! At the top are the highest views of the landscape. After breakfast around 6:00 AM, we will continue our trek. We will walk for about an hour downhill to cross the Apurimac River in the cable car, just for some more fun! Then, we will start trekking uphill toward Santa Rosa (2115 MASL – 6938 FASL) where we will rest after the hard climb. This stretch is the hardest, and it will take three hours. When we are ready, we will continue up to Maranpata (2850 MASL – 9350 FASL), a bit easier of a climb. During our journey, we will observe various types of Andean vegetation that exist in the area. When we will arrive at Maranpata beside the Chunchumayo River, we will have lunch and take another rest around 2 PM. Along the way, we will observe many orchids and wild flowers as well as different types of birds. In this same spot, we will again find small huts, and next to them we will make our camp.
Distance: 17 km/10.6 miles
Climate: Warm
Maranpata | Choquequirao – Chiquisca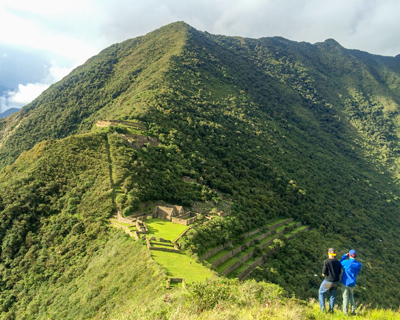 Waking up in the middle of the Andes is one of the delights of spending these days as a trekker! It is an amazing experience! Breakfast will be ready early, around 6:00 AM, and afterward we will walk from Maranpata to Choquequirao (3035 MASL – 9957 FASL); a 2-hour hike. The wildlife in Choquequirao is already active by sunrise and will fill you with a deep joy! We will arrive at the archaeological site in time to enjoy the impressive views of the deep canyons and maybe even have the opportunity to see a Condor flying nearby. We will walk around the archaeological complex once we arrive. Your guide and his knowledge of this important and mystic Incan town will make you feel as though you have travelled through time! Around 3 PM, we head to Maranpata to have lunch and rest with the magnificent view. Soon we start the descent into the forest back along the same trail to the cable car crossing. Our base camp for the night is called Chiquisca.
Distance: 22 km/13.7 miles
Climate: Warm day and cold at night
Chiquisqa | Capuliyoc – Cachora – Cusco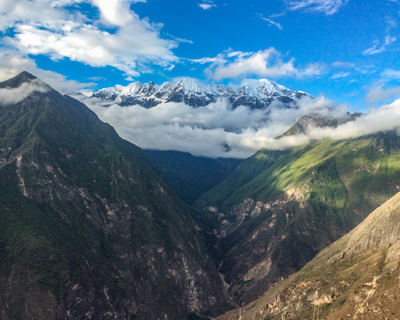 The last Andean breakfast is the biggest and most special with the noise of the river hanging in the background. We spend most of the day heading back to the beginning of the trail. We will return along the same route to Cachora (2800 MASL – 9186 FASL). During our journey, we will observe the exotic flora and fauna as well as sights of the majestic snow-capped peaks and the impressive canyon of the Apurimac. After we get to Capuliyoc where the climbing path finishes, we will have lunch. We have our final view of the apurimac valley and Choquequirao from here. It will take us another four hours to get the village of Cachora at around 3pm. In the afternoon, we will drive a car back to Cusco (approx. 5 hours). Arriving around 8 PM, trekkers will be dropped off at their hotels.
Distance: 17 km/10.6 miles
Climate: Warm
Included
What is Included?
Pick-up from your hotel in the morning
Transportation by private bus to the start of the trail (Cachora)
Professional, bilingual guide (English/Spanish)
Igloo tents - 2 people each
Double thickness foam camping mattress
Kitchen tent, Dining tent, Camp tables and chairs
First Aid Kit including emergency oxygen bottle
Choquequirao Inca Site entrance fee
Hot water every morning and evening for washing (while hiking)
Chef and equipment
Excellent Meals (3 breakfasts, 4  lunches, 3 dinners, 4 snacks)
Food includes: pancakes, omelets, soups, fresh fruit, avocado, pasta, chicken, fish, beef/pork, rice, all rich in carbohydrates and protein, definitely suitable for trekking. Also included: hot drinks including coca leaf tea which is excellent for the altitude.
We supply boiled water (safe for drinking) to fill your water bottle at any time (while hiking) and if you may need more, please request it ahead of time.
Tea time the first three days (tea, coffee, biscuits, popcorn)
Cargo mules days 1-4 (for equipment and trekkers' personal items including your main heavy items; you only carry a small day bag with necessary items during the day)
Private bus returning from Cachora to Cusco
Drop-off at your hotel
Not Included:
Sleeping bag
Trekking poles
Inflatable mattress
What to bring:
Backpack with rain cover
Sleeping bag
Clothing for warm and cold climate (waterproof jacket in rainy season)
Rain pants and lightweight pants
Trekking shoes
Slippers or sandals (for showers and campsite)
Wool or synthetic socks and a sweater
Long- and short-sleeved polos/t-shirts
Rain poncho, winter hat, ballcap
Sunscreen, insect repellent, hand sanitizer, water bottle and sterilizing tablets, toiletries and toilet paper, Ziploc bag to store toilet paper if not near a toilet
Camera (wrapped in plastic bag), flash light, and batteries
Some snacks like chocolate bars and dry fruit
Extra money in soles (s/200.00 soles)
Since the weather can be very cold and moist, your clothes - once gotten wet – will not dry at night; pack clothes to change out.
+ Info
Important information for the Choquequirao Trek
Please read carefully the following information – it will help you with any questions you may have about our services.
IS IT FOR ME?
The Salkantay Trek to Machu Picchu is a great alternative for the Inca Trail trek and better suited for more adventurous trekkers who are able to handle higher altitude and longer distances. Ascending to reach the famous Apacheta Pass at 4650 MASL - 15088 FASL is not too strenuous since it is at the beginning of the trek, neither is it very steep, but it does require stamina and a little time in Cusco to acclimatize to the altitude before beginning the trek.
THE BRIEFING
This meeting will take place the night before the trek's departure at 6 PM at our office which is located at Triunfo Street 392, Office 212 (second floor). We are 1 block from the Main Square (Plaza de Armas) of Cusco.
WHAT ABOUT THE BALANCE?
It would be greatly appreciated if you pay in cash at our office (US dollars or Peruvian soles) here in Cusco. We have many cash machines in the historical center to withdraw money. You can also pay by VISA or PAYPAL online but you will have to pay a 8% service charge, charged by VISA and PAYPAL. To pay your balance through PAYPAL, you need to log into your PAYPAL account using our email address of ventas@salkantaytrekking.com
DUFFEL BAG FOR Classic Choquequirao Trek 4 Days
The evening before you start your trek, you will be given a SMALL DUFFLE BAG to pack your clothes for the next four days. Your weight allowance is up to 7 kg/15.4 lbs. Our horseman will carry your duffle bag for you together with the food and camping gear. It is important to be aware that you will not have access to your items in the duffle bag until the end of each day as the horsemen and horses will always be ahead of the group. During the travel, you need a day backpack big enough to carry your personal belongings such as a warm jacket, raincoat, camera, sunscreen, snacks, water, etc. Usually, a 30 to 50 litre backpack is sufficient.
CAN I STORE MY LUGGAGE AT YOUR OFFICE?
Of course! During the travel, your main luggage can be stored at our office or at your hotel, both free of charge.
HOW TO BOOK THE Classic Choquequirao Trek 4 Days
FIRST To make a booking, please email us to check availability and receive customized booking forms. You can also download a generic form from:
All clients will need to fill out a Passenger Details form.
Please be ready with the following information (FROM EACH PARTICIPANT in your group). We cannot purchase any Classic Choquequirao Trek 4 Days permits or entrance tickets without the following information:
Personal information (Full name, exactly as on your passport):
Gender
Passport number
Date of birth (dd / mm / yyyy)
Nationality
Hiking Team
Price
2020 LAND COST
FROM
$420
PER PERSON
Book Now
Please complete the form below to request a reservation. One of our Trip Coordinators will contact you, often within two business hours, to confirm availability of the trip and/or provide you with other options. Once availability is established, we will ask for a deposit and a completed online registration to confirm your spot on the trek. Please call us at (+51) 958191179 with any questions or to confirm availability over the phone.
"Thank you for considering Salkantay Trekking, unfortunately, due to the rainy season and trail maintenance, we will be closed from the 31st of January till the 29st of February. We apologize for any inconvenience this may cause you, we are working to provide you a better service!"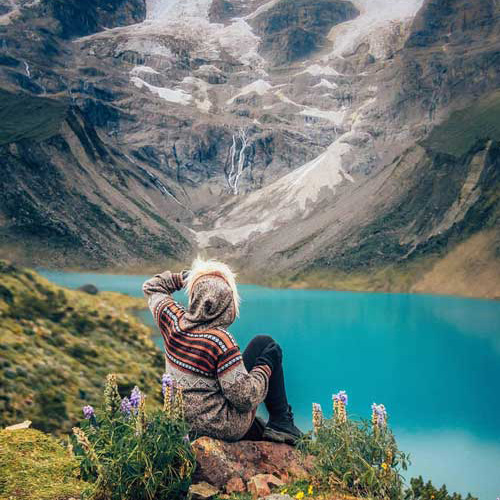 Privacy Policy:
The Salkantay Trekking Company will never share, sell, or make public any of your personal contact information to third parties.
THANK YOU SO MUCH FOR CHOOSING SALKANTAY TREKKING!!