Our Meals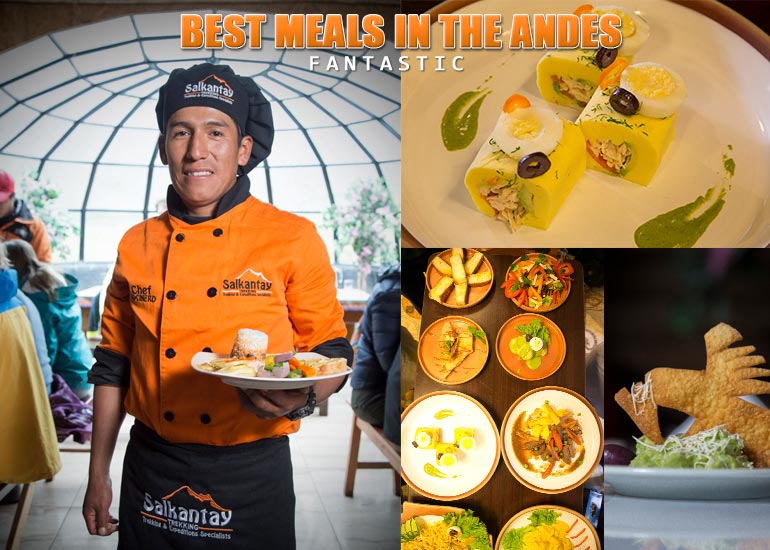 The food is one of the most important things on the trek, we bring balance and nutritive food along the trail, most of our meals are buffet with a lot varieties of the local dishes to make special and unforgettable trips, who are the responsible on the food preparing are expert mountaineers cooks, some of our customers rates the meals provide on the mountain is much better meals of the traditionalist restaurants, the snacks for all our treks until the last dinner.
The food quality provided by Salkantay Trekking during the treks – are prepared by the Andean professionals chefs in a small tent on a small stove adapting to the area and trip conditions? Check out our reviews and you will see that our trekkers say it is excellent! The entire cook staffs are trained on the chef school as well by the travel agency to make tasted and delicious food, the best consistent breakfasts because are the base meal of the day to start a good journey on the day, lunches, dinners and snacks – all served with a smile! delicious buffet dinner that will undoubtedly exceed all your expectations.
All food is prepared from fresh ingredients purchased in the Cusco local market and transported by the mules, then prepared by the chef. No canned or rehydrated food here! All fresh, healthy and delicious!
Special dietary needs? No problem! We cater to vegetarians, vegans and all food allergies.
How about water? We take water tap each group bring water filter and boil mostly for each meal. There is a lot of water provided during our food hot and cold, well if you looking to get water during the day trek you can buy along the route, kindly small shop with varieties of drinks and snack.
Coca tea is very helpful on the mountain mostly prevent altitude sickness as well is a stimulate for the hiking time and some infusion tea.
"BEST MEALS IN THE ANDES"
MEALS ON THE TREK