Exclusive
& Private Campsites
Salkantay Trekking has created the most amazing exclusive campsites for our trekkers to relax in after a long day on the trails. On the Salkantay route, you'll stay in our Sky Camp under the stars, our Andean Huts in Chaullay, and our Jungle Domes in the middle of nature in the jungle.
On other routes, you'll find we have private campsites away from other groups and in some instances, homestays with local families for a truly unique experience.
You don't need to worry about being surrounded by other large groups and can enjoy the peace and quiet of our exclusive sites.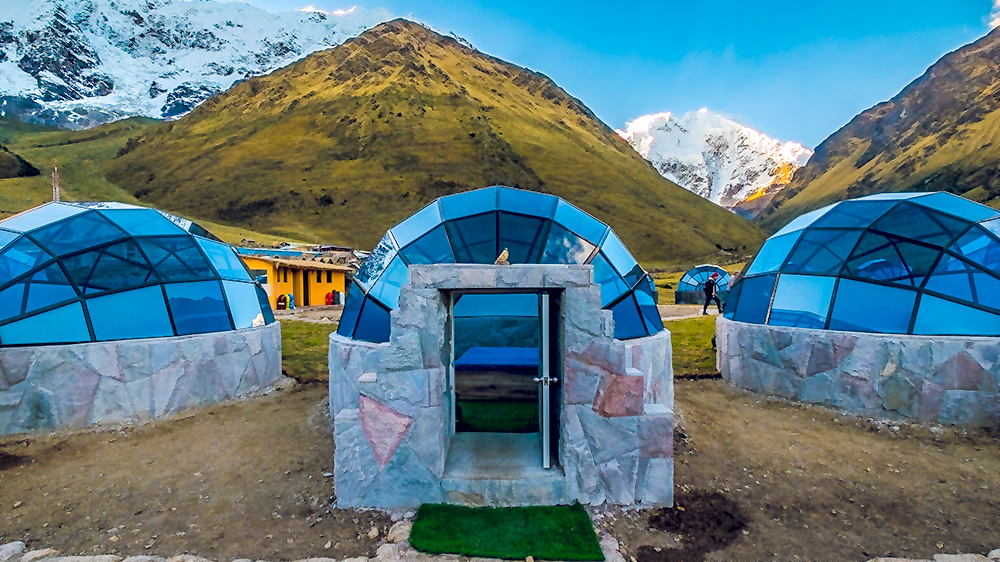 SKY CAMP
Under the deep blue sky
This is a new project and unique innovation in Latin America released May 1, 2016 with the goal of diversifying and breaking the routine of our clients. This is a comfortable campsite located in Soraypampa.
Our flagship product (Sky Camp), has been a sensation so far in 2018. Our clients recommend it for its novelty, comfort, and balance with the environment. Our incredible Sky Camp is located in front of the impressive mountains Humantay and Salkantay. This campsite allows for the perfect union of sky and earth. It allows you to sleep calmly under a deep, blue sky starred with an exceptional view of the constellations. At the same time, you can enjoy all the comforts of a first-class vacation home.
With a new style of unique construction in our country, it is an investment purely Peruvian and 100% Cusqueño.
In 2016, we started with 10 lodges. Then in 2017, we increased 8 more. And, because of the demand, in 2018, we built 8 more, bringing us to a total of 26 lodges with a capacity of 52 people and 1 dining area, carrying the same design.
General Information:
Location: Soraypampa
Altitude: 3900 MASL
Number of Sky Camp: 26 (Capacity 52 travellers)
Accommodation: 2 people per Sky Camp
Services: Breakfast, Lunch, and Dinner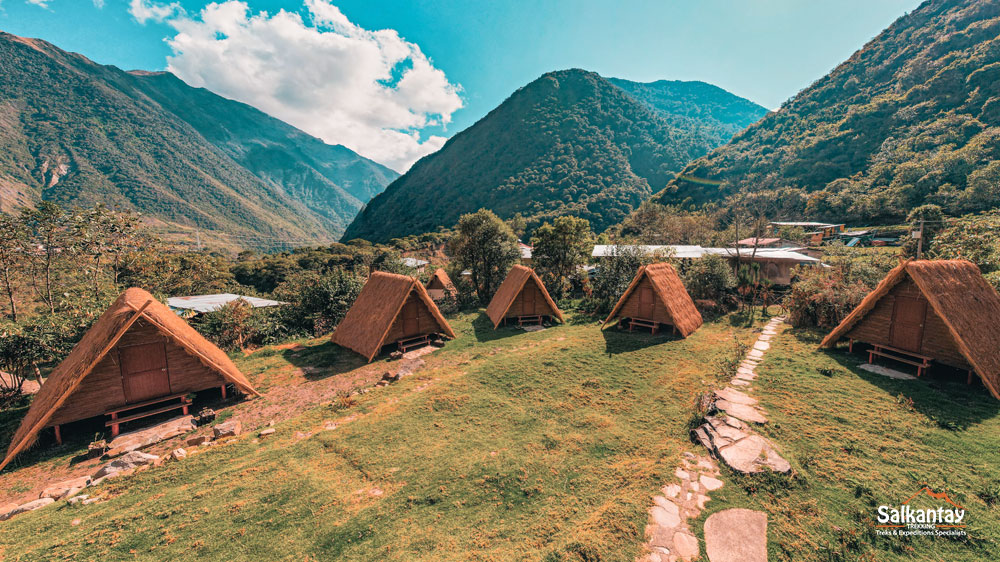 ANDEAN HUTS
Authentic Andean Campsites
We have always sought a harmony between the environment and the context of the Andean world.
Like in the times of our ancestors, our commitment is to our Pachamama (Mother Earth) and the Apus (Mountains). Our campsite ANDEAN HUTS is adapted to the natural environment without generating any audiovisual impact, constructed of the elements, surrounded by the mountains and rivers, and under the shine of the stars. This campsite of ours is made of ichu (a type of Andean grass) and sticks, which guarantee protection from freezing nights and a nice rest.
Our company was founded on the criteria of practicing responsible and sustainable tourism, and it is for this reason that we carry that principle in the following slogan: "We believe that responsible tourism is the best path for the world."
General Information:
Location: Chaullay
Altitude: 2900 MASL
Number of Andean Huts: 20 (Capacity 40 travellers)
Accomodation: 2 people per Andean Hut
Services: Breakfast and Dinner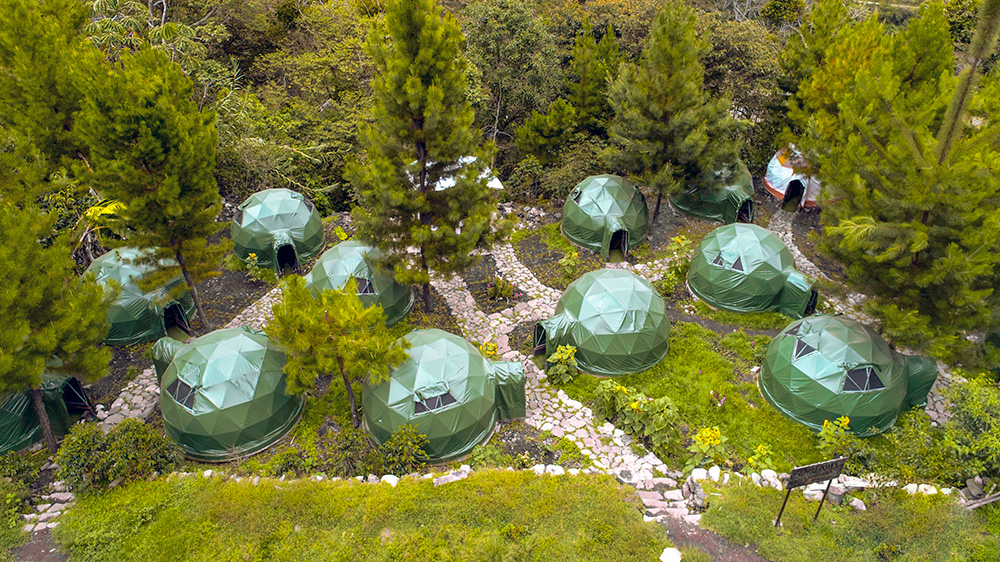 JUNGLE DOMES
The spirit of nature
The Jungle Domes are a project that has been growing since the beginning of following sustainable principles because we believe that we must protect the planet right now. We find ourselves totally committed to the care of our territory.
Because of this, the construction and operation of Salkantay Trekking has been developed in an eco-friendly way, being the most respectful possible to the environment.
The Jungle Domes are a project that was created so that every one of our guests could feel and enjoy the wonderful nature of Vilcabamba with great comfort. From the comfort of our domes, you can be in intimate contact with the surrounding nature, hearing the wind or the rain or gazing at the stars through the central dome from your comfortable bed. The conceptual design of our domes invites you to see one of the most beautiful landscapes in the world from your window. Every time that you step outside your dome, when you walk through our footpaths, you will find yourself in a beautiful and aromatic native forest where you can enjoy observing many species of the fauna which live together with us.
This project was released in June 2017 and continues to notably stand out like the earlier projects.
General Information:
Location: Lucmabamba
Altitude: 2000 MASL
Number of Jungle Domes: 16 (Capacity 32 travellers)
Accommodation: 2 people per Dome
Services: Breakfast and Dinner
"WE BELIEVE RESPONSIBLE TOURISM IS A BETTER WAY TO SEE THE WORLD."
What makes these trips different?
We believe that a vacation should be more than a hotel room, a flight and a rental car. It should be more than the sum of its parts. We also believe a challenge can help you grow and a trip can stir the soul. We create journeys worth taking - for the traveler, for the host and for the world.