Tour Duration
02
Days
Salkantay & Humantay Lake
Salkantay pass + Humantay Lake - 2 days tours
Departure: Cusco (04:00 am)
Destination: Salkantay pass
Language: English / Spanish
Amount of Walking: Moderate
Tour operates on the following days:
Mon
Tues
Wed
Thurs
Fri
Sat
Sun
Season 2019 (01 Jan. - 31 Dec.)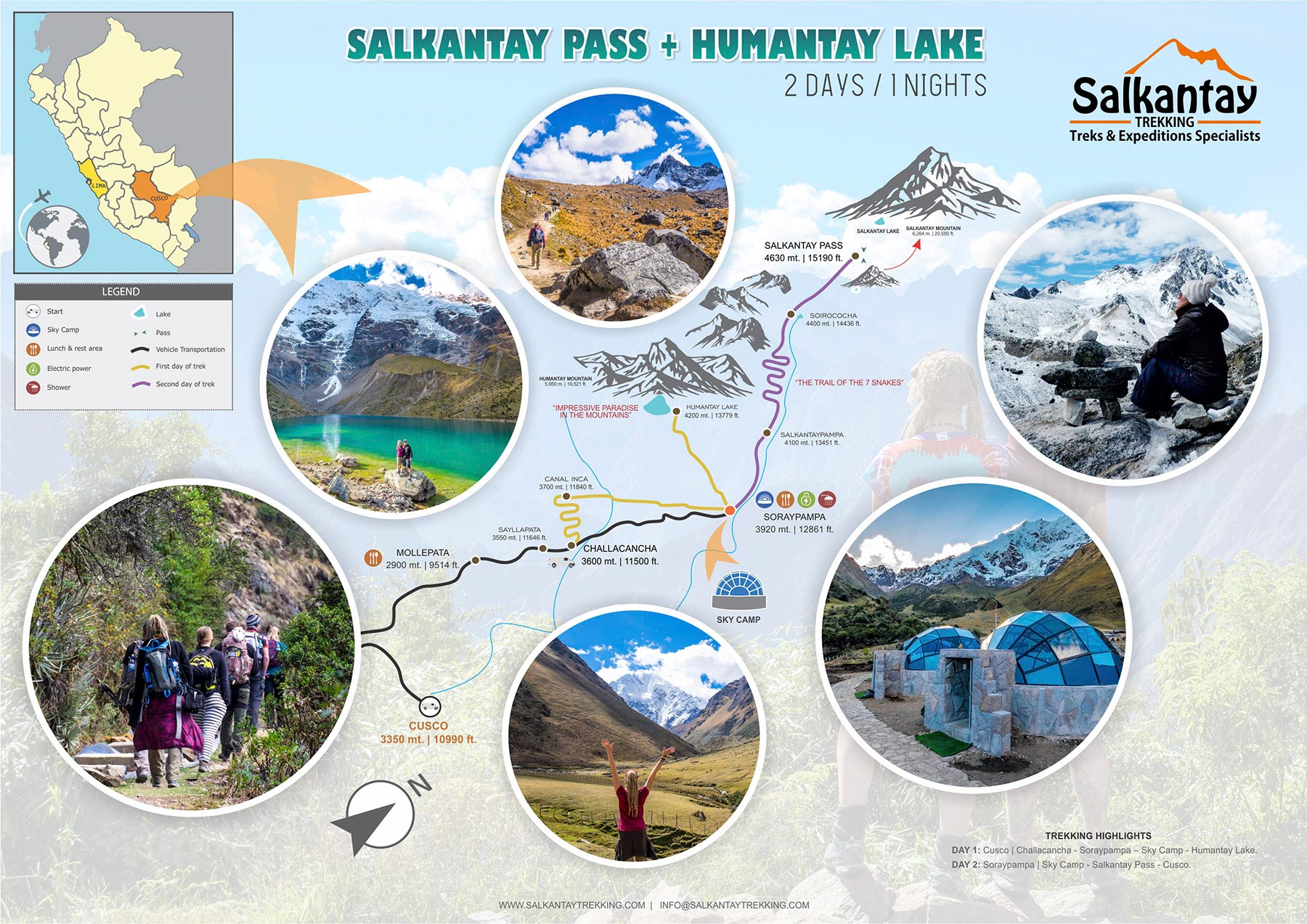 TREKKING MAP
Imagine staying in our incredible Sky Camp in front of breathtaking mountains, where checking in means opening the doors to a sky full of stars and constellations forming an exceptional night.
Salkantay Trekking offers high altitude ecotourism in the mountains, in complicity with nature, witness this new experience in the Andes. LIVE an authentic experience joining a group of explorers like you who seeks to achieve their dreams in the Andes of Peru.
DAY 1: Cusco | Challacancha - Soraypampa – Sky Camp - Humantay Lake
Walking time to Sky Camp:
3 hrs (Included lunch and rest).
Walking time to the turquoise lagoon:
3 hrs (round trip).
Level of trek:
Moderate to difficult.
Overnight:
Sky Camp 3900 m. 12834 ft.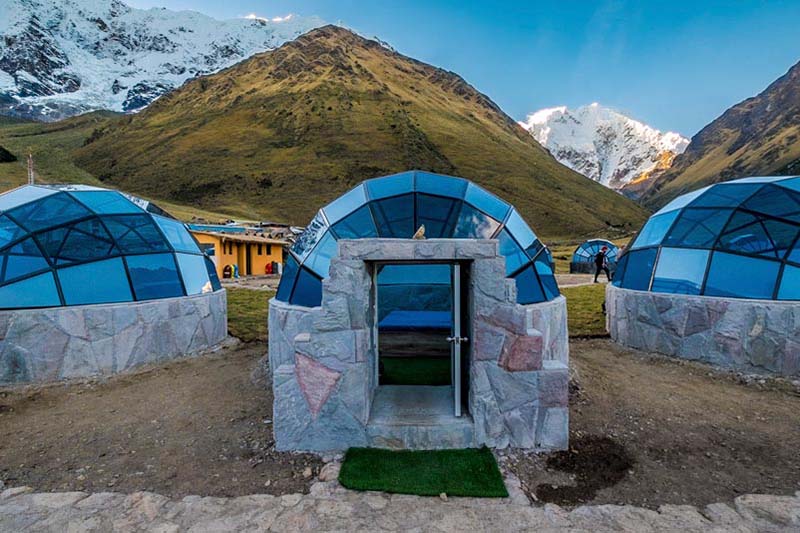 Sky Camp
Very early in the morning your mountain guide and our driver will pick you up from your hotel in Cusco. The first stop will be in Mollepata to have breakfast, then we will continue our route until Challacancha for a short rest, from this point we will begin our walk towards Soraypampa. In this first opportunity, we will initiate a physical challenge that will help you to acclimatise to the altitude.
We will arrive at our destination, Sky Camp, located at the front of the majestic and snowy Salkantay and Humantay, where the reception staff will be waiting for you with an exquisite lunch and after there´ll be some free time for us. We will prepare to start a light walk towards the turquoise lagoon of Humantay, 4200 masl. We will spend an unforgettable night accompanied by thousands of stars and constellations.
DAY 2: Soraypampa | Sky Camp - Salkantay Pass - Cusco.
Walking time:
8 hours (Included lunch).
Level of trekking:
Challenging, we will cross the highest mountain pass 4,638 m (15,213 feet).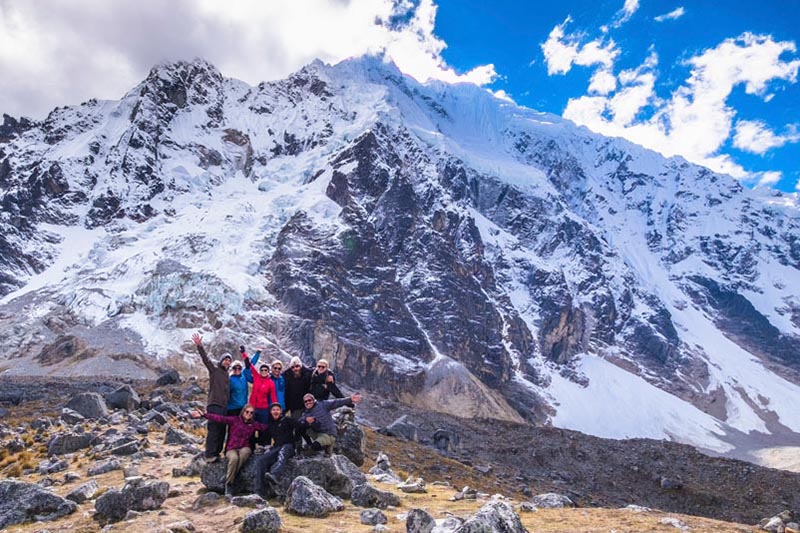 Salkantay Pass
Today is the grand day, because we will reach the highest point of the trek where you will cross marvelous landscapes bordered by a great complex of mountains, and we will gradually ascend a way known as "THE TRAIL OF THE 7 SNAKES", until reaching the impressive Abra Salkantay at 4.638 masl 15.213 ft. The time really freezes when you think that you will tell of a unique and unforgettable experience. After enjoying a view of the snowy mountains and feeling the force of nature we will pass through a great stoney scenery and we will descend until arriving at our lunch point in a place called Soyrococha. After lunch we will descend towards Soraypampa and in the distance, we will have a remote view of the great snow-covered forest of stones. It is rewarding the effort because we will take the memory of a great experience. We will continue our final steps to Sky Camp where the transportation to Cusco will be waiting and we will arrive at 6pm approximately .
What is Included?
Pick up from your hotel in Cusco.
Mountain guide (english and spanish).
Touristic transport from Cusco to Challacancha (beginning of trek)
Transportation back to Cusco.
Day 2: breakfast.
02 snacks.
02 lunches at the Sky Camp.
01 dinner.
01 night in the Sky Camp.
First aid kit equipment.
Sleeping bag
Not Included:
Horse from Soraypampa to the lake and Salkantay pass.
Entrance fee to Salkantay Trail (S/.10 per person)
Day 1: breakfast.
---
RECOMMENDATIONS:
Hiking boots.
01 pair of waterproof gloves.
01 hat with neck and face protector.
01 poncho.
Sunglasses with UV protection.
Sun block: Factor 70 or more.
01 extra waterproof jacket.
01 extra waterproof trousers.
Personal medication.
Bottle of water or camelbak.
Camera and extra battery.
Snacks.
Price
2019 LAND COST
FROM
$150
PER PERSON
Book Now
Please complete the form below to request a reservation. One of our Trip Coordinators will contact you, often within two business hours, to confirm availability of the trip and/or provide you with other options. Once availability is established, we will ask for a deposit and a completed online registration to confirm your spot on the trek. Please call us at (+51) 958191179 with any questions or to confirm availability over the phone.
"Thank you for considering salkantay, Unfurtnately due to the rainy season and trail maintanance we will be closed from the 31st of January till the 28st of February. We apologize for any inconvenience this may cause you, we are working to provide you a better service !"
Privacy Policy:
The Salkantay Trekking Company will never share, sell, or make public any of your personal contact information to third parties.
THANK YOU SO MUCH FOR CHOOSING SALKANTAY TREKKING!!
Thank you for choosing Salkantay Trekking! We will do everything in our power to take care of you and ensure an enjoyable trip of a lifetime in Peru!