Overview
This tour is designed for travellers with little time and good physical resistance. Its difficulty ranges from moderate to challenging. Despite the fact that the Rainbow Mountain is usually full of tourists, we start our adventure very early to be the first to arrive. In addition, we'll take you to the opening of the Red Valley so that you can appreciate the endless red hills that rise on the other side of Vinicunca; a clear example of the fine art of Mother Nature! Choose Salkantay Trekking as your trusted operator; always on time and with the best guides. We have private transportation, too!
The imposing mountain landscape is sure to be the protagonist of your photographs.
Highlights
The Rainbow Mountain of Peru offers travellers an entire day of unforgettable adventures in the midst of a surreal landscape and in contact with local culture. Get ready to discover a true wonder of Mother Nature surrounded by a unique ecosystem.
You'll be able to observe unique species such as the condor, the largest flying bird in the world, or the vicuna, the most beautiful non-domesticated pre-Hispanic animal.
At a glance
DAY 1: Cusco | Cusipata - Rainbow Mountain – Full Day Tour
Trekking Map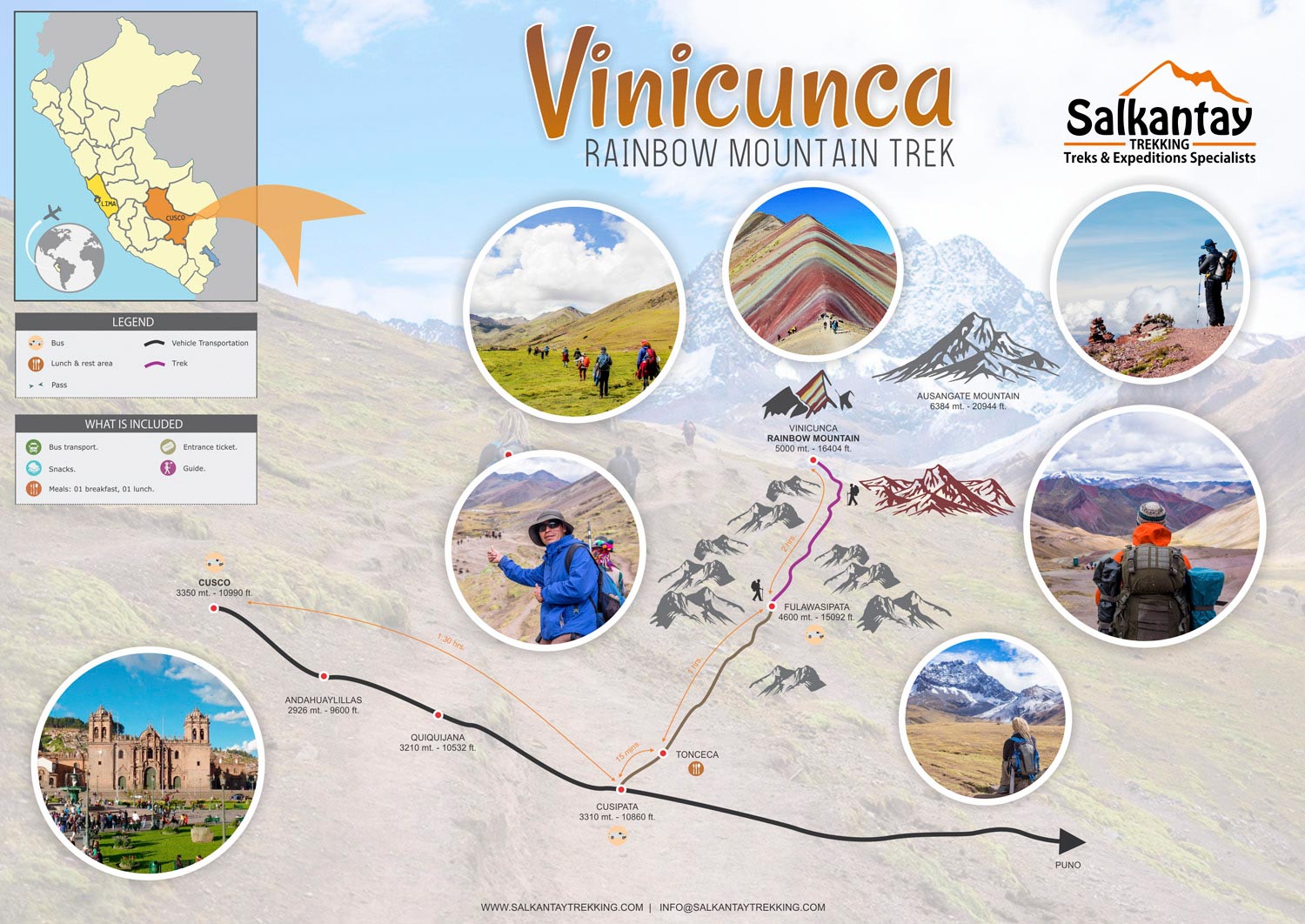 Itinerary
Full Itinerary
Cusco | Cusipata - Llacto - Rainbow Mountain – Full Day Tour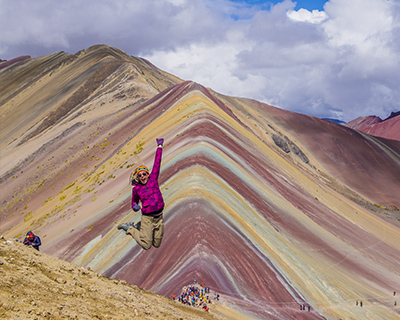 Our adventure begins at 4:00 am. We will pick you up from the door of your hotel to head for 3 hours towards the Southern Valley in our private transport. Remember that the starting point of our walk is at 4,638 masl / 15,216 fasl. Along the way we'll observe picturesque Andean towns, agricultural platforms from the Inca period, fertile valleys, and beautiful rolling mountains. Even in the morning, the herds of llamas and alpacas will entertain you while you enjoy a delicious continental breakfast. We'll continue our journey until we reach the starting point of the walk. There we'll head down a meandering path in the middle of the Andean mountains following a beautiful stream. As you ascend, you'll be rewarded with the impressive view of the Ausangate Mountain (6,300 masl / 20,900 fasl). Take a few minutes to try to understand why this mountain is a living deity for the Andean people. This whole area is home to many people and you'll have the opportunity to see them working the land. You'll surely also be surprised to see the traditional clothing they use that they make themselves thanks to the practice of textile art that they have inherited from their ancestors. In this way, an ancient culture is preserved that refuses to be submitted by the rules of the western world. Your guide will teach you about the meaning of some clothes and, if you want, you can ask him to teach you some words in Quechua. After 1.5 hours of walking, we will arrive at the amazing Rainbow Mountain of Cusco (5,050 masl / 16,564 fasl). Take time to admire the unique beauty of this impressive natural formation and feel the thrill of witnessing a unique natural spectacle. You will explore the surroundings a little while your guide explains the theories that exist regarding the origin of this mountain that seems to be taken from a colourful dream of the gods. Take photographs or simply immerse yourself in the landscape that also shows you the splendour of the great mountain Ausangate in the distance.
There we will take a break between 30 minutes and 1 hour, depending on the speed of your steps and the condition of the weather. If you want to stay longer, inform your guide. Later, there's the possibility of walking through the Red Valley, if the climate and weather allow it. Don't miss this valley of completely red mountains! We'll take between 45 minutes and 1 hour to arrive again at the starting point where we'll enjoy our box lunch. Once we have filled our stomachs, we'll embark on our private transport back to the city of Cusco. At approximately 5:00 pm we'll leave you at the door of your hotel.
Travel distance – 8 km / 4.97 miles
Minimum altitude – 4,400 masl / 14,432 fasl
Maximum altitude – 5,050 masl / 16,564 fasl
Walking time – 3 to 4 hours
Difficulty: Moderate
Adventure: Moderate-High! (Especially the trek to teh Top!)
Meals: Breakfast and Lunch
Included
What is Included?
Transport: Collection from your hotel in the morning and transfer in private transportation to Fulawasipata (starting point of the trek).
Professional and experienced guide licensed in tourism (English and/or Spanish)(There'll be 2 guides in case there are more than 8 hikers)
Entrance ticket to Rainbow Mountain
First aid kit and oxygen tank.
Personalized service.
Meals: 01 breakfast, 01 lunch
Snacks
Not Included:
Water
Rubber-tipped walking sticks.
Horse (There is the option of hiring a horse. However, this will not be possible if due to the weather the ground becomes slippery. In addition, there are areas where it's impossible to stay on the horse, so you will have to get off and walk).
Meals: Dinner is not included in this package.
Waterproof layer for rainy season
Recommendations:
1-liter water bottle
Hat, sun block, sunglasses
Extra layers for the cold and wind
Trekking poles
Trekking shoes/boots
Snacks (i.e. dried fruit, chocolates, granola bars, nuts, etc.)
Price
2020 LAND COST
FROM
$100
PER PERSON
Book Now
Please complete the form below to request a reservation. One of our Trip Coordinators will contact you, often within two business hours, to confirm availability of the trip and/or provide you with other options. Once availability is established, we will ask for a deposit and a completed online registration to confirm your spot on the trek. Please call us at (+51) 958191179 with any questions or to confirm availability over the phone.
"Thank you for considering Salkantay Trekking, unfortunately, due to the rainy season and trail maintenance, we will be closed from the 31st of January till the 29st of February. We apologize for any inconvenience this may cause you, we are working to provide you a better service!"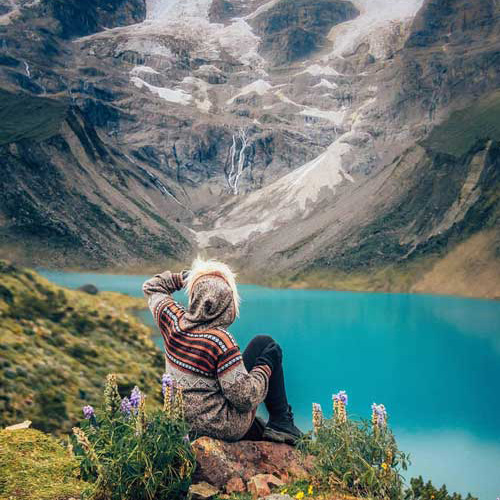 Privacy Policy:
The Salkantay Trekking Company will never share, sell, or make public any of your personal contact information to third parties.
THANK YOU SO MUCH FOR CHOOSING SALKANTAY TREKKING!!