Peru is full of incredible natural wonders, and one of the most visited by travelers is Rainbow Mountain or Vinicunca as it's known by the locals. It's one of the most stunning sights you'll ever see with the natural colors of the mountain creating an incredible view in the expansive landscape.
If it's on your list of things to do in Peru, we've got you covered. We're here to tell you everything you need to know about this place, including how to get there and what you need to be prepared. Let's get on with it.
How to Get There
You can visit the mountain either by yourself or with a tour group, the latter being the most popular option. Let's take a look at both ways and the advantages of each one.
With a Tour Group – If you prefer to have everything prepared for you and not to have to worry about a thing, then going on a tour with a reliable company is your best choice. It's a one day trip and you won't have to organize a thing.
Tour companies include breakfast and lunch, all transport, tickets, and an official tour guide to fill you in on everything you need to know about the site. You will usually get picked up around 4 am on these tours from your hotel in Cusco and get back around 6 pm. The transport will take you around 3.5 hours to the start of the hike. From there it's about a 3.5-hour hike there and back.
By Yourself – To begin with, you'll need to take a taxi or bus from Cusco to Cusipata. Buses cost 5 soles and the cost of the taxi will depend on the driver. This is a 2-hour drive. From here you'll need to get on the next local transport for another hour to take you to Pampachiri.
Once in this community, you can buy tickets to the site and any snacks you might want to take. It will then take you around 3.5 hours to hike to the mountain back before making your way back to Cusco. You'll be able to go at your own pace but won't have meals included and will have to wait for transportation to fill to leave. Take plenty of snacks in case you don't find anywhere suitable to eat along the way. Sandwiches are a good idea too!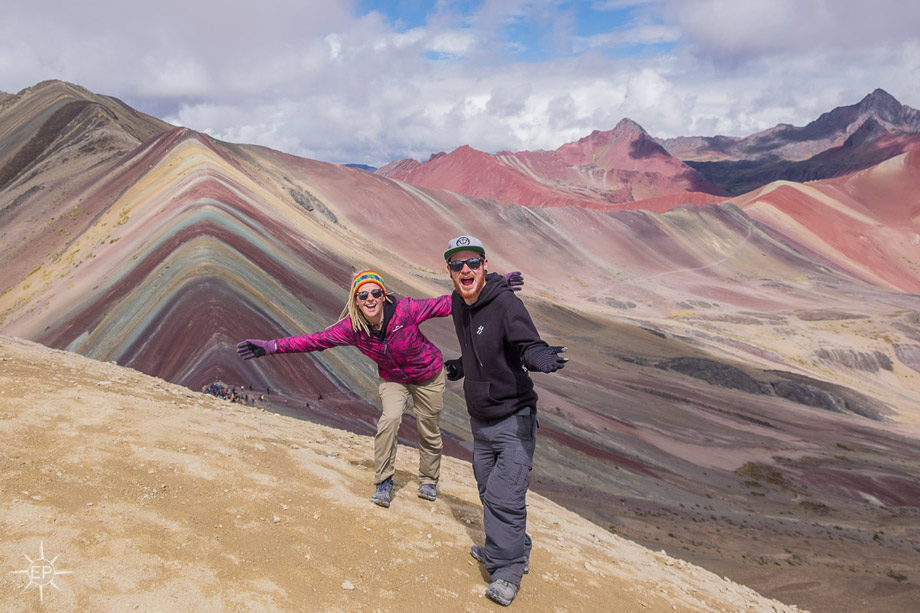 What Will You See at the Mountain?
The main attraction is the colorful mountain at the summit. However, you'll see a lot of beautiful landscapes along the way. Take it slowly as the hike can be challenging due to the high altitude.
Make sure to take a camera as you can see alpacas and llamas grazing in their natural habitat and many spectacular views. You can also see how small communities live up here in the mountains. Once you get to the top point of your hike, you get a great panoramic view and get a glimpse of other snowy mountains and the red valley.
What to Do at Rainbow Mountain
There are a few things you can do once you get to your destination of the mountain of 7 colors. To begin with, you can take a lot of excellent photographs of the surroundings and the mountain itself.
You can also enjoy a beer to celebrate your achievement or even some deep-fried alpaca; a delicacy to the locals. Trust us, you'll be hungry after the hike up!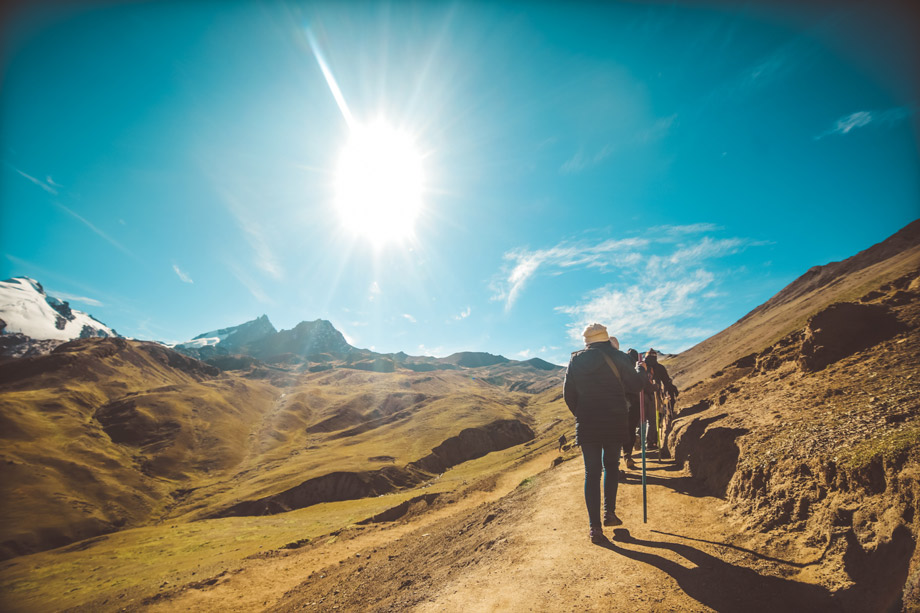 When Is the Best Time to Visit?
You can visit the mountain of 7 colors all year round, but we recommend going between March and October if you can. This is because it's the dry season so the trail is far easier to walk on and you'll get a better view at the top.
You can, of course, go during the wet season, but keep in mind that it may take longer due to a wet and slippery trail and that you'll need to be prepared with the right clothing. You might also find that the mountain is covered, or at least half covered, in the snow!
What to Take
For this full day out and a challenging hike, you want to make sure you have all the right gear. We recommend taking the following:
Sunscreen
Poncho or waterproofs in case of rain
Sunhat and woolly hat
Sunglasses
Water bottle
Appropriate and comfortable clothing
Trekking shoes or boots
Snacks
Camera
Documents
Cash for snacks and drinks
Things to Keep in Mind
You're sure to have a great day out if you plan well and take the right gear. Here are a few pieces of advice to make sure you have a grand day out.
Book in advance – This is especially true in the high season, March to October, as tours may get fully booked.
Adjust to the altitude – We recommend 2 or 3 days in Cusco before you head to the mountain so that altitude doesn't take its toll.
Horses are available – If you do find along the way that it's getting difficult for you, there are horses available to hire to help you get to the top.
Be well prepared – This one goes without saying. But, you don't want to be stuck in the middle of the Andes in shorts and a T-shirt when it starts to rain!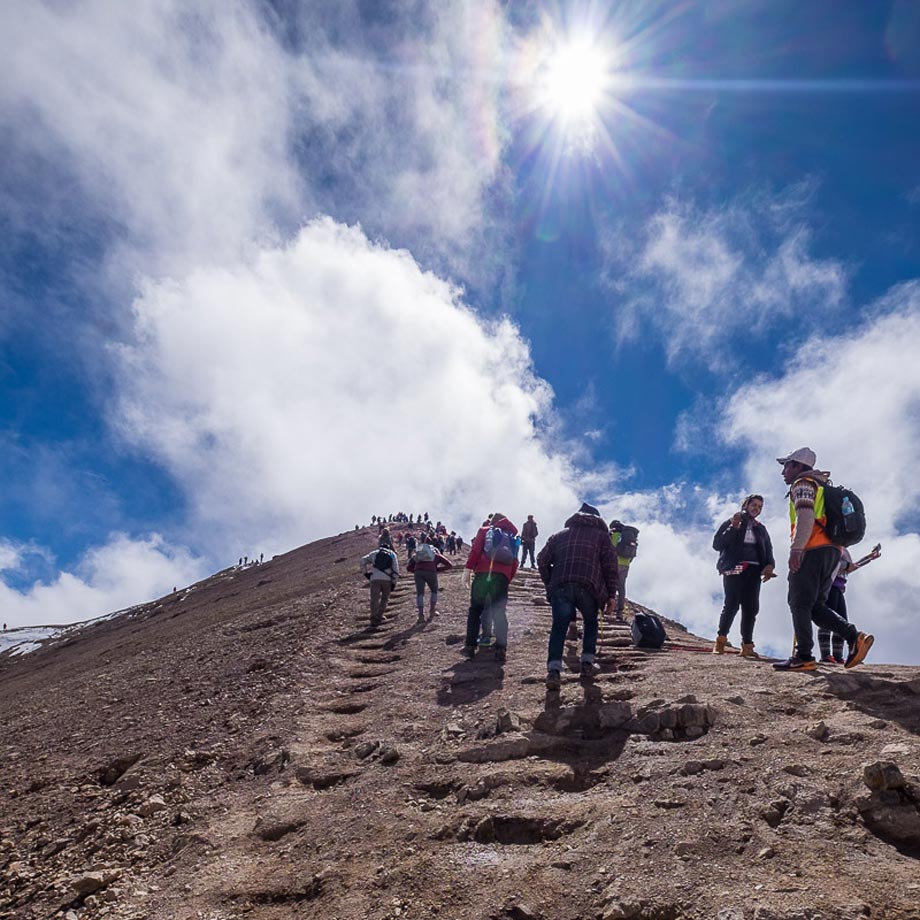 Enjoy Your Tour
Now that you know how to plan your trip and everything that's needed, all that's left to do is enjoy yourself! Take it slowly and get some great pictures of your day out to remember it by and to show everyone back home.
Written by: Liv Palmer
Featured photo: @emmett_sparling
---
---