Huayna Picchu Mountain vs
Machu Picchu Mountain
During your trip to Machu Picchu you will have the opportunity to make trek your way to the top to catch an unforgettable view of the entire Incan City; a golden photography moment. Both mountains need a special ticket. And both offer a spectacular view; the majority of people are able to make their way up Machu Picchu Mountain, but not all can conquer Huayna Picchu.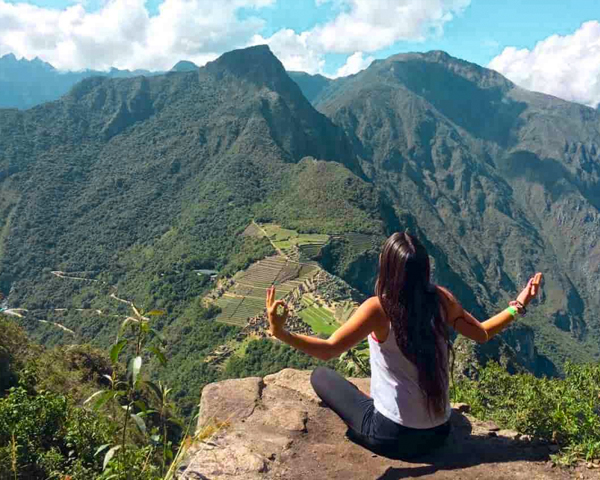 Huayna Picchu Mountain
Huayna Picchu is one of the mountains that stands next to Machu Picchu ruins and has amazing views from above. This hike is done after your tour with your us and takes 45 minutes to the top and 45 minutes back down. Allow for time to take lots of photos, because the views are incredible.
The Huayna Picchu Mountain is the one that you see behind Machu Picchu on any postcard; its Incan paths hidden alongside the mountain, it may frighten those of you who have a fear of heights. For those of you who struggle with heights you may need to know that you will be steps away from hundred foot plummets into an abyss, and in some places the path can be very steep and narrow. There are times when you need to use security cables to support yourself; it is a challenge for anyone. If you suffer from vertigo or you have a hard time controlling your fear of heights we would recommend taking a different route.
You will have to place reservations 6 months before if you would like one of the 400 available tickets to go up to the Huayna Picchu Mountain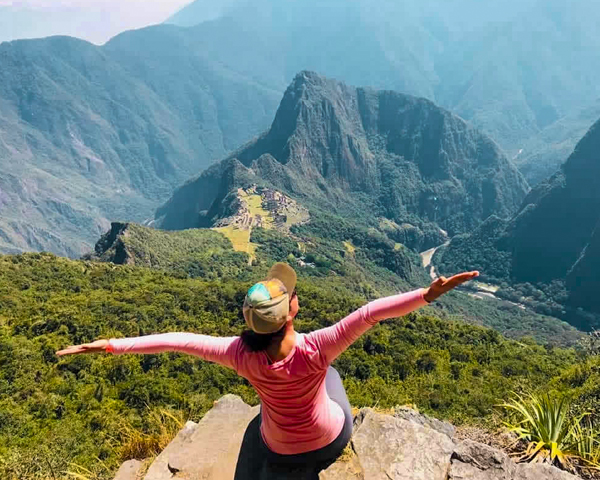 Machu Picchu Mountain
Machu Picchu Mountain is the other mountain that stands above Machu Picchu ruins. It offers even more stunning views than the top of Huaynapicchu, but takes double the time to get to the top. It will be about 1.5 hours until you reach the lookout point and another 1.5 hours back down. Machu Picchu Mountain offers paths which are a lot less steep; they are also wider and less terrifying. Upon booking these tickets think of the family because this one is ideal for children and older folks.
The Machu Picchu Mountain Permits the entry of 800 people daily and the ticket may be reserved just a few weeks ahead of time.
| | | |
| --- | --- | --- |
| | Huayna Picchu Mountain | Machu Picchu Mountain |
| PEOPLE PER DAY | 400 | 800 |
| PRICE | $60.00 | $60.00 |
| ALTITUDE | 2720 M. | 8924 FT. | 3082 M. | 10112 FT. |
| FIRST GROUP | 7:00 am to 8:00 am | 7:00 am to 8:00 am |
| SECOND GROUP | 10:00 am to 11:00 am | 9:00 am to 10:00 am |
| DIFFICULTY | Moderate - difficult | Moderate |
| HIKING TIME | 2.5 h hiking (round trip) | 3.5 h hiking (round trip) |
| HIKING LENGTH | 2 km (1.25 miles) | 2 km (1.25 miles) |
| ARCHAEOLOGICAL SITES | Ruins & Temple of the moon | None |
| INCLINE | 60° | 30º |
| AGE ALLOWED | 12 years or more | Any age |
Entrance tickets to Machu Picchu Mountain and Huayna Picchu Mountain are subject to availability and said availability is not under our control. To guarantee your spots for either mountain, we recommend notifying us of your wish to hike either mountain as soon as you can.
Thank you so much for choosing Salkantay Trekking!!!.
What makes these trips different?
We believe that a vacation should be more than a hotel room, a flight and a rental car. It should be more than the sum of its parts. We also believe a challenge can help you grow and a trip can stir the soul. We create journeys worth taking - for the traveler, for the host and for the world.