Meet the Team
With 10 years of experience in the tourism industry, Edgar has always focused on bringing unique, exclusive services and in this way achieving success in the principal route led by Salkantay Trekking: Inca Trail Salkantay – Machu Picchu, with their own private campsites: Sky Camp in Soraypampa, Andean Huts in Chaullay, and Jungle Domes in Lucmabamba.
Leadership
In 2013, Edgar Catunta founded Salkantay Trekking and, under his leadership, the company has grown to become the best travel agency of Adventure Tourism, receiving recognition as the Best Tour Operator of the Region of Cusco 2016.
That success came from a pioneer and innovation mentality: every one of its projects possesses a unique touch, having as its objective bringing new experiences, making known not only our cultural riches but also our beautiful landscapes without leaving behind the comfort and safety of our clients.
With regard to the quality of our services, Edgar Catunta has travelled in many other countries (Spain, the United States, Nepal, Chile, Bolivia, Brazil, etc.) taking from the services of different businesses and carefully studying their standards of service and their application to our own operations, resulting in a quality product and a highly personalized service.
As a socially responsible business, every year a percentage of the company's profit is dedicated to cleaning campaigns for the good of the environment and social activities to support small communities.
---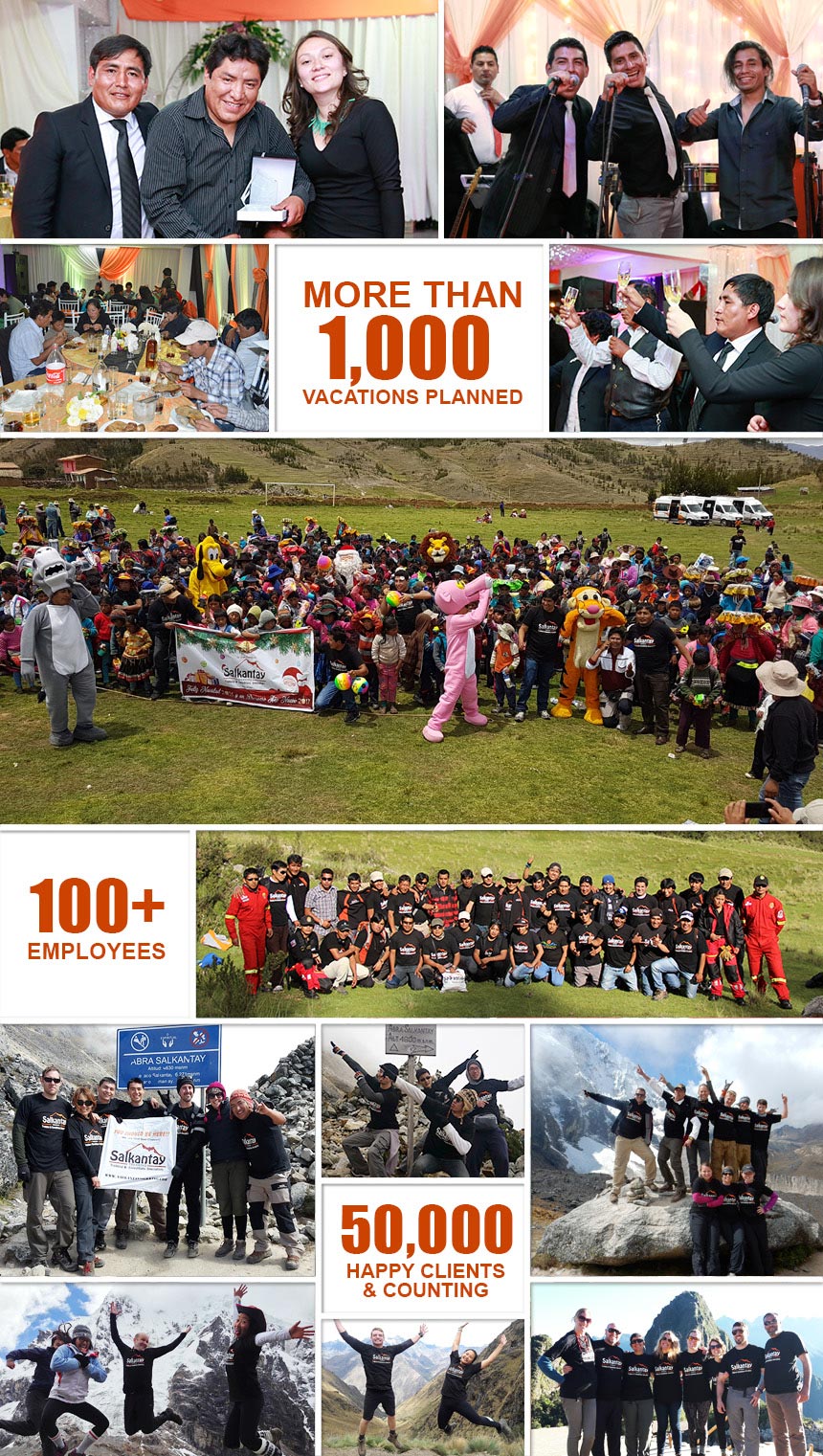 nowadays
We have a deserved reputation for innovation, for quality of service and for providing once-in-a-lifetime holidays.
Salkantay Trekking accumulated expertise allows you to maximise your precious holiday time and to experience the very best of your chosen destination.
There are now groups of Salkantay Trekking adventures enjoying a real adventure experience, we have daily departures, every day of the year.
Our hikes cover the Cordillera del Vilcabamba - from Mollepata to Machu Picchu.
The Team
Our collaborators that make your trip more pleasant.