We've all heard plenty about Rainbow Mountain; the famous mountain of 7 colors a few hours south of Cusco. But what about Palccoyo? It's another mountain that is full of colors and just as beautiful, only not as well known.
We want to show you that it's just as wonderful to visit and give you a little more information regarding the mountain compared to the other Rainbow Mountain; Vinicunca. This way you can make up your own mind which you prefer to visit, or perhaps even both!
Where Is the Mountain Situated?
The mountain sits in a village of the same name, Palccoyo. This is in the department of Cusco and can be done in a day trip from the city. The peak, and the highest point you reach, is a big 4,900 masl. This means that it gets pretty chilly up there so you need to be prepared. More on that later on…
How to Get There
There are a couple of ways you can get to Palccoyo.
By Yourself – You will need to find some transport that takes you on a 3-hour journey towards the district of Combapata. A few minutes before you get to the village you'll need to turn left. Use the Checacupe Bridge as a reference.
Continue on for another hour in the same car until you get to a car park. From here you will need to walk around 40 minutes to the mountain itself, and it is a flat walk.
As part of a Tour – Another option, which means you need to do less planning, is to go with a tour group. The tour will take just a day and will include transport, food, and even a guide so you get to know a little more about the place itself.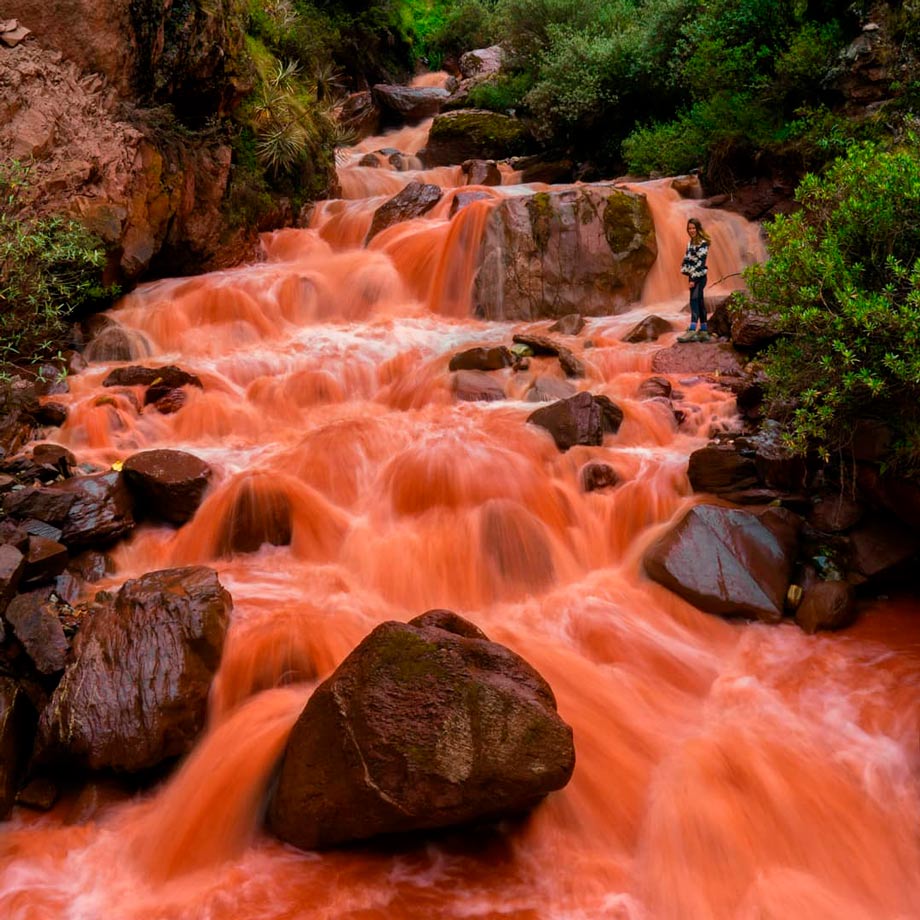 Vinicunca or Palccoyo?
So, you know a little more about the mountain, but should you go there over Vinicunca? Let's take a further look. Both mountains are close to each other and offer similar sights. We're going to compare some of the aspects to see which one fits your liking most.
The maximum altitude you get to when you visit Palccoyo is 4,900 masl, whereas Vinicunca reaches 5,200 masl. If you're worried about altitude, Palccoyo will be your best bet.
Walking time for Palccoyo is 1 and a half hours there and back. For Vinicunca it takes between 4 and 6 hours, so is quite a lot longer. It all depends on the challenge you wish to undertake.
It is said that Palccoyo only requires a low fitness level, but Vinicunca a high one. This is likely due to Palccoyo being a fairly flat trail, but Vinicunca gets steep towards the end.
The climate for both mountains is very similar; cold with low temperatures.
It's also best to visit both of them between April and November when it tends to rain a lot less.
At Palccoyo you will see a total of 3 mountains, and when you Vinicunca, you'll see just the one.
You can see that most aspects of the mountains are similar. The main differences are regarding altitude, walking time, and the difficulty level. Overall, Palccoyo is far easier to walk and doesn't take as long. It's recommended for those who don't wish to walk too much and like smaller crowds of people. If you want a big challenge, then maybe Vinicunca is the one to choose.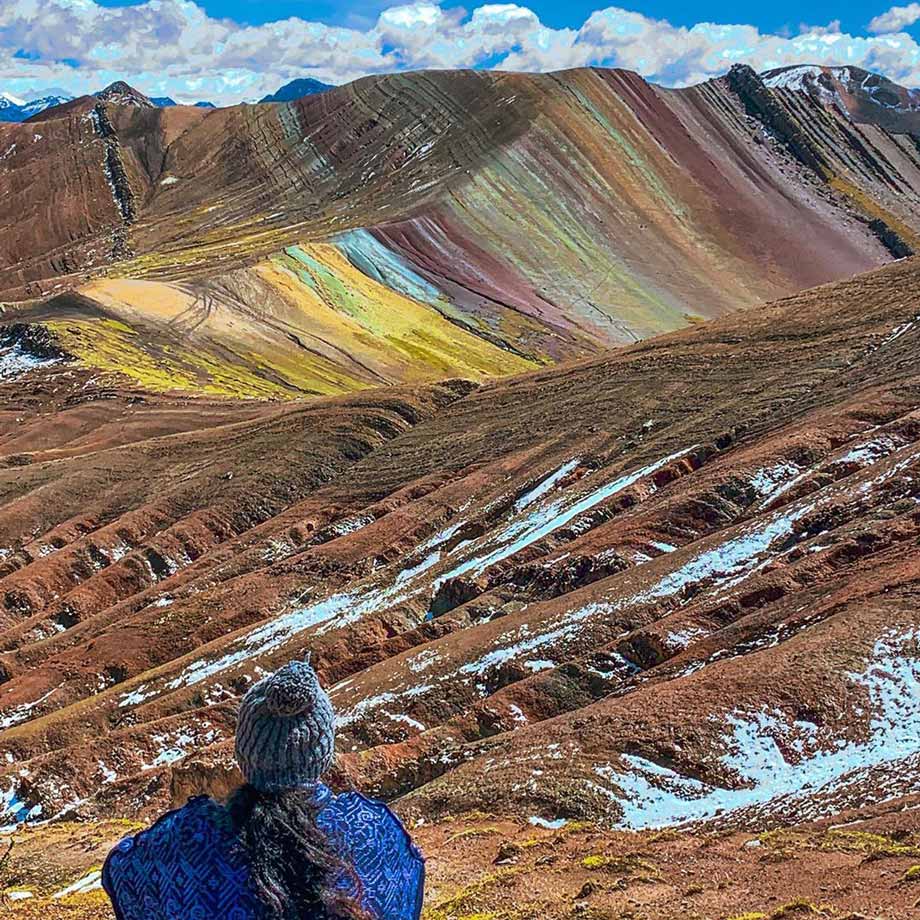 More About the Climate
We have already mentioned that it gets very chilly when you get to the end of the walk and are standing still admiring the mountain. Here's a little more info about the two different seasons in the mountains, and how you should go about preparing for this.
The Rainy Season – Between December and March, and sometimes a little more on either side, it often rains in the Andes and this can cause fog. It's sometimes even accompanied by hail or snow. Some days are better than others.
The Dry Season – Between April and November, we enjoy the dry season. It tends to be nice and sunny along the hike and at the mountain so you can see much more clearly. This is the best time to visit.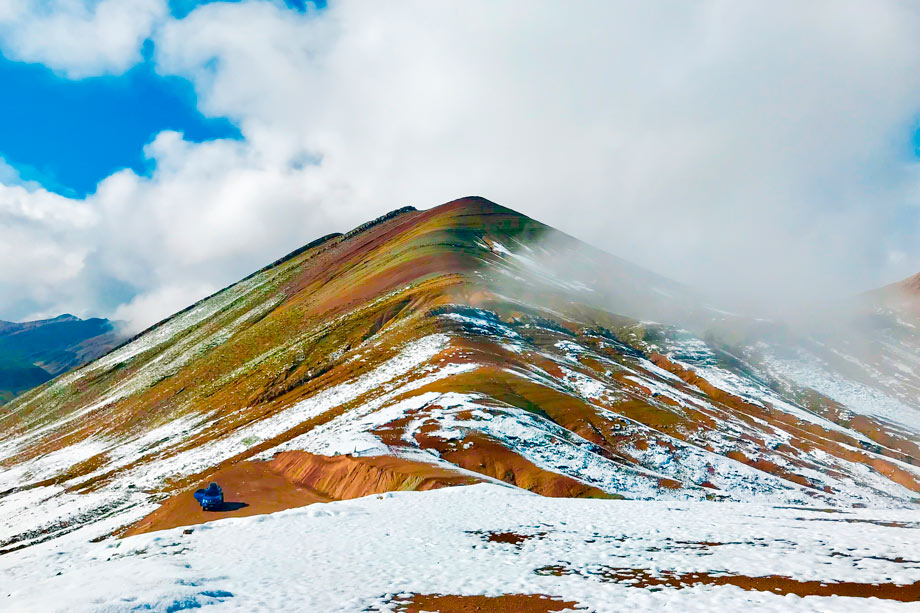 Preparing for the Cold
To make sure you are prepared for the harsh climate you should think about taking the following precautions.
Thermal underwear
Thin layers
Gloves and hat
Sunscreen, sunhat, and sunglasses as you will be closer to the sun
It's also recommended that you spend at least 2 days in the city of Cusco beforehand to acclimatize and so that the cold weather doesn't affect you so much. Stock up on snacks the evening before you go so have fuel along the way if needed, as well as water.
Taking a few soles just in case it is also handy in case you see something you want to buy or need even more snacks!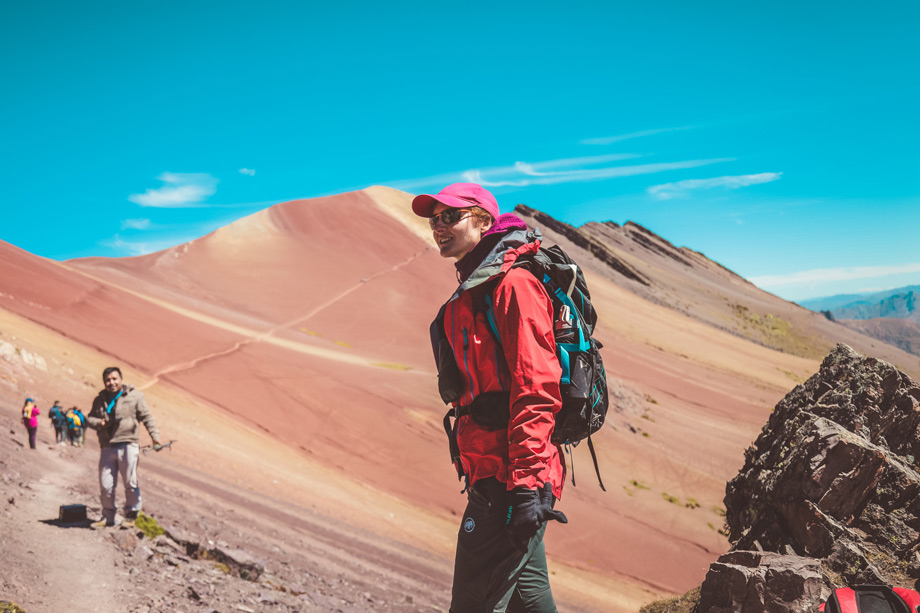 Overall Difficulty
This trip isn't too challenging at all. It requires little physical effort, however, that which you use will be more tiring than usual due to the altitude at which you are hiking. It's a great idea if you prefer a lighter trek during your time in Cusco.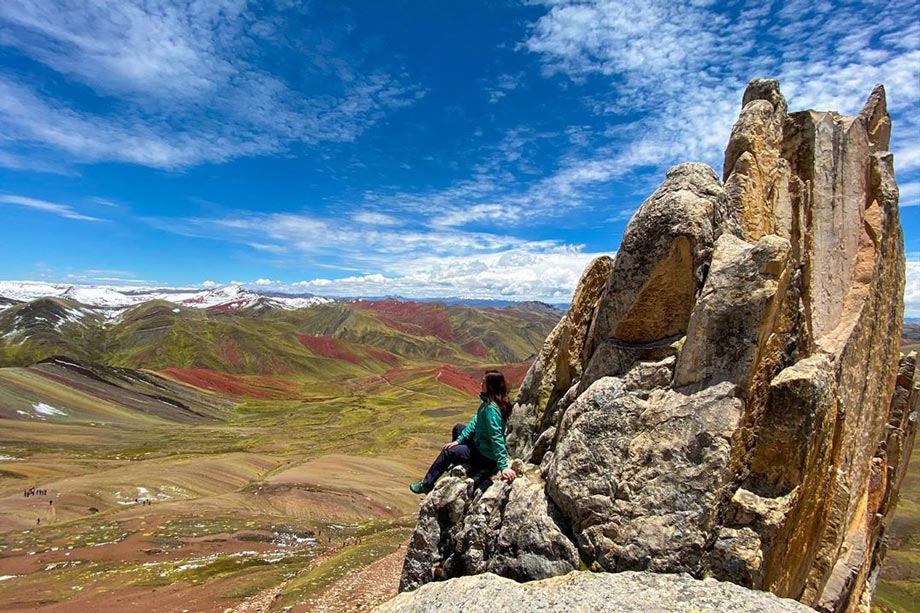 So, Take This trip Into Consideration
It's definitely a worthwhile trip and should be one you consider while visiting Cusco. If you don't like crowds then this an excellent hike, and it won't exert you off too much energy. To top it all off, you'll be rewarded with a fantastic site at the end. Visit Palccoyo and you won't be disappointed.
Written by: Liv Palmer
Featured photo: @rebel.by_fate
---
---