Overview
The journey to Choquequirao is along one of the many ancient trails that snake their way through the Amazon. Many travel magazines list it as one of the top ten hikes in the world for the great variety of biodiversity and wildlife. Along the way, you will get to experience both tall mountains and deep jungle valleys. It will not disappoint! One thing that makes the Choquequirao trail so special is the lack of traffic it gets every year. Because the ruins are so remote and challenging to reach, it is common for less than 20 people to visit the site every day. This means that you will have a truly unique and personal experience!.
Due to the remote and challenging nature of the trek, it is essential to only travel with the most qualified tour operators. Our staff members are well trained and eager to make your trip as enjoyable as possible. They have all undergone three to five years of training at universities or specialist schools to earn their qualifications. This is one of the luxuries we have to offer - expert guides, rated as such by our clients.
At a glance
DAY 1: Cusco | Cachora - Playa Rosalina (Apurimac River)
DAY 2: Playa Rosalina | Maranpata - Choquequirao (Golden Cradle)
DAY 3: Choquequirao | Choquequirao Pass - Rio Blanco - Maizal
DAY 4: Maizal | Minas Victoria - Yamana
DAY 5: Yamana | Mountain Range - Totora
DAY 6: Totora | Cloud Forest – La Playa –Lucmabamba
DAY 7: Lucmabamba | Llactapata – Hydroelectric – Aguas Calientes
DAY 8: Aguas Calientes | Machu Picchu - Cusco
Trekking Map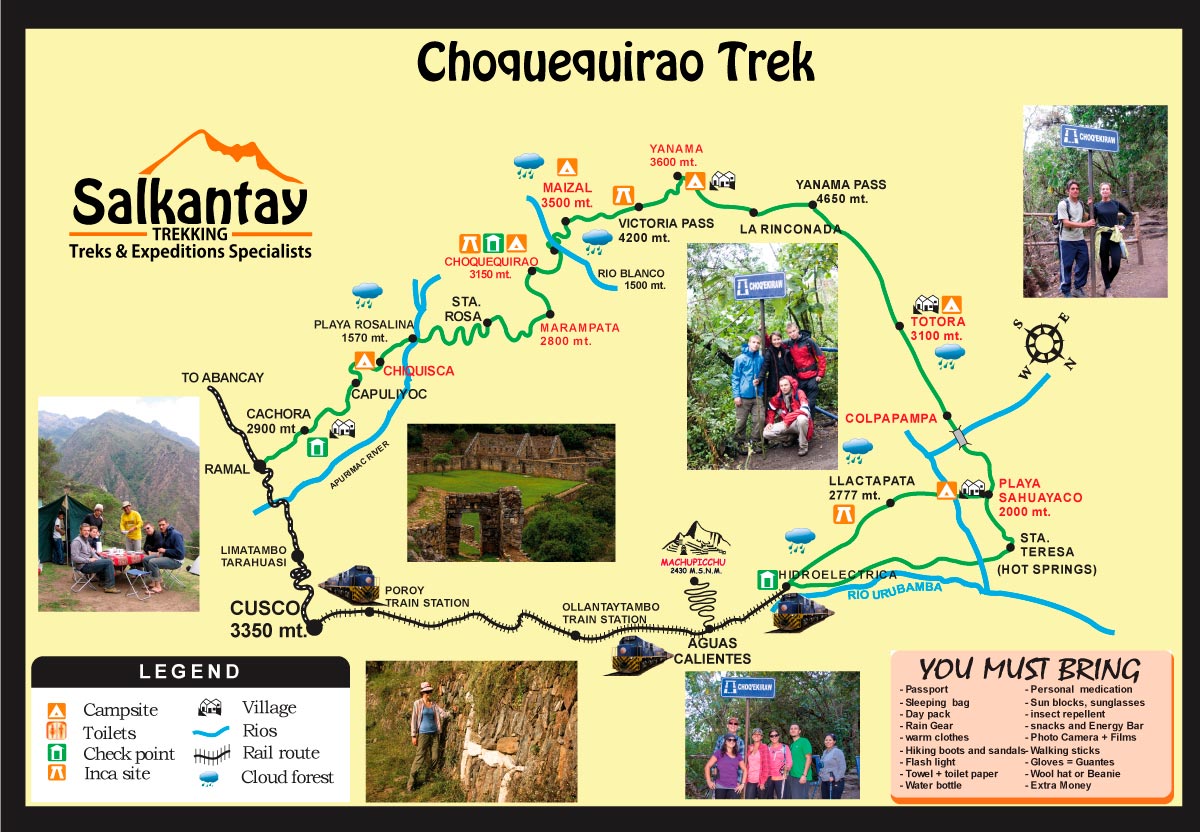 Itinerary
Full Itinerary
Cusco | Cachora - Playa Rosalina (Apurimac River)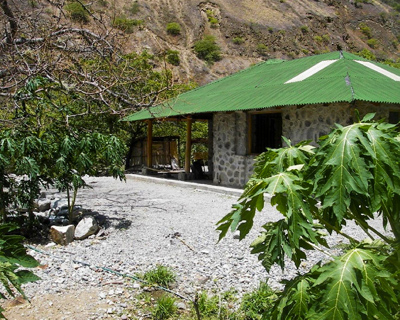 After a breakfast provided by your hotel, we will pick you up to begin the adventure of a lifetime! We start by driving for five hours from Cusco to the travelers crossing of Cachora. Once there, we will meet the rest of the team (horsemen, cooks, etc.). A horseman and two chefs accompany every trek. They will help make the logistics of our journey seamless and comfortable. We will begin by trekking uphill, crossing through the pass of Capuliyoc, where we often see condors flying overhead! There, we will have a great view of the Apurimac Canyon and can experience the valley's lush microclimate. At this stopping point, we will be able to see the Choquequirao ruins from afar. Finally, we'll descend through a cactus forest to La Playa Rosalina on the banks of the Apurimac River, the main tributary of the Amazon River. On our first night, we will camp at La Playa Rosalina (1550 MASL – 5085 FASL).
Distance : 22 km – 13.6 miles
Hiking time : 6½ to 7 hour approximately
Accomodation : Tent
Climate : Hot in the day and warm in the night
Meals : Lunch, Dinner.
Maximum Altitude: 2850 masl. / 9350 ft. (Marampata)
Minimum Altitude: 1475 masl. / 4839 ft. (Playa Rosalinas).
Playa Rosalina | Maranpata - Choquequirao (Golden Cradle)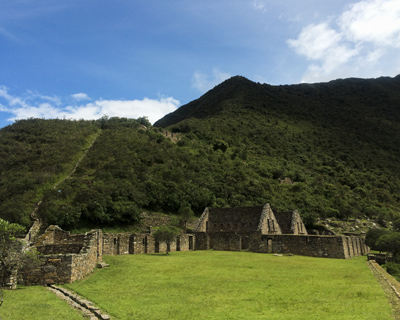 Every day after breakfast, you will be given a bag of snacks to nibble on throughout the day. The first part of our day consists of a 4-hour ascent along a long, narrow trail. Our adventure starts first by crossing by cable car over the wild river, which is surrounded by dense vegetation with several varieties of plants and flowers, including orchids! Halfway up, we'll stop for lunch at Maranpata, where we have our first main view of the Choquequirao complex. We'll then continue hiking two more hours till we get to Choquequirao (Golden Cradle), which is considered the sister city of Machu Picchu because of its several similarities. It sits 1500 meters/4921 feet above the Apurimac Canyon, and Machu Picchu sits above the Urubamba Canyon. In the afternoon, you will have free time to explore the archeological sites and take in the sunset views of the canyon – it is spectacular! Here, it is also possible to see Andean condors soaring in the mountains. We will camp near Choquequirao (3050 MASL – 10006 FASL).
Distance : 14 km – 8.7 miles
Climate : Warm Day/Cold Night
Choquequirao | Choquequirao Pass - Rio Blanco - Maizal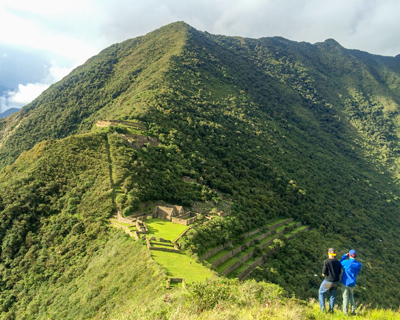 Before breakfast, we recommend going to appreciate the magnificent sunrise from a picturesque spot not far from the campsite! We will have breakfast at 6 AM and will start today's adventure by passing through and exploring the Choquequirao ruins. We'll hike uphill through cloud forests, mountains, and valleys to reach the Choquequirao pass. After 5 hours of trekking, we'll reach Pinchinoyoc, which means "water jumping forward" (2750 MASL - 9022 FASL). This place is a system of ancient agricultural terraces. Here we'll see different species of birds, varieties of orchids, and local coca plantations. We will have our lunch here near Rio Blanco. Many choose to use this time to take a dip in the cold, clear river water! You'll appreciate it after three days of trekking. We'll then cross the river on foot as there are no bridges. Once on the other side, we'll start the long, steep climb to our camp in Maizal, high over the river and closer to the sacred Apus of the Incas. This climb takes about 3 hours. This is the most challenging day. We will camp at 3000 MASL – 9842 FASL.
Distance : 18 km – 11.2 miles
Climate : Warm
Maizal | Minas Victoria - Yamana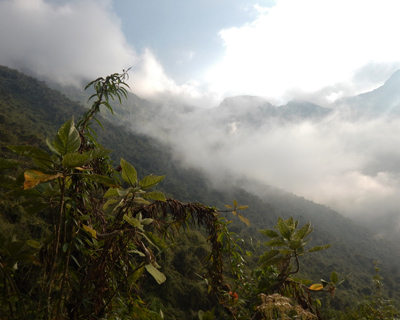 One of our favorite parts of the fourth day is waking up on the hillside to the sounds of the forest and birds. It is a truly great experience! After recharging our energy with a good breakfast, we will follow the trail upward to where the landscape is lush with green vegetation. If the sky is clear, we'll be able to enjoy the snow-capped mountains that surround us. If it's not, we'll get to see the clouds tumble through the valley below us. Both are incredibly beautiful! Today, we will climb uphill for around seven hours until we reach the summit. The trail is historically significant due to the high number of ruins that can be found along the path. We will pass by the impressive Incan mines called Minas Victoria, from which silver used to be extracted and then head toward the Victoria Pass (4200 MASL – 13773 FASL). This is a long climb, but you won't even be able to tell because we'll be passing through and breathtaking area. First, we'll cross a cloud forest and then over the Andean Puna, which is known for its famous Ichu grass. As we approach the top, we'll get to walk along original paved Inca trails. We will have lunch on the pass with views of the mountains Choquetakarpo and Pedrayoc. While we have lunch, we will hopefully be able to appreciate the flight of the condors, depending on the season. Finally, we will descend to our campsite at Yamana, a small village settlement at the bottom of a long valley surrounded by mountains (3800 MASL – 12467 FASL).
Distance : 17 km – 10.6 miles
Climate : Warm and windy day, Cold night
Yamana | Mountain Range - Totora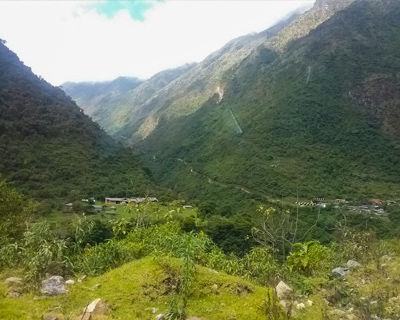 Yamana is a remote indigenous community nestled in the hills of the Andes. Often when we start our morning, we're joined by excited local children and serenaded by the sounds of the jungle in the early morning and a rushing waterfall. After breakfast, we'll start hiking uphill for five hours to the highest part of our trek: the Yamana Pass (4700 MASL - 15419 FASL). As we walk, we'll be able to see Andean villagers farming their potatoes in the terraced valley hills. Here, we'll have a fantastic view of the Saqsarayoc and Pedreyoc mountain ranges. The morning's climb will bring us into a new environment - depending on the season, and we could be walking through snow at this point in the trek. It's at this point that we'll get out the first view of the Salkantay Mountain, one of the ancient Inca gods. Afterward, we'll descend on a long, foggy path through grassy fields and bushy areas, crossing bridges on the way to the community of Totora. We will spend the night in tents, surrounded by this community and indescribable natural beauty!
Distance : 20 km – 12.4 miles
Climate : Cold and Windy
Totora | Cloud Forest – La Playa –Lucmabamba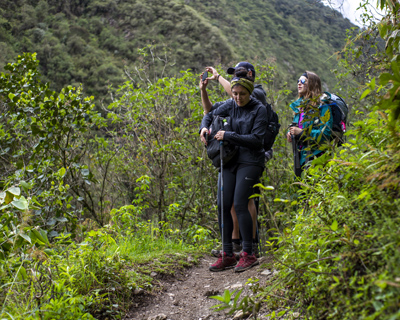 Today's trek is more downhill, continuing along an original Inca trail, we'll walk through a dark forest and appreciate the depths of the jungle. Today's hike will take 10 hours as we head back into the heat of the jungle, getting the chance to pick some fruit as we descend towards the Totora River. We will get to see wildlife, such as hummingbirds, woodpeckers, and many species of orchids and begonias. We'll then take a trail on the left side of the Santa Teresa River, where we will see small plantations of bananas, passion fruit, and coffee (which you can taste if you would like!). On the way, we will stop at small waterfalls along the way for refreshment. The climate and vegetation are very different here than on the other days of our trek. La Playa is the biggest village on the road, as well as the first place with electricity. Here we will have lunch. There are also small shops here to buy snacks and water or use the restrooms. After lunch, we will drive a short van to Santa Teresa (1600 MASL – 5249 FASL) for about 40 min. There will be our camp for the night. In the afternoon, we recommend visiting the hot springs in town to regenerate after the hard journey!
Distance : 18 km – 11.2 miles
Climate : Warm
Lucmabamba | Llactapata – Hydroelectric – Aguas Calientes
This morning you get to sleep in! You'll have time to walk around the town and explore the new city of Santa Teresa, which has been rebuilt after its collapse in 1997 due to the El Niño phenomenon. After you learn about the history of the area, we will drive to Hidroelectrica 40 min away from where we will start walking to Aguas Calientes (a 3-hour walk). Along the way, we can appreciate many types of orchids and birds. From below, we will be able to see the city of Machu Picchu from afar situated in dense and bizarre vegetation. There is also an exceptional view of Machu Picchu Mountain from which the town takes its name. For sick or tired trekkers, there is an optional train ride to Aguas Calientes (the US $ $32.00) We will spend the night in a hostel in town, which will have hot water, wi-fi, and comfortable beds for you.
Distance : 10 km
Climate : warm
Aguas Calientes | Machu Picchu - Cusco
Today's Highlights: Your excitement for our rendezvous at Machu Picchu will rise as we are hiking early in the morning through the forest to reach the site before most other tourists – even the Inca Trail trekkers!! You will have plenty of time to explore this truly magnificent World Wonder while you enjoy the beautiful sunrise from this once-in-a-lifetime viewpoint. Your group will learn about this mystical place in a two-hour guided tour of the ruins. Afterwards, you can opt to climb Huayna Picchu or Machupicchu Mountain (if you have pre-booked tickets) or walk to the Sun Gate or Inca Bridge (without extra tickets).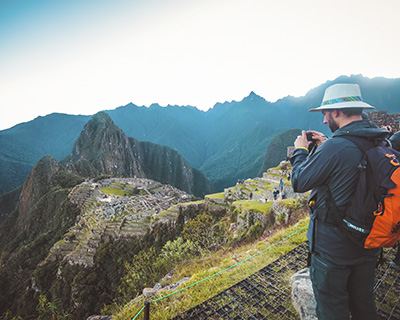 Today we reach the finale of our trek, one of the New 7 Wonders of the World and a UNESCO World Heritage Site – Machu Picchu! We will wake up early after a refreshing night to enjoy the serenity of soft morning light as we hike for 2 hours from Wiñay Wayna to the Sun Gate or "Inti Punku." Here, the Inca Trail officially ends. From this place, we will be able to look out onto the great beauty of the Inca citadel Machu Picchu! This is the same view the grand Inca would have seen as he traveled, like you, from Cusco to Machu Picchu. The Machu Picchu entrance checkpoint is open from 06:00 AM until 17:00 PM, so entrance to the site is extremely flexible and gives us lots of time to enjoy ourselves. After passing through the gate, we will walk downhill for about an hour and enter the hidden Royal Citadel of the Incas! Here, we will have a 2-hour guided tour through this incredible ancient city to visit temples, terraces, palaces, priest's houses, the sundial, the industrial sector, and the agricultural sector. You will be amazed at the engineering ingenuity of the Incas, which was so far ahead of its time and still partially a mystery today! Without having modern tools or even steel and iron to work with, the people who built this city were genius in organizing their community in a sustainable and beautiful way on the side of a mountain. They even brought water in canals through the streets for their people to use! When a Peruvian guide showed this site to Hiram Bingham, it was almost unrecognizable, covered in thick vegetation, and in a state of disrepair. It has since been cleaned and restored to its former glory and is now protected and treasured by the world at large!
After this tour, feel free to climb up to Huayna Picchu or Machu Picchu Mountain (Be sure to book these tickets in advance). Each mountain takes approximately 3 hours to hike up and down. Another, lower-impact option for which you do not need an extra ticket is to trek to the Sun Gate, the main entrance from the Inca Trail (this takes about 2 or 2.5 hours round-trip). Another option is walking to see the Incan Bridge. You will be able to stay and enjoy this magical city for more than 7 hours before hiking back down to Aguas Calientes to catch the train at 16:22 hrs (subject to availability) to Ollantaytambo. A private bus will pick up our group and drop you off at your hotel in Cusco at about 20:00 hrs. Rest your feet and your body now, because we can assure you your heart will still be soaring for weeks and years to come!
Included
What is Included?
Pre-departure briefing: You will meet your guide and group in our office for an orientation before your trek. At this time, we will provide you with the duffle bags which will be carried by our horses. The meeting will be at 5:00 PM the evening before the trip begins.
Transport: You will be picked up from your hotel in the morning and will travel by private transportation to Cachora, the starting point of the trek.
Experienced Guide: English speaking, professionally educated, and official tour guide. Your guide will explain the culture and surroundings along the entire route, including leading your group in ancient ceremonies! He or she will keep you safe, sound, and comfortable on your trek so that you can enjoy your time worry-free!
Personal tents: 2 people in each 4-people-capacity tent, to allow for higher comfort and a safe keeping of backpacks.
Camping equipment: Dining and kitchen tents, tables, chairs, and cooking equipment (all carried by the horses).
Entry ticket to Choquequirao Archeological Site
Entry ticket to Machu Picchu Archeological Site
Hostel in Aguas Calientes: The last night of this trek is spent in a hostel in Aguas Calientes with a double or triple room, private bathroom, hot shower, wifi, breakfast, and luggage storage while you visit Machu Picchu.
1 Duffle Bag: You can put your personal luggage, up to 7 kgs (15.4 lbs), including your sleeping bag, in this bag to be carried by our horses.
Cargo Mules: On days 1,2,3,4, 5 and 6, cargo mules carry the all camping equipment and your allowance of personal baggage (7 kgs/15.4 lbs). On days 7 and 8, your luggage will be carried by car or train to your destination.
Trekking Cook: A chef specialized in cooking on the trail, with an assistant, will prepare all of your delicious meals along the journey to replenish your energy. You will never go hungry!
Meals: 7 Breakfasts, 7 Lunches, 7 Dinners (Vegetarian, vegan, or special menus are available at no extra cost).
Wake up tea: Every morning at the campsite, you will woken up with a cup of coca tea! Our staff will bring the tea to your tent so that you will be warmed from inside out before you start your day.
Tea time daily: Every afternoon before dinner, the cooks will provide popcorn, biscuits, coffee, hot chocolate, teas, hot water, etc. After a long day of hiking, you will not have to wait until dinner to relax, warm up, and enjoy a bite to eat!
Snacks on the trail daily: Our snacks consist of local fruits, biscuits, chocolate, caramels, etc. We will give this snack to you at the beginning of each day in your cloth bag.
One cloth snack bag per person: To avoid the usage of plastic bags that contaminate our environment, we will give you a cloth bag for your snacks.
Products for hygiene: You will be provided with a small towel before each meal to clean your hands.
Medical kit: Our crew will bring a first-aid kit, including emergency oxygen bottle
Train tickets: From Aguas Calientes to Ollantaytambo ("Expedition" service with Peru Rail between 01:37 PM and 06:20 PM). Subject to availability.
Transport: Private transport from Ollantaytambo train station to your hotel in Cusco (Day 8)
24-hour guest service: We have telephone service available 24 hours/day for ease of communication and preparation with the agency leading up to your trek.
We will create a Memorable Lifetime Experience for you.
Not Included:
Sleeping Bags: You can rent one from our company if you do not have your own. Our sleeping bags are effective and durable to protect from temperatures as low as -18ºC (0ºF). They are mummy form and include a sleeping liner. The bags are cleaned after every use and have a maximum usage of 30 trips.
Walking Sticks: You can rent a set from our company if you would like.
Day 1: Breakfast
Last Day: Lunch and Dinner in Aguas Calientes.
Personal clothing and gear
Travel Insurance
Tips for our staff: Please note that our agency staff is well paid so please feel free to tip or not as you wish.
Option: If you feel tired after the trek to and from Llactapata, you have the option to take a train from Hidroelectrica to Aguas Calientes. (Cost: USD $34.00)
Additional costs or delays out of control of the management (landscape, bad weather condition, itinerary modification due to a safety concern, illness, change of government policy, political instability/strike, etc.)
Bus ticket from Aguas Calientes to Machu Picchu ($USD 12 per person, one way)
+ Info
Important information for the Choquequirao Trek
Please read carefully the following information – it will help you with any questions you may have about our services.
IS IT FOR ME?
The Choquequirao Trek to Machu Picchu is a great alternative for the Inca Trail trek and better suited for more adventurous trekkers who are able to handle higher altitude and longer distances.
THE BRIEFING
This meeting will take place the night before the trek's departure at 6 PM at our office which is located at Triunfo Street 392, Office 212 (second floor). We are 1 block from the Main Square (Plaza de Armas) of Cusco.
WHAT ABOUT THE BALANCE?
It would be greatly appreciated if you pay in cash at our office (US dollars or Peruvian soles) here in Cusco. We have many cash machines in the historical center to withdraw money. You can also pay by VISA or PAYPAL online but you will have to pay a 8% service charge, charged by VISA and PAYPAL. To pay your balance through PAYPAL, you need to log into your PAYPAL account using our email address of ventas@salkantaytrekking.com
DUFFEL BAG FOR Choquequirao Trek to Machu Picchu 8 Days
The evening before you start your trek, you will be given a SMALL DUFFLE BAG to pack your clothes for the next four days. Your weight allowance is up to 7 kg/15.4 lbs. Our horseman will carry your duffle bag for you together with the food and camping gear. It is important to be aware that you will not have access to your items in the duffle bag until the end of each day as the horsemen and horses will always be ahead of the group. During the travel, you need a day backpack big enough to carry your personal belongings such as a warm jacket, raincoat, camera, sunscreen, snacks, water, etc. Usually, a 30 to 50 litre backpack is sufficient.
CAN I STORE MY LUGGAGE AT YOUR OFFICE?
Of course! During the travel, your main luggage can be stored at our office or at your hotel, both free of charge.
HOW TO BOOK THE Choquequirao Trek to Machu Picchu 8 Days
FIRST To make a booking, please email us to check availability and receive customized booking forms. You can also download a generic form from:
All clients will need to fill out a Passenger Details form.
Please be ready with the following information (FROM EACH PARTICIPANT in your group). We cannot purchase any Choquequirao Trek to Machu Picchu 8 Days permits or entrance tickets without the following information:
Personal information (Full name, exactly as on your passport):
Gender
Passport number
Date of birth (dd / mm / yyyy)
Nationality
Hiking Team
Price
2020 LAND COST
FROM
$1200
PER PERSON
Book Now
Please complete the form below to request a reservation. One of our Trip Coordinators will contact you, often within two business hours, to confirm availability of the trip and/or provide you with other options. Once availability is established, we will ask for a deposit and a completed online registration to confirm your spot on the trek. Please call us at (+51) 958191179 with any questions or to confirm availability over the phone.
"Thank you for considering Salkantay Trekking, unfortunately, due to the rainy season and trail maintenance, we will be closed from the 31st of January till the 29st of February. We apologize for any inconvenience this may cause you, we are working to provide you a better service!"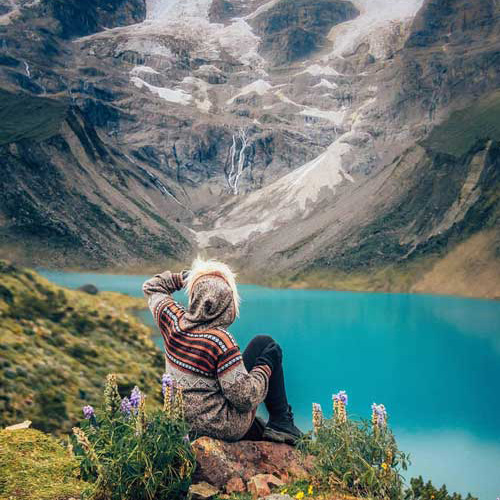 Privacy Policy:
The Salkantay Trekking Company will never share, sell, or make public any of your personal contact information to third parties.
THANK YOU SO MUCH FOR CHOOSING SALKANTAY TREKKING!!