Overview
Itinerary
Full Itinerary
Cusco | Tambomachay – Qoricocha Lake – Patabamba Community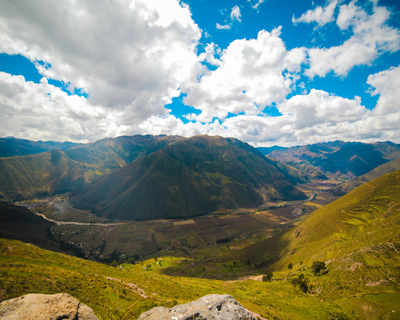 Early morning pick up from your hotel in Cusco will be at 7:30 AM. We will drive to Tambomachay (3800 MASL – 12467 FASL), an archaeological complex situated in the Saqsaywaman Archaeological Park. Tambomachay is comprised of a series of ceremonial water fountains, which are thought to have been dedicated to a water cult. The day's hike will start at this point, and will continue through puna landscapes and over the Sicllaccasa pass at 4100 MASL/13186 FASL where we will have spectacular views of two valleys. To your right, you will see the capital of the Incas, Cusco, with stunning mountains surrounding it. Your tour guide will tell you about how and where the Incas arrived to this area, and about its conquest by the Spaniards. There are two Inca sites at the bottom of the valley and, on your left, there will be a beautiful landscape of mountains and farmlands.
From the pass, we will follow the side of the valley, making our way toward the top to cross over to the other side. It's about a 45 minute walk to the top end of the valley. Once we get there, we will cross a small stream that divides the valley and begin making our way to our lunch spot at Qoricocha Lake. The scenery at the lake is quite barren because the whole area is a high puna between the mountains, and is covered with tough, Andean grass called Ichu. It may be possible to see a variety of bird life, such as Andean geese, lapwings, and partridges, among others. After lunch, we will continue on to our campsite at the village of Patabamba. We will make our way to the top of one of the ridges and, as we descend, loop around Qoricocha Lake (Golden Lake). It is about a two and a half hour walk to the village where we will be greeted by groups of locals who are always happy to welcome us into their community! After we have settled in and had a steaming cup of coca tea, we will visit one of the local families to learn about their way of life. If you have brought any gifts with you, you can share them with the family at this time. After visiting the family, we will have time to relax, and your tour guide will teach you more about the Andean way of life.
Walking Distance: 14 km/8.7 miles
Patabamba | Huchuyqosqo – Lamay – Cusco Hotel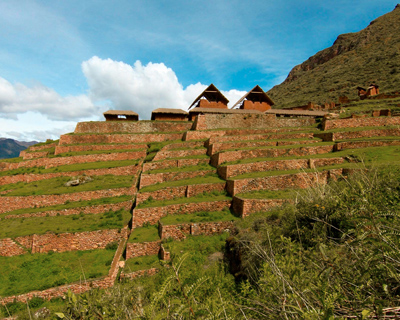 This trail will first take you to the little village of Sihua and then up to the Pukamarca pass (4150 MASL – 13615 FASL) which overlooks the village with the same name. Here, you will have a splendid viewpoint of the Urubamba mountain range and the Sacred Valley. After reaching the top of the pass, there is a 2km/0.6 mile (approximately 30 minute) downhill hike to the Pumamarka Community for lunch.
After this, you will continue your trek to the Puma Puncu canyon ( "the puma door" ). From here, you will hike along an original Incan trail, which has been restored as part of the Qapacñan project. This trail will lead you to the isolated and mysterious Inca site of Huchuy Qosqo ("the little Cusco'') perched above the Sacred Valley of the Incas at 3600 MASL/11811 FASL. Once in the site, your guide will walk you through and show you all the site's amazing Inca buildings like sacred temples, storehouses, Inca terraces for agriculture and the Inca reservoir used to store water during the dry season.
After your guided tour of the site, we will begin our 2-hour walk downhill to the village of Lamay (2800 MASL – 9186 FASL) by the Urumbamba River in the Sacred Valley where a bus will be waiting to take you back to your hotel in Cusco.
Walking Distance – 12 km / 7.46 miles
Starting point of the hike – 3848 meters ASL/ 12624 feet ASL
Maximum Altitude: 4150 meters ASL / 13615 feet ASL
Difficulty: Easy - Moderate.
Meals: Breakfast & Lunch (Plus snack)
Adventure: Absolutely
Hiking Hours: 7 Hours
Included
What is Included?
Pre-departure briefing: You will meet your guide and group in our office for an orientation before your trek. At this time, we will provide you with the duffle bags which will be carried by our horses. The meeting will be at 5:00 PM the evening before the trip begins.
Transport: You will be picked up from your hotel in the morning and will travel by private transportation to patabamba, the starting point of the trek.
Experienced Guide: English speaking, professionally educated, and official tour guide. Your guide will explain the culture and surroundings along the entire route, including leading your group in ancient ceremonies! He or she will keep you safe, sound, and comfortable on your trek so that you can enjoy your time worry-free!
Personal accommodation in private campsites: Like our ancestors, we are very considerate of the Pachamama (Mother Earth). Therefore, our campsites and lodges are adapted to the environment to avoid generating negative impacts.
Camping equipment: Dining and kitchen tents, tables, chairs, and cooking equipment (all carried by the horses).
1 Duffle Bag: You can put your personal luggage, up to 7 kgs (15.4 lbs), including your sleeping bag, in this bag to be carried by our horses.
Cargo Mules: On days 1 and 2, cargo mules carry the all camping equipment and your allowance of personal baggage (7 kgs/15.4 lbs). On days 3 and 4, your luggage will be carried by car or train to your destination.
Trekking Cook: A chef specialized in cooking on the trail, with an assistant, will prepare all of your delicious meals along the journey to replenish your energy. You will never go hungry!
Meals: 1 Breakfasts, 2 Lunches, 1 Dinners (Vegetarian, vegan, or special menus are available at no extra cost)
Wake up tea: Every morning at the campsite, you will woken up with a cup of coca tea! Our staff will bring the tea to your tent so that you will be warmed from inside out before you start your day.
Tea time daily: Every afternoon before dinner, the cooks will provide popcorn, biscuits, coffee, hot chocolate, teas, hot water, etc. After a long day of hiking, you will not have to wait until dinner to relax, warm up, and enjoy a bite to eat!
Snacks on the trail daily: Our snacks consist of local fruits, biscuits, chocolate, caramels, etc. We will give this snack to you at the beginning of each day in your cloth bag.
One cloth snack bag per person: To avoid the usage of plastic bags that contaminate our environment, we will give you a cloth bag for your snacks.
Medical kit: Our crew will bring a first-aid kit, including emergency oxygen bottle
Transport: Private transport
24-hour guest service: We have telephone service available 24 hours/day for ease of communication and preparation with the agency leading up to your trek.
We will create a Memorable Lifetime Experience for you.
Not Included:
Sleeping Bags: You can rent one from our company if you do not have your own. Our sleeping bags are effective and durable to protect from temperatures as low as -18ºC (0ºF). They are mummy form and include a sleeping liner. The bags are cleaned after every use and have a maximum usage of 30 trips.
Walking Sticks: You can rent a set from our company if you would like.
Day 1: Breakfast
Personal clothing and gear
Travel Insurance
Tips for our staff: Please note that our agency staff is well paid so please feel free to tip or not as you wish.
Additional costs or delays out of control of the management (landscape, bad weather condition, itinerary modification due to a safety concern, illness, change of government policy, political instability/strike, etc.)
+ Info
Important information for the Huchuy Qosqo
Please read carefully the following information – it will help you with any questions you may have about our services.
THE BRIEFING
This meeting will take place the night before the trek's departure at 6 PM at our office which is located at Triunfo Street 392, Office 212 (second floor). We are 1 block from the Main Square (Plaza de Armas) of Cusco.
WHAT ABOUT THE BALANCE?
It would be greatly appreciated if you pay in cash at our office (US dollars or Peruvian soles) here in Cusco. We have many cash machines in the historical center to withdraw money. You can also pay by VISA or PAYPAL online but you will have to pay a 8% service charge, charged by VISA and PAYPAL. To pay your balance through PAYPAL, you need to log into your PAYPAL account using our email address of ventas@salkantaytrekking.com
DUFFEL BAG FOR Huchuy Qosqo - Qoricocha 2 Days
The evening before you start your trek, you will be given a SMALL DUFFLE BAG to pack your clothes for the next four days. Your weight allowance is up to 7 kg/15.4 lbs. Our horseman will carry your duffle bag for you together with the food and camping gear. It is important to be aware that you will not have access to your items in the duffle bag until the end of each day as the horsemen and horses will always be ahead of the group. During the travel, you need a day backpack big enough to carry your personal belongings such as a warm jacket, raincoat, camera, sunscreen, snacks, water, etc. Usually, a 30 to 50 litre backpack is sufficient.
CAN I STORE MY LUGGAGE AT YOUR OFFICE?
Of course! During the travel, your main luggage can be stored at our office or at your hotel, both free of charge.
HOW TO BOOK THE Huchuy Qosqo - Qoricocha 2 Days
FIRST To make a booking, please email us to check availability and receive customized booking forms. You can also download a generic form from:
All clients will need to fill out a
Passenger Details form.
Please be ready with the following information (FROM EACH PARTICIPANT in your group). We cannot purchase any Huchuy Qosqo - Qoricocha 2 Days permits or entrance tickets without the following information:
Personal information (Full name, exactly as on your passport):
Gender
Passport number
Date of birth (dd / mm / yyyy)
Nationality
Hiking Team
Price
2020 LAND COST
FROM
$180
PER PERSON
Book Now
Please complete the form below to request a reservation. One of our Trip Coordinators will contact you, often within two business hours, to confirm availability of the trip and/or provide you with other options. Once availability is established, we will ask for a deposit and a completed online registration to confirm your spot on the trek. Please call us at (+51) 958191179 with any questions or to confirm availability over the phone.
"Thank you for considering Salkantay Trekking, unfortunately, due to the rainy season and trail maintenance, we will be closed from the 31st of January till the 29st of February. We apologize for any inconvenience this may cause you, we are working to provide you a better service!"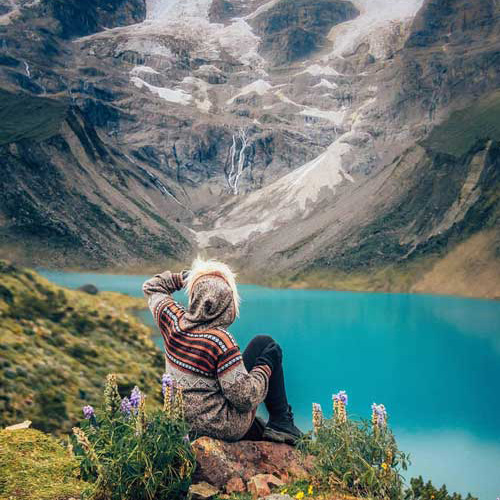 Privacy Policy:
The Salkantay Trekking Company will never share, sell, or make public any of your personal contact information to third parties.
THANK YOU SO MUCH FOR CHOOSING SALKANTAY TREKKING!!