EXCELLENCE CERTIFIED
BY TRIP ADVISOR IN 2017
SALKANTAY TREKKING OBTAINED THE CERTIFICATE OF EXCELLENCE IN 2017 AND IS RANKED IN THE BEST OF TRAVELLER'S CHOICE AWARDS 2018
We are very proud to say that this year in 2017 we received our first Certificate of Excellence from Trip Advisor. This tribute is given by one of the platforms most used by our clients and travellers to determine which lodgings, attractions, and restaurants deserve to be visited by other travellers based on their first-hand experiences in every establishment.
Because of the constant positive comments and good qualifications, Trip Advisor decided to recognize Salkantay Trekking as one of the businesses that deserves to be distinguished for its commitment to excellence and hospitality.
We occupy 2nd Place in Trip Advisor with 962 reviews, Total companies 912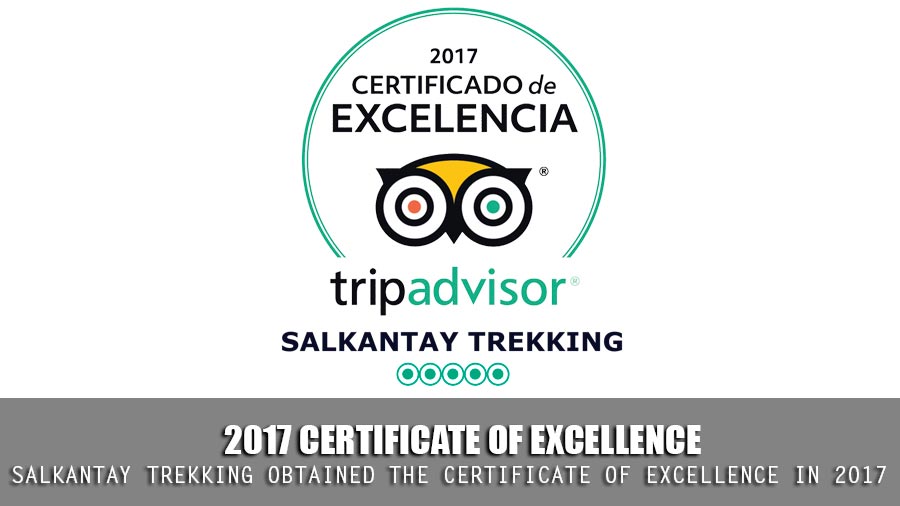 What makes these trips different?
We believe that a vacation should be more than a hotel room, a flight and a rental car. It should be more than the sum of its parts. We also believe a challenge can help you grow and a trip can stir the soul. We create journeys worth taking - for the traveler, for the host and for the world.