For me, it's the hiking.
I could say a whole lot about Peru…cuisine, color, history, culture, spirituality, superfoods, lively social life, cheap cost of living…but I must say, Peru's hiking is probably the best of it all. The energy of the Pachamama, Mother Earth, is strong here, and the best way to connect is with your own two feet. The spectacular landscapes of Peru are unbeatable. You'll feel it in the core of your being and with all 5 senses.
The other star of Peru's treks, of course, are its impressive archeological sites, perfect for any active history buff. I'm convinced that even in an entire lifetime, no one person could trek every trail in Peru. There are infinite possibilities for exploration across the desert, cloud forests, stone forests, mountains, coast, snow, plains, valleys, plateaus, and canyons. It's truly endless, and it will bring you to tears as you're overwhelmed by the beauty of this land.
That being said, here are the best of the best! I present 18 of Peru's most spectacular treks:
A note about trekking in Peru: Though you'll find that each trek listed below mentions a certain amount of days it typically takes, almost all of them can be done in different days. You can make them shorter or longer, see a smaller portion of the trail or add on extra time on the trail to see a more extensive version of it or just move at a slower pace. If you're interested in a particular trek, but the timetable doesn't sound great, do a little research. I bet you can find a company offering the trek in the number of days you want to dedicate to it, whether one day or one month!
A note about trekking to Machu Picchu: There are several treks to Machu Picchu to choose from. Four are listed here. If you choose to do more than one of them, you aren't obligated to tack Machu Picchu on multiple times! Just let your tour company know you've been there, done that. They won't charge you the entrance fee and will probably be able to arrange return transportation for you to Cusco earlier than the rest of the group. Every trek can be done for the trek itself and not just for the final destination of Machu Picchu.
Each trail has incredible landscapes, and no two are the same, so don't be afraid of getting bored of the landscapes. My recommendation, if you're going to do more than one, is to enter Machu Picchu from the Inca Trail, the only one that brings you directly into the citadel through the Sun Gate.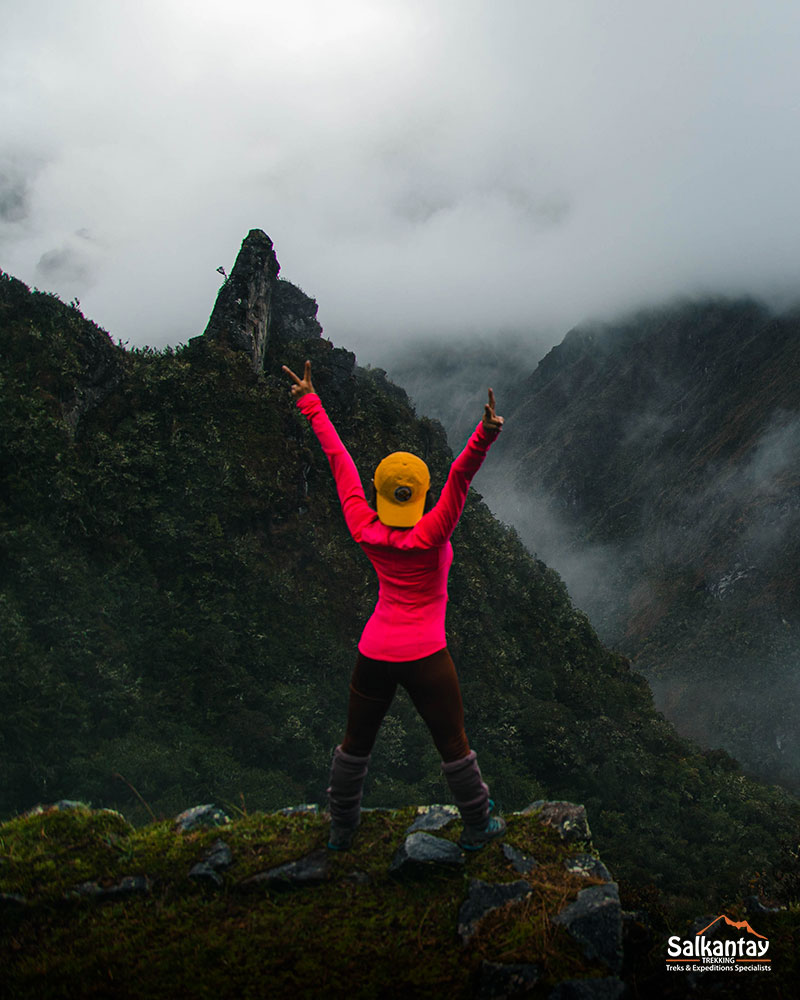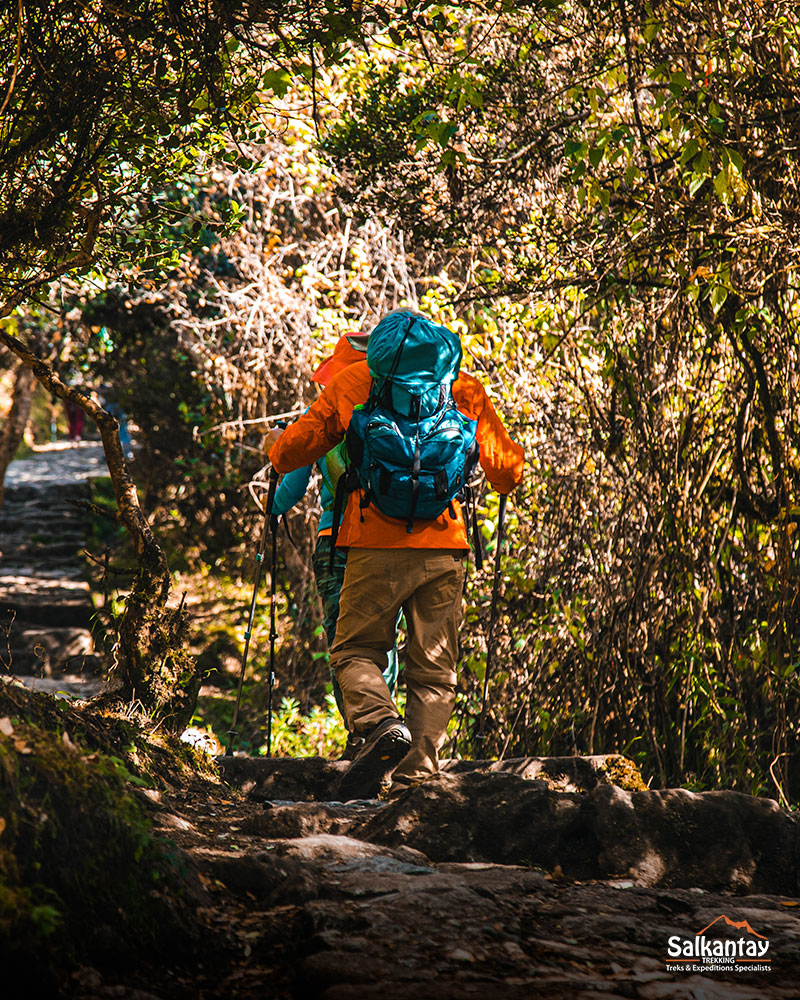 Short Treks (1-2 days)
FYI: Any day hikes can be made into an unforgettable overnight camping trip! I recommend it even for stargazing. Just plan accordingly. Many destinations have dedicated campsites nearby.
1.- Wayna Picchu (1 day)
2690 MASL / 9720 FASL
Difficulty: Moderate
Though you may not have heard this mountain's name, I'm almost sure you've seen it! Wayna Picchu, meaning "young mountain," is the tall, narrow peak jutting up behind Machu Picchu in ALL the photos. And it can be hiked! It's one of the scariest hikes you can do in Peru because of its steep, ancient paths and high drop-offs. You'll be rewarded with a bird's eye view of Machu Picchu from the top! If you're afraid of heights, though, skip it. It'll take you about 2.5 hours round-trip.
The entrance ticket to Machu Picchu that includes Wayna Picchu costs 200 soles. You should reserve a spot at least 4 months in advance.
2.- Cañon de Los Perdidos (Canyon of the Lost) (1+ days)
400 MASL / 1310 FASL
Difficulty: Easy
This desert crevice is a great place to spend the day! It's about 2 hours outside the city of Ica, and you can spend 2-3 hours hiking around sandy formations. Once at the bottom of the ocean, this mystical, golden canyon is now accessible to the human race.
You'll possibly find ancient marine fossils under your feet as you explore its wavy landscapes and strange lakes. There are 4 levels to enjoy as you descend into its depths, each with their own special charm. As an added bonus, observe the local birds who live and fly here as guardians of the canyon! It's not very well-known as it just entered the tourism world in 2011, so you won't be overrun by other visitors. Entrance is free if you go on your own, but it's easier to go with a tour (which costs about 100 soles). You can either take a day trip or camp out.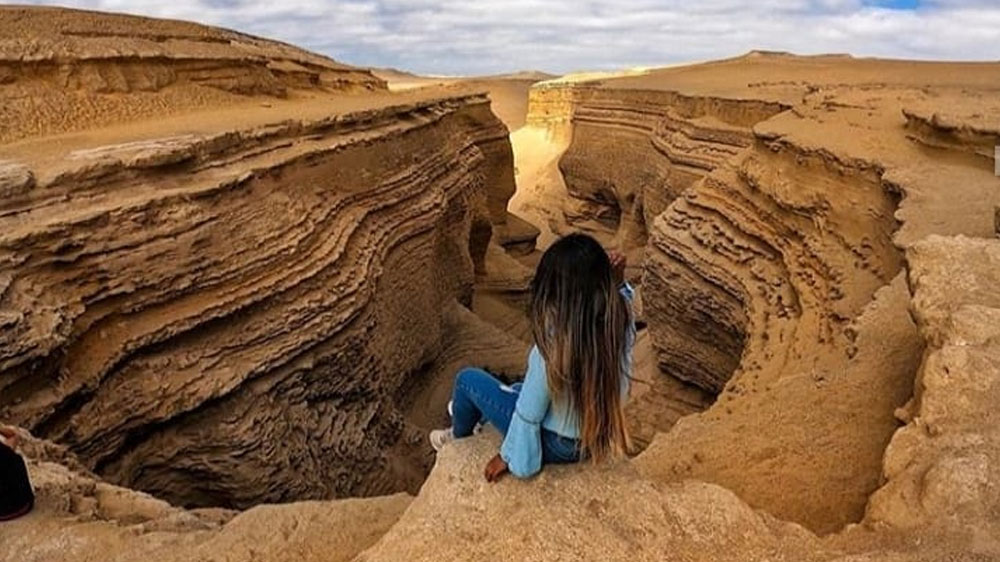 3.- Waqrapukara (1+ days)
4140 MASL / 13,580 FASL
Difficulty: Moderate
This hike, leaving from the base city of Cusco, will reward you with a whimsical, double-horned pre-Inca fortress on the edge of a mountain peak overlooking the Apurimac Canyon. It is such a unique experience and really shouldn't be missed. The scenery is spectacular, not just at the final destination but along the entire trail. There will be more panoramic views than you can count.
You'll literally be out in the middle of nowhere, accompanied only by llamas, alpacas, birds and other wildlife in their natural habitat as this is not a crowded destination. Don't forget your camera! The trail is not well marked, so your best bet is to join a guided tour. You can do an out-and-back day trip or take a tent and spend the night.
4.- Marcahuasi (1+ days)
4000 MASL / 13,120 FASL
Difficulty: Easy
How about a day or two walking through the stone forest? This place is full of bizarre stone animal and humanoid-shaped figures, either made by aliens or shaped over time by wind and rain. But either way, it makes for a unique getaway in nature! As expected of a place called "the gate to heaven," there are some really spectacular, panoramic mountain views to enjoy. It's known to be a place of mysticism and spiritual renewal.
Marcahuasi was also the site of an ancient society's settlement, and you can visit their chullpas, or cylindrical burial towers. You can get there by taking a bus from Lima to Chosica and then from Chosica to San Pedro de Casta. From there, either hike to the entrance or take a van, taxi or donkey. And, voila, you're ready for a spiritual camping retreat! You can do a day trip or stay overnight at a local campsite.
5.- El Misti Volcano (1-3 days)
5825 MASL / 19,110 FASL
Difficulty: Challenging
El Misti casts a shadow on the gorgeous white city of Arequipa in south Peru. This active volcano has a summit reaching up to 5825 meters (19,111 feet) above sea level, so it's essential that you've been hanging out at a high altitude for a while before trying it. You'll climb up 2430 meters (8000 feet) from the base for amazing views of the volcano's crater, the city below and the surrounding mountain range.
Technically, El Misti is one of the easiest and cheapest climbs on a mountain of its size worldwide (such as Kilimanjaro and Mount McKinley), but that doesn't mean it's a walk in the park. At such a high altitude, every step becomes a challenge. Hire a certified guide who will provide good trekking and camping equipment. It'll cost you about $100. All that being said, here's your opportunity to climb a volcano if that's on your bucket list! If you're not up to summit, you can still visit El Misti on a day hike along its slopes.
6.- Churup Lake (1 day)
4450 MASL / 14,600 FASL
Difficulty: Moderate
This is a great hike for adrenaline-seekers as you'll have the opportunity to scale a rock wall next to a waterfall! Located in the Cordillera Blanca near the city of Huaraz, this day hike is off-the-beaten path and ready to be explored.
Take a public minivan 45 minutes away to Pitek, and then start off toward the turquoise glacial Lake Churup! Enjoy scrambling upwards using ropes and ladders as you enjoy the scenery. It will leave you speechless. Once you get there, continue around the left side of the trail to the small Lake Churupita before returning the same way. Allow 4-6 hours to finish the round trip hike. You'll need to pay the entrance fee to Huascaran National Park, which is 30 soles for 1 day, 60 for 2-3 days and 150 for 4 days or more. If you're going to do the Santa Cruz Trek, that's also within the park.
7.- Huchuy Qosqo Trek (1-2 days)
3650 MASL / 11,980 FASL
Difficulty: Moderate
Here's another trek for you to do without being overrun by other hikers. It's in the Sacred Valley of the Incas near Cusco and leads to an extensive and highly impressive Inca archeological site on a plateau overlooking the surrounding snow-capped mountains. Its name means "Little Cusco," and it's one of the local trails that uses the ancient Inca Trail and will help you continue to piece together the past as you travel around Peru! You can go on an all-inclusive day trek to find your way. If you do go on your own, you'll need to start from the town of Calca.
There's also a 2-day trek to Huchuy Qosqo starting from right outside the city of Cusco at Tambomachay and a 3-day trek that also includes a visit to Machu Picchu.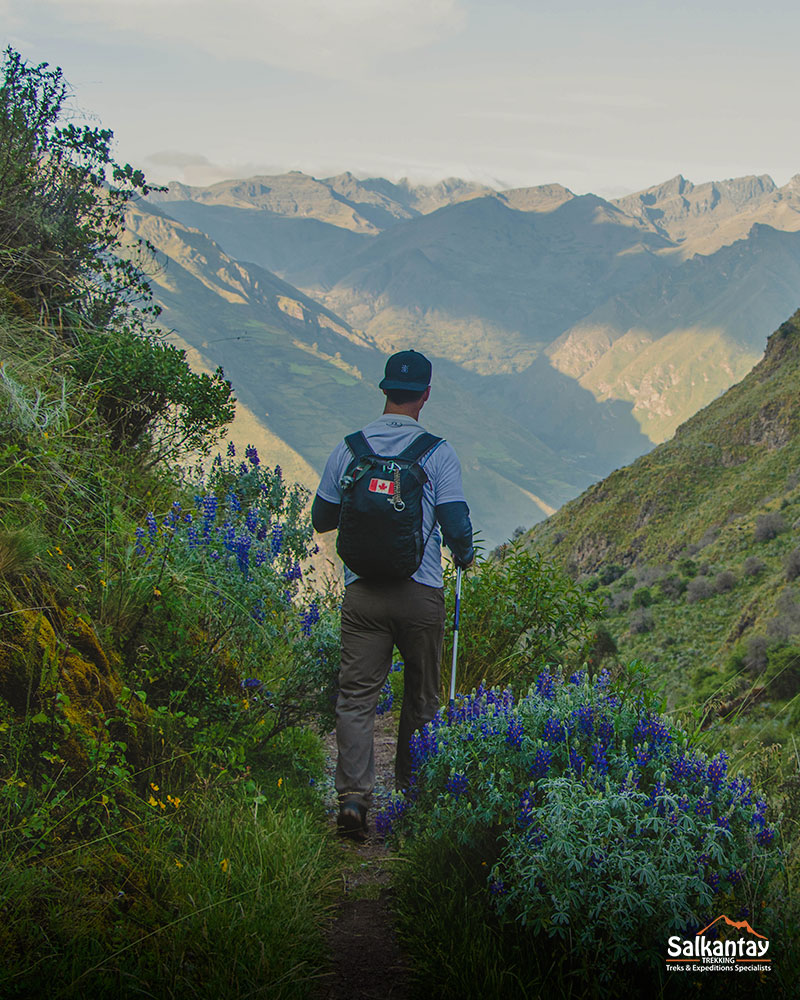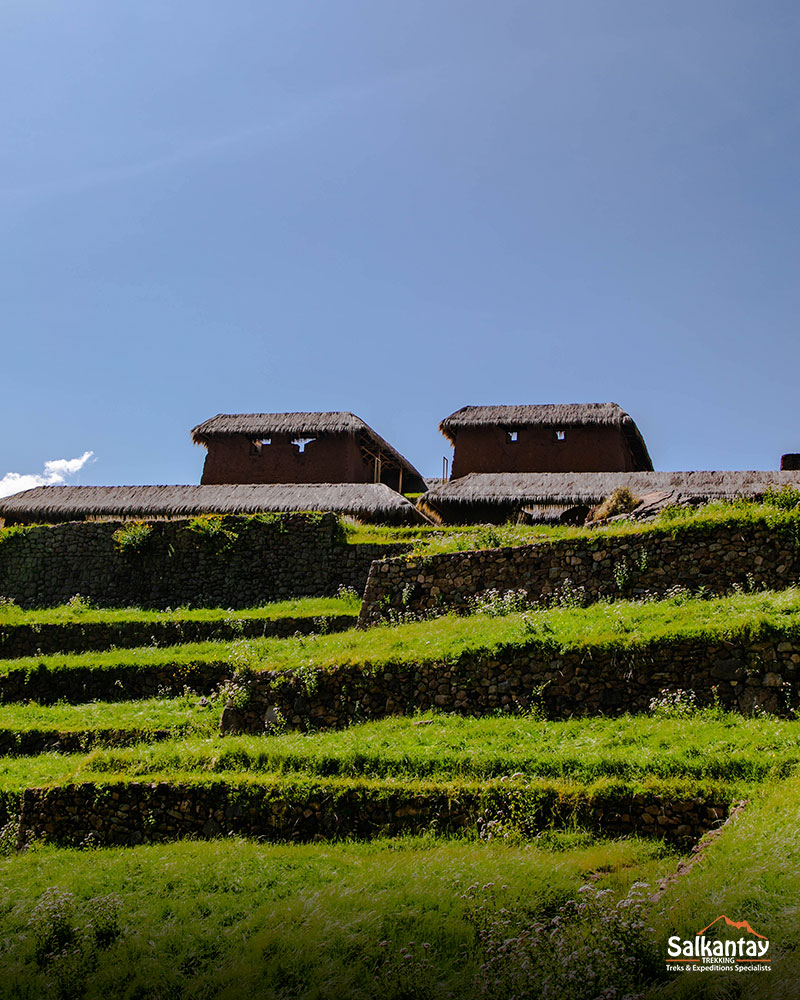 8.- Tinajani Canyon (1+ days)
4060 MASL / 13,320 FASL
Difficulty: Easy
The Tinajani Canyon is a little-known destination of Puno about 150 km away from the city. This 200-acre natural wonder is appreciated for its eccentric sandstone outcroppings marking their way through this grand crevice in the earth. And, of course, every canyon has its rumbling river to enjoy, so take a minute to relax on the banks of the Pacobamba. The legends about this canyon's formation range from petrified giants to Inca Pachacutec's attempt to end a drought caused by the devil.
This mystical place certainly adds to Puno's reputation as the folkloric capital of Peru and makes it an amazing place to explore for nature lovers. Enjoy hiking, rock climbing, paragliding, mountain biking and camping in wonderland! Take advantage to visit the nearby Tarukani Puya Raimondii Forest, the largest forest in the world of the largest bromeliads in the world. The strange landscape continues!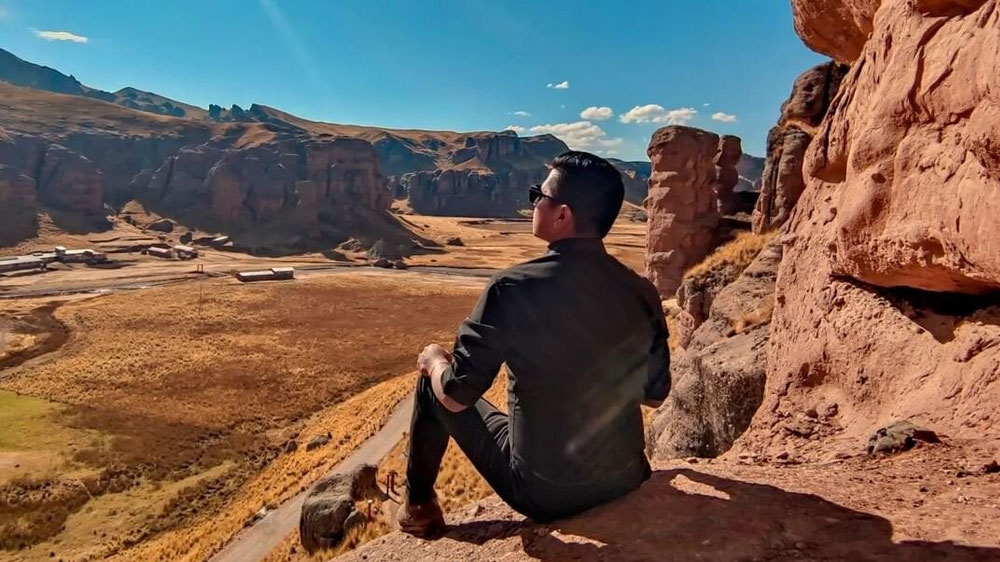 Medium Treks (3-5 days)
9.- Huancaya Trek (3-5 days)
3550 MASL / 11,650 FASL
Difficulty: Moderate
In the Natural Reserve Nor Yauyos Cochas, 8 hours from Lima, you'll find one of the most pristine and breathtaking landscapes in the world. The Cañete River runs through the area steeply downward toward the ocean, but it's not just any river. The scene is transformed into a fairytale as infinite small waterfalls and lakes are formed in the wide flow of its emerald waters. Take a multi-day trek through this fantasy land of natural wonders to take it all in.
Even if you have just a day or two to visit the river, it'll be unforgettable. And don't worry – there won't be many other visitors around! You can get there by taking a bus from Lima to the town of Huancaya. Visit nearby Lunahuana for a wild rafting experience!
10.- Santa Cruz Trek + Lake 69 (3-4 days)
4760 MASL / 15,617 FASL
Difficulty: Moderate
Yet another chance to bathe yourself in the mysterious energy of the Andes, the Santa Cruz Trek winds through the Cordillera Blanca near Huaraz in northern Peru. You'll find yourself traipsing through one of UNESCO's Natural World Heritage Sites and Biosphere Reserves. It's also listed in National Geographic's Top 20 Treks in the World. The park is home to almost 400 glacial lakes, and you'll see so many of them on your trek. You can book a tour that includes a visit to 69 Lake, the most well-known.
You'll be impressed by the 6000-meter (20,000-foot) snowy peaks towering over you, surrounding you and reconnecting you to Mother Earth. You'll get to see Peru's highest peak, Huascaran, at 6770 meters (22,200 feet). Keep a sharp eye out for local wildlife, and take the time to observe the flora of the area. You can plan a trek on your own if you're experienced, or you can book a tour anywhere from $100 – $500 (try to stick around the middle). You'll have to pay the 60 soles entrance fee for 3 days or 150 soles for 4+ days in the Huascaran National Park.
11.- Inca Trail to Machu Picchu (4 days)
4215 MASL / 13,830 FASL
Difficulty: Moderate
The Inca Trail is a modern-day adventure with a deep connection to the past! It's won numerous travel awards and is the most famous hike in South America. The Qhapaq Ñan, as it was called by its most recent constructors, the Incas, was the 30,000 km road network connecting the Inca Empire from one extreme to the other. These breathtaking paths are truly a feat of engineering because of the difficult mountain and jungle terrain they were built to traverse.The trail stretched through 6 South American countries, but the most well-known portion today is the part leading from the Sacred Valley of the Incas to Machu Picchu, entering through the Sun Gate above the grand city. There's no better way to experience the cloud forest of the Peruvian Andes!
There's something still wild and disconnected about these peaks and valleys that draws in travelers from around the world and connects them to something they never knew existed. Being here among the sights and sounds of savage nature and ancient history helps each visitor understand more about themselves and the world around them. If you're just discovering the Inca Trail for the first time, here's why you need to book your Inca Trail hike right now.
12.- Salkantay Trek + Humantay Lake to Machu Picchu (5 days)
4600 MASL / 15,090 FASL
Difficulty: Challenging
The Salkantay Trek offers the best of both worlds. The expedition starts among the grandeur of the Andes' sacred snowcaps and glacial lakes and makes its way to tropical jungle and cloud forest. Namely, you'll get to visit one of Cusco's top destinations, Humantay Lake. Lastly, you arrive at one of the 7 Wonders of the Modern World, Machu Picchu! National Geographic Adventure Travel Magazine named it among the 25 Best Hikes in the World, so it certainly can't be missed.
The landscapes on this trail will leave you with your mouth wide open, your camera full of surreal photographs and your heart content. It's cheaper, less crowded and less strict than the Inca Trail. On top of all that, the Salkantay Trail offers an opportunity to enjoy exotic glamping, and that can really change your experience completely!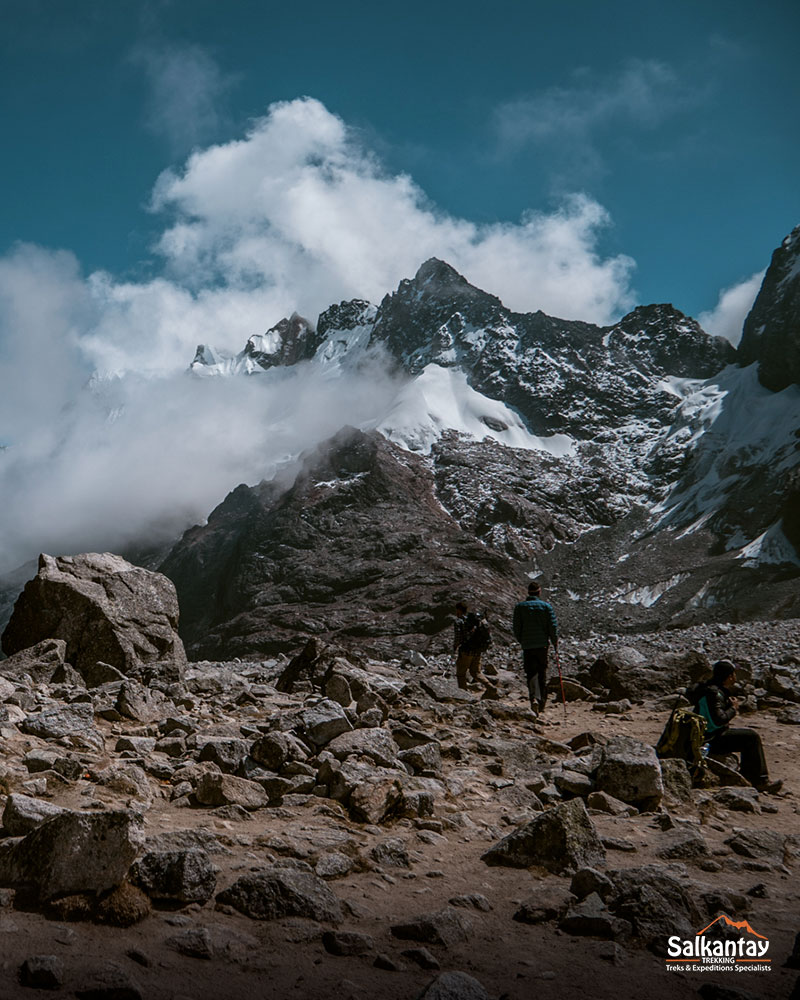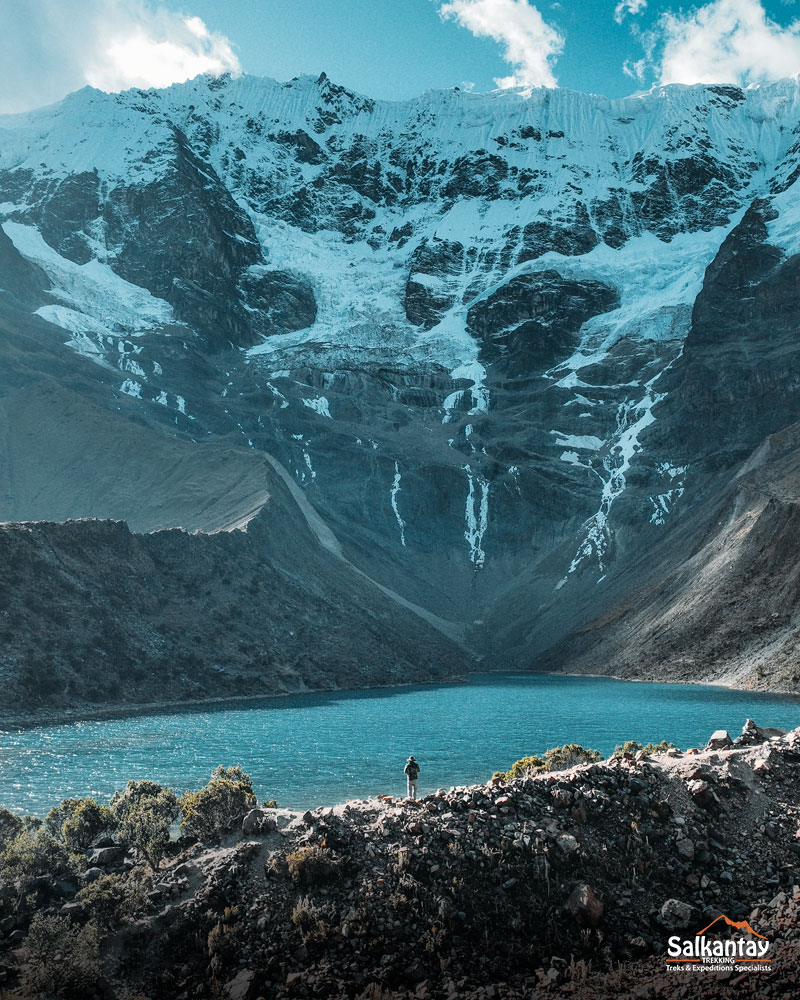 13.- Colca Canyon / Cotahuasi Canyon (2-3 days / 3-5 days)
3400 MASL / 11,150 FASL / 2600 MASL / 8530 FASL
Difficulty: Moderate
At 3300 meters (10,830 feet) and 3530 meters (11,595 feet) deep, respectively, the Colca and Cotahuasi Canyons are two of the world's deepest. Both located outside of the southern city of Arequipa, they are two remarkable places with endless hiking trails to explore through their sandy-red slopes and rocky outcroppings paired with farming terraces climbing up, up, up to the road. Of course, both are also the natural habitat of the majestic bird of Peru, the Andean condor. You can be almost 100% sure that you'll spot one on your trip. With a wingspan of about 3 meters (10 feet) across, it's truly an awe-inspiring experience to see them gliding over the breathtaking scenery of the canyons.
There are several affordable trekking options available that also include visits to nearby hot springs. Note that Colca Canyon is more crowded as it's only about 4 hours from Arequipa and more well-known. Cotahuasi is 10 hours away from the city but you'll have it more to yourself, and its landscapes are somewhat more varied.
14.- Gran Vilaya Trek (4 days)
3350 MASL / 10,990 FASL
Difficulty: Moderate
On this trek, you'll get to check 2 of Peru's best destinations off your list! Leaving from Chachapoyas in northern Peru's tropical forest, this diverse trek will take you to the Fortress of Kuelap – the pre-Inca "Machu Picchu of the north" – and Gocta Falls, one of the tallest in the world. You'll also get to visit ancient sarcophagi left behind by the mysterious Chachapoyas people. The climate is warmer than in other parts of the country, and the vegetation is what makes this part of Peru so mystifying and exciting.
It's remote, so you'll feel like Indiana Jones as you make your way through the jungle! Surely, you'll get to see wildlife in their natural habitat, too, which is a nice treat. This is a great first-long trek in Peru because it's found at a lower altitude than many of the others mentioned here, and it's a great introduction to Peru's societal beginnings! Plus, you'll get to ride on Peru's only cable car. Another highlight is that there is lodging and electricity each night along this trail! You can hike this alone or go with a tour for $200 – $400.
15.- Ancascocha Trek to Machu Picchu (4-5 days)
4650 MASL / 15,260 FASL
Difficulty: Challenging
Listed in National Geographic's "World's Best Hikes: 20 Hikers' Dream Trails," the Ancascocha Trek is arguably the best alternative trek to Machu Picchu and is sometimes referred to as the Hidden Inca Trail or Super Inca Trail. After all, it follows portions of the original, ancient Inca Trail toward Machu Picchu! It's also extremely remote…you could call it Peru's best-kept secret. It is full to the brim of spectacular Andean landscapes, untouched by human hands.
You'll enjoy a high, free-falling waterfall, meander along a charming, rumbling river in open valleys and then challenge yourself to cross over snowy mountain passes before descending into the cloud forest. Of course, we can't forget the trail's namesake: the dazzling Ancascocha Lake! The trail is absolutely mind-blowing! And you'll have it all to yourself, except for llamas, alpacas, condors, and the locals.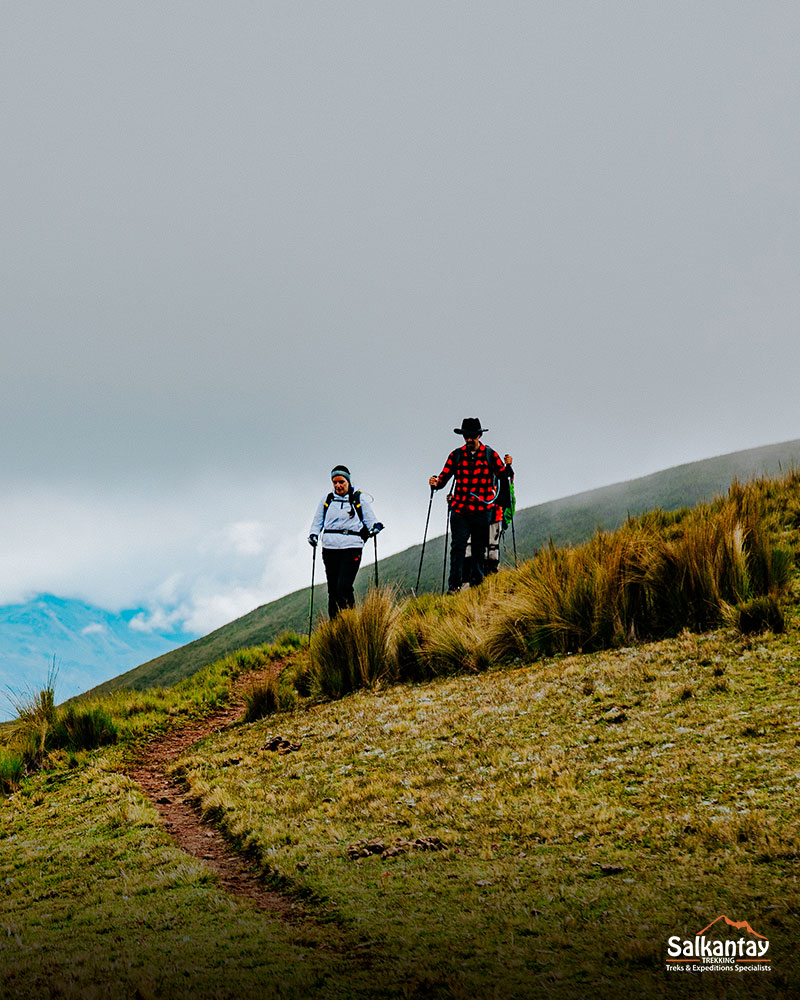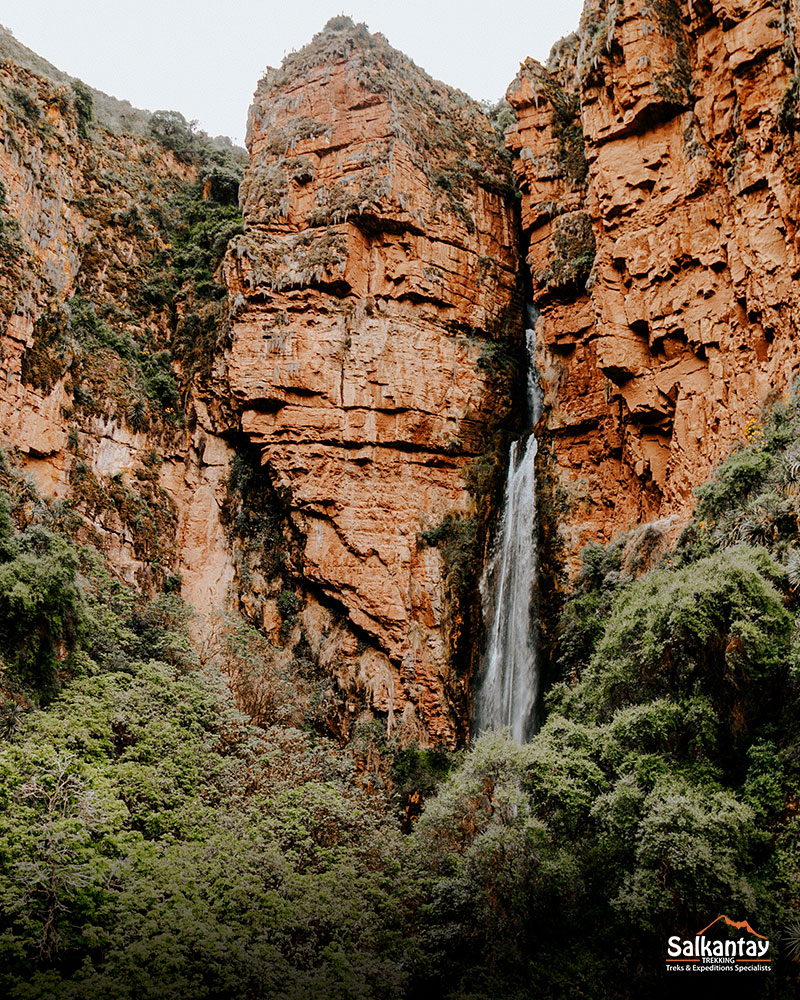 Long Treks (6+ days)
16.- Huayhuash Circuit (8-12 days)
5050 MASL / 16,570 FASL
Difficulty: Challenging
This unbelievable trek steals the show! It's the best of the Andes and is considered among the top 10 routes for hikers on the entire globe. Lonely Planet calls it "a high-elevation Eden." There's even a book and movie about this place, called Touching the Void. Huayhuash is another exhilarating destination near the buzzing mountain nucleus of Huaraz. It's definitely one of the best things you can do while you're in Peru. Lucky for you, it can be enjoyed both by experienced mountaineers, as well as healthy, fit and determined beginners with some training and a great tour company.
You'll be astonished to encounter the wildest mountain range in Peru, in every direction finding a storybook landscape before your eyes. Its highest peak, Yerupaja, rises to 6630 meters (21,770 feet), and there are many others like it. You'll feel an energetic wave washing over you from the sacred mountains as you marvel at their bright blue and green lakes, glaciers and sweeping panoramas of the rugged countryside. You can book a tour for $350 – $2000, plus about 240 soles in campsite fees. Stick to a mid-range price for your safety and convenience.
17.- Ausangate Trek + Rainbow Mountain (5-10 days)
5400 MASL / 17,720 FASL or 5200 MASL / 17,060 FASL (depending on the route)
Difficulty: Challenging
This is another of Peru's breathtaking treks where the main character is the beautiful scenery offered up by Mother Nature. Leaving from the city of Cusco, you'll travel toward the region's highest and most revered peak: Ausangate Mountain at 6384 meters (20,945 feet). This hike is the Cusco region's Huayhuash Trek. The peace and tranquility you'll feel in this astounding place is priceless.
The Ausangate Trek is full of snowy peaks and multi-colored glacial lakes like nothing you've ever seen before, and you'll also see the famous Rainbow Mountain Vinicunca! You'll feel like you're in a movie, but it will be real life. As you rest between difficult stretches of hiking, take time to absorb, in silence, the vitality and wisdom of the lofty mountains around you. A plus of this trek is that you'll get to enjoy the relaxing hot springs in Pacchanta with an incomparable Andean mountain view. Be sure to travel with a reputable guide for your own safety as there are several hiking routes in the area, and it's easy to get lost.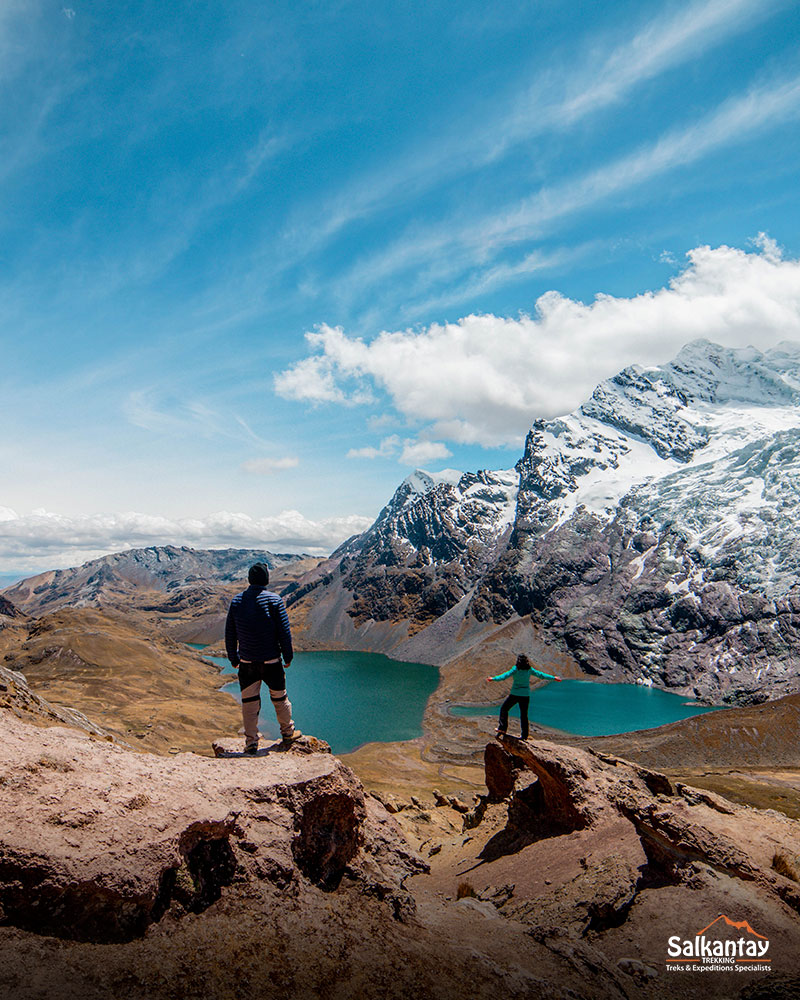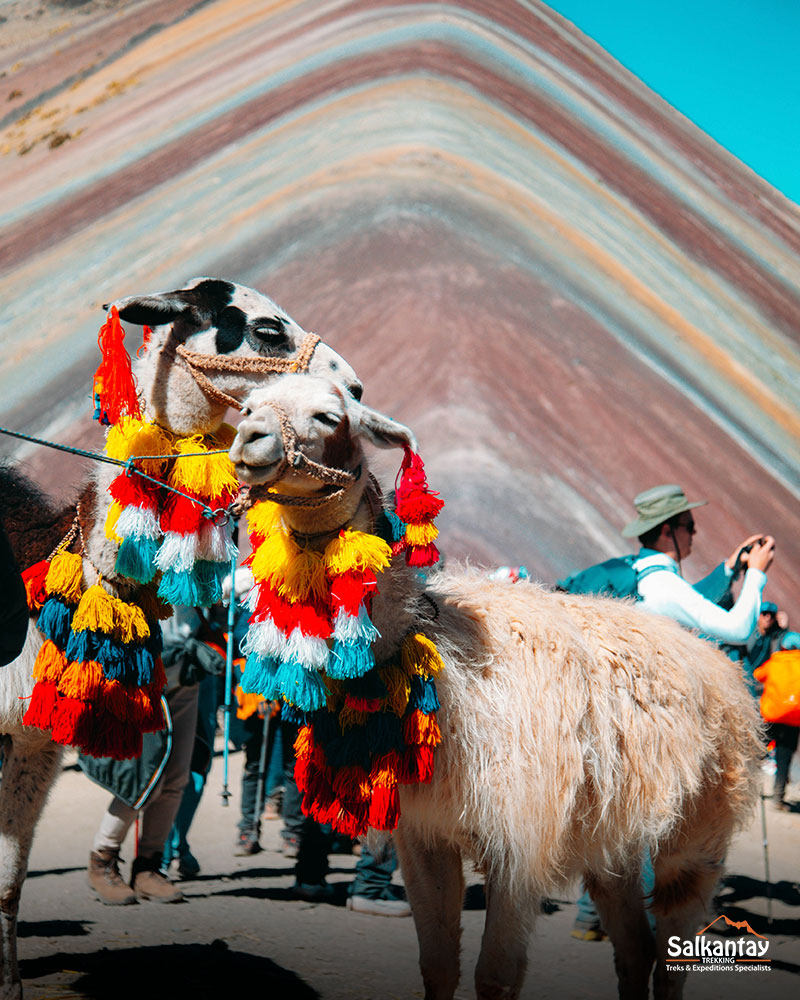 18.- Vilcabamba Trek to Espiritu Pampa via Choquequirao (11-16 days)
4500 MASL / 14,760 FASL
Difficulty: Challenging
Hiram Bingham, famous for "discovering" Machu Picchu, had a specific purpose for his expedition through the Andes in 1911: to find "The Lost City of the Incas." It was their last capital and refuge from the Spanish and the place where their last king, Tupac Amaru, was captured by the conquistadors in 1572. That event left the Incas definitively conquered and ended their empire. Though he found Vilcabamba on his journey, Bingham didn't realize its importance. It wasn't until Gene Savoy traveled to Espiritu Pampa in 1964 that it was cleared and excavated, and evidence showed it to be history's real "Lost City."
You'll also visit another formerly lost Inca site, Vitcos, the White Palace of Manco Capac where he fled to as he escaped the Spanish in 1537. By adding on a visit to Choquequirao, as well, you'll get the complete picture of the last days of the Incas. It's a city very similar to Machu Picchu that was an administrative and military center and then sheltered the Incas as they retreated into the jungle away from their Spanish oppressors. Apart from the archeological sites along the trail, you'll, of course, see stunning scenery of the Vilcabamba Mountain Range and the cloud forest. This is a hike for those up for a physical challenge and interested in ancient history! You can book a tour for $700 – $1300. Choose somewhere in the middle, preferably.
Strap on Your Boots!
Remember, in each destination, there are many other things to do besides the hikes listed here. Do your research so you don't miss out on the best Peru has to offer!
Here are the hub cities you'll be working out of to do these magnificent treks:
| | |
| --- | --- |
| Chachapoyas | Gran Vilaya Trek |
| Lima | Marcahuasi |
| Huancaya | Huancaya Trek |
| Ica | Canyon of the Lost |
| Arequipa | El Misti Volcano, Colca and Cotahuasi Canyons |
| Puno | Tinajani Canyon |
| Cusco | Salkantay Trek, Inca Trail, Vilcabamba Trek, Ausangate Trek, Huchuy Qosqo, Anascocha Trek, Wakrapukara, Wayna Picchu |
| Huaraz | Santa Cruz Trek, Lake Churup, Huayhuash Circuit |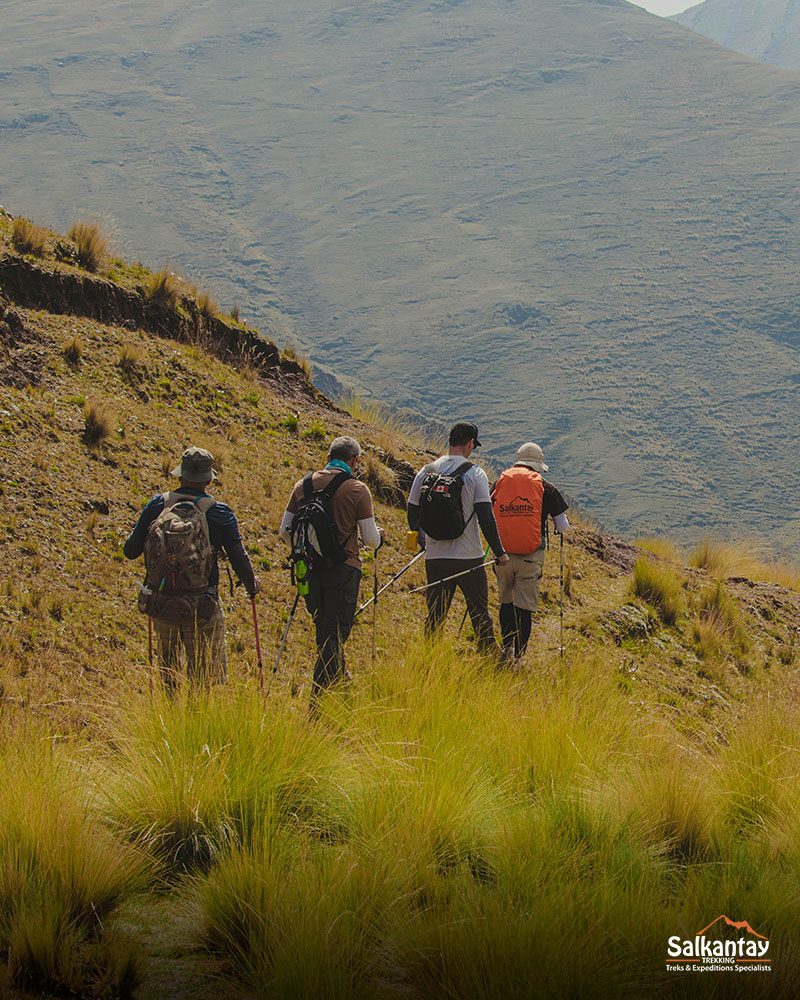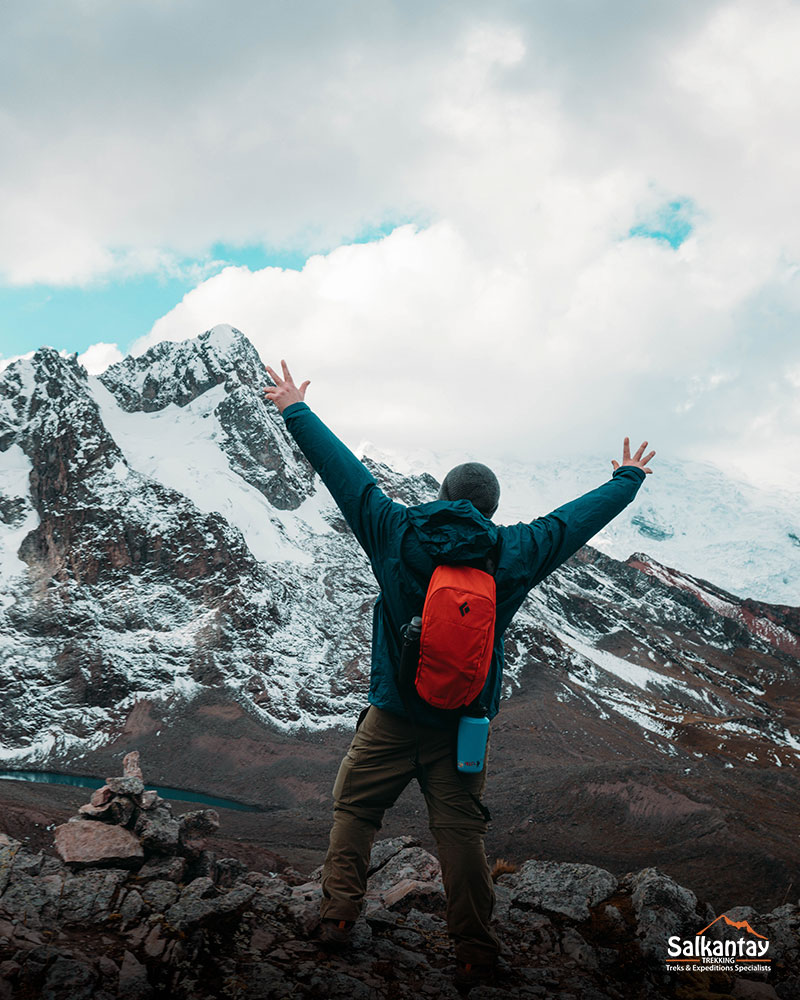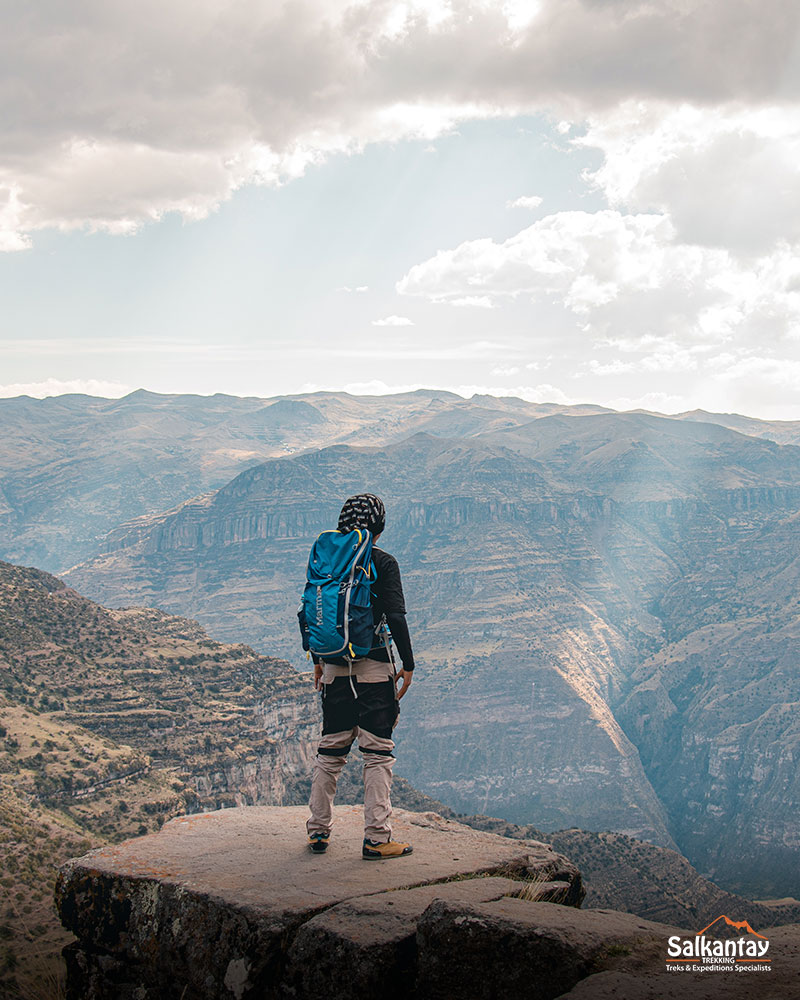 I recommend visiting them in this order! That way, you'll slowly acclimate to the altitude, each time challenging yourself a tad more with a little bit higher peak. Be sure to get a couple of rest days in after each trek before trying another.
If you're a die-hard hiking enthusiast who has FOMO and wants to fit in all 18 of these treks, you're crazy! That would not be for the faint of heart. And if you've done the math, that'd be at least a 70-day hiking vacation or 3+ months including the other amazing things you'll want to do near each city you stay in. Oh, and let's not forget the days you'll need just to rest! I get it, though, it's hard to pass up even one of these incredible opportunities.
I realize most won't be up for doing ALL the wonderful excursions Peru has to offer, so use this list to decide which ones are right for you, your travel group, and your itinerary!
Happy hiking!
Written by: Bethany Iversen Marrou
---
---
You might also like
---