The Comprehensive Guide
If you've ever heard of Puno, Peru, it was probably in conjunction with the extensive, high-altitude Lake Titicaca, famous for being "the highest navigable lake in the world." To be sure, it's an epic place, both culturally and in natural wonder. Lake Titicaca, which means stone puma, is the legendary birthplace of the God of the Sun, Viracocha, who later sent Manco Capac to Cusco to found the Inca culture. That's pretty huge (pun intended).
But this lakeside city is much more than just sailing the lagoon connecting Peru and Bolivia. It's a wonderland of culture, history, scenic views and adventure, both on the shore, on the water and inland. Tastefully mixing Aymara, Quechua, Inca and colonial culture, the region of Puno offers a wide variety of activities that anyone can enjoy. Its magnetism allures all types of travelers to its shores, mountains, and valleys.
Don't skip over this blended treasure on your trip to South America! Come on over, and see for yourself what I mean.
Here are the 4 best things to do in Puno, Peru:
1. Be Immersed in Living Culture by Visiting the Communities of Titicaca in Puno
The most obvious way to spend time around Puno is on the world-renowned Lake Titicaca, the main attraction bringing visitors to the area. There are two worthwhile ways to visit the lakeside communities of Titicaca: day trips and homestays.
Homestays
If you're looking for an authentic cultural experience and want to dive into ancient culture in the heights of the Andes, you should definitely do a homestay. In this unique initiative, a hospitable, local family will welcome you into their home as a part of their family for a night (or more) so you can experience what it's like to live on this ginormous Andean lake from a first-hand perspective. You'll participate in their traditional way of living and, surely, learn both about your hosts and yourself. It's an opportunity unlike any other you'll find as you travel the world. Instead of looking from the outside in, you'll be looking from the inside out!
Homestay opportunities are available on the floating islands of Uros, Taquile Island, Amantani Island, Luquina Chico and Llachon (the last two on the shores of peninsulas jutting into the lake). Scroll down for more info on each of these eccentric communities so you can choose the best one for you.
Day trips
If that's not your style or you don't have time, you can also visit any of these places on day trips across the lake.
Here are your options for visiting the villages of Titicaca:
Floating Islands of Uros:
The floating islands of Uros are not natural landforms but handmade homes, firm islands built of reeds from the lake. These reed huts on totora reed platforms with reed boats as transportation and reed souvenirs are truly one-of-a-kind, standing on the traditions of Aymara ancestors from pre-Inca times.
This creative community found a novel way to avoid being conquered by invading people groups, such as the Tiahuanacos, Qollas and Incas. They live off of hunting and fishing, exchanging their goods for other products in Puno, selling colorful, hand-woven textiles and inviting tourists to visit their islands and take a spin in their boats.
Amantani Island:
Three hours and forty-five minutes by boat deep into Titicaca, you'll find the most extensive island, Amantani. This fantastic destination will treat you to a charming, mystical experience, offering the chance to participate in interactive textile and stone-carving workshops, take part in agricultural activities, hike to ceremonial centers, tour the island on horseback and enjoy artisanal fishing.
Revel in the magical music and dance of the local people as you bask in the energy of this rustic town. In addition, this island is also known as the island of love, so do not doubt that this place has the most fascinating views of the lake.
Luquina Chico:
Located on the peninsula of Chucuito projecting out into Lake Titicaca, this quaint, Aymara community will give you the unique experience of sharing their ancestral customs and traditions, as well as their traditional foods, so you can see and understand the life of a native in the Andean heights. The friendly, cordial townspeople will be sure to welcome you with open arms and warm hearts. Enjoy a cozy campfire under the stars with new friends in this lakeside neighborhood!
Taquile Island:
This island, three hours from Puno by boat, is especially famous for its ancestral and incredibly detailed weaving techniques. You'll be surprised to learn that the men are the ones who do the weaving on this island, and each symbol, color and design has a special meaning for the people of Taquile Island.
This picturesque town has preserved a grand culture throughout the passing years, and they're happy to share it with you! Be sure to catch the sunset from here over the vast waters, so far out that the city of Puno is nowhere in sight.
Llachon:
Another peninsular town, Llachon is 74 km from the city of Puno by car and distinct in that the inhabitants are Quechua-speakers instead of Aymara. Llachon is home to various archeological sites, as well as ancient traditions and customs to learn about. Take a walk through history, share in communal activities or just relax on its shores, admiring the blue sky and blue waters of the high plateau of the Andes.
Suasi Island:
The only private island on Peruvian Titicaca and four hours from the shore, Suasi is the perfect place to relax in luxury with the most amazing views of the lake and its surroundings from the rocky cliffs.
Here, you can go on nature walks to see Andean camelids and birds, hike the hill, pass through agricultural terraces and then explore the night sky by telescope, accompanied by an expert astronomer.
Esteves Island:
For an experience with ancient history, visit Esteves Island, known for its fascinating archeological sites. In more recent history, it was the remote Spanish prison of patriot rebels during the war for independence. It's only 2 km from the Puno Bay, so take advantage of this island to try local foods, hike or sail the surrounding waters. There is a luxury hotel on this island if you'd like to stay overnight and enjoy an unforgettable sunset and sunrise.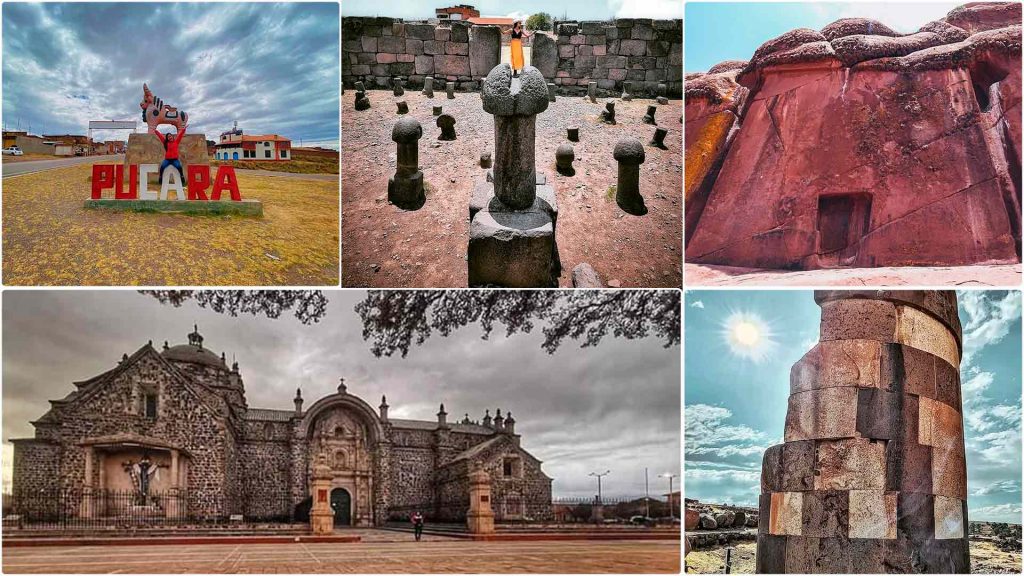 2. Dive into History through Archeology
Puno is home to a rich cultural heritage, and its ancestors have left behind phenomenal archeological sites for the modern man to visit. Piece together what life was like back then by visiting these spots:
Chullpas de Sillustani, Cutimbo and Molloco
These impressive cylindrical tombs housed the remains of the highest-ranking Qolla officials, a nomadic, pre-Inca people group. These nobles, priests and governors were mummified and buried here in a fetal position with their belongings.
Once the society was conquered by the Inca Empire, the towers were redressed with Inca stonework and used to house remains of their own empire's dead. The Sillustani site is the most well-known and intact of the three near Puno.
Quechua Route:
This set of attractions includes the extensive archeological complex of Pucara and the unique city of Lampa.
Pucara
This archeological complex, about 2 hours from Puno by car, stretches 8 acres wide! Pucara was home to a sophisticated, pre-Inca society advanced in agriculture, pyramidal construction and engineering. Here, you can visit the magnificent pyramid of Qalasaya and the Lithical and Ceramic Museums of the town.
Don't miss the chance to spend time at a ceramic workshop to learn how the famous "toritos," or little bulls, are made that guard over the doorposts of homes across the country, giving protection and prosperity.
Lampa
Close to Pucara, you can visit Lampa, an old colonial center and mining town known as "the pink city" for its clay structures. This is home to the 17th-century Church of Santiago and its well-preserved catacombs. Take a minute to appreciate the flawless replica of Michaelangelo's Pieta in the church before heading underground to see the skeletal collections of the catacombs which, according to legend, contain tunnels that connect the church to Cusco and local mansions.
Enjoy colonial architecture from times past, and visit the Museum of Kampaq for a look at even more ancient history from the area.
Aymara Route:
This unusual set of attractions includes the bizarre Inca Uyo (fertility temple) and the mysterious Amaru Muru doorway.
Inca Uyo
This comical fertility temple of the Incas, in the district of Chucuito, served to supposedly "cure" women of infertility. The palace is filled with phallic sculptures, which always bring a laugh or a gentle blush to visiting tourists. This site was used as a worship center to Mother Earth, in turn asking of her fertility in reproduction and agricultural yields.
Amaru Muru
A grand doorway carved into a towering rock face, Amaru Muru, called "The Gate of the Gods" by locals, is shrouded in mystery. Is this an interdimensional portal or an abandoned Inca construction project? No one knows its story, but it's referred to now after the name of an Inca priest who, according to legend, escaped to another world through it, taking the highly revered Golden Sun Disk with him, protecting it from the greedy hands of the Spanish conquistadores.
Enjoy the breathtaking landscape surrounding it, too. It's something reminiscent of Arches National Park, without the crowds. For another cultural treat afterwards, go on to closeby Juli, a town nicknamed "Little Rome."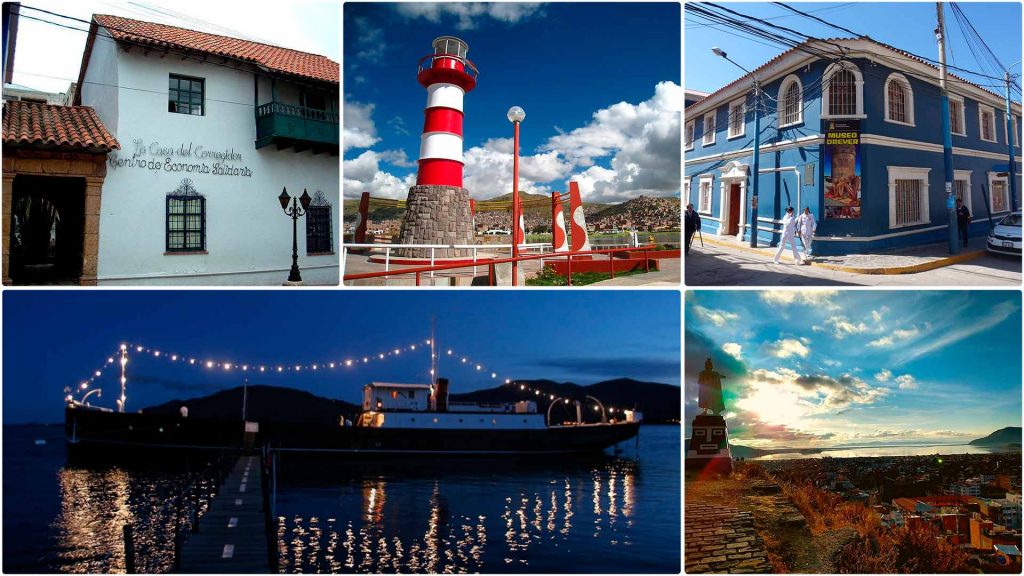 3. See the city
The city of Puno is much more than just Lake Titicaca! Here are several things to do without leaving the land:
Churches
Puno Cathedral
You'll find this 18th-century church in the main plaza of the city. It's built in the traditional Baroque style of the Roman Catholic church but is unique in that its facade has wooden images of plants, mermaids and people. Its two bell towers make it a picture-worthy spot. Inside, you'll see a spacious worship center with a marble altar and high, domed ceilings.
Church of Saint John the Baptist
This church is the sanctuary of Puno's patron saint, the Virgin of Candelaria. At night, its unusual facade is magically lit up and comes alive. Enjoy its mixture of colonial and Andean components.
Jiron de Lima Street
This charming, pedestrian street lined with shops, cafes, bars, restaurants, hotels and travel agencies is the perfect place to take a stroll and relax in European-esque manner. There is something so relaxing about watching how locals and visitors enjoy the social atmosphere of Puno on Jiron de Lima Street.
Get your picture taken under the 1847 Deustua Arch, gorgeously adorned as a monument to war heros. Leaving this street, you'll enter the beautiful Parque Pino (Pino Parque), a tranquil square named after another war hero, Manuel Pino, filled with trees for you to enjoy.
La Casa del Corregidor (The Mayor's House)
This highlighter-yellow building stands out in Puno, beautifully contrasting the deep, blue water of Lake Titicaca! Built in the 17th century, this quirky building is now home to a fair-trade shop, a cafe, a library, an exhibition hall featuring local artists and an event hall for concerts. Entrance is free! Take a look around, snap a picture for Instagram and have a snack and a coffee.
Museums
Municipal Museum of Carlos Dreyer
This compact museum houses a big history. Mixing in one place pre-Inca, Inca, colonial and republic art and artifacts, you'll travel through time as you walk through its corridors.
Museum of Coca and Customs
Visit this museum to have a hot cup of coca tea as you learn about this sacred plant's development, farming techniques and uses past and present (one of which is to make crack cocaine). There's also a part of this small museum dedicated to local customs, including traditional dances, costumes and masks. Try on one of them yourself for a special family picture!
Parks and Viewpoints
Plaza del Faro
In this quaint park, Puno's lighthouse is standing tall to guide ships back to shore. Take a walk, have a seat, take a picture of the Puno panorama and buy beautiful souvenirs.
Condor Hill (Viewpoint of Kuntur Wasi)
For the best view of all of the Puno region, take the 620-step hike up to Condor Hill… or take a mototaxi. Fly over the lake and surrounding neighborhoods along with the condor sculpture you'll find in this high-up park.
Cerrito de Huajsapata
Head up to this natural viewpoint over the city and the lake for another panoramic picture of Puno. This park is dedicated to falling in and out of love, the pleasant and unpleasant experience that we all know too well. There's even a huayno song, a type of music popular in Andean South America, named after this place. Lastly, it's the historical site of a battle of the revolution of Tupac Amaru II.
Yavari Steamboat
This first steel ship of the Peruvian Navy, was built in London on the Thames in 1862. It was subsequently delivered to Titicaca Lake piece-by-piece by boat, horseback and llama-back across the mountains! Definitely a unique experience worth discovering.
Bonus: If you visite Puno in February, don't miss the Festival of the Virgin of Candelaria, the Patron Saint of Puno! In 2014, it was named a UNESCO Intangible Cultural Heritage of Humanity.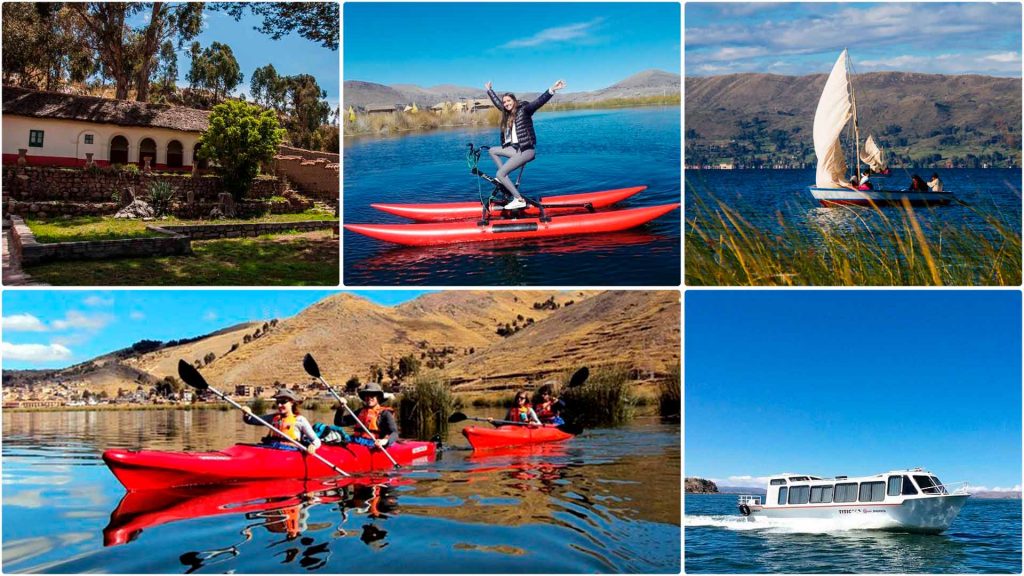 4. Spend time in nature
Last but certainly not least, Puno, Peru is a natural wonderland. In Puno, you get the best of both worlds: land and water, mountains and coast!
Here's how to take advantage of the incredible natural surroundings of Puno.
Fundo Chincheros
This 125-acre ranch, 20 minutes from Puno, is an off-the-beaten path but absolutely unforgettable destination! You can go horseback riding across the Andean plains or hike on the Cactus forest trail. To learn about Andean farming and raising llamas and alpacas, you can also take a half-day tour of the ranch. Bring the family to the countryside for a barbecue; you can even stay overnight on the premises if you'd like.
Out on the water
Enjoy a waterbike, kayak, speedboat, sailboat and more on Titicaca Lake! You'll have all types of water sports at your fingertips around Puno. Head to Luquina Chico for traditional fishing or take off in a kayak from Llachon. Hop on a speedboat to visit Uros and Taquile or relax on a catamaran out on the lake. For an extra dose of uniqueness, use a waterbike to visit Esteves Island. Don't forget that in Uros, you can even take a spin in one of their reed boats. P.S. – Keep an eye out for the Titicaca ducks and frogs during your adventure!
Mountain Biking
A bike tour is a great way to get closer with the landscape of the Andean plains of Puno, Peru. Popular biking destinations include Chucuito, the Chullpas of Sillustani and a circuit around the coast of the lake. Pass by fields of quinoa, beans, potatoes and other Andean crops, and wave to the farmers as you cycle on.
Of course, you'll also get to see llamas, vicuñas, alpacas and Andean birds. See the unforgettable sites of Puno and Lake Titicaca on 2 wheels!
Tinajani Canyon
The Tinajani Canyon is a little-known destination of Puno about 150 km away from the city but definitely worth the time. This 200-acre natural wonder is appreciated for its unusual, sandstone outcroppings marking their way through this grand crevice in the earth. Of course, every canyon has its rumbling river to enjoy, so take a minute to relax on the banks of the Pacobamba River.
The legends about this canyon's formation range from petrified giants to Pachacutec's attempt to end a drought caused by the devil. Either way, it presents a fantastic opportunity for hiking through wonderland.
In conclusion…
Are you convinced? Puno, Peru is much more than meets the eye. Plan your time to avoid FOMO: Fear Of Missing Out. If you follow this guide, you won't miss anything worth seeing!
This border town has so much to offer, from escapades through peaks and valleys to adventuring through time and relaxing on the banks of paradise. You'll leave Puno recharged for your next destination, but you won't soon forget the amazing experiences you had while you were here. Pinky promise.
Written by: Bethany Iversen Marrou
---
Amantani Island
,
Chucuito
,
Culture of Puno
,
Lake Titicaca
,
los uros
,
Peru
,
Pucara
,
Puno
,
Sillustani
,
Taquile Island
,
Virgin of Calendaria
---
You might also like
---