If you've never considered traveling to Peru, you are certainly missing out! To be a relatively small country, Peru is, arguably, one of the most diverse travel destinations on the entire planet. Full of wilderness, adventure, history, world-renowned cuisine and a colorful culture, this is a country that offers several exciting options for literally any type of traveler.
It's home to jungle, desert, mountains, and coast and contains historical wonders of every era since the very beginning of civilization to the present. Peru proudly claims 1 of the 7 Wonders of the Modern World and 13 UNESCO World Heritage Sites.
These are the 28 very best things to do in Peru:
1. Visit Machu Picchu, one of the 7 Wonders of the Modern World
Of course this one has to be first! It's probably the reason you started thinking about coming to Peru in the first place. This sanctuary of the Inca elite, discovered by the outside world in 1911, was never conquered by the Spanish. That makes it a priceless example of the ingenious skills, strength and engineering of the Inca Empire, protected through time by the cloud forest's thick vegetation and difficult mountain terrain.
The incredible structures across the Inca world were built of giant stones precisely sculpted to fit together like a puzzle without one drop of mortar. This destination is the culmination of your time touring around Cusco, the gem of the past life of these sacred mountains.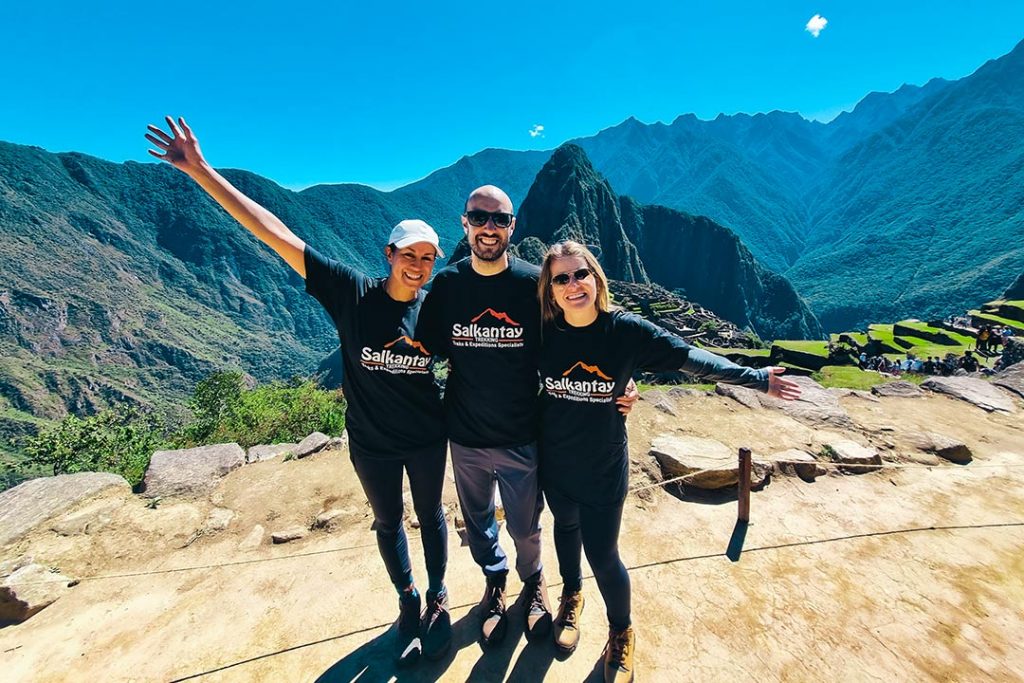 2. Delight is Peru's world-class cuisine (and take a cooking class!)
You simply cannot visit Peru without finding a new favorite food. Crafted through generations and across all types of landscapes, Peru is home to one of the most diverse gastronomical scenes on the planet. Its fertile lands produce an abundance of fruits, vegetables and grains. Several of the globe's superfoods are indigenous to Peru and thrive here, such as quinoa, maca, kiwicha, chia, avocado, purple corn, tarwi, cacao, lucuma and goldenberries. Thanks to Gaston Acurio, a world-renowned chef, Peruvian cuisine is now recognized worldwide as being among the very best.
→ Definitely take a traditional cooking class on your trip to take the taste of Peru back home with you to enjoy it over and over again.
3. Do a homestay in one of Puno's lakeside villages
In the high Andes, Puno is home to the world's largest navigable lake, Lake Titicaca. Known in Andean culture as the birthplace of the Sun God, it's a place full of colorful culture and once-in-a-lifetime attractions. If you're looking for an authentic cultural experience, you should definitely do a homestay.
In this unique initiative, a hospitable, local family will welcome you into their home as a part of their family for a night (or more) so you can experience what it's like to live on this ginormous Andean lake from a first-hand perspective.You'll participate in their traditional way of living and, surely, learn both about your hosts and yourself. It's an opportunity unlike any other you'll find as you travel the world. Instead of looking from the outside in, you'll be looking from the inside out!
4. Spend the night in the desert oasis of Huacachina
In Peru's extensive, coastal desert, you'll find an oasis surrounded by otherworldly sand dunes. It's an unusual landscape, to be sure, and it's filled with exciting things to do. Catch the sunrise or sunset from the sand. Relax on the banks of this bizarre desert lake, or take a spin in a paddleboat. Take a ride on a sandboard and in a dune buggy. Sleep in town, or splurge for a glamping tent out on the sand!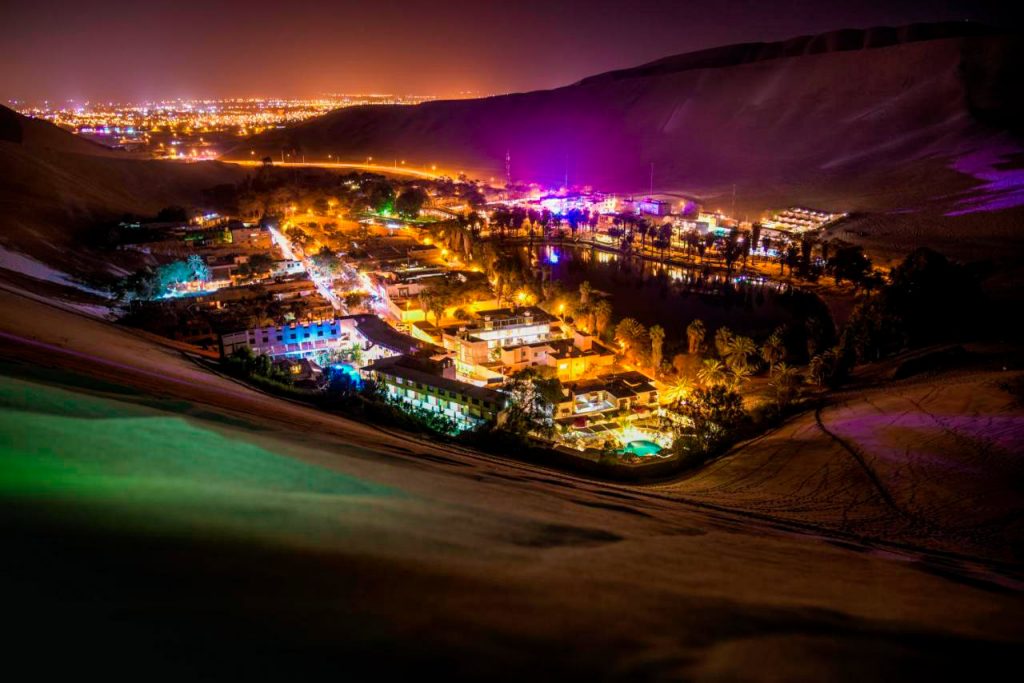 5. Paraglide around Lima
It's time to finally check paragliding off your bucket list! Lima offers several options to fly high over its dunes, oceans and historical buildings. Surprise your travel partner with this unexpected adventure!
6. Do one of the two best hikes in the Cusco region, the Salkantay Trek or the Inca Trail
Peru is a hiking wonderland, but two destinations stand out in the region of Cusco. The Salkantay Trek gives the best of both worlds: high, snowy mountain peaks with glacial lakes to tropical jungles and the cloud forest of the valleys. The landscapes on this trail will leave you with your mouth wide open, your camera full of surreal photographs and your heart content. It's cheaper, less crowded and less strict than the Inca Trail.
One of the many UNESCO sites of Cusco, the Inca Trail is a modern-day adventure with a deep connection to the past. The Qhapaq Ñan, as it was called by its constructors, the Incas, was the 30,000 km road network connecting the Inca Empire from one extreme to the other. These paths are truly a feat of engineering because of the difficult mountain and jungle terrain they were built to traverse.The trail stretched through 6 South American countries, but the most well-known portion is the part leading from the Sacred Valley to Machu Picchu, entering through the Sun Gate above the grand city.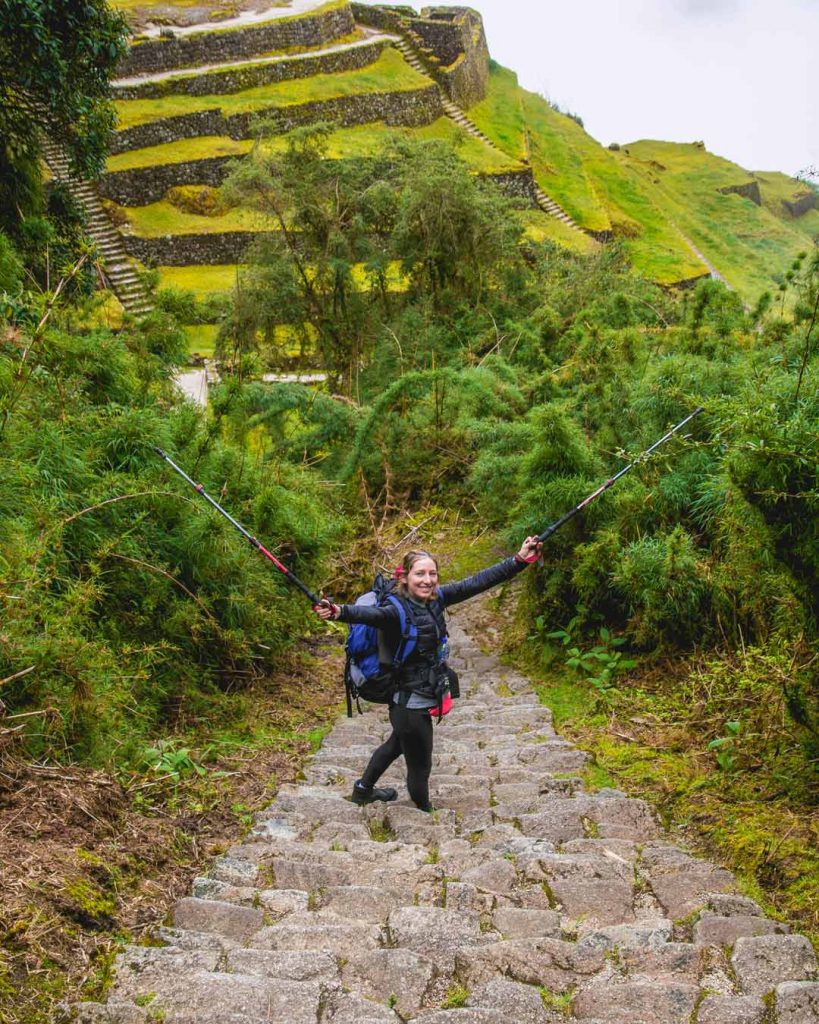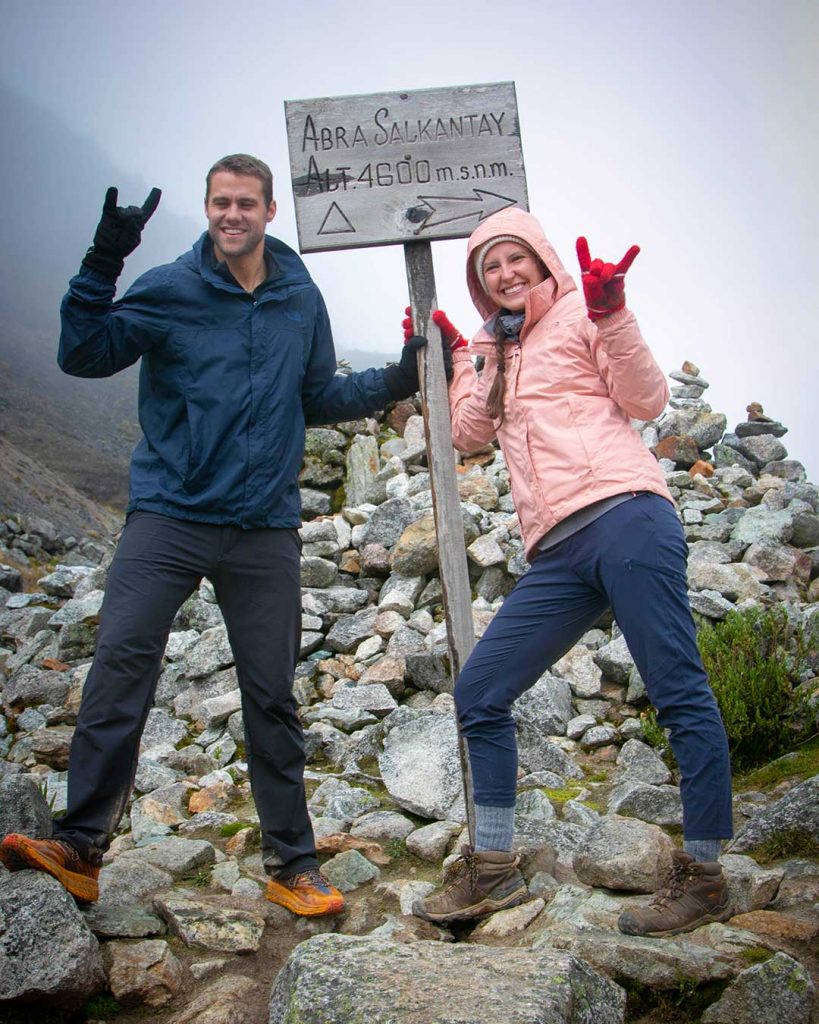 7. Visit the finest ancient ruins in the north, Kuelap
This impressive, pre-Inca fortress and settlement is one of the largest in South America but is still off-the-beaten-path. It was built by the Chachapoya culture in the 10th century AD, though people began to settle there in the 4th century. It's much older than the Inca sites you'll see across Peru, and it was inhabited until the Spanish conquest of the 1500's.
As an added bonus, to go up to Kuelap, you'll take Peru's only cable car!
Nearby, don't miss another of Peru's main attractions, Gocta Falls, one of the highest in South America.
8. Discover the gateway to the Amazon, Iquitos
Colloquially known as the gateway to the Amazon, Iquitos is a city like no other. This most extensive rainforest in the world is called "the lungs of the earth" as it plays an essential role in oxygen production and global biodiversity.
There are no roads going into the city, so you'll have to arrive by plane or by riverboat through remote jungle villages. But, oh baby, once you're there you'll be immersed into a world of exotic animals, tropical weather, lush landscapes and weird foods. Here, you can take an Amazon River Cruise, sleep in a treehouse, play with the wildlife on Monkey Island and visit the indiginous tribes of this famous rainforest.
Be sure to visit wildlife rescue centers in the area and local conservation organizations. The Amazon takes care of us, so see what you can do to give back – it and its wildlife need our protection now more than ever.
9. Make chocolate from scratch at the Bean-to-Bar workshop in the ChocoMuseo
One of the coolest – and most delicious – experiences you can have in Peru is to make your own chocolate right from local cocoa beans. You'll be surprised to see what cocoa looks like in its natural form and the entire process behind that sweet treat we all love. Peru is the world's largest producer of organic cocoa and has been consuming the superfood since 1900 BC, so take advantage of the years of expertise here!
10. Shop like a local at the farmers' market
Every city has an open-air farmers' market where you can buy super fresh products, many times from the same farmer who planted, watered and harvested the crop. You'll be amazed by all the colors of the rainbow as you walk through the crowded aisles to find your groceries. On top of that, some markets also sell other goods like clothes, school supplies, tools, hot meals and souvenirs. See something you've never tried before? Eat adventurously!
11. Bike around the Paracas National Reserve
Any National Reserve is expected to have exceptional natural beauty, and Paracas is no exception. There's a fantastic bike trail going across the coastal desert park, passing several beaches and excellent viewpoints of the Pacific Ocean and its wildlife with the sandy cliffs of the reserve. Biking is, by far, the best way to see this jewel of the Peruvian coast!
P.S. – While you're in Paracas, take a kayak to the Ballestas Islands, "the poor man's Galapagos" to see its Humbolt penguins, blue-footed boobies and sea lions.
12. Watch the flight of the condor over Colca Canyon
At 3,300 meters deep, one of the world's deepest, Colca is a remarkable place with endless hiking trails to explore through its sandy-red slopes and rocky outcroppings paired with farming terraces climbing up, up, up to the road. Of course, it's also the natural habitat of the majestic bird of Peru, the Andean condor. You can be almost 100% sure that you'll spot one on your trip to Colca Canyon. With a wingspan of about 3 meters (10 feet) across, it's truly an awe-inspiring experience to see them gliding over the breathtaking scenery of the canyon. There are several tour and trekking options available that also include visits to the nearby hot springs.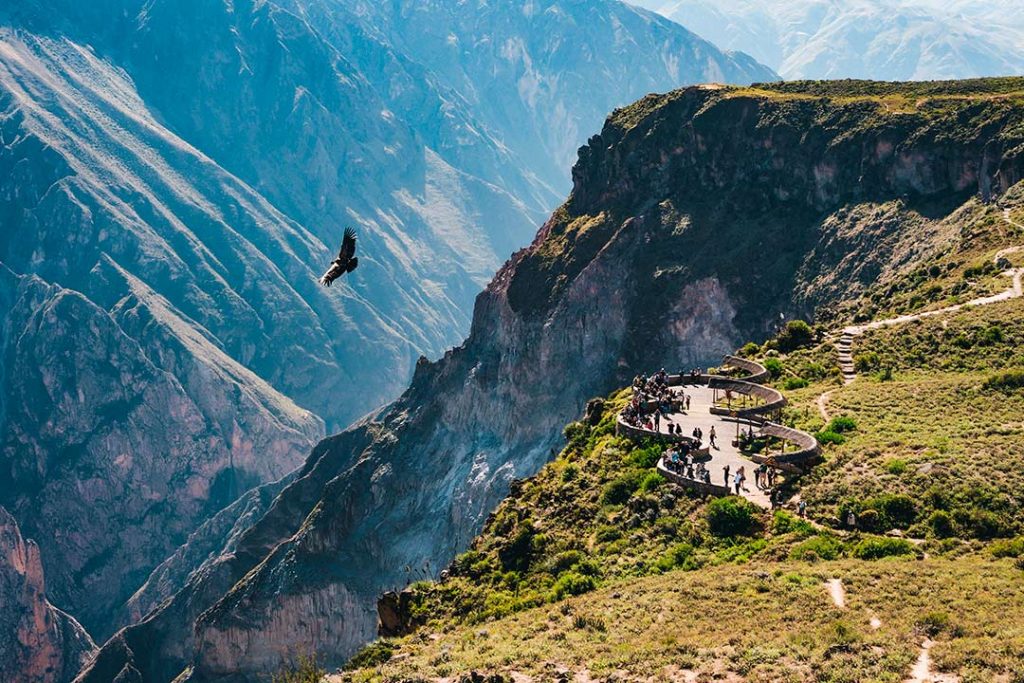 13. Participate in a traditional textile workshop
Andean Peru is well-known for its beautiful, intricate and bright, colorful textiles. They give life and excitement to every Peruvian landscape, contrasting with the surrounding natural colors of the earth. Since ancient times, Peruvians have used dyes made from local plants (and bugs!) to dye their sheep, llama and alpaca wools all hues imaginable. From shearing to spinning to dying to weaving, there is so much to learn about Andean fabrics and their complex and meaningful designs!
14. Fly high over the Nazca Lines
World renowned for their precision and mystery, these huge drawings across the Peruvian desert were designed by the people of the ancient Nazca culture. Today no one knows their exact purpose or how they were constructed so perfectly. Worship? Decoration? Messages to aliens? Either way, these flawlessly drawn 800 straight lines, 300 figures and 70 animal and plant shapes are unlike anything else in the world. To see a few, you can climb the tower next to the Pan-American highway. To see a larger range from higher up, take a 30 minute or hour-long plane ride over the desert.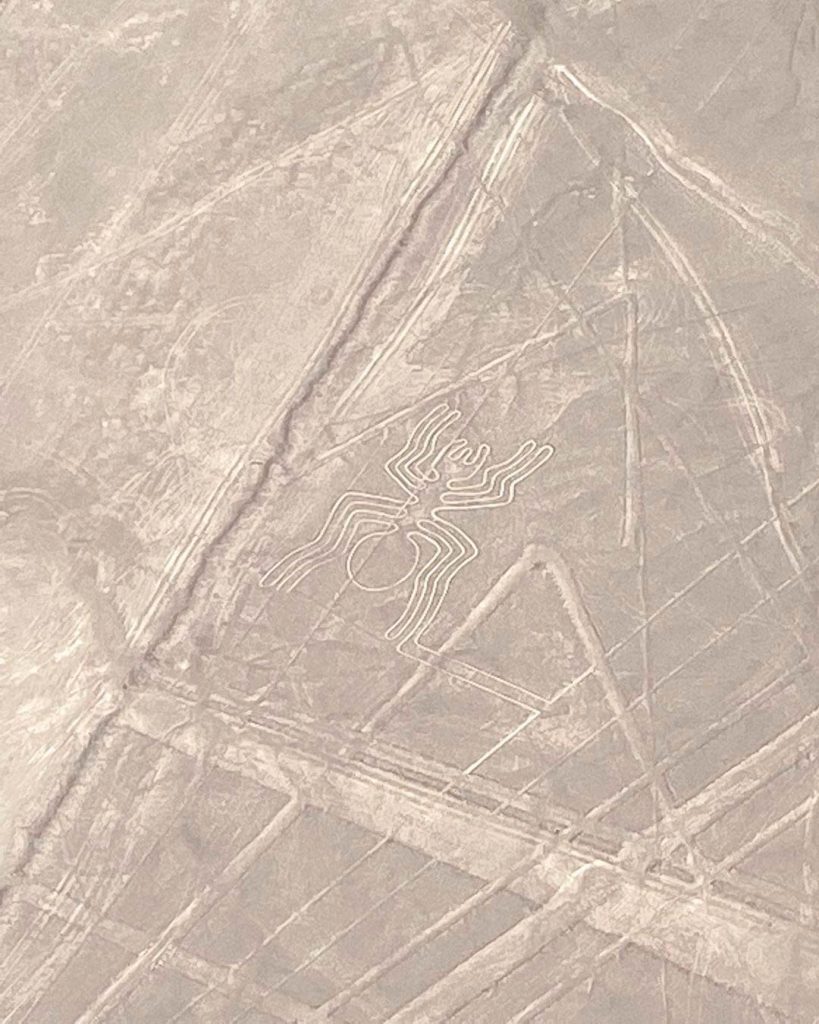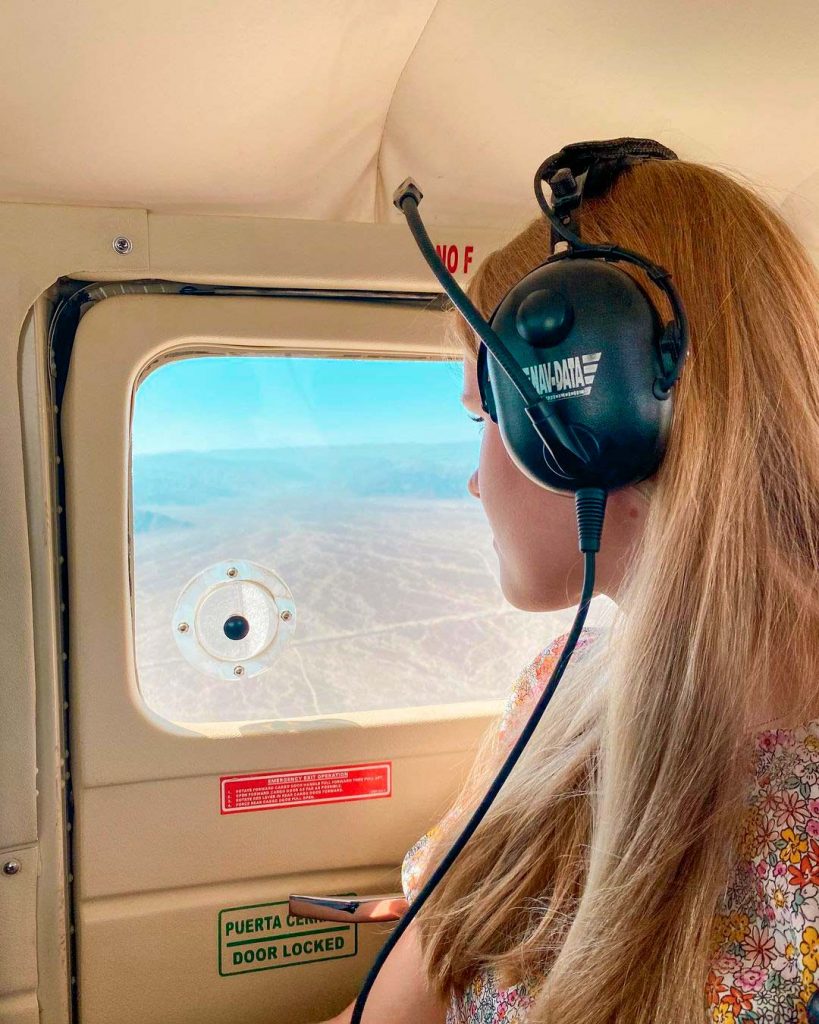 15. Walk through the colorful Santa Catalina Monastery
This historical home to Arequipa's nuns, orphans and unwanted children is a gorgeous, European-esque walled town of rust red, sea blue, and cream-colored facades. The flowers, fountains, lanterns, plazas, paintings, colonial furniture and cobbled streets make this place one-of-a-kind and totally worth the visit. Built in 1540, this fascinating city within a city is an architectural jewel and a precious piece of history. It's definitely a must-see on your trip to Peru!
16. Take a tour of a coffee farm, cocoa farm and vineyard
Across Peru, there are stretches of incredibly fertile land, producing a few of the world's most coveted, luxury products: coffee, chocolate, and wine.
Coffee and cocoa farm tours can be rolled into one and found in the same areas, across the highland jungles of the country. This is a great way to see a more traditional view of Peru as you'll spend time, or maybe even a night or two, in a family home on a plantation. It's a cultural and gastronomic experience unlike any other.
Peru is one of the top producers on the globe of the habit-forming coffee bean we all love and is home to several different flavor profiles raved about by professional coffee tasters. If you're addicted to your morning cup of joe, get an inside look at where it comes from, the process it goes through to fill your mug and the people dedicated to cultivating it.
In the mountainous regions of the country, cacao is even more sacred than coffee. A drink made from this magical fruit has been used for almost 4,000 years both in ritualistic ceremonies and medicinally. It's even called "the food of the gods." No wonder it's the world's most popular comfort food!
Vineyard tours are found in the coastal desert regions of Ica, Nazca and Pisco and include, of course, not only wine but also Peru's national liquor (also made from grapes), Pisco. See how it's grown, processed, and stored, and then sit back and relax as you enjoy a glass of wine or a Pisco sour with friends.
17. See Caral, the oldest city in the Americas
Caral is the 5000-year-old site of America's oldest civilization and the starting point of Andean culture, located just north of the city of Lima. This World Heritage site was the capital of the Norte Chico civilization and is home to temples, pyramids and other structures holding the secrets of a time far past. Head 3.5 hours outside of today's capital city to the capital of ancient times, and discover the first roots of today's Peru!
18. Relax at Punta Sal
Punta Sal is, in my opinion, the best beach in the country, stretching out with white sand as far as the eye can see and offering calm waters to its visitors. It's in the area of the northern Peruvian coast that has warm water to soak in, unlike the frigid waters of Lima and below. Thankfully, it's not crowded like the nearby and more popular Mancora, so you can really get away from it all here! Rent a beachside cabin, grab your swimsuit, a book and a beach towel and enjoy the almost equatorial sunshine without the crowds.
Punta Sal is also close to Tumbes, where you can visit its Mangroves National Sanctuary and swim with turtles. Be sure to do some exhilarating water sports here and have some seafood! The border of Ecuador is also close by if you're planning to continue north on your travels toward Quito or the Galapagos Islands.
19. Spend time in the historical center of Cusco
Cusco is the country's most popular tourist destination and with good reason. Its historical center was the capital of the Inca Empire, and it continues to be a living example of that age of the past. It transports you through time as you stroll through its cobblestone streets lined with tons-heavy and precisely carved Inca stones. At first glance, it draws you in, and you'll never want to leave! There's just something about the energy and excitement here that will make you feel connected to the Andean world in a way you never expected when you booked your flight. It's hard to explain, so come feel it for yourself!
Take a moment to sit in its picturesque plazas, tour its historical buildings, shop in its colorful markets, visit its museums and try traditional foods. Cusco is especially romantic at night, the reflections of its street lights on the centuries-old stones and the sparkling lights of the houses on its surrounding hills shining down.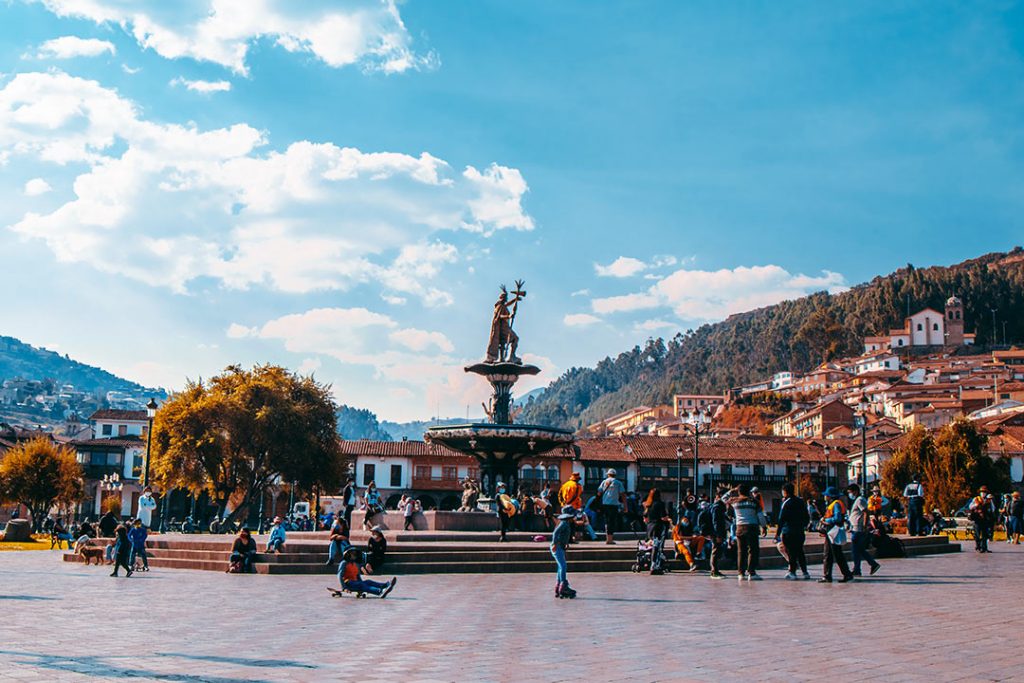 20. Stand under one of the tallest waterfalls in South America, Gocta Falls
At over 2,500 feet (750 meters) falling freely in two tiers from above, the Gocta Waterfall is one of the tallest in the world. This natural wonder is in a border zone between the Andes Mountains and the jungle, so you'll get the best of both worlds on your hike heading there! "Discovered" by the outside world in 2002, it's a newer tourist attraction of Peru for nature lovers searching for adventure and connection to Mother Earth.
As an added bonus, there are the really crazy, human-shaped sarcophagi of Karajia of the Chachapoyas people preserved in a mountain face above a nearby gorge, and you can also find ancient fossils along the trail and see cave drawings at the Quiocta Caverns. A short trip away, you can visit the Kuelap archaeological site, the best in the north.
21. Trek the Huayhuash Circuit of the Cordillera Blanca mountain range
One of the 10 top mountaineering spots in the entire world, found in central Peru, the Huayhuash mountains cannot be skipped over by any trekking enthusiast. This one's for experienced hikers who are up for a several-days deep dive into the Andes. Get ready to give it your all and be rewarded with the most amazing views of bright turquoise glacial lakes, sky-high snowcaps, winding rivers and unforgettable, sweeping Andean landscapes.
This remote expedition is everything you're looking for to really get to know the Andean world from an insider's perspective.
22. Delve into the jungles of darkest Peru at Manu National Park
This 1.5-million-acre jungle close to the Bolivian and Brazilian borders is another of Peru's many UNESCO World Heritage Sites. It's recognized for its biodiversity, combining the tropical highlands of the Andes with the Amazon Rainforest. After all, its altitude ranges from 150 meters to 4200 meters above sea level (492 feet – 13,780 feet). It has no roads and can only be visited with an experienced guide. Its only inhabitants are nomadic tribes, some with contact to the modern world and others in isolation.
You'll be able to get a close-up view of giant otters and armadillos, jaguars, pumas, primates, alligators, turtles and a startling variety of birds. And we can't forget to mention what gives the entire reserve its mysterious backdrop, the 15,000 species of plants that call it home.
Pro Tip: Take a canopy walk through the treetops of the jungle, and see the surrounding forest from an unusual perspective.
23. Travel the Sillar Route of Arequipa, the White City
Arequipa is, in my opinion, the most sophisticated city in Peru, and that's because of its Grecian-looking architecture. This UNESCO World Heritage City is built from a 100% local construction material: white volcanic rocks given as a gift from the explosive mountains surrounding it.
The circuit known as the Sillar Route on the outskirts of the city will take you through the entire history and processing of these blocks of hardened lava that give Arequipa its distinctive tone. You'll visit several quarries to see towering blocks of this bright, porous stone and learn how it's formed, extracted and carved to give this place such an air of luxury.
24. Head underground to the catacombs of the Santo Domingo Cathedral
The capital city of Lima is home to the continent's most extensive and best preserved catacombs, comparable to those of Paris. This burial ground of 25,000 people is, of course, accompanied by spooky stories and legends about the goings-on in its underground passageways. Home to Franciscan friars in life during the colonial period of Lima, this Baroque-style church became the eternal resting place of the Catholic faithful. The bones found here are arranged in bizarre, geometrical designs that make for some pretty eerie pictures.
25. Explore the tomb of the Lord of Sipán en Trujillo
In 1987, the tomb of a pre-Inca elite was discovered near Trujillo. He was one of the most important governors at the time and was even considered a demi-god. The Lord of Sipan was the King Tut of the Americas, so you can understand the archeological excitement when his resting place was finally unearthed! It's considered to be the most important archeological discovery made in the Americas to this day.
There's a beautiful museum dedicated to this leader, showcasing the ornate jewelry, elaborate gold and silver decorations and prized items left to accompany him in the afterlife. Of course, you'll also see the Lord of Sipán's remains and the remains of those buried with him.
26. Take a dip in the relaxing hot springs of the Andes
Natural hot springs bubble up all through the Andes Mountain Range, and you should definitely take advantage! There is literally nothing in the world like soaking in a sulfur-fueled thermal bath surrounded by the imposing glaciers and towering peaks of this sacred place, not to mention the mystic energy that envelops it all. Some popular ones are Cocalmayo (near Machu Picchu), La Calera and Chacapi (Arequipa), Pacchanta (south of Cusco next to Ausangate Mountain), Lares (Cusco region) and the Baños del Inca (Cajamarca).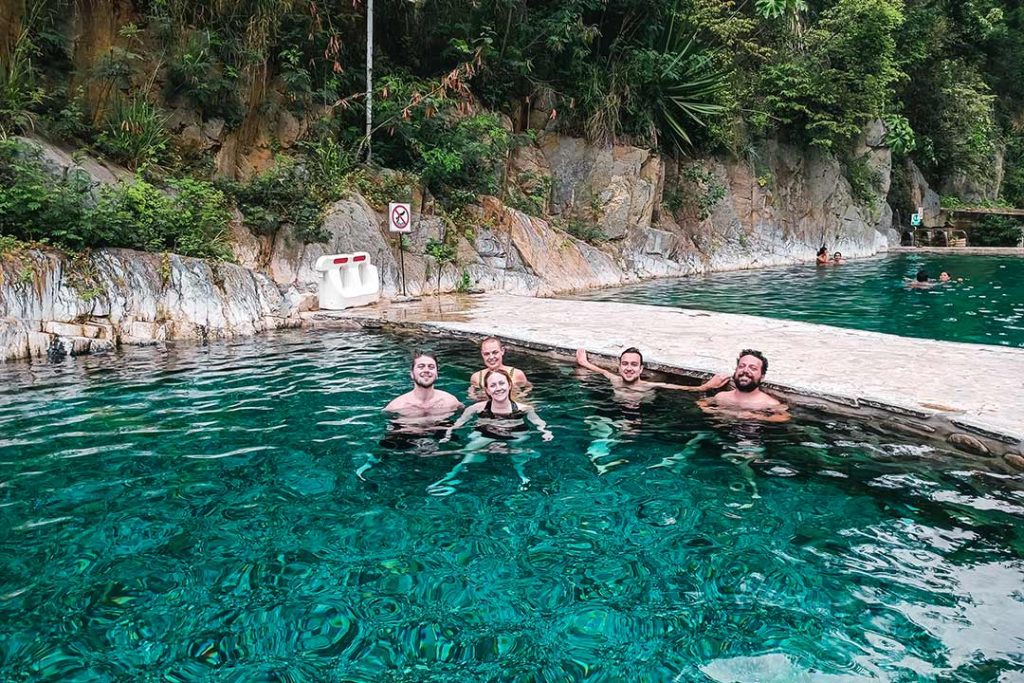 27. Go on a European vacation to Pozuzo, Peru
Visit the unexpected, quaint Austro-German town in the Peruvian jungle of Oxapampa! Who knew? Here, you can take part in a unique cultural experience, living along the locals and participating in daily tasks: chop firewood, milk cows, go horseback riding and even learn Tyrolean and Prussian dances. Of course, you'll also be able to try traditional German foods right here in South America. Visit its church, cemetery, suspension bridge and the Schafferer Museum to enjoy its peculiar style and history.
Don't be afraid to venture out into the surroundings; you can visit the peaceful saltwater pools of Rio Azul and the Yanachaga Chemillén National Park nearby.
28. Hike one of the alternative Rainbow Mountains of Peru
Peru is a diverse wonderland of amazing landscapes, and you NEED to see Rainbow Mountain. It's a natural place that boasts unnatural colors. Geology has really done a number on this one! It's not every day you see a mountain with stripes of pink, brown, red, magenta, green and gray! If you travel to have out-of-the-ordinary experiences, this is one you can't skip.
Thankfully, the most famous, Vinicunca, isn't the only one in the area. I recommend trying out one of the alternative rainbow mountains in the area. You'll have the place more to yourself and get better pictures.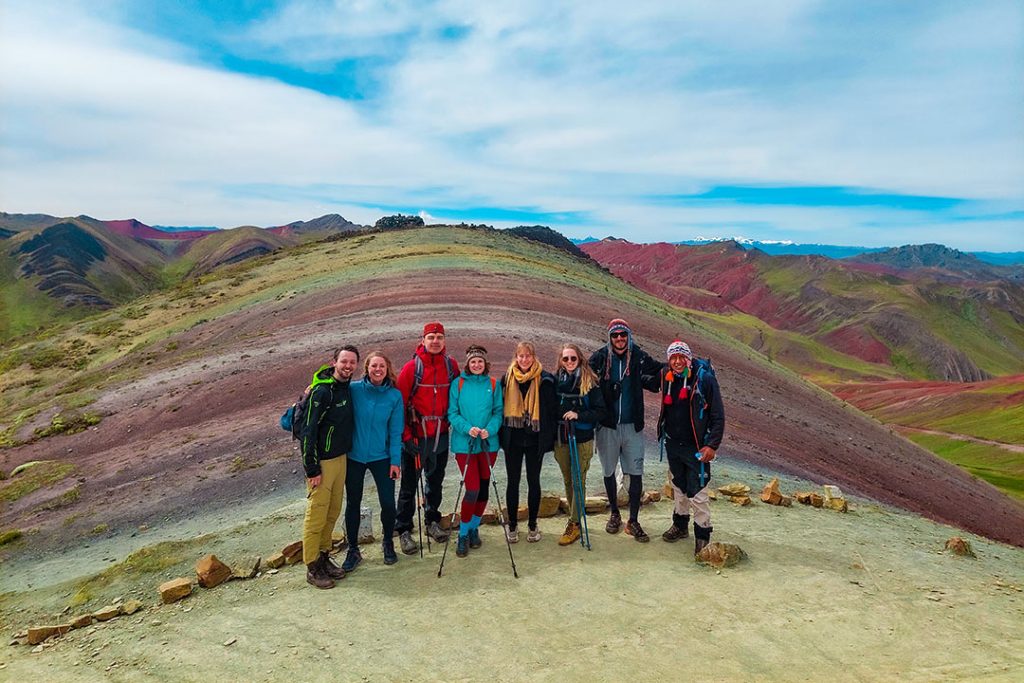 In conclusion…
Take your pick of any, or all, of these amazing travel opportunities, and I know you won't be disappointed with your time in Peru! On the contrary, you'll want to come back again and again to keep discovering the secrets and mysteries it holds and the adventures in store for you. Every activity will bring you a new world of understanding about life and its past, present and future. You'll leave knowing more about yourself and with a renewed connection to your Mother. Or, who knows, maybe you'll decide to stay permanently in this paradise!
---
---