One of the places we're sure you'll be stopping off at when on vacation in Peru is Aguas Calientes. It might not ring any bells at first, but it's the town at the base of Machu Picchu, which you'll likely be visiting. It's also sometimes known as Machu Picchu Pueblo.
Aguas Calientes is small, and there are no roads in or out. You can only enter by train or on foot, and you likely won't spend more than a night or two here. It might not sound like much of a place, but there are plenty of things to see and do. Read on for our top suggestions to keep you busy in Aguas Calientes.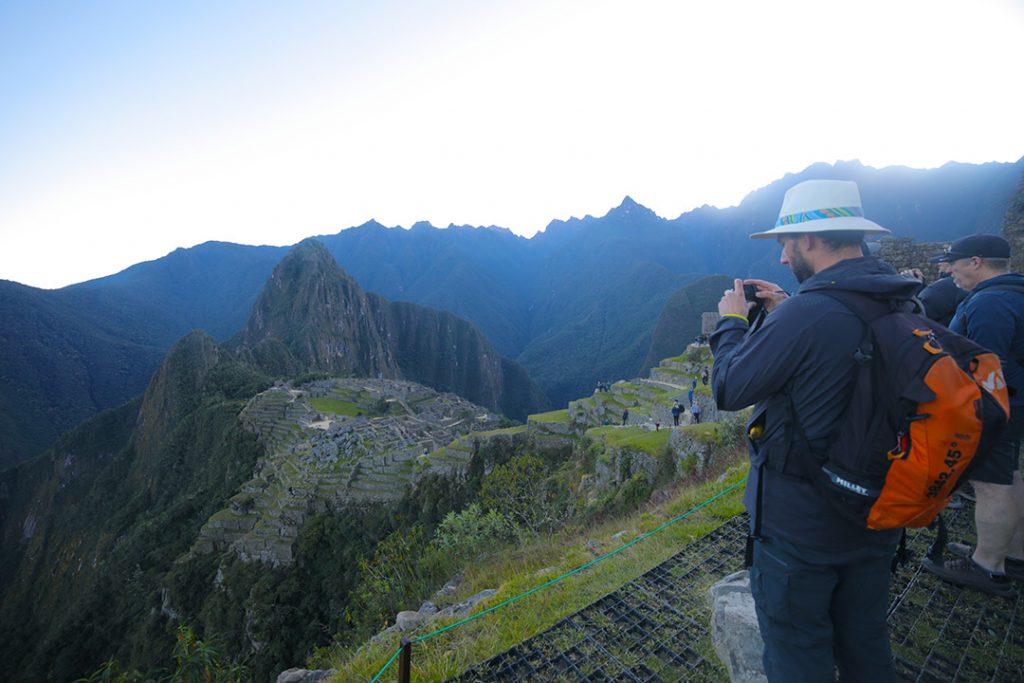 Machu Picchu
We doubt you'll be skipping this tourist attraction. Machu Picchu is one of the New Seven Wonders of the World and is visited by thousands of tourists and locals each year. It's an incredible example of Inca architecture and innovation and is unlike anywhere else you'll ever see.
Around Cusco, there are various archaeological sites, but this is the most spectacular. You get a feeling like no other when you first step inside and look out over the astounding citadel. You can visit as part of a trek or opt for a day trip to Aguas Calientes. We recommend booking tickets far in advance, especially if you want to hike the Inca Trail or climb Huayna Picchu, as these both sell out months in advance.
Inside the archaeological site, you can explore the terraces, the fascinating structures, and additional hikes; Huayna Picchu, Machu Picchu Mountain, and the Sun Gate (Intipunku). You can now only enter with a guide, so you also get to enjoy a tour of all the essential areas and learn more about the great history.
The Thermal Baths
Aguas Calientes literally means hot waters, so it's not surprising they offer some thermal baths to relax in. A short walk from the main street, you'll find the entrance to the thermal waters where you have to pay ten soles to enter. They're an excellent way to rest your tired legs after many days of trekking. Alternatively, they provide an excellent way to unwind after a day of exploring at Machu Picchu.
There are different baths at different temperatures, so you can find one that suits you best. They range from 38º (100ºF) to 46°C (114ºF). The hot water is very therapeutic for rheumatic diseases and muscle pains. There's also a bar overlooking the baths, so once you get out of the water, you can enjoy a cocktail or beer while you look out over the waters and the incredible surrounding landscape.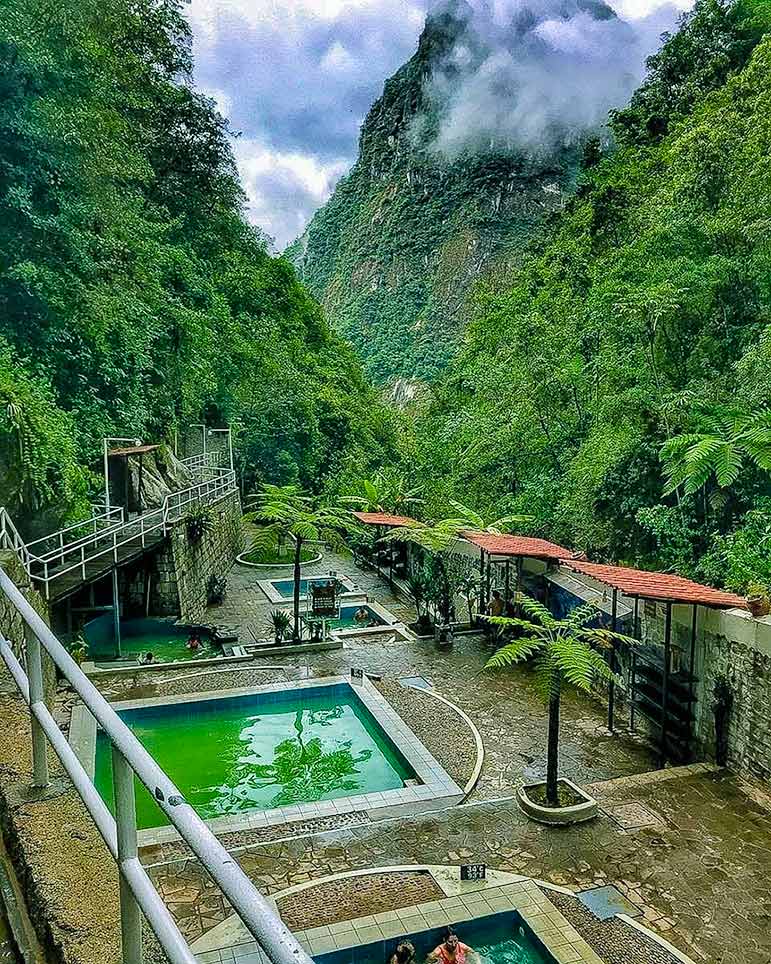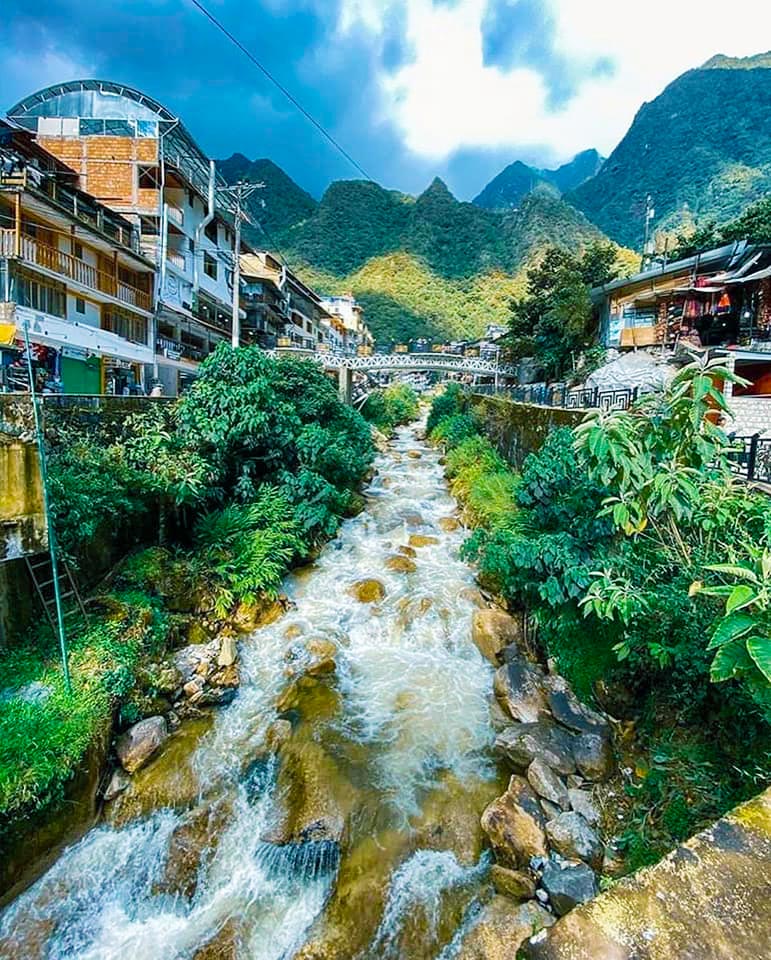 Check Out the Many Restaurants
As you wander the small streets of Aguas Calientes, you'll find a majority of them are lined with restaurants. Many of them appear to be offering the same sort of food and have a similar atmosphere, but there are a few gems to seek out if you want to enjoy a delicious evening meal in a lovely setting. You'll find some that have balconies looking out over the rushing river and others where you can people watch over the streets below. Here's our list of top restaurants in Aguas Calientes:
Indio Feliz
Mapacho Craft Beer & Peruvian Cuisine
Incontri del Pueblo Viejo
The Tree House
Café Inkaterra
La Boulangerie de Paris
Full House Peruvian Cuisine
Chullpi Machu Picchu Restaurante
Qunuq Restaurant
Toto's House
Souvenir Shop
Apart from all the restaurants around the town, there are also plenty of places to pick up souvenirs for you as a reminder of your travels or as a gift for friends and families. You'll find similar products to those sold in Cusco in the artisan market and at other shops dotted about the town.
It's well known that the prices in Aguas Calientes are a little higher than elsewhere, but it's a great time to grab a few gifts if you're on a tight schedule or have the afternoon free after visiting Machu Picchu.
Some of the top souvenirs on offer include:
Alpaca clothing
Paintings
Sculptures made from wood and other materials
Musical instruments
Gold and silver jewelry
Masks
Handmade bags, wallets, etc.
Chill in Manco Capac Plaza
Sometimes when you're away, it's nice to take a minute or twenty to take a seat and relax. Vacations can be full of activities, and Machu Picchu can take it out of you when you're walking around for hours in the sun. Well, Manco Capac Plaza is the perfect spot to sit down for a while and enjoy your surroundings.
You can simply sit and watch the world go by, plan out your next trips in your vacation, write in your journal, or soak in the stunning surroundings. All around, you've got lush mountain landscapes. Find a bench to relax on or a table at one of the surrounding restaurants and cafes.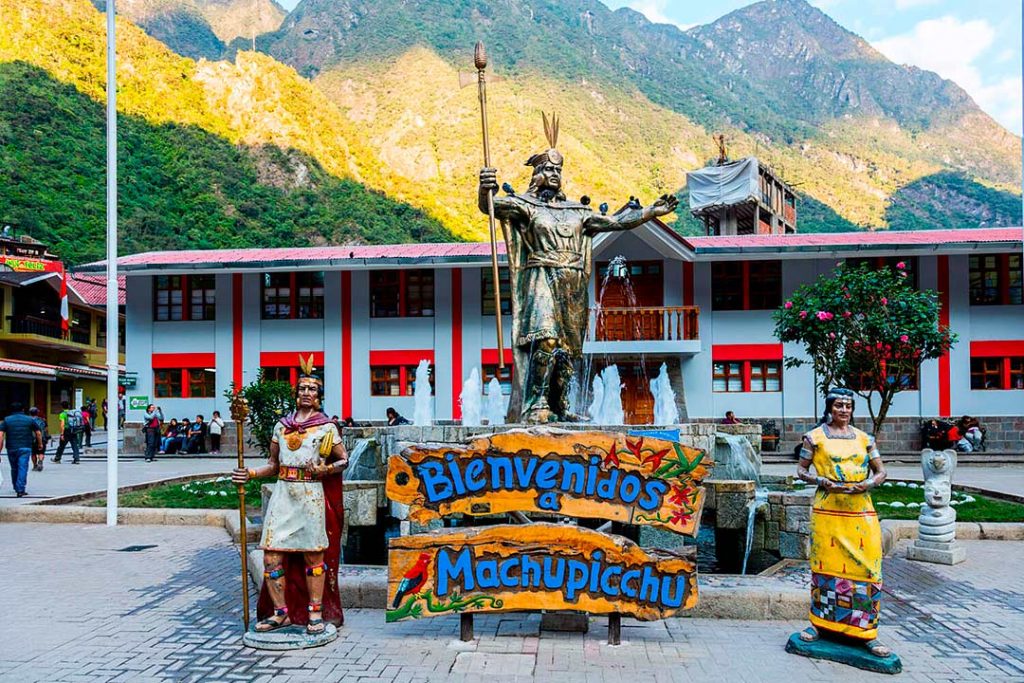 Spot Some Beautiful Wildlife
Aguas Calientes sits in the jungle of Cusco, which makes it an excellent environment for wonderful flora and fauna. If you can, we recommend walking back to the town from your visit to Machu Picchu as you might spot some wildlife.
One of the prettiest species around are the butterflies, and there's a refuge specifically for this insect called the Mariposario de Machu Picchu. It's a little place, but it's a nice spot to get away from the crowds, and the owners are passionate about butterflies and happy to share all they know about them with you.
Los Jardines de Mandor
If you're spending a couple of days in Aguas Calientes and looking for something extra to do, we recommend a 3-hour round hike to Los Jardines de Mandor. Not many visitors get to make the trip here as they're often in a hurry, but it's worth going out of your way to visit.
On the hike and at the gardens themselves, you'll get to see truly beautiful plant life and picturesque waterfalls with swimming holes to take a refreshing dip. The gardens are very well maintained. If you're lucky, you'll get to spot the national bird of Peru, the cock of the rocks, or, as it's known locally, el gallito de las rocas (Rupicola peruvianus).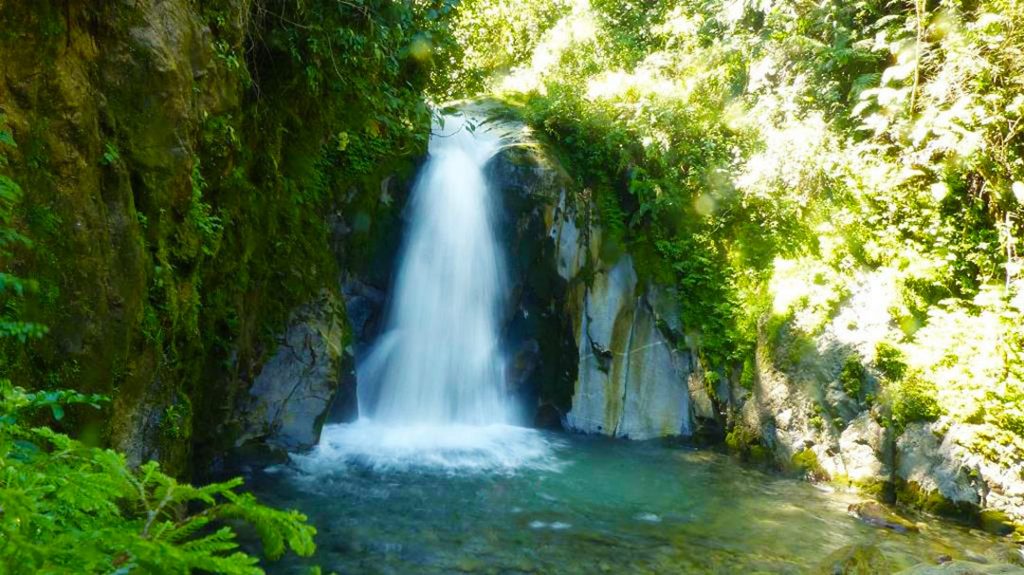 Museo de Sitio Manuel Chavez Ballon
For those who love to visit museums or have a little time spare before you head back to Cusco, the Museo de Sitio Manuel Chavez Ballon is a great option. The museum itself is small, but it has a whole load of information about Machu Picchu. To get there, you need to walk about 20 minutes from the town center.
You won't find any museums up at the archaeological site, so if you want to learn everything possible about the place, this is where to go. We recommend visiting the museum before Machu Picchu; if you can do that, you go armed with more knowledge and understand what you're looking at.
Please note: To enter the museum, you MUST have a ticket for Machu Picchu + Museum.
Virgen del Carmen Church
This little church is in the main plaza at Aguas Calientes and looks very quaint. It has a peculiar design but looks very pretty against the mountain backdrop. It's a great escape from the touristy side of your vacation.
You're welcome to go inside and take a look around or, if you're lucky, witness a mass taking place. It's also an excellent insight into local life in the small town as many locals come here to pray or attend mass in the evenings.
Putucusi Mountain
Another excellent hike from the small town is to Putucusi Mountain. It's one of the more difficult short hikes around Aguas Calientes and takes you on an adventure on a poorly marked path and up some very vertical steps. It takes about 2 hours to climb.
All the effort is worth it, though, as once you're at the top, you get a truly incredible view of Machu Picchu from an angle that not many get to witness. Make sure you take your camera and wear hiking boots with a good grip.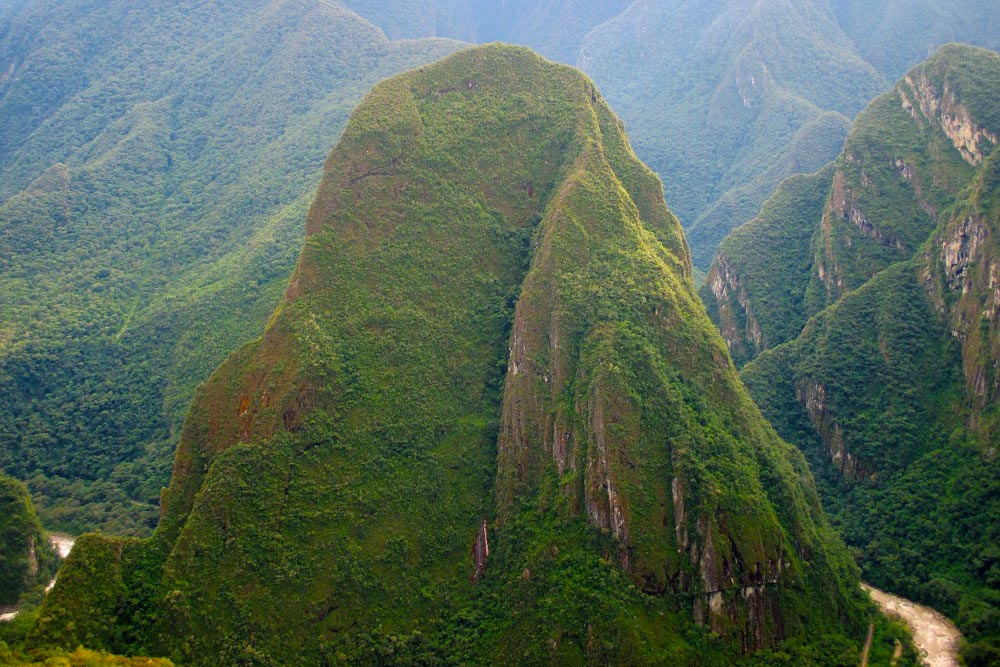 Other Information About Aguas Calientes
Here are a few other things you should know about Aguas Calientes before your visit.
Aguas Calientes sits at 2,040 meters above sea level (6,692 fasl).
It's sometimes known as Machu Picchu town because it's so close to the Inca citadel.
There are no vehicles in this town apart from the buses to and from Machu Picchu.
The town is very small, and there are only around 5,000 inhabitants. You'll see a lot more people, though, due to the large influx of tourists.
You MUST book tickets to Machu Picchu in advance. There's no way of obtaining them at the entrance. Tickets to hike Huayna Picchu must be booked months in advance.
You can hike up to Machu Picchu, or you can opt for a bus that costs $12 each way.
It's highly recommended to buy train tickets in advance, too, because they often sell out and you might find yourself stuck in Aguas Calientes with no way of getting a train back.
We suggest you spend at least one night in Aguas Calientes; otherwise, you won't get to know much of the place.
Aguas Calientes is More than Machu Picchu
Yes, of course, Machu Picchu is the most important part of the town and is what attracts all of the visitors.However, there are plenty of other activities on offer and some beautiful and unknown places to visit. If you have the time, we recommend escaping the touristy areas and heading out on a hike to witness the stunning flora and fauna the area has to offer.
---
---
You might also like
---