Huacachina, the Instagram-famous desert oasis of Peru, is the perfect launchpad to explore the coastal desert of the country. Peru isn't just deep jungle and high mountains; it has another surprise to offer in its sand dunes bordering the Pacific Ocean. It's an unusual landscape, to be sure, and it's filled with exciting things to do.
This desert oasis was also once thought to have healing powers and became a popular destination for wealthy Peruvians. You'll see traces of this past life in its colonial construction and elegant hotels and restaurants.
You'll find Peru's desert oasis 5 hours from the city of Lima by car and just 10 minutes from Ica.
What's in a name?
Huacachina, meaning "weeping woman" in Quechua, is explained by several different legends about the origins of this desert oasis.
One says that an Inca princess was brushing her hair in the desert and looking in a mirror when she was startled by a nearby hunter. She dropped the mirror, whose pieces turned into the lagoon, and then jumped into the lagoon to hide. When she tried to leave, she had become a mermaid, and her tunic had become the dunes. Another legend says this princess had a pact with a god that she wouldn't fall in love with anyone so he could have her to himself. She fell in love with the hunter, and the god punished her by turning her into a mermaid so they could never be together. Yet another story says that a maiden crying for the death of her warrior husband filled the lagoon with her tears.
Either way, the memory of this unknown character is immortalized in a mermaid statue on the boardwalk around the lagoon. It's said that when there's a full moon, she can be heard singing in the oasis.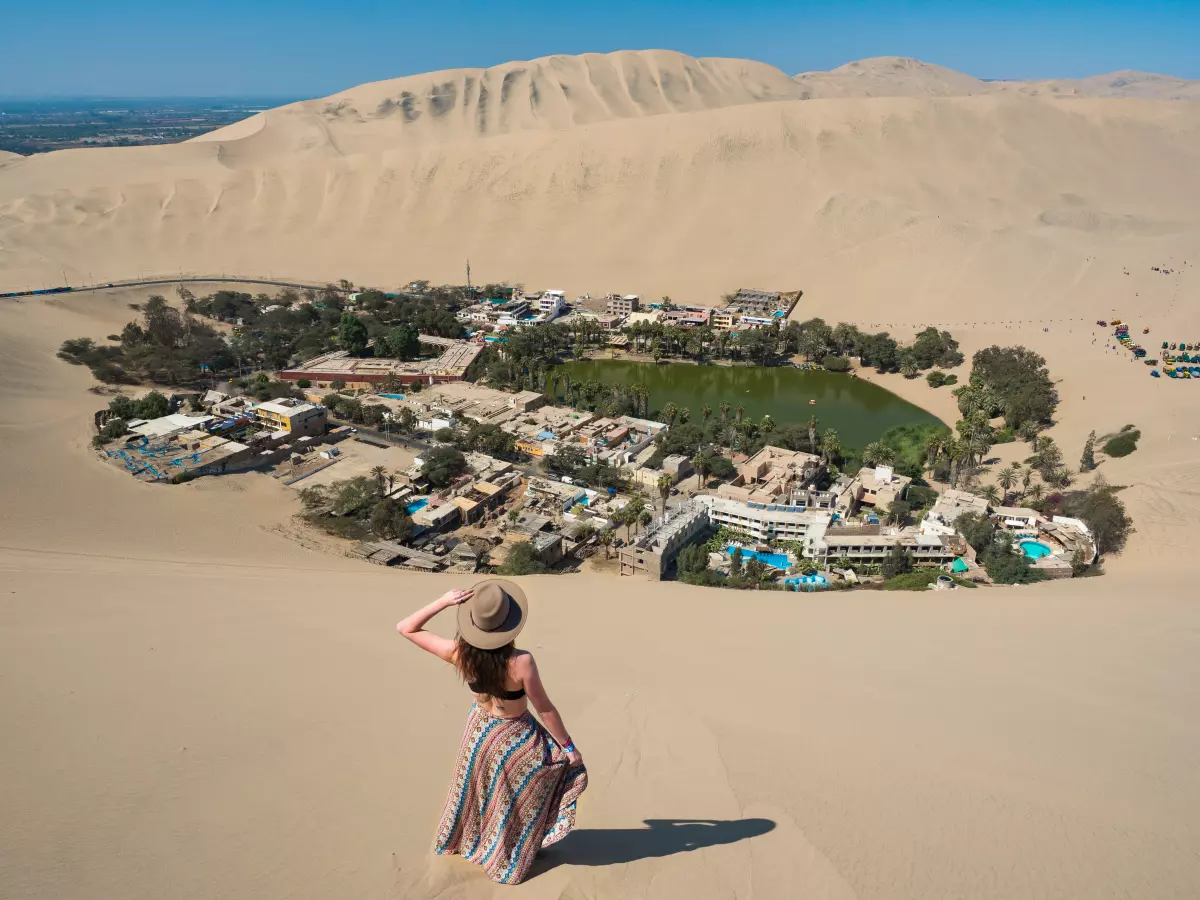 Here's how to best enjoy the eccentricity of Peru's desert oasis.
1. Design a unique, romantic getaway
Huacachina's mysticism and tranquility mixed with its refined atmosphere and breathtaking natural surroundings make it the perfect spot for a romantic getaway. With only a population of 100 residents and sand dunes as far as the eye can see, you'll surely be able to find privacy to make a heartfelt declaration of love to your partner… or to the fellow traveler you just met.
Take a stroll around the lagoon's boardwalk. Sit on one of its benches to have a cocktail together, and then rent a paddle boat for half an hour. Treat your special friend to an elegant dinner in the village or, even better, an intimate meal out on the sand dunes at sunset. Hike up the hills and have a deep conversation about life and love as you look out over the desert. Run around in the sand and make each other laugh, rekindling the playful spirit you once had as a child. Book a tent to experience glamping in the desert and really "wow" your lover.
Pro Tip: Be sure to book dinner in the desert and glamping tents ahead of time. Dinner in the desert is available on Saturdays only. These are pricey options: dinner is 350 soles per person with wine for two. Glamping is $220 per person.
2. Get an adrenaline rush from adventure sports
The most popular activities in Huacachina are, of course, adrenaline-pumping challenges on the sand dunes.
On a fast-paced dune buggy ride, you'll feel like you're on a tall roller coaster as you glide up and down over the sandy mountains of Huacachina. You'll be surprised both by the hairpin turns your car makes and the amount of sand in your hair, eyes and mouth after the expedition. Make sure you're strapped in, because it's a bumpy ride!
For an exhilarating venture, don't miss the opportunity to try out sandboarding or sand-skiing! You can rent a board or book a tour with an instructor. If you don't have snowboarding experience, you might want to stick to the belly boards and fly down the dunes head-first.
Pro Tip: Some dune buggy tours also offer sandboarding for an all-in-one (and so you don't have to hike up the slopes with your board).
3. Connect with yourself on top of the dunes
This other-worldly environment is a great place to meditate, read, write or think without the distractions of daily life or city noise. Disconnecting from technology is truly one of the most cathartic things you can commit to as you're traveling. Enjoy the present moment. Be conscious. Enjoy people-watching in silence on the sand or around the oasis.
The 20-30 minute hike up will be worth it when you feel that rush of peace entering you, the powerful, positive energy from these hills bringing you back to yourself. Take advantage of these sandy views that you definitely don't see every day.
Pro Tip: Buy a new notebook as a souvenir from local vendors, and use it as a diary or travel journal. You'll treasure it and the vivid memories recorded in it for years to come!
4. Visit a winery to taste Peru's wines and piscos
The area around Ica is the vineyard region of Peru. It would really be a shame if you missed out on this closeby treat on your trip to Huacachina. The city of Pisco that the Peruvian liquor is named after is just an hour away. You can't leave Peru without trying a pisco sour!
You can book a wine and pisco tour or go on your own. Tacama Winery, the first in Peru, is half an hour from Huacachina. Apart from learning about their growing and processing techniques, you'll also be able to enjoy the grounds: colonial buildings, beautiful fountains and flowery gardens fill the winery.
Pro Tip: You can take an English tour at the Tacama Winery for just 20 soles, including a tasting at the end.
5. Take day trips to Paracas and its Ballestas Islands and to the Nazca Lines
You're in luck, because two of the other main destinations in Peru are super close to the Huacachina desert oasis!
Paracas, the seaside desert town home to the ancient Paracas culture of Peru is the port city connecting you to the Ballestas Islands. The islands in this National Reserve are known as the "poor man's Galapagos", as you'll find many of the same animals here. Take a boat trip to see the sea lions, blue-footed boobies, Humboldt penguins and other coastal birds. You can also kayak, sail or bike for an out-of-the-ordinary experience.
The Nazca Lines, world renowned for their precision and mystery, aren't far from your home base in Huacachina. These huge drawings across the Peruvian desert were designed by the people of the ancient Nazca culture, but today no one knows their exact purpose or how they were constructed so perfectly.
Worship? Decoration? Messages to aliens? Either way, these flawlessly drawn 800 straight lines, 300 figures and 70 animal and plant shapes are unlike anything else in the world. To see a few, you can climb the tower next to the Pan-American highway. To see a larger range from higher up, take a 30 minute or hour-long plane ride over the desert.
Pro Tip: Paracas is 1 hour from Huacachina, and Nazca is 2.5 hours away. You can book tours that include a pisco tour, the Ballestas Islands and the Nazca lines in one day, or any combination of the three. I recommend taking at least a full day, and 2 or 3 if possible, just for Paracas and the Ballestas Islands.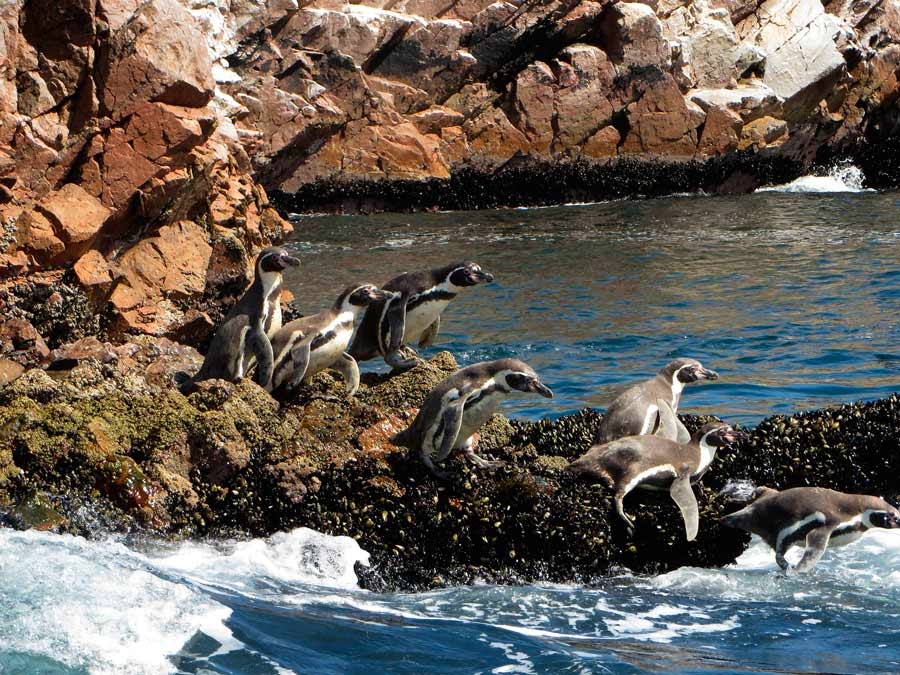 In conclusion…
I hope you find Huacachina as enjoyable as I did!
Whether it's next to the water (or on it), watching the sunrise from the sand dunes or raising your heart rate on a sandboard, you're sure to make unforgettable memories in Peru's desert oasis!
---
---
You might also like
---