Machu Picchu is by far the most visited place in Peru, and it's becoming one of the most popular places on the planet, making its way onto many bucket lists. It's no surprise when you see its majestic sights in photos and pictures of the Incas hauling huge stones across a mountainside to build such an incredible place.
The archaeological site boasts certain energy that gives you chills when you look out over the scene. It's easy to be transformed back in time and imagine everything that once went on there. There's a lot of history to learn and a lot to explore.
Machu Picchu is a UNESCO World Heritage Site and one of the New Seven Wonders of the World. If you're able to get to Peru and see Machu Picchu, it's well worth the visit.
In this guide, we're going to cover absolutely everything you need to know before you visit Machu Picchu, including information about the site and the best places to visit, where to eat and stay in the town, how to book your trip and get to Machu Picchu, as well as some essential tips and a packing list.
Machu Picchu Archaeological Site Information
Altitude: 2,430 masl (7,972 fasl)
Opening Times: 6 am – 5:30 pm, 365 days a year
Distance from Cusco: 75 kilometers
Average Climate: Temperatures in the region range between 50 and 75 degrees Fahrenheit (12 and 24 degrees Celsius).
Highlights
Visit one of the New Seven Wonders of the World and UNESCO World Heritage Site.
Witness the incredible views of Machu Picchu and the surrounding valleys and hills.
Learn all about the Incas and witness the amazing structure they built on the side of the mountain!.
Be transformed back in time as you picture how life once was in this magnificent site.
Hike Huayna Picchu or Machu Picchu Mountain for an unforgettable view over the site.
Rules and Regulations
To avoid any problems when visiting Machu Picchu, here are the current rules and regulations you need to follow.
You must enter the site with a guide.
Each group mustn't have more than 16 visitors.
To enter, you need to show your ticket and original passport.
You must not stray from the trails set out for you.
You must not feed the wild animals in the archaeological site.
You must not make any loud noises, such as shouting, whistling, or clapping.
You must not throw waste of any kind on the floor. You have to take anything you bring back out with you.
You must not lean on any of the walls, buildings, or structures.
You are not allowed to smoke or vape.
You are not allowed to use drones on the site.
You must not engage in obscene acts within the archaeological site.
You must not jump, summersault, or perform any acts that disturb the nature of the sanctuary.
The following items are not allowed inside the sanctuary of Machu Picchu:
Firearms.
Tools for hunting, fishing, machetes, knives, etc.
Traps to capture animals.
Fossil fuels.
Stimulants and drugs.
Sound equipment or other noise generators.
Domestic animals and exotic species.
Peaks, shovels, or other tools.
Wooden canes of native species.
Tripods, brackets, or extensions for cameras or cell phones ('selfie stick').
Backpacks or bags that exceed 5kg in weight.
Food or luggage.
Sprays or paints.
Musical instruments, megaphones, or speakers.
Heels with hard-plant shoes.
Baby strollers.
Banners, pictures, and/or posters.
Clothing intended for advertising purposes.
Metal-tipped walking poles (older adults can carry a cane with a rubber tip if necessary).
Penalties for Not Following the Rules
If you're seen breaking any rules in Machu Picchu, you'll be removed from the site immediately without the chance for a refund or re-entry.
Best Places to Visit in Machu Picchu
Below is a list of the top places you need to make sure you see whilst in the sanctuary.
Huayna Picchu (required ticket bought in advance).
Machu Picchu Mountain (requires a ticket bought in advance).
Intihuatana.
The Sun Gate (Inti Punku) – runs parallel to Machu Picchu Mountain but doesn't require an extra ticket or payment.
Inca Bridge.
Watchman's Hut.
The Funerary Stone.
Temple of the Sun.
Royal Tomb.
The Fountains.
Temple of Three Windows.
Principal Temple.
House of the High Priest.
House of Ornaments.
Central Plaza.
The Sacred Rock.
The Mortar/Industrial Section.
The Prison Group.
Terraces.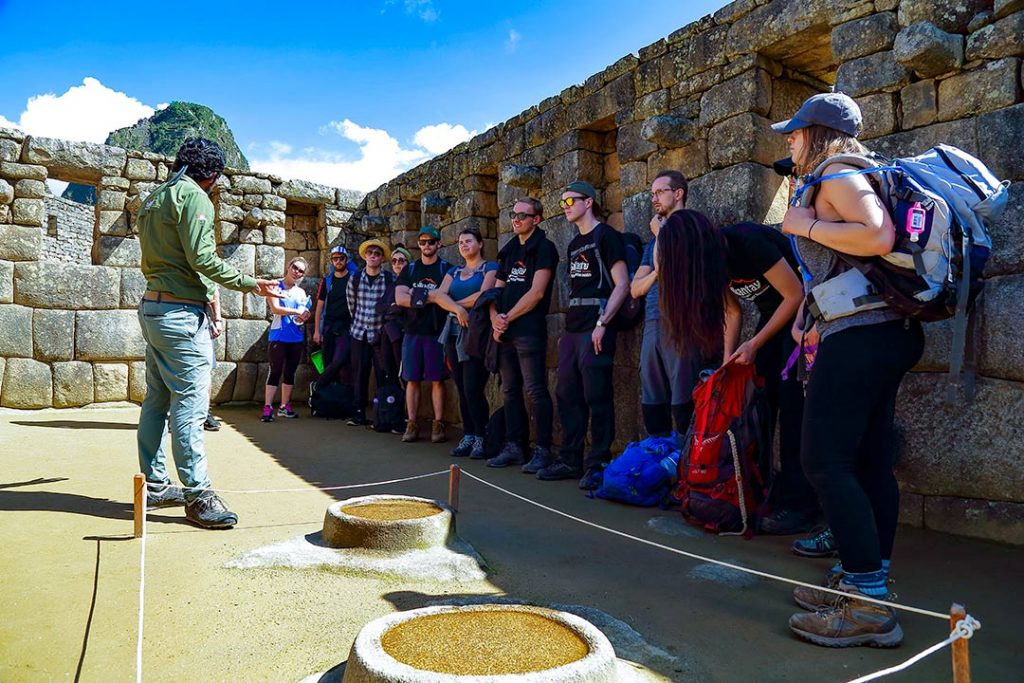 How to Buy a Ticket for Machu Picchu
Tickets to Machu Picchu must be bought in advance. There is no way of buying them at the entrance to the site. You can get them through three ways: online by yourself, in person in Peru, or through an agency or tour operator. We need to state that whichever way you choose to buy tickets, you must have your passport number to hand. Let's take a closer look at each option.
Online
To purchase tickets online, you first have to visit the Ministry of Culture website. If it isn't in English, you can easily change the language in the top left.
Once the homepage loads, you'll need to select the date you want to visit along with the number and type of tickets you need. Make sure you select the correct amount of adults (over 18) and children.
You'll then need to check the entrance option you want. You can select to only visit the grounds or also go for a hike up Huayna Picchu or Machu Picchu mountain. The tickets with a mountain option cost more, and Huayna Picchu often sells out well in advance.
The next step is to enter all your information. This needs to be exactly as it appears on your passport. If there are any issues, you won't be allowed in when you get to the site. You'll also need your current email to send the receipt, choose a payment method, and then fill out payment details.
Once you've done everything, you should receive an email with all the details and a special reservation number. Head back to the website and click the 'check in' button. Here, you'll need to enter your reservation number and can then save and print the tickets. We recommend printing two copies, just in case.
In Person
If you want to buy your tickets when you get to Cusco, you can go to the Ministerio de Cultura, which is open Mon-Sat, 7 am – 8 pm. It's located at Casa Garcilaso on Calle Garcilaso. Make sure you take your passport and cash or a card to pay.
You can also buy them in Aguas Calientes at the Machu Picchu Cultural Centre (Dirección Regional de Cultura Aguas Calientes Office). This is open from Mon-Sun, 5 am – 10 pm. You can only pay in cash here, and we recommend you take it out in Cusco. ATMs cost more in Aguas Calientes.
Through an Agency
The final option is to get in touch with an agency/tour operator in Peru to buy the tickets for you. They'll also offer packages that include everything from a trek to train tickets and a hotel. This is the best option if you want to have everything planned out for you and so you don't need to worry about any logistics.
How to Get to Machu Picchu
There are a few ways you can get to Machu Picchu, and we've put together a brief summary of each below to help you decide the best for you.
Trekking
Possibly the most popular way to get to Machu Picchu is by trek. This method provides an exciting adventure and the chance to see parts of Peru that you can't see by car or train. You get to see the fantastic changing landscape as you head from the colder mountains to the edge of the jungle. The top treks to Machu Picchu include: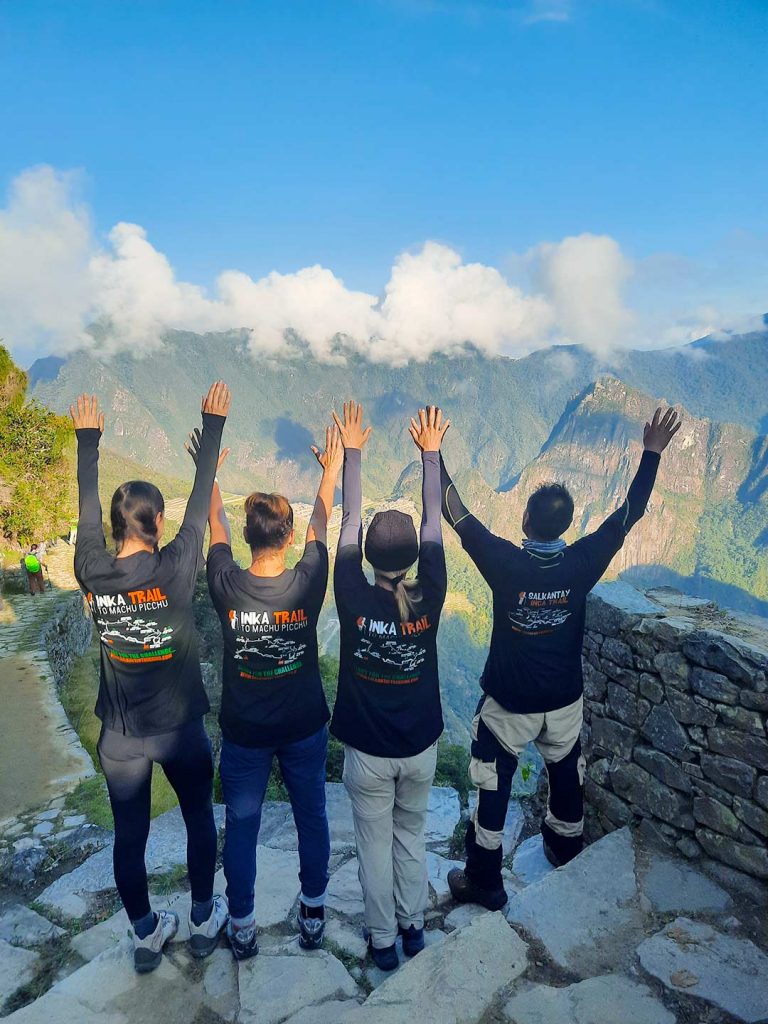 In a Vehicle
The most economical way to get to the Inca fortress is by car. Transport leaves various times a day to Santa María in La Convención. From here, you'll need to get another minivan to Santa Teresa and then another or a taxi to Hidroeléctrica.
Once you're in Hidroeléctrica, you'll either need to walk the train tracks to Aguas Calientes, which takes about 2.5-3 hours, or board a train, which costs USD$.40 (price of 2021)
On a Train
The last way is to go by train. There are two companies that have many daily departures from Cusco. This is the best option if you don't have much time or you don't want to walk at all.
When is the Best Time of Year to Visit Machu Picchu?
Machu Picchu is open all year round, and whenever you come, it's going to look incredible. However, we recommend May or September, because the weather is pleasant and there aren't so many tourists around.
Here's a brief summary of what to expect at different times of the year at the wonder that is Machu Picchu.
February: This is the wettest month of the year and the Inca Trail is closed. However, the rain only lasts an hour or two, so you can still enjoy a visit and perhaps enjoy some deals during the off-peak season.
March-May: The rainy season is coming to an end, and the weather is generally nice. This is a good time of year to enjoy Machu Picchu with smaller crowds.
June-August: These months are the busiest of the year. June is the anniversary of Cusco, so expect huge crowds then. The weather is dry, but it does get cold at night. It's a great time of year to trek to Machu Picchu.
September & October: This time of year is similar to May, where there are fewer crowds and the weather is very nice. However, it might start to rain a little towards the end of October.
November-February: Although this is summer in Peru, it is also the rainy season, so you can expect anything from a drizzle to a downpour on any given day. When it isn't raining, though, it's usually sunny. This is the quietest time of year regarding tourists, except around Christmas and New Year when it gets busy for a couple of weeks.
Where to Stay in Machu Picchu
There are a surprisingly large number of hotels and hostels for such a small town, although they do get a lot of tourists coming through. You'll find anything from budget hostels with shared bathrooms to fancy 5-star hotels. Here are our top recommendations for hotels and hostels in Aguas Calientes.
Inkaterra Machu Picchu Pueblo Hotel.
Sanctuary Lodge, Machu Picchu.
Andean Terra
Hotel Hanaq Pacha
Andina Luxury
Waman Hotel
Inti Punku – Machu Picchu
La Cabaña Boutique
Where to Eat in Machu Picchu
There are plenty of places to eat and drink in Aguas Calientes. You'll find that many restaurants offer similar fare, but here are a few of our favorites that offer lots of variety for you to choose from.
Indio Feliz: This restaurant offers a French-Peruvian mix with unique decor. Not for those on a budget.
Mapacho Craft Beer & Peruvian Cuisine: If you're a fan of craft beer and tasty food, then this is the place to go. The food is mainly Peruvian cuisine.
Incontri del Pueblo Viejo: Everyone enjoys an Italian meal while they're on vacation, and this is the top place to get some in Aguas Calientes.
The Tree House: This restaurant has been around for a long time and is popular with visitors to the town. They offer Peruvian and international cuisine.
Café Inkaterra: This is one of the most luxurious hotels in town that offer a fantastic gastronomical experience.
La Boulangerie de Paris: From the name, you have likely already guessed this place is French, and you'd be right. You can find a delicious coffee here with a nice pastry or sandwich.
Full House Peruvian Cuisine: This place offers some great Peruvian fusion food while you sit on a balcony and enjoy the sound of the rushing river below.
Chullpi Machu Picchu Restaurante: Here, you'll find a rustic-chic vibe and get to try some gourmet versions of classic Peruvian dishes. They also offer a tasting menu.
Qunuq Restaurant: This restaurant is part of Sumaq Hotel and is one of the finer eateries in town. It's another spot to taste the delicious Peruvian fusion plates.
Toto's House: This place has also been around for a long time and does lunch buffets for large groups at lunchtime for a very reasonable price. In the evening it becomes more intimate and you can order some of the traditional Peruvian dishes to try.
Things to Do in Aguas Calientes
The town of Aguas Calientes is very small, which is why Machu Picchu is the main event here. However, there are a few things to keep you busy for the day or two that you're here.
Go to the Hot Springs
The name of the town literally translates to 'Hot Waters', so you should make sure a stop at the thermal baths is on your list of things to do. If you're able to, try to go early on in the day because in the early evening they get very busy with people coming from the treks. You can also order a cocktail to sip on at the bar that overlooks the springs.
Try Out the Restaurants
The town is made up of a lot of restaurants, so you have plenty of choices. You can try some of the dishes and also a tasty pisco sour, the national drink of Peru.
Do a Bit of Souvenir Shopping
Like a lot of places in Peru, Aguas Calientes has its fair share of souvenir shops. If you haven't managed to do any shopping elsewhere, you can pick up some nice pieces here, however, the prices are higher than most other places in the country.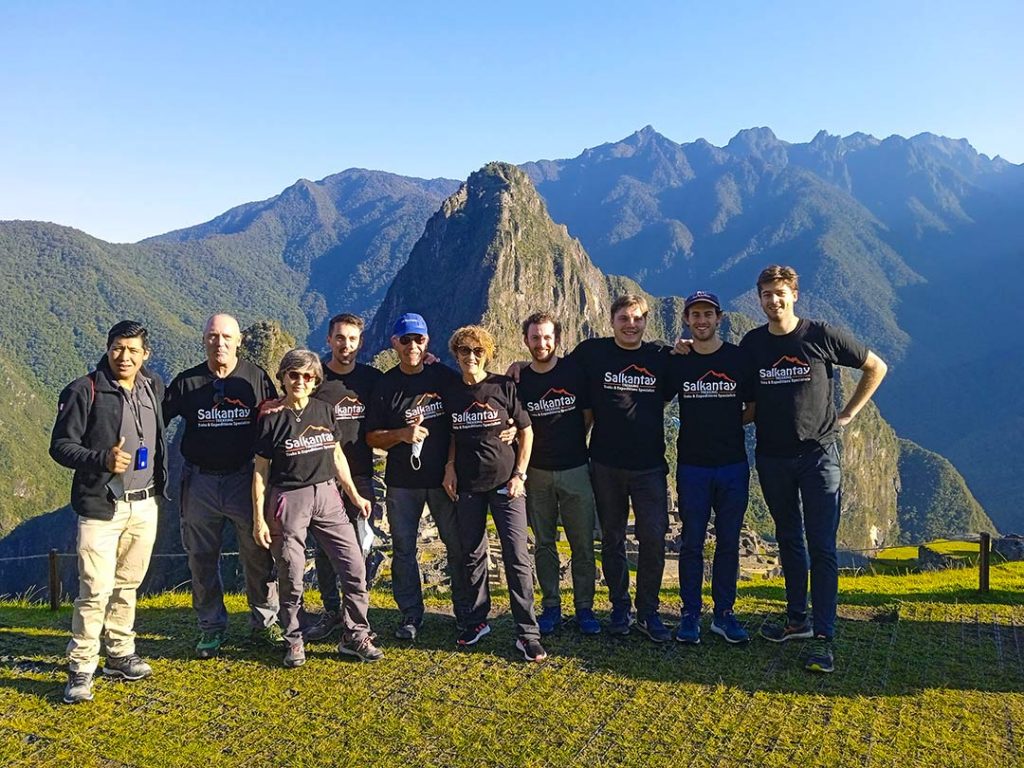 Machu Picchu Visitors Tips
To enjoy your trip to the max, take on board these useful tips and tricks. The more you implement, the more likely your visit will go smoothly.
Spend the Night
If you have the time, we really recommend you make the most of your trip and spend the night there. This way, your visit won't be rushed and you'll have a little more time to enjoy the archaeological site. You'll also be able to enjoy the hot springs, which you likely won't have time for if you only go for the day.
Be Patient
Being one of the Seven Wonders of the World, Machu Picchu receives a lot of visitors on a daily basis. Don't expect to be able to take photographs with no one in them. You'll also likely have to wait a while to take photos in the most sought after spots.
Go to the Bathroom Before You Enter
This is very important because once you go inside the archeological site, there are no bathrooms. You're also not allowed to go out and come back inside again.
Pack Lightly
When you're getting ready to go to Machu Picchu for the day, you need to pack lightly. You'll be carrying your backpack for many hours. It may also get searched on the way in. You should only take a reusable water bottle to keep you hydrated (no plastic allowed), and a lightweight raincoat or poncho. You're not allowed to eat anything inside and you can't take drones or tripods.
Machu Picchu Packing List
We highly recommend you use this packing list for your trip to the archaeological site to be as prepared as possible.
Long sleeved T-shirt and pants to protect from bugs.
Thin sweater to put on and take off when you get hot or cold.
Ran jacket or lightweight poncho in case of rain.
Hiking boots or shoes.
Sun hat and sunglasses
Daypack.
Bottle of water – must be reusable because plastic isn't allowed.
Good quality camera or phone with good camera.
Passport and ticket as you can't get in without these.
Before you head up to the site, you should make sure you use plenty of bug spray and sunscreen to protect you from big bites and sunburn.
Machu Picchu Checklist
In addition to the packing list, we've put together a checklist of things you need to do to plan your trip as well as you can. This way, there'll be no hiccups along the way, and you'll guarantee you've got everything ready that you need to.
Decide when you want to visit Machu Picchu.
Get in touch with an agency, tour operator, or check out the options yourself on the official website.
Decide which entrance to Machu Picchu you want to buy. You can opt for only the main archaeological site or that entrance plus a hike up either Huayna Picchu or Machu Picchu Mountain.
Buy your ticket to Machu Picchu.
Think about how you want to get to Machu Picchu (car, train, trek).
Decide which train you would like to go/return on.
Purchase your train ticket. (If applicable).
Think about whether you want to walk up to and down from Machu Picchu or take the bus from Aguas Calientes.
Buy your bus ticket. (If applicable).
Decide how long you'll visit for.
Find a suitable accommodation if you're going to stay overnight.
---
---
You might also like
---