If you're a hiking junkie, Peru is the place for you! Several of the world's very best hikes are found in this wonderland of snowcaps and forests, waiting to astound you with their natural beauty. It's a challenge to make it to the best spots in the Peruvian Andes, making these hidden gems even more worthwhile. Among the white peaks of Peru, the most beautifully breathtaking places are the glacial lakes, surprisingly turquoise and crystalline. Two of the country's most popular are Humantay Lake in Cusco and Lake 69 in Huaraz.
Both can be done as a day trip or as part of a longer trek. Of course, the sparkling waters aren't the only draw of this hike. The landscapes you'll hike through are also extraordinary and one-of-a-kind.
So to help you plan out your Peru itinerary, how do the two compare?
Humantay Lake: Cusco
Humantay Lake is, without a doubt, one of the top destinations in the Cusco area! Nestled between the sacred mountains of Apu Salkantay and Apu Humantay, it's a spiritually-charged must-see. Its amazing gradient of light blues, greens, and turquoise will shock you for sure.
This majestic lake's claim to fame is in its colors, of course. The hues are more vibrant and varied than Lake 69 and unlike its competitor, Humantay has a ridge around it that you can climb up to get a panoramic view of the water and its surroundings. The hike starts in a wide-open valley surrounded by snowy peaks and continues up a rocky path with little vegetation until you find yourself at the foot of a huge glacier.
The trip to Humantay also offers some conveniences. There's a small souvenir and snack shop and rustic restaurant near the trailhead and a snack shop just as you arrive at the lake itself. You'll leave out of Cusco, the tourism hub of Peru, so getting here definitely won't be out of the way in your travel plans. To top it all off, the multi-day trek passing by Humantay ends at one of the 7 Wonders of the Modern World and #1 destination in Peru, Machu Picchu!
Be advised, though, that you won't be alone on your hike to Humantay. It's immensely popular and more crowded than 69 Lake.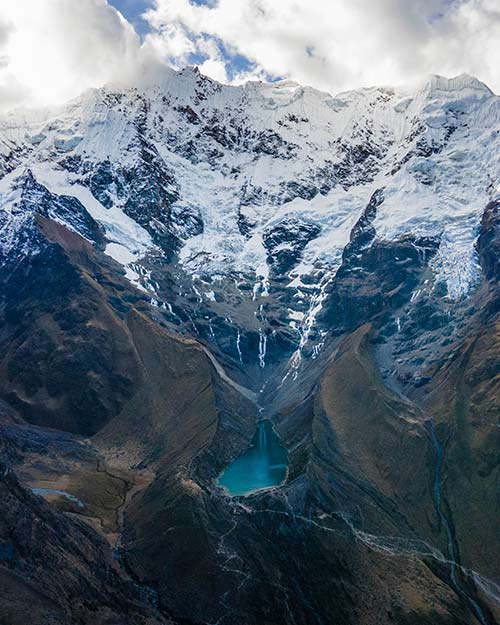 Lake 69: Huaraz
Lake 69, named so due to its placement on a list of the almost 300 glacial lakes of the Huascaran National Park, is another incredible place to appreciate the natural charm of the Andes' bright blue glacial lakes. Found in the shadow of Peru's highest peak, Huascaran, you certainly can't go wrong with this one.
Lake 69 is in a UNESCO Biosphere Reserve and Natural World Heritage Site, so there's no doubt it's something incredibly special. The hike starts flat, following a river among the trees and surrounded by small waterfalls branching off of the river. You'll pass stone shacks, as well as a small lake along the path, before the last zig-zag ascent into wonderland.
The region of Peru where this lake is found is the mountaineering and adventure tourism capital of the country and is world-renowned for its unequaled beauty and extensive network of trails. Here, you'll find a place that's not just for hiking but also for mountain climbing, ice climbing, trail running, glacier walking, advanced mountaineering, biking, and camping.
Being in the northern Peruvian Andes, it's not on the typical tourist's itinerary – it's far from Lima, Cusco, and other popular cities. It's less crowded than Humantay Lake, but I still wouldn't say it's quite off-the-beaten path (though many other trails in the area definitely are). It's a challenging trek not for the faint of heart, but it's well worth it.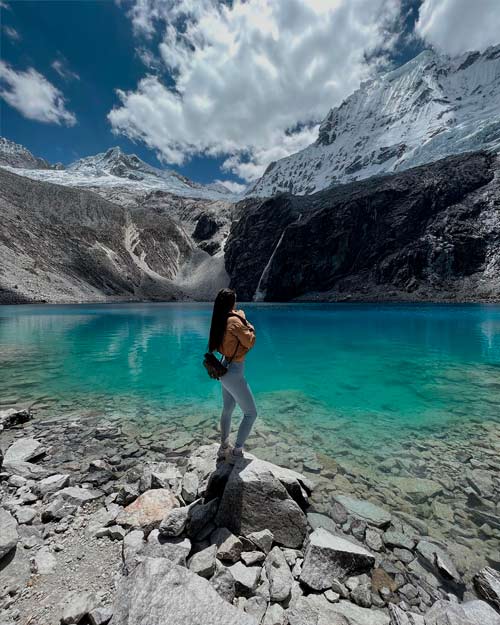 If you have to choose one of the two, here are the stats to help you decide which:
| | | |
| --- | --- | --- |
| | Humantay Lake-Cusco | Lake 69-Huaraz |
| Driving time (one way) | 3.5 hours from Cusco | 3 hrs from Huaraz 2 hrs from Caraz |
| Hiking time (round trip) | 3-4 hours | 5-6 hours |
| Level of difficulty | Moderate | Challenging |
| Lake altitude | 4200 MASL / 13,780 FASL | 4600 MASL / 15,090 FASL |
| Altitude gain | 400 meters / 1310 feet | 800 meters / 2620 feet |
| Entrance fee | 10 soles | 30 soles (1 day)60 soles (2-3 days)150 soles (4+ days) |
| Trailhead | Soraypampa | Llanganuco |
| Mountain Range | Vilcabamba | Cordillera Blanca |
| Associated multi-day hike | Salkantay Trek to Machu Picchu (4-5 days) | Santa Cruz Trek (3-4 days) |
| Can you swim? | No | No |
| Campsites at the trailhead? | Yes | Yes |
| Camping allowed at the lake? | No | No |
| Panoramic view? | Yes | No |
| Waterfalls? | No | Yes |
| On the typical tourism circuit? | Yes | No |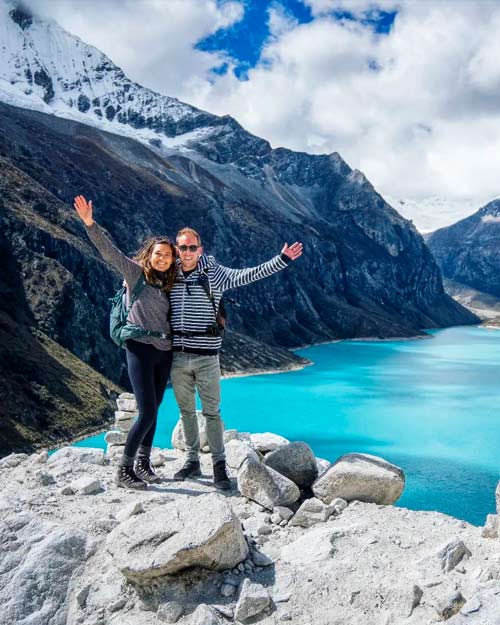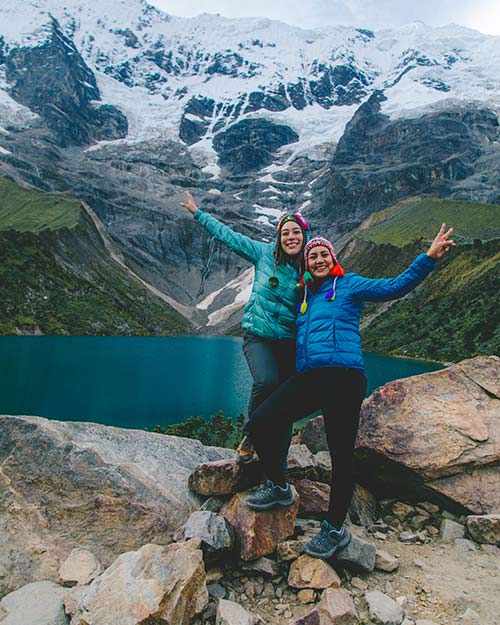 So which one?
These two Andean glacial lakes have so much in common and are so breathtakingly gorgeous that it's hard to know which to choose if you only have time for one. The most obvious factor would be your travel itinerary and which cities will be your bases during your time in Peru. Huaraz is in the north between Lima, Cajamarca, and Iquitos. Cusco is in the south between Lima, Arequipa, and Puno.
You should also check out other attractions in the area of each lake to see which set interests you more. Huaraz's hiking is often compared to experiences in the Himalayas of Nepal! If you're in search of an intense bout of adventure sports and adrenaline-pumping challenges in paradise, that's mostly what you'll find there. But Cusco offers a more diverse assortment of destinations and activities. On top of the natural wonders, you'll also enjoy lots of really cool cultural experiences in the historical capital of the Incas.
P.S. – If you can make it to both…do both!
Written by: Bethany Iversen Marrou
---
---
You might also like
---