We know what's happening with you. Two of your best friends just returned from Peru, and they won't stop talking about their trip. You've seen pictures on Facebook, and they look amazing. But what's stood out to you most has been the landscape of the Inca Trail and, of course, the enigmatic Inca city of Machu Picchu. However, you feel unsure and won't decide to go because Peru looks far away and you think the Inca Trail is dangerous.
From Salkantay Trekking, we want to tell you: DON'T WORRY, AND COME TO PERU ALREADY. To alleviate your insecurities, we bring you everything you need to know about the Inca Trail. You can forget all your doubts and start to plan the trip of your dreams, which will lead you to enjoy one of the 5 best treks in the world. Take a breath, and prepare yourself: a lot of information awaits you. Let's get started!
What is the Inca Trail?
Ancient Peruvians constructed an immense network of trails throughout Tawantinsuyu. This Qhapaq Ñan, or Royal Path, extending more than 60 thousand kilometers, was a key piece of the development of one of the most organized empires in the history of mankind: the Incas. In fact, many Andean communities still use these trails to communicate and trade products. Besides, since a few years ago, the Qhapaq Ñan has been being restored thanks to efforts of authorities in the countries which are part of its heritage: Peru, Ecuador, Colombia, Bolivia, Chile and Argentina.
The best route to get to Machu Picchu on foot
The most famous stretch of this complex trail network is known as the Inca Trail and is considered by specialists as the best route to get to the Historical Sanctuary of Machu Picchu on foot. The Inca Trail route has also been considered the best trek in South America, as well as one of the top 5 treks in the world. Every year, more than 25,000 travelers traverse its 43 kilometers through impressive landscapes.
Hiking through this famous trail is a magical, overwhelming experience. Not only will you discover the mystery of almost 20 archeological sites, but you'll also have time to connect profoundly with nature. On this path, you'll experience a variety of altitudes, climates and ecosystems; you'll start surrounded by impressive snow-capped mountains and end in the warm, tropical forest. Some people say that this trail was designed as a path of purification in order to access the sacred city of Machu Picchu.
Our adventure will start close to the small town of Piscacucho at kilometer 82 of the railroad that connects Cusco to Quillabamba. From there, we'll take 4 days to arrive at Machu Picchu through the Sun Gate or Inti Punku.
What attractions does the Inca Trail have?
The Inca Trail route is considered by many to be the best hike in all of South America. Be fascinated by its impressive landscapes as you move closer and closer to one of the Modern 7 Wonders of the World: the Historical Sanctuary of Machu Picchu. In some moments, the clouds will seem so close that you'll want to reach out and touch them with your own hands.
Climate and Environment
The Inca Trail weather is generally mild all year long. However, there are rainstorms from November to March as well as dry weather from April to October.
The average annual minimum temperature varies between 8 °C and 11.2 °C (46 °F and 52 °F). However, in June, July and August, the temperature can drop below zero (32 °F). On the other hand, the average annual maximum temperature varies from 20.4 °C to 26.6 °C (69 °F to 80 °F).
The geography on the trail is extremely diverse. You'll visit different ecological zones and experience abrupt changes in vegetation and climate. You'll walk in tandem with immense, snowy mountains of the Andes range and then enter into the dense Amazon.
Besides all this, you'll see impressive diversity in the flora and fauna: 425 bird species, 22 reptile species and 52 wild mammal species as well as almost 500 orchid species, 50 tree species per acre and 300 species of other exotic plants.
Landscape
During this journey which crosses the Andes, you'll be astounded by the imposing mountains of the Urubamba range, which easily exceed 5,000 MASL (16,400 FASL). You'll also see deep, fertile valleys. Little by little, the temperature will rise, and the landscape will be taken over by dense, tropical vegetation. All of a sudden, you'll find yourself right in the middle of the Amazon. There, you'll get to know the cloud forest, as well as its intense, colorful wildlife.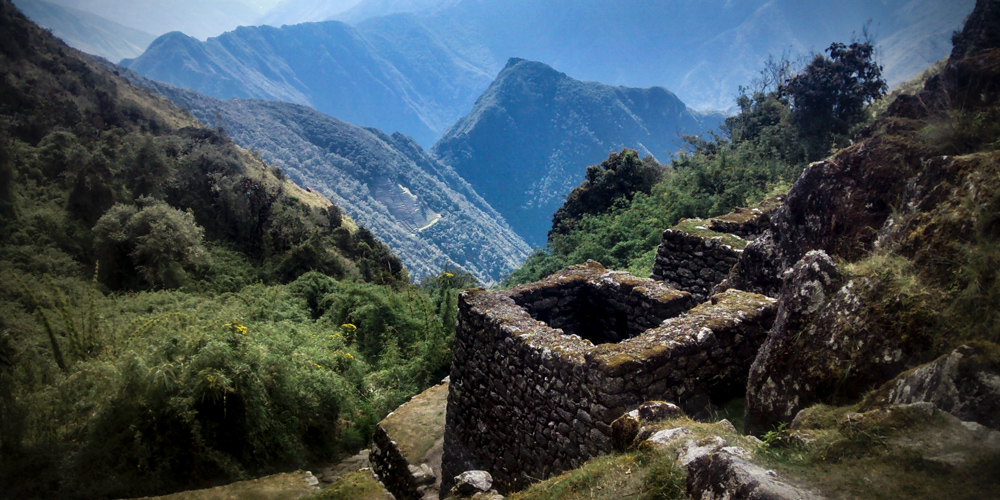 Fauna
The fauna within the Inca Trail is abundant and varied. The Peruvian Government declared it a Conservation Zone due to the existence of diverse species in danger of extinction, such as the spectacled bear, cock-of-the-rock and dwarf brocket deer.
There, pumas, Andean foxes, river otters, tarukas (Andean deer), mountain lions, ferrets, hummingbirds, ducks, parrots, turkeys, yellow-billed pintails, snakes, lizards, frogs and many other animal species coexist.
This huge diversity of fauna makes the Inca Trail ideal for visitors who are interested in seeing or studying animals.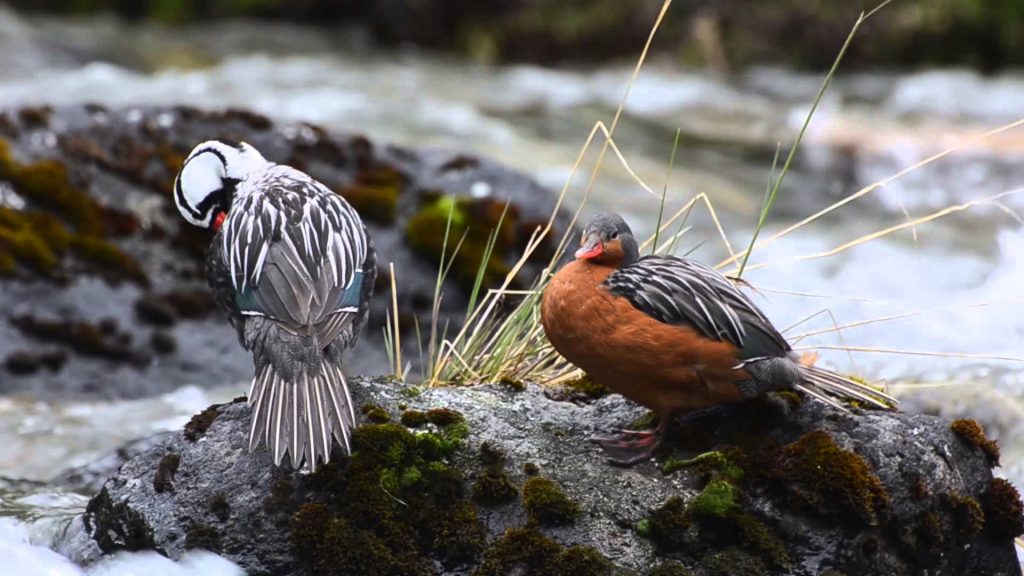 Flora
Since the Inca Trail extends through transforming forests, the flora is as equally varied and abundant as the fauna. You can see different species of trees, such as cedar, romerillo, laurel and basul (pisonay). The variety of orquids is also impressive. Among the main species are: the Choclo Choclo (Elleanthus capitatus), Waqanki (Masdevallia veitchiana), Wiñaywayna (Epidendrum secundum), Sobralia virginalis, Trichopilia frayans and Odontoglossum, as well as many others. You'll also find other plant species, such as the molle (Anacardiaceae), angel's trumpets (Solanaceae), mountain yahuarchonka (Lytraceae), carnation of the air (Tillandsia fendleri) and begonias (Begonia veytchii begoniaceae), among others.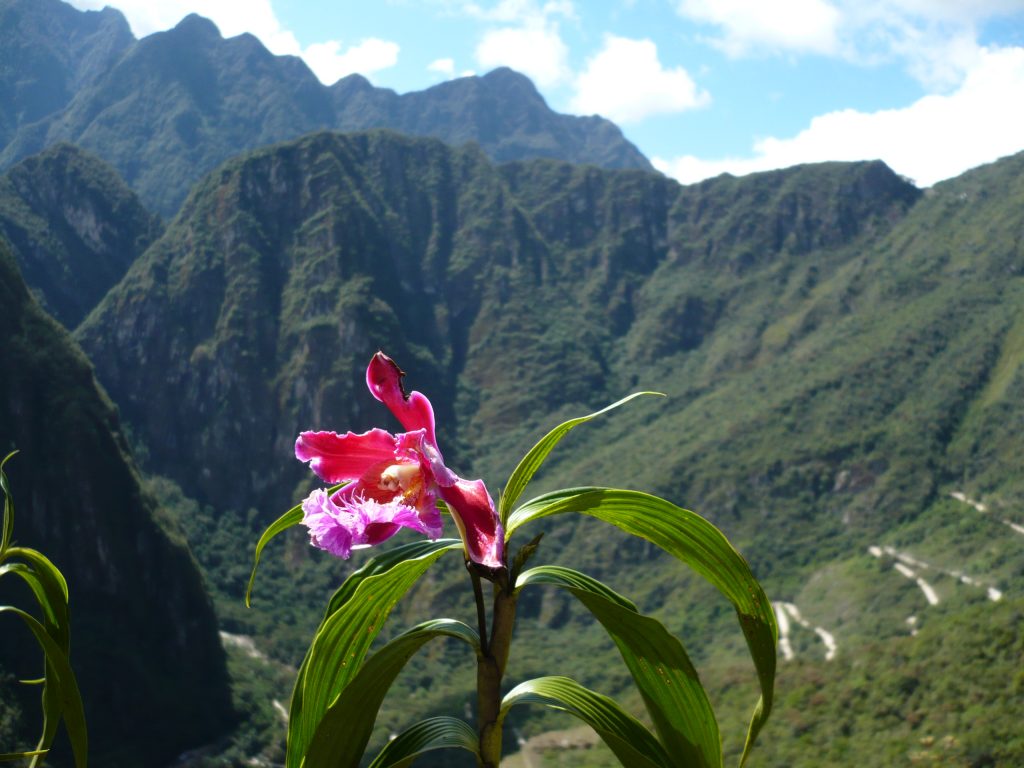 Archeology
There's no doubt that the Incas were true architectural masters. While you cross dense forests and deep canyons, you'll visit 18 archeological complexes along the Inca Trail. You'll see walls, canals, staircases, plazas, enclosures, farming terraces and bridges, among other structures. Of all these archeological sites, Llactapata, Qoriwayrachina, Runkurakay and Phuyupatamarka stand out. Obviously, the one that wins first prize is the immense city of Machu Picchu, the final destination of the trail. Pay attention to the way in which the structures are one with the natural space surrounding them.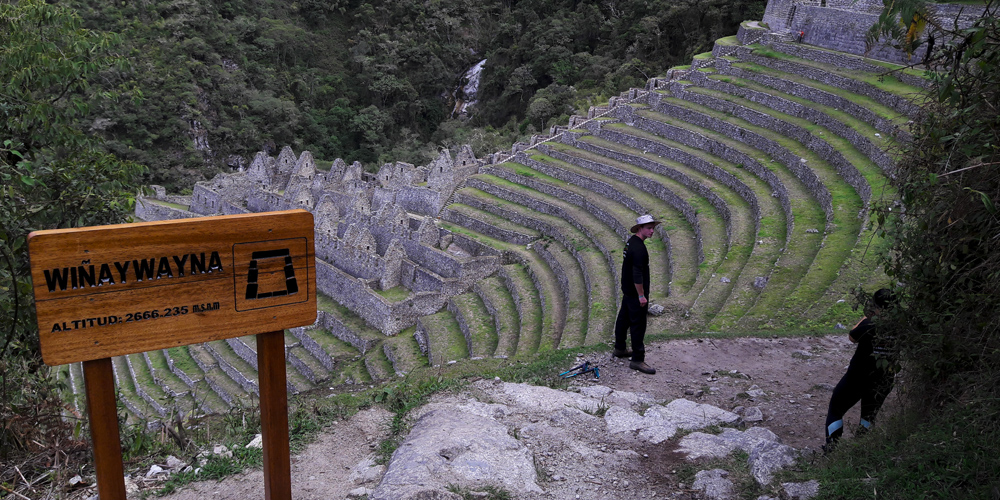 Which is the best season to visit the Inca Trail?
First of all, you need to know this: With the intention of protecting the trail network of the Qhapaq Ñan, and because of the high demand of the route, the Peruvian Government has LIMITED daily access to 500 people. Of this total, only 200 are tourists. The rest are made up of tourism workers, such as guides, chefs and porters.
To be able to obtain access this trek, we recommend that you make your reservation far in advance:
3 months beforehand for October to January
6 months (or more) beforehand for March to September
The time from March to September is the busiest since it doesn't rain during that time. Although it's nice to hike without having to walk through mud, the heat can suffocate you a bit during these months. The route is always full of tourists during this time, but between May and August, the influx of people can become uncomfortable.
From October to January, the trail is less busy because it is rainy season. During these months, there are a lot of refreshing days. Remember that you may end up wet a couple of times during your trek; however, you will be able to enjoy a profound and calm connection with nature.
What are the security measures enforced on the Inca Trail?
Every person who goes onto the Inca Trail should use authorized routes and follow general rules provided by the authorities.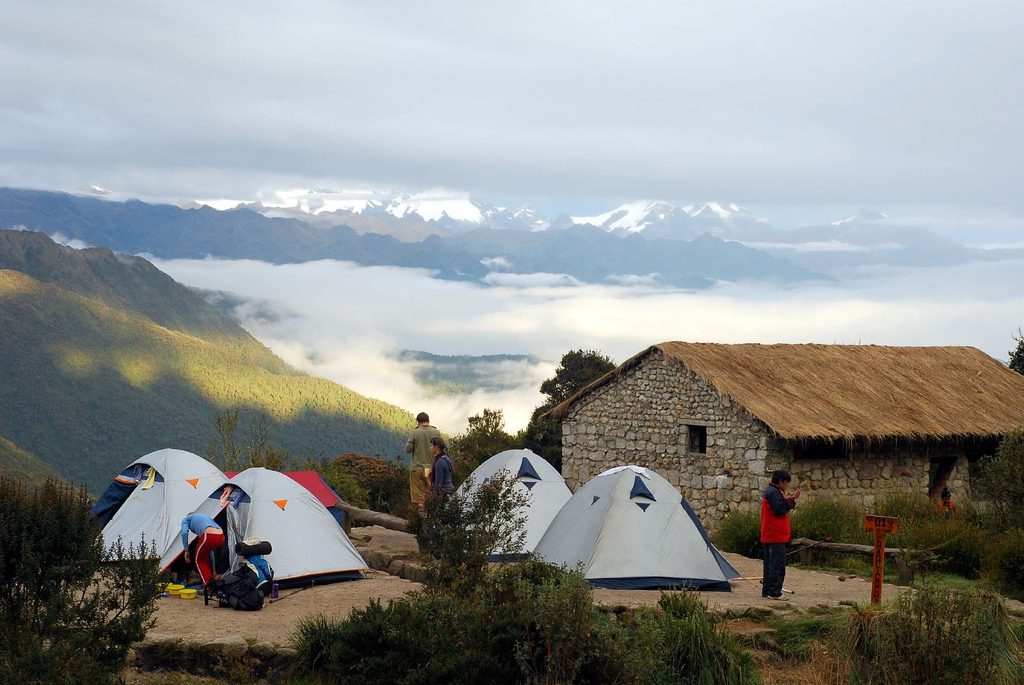 Security, control and vigilance on the Inca Trail
According to the Regulations of Touristic Use of the Network of Inca Trails of the Historical Sanctuary of Machu Picchu, the following entrance, control and user registration points exist:
Km 82
Km 88 – Wiñayhuayna
Km 104 – Santuario Histórico de Machu Picchu
Km 122 – Intihuatana
Huayllabamba – Pacaymayu
Santa Teresa
Entrance in these authorized places is only available between 5:30 AM and 2:00 PM. You cannot do any trekking from 6:00 PM to 5:30 AM.
Identification of trekkers is obligatory. Because of this, you should carry your original, current ID documents. In the vigilance points, every person's entrance will be registered. This registration is the responsibility of SERNANP and the Ministry of Culture.
There are park rangers and guards who are in charge of control and security along the entire Inca Trail. Their main functions are to care for the natural and cultural heritage of Peru and also prevent any incident which threatens trekker's safety.
Park rangers are authorized to intervene in case of any situation that threatens order and safety of those using the Inca Trail to Machu Picchu. They're also authorized to check your bags and confiscate any unauthorized product.
In case of any type of incident, park rangers and guards have the authority to file a record of offense. They can also make an official complaint to the National Peruvian Police.
The Inca Trail to Machu Picchu is a safe, protected place, and it guarantees the same peace of mind afforded by regulations of Peru, as a whole.
Regulations of the Inca Trail
Remember that there are regulations for all travelers who use the Inca Trail to Machu Picchu. Different entities of the Peruvian state (DIRCETUR, Ministry of Culture and SERNANP) are responsible for this regulation. The main objective of this step is to conserve the cultural and natural heritage of this area. Controlling touristic use decreases the impact caused by visitors and ensures their safety.
These regulations indicate the following:
Pay the entrance ticket to the Inca Trail.
Don't leave garbage behind.
Don't have bonfires.
Conserve public facilities.
Don't take, pick or buy any species of flora or fauna.
Camp only in authorized sites. Camping in archeological sites or restricted areas is strictly forbidden.
Maintain good behavior in order to not disturb other hikers.
You can only hike the Inca Trail in organized groups led by an official tour guide with authorization to work this route. It's also necessary that each group have certified support staff.
Groups should have a maximum of 45 people, including support staff: guides, porters and chefs.
Travel agencies that operate on the Inca Trail should be authorized and accredited by DIRCETUR and the technical management of Machu Picchu.
The Inca Trail closes for maintenance and security during the month of February.
The following are the authorized routes:

Route 1: From Km 82 (3 nights)
Route 2: From Km 88 (3 nights)
Route 3: Salkantay-Huayllabamba (3 nights)
Route 4: Km 82-Piscacucho (3 nights)
Route 5: Km 104-Chachabamba
Route 6: Salkantay-Km 88 (1 night, does not include Machu Picchu)

Staying on the trail longer than the indicated time is prohibited.
Trekkers will be registered in different vigilance points. For this reason, it's necessary they carry original, current personal documents.
It's strictly forbidden to carry firearms, bows, arrows, axes, machetes, mountain knives, nets, cages, traps, kerosene, gasoline, drugs, sound equipment, domestic animals, pickaxes, shovels or wooden canes.
It's strictly forbidden to hike between 6:00 PM and 5:30 AM.
Park rangers will permanently guard the Inca Trail. They are supported by the National Police.
All trekkers should fill out entrance forms, where the following information will be obtained: personal data, route type, entrance date, travel agency and declaration of solid waste to be produced.
To manage trash, agencies should carry red and green bags, which will be taken care of at the end of the trail.
Punishment for failure to adhere to these regulations is the responsibility of SERNANP and the Ministry of Culture.
If you fail to comply with these rules, the police as well as park rangers will be able to intervene and punish you. Respect the rules, and you'll avoid unpleasant situations.
Don't forget:
Salkantay Trekking offers 2 options for this route: 2-day Inca Trail Short or 4-day Inca Trail Classic.
Plan your trip in advance. Reserve your entrance ticket for the Inca Trail at least 6 months beforehand.
The demand for this route is extremely high. Don't forget that only 200 tourists are allowed to enter the Inca Trail per day.
Rainy Season on the Inca Trail
In the Cusco district, between December and March, rainfall increases. Because of this, flow of the rivers also rises, and they turn brown. During this season, the landscape becomes an intense color of green, and the famous white corn is harvested in the Sacred Valley of the Incas.
In rainy season, the flow of the Urubamba river rises considerably, making the surrounding ground soggy. This, along with deforestation, increases the risk of landslides.
According to the Peruvian National Meteorology and Hydrology Service (SENAMHI), in January, rain in Machu Picchu increases from 1,600 to 2,300 mm. In February, the average humidity is 91%. These rains are often accompanied by thunder and lightning and can last the whole day without stopping. During this season, days are usually cloudy and cold.
Keep in mind that the Inca Trail closes during the month of February. In this way, authorities seek to care for trekker's physical integrity and do maintenance and cleaning along the trail.
Although the rainy season doesn't completely interfere with touristic activities, you should take some precautions. Always stay informed about weather conditions, and remember that your flights may be cancelled, or there could be problems with your train. Bring waterproof clothing and anti-slip shoes with you. Now all you have to do is bring your best self in spite of the weather and enjoy your trip.
Inca Trail Faqs: What other doubts do turists like me have?
When are there the most visitors on the Inca Trail?
A huge number of people visit the Inca Trail during dry season, which is May to September. However, the Inca Trail is literally jam packed with tourists during May, June, July and August.
When are the least people on the Inca Trail?
The lowest tourist influx on the Inca Trail is during rainy season, which is October to April. Remember that in the month of February, the Inca Trail is closed for maintenance and due to constant rainfall. March could be a good option if you don't like to travel with a crowd. In March, it doesn't rain much, which guarantees refreshing days and nice temperatures. In dry season, the days can become really suffocating.
So, which is the best season to go to the Inca Trail?
That depends on you. If you don't like crowds and also don't like to hike in suffocating temperatures, we recommend hiking the Inca Trail during the beginning of April or the beginning of September. That way, you'll avoid the strong rainfall, hot days and crowds of tourists.
Is it difficult to access the Inca Trail during high season?
The entrance price of the Inca Trail is the same all year long. However, the train and bus ticket prices usually increase during high season. If you are traveling during high season, remember that you should make reservations for entrance to the Inca Trail far in advance. Don't forget that it's practically impossible to reserve entrance to the Inca Trail once you get to Cusco unless you have time to wait weeks, or even months, for a free space to become available.
How do we get to the trailhead at Km 82?
You can get to kilometer 82 by train or car from Cusco or Ollantaytambo.
How do we return from Aguas Calientes?
To return to Cusco from Aguas Calientes, we can take the train to Ollantaytambo, where we will find various buses available to take you back to Cusco.
How do we get from Aguas Calientes to Machu Picchu?
There's a fleet of mini-buses which go between Aguas Calientes and the Historical Sanctuary of Machu Picchu in 20 minutes, whether there or back. This service is available every day.
If you prefer, you can get to Machu Picchu by foot on a challenging trail. It will take about 2 hours to get to the top.
Is there signage along the Inca Trail?
Foe your relief, there are many signs along the Inca Trail. You'll also find important information at certain places, such as the climate, altitude, distances and services, among other things.
Why should I choose the Inca Trail?
Several specialized magazines consider the route of the Inca Trail one of the 5 best treks in the world. This excursion is ideal for nature lovers. You will be able to see snow-covered mountains, cloudy forests, waterfalls, diverse vegetation, native animals, archaeological sites and other wonders that will captivate you.
We hope that this information has cleared up all your doubts and that you'll finally grab your suitcase. This is a fact: Peru is a place that will change your life. Besides, you'll be the sensation of all your Facebook friends.
---
---
You might also like
---