Lima is the only South American capital with a view of the sea. And, it is a city full of tourist attractions and multicultural. Here lives the most significant population in Peru. This city can Lima is the only South American capital with ocean views. It is also a multicultural city full of tourist attractions. The most significant population of Peru lives here.
This city can offer you different and varied forms of entertainment. What are you waiting for to get to know it? Here, we will mention several places and activities that you could see and do during your visit to Lima. Dare to live new experiences in the city of the Kings.
Historic Center of Lima
The Historic Center of Lima is part of the UNESCO World Heritage Site. In this part of the city you can enjoy the following activities:
Main Square
First of all, you should visit the Plaza de Armas, where you will find the Government Palace, the Cathedral and many other historical colonial buildings. If you wish to see the Cathedral, the entrance fee is S/.10 (approx. US$3.20), and it is open from 9:00 am to 5:00 pm, Monday to Friday, and on Saturdays from 10:00 am to 1:00 pm. If you wish to visit the Government Palace, the residence of all the presidents of Peru, you can see the public relations office for a tour.
Santo Domingo Church and Convent
The Santo Domingo Convent is a place you must visit because it is an architectural jewel. It has one of the complete libraries in the world. There are catacombs or crypts considered the largest and best-preserved of the entire continent.
In these catacombs, you can see vast wells of 10 meters deep full of bones and human skulls. These catacombs are part of a subway network of paths and passages that connect the Cathedral of Lima and other convents in the Historic Center.
Chabuca Granda Alameda
You can visit the Alameda Chabuca Granda, a viewpoint and an artistic and cultural center of the city created in honor of a well-known Peruvian singer-songwriter of Peruvian Creole music. Fairs and events are often held here.
Paragliding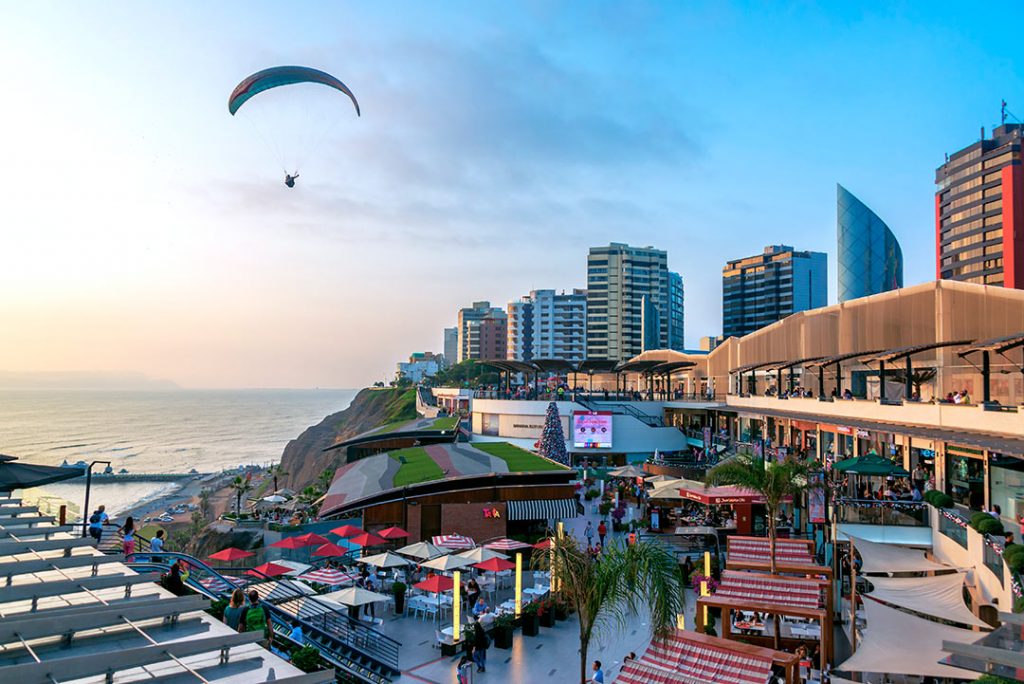 Miraflores
The district of Miraflores is probably the most popular area of the capital to practice this sport. Here you can enjoy a privileged view of the sea and the Costa Verde. The parapuerto, designed and built specifically for paraglider take-off and landing, is located in Raimondi Park, next to Parque del Amor. Passengers have a flight time of approximately 10 minutes and can reach a maximum height of 250 meters.
Lurin
Lurin is located 40 minutes from Lima; there are several paragliding centers where travelers practice in the dunes. Here the flying season lasts all year round. The maximum height is 50 meters, and the type of flight is descending. The trip lasts approximately 5 minutes, and you can do it with or without an instructor, depending on your experience.
Pachacamac
Pachacamac is located at kilometer 35 south of Lima and is characterized by offering a thermodynamic flight. If you choose this option, you will reach a maximum altitude of 1,000 meters. The best season for paragliding here is from November to April.
Pasamayo
Pasamayo is located an hour and a half from Lima, at kilometer 55 of the Panamericana Norte. This area is ideal for people with paragliding experience. It reaches an altitude of more than 1,000 meters and is characterized by a dynamic flight.
San Cristobal Hill
Fly over the Historic Center of Lima. The Cerro San Cristobal is located in the district of Rimac; this place has become a favorite for paragliders from all over the world due to its great height, excellent geographical location, and history.
Visit the district of Barranco
The district of Barranco is located south of the capital. This district offers a range of activities that include fun and culture for tourists. According to the British magazine Time out, this neighborhood is considered one of the most hipster neighborhoods in the world. Among the activities you can do are: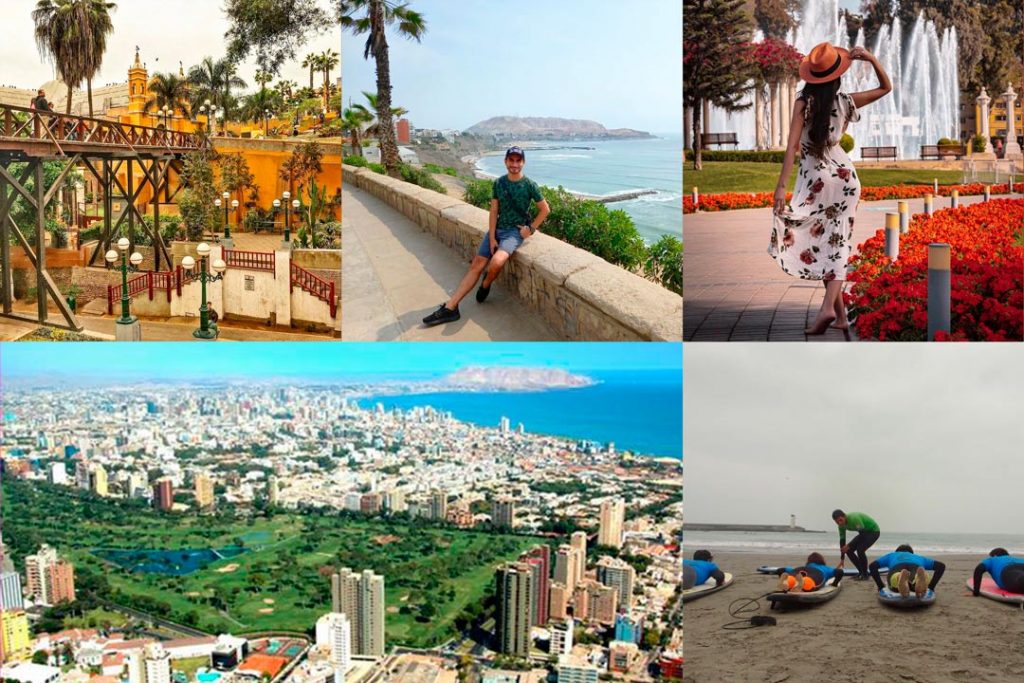 Bridge of Sighs
It is an old wooden bridge built in 1876, considered a romantic place very visited by couples. You can make a wish; you just have to cross it holding your breath for your desire to come true.
Under the bridge, you will find bars, cafes, and restaurants that end in a bridge that leads to the beaches of Costa Verde. Finally, you will find an old lookout point with a spectacular view of the Pacific Ocean.
Museums
Barranco is a cultural district; you can't miss its museums that offer collective activities, photographic exhibitions, and contemporary art.
Among the museums you can visit are; the Museum of Contemporary Art (MAC), the Pedro de Osma Museum, the Electricity Museum, and the MATE Museum.
Walk along the Malecon
Walking along the Malecon of Barranco is the most pleasant and relaxing activity; you can watch the sunset, ride a bike, read a book or listen to music with a beautiful view of the Pacific Ocean.
Surf
If you want to practice surfing or take classes in this sport, I recommend you visit Barranquito beach, and if you're going to learn to surf, a good option is Los Yuyos beach because its waters are calm. For beginners in surfing, there are surf schools located nearby.
Swim with Sea Lions in the Palomino Islands
It is an unforgettable experience if you are a lover of animals and nature. I recommend you take this tour. It lasts about 4 hours. The starting point is the Port of Callao, one of the main ports in Latin America.
The company you do this excursion with should provide the proper equipment, such as life jackets and wetsuits. On the way, you will circle the islands of San Lorenzo, El Fronton, and Cabinzas by sea. You will see Humboldt penguins, many seabirds, and sea lions.
It will be necessary to wear a wetsuit because the water temperature is quite cold. Sea lions will approach as soon as they see the boat. This tourist activity is considered friendly and respectful with the ecosystem by the National Service of Natural Protected Areas of Peru.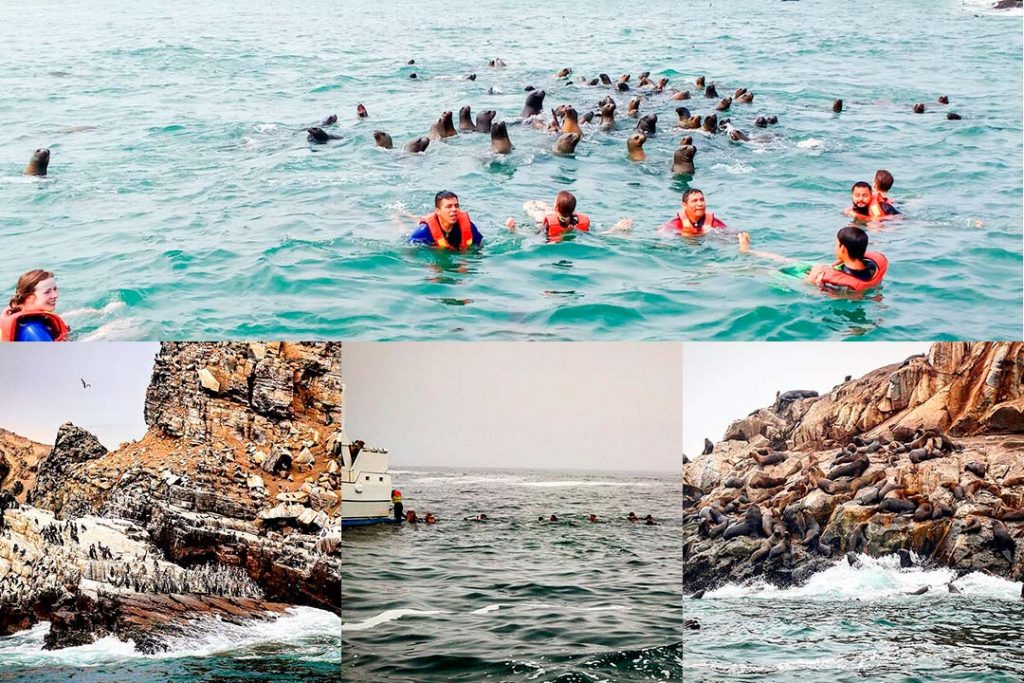 Visit the Magic Water Circuit at night.
The Magic Water Circuit is located in the Reserve Park; the entrance fee is 4 soles. You will enjoy a night of lights, water, and music that you will love. This tourist attraction has 13 cybernetic fountains that you must visit.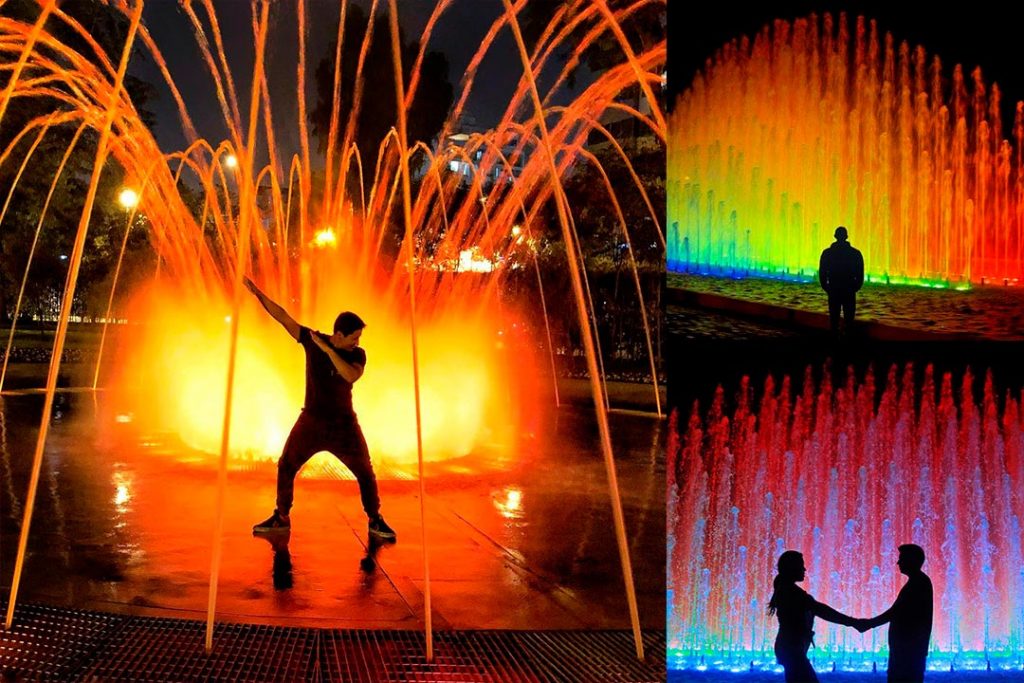 Miraflores District
The district of Miraflores is magical. It has a mix of old houses and modern buildings and very nice places, full of fun and culture.
Love park
This is a park dedicated to love. It welcomes you with a garden full of flowers and cute heart decorations. It has places to take a seat and enjoy a beautiful sea view. You can take a photo at the foot of the sculpture called "El Beso" by Victor Delfin.
Kennedy park
Kennedy Park is known as the park of the cats. It is located in the heart of Miraflores. It is surrounded by well-preserved gardens and trees. The main attraction of this place is a group of kittens that live there and are everywhere waiting for a caress or to be adopted by visitors. These cute kittens are constantly cared for by a group of volunteers.
Huaca Pucllana
It is an archaeological center of great cultural value. It belongs to the ancient Lima culture. In this archaeological center, you will find a pyramidal construction of fine adobes curiously stacked. In this complex, there is a luxurious restaurant whose income is used to finance this important archaeological center.
Larcomar
Larcomar is a shopping mall located on the cliffs of the Costa Verde, overlooking the sea. It is one of the busiest places in the city. Here you will find restaurants, boutiques, theaters, and nightclubs.
Lima is a dynamic and fun city. Here you will always find new places to visit and new activities. If you come to Peru, your first visit will be to Lima. Now you know what you can do during your stay in this city. I recommend you to enjoy your visit because in Lima you can enjoy yourself like kings.
Written by: Iris Velasco.
---
Best things to see and do
,
Historic centre Lima
,
Huaca Pucllana
,
Kennedy Park
,
Larcomar
,
Lima
,
Love
,
Magic Water
,
Main square Lima
,
Miraflores District
,
Paragliding
,
Park
,
Peru
,
Salkantay Trekking
,
Sea Lions
,
swim
---
You might also like
---