The Sacred Valley of the Incas is one of the most historically significant places in South America! Though it's insanely popular as a modern tourist destination, the valley is also home to some of Peru's most traditional Quechua communities today. It's a living museum and a progressive society. Every step is a step through time. Do you know which Inca ruins are in the Sacred Valley?
Just outside the Inca capital city of Cusco, the civilization took advantage of the extensive, fertile valley of the Vilcanota River to produce a variety of foods for the empire. Naturally, they established towns and religious sites throughout the picturesque glen and surrounding hills, many of which can be visited today!
There are four main archeological complexes to see, as well as some lesser-known ceremonial and residential centers that are definitely worth your time.
Here are the Best Inca ruins to explore in the Sacred Valley!
Inca Ruins of Sacred Valley
Moray
Moray's otherworldly circular farming terraces are just one of the many pieces of evidence that the Inca civilization was incredibly advanced as a people group in agriculture, engineering, and science. They had immense knowledge of and experience with the natural world and harnessed its power to grow their empire.
Moray was a type of farming laboratory tested different climates on different types of crops. Each rounded level was a bit lower than the next, giving those crops a different temperature and distinct growing conditions. From top to bottom, there's a 15°C difference!
Note: Though it's not an archeological site, you should also definitely visit the Maras Salt Mines, which have been used to extract salt from a natural saltwater spring since before Inca times!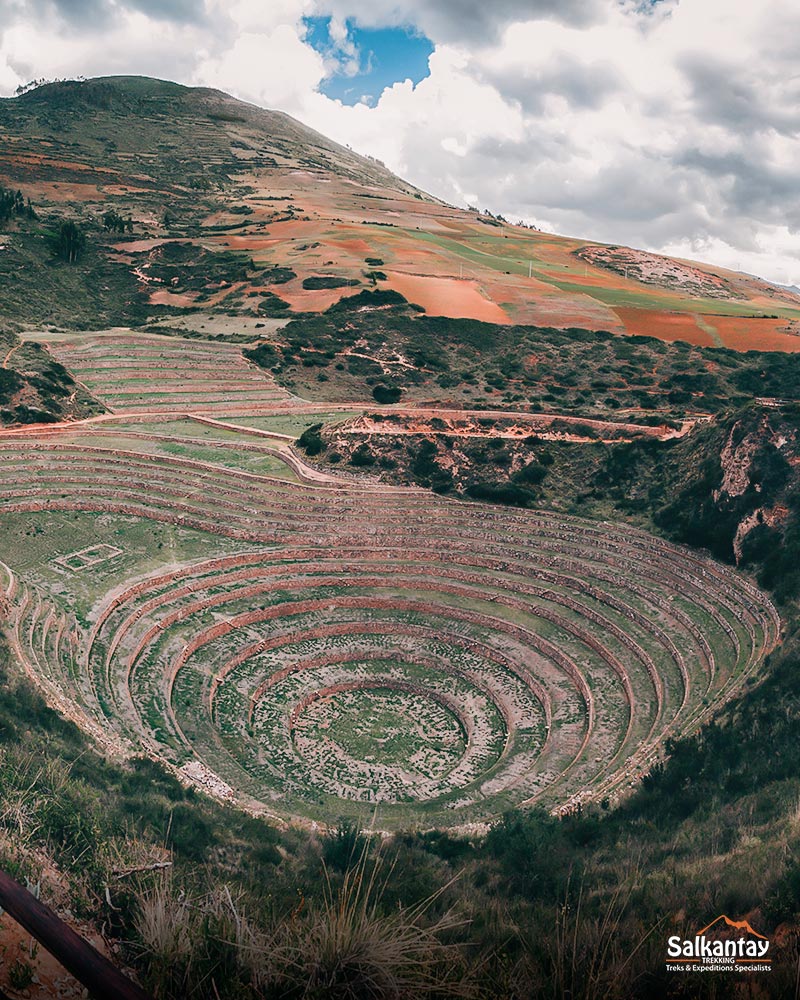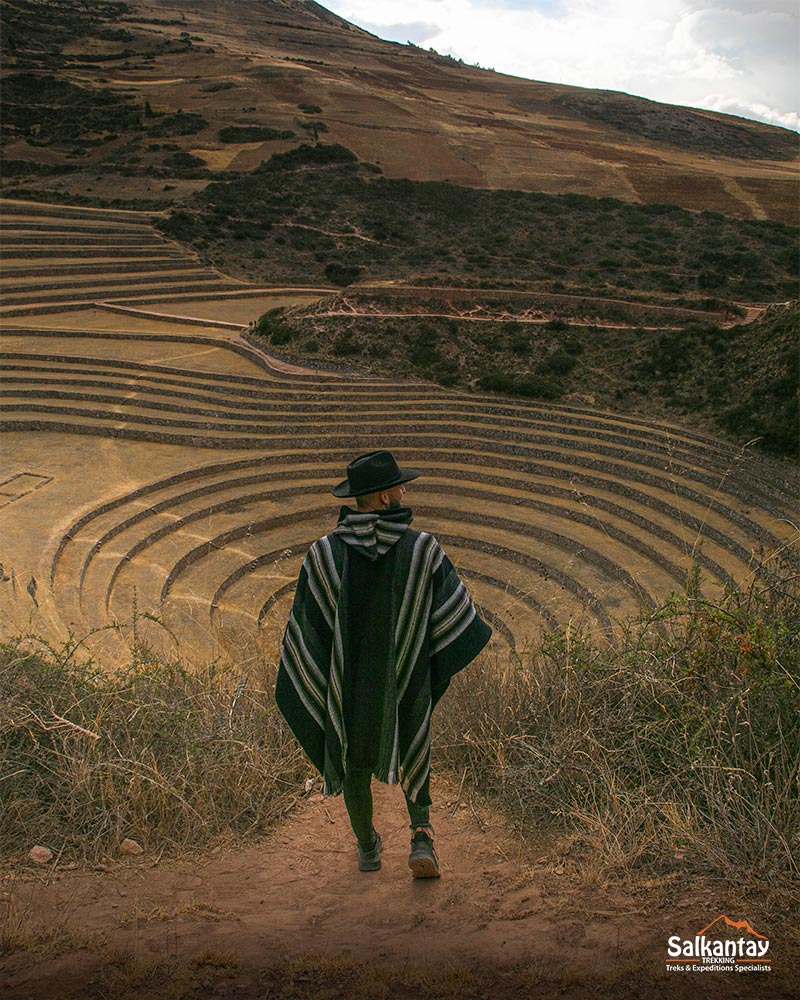 Pisac
Inca ruins of Pisac are the most beautiful in the Sacred Valley, along with Huchuy Qosqo (see below)! They are seriously so impressive and have one of the best panoramic views of the surrounding landscape. It's a place that sends a wave of peace and calms over you when you enter.
There are a ton of very intact agricultural terraces following the curve of the mountaintop, plus military, residential, and religious structures scattered about! It's likely this was an important defense point to prevent attacks on the capital city of Cusco, too. There's a lot of walking to be done here as it's a pretty extensive site, so wear good shoes, and enjoy the scenery!
→ Don't forget to visit the colorful souvenir market in the city!
Chinchero
Chinchero was once the breadbasket of Cusco and the royal abode of Inca Tupac Yapanqui. For his stately home, he ordered the construction of a palace, shrines, temples, baths, and platforms. Manco Inca later deliberately burned down the city to prevent the conquistadors from getting supplies. The Spaniards still built a colonial church and other structures in the town on the original Inca foundations.
As you can see, today's ruins pale in comparison to the grandeur it used to hold! Imagine what it would have been like – a beautiful enclosure fit for a king!
→ You can visit Chinchero on our Maras & Moray Day Tour or our Sacred Valley Day Tour!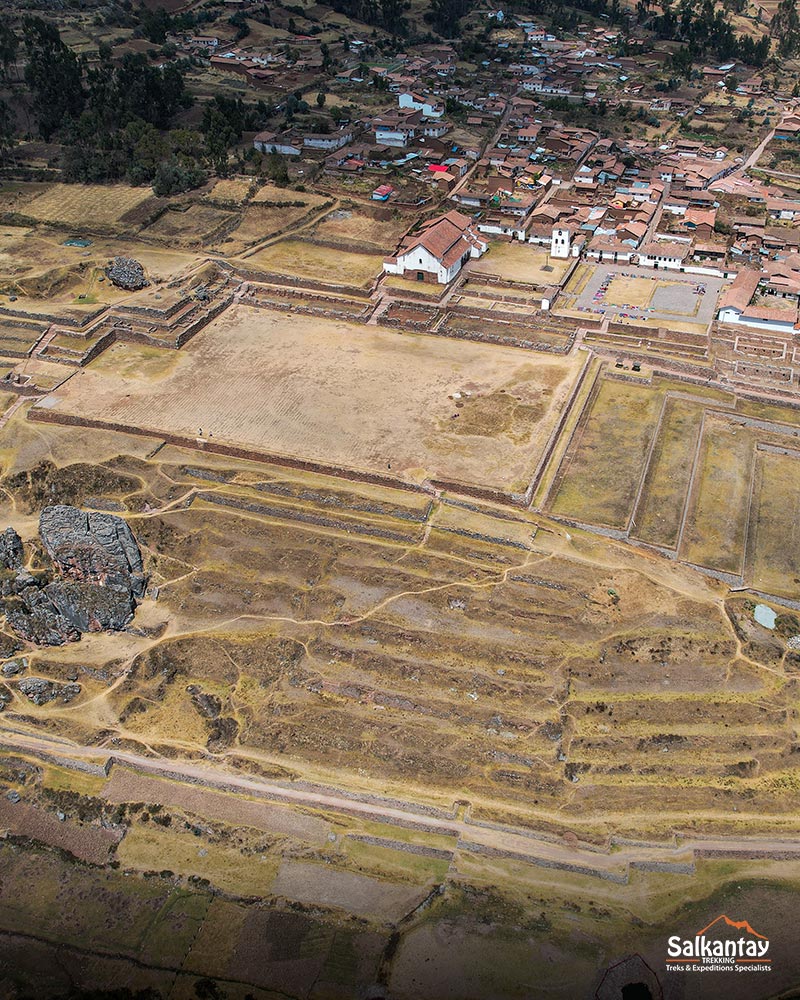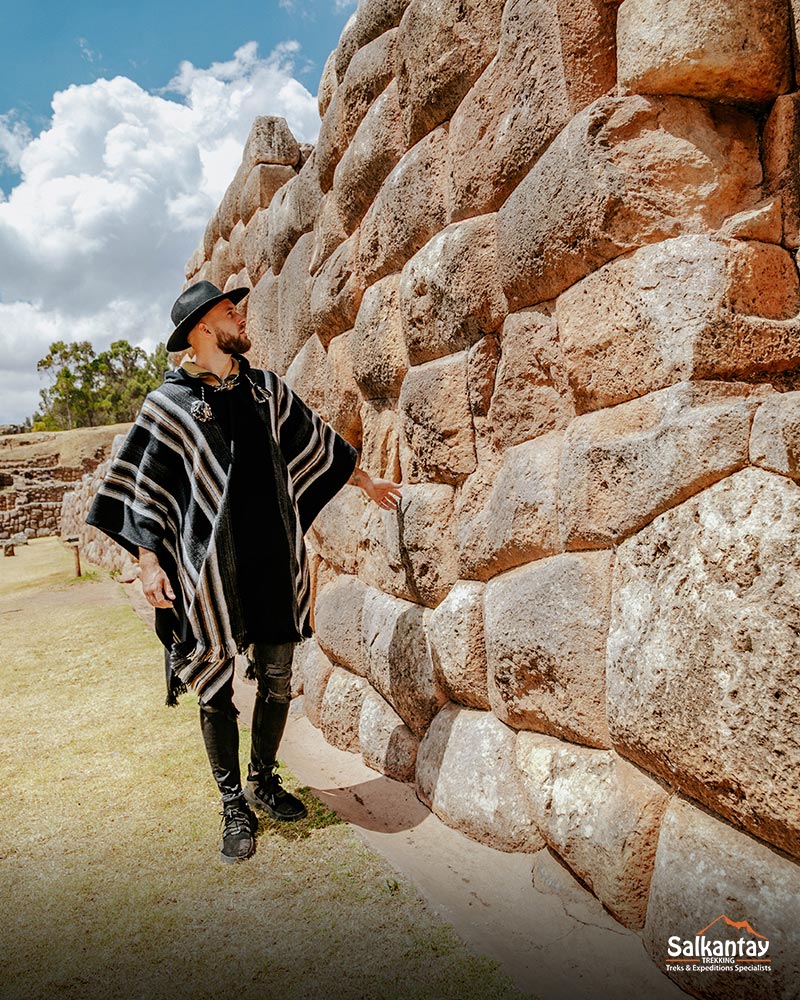 Ollantaytambo
Most people whiz right past the charming town and Inca Ruins of Ollantaytambo on the way to Machu Picchu, never giving it a second thought. But that's a mistake! This steep complex showcases the Inca's artistry, impossibly precise stonework, and engineering prowess and creates more questions than it answers. How did these giant stones get here? What was religious life like? How does this site connect to others across the Inca world? Who invented this novel type of masonry with no mortar? We know that in this place, there was a big battle against the conquistadors that the Incas won!
→ Spend a few days in this traditional Inca town to explore its streets and visit its lesser-known sites!
Qolqas of Pinkuylluna
Just across the way from the Ollantaytambo Inca ruins, nestled into the side of a steep mountain, are the Incas' stone storehouses, built to preserve grain and other food stores for the town's people that had been grown in the nearby agricultural terraces.
They stored the food here at a higher altitude for better preservation and protection from invaders. You'll see how they lugged heavy stones up a steep slope and built a structure that stands tall. Did I mention it's steep? But those views are priceless!
→ The Inca Ruins are reached by hiking 1-2 hours round trip, starting off Lare Street in Ollantaytambo. The entrance is free.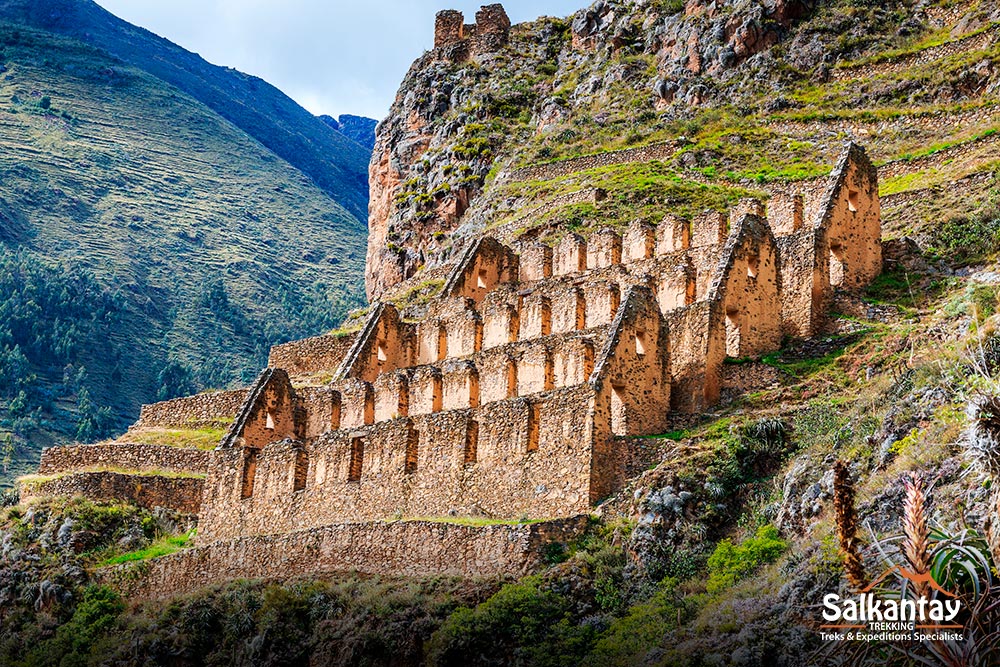 Cachicata + Inti Punku
When you visit the Ollantaytambo Inca Ruins, a natural question is, where did those enormous stones come from, and how did they get here?! Well, we can answer the first by sending you on a hike to see the Cachicata Quarry deep in the mountains outside of town. Following the same path, you'll reach one of the Incas' Sun Gates, or Inti Punku, settled perfectly in front of the sacred Mount Veronica glacier. You will be awestruck, my friend. This is one of the valley's most scenic hikes and one of the least crowded!
→ Try the 4-day Inca Quarry Trail, exploring the Peronilyoc Waterfall and pre-Inca Raqaypata ruins before continuing to the Sun Gate and Quarry!
Pumamarca
The Pumamarca Inca ruins were originally built by the Wari civilization, who lived in this valley before the Incas. Still, the Incas continued to use the structures after conquering the area, probably as a fortress or religious center. It has a very different type of construction than other sites, and it's interesting to compare this early establishment with a more sophisticated one like the ruins of Ollantaytambo. Pumamarca Inca ruins are perched high up on a hillside with a fabulous view of the mountains, glaciers, and valleys marking out the breathtaking landscape!
→ Get there by taking a 5-hour round-trip hike, starting in the main square of Ollantaytambo! There is a small entry fee.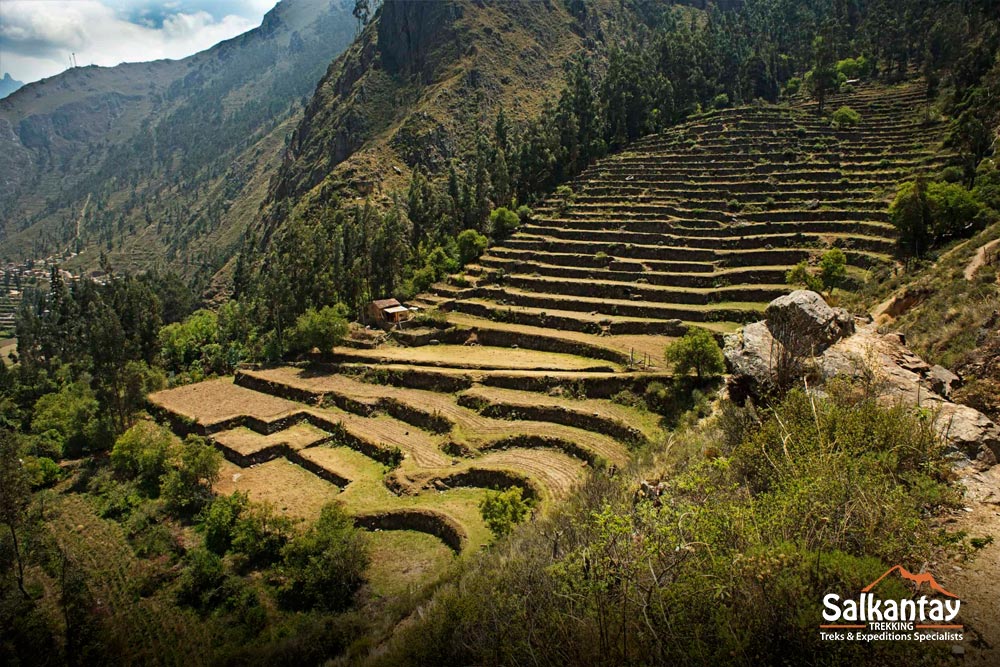 Huchuy Qosqo
Now leaving Ollantaytambo, we'll head over to probably my favorite archeological site in the Sacred Valley! This place is downright fascinating, plus it's on a high-altitude plateau with a fabulous view of some once-in-a-lifetime scenery.
Inca Ruins of Huchuy Qosqo means "Little Cusco," and was built as a royal home for the Inca Wiracocha and his family. Later, the structures were used to shield Manco Inca and his men from the Spanish as they retreated toward Vilcabamba and the jungle. The impressive constructions of this site are super well preserved, and it's a delight to visit something so special without the crowds!
→ To visit this amazing historical place, you can do a 1-, 2- or 3-day hike with or without continuing on to Machu Picchu.
Ancasmarca
This strange-looking site, translating to Eagle Town, has over 500 circular stone structures which existed in pre-Inca times but were continued to be used when they came into power. They all create a whimsical landscape of mysterious shapes!
They have probably been used for food storage, but their true purpose is unclear. Archeologists have also identified narrow streets, funeral structures, retaining walls, and staircases and believe this was an inhabited town. The site is hardly visited by tourists but is definitely worth a visit. The winding lines of the town's constructions stretching out across the hill and the surrounding landscape make Ancasmarca Inca ruins truly special!
→ Ancasmarca is on the road connecting Calca to Lares. You can get there by private taxi or shared minivan from Calca. The entrance is free.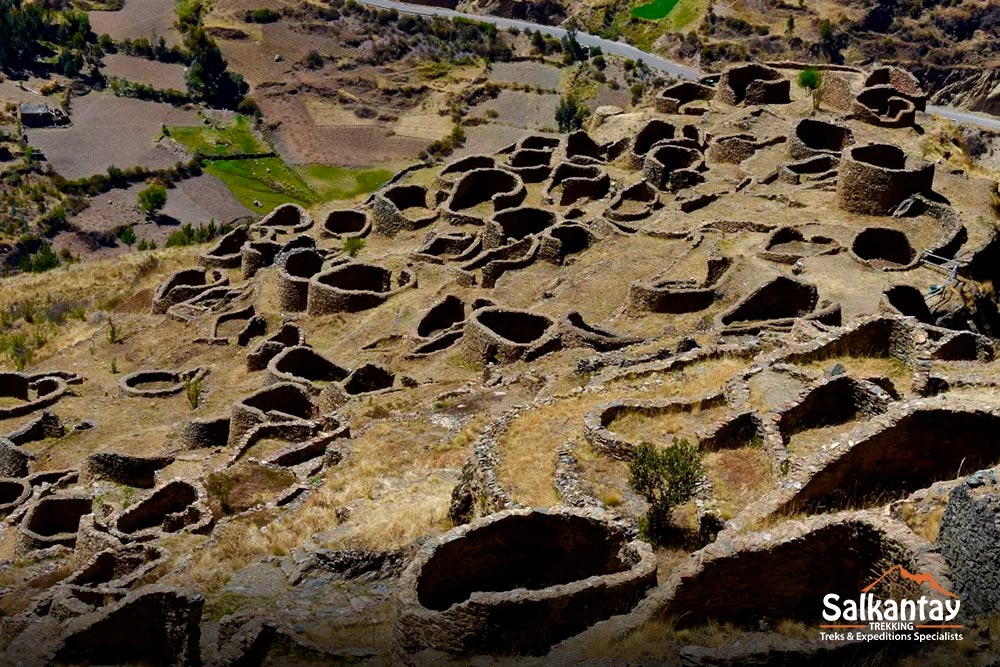 Make an Ancestral Connection
Walking through all the fantastic Inca Ruins and their predecessors in the Sacred Valley will help you imagine what life may have been like during that epoch of human history.
While so many things have changed, there are also so many things that are the same! People still have hope, dreams, families, feelings, struggles, and joys. Take time to sit and wonder about those who once walked these streets!
Note: Entrance to the Moray, Pisac, Ollantaytambo, and Chinchero are included in the Cusco Boleto Turistico or Tourist Ticket. You cannot buy an independent entrance ticket for any one of them.
→ Check out these ways to spend a day in Cusco and the fantastic day trips you can do!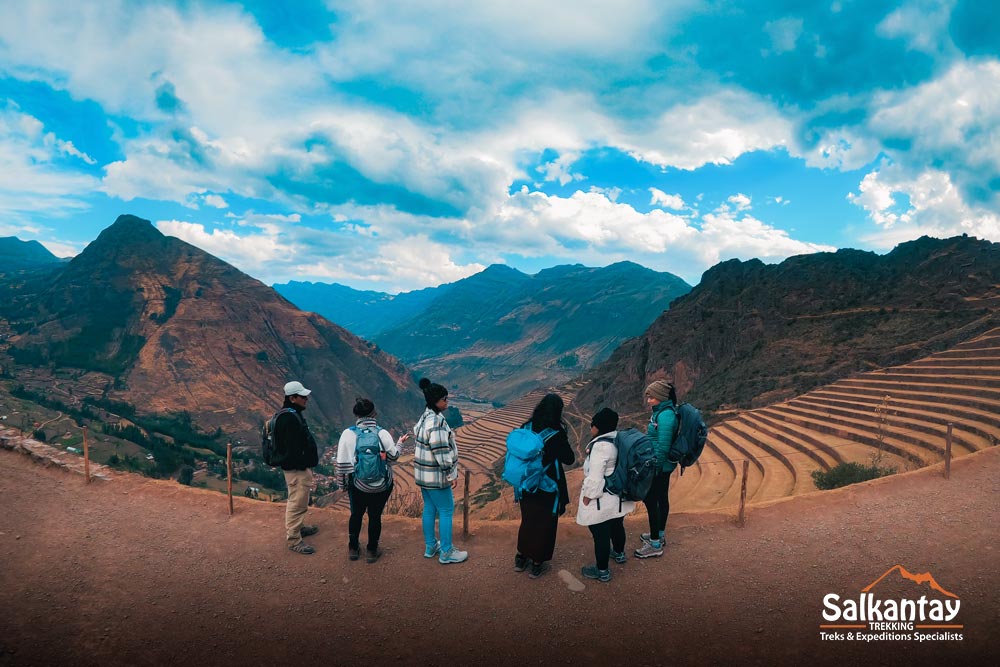 ---
---
You might also like
---