Are you looking for a unique experience that mixes culture, history, adventure and cuisine without having to dodge crowds of tourists? Then the Lares Trek to Machu Picchu is everything you've been waiting for.
Every year, thousands of tourists travel to Cusco to visit Machu Picchu. That's why you're here, too, right? If you're a hiker, there are several treks to choose from that will take you to that long-awaited and mysterious city, each one different from the other. The Lares trek is off-the-beaten-path and far from the typical tourist's radar but equally beautiful and educational, so it could be a great option if you prefer pristine landscapes and incredible pictures without other people around.
Keep reading, and I'll tell you all about it.
Where is Lares?
Lares is in the Andes Mountains, in the south of Peru and is one of the 8 districts of the province of Calca in the Cusco region. This place is famous for its thermo-medicinal hot springs, the Mantto waterfalls and its attractive hiking trails.
What is the altitude of Lares?
Lares has an average altitude of 3,171 meters (10,403 feet) above sea level.
What's the Lares Trek like?
The Lares trek is an non-traditional but very interesting route. During the journey, you can enjoy wonderful landscapes in solitude accompanied only by Mother Earth. Another highlight of the tour is that you can interact with the local people and see their stone houses made of materials very similar to those used by the Incas. This journey begins in Cusco, traverses a natural and cultural wonderland and then ends with the icing on the cake, Machu Picchu.
Why choose the Lares Trek to Machu Picchu over other options?
The Lares Trek is considered the ultimate cultural tour. It gives you the challenging experience of walking through the Andean mountains and also allows you to watch the local people work on their farms and take care of their animals (alpacas and llamas).
It's also easier than most other treks to Machu Picchu. Compared to the Classic Inca Trail, for example, there are fewer total steps. In addition, this trek is simply much quieter due to fewer visitors, allowing you to enjoy the sounds of nature enveloping you and the calmness with which it covers you.
What is the best time to do the Lares Trek? 
The best time to hike in the Peruvian Andes is from April to October when the weather is relatively warm. In June, July and August, the nights are very cold and warmer clothing and camping equipment is necessary. The rainy season in Cusco is from November to March. That being said, cold weather, and even a bit of rain, can be present throughout the year, especially in the highlands of Lares.
How many days does the Lares Trek take?
The traditional Lares Trek can be done in 4 or 5 days. If you go with a travel agency, the price of the trek depends on the number of days and always includes accommodation, transportation, food and entrance to Machu Picchu.
What else is there to see in Lares?
Thermo-medicinal hot springs of Lares
Mantto waterfalls
Queuña Valley of Lares
Lares Hot Springs
The hot springs of Lares are six pools of varying temperatures, and their medicinal waters spring up from the subsoil. The local inhabitants believe that Mother Earth gives them these mineral pools for curative purposes, according to Andean cosmovision.
Queuña Valley of Lares
The Queuña Valley of Lares has a landscape that will impress any traveler. The queuña tree, the only surviving indigenous tree of the high Andes, grows in extreme environmental and atmospheric conditions. This tree is an important part of the ecosystem: it stabilizes the soil to prevent erosion and filters the water that flows into natural springs. It is the key to protecting the biodiversity of flora and fauna that survive in these Andean forests and wetlands.
Mantto Waterfalls
The impressive Mantto Waterfalls are about a hundred meters high. Their waters come down from the high lagoons and glaciers above. Villagers call them Qanchis Paccha which means "seven waterfalls".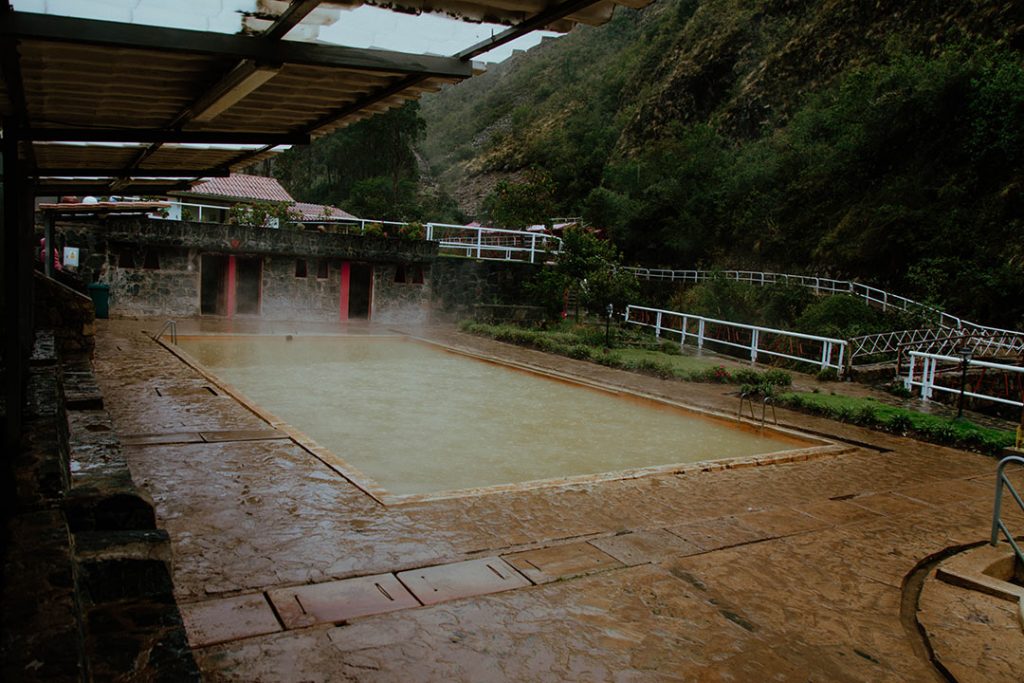 My experience on the Lares Trek to Machu Picchu:
In my personal experience, the 4-day trek from Lares to Machu Picchu was unique and unforgettable. We left Cusco very early to head toward the hot springs of Lares where we enjoyed the pools of medicinal waters. I really enjoyed it because each pool had a different temperature. On top of that, the landscape that surrounded it was gorgeously blanketed with vegetation and we could hear the singing of the surrounding Andean birds.  That environment brought me so much calm and peace.
When we started the hike, our guide explained the Andean worldview to use each time we stopped to catch our breath. The journey is extremely impressive, including snow-covered mountains, rivers that descend with crystal clear waters from the high summits, turquoise-blue lagoons and unique plants and animals that left us amazed. All the way down the trail, we saw alpacas, llamas, viscachas and wallatas (Andean geese).
Another part I loved was the interaction with local people and seeing how they live in the high mountains without problems doing the hard work they do every day in such cold temperatures. The locals are really friendly and still practice the customs of their Inca ancestors such as the ayni (you help me, I help you) and the minka (working together as a community), as well as using colorful, traditional clothing.  
Local vegetation, such as in the Queuña Valley, covered the entire route with green, and that left me feeling connected. One of the extra sites that impressed me was the salt mines of Maras, which are salt pools that have been used since Inca times. Do this trek, and see what I'm talking about! Of course, the biggest accomplishment of my trip was to visit the incredible city of Machu Picchu. The beauty and mysticism of this sanctuary left me speechless.
If you plan to hike to Lares, I recommend:
Arrive in Cusco a few days beforehand to get used to the altitude.
Drink coca tea; it will help you with altitude sickness.
Be careful what kind of food you eat before leaving on the excursion. I recommend you to eat something light at dinner the day before you leave.
Drink plenty of water.
If necessary, buy Diamox before leaving on your trip (a medicine that helps avoid altitude problems). Better safe than sorry!
What should I bring on the Lares Trek to Machu Picchu?
As it is an extensive route, it's necessary to carry several things with you so you don't have any  inconveniences and can enjoy your trip.
Prepare the following items:
Valid passport or Peruvian ID (a copy will not be accepted)
Hiking shoes (light, comfortable and adapted to your feet)
Waterproof jacket or rain poncho
A good quality backpack (light, small and comfortable)
Changes of hiking clothes
Swimwear to go into the hot springs
Warm hat, gloves, jacket and socks
Ballcap
Sunglasses
Sunscreen
Camera
Flashlight
External battery to charge your cell phone
Cash (during the hike, you will not be able to pay with credit card)
Where can I make a reservation for this trek?
You can book with a tourism agency in Cusco or online. I did it with Salkantay Trekking. The Lares Trek includes Machu Picchu at the end of the trek. You will need entrance tickets and must arrange to buy them in advance. Tour companies always need time to book these tickets. I recommend you buy online beforehand.
Written by: Cliny Inga Llanllaya
---
---
You might also like
---