Andean Peru is well-known for its beautiful, intricate and bright, colorful textiles. They give life and excitement to every Peruvian landscape, combining and contrasting with the surrounding natural colors of the earth. Since ancient times, Peruvians have used dyes made from local plants (and bugs!) to dye their sheep, llama and alpaca wools all hues imaginable. Cusco's rainbow-colored city flag is a testament to the important role and impact of the impressive textiles born from this land's colorful resources. From shearing to spinning to dying to weaving, there is so much to learn about Andean fabrics and their complex and meaningful designs!
Weaving the Tapestry of Life
At the center of all of it is the traditional town of Chinchero, the mythical birthplace of the rainbow, and its surrounding communities of weavers. Fiber work was discovered in Guitarrero Cave in the mid-upper Andes of Peru dating from 8000 BCE, so it's safe to say that this practice was beginning in that time period across the highlands. Since then, the skill of Chincherinos has flourished. The secrets of ages-old techniques have been passed down from mother to daughter for generations since those pre-Inca times! The Incas, in their epoch, came to value these detailed textiles as a symbol of wealth and status. 
Today, the town's talented artists are finally receiving the recognition they deserve as the weaving masters of the world. Handmade textiles from the region of Chinchero are internationally recognized as the best of the best and are displayed in museums around the world. But the lovingly-woven fabrics displayed at kiosks as you pass through town aren't just a way of making a living. They're truly a deeply-rooted and integral part of everyday community life and emotional interaction. 
Little girls see how their mothers and grandmothers, master weavers with years of experience, patiently create these works of art, step by step. As they're out in the fields with grazing animals, they learn to spin wool. They learn simple patterns at a young age and then add to their talent and knowledge with guided practice in the sacred process of creation. 
Within society, the most highly respected are those who are the best weavers, those who most skillfully express their ancestor's traditions. Locals save balls of hand-spun yarn from different parts of their lives and then use it later on to remember their past and reflect on experiences from each phase of their life. Weaving is also considered a form of quiet meditation, helpful especially to older members of the community to forget everyday problems and be calm.
Founder of the Center for Traditional Textiles of Cusco, Nilda Callañaupa, said, "I have learned that each and every piece of cloth embodies the spirit, skill, and personal history of an individual weaver." She explained that "weaving is a living art, an expression of culture, geography, and history. It ties together, with an endless thread, the emotional life of my people."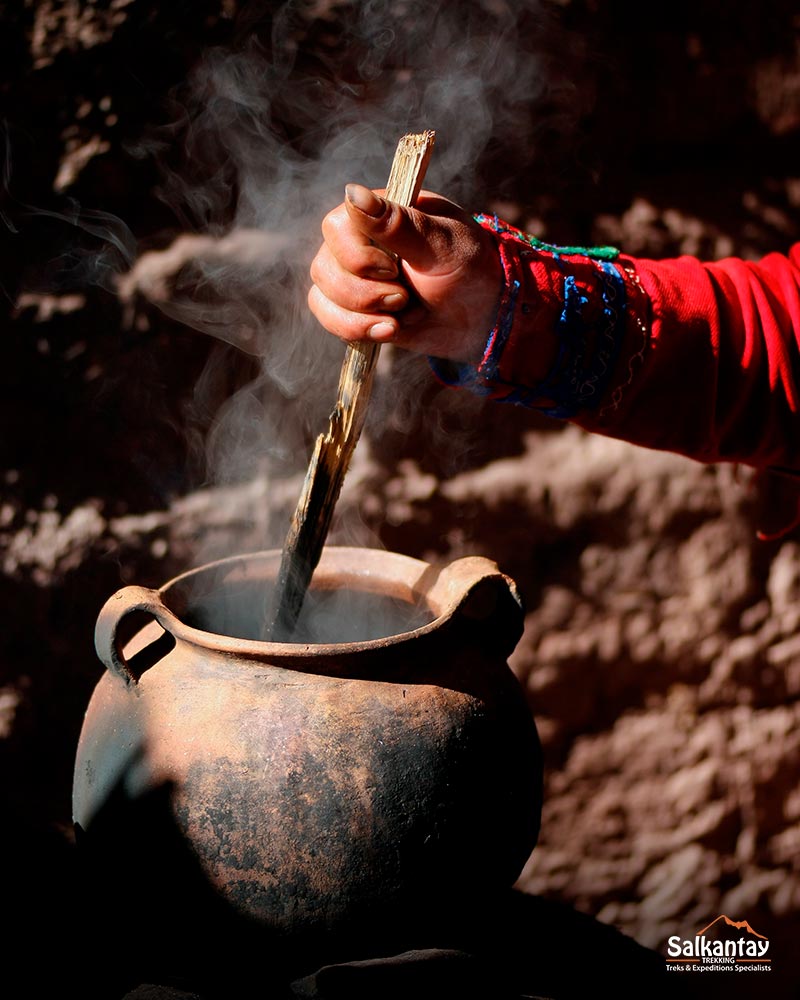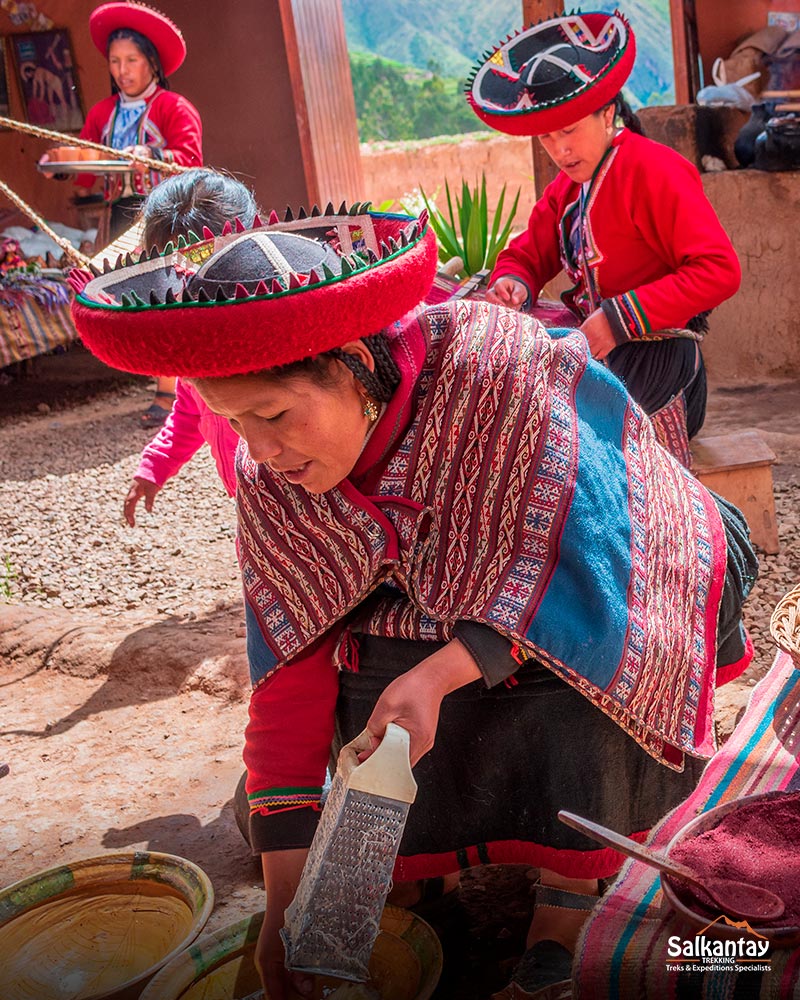 The History Surrounding the Traditions
Chinchero is called one of the most traditional towns in the Sacred Valley, having the reputation of being a people not very keen on giving up their cultural identity to conquerors (such as the Incas, Spaniards, and modern man). The Inca Tupac Yupanqui, Pachacutec's son, developed the town as his personal residence, ordering the construction of a palace, shrines, temples, baths, and platforms. 
Chinchero was then deliberately burned down in 1536 by Manco Inca as he fled to Vilcabamba to prevent Spaniards from getting supplies. The Spanish still built a colonial church and other structures in the town on Inca foundations. However, neither of these conquering civilizations was able to take away Chinchero's ancestral traditions or distinctive lifestyle.
For as long as history records, Chinchero has been known as the granary of Cusco, and it still is. Sitting at a higher altitude (3760 MASL / 12,340 FASL) than the city of Cusco (3400 MASL / 11,150 FASL), the region of Chinchero specializes in growing potatoes, grains, cereals, and other tubers. Its wide open skies blanketing the numerous crop fields and the surrounding snowcaps of the Veronica, Soray, and Salkantay Mountains make it one of the most picturesque places in the region of Cusco.
Throughout all the changes and turmoil this town has seen over hundreds of years, the art of textiles has been the connecting thread of every moment, constantly present in the daily lives of its people.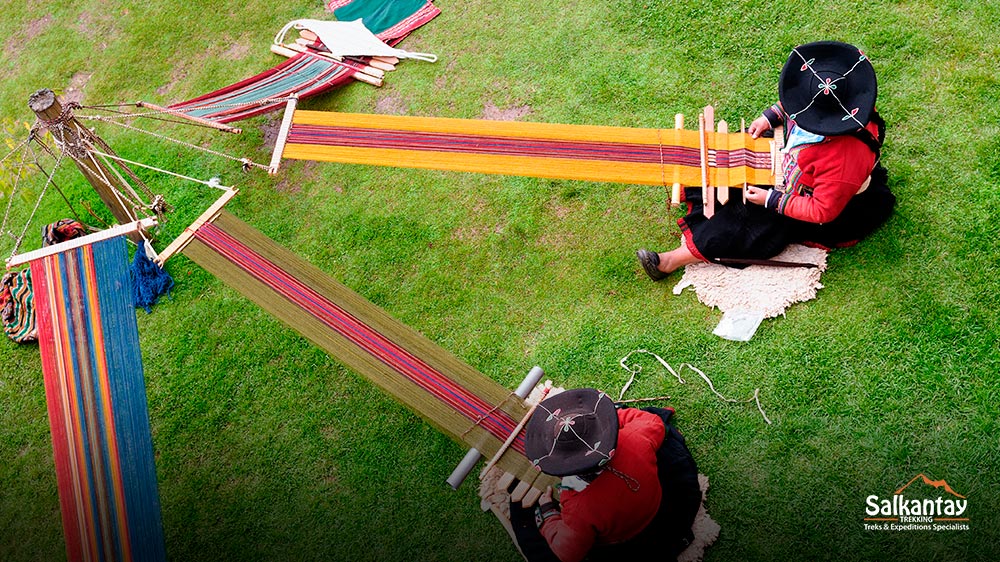 The Process of the World's Master Textile Artisans
1.- Shear
The three sources of wool used in Chinchero are sheep, llamas, and alpacas. Local families dedicate themselves to raising these animals in the highlands around their homes. While llamas and alpacas are native to Peru, sheep were brought by the Spanish in the 1500s.
Each type of wool has a specific use and texture. Llama wool is the coarsest, roughest, and shortest of the three. It's used for crude products like ropes and sacks. Sheep wool is softer and thinner than llama but rougher than alpaca. It holds dyes better than the other two and is sometimes preferred for the bright colors it can introduce into textiles. Alpaca wool is the softest and most prized for fine textiles, and it has several natural colors, such as white, cream, gray, brown, tan, and black. Cotton is not a traditional source of wool in the Andes. 
2.- Wash
After removing the wool from the animal, it must be washed! A local plant, saqta, conveniently has a root that serves as a natural detergent when grated into warm water. What a great way to clean these precious fibers! To get all the pieces of soap out, dry grass can be pulled through the wool.
3.- Spin
Once the fibers are all cleaned up, they need to be spun into yarn. In Chinchero, no machines are used for this process. Instead, weavers use a traditional pushka, a small drop spindle. Girls start practicing with the pushka at only 5-6 years old! It's a delicate skill to perfect. This task can take up about 60% of the entire time demand of creating a finished product between spinning and plying (twisting together the fibers after the first spinning). 
4.- Dye
Dying natural wool with natural products found in the surroundings is something extremely special to witness. Unfortunately, that ancestral tradition was lost for about 100 years with the introduction of synthetic dyes, but it's since been recuperated and is now operating again in full force. Now, the most highly sought-after textiles are those that are truly produced naturally with the gorgeous colors of the earth. Here are the resources used in the natural dying process in Chinchero today, along with their meanings:
| | | |
| --- | --- | --- |
| Greens | Nature | Ch'illca leaves |
| Blues | Sky | Quinsa K'ucho leaves & Tara pods |
| Reds | Blood – Life | Cochinilla insects |
| Yellows | Fire | Q'olle flower & Yanali bark |
| Purples | Nobility | Purple corn & Awaypili |
To change the pH of the solution and obtain different shades of each color, weavers add lime juice or salt to the mix. I've also heard that urine of children under the age of 2 is used to make the colors stick to the fabric (eehm…) as well as collpa, a mineral from the jungle. 
After preparing the dye, the wool is boiled with it for 30-60 minutes, depending on the desired tone, and then hung to dry from the banisters for 2 days.
5.- Warp
In this step, the weaver establishes the size and shape of the finished product, as well as the colors and designs to be used. The textile's passive, vertical threads are stretched and secured over a wooden frame that will keep the yarn in place as the weaver works. There are two main types of warps used in Chinchero: backstrap looms (one end looped around the weaver's waist and the other secured to a tree or post) and four-stake looms (created by driving 4 wooden or metal posts into the ground to create a rectangular frame).
This is a special step since, being a process shared by 2-3 people, it's a social activity between family, friends, and community members, as well as a productive and creative one. The process of warping is considered sacred and often includes prayer and a traditional "pago a la tierra" or payment to Mother Earth, offering the fermented corn drink of the Andes (chicha), coca leaves, or other sacred objects to the earth, requesting blessings over the developing project.
6.- Weave
Finally, undoubtedly the most artful part of creating a one-of-a-kind textile! Since the vertical threads were secured in the warping step, it's now time to add in the active, horizontal threads that will give the textile its final colors and designs. In Chinchero, the warp-face weaving technique is used, creating pieces that are two-sided and reversible, neither one showing the "leftover" threads of the weaving process. 
In larger textiles like shawls (iliklla) and blankets, a common design is luraypu, a symmetrical, vertical design made up of stripes of solid colors between strands of intertwining, lineal designs and then sections of traditional figures, like animals, nature, people or gods. The final, unique piece of any Chincherino textile is the distinctive and intricate, tubular bordering called ñawi awapa. I believe it to be the most beautiful part of any textile. Both practical and decorative, it really gives the whole piece its character and final touch!
The Chinchero weavers make many different products, including chullos (beanies), wide-brimmed hats, scarves, gloves, socks, sweaters, table runners, tapestries, ponchos, bracelets, blankets, shawls, belts, wallets, pillow cases, rugs, and skirts!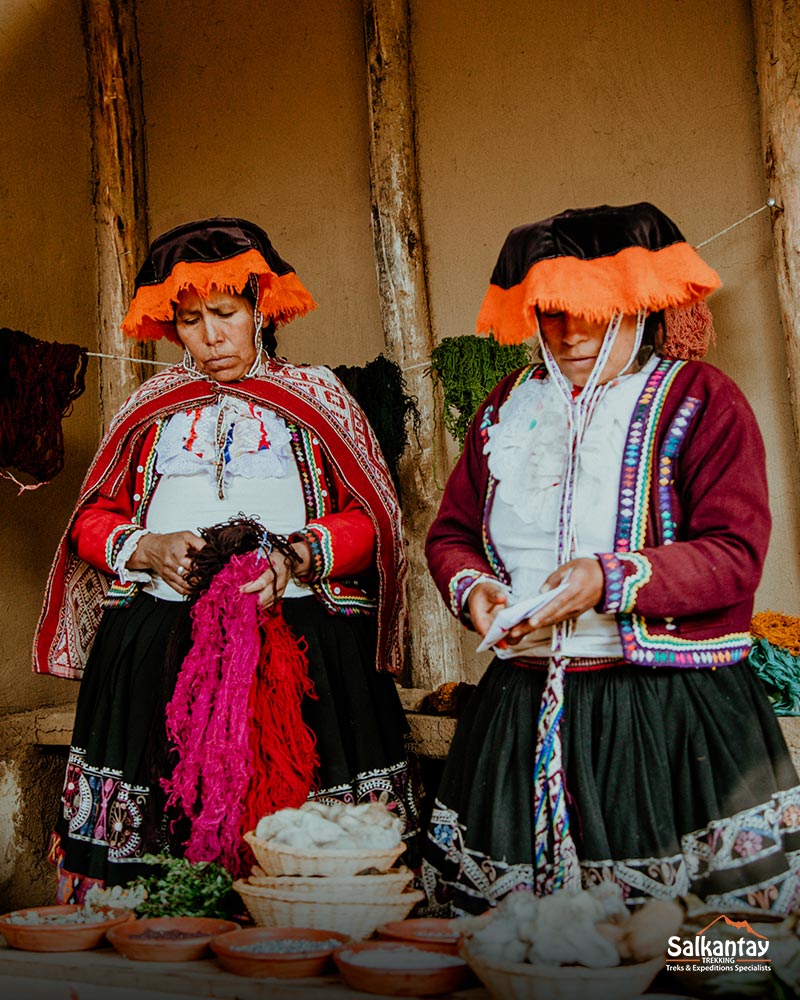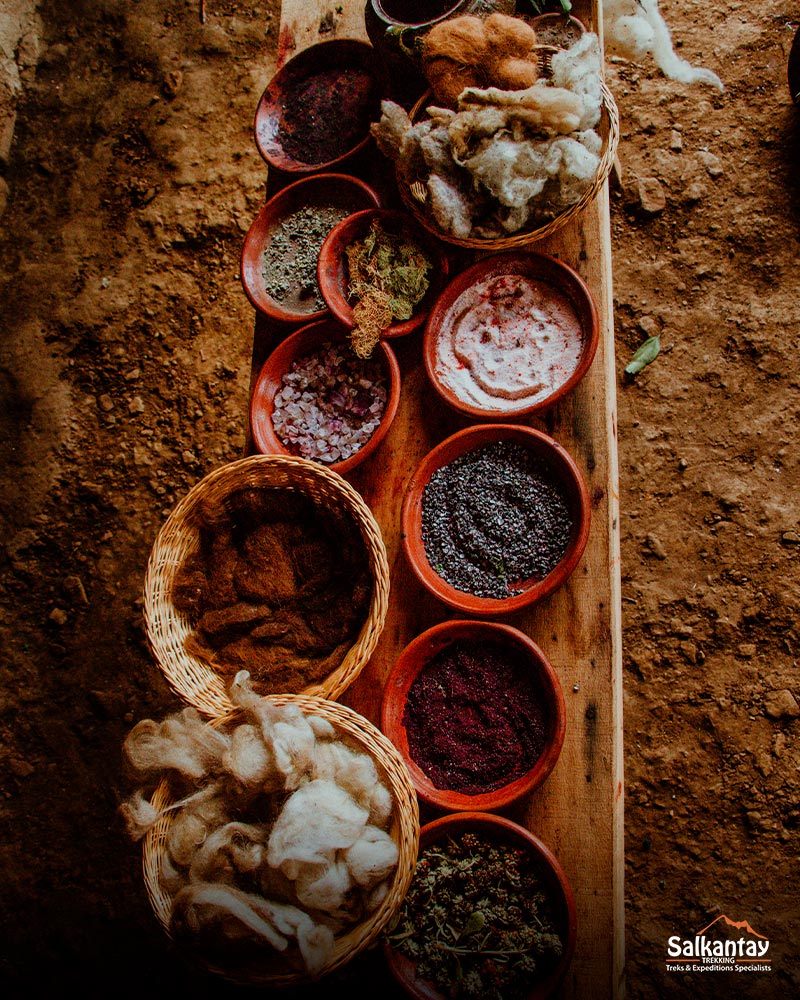 Want to see it in person?
A surefire way to create unique memories in Peru is to book a tour to the Sacred Valley while you're in Cusco, including a visit to a textile workshop in Chinchero! For a more in-depth and hands-on cultural experience, you can look for a homestay or an interactive, multi-day workshop in one of the 10 weaving communities of Chinchero. 
If you're impressed by their skill and talent, be sure to support these local artists by buying beautiful, unique pieces to take home with you or give as gifts to family and friends! Know that your purchase is creating a sustainable lifestyle for hundreds of families here in the Peruvian Andes. You are helping to change their lives!
Before you leave, be sure to check out other day trips from Cusco and then explore the best things to do in Peru!
---
---
You might also like
---