While the world wonder of Machu Picchu is amazing, it's far from the only interesting thing to do around Cusco! This is a city that draws you in more at every turn. It's full to the brim with huariques (hidden places) to discover that will leave you with the best memories as souvenirs. Keep reading to find 20 Amazing Ways to Spend a Day in Cusco (That Aren't Machu Picchu).
1.- Farmer's Market + Cooking Class
The open-air local farmer's markets are one of my favorite things about Peru! It's a great way to try new foods and practice your Spanish, too. Going grocery shopping at the market is a window into authentic Peruvian culture and the everyday life of the local people. Visit any of Cusco's 5 best markets, book a cooking class to use those delicious ingredients, and try some of Peru's world-famous cuisine at home!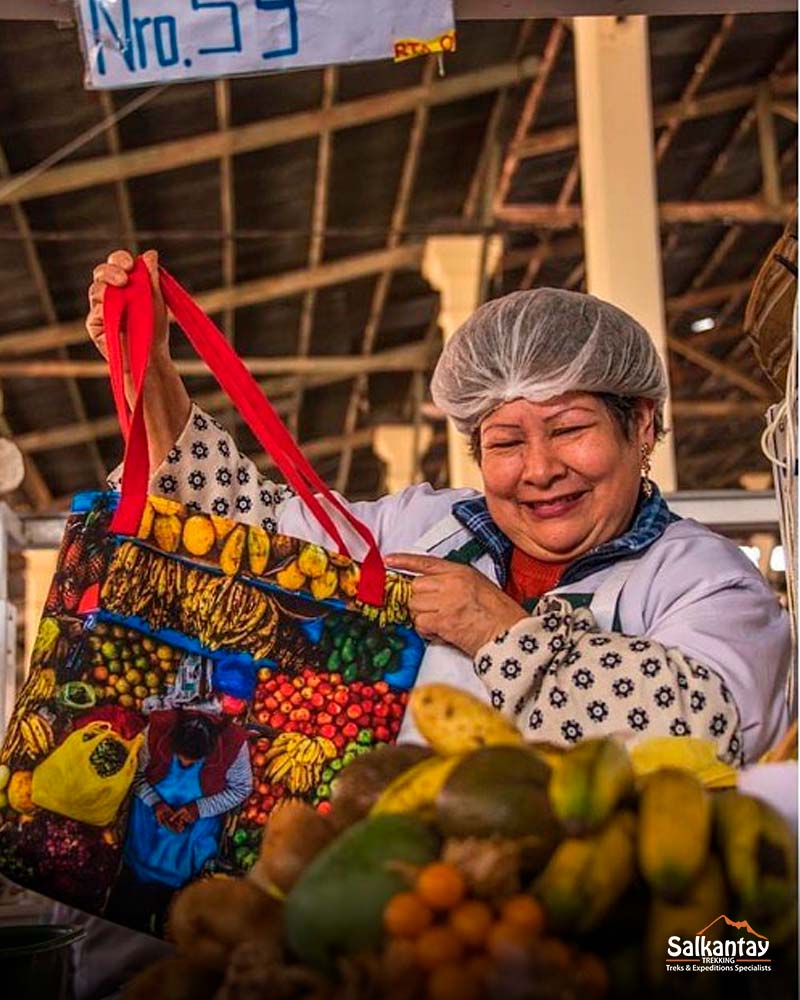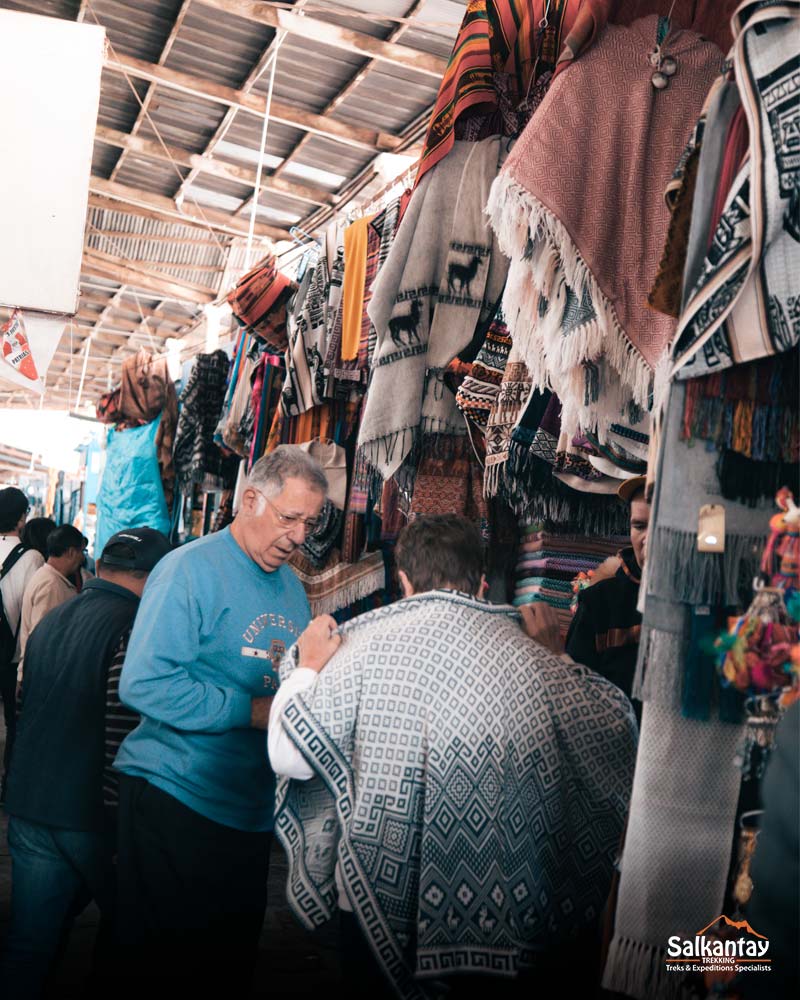 2.- A Night Out on the Town
Cusco's nightlife is known to be the best in the country! There are lots of places to visit at night to get a new perspective on Peruvian culture. Try Peru's national drink, pisco sour, or several other pisco-based cocktails! If you can make it to one of the nightclubs around town, you'll learn some new dance steps as you move your feet to the Latin rhythms of Peru. It'll be a night to remember!
3.- Planetarium
One of the exciting things to do around Cusco, discovering the night sky of the Andes has something truly special to share, and the Cusco Planetarium can create an unforgettable and educational evening for travelers of all ages! Apart from pointing out the southern hemisphere's unique constellations, the interactive experience teaches visitors about the Inca worldview and how they connected to astronomy as a central part of life and a universal connection. The encounter is a beautiful mixture of science, culture, and history!
4.- ATV Tour in the South Valley
Heading just outside the city limits of Cusco to the town of Huasao, you can rent a 4-wheeler in the plaza to explore the surrounding mountains or book a guided tour! You'll also visit the Tipon archeological site and another traditional town nearby, Oropesa, famous for its delicious bread. Take a ride along the dirt roads past local farms and grazing animals, enjoying the breathtaking scenery of the Andean landscape speckled with homesteads!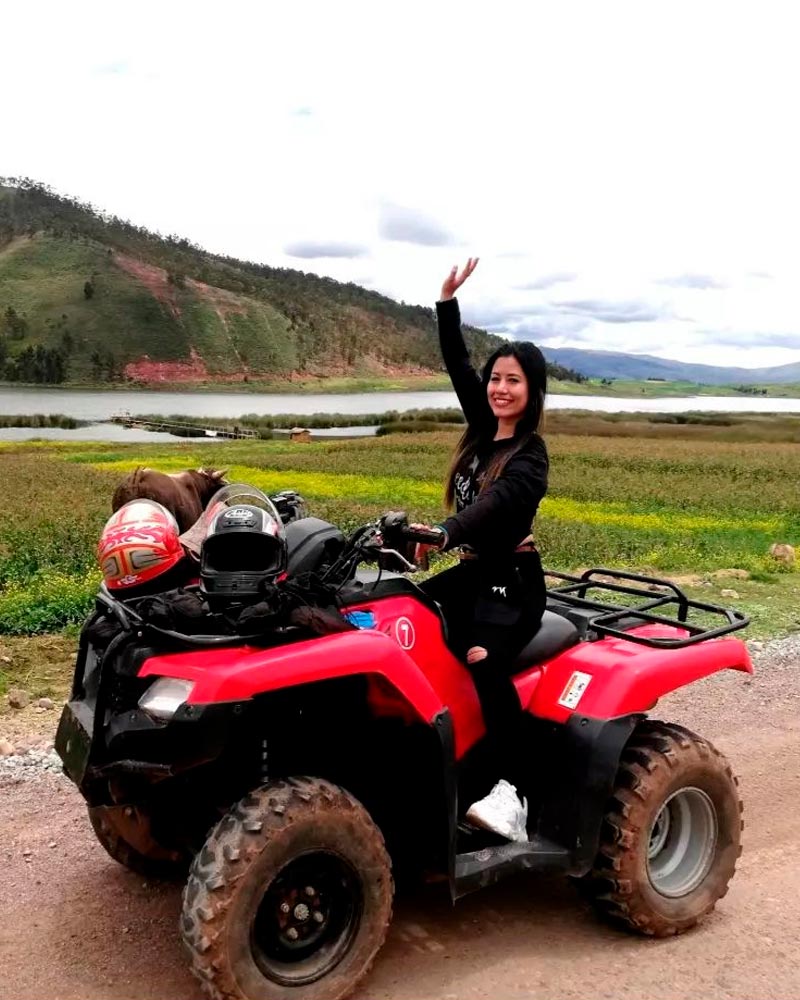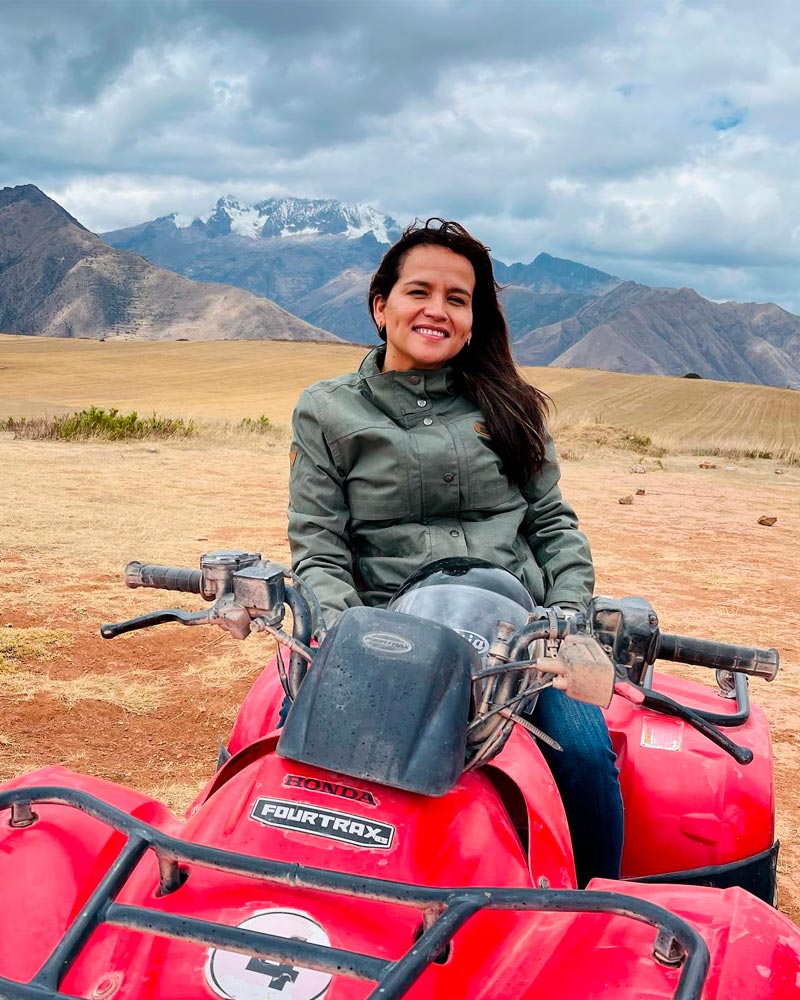 5.- Wetlands of Huasao
Another fantastical attraction in Huasao is its ecologically important wetland park, called the "Humedales de Huasao." There are hand-carved woodland creatures, and fictional fantasy characters like Baby Groot and Ents placed perfectly throughout the park's landscape, blending right into the scenery! Stroll along the water's edge on the well-maintained paths under the shade of the weeping willows who draw their life waters from these swamps.
6.- Spa Day
Cusco is a place of spiritual renewal and relaxation, and one way to take advantage of that atmosphere is by visiting one of Cusco's many spas for a massage and facial, + some time in the jacuzzi and sauna! Some of the best in the city are ReEnergize, Palacio del Inka Spa, Qoya Spa, Namaste Spa, Samana Inn & Spa, and Andes Spirit Spa. As you're walking around the historical center, you'll also be offered a "masaje" several times by ladies on the street – this is an incredibly cheap, albeit less luxurious option, if you're into that!
7.- Horseback Riding
For animal lovers, nature lovers, and adventurers, horseback riding is a perfect way to spend the day! You'll get some of the most amazing panoramic views of Cusco from above, dwarfed by the imposing peaks jutting up on all sides. Ride past local farms, and then visit a few lesser-known archeological sites! Following the main road leaving Cusco toward Pisac (Recoleta) up past Cristo Blanco and Qenqo, you'll find locals standing with their horses offering budget tours off the right side of the street. You can also book a tour like this one online for an easier option.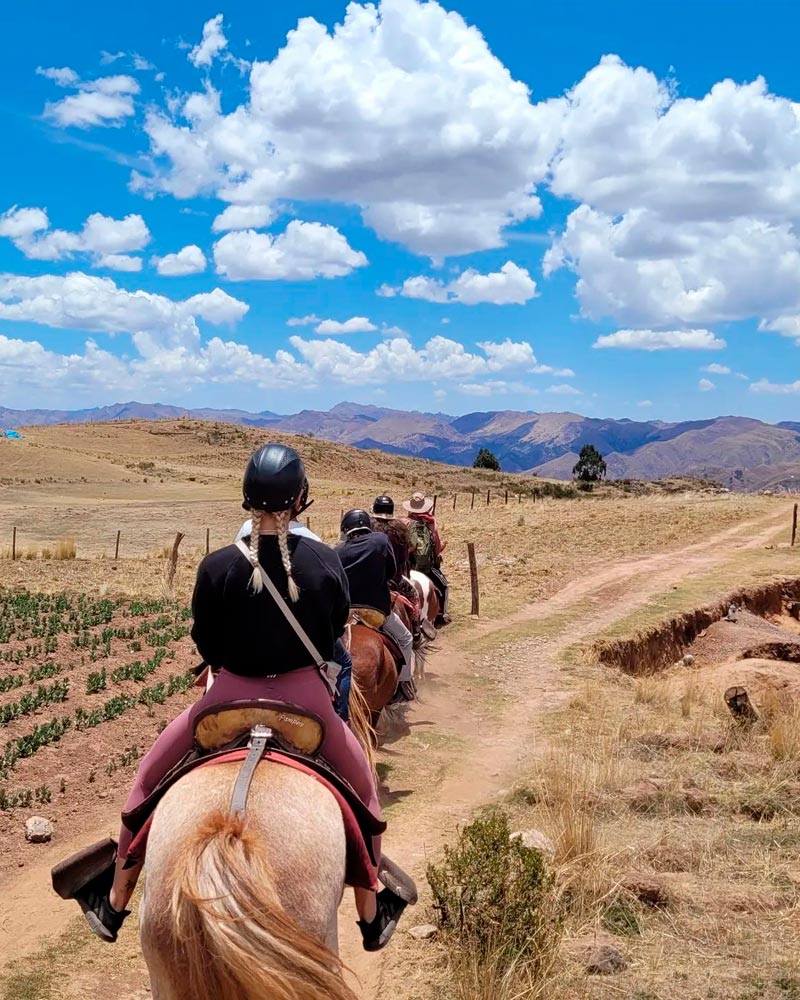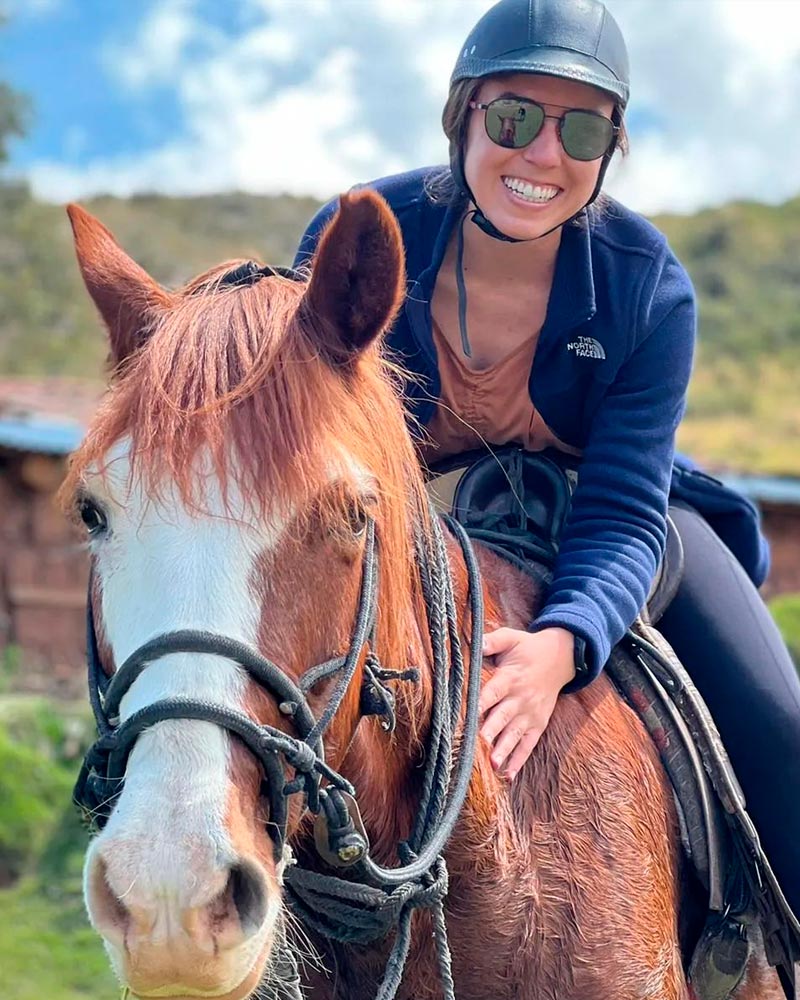 8.- Yoga
A yoga practice in Cusco, inspired by the spiritual overtones of the culture and its ethereal scenery, can be extremely transformative! If you come to the Andes in search of personal development, yoga is one step in the right direction. There are yoga centers in Cusco, retreats in the Sacred Valley, and training studios if you want to get a teaching certification. There are also several picturesque spots around the city where you can do a session on your own – around Sacsayhuaman, Qenqo, the Moon Temple, or the Devil's Balcony.
9.- Paint Pucará Bulls
Around the southern Andes of Peru, you're likely to see small, ceramic Pucará bull figures adorning rooftops. They look like something from a fantasy film with their cartoon-like shape and brightly colored patterns! These mystical bulls are often placed on top of a home (always in a pair) in order to attract happiness, prosperity, protection, and fertility. Each color and design element has a different meaning and purpose for the couple living in the house under their care. While you're in Cusco, you can paint your own to take home!
10.- Weaving Class
Artesanal craftwork is king in Cusco! Among the many talented artists of the Andes are the traditional weavers. Why not spend a day learning to create colorful textiles yourself? This is a particularly interesting cultural experience you can try out! Wools from local animals are washed, spun, and dyed with the natural plant materials of the area before being skillfully intertwined using ages-old patterns for modern man to enjoy.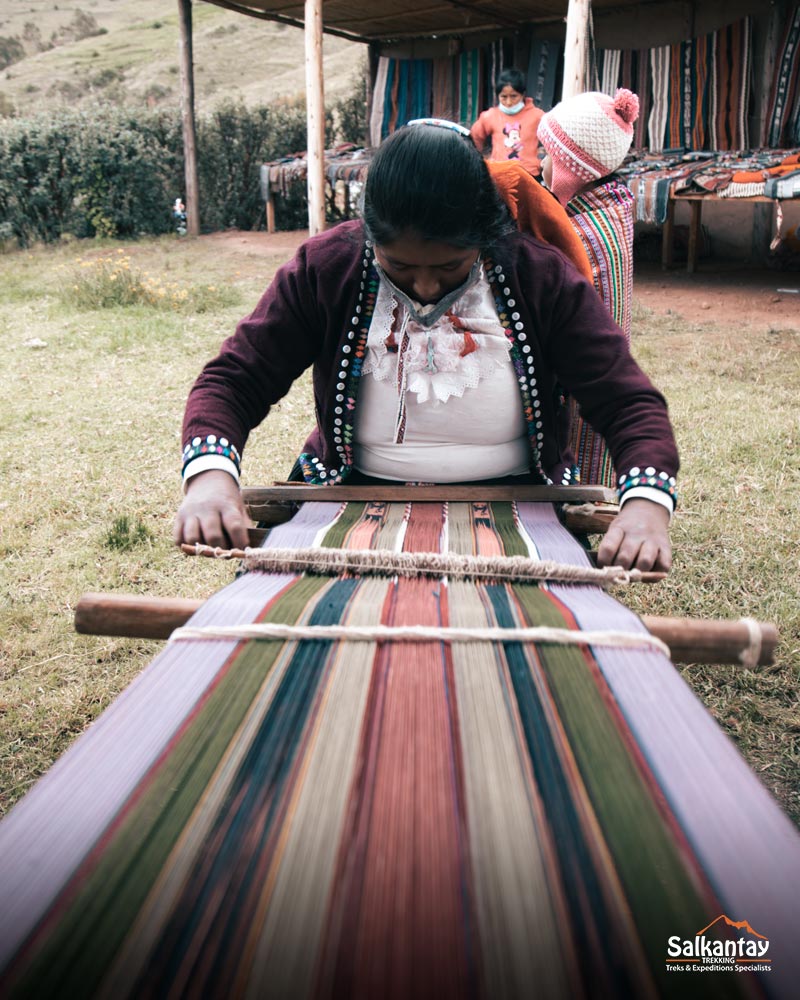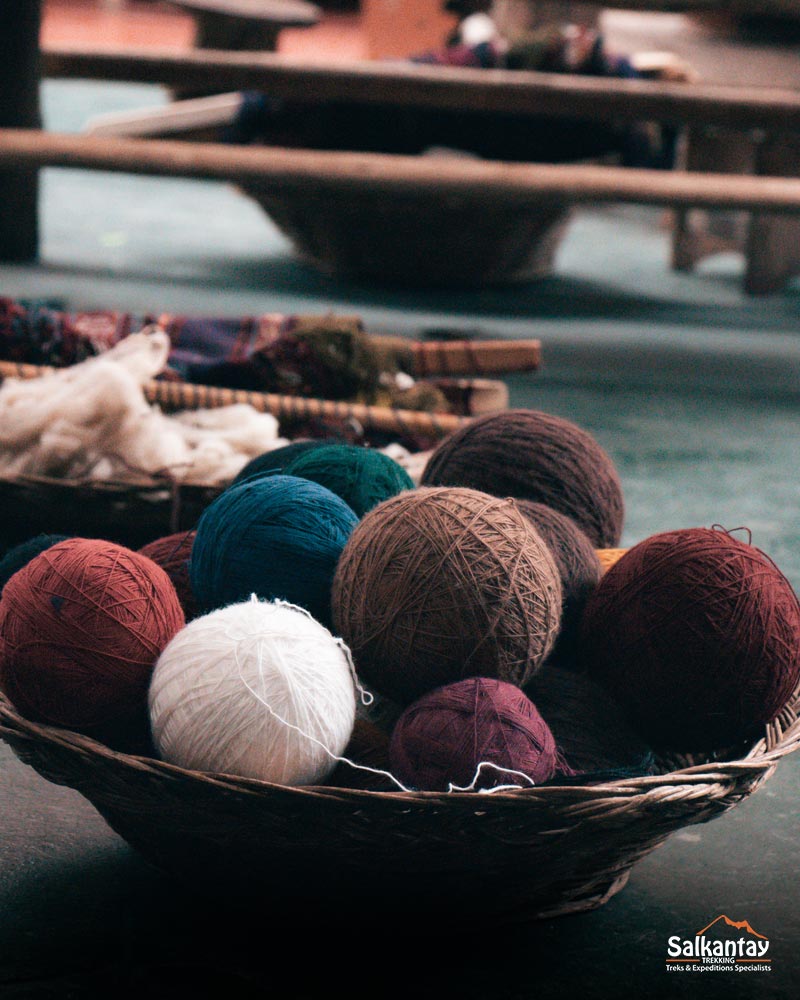 11.- Try All the Street Food
Street food in Peru is unique and delicious! There are so many options to choose from as you roam the streets of Cusco. Dulce de leche filled churros, stuffed potatoes and peppers, fresh-squeezed orange juice, skewered cow hearts, boiled quail eggs, tamales, and so much more – it's a real smorgasbord! Just be careful to eat things that seem hygienically cooked, and don't include any raw fruits or vegetables that aren't peeled (lettuce, tomato, apple, etc.)
12.- Bungee Jumping
Other things to do around Cusco; why not spend an adrenaline-filled day out in nature, experiencing the landscape from a different perspective? For the bungee jumping adventure of a lifetime, head to Action Valley just outside of Cusco! They offer the highest upward slingshot in the world and the highest bungee jump in South America. Now's your chance to overcome your fear and check this one off your bucket list!
13.- The Dwelling of the Gods
Just outside the city, near Poroy, Andean sculptures were carved into the side of a mountain at the "Morada de los Dioses" representing important parts of Inca culture: the Pachamama, the three-dimensional gate and the puma. These were designed and created recently by Peruvian artist Michael de Titán, and they're up to 8 meters tall. This place is both impressive and mysterious, and the area it's in affords a fabulous panoramic view of the surrounding mountains!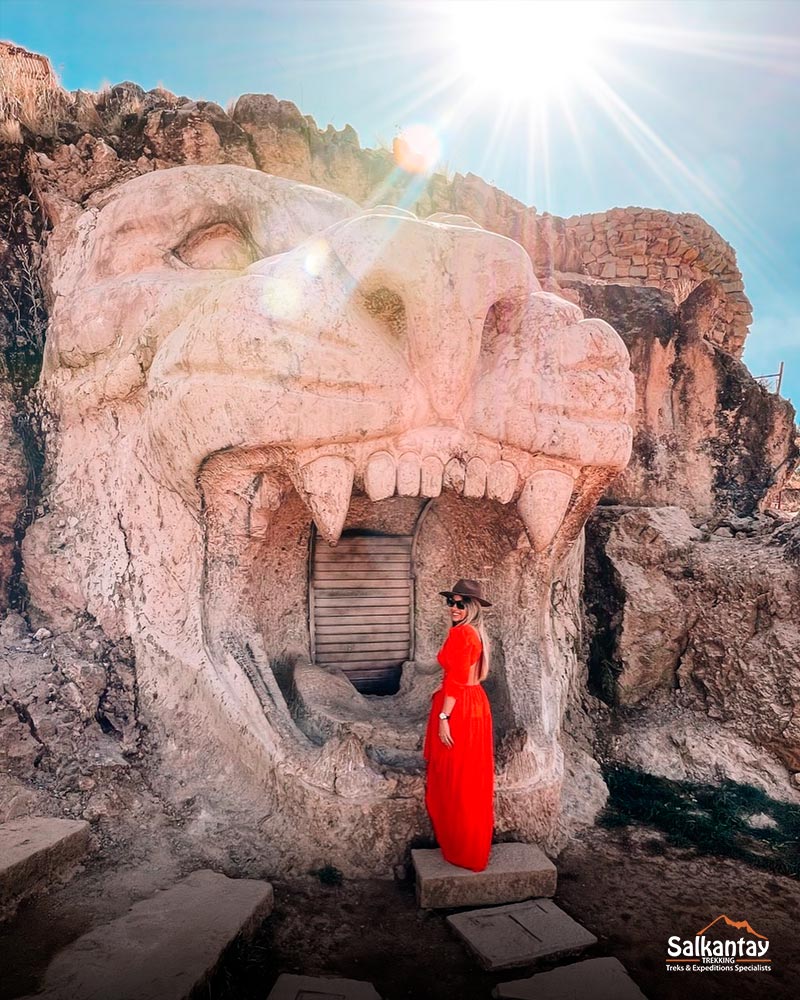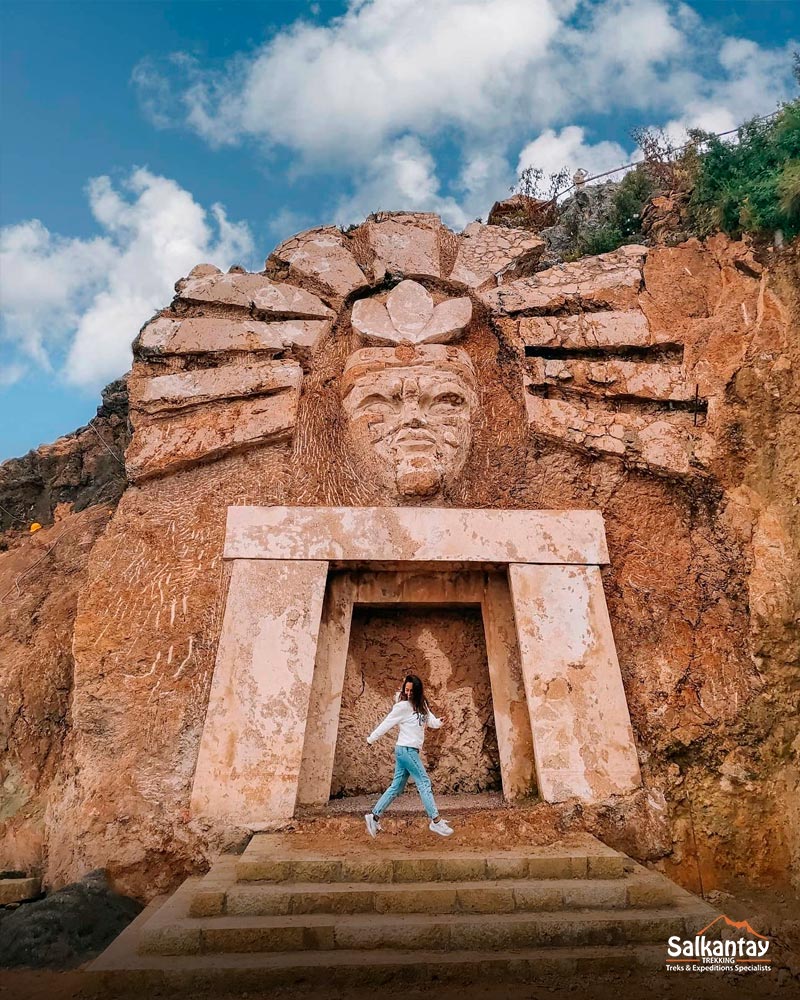 14.- The Devil's Balcony
The countryside above the city of Cusco is home to some amazing natural wonders, including the "Balcón del Diablo." I always loved that without going far outside the city, you can feel like you're in the middle of nowhere, fully enveloped in the earth's blessings! A bit higher up in the mountains than Sacsayhuaman, there's an open area with a river, a cave, and a tall rock face ending up in a balcony overlooking the surrounding landscape. This place was used by the Incas to carry out rituals and ceremonies, and there are signs of their presence still adorning the scene today – a stone aqueduct and other ancient stone structures.
15.- Qoricancha Temple
If you've been in Cusco for any time, you've probably already seen Qoricancha and its gorgeous gardens (from the outside). It's right on one of the main roads of Cusco's historical center, Avenida del Sol. This Sun Temple was once a spiritual center of the Incas, the most sacred in the entire empire!
It was built with incredible astrological precision and significance, as were most Inca constructions. When the Spanish conquered the Cusco region, they destroyed most of the temple and built the Santo Domingo Church on top of this highly important cultural site in order to make a point of their power over the former rulers. You can hire a guide at the entrance, go in alone, or see Qoricancha as part of a Cusco city tour.
16.- Spend the Day at Cafe
Peru's coffee is arguably the best in the world, and the bohemian atmosphere of Cusco has inspired the creation of LOTS of cozy and unique coffee shops around the city! Spend a day at a cafe reading, working on your computer, planning your trip itinerary, editing pictures, or catching up with friends while trying out the best local beans the country has to offer – it's the perfect way to spend a laid-back day here! Some of the best are La Bo'm, Three Monkeys, Cappuccino Cafe, Bunnu, L'atelier, Beluatty, and D'Wasi.
Undoubtedly, if you are a coffee lover, this is one of the things to do around Cusco.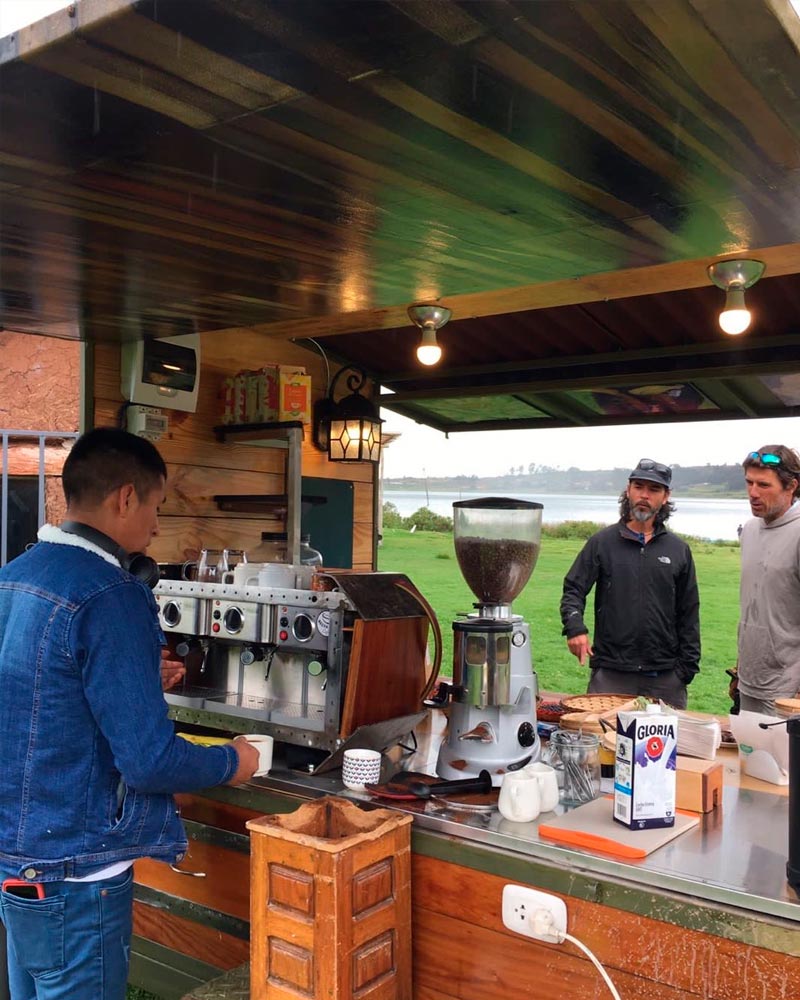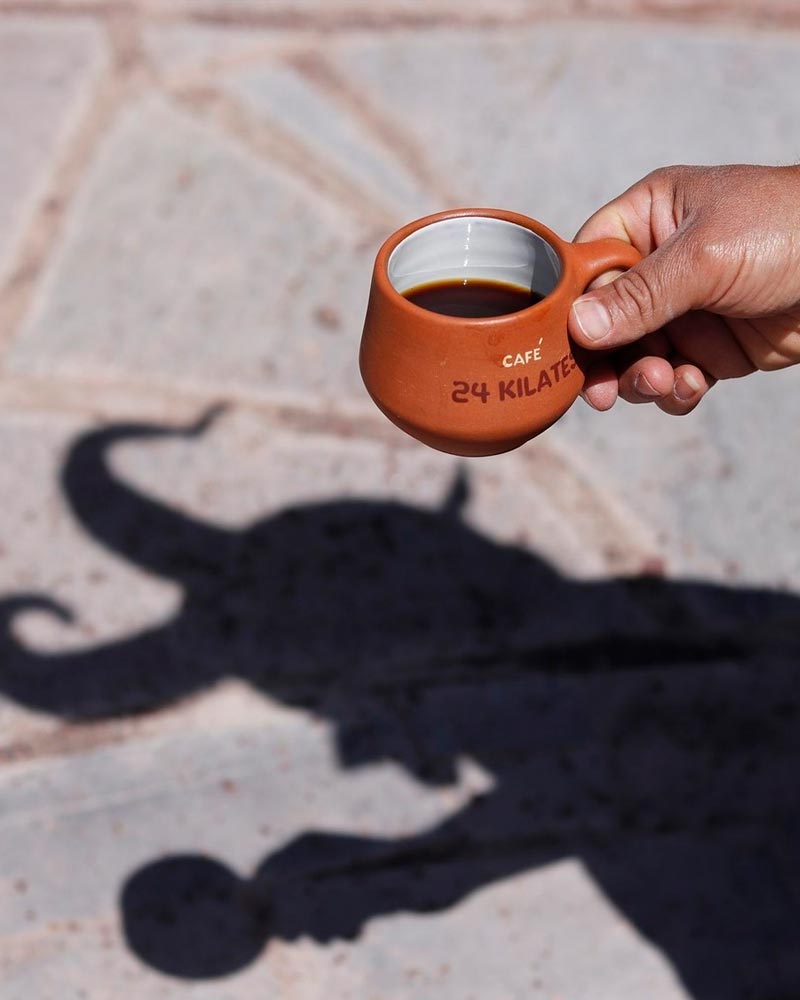 17.- People-Watching in Any Plaza
Like many places in Europe, Cusco is organized by plazas. Every neighborhood has its main square, the hub of activity and event center for that part of town. Plazas are home to festivals, artisan fairs, campaigns, art displays, and blossoming love. And they're a perfect place to have a seat and watch life happen around you, wondering about the life of each person you see walking past!
Here are some you can check out: Plaza de Armas, Regocijo, San Francisco, San Sebastian, San Blas, Tupac Amaru, and Nazarenas.
18.- San Blas Neighborhood
There are 3 main places you should definitely look for as you spend the day meandering around every visitor's favorite part of town, the bohemian quarter of San Blas. It's uphill from the Plaza de Armas: through Triunfo Street, past the 12-sided stone, following the narrow road to the right of Jack's Cafe.
First, walk on 7 Borreguitos Street, one of the most picturesque in the whole city with its bright colors, tall walls, and hanging gardens. Continue on to the Sapantiana Aqueduct, a beautiful, man-made stone-stair waterfall right in town. Lastly, make your way to the San Blas Viewpoint or "Mirador" for a panoramic view of Cusco from above!
19.- Picnic + Hammocks at Qenqo
One of my favorite things to do during a free day in Cusco is to hang out in the forest of tall eucalyptus trees next to the archeological site of Q'enqo. It's near the White Christ statue and Sacsayhuaman and has an amazing view of the city stretching out below. Many times, I've gone up there with a hammock, a good book, a yoga mat, a football, music, and a picnic and had a great day by myself, with my dogs, or with my friends! It's just a super relaxing day in a super relaxing place.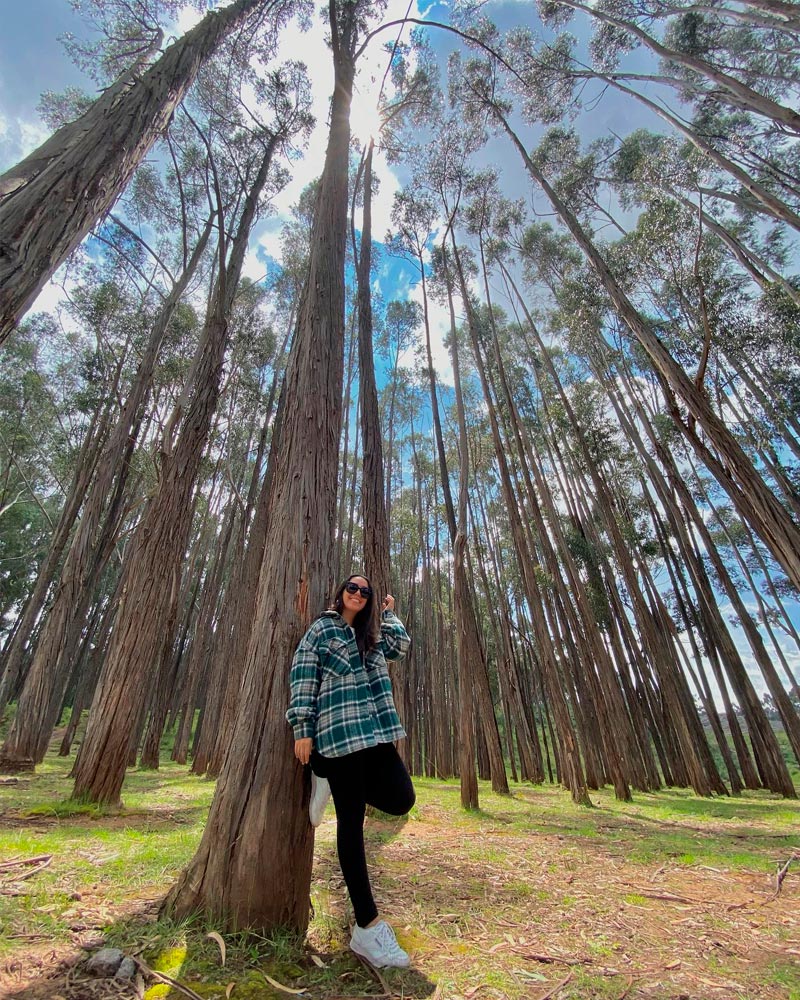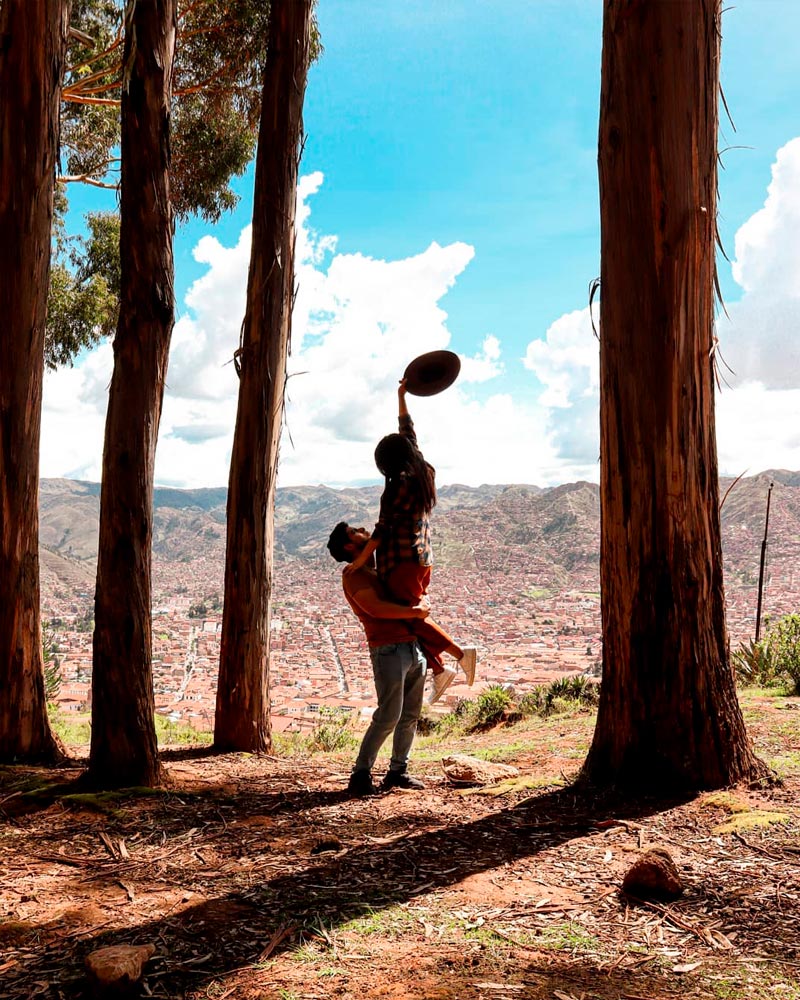 20.- Zoo Visit
Near Cusco, you can visit local animals and support their protection and rehabilitation with your entrance fee and interest! The Andes are a wonderland of varied fauna, and it's so special to see these spectacular animals up close. There are 2 small zoos on the way to Pisac (Cochahuasi and Awana Kancha), about 30 minutes outside the city, and another in Tipón (Mundo Andino) in the South Valley.
You'll see condors, pumas, chinchillas, parrots, macaws, Andean deer, foxes, llamas, alpacas, vicuñas, spectacled bears, monkeys, and more! All three of these zoos function with the purpose of conservation, not exploitation, so you can visit them and enjoy with a clear conscience.
Go explore!
Need more fuel for the fire?
So have fun, do various things around Cusco and take lots of pictures.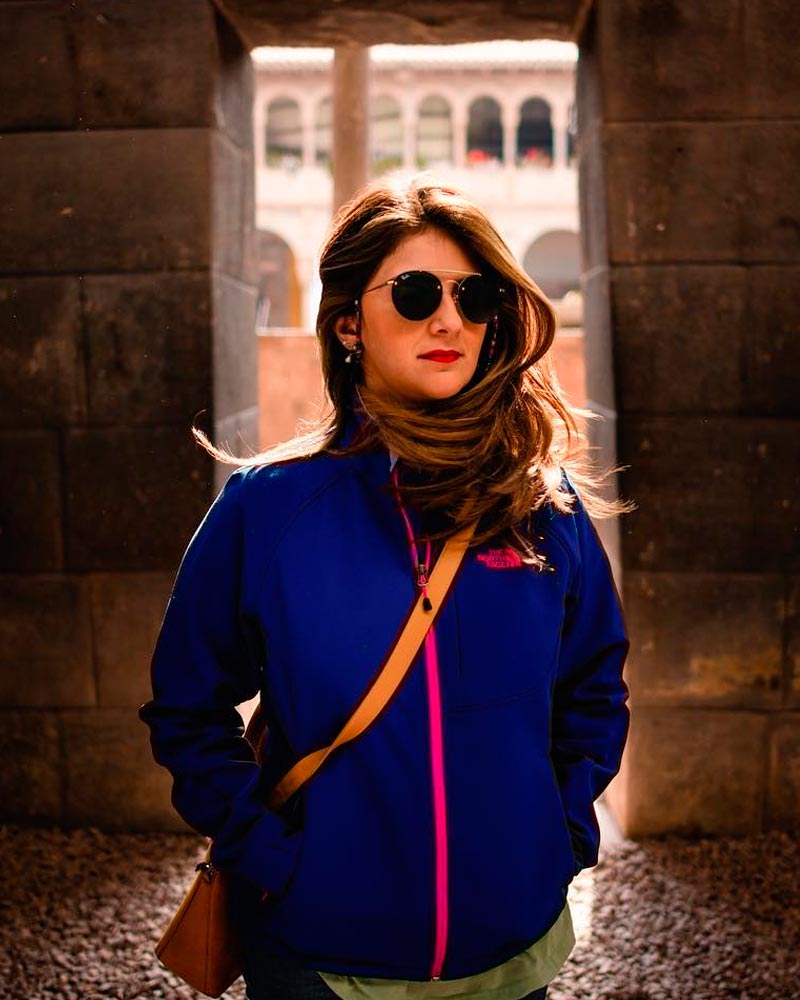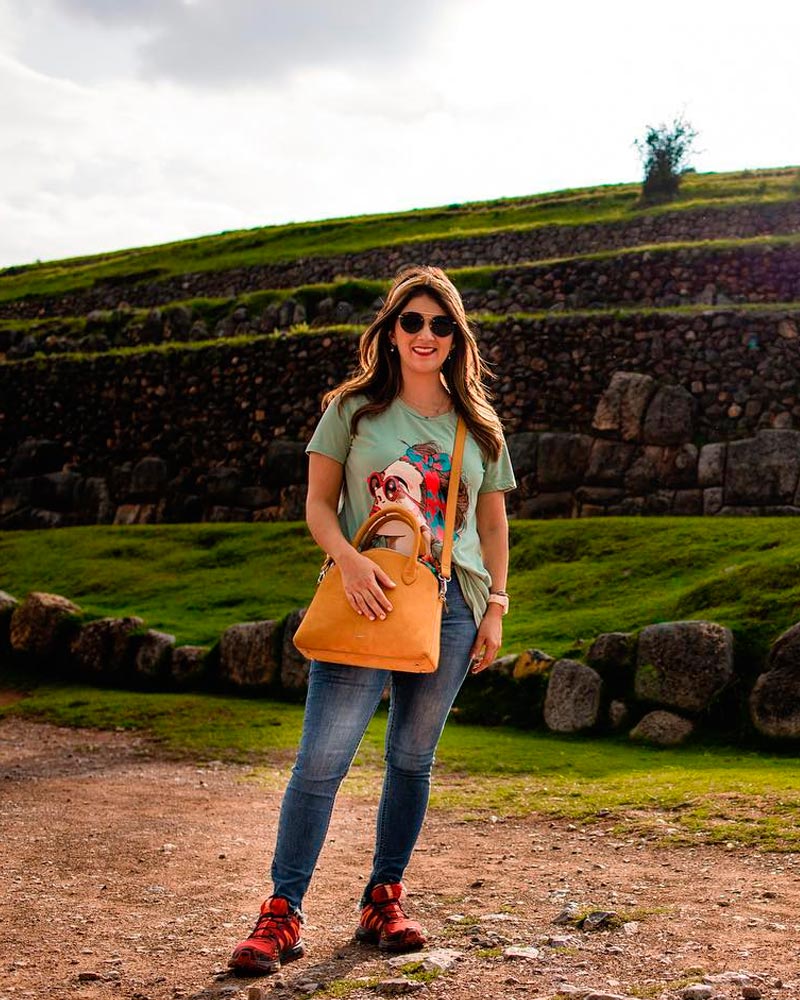 ---
---
You might also like
---