Peru is one of the top producers on the globe of the habit-forming coffee bean we all love. It's the proud home of several different flavor profiles raved about by professional coffee tasters (called cuppers). Its varied landscapes and altitude levels create a remarkable taste like none other.
If you're addicted to your morning cup of joe, get an inside look at where it comes from, the qualities that make it the best in the world, the process it goes through to fill your mug and the people dedicated to cultivating it.
Proven Benefits of Drinking Coffee
But first, a word of good news! Apart from being delicious, coffee is known to improve memory, attention span and energy, enhance athletic performance, increase longevity and encourage sperm health. These magical beans decrease the risk of several illnesses: type 2 diabetes, Alzheimer's, dementia, depression, Parkinson's, cardiovascular and liver diseases, gallstones, kidney stones, obesity, stroke, prostate and colorectal cancers and melanoma.
Coffee also contains antioxidants in the form of polyphenols. The list goes on and on! So whatever your reason for drinking coffee, know that you're doing yourself a world of good!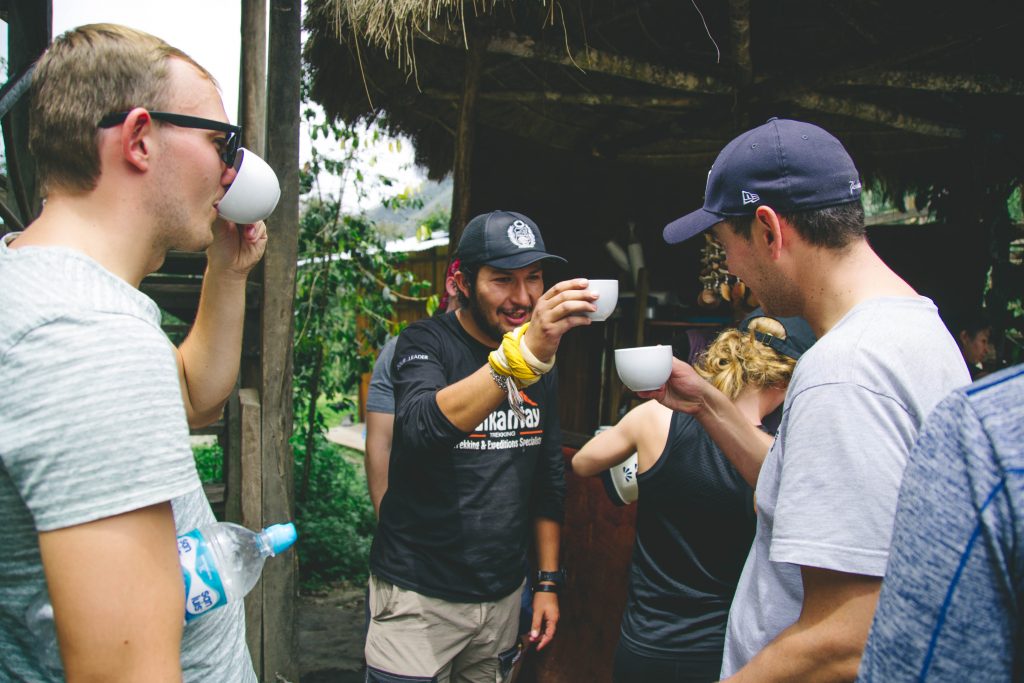 Peruvian Coffee's International Awards
Year after year, Peruvian coffee beans have won many prestigious awards worldwide!
In Seattle's Global Specialty Coffee Expo in 2018, coffee from Puno was named "Best Quality Coffee," and the region was called "one of the coffee world's best kept secrets."
At the international Coffee Awards SPP (Symbol of Small Producer) in 2018, Peruvian coffee from Puno was named "Best in the World." Cusqueño coffee won this first-place prize in 2019. At the World of Coffee 2022 fair in Milan, Italy, coffee from Cusco won this prize once again, and Puno came in second.
Coffee from Cajamarca was recognized by the German Coffee Roasters' Federation with a gold medal for exceptional quality.
In 2010, Peruvian coffee was named "World's Best Organic Coffee" by the Specialty Coffee Association of America.
In Paris in 2017, at the International Contest for Coffees Roasted in their Country of Origin, beans from Junin, Pasco, Puno, Amazonas and San Martin won 23 awards.
Java's History in Peru
Though the use of coffee cherries to make the elixir of life has been around since the year 1000 AD in Arabia, the crop and practice arrived in Peru in the mid-1700's. Surprisingly, that's over 50 years earlier than it was beginning to be cultivated in Central America. It was grown mostly for domestic use until the late 1800's, when a coffee rust epidemic hit the Asian farms feeding the European coffee addiction. Having suddenly lost their provider, Europe searched desperately for new sources and found Peru.
England, specifically, invested in Peru's coffee production and even owned acres and acres of plantations until the world wars turned everything upside down. After England pulled out, Peruvian farming families took over, connected with new markets and flourished. By the 2000's, Peru had made a name for itself in the global coffee industry. Unfortunately, Peru's own coffee rust epidemic hit in 2013, but it was able to recover after a few years, switching to less susceptible coffee varieties. Now, since 2008, every 4th Friday of August is a day of National Coffee Celebration, established to empower Peruvian coffee farmers and encourage appreciation!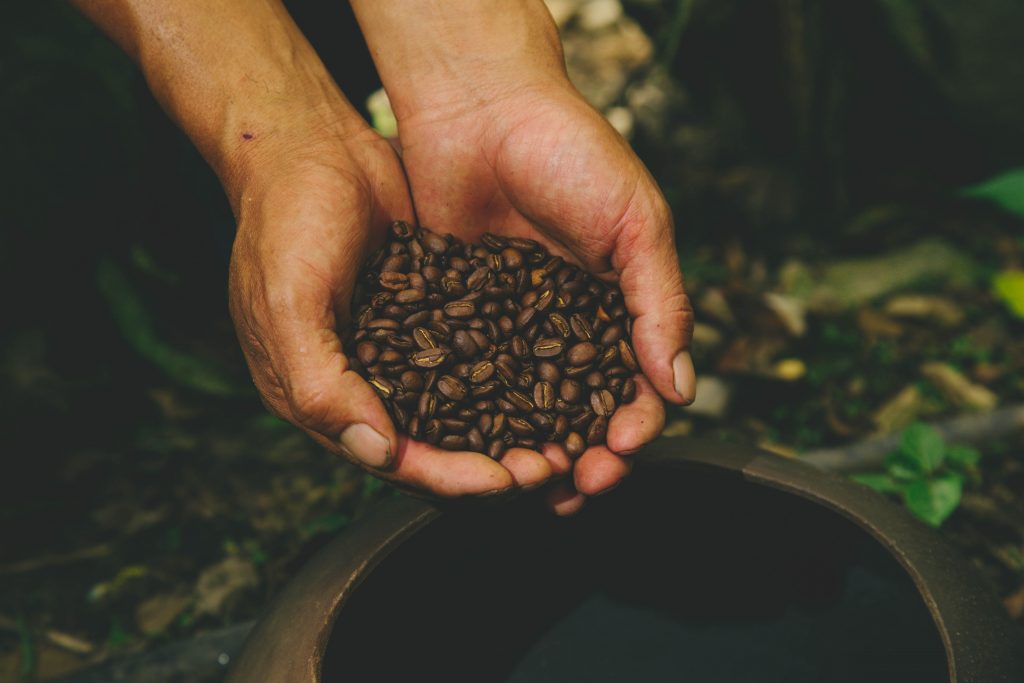 Economic Impact
Coffee has transformed the Peruvian economy over the years, establishing it as a central and respected name in the global coffee supply chain, as well as in specialty and gourmet markets. It's now Peru's second most exported product, and Peru is the world's largest supplier of organic and fair trade coffee beans. It's ranked #8 on the globe in production area and #11 in general exportation, sending 4.3 million bags a year out into the world.
Its 110,000 coffee plantations provide jobs for almost 1 million Peruvian locals. Peruvians, themselves, consume 1 kilogram of coffee per person per year, compared to the United States' 4.4 kilos and Finland's startling 12 kilos.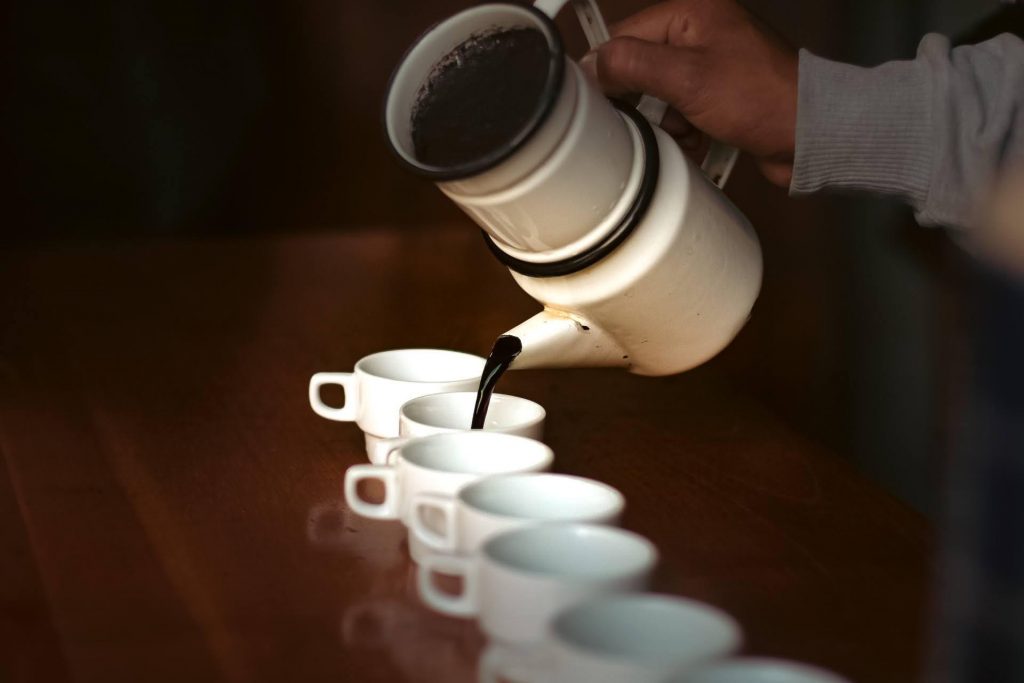 But What Makes it So Good?
Peru is an extremely diverse country of coastal, mountain, desert and tropical rainforest landscapes. This biodiversity provides a beautiful mix of microclimates, soil compositions, altitudes and sunlight conditions. That's perfect for nurturing and crafting the amazing assortment of one-of-a-kind flavor profiles of Peruvian coffees! In their growing process, they absorb nutrients and minerals from the soil and flavors from surrounding plants – nutty, chocolatey, citrusy, etc. It's said that a medium-dark roast is best to take full advantage of its intricate features.
Coffee beans from Peru are known to produce a mellow drink with complex tastes and smells. However, you can't specifically describe "Peruvian coffee" in general: each distinct area, even each plantation, will present a product that tastes wonderfully different from the next. These delicious, single-origin coffees are processed in small batches manually, and this only adds to their rich quality.
These are the details of the coffee belt of Peru (the entire middle strip of the country from north to south) and their unique flavor profiles, lauded by cuppers around the world. You literally can't go wrong trying out local coffee from any part of Peru. Or even better: make it your goal to taste them all!
Region
Altitude
Arabica variety
Acidity
Body
Flavor profile
Piura
900 – 2,000 m / 2,950 – 6,560 ft
Typica, Caturra, Catimor
Balanced
Full
Chocolate, caramel, nuts
Cajamarca
900 – 1,950 m / 2,950 – 6,400 ft
Typica, Caturra, Bourbon
Bright
Sweet, red and yellow fruits
Cutervo
1,600 – 2,100 m / 5,250 – 6,890 ft
Catimor, Pache, Bourbon, Typica, Pacamara
Medium
Balanced
Vanilla, stone fruits (like peach), molasses
Amazonas
900 – 2,100 m
/ 2,950 – 6,890 ft
Typica, Caturra, Catimor
Balanced
Balanced
Dry fruits, caramel, candy
San Martin
900 – 1,200 m / 2,950 – 3,940 ft
Typica, Caturra, Catimor
Balanced
Medium
Chocolate, nuts, caramel
Huanuco
900 – 2,000 m / 2,950 – 6,560 ft
Typica, Caturra, Catimor
Defined
Smooth
Orange, mandarin, caramel
Pasco
Defined, intense
Balanced
Nuts, sweet chocolate, raisins, fruit, citrus, florals
Junin
900 – 1,800 m / 2,950 – 5,900 ft
Typica, Caturra, Catimor
Intense
Creamy, balanced
Black and yellow fruits, chocolate, caramel
Cusco
900 – 2,00 m / 2,950 – 6,560 ft
Typica, Caturra, Bourbon
Medium
Creamy
Red and black fruits: plums, raisins, grapes; chocolate
Ayacucho
1,600 – 1,900 m / 5,250 – 6,230 ft
Typica, Caturra
Medium
Medium
Cereals, black fruits, chocolate, caramel
Puno
900 – 1,800 m / 2,950 – 5,900 ft
Typica, Caturra, Bourbon
Bright, juicy, balanced
Juicy, balanced
Tropical fruits, caramel, molasses, florals
*Information from Caravela Coffee's Ana Salazar, Quality Coordinator (https://perfectdailygrind.com/2019/11/a-guide-to-perus-coffee-producing-regional-profiles/ ) via Gisselle Guerra of Perfect Daily Grind.
Capis and Gesha Coffee
There are two specific and outstanding specialty coffees produced in Peru: Gesha and Capis. Both are produced in Chanchamayo, Junin in central Peru, and Gesha can also be found in Pasco.
Capis is the Peruvian version of the famous "dung coffee" created by processing coffee beans after they've passed through the digestive system of a small, furry jungle animal. It was first consumed in Asia thanks to a mammal called the palm civet that ravaged coffee plantations for food. For one reason or another, locals decided to collect, clean, roast, grind and brew the beans that had been eaten and expelled by the civets!
It is believed that the digestion process reduces the acidity of the coffee, which has notes of the foods that the animal usually eats: papaya, Amazon berries and other fruits. It has more body and is sweeter than other coffees, and leaves a long and delicious aftertaste. It has become one of the most expensive coffees in the world (whether it is because of its novelty, the foul factor or its gourmet taste, we will never know).
Gesha coffee is a specific variety that originated in the Gori Gesha Forest of Ethiopia, and it was later introduced in Peru. It thrives in the central part of the country but, worldwide, is scarce. It's said to taste of black fruits, peach, mango, ginger, papaya, pineapple, blackberry, nuts, cinnamon and brown sugar, and it has the aroma of jasmine. As one of the most unique and flavorful coffees in the world, it's also one of the most pricey.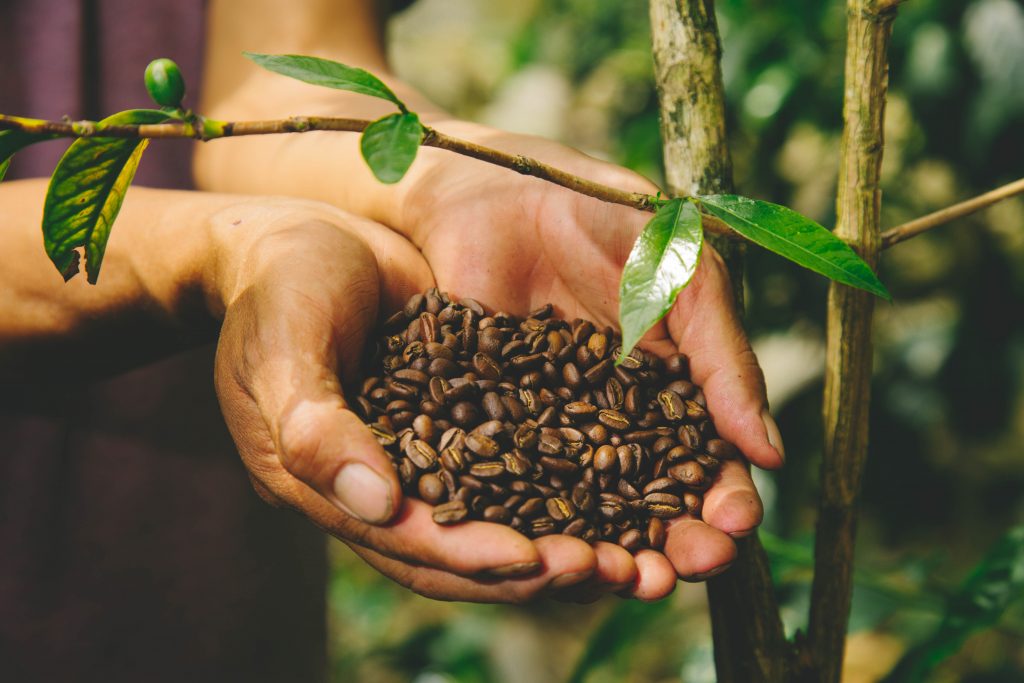 Modern Challenges for Coffee Farmers
The coffee industry in Peru had been down a rocky road through the years, and I fear that will continue into the future. The country's agricultural infrastructure leaves a lot to be desired with only 15-20% of coffee farmers belonging to a co-op. Most plantations are small family farms, and that leaves them in a bad place for promotion and fair negotiation with buyers.
Climate change is also endangering the wellness of Peru's coffee industry. The natural coffee belt is moving to higher altitudes due to climate change. The coffee that, before, grew at 1000 meters now only grows in cooler climates at 1700 meters. Of course, families can't uproot their life's work to move uphill, so there's a huge risk for personal financial crises in the future. Unpredictable climates and unexpected rains also affect the plant's growing process and can lead to serious losses for farmers.
Shade-grown coffee is becoming more popular in Peru as an eco-friendly alternative growing technique to the traditional sun-bathed plants. With no need to clear land for plantations, shaded growing allows biodiversity to flourish and the forest environment to stay intact. This method protects carbon-trapping soil and nitrogen-fixing trees, both of which play an essential role in climate change reversal.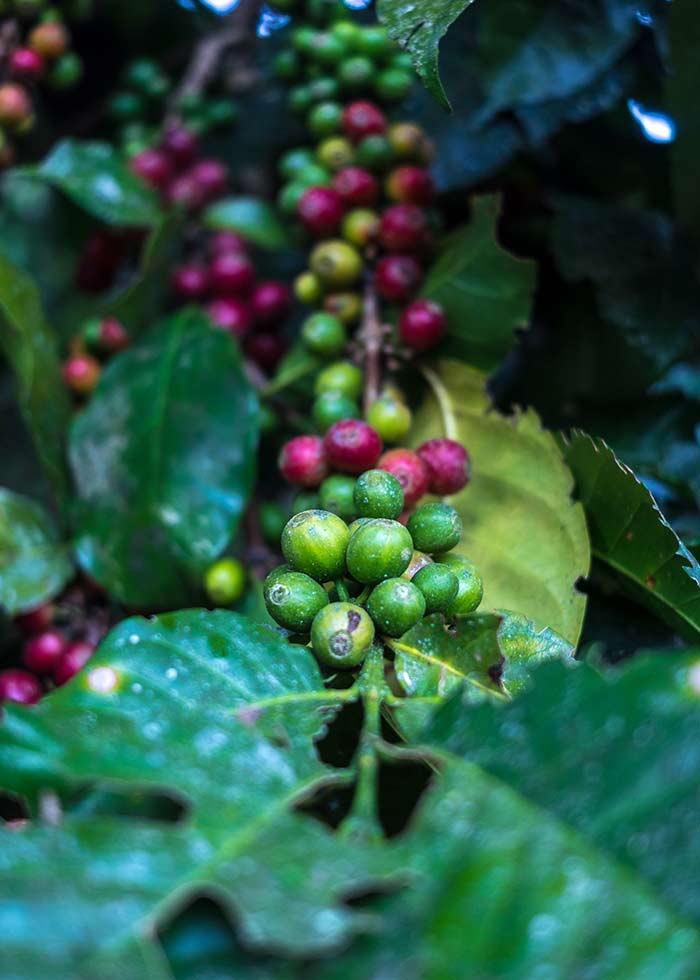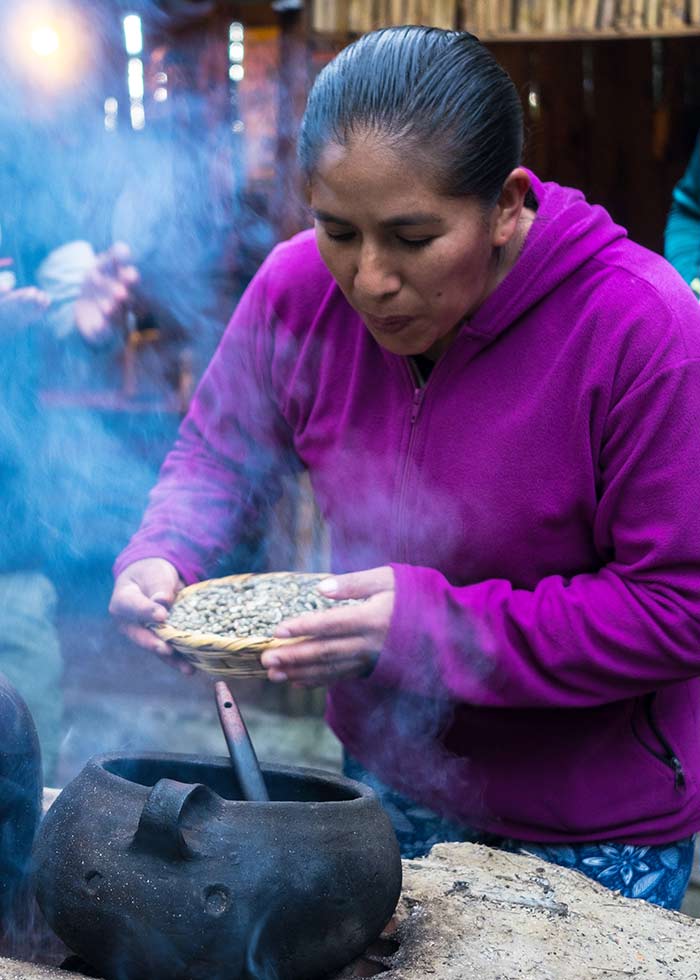 Want to See it for Yourself?
If you're a coffee lover, take advantage while you're visiting Peru to spend some time at a coffee plantation! Coffee and cocoa farm tours can be rolled into one and are found in the same areas, across the highland jungles of the country. This is a great way to see a more traditional view of Peru as you'll enjoy a day, or maybe even a night or two, in a family home in the countryside. It's a cultural and gastronomic experience unlike any other! You can take coffee beans home with you, as long as they're sealed and labeled by the company you buy from.
Looking for more interesting activities for your vacation? If you're in Cusco (one of the coffee-producing regions of the country) be sure to take some day trips outside the city or book a trek to Machu Picchu!
Written by: Bethany Iversen Marrou
---
---
You might also like
---