With Peru being one of the most bio-diverse, and naturally rich countries in the entire world, it's no surprise that many couples flock to enjoy their honeymoon here every year. The country boasts stunning coastline, luscious jungle, and incredible mountain landscapes. There's so much to see and do that it can make the choice of deciding where to honeymoon a little difficult.
Fear not! We've thoroughly researched the most popular destinations and those off the beaten path to come up with the best honeymoon destinations in Peru. We've got coastal, mountain, and jungle paradises. There are places for those who want to sit back and relax and others for couples who like an adventure.
So, sit back and enjoy our suggestions along with some top honeymoon tips. They say variety is the spice of life, so pick and choose a few if you want to make the most of your time in our wonderfully unique Peru.
The River Amazon
One of the most romantic settings for your post-nuptial celebrations has to be on a cruise down the River Amazon. One boat, the Delfin, offers a unique style that's been beautifully designed and will definitely provide you with a honeymoon you'll never forget.
Enjoy personalized service, plenty of privacy, and some extremely delicious cuisine onboard. The boat has four deluxe rooms with private dining quarters and two of them have a jacuzzi to cuddle up in.
It's not just about the incredible boat, either. As you sip cocktails at the open-air rooftop bar, you'll be able to observe the fascinating wildlife that passes you by in this stunning location. It's a once in a lifetime trip together, so why not enjoy it in luxury? If that's your sort of thing, of course.
Lake Titicaca
If the two of you enjoy unique settings and being by the water, you'll absolutely love a honeymoon at the highest navigable lake in the world, Lake Titicaca. The scenery is stunning, and the lake is huge. You'll be staying in Puno, up high in the mountains. 
To make your trip extra special, we recommend you head out to 'Los Uros', which are the floating islands in the middle of the lake. They are made of reeds and really do float. Many families live on them and you get a chance to visit a few different islands and see how the people live there as well as observe the interesting handicrafts they make, which are excellent for souvenirs.
If you really want the full experience, you can spend the night on one of the islands with the locals and see how they live. Enjoy a romantic night under the stars in the middle of Lake Titicaca.
Cusco
If you're the type of couple who loves an adventure or a trip back in time, we suggest you head to the 'navel of the world' and the historical capital of South America, Cusco. There are so many activities to participate in and a lot to learn about the Inca culture that once called their capital. 
You can also spend a romantic moment together at the New Seven Wonder of the World, Machu Picchu. The mystical and magical Inca fortress is enough to make anyone's heart skip a beat, just like the first time you and your other half first met.
In the middle of the stunning Andean mountains, you can enjoy downhill biking, horse riding in the Sacred Valley, ATVs, bungee jumping, river rafting, and much more!! Take a trek to Machu Picchu for the ultimate adventure and enjoy a visit to Humantay Lake and Rainbow Mountain, two incredible examples of how amazing Mother Nature really is.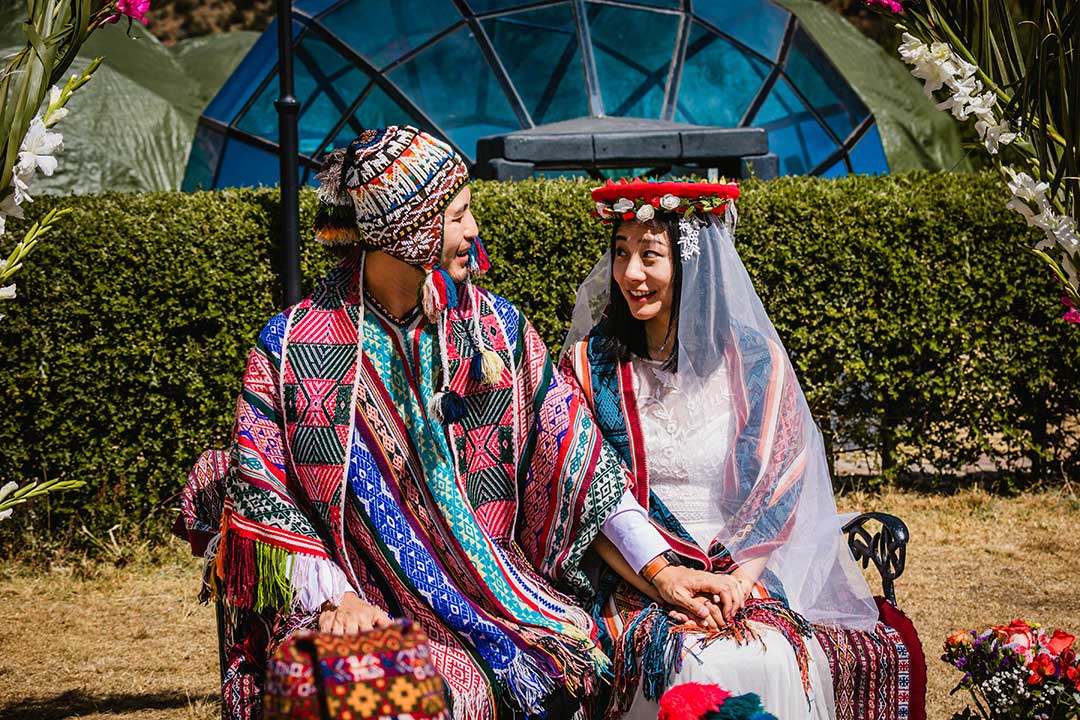 Arequipa
Now, for the pairing who like a bit of the beach as well as the mountains, the colonial, gorgeous city of Arequipa is a win. The city itself is truly individual and a majority of the buildings around the center are made from white ashlar, which is a material that comes from the nearby volcano, Misty.
The main square is really beautiful and they offer plenty of wining and dining spots for you to savor their delicious cuisine. Being only a couple of hours from the coast means this is the perfect place for seafood lovers.
It's also a great option for adventure lovers as the Colca Canyon is just a few hours away, where you can enjoy camping, trekking, and observing the majestic condor in flight.
Mancora Beach
Perhaps you, the happy couple, prefer to spend days relaxing on a beach in an idyllic paradise or surfing the waves together and then enjoying some nightlife in a hot and sunny destination. Well, then Mancora could be the perfect spot.
Located in the department of Piura, this really is a stunning beach setting that'll make everyone back home envy your choice of honeymoon. There are some adult-only beachfront hotels available, too, so you can really enjoy all the privacy you need. They also offer spa treatments, so you can ensure you're well-rested and relaxed before you head home.
The glorious beach provides the perfect setting for a loved up, 'just-married' couple who want to escape it all. After a day of bronzing on the sand, the town offers some lively restaurants and bars to mingle with the locals at.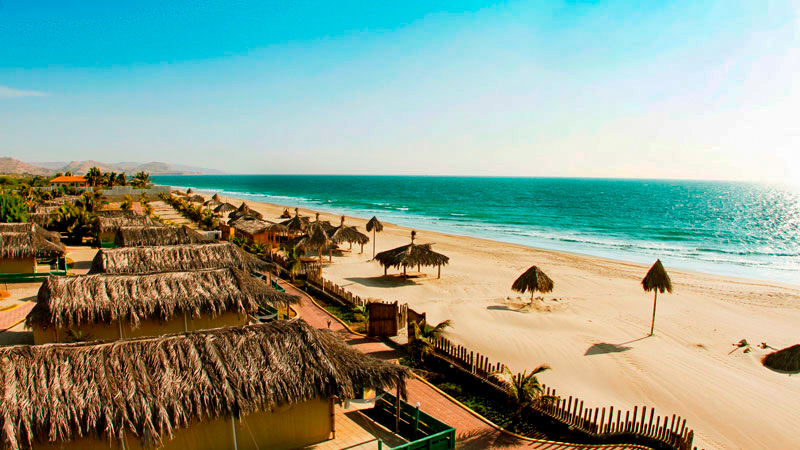 Huacachina
Have you ever dreamed of heading off to the desert together and enjoying the peace and quiet? Huacachina is spectacularly unique and a one-off honeymoon site that you likely won't find anywhere else.
The small town sits around an oasis in the middle of the Peruvian desert and looks like something out of a dream. It's the perfect romantic spot to enjoy a drink together looking out over the water and taking in the incredible surroundings.
There's plenty for the adventure-lovers, too. Enjoy a real thrill jumping over the sand dunes on a buggy or feel the wind (and sand) in your hair as you tear down the slopes on a sandboard. This location may be small but it has a lot to offer.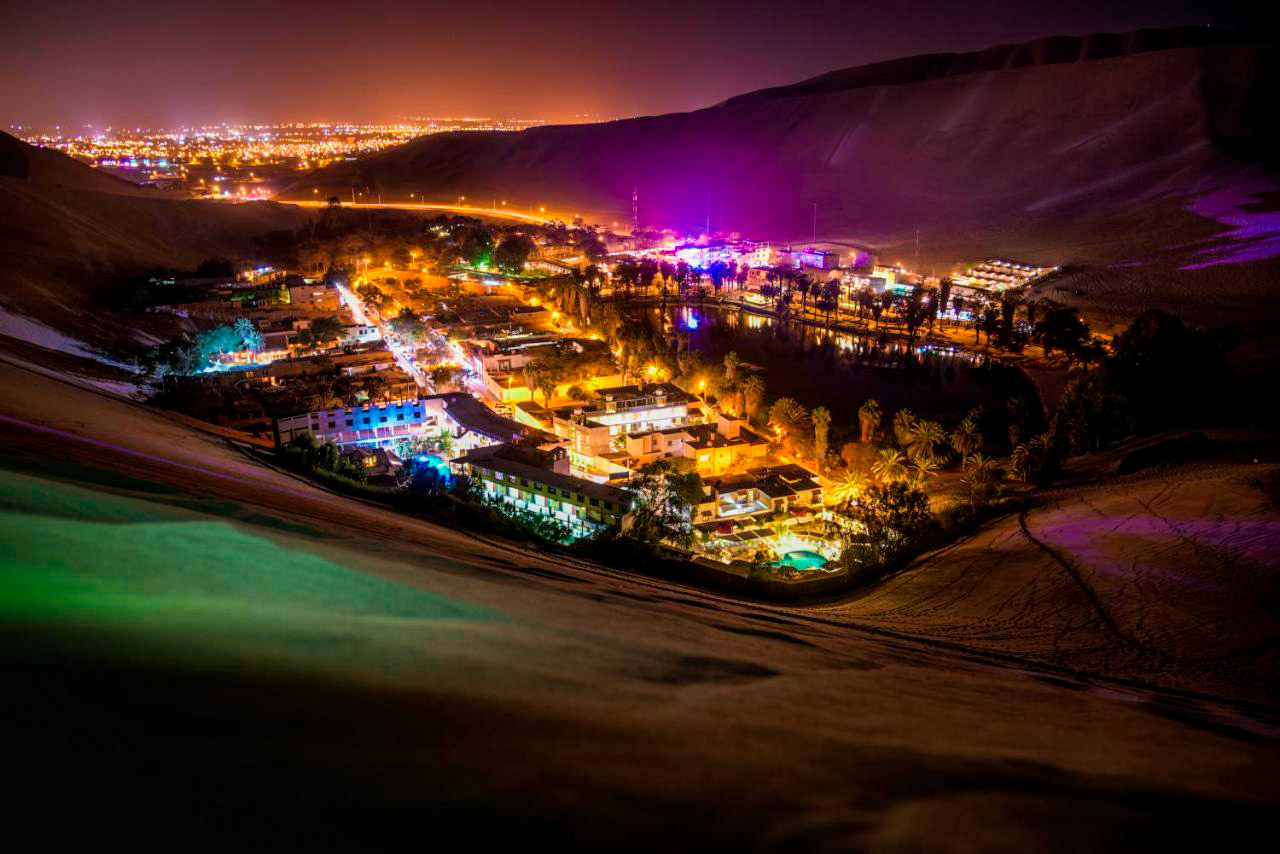 Lima
Some newly-weds like to jet off to big cities and see what capitals have to offer. Well, Lima doesn't disappoint and provides some high-end hotels, fancy restaurants, and excellent shopping hubs. You'll have plenty to do and can try some of the best dishes from the number one cuisine in the world.
If you stay in Miraflores or Barranco, you'll be right by the ocean where you can take some romantic walks along the cliff edge. There's even a park called 'Parque del Amor', which literally means love park. Where better to enjoy a moment with your new other half.
There are plenty of historical sites to visit, too, for those history buffs. Lima is a busy honeymoon destination that can be enjoyed all by itself or as a stop over for a few days before you head off to another part of the country.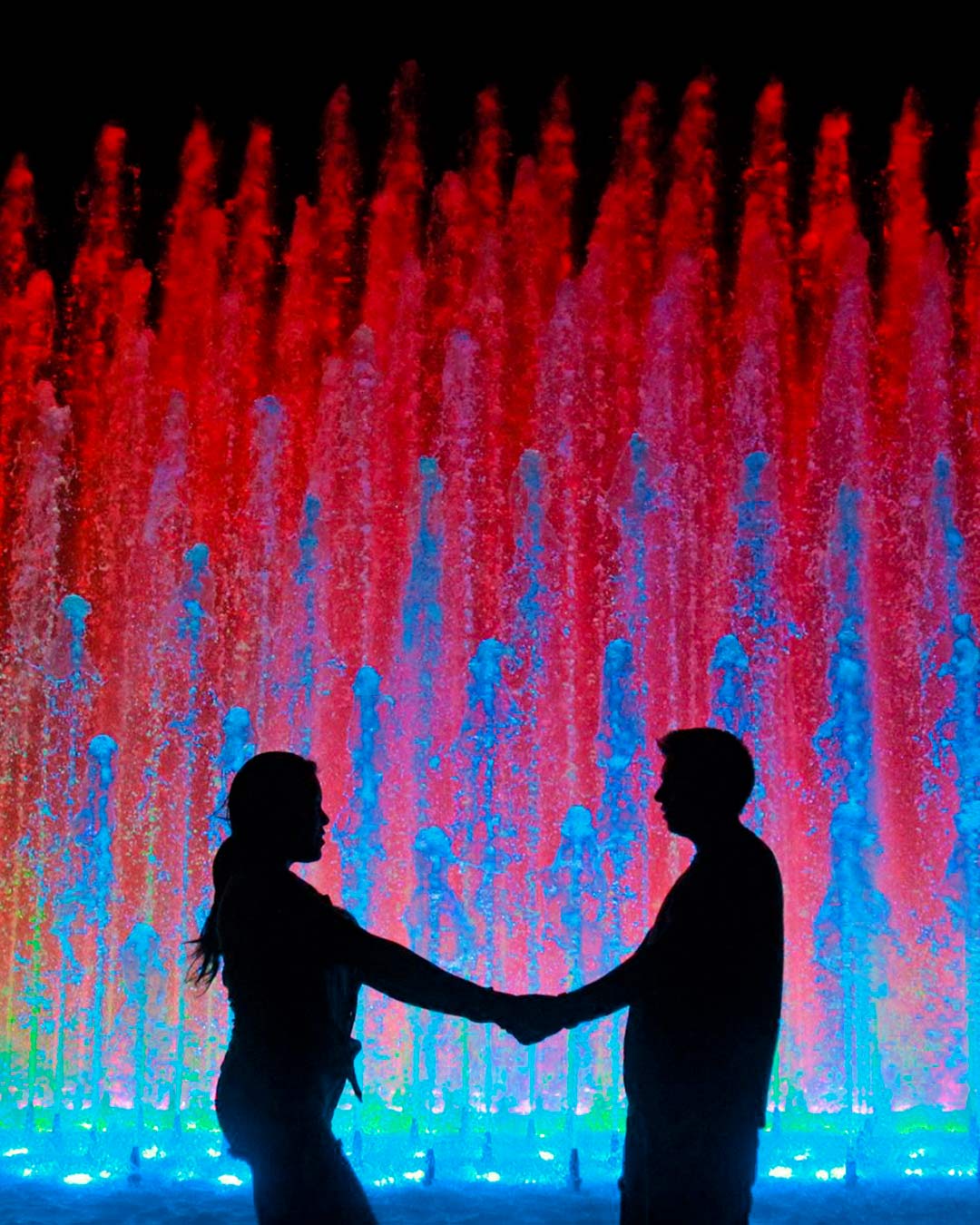 Tambopata National Reserve
We're back in the Amazon, and this is for the couples who can't get enough of nature, which Peru has a lot of. The rainforest is a truly unique honeymoon destination and is the most biodiverse place on the globe.
You can stay in a swanky villa or an eco jungle lodge to really feel a part of your surroundings. The Inkaterra Reserva Amazonica has all you could want for a pampered honeymoon like no other. With a spa, private villas, butlers, and 5-star cuisine, you can't go wrong. They even offer a treehouse for the ultimate back-to-nature getaway.
You'll be surrounded by a wide variety of rainforest wildlife to help you drop off at night and for you to go out and explore during the day. This truly is an incredible choice.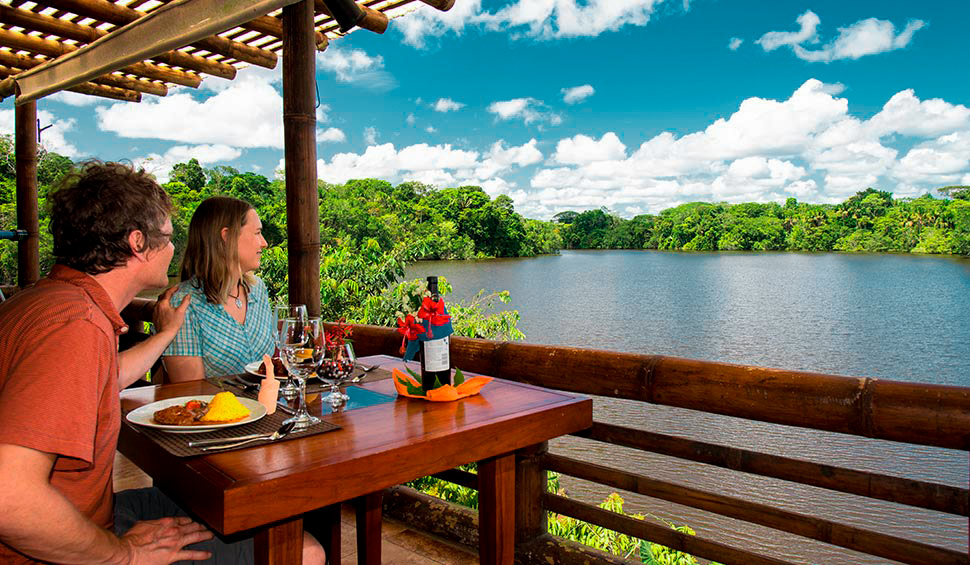 Tips to Enjoy the Perfect Honeymoon in Peru
Now, you wouldn't be able to enjoy the ideal honeymoon if everything doesn't go to plan, which is why we've made sure to add a few tips to make the most of your time here and to enjoy your first vacation as a married couple.
Don't Do Too Much
There's no doubt that you'll be super tired from the wedding, all the planning, and a bit of jet lag. So, make the most of this time together and relax as much as possible. Sure, plan a few trips to see what this incredible country has to offer, but you want to feel rejuvenated afterward, not shattered.
Put Your Phone Away
This is a time to celebrate 'you' as a couple, so turn off your devices for a few days and really take the time to spend your first days together after the wedding and take in your glorious new surroundings.
Pack Some of Your Favorite Luxuries
Of course, Peru has so much to offer that you might not think about bringing a box of your favorite chocolates or a nice bottle of wine, but when you're sitting in the perfect spot, it'll be wonderful to sip that drink and eat the treats that you love the most with the person you love more than anyone else in the world.
Tell the Hotel It's Your Honeymoon
We can't guarantee you'll get an added extra or even a slight upgrade, but it's always worth mentioning to the staff at the accommodation that you're on your honeymoon. You never know what little surprise you'll get.
Plan Well
You don't want any forgotten items or missed activities ruining your couple's getaway. Make sure you plan ahead and have everything booked in advance. This way, you can enjoy your time together and enjoy the destination to the maximum without any worries.
Don't Forget…
To pack your passport, take out travel insurance, and make use of a packing list. Make copies of all important documents and have any personal medication you need to hand.
It's Time to Plan the Trip of a Lifetime
These are our top honeymoon destinations in Peru, but there are plenty more locations to visit, so don't let this limit you. Peru is a very unique and beautiful country that can be the perfect newlyweds' vacation destination.
---
---