As October comes to an end, it's time to start thinking about the rainy season in the Peruvian Andes. Come November, travelers and locals alike will gear up to face the showers! As you plan a trip to Peru, it's important to keep the weather in mind so you can make the most of your adventure. Is it even worth visiting Cusco and Machu Picchu in the rainy season? In a word, ABSOLUTELY! Here's why.
Seasons In & Around Cusco
Weather in the southern hemisphere and in the unique Andes Mountain Range is probably pretty different than what you're used to at home! If you live in the northern hemisphere, you should know that the seasons down here are opposite. Colder temps roll in during June and July while warmer weather comes out to play around Christmas! On top of that, between coastal Peru and the highlands, there's a big weather difference.
What you need to know is that Cusco & Machu Picchu have only 2 seasons: rainy and dry. Those correspond, respectively, to the low and high tourist seasons. Here's the calendar:
Rainy / Low Tourist Season: November to March
Dry / High Tourist Season: April to October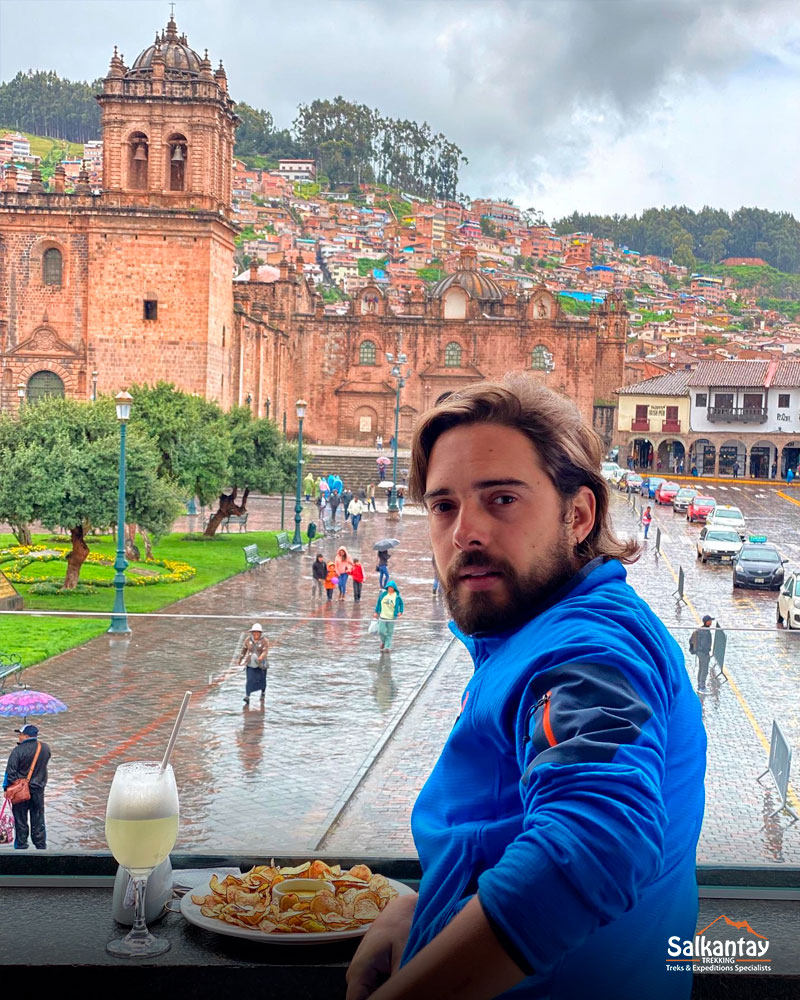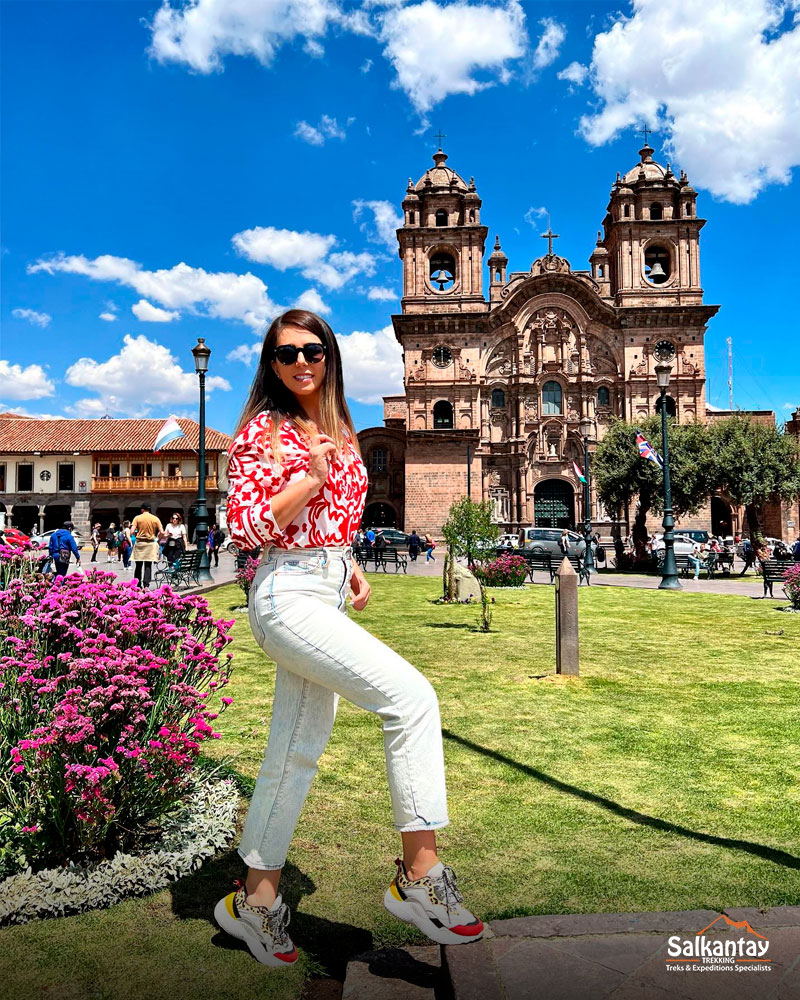 How rainy are we talking?
During the wet season, the rainiest months are January and February. In all rainy months, it will likely rain every day, often a couple of times during the day. The showers aren't usually continuous for the entire day. They come and go without warning, normally lasting between 30 minutes and 3 hours. I love the rainy season and actually prefer it to the dry season! I miss the rain when it's gone. The rainfall, whether light or heavy, gives Cusco and its surroundings such a calming, mystic feel that's really something special to encounter.
Cusco is Amazing in the Rainy Season, Too!
A quick Google search will tell you that the best time to visit Cusco and Machu Picchu is between April and October, in the dry season. Well, here are some reasons why the rainy season can give you an experience that's just as incredible or maybe even better!
#1 – Breathing Room
There are WAY fewer tourists during the rainy season, so you'll have some amazing sites to yourself to be able to enjoy in solitude without the overstimulation of a crowd to ruin the ambiance. There's nothing like a hoard of people to put you in a bad travel mood. Group sizes on tours will often be smaller, and you'll get more personalized service. You'll have more room to move around at your own pace and stretch out comfortably without being rushed! Machu Picchu will still have visitors, but not quite as many.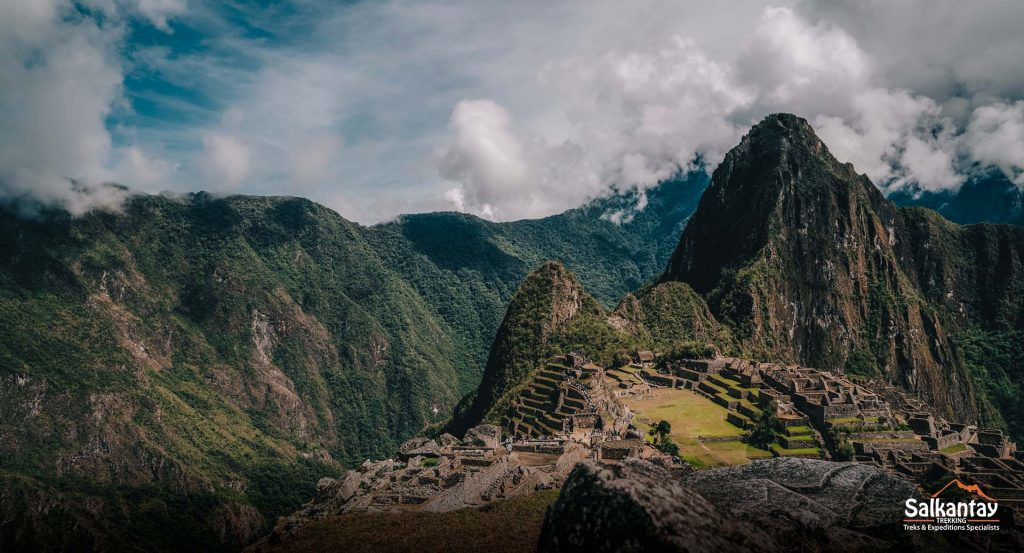 #2 – Spontaneous Adventures
You can book a lot of things at the last minute that you would have to book months in advance during the dry season! You won't have trouble snagging a spot on a whim in most cases, and you'll have all the options of the best tour companies, workshops, retreats, Spanish classes, restaurants, hotels, and AirBNBs available to you. Feel free to make plans once you get to Cusco without worrying over the itinerary too much beforehand!
Booking recommendations for the 3 top tours
The most popular tours that tend to sell out in Peru are the Inca Trail, Machu Picchu, and Huayna Picchu. I don't recommend expecting a spot from one day to the next, but openings are generally available until much closer to your travel date in the rainy season compared to the dry season.
Book the Inca Trail and Huayna Picchu 3-4 months in advance. It's possible you can secure last-minute entrance, but this is the guideline to be sure.
The Inca Trail is closed every February for maintenance.
Book the general Llacta of Machu Picchu ticket at least 1 week in advance.
#3 – Spend Less Moolah
Basically, everything costs less in the rainy season because it's the low tourist season, and both companies and small vendors want to sell! You'll save a huge chunk of change on your airline ticket, for one. Some tours, accommodations, meals, and even souvenirs will also be offered to you at a lower price in these months! You'll find so many great deals to take advantage of while you're here, and that extra money can be used for you to have even more incredible experiences or enjoy a longer stay. In short, you'll get more bang for your buck.
#4 – Bright Green Landscapes
When rain doesn't fall for months, it's natural that the landscape turns a neutral brown color. Well, not for rainy reason! When the showers return to our Andean surroundings, the hills come to life! The beautiful, vibrant green color of the rainy season will take your breath away. The biodiversity of Peru is showcased in all its glory, with colorful flowers springing forth at every turn. The higher peaks are covered in snow. It's a whole different perspective on the scenery compared to the dry season, and you won't be disappointed! The dramatically breathtaking natural wonders of this land, including Machu Picchu, are even more gorgeous in the wet months.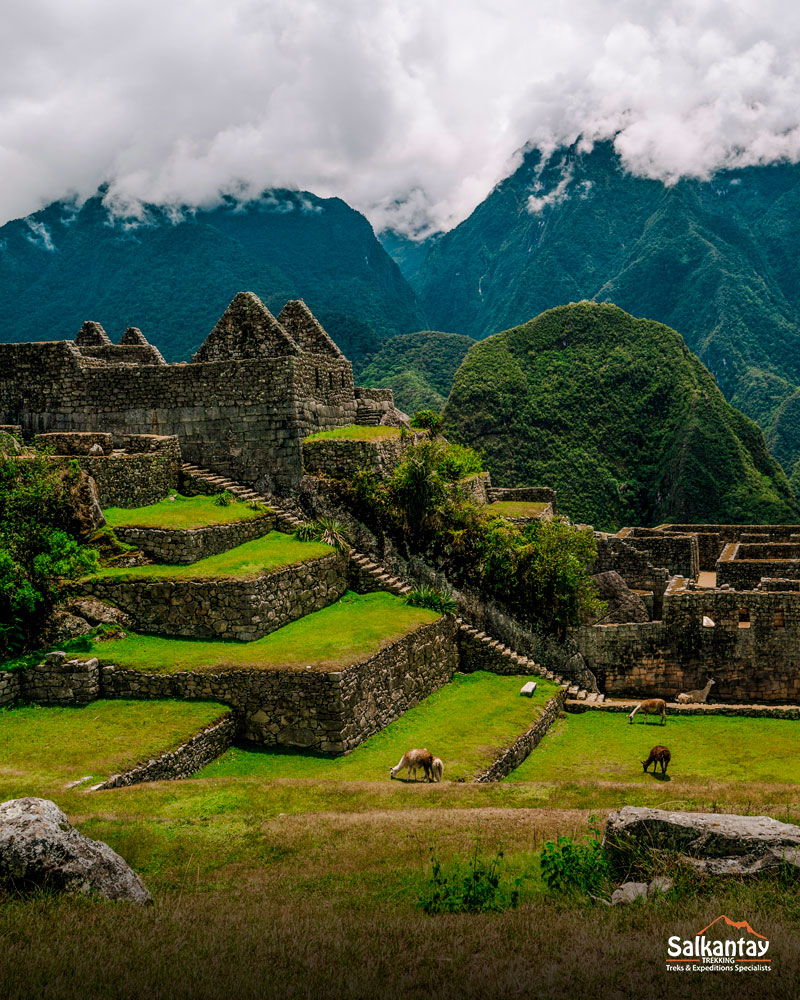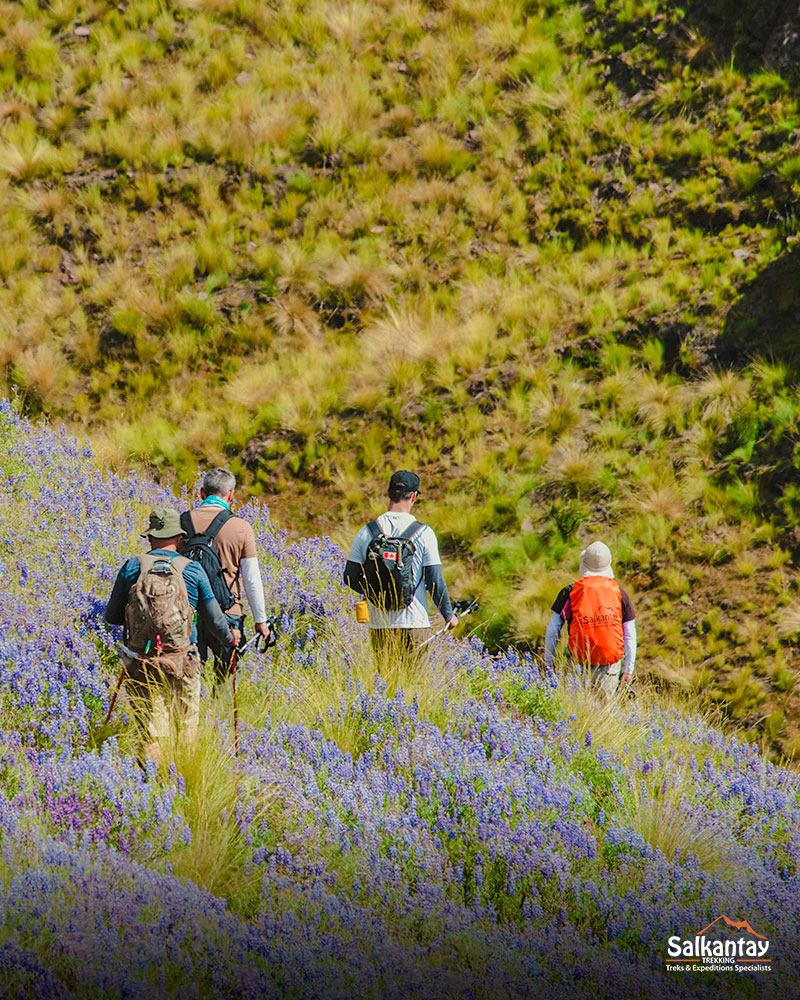 #5 – Not So Chilly
Though Peru only has wet and dry seasons, the dry season is considered like winter while the wet season is considered like summer. While the nights, and even some parts of the day, can be extremely cold during the dry season, the temperature in the wet months is more pleasant. This difference is marked especially at somewhat higher elevations, like during a trek to Machu Picchu. The weather in the cloud forest will be more humid and hot during these months, but the rain showers will cool you off before it becomes overwhelming. The city of Cusco is at a higher elevation than Machu Picchu, but you'll still be happy in short sleeves and sandals and won't have to fill your suitcase with jackets, boots, hats, and scarves!
#6 – The Rainbows
You will probably see more rainbows in Cusco during the rainy season than you've seen in the rest of your life combined! These colorful arches in the sky are so magical when they adorn the spectacular scenery of the Andes. It's truly breathtaking and unforgettable, especially if you're lucky enough to see one during your day at Machu Picchu!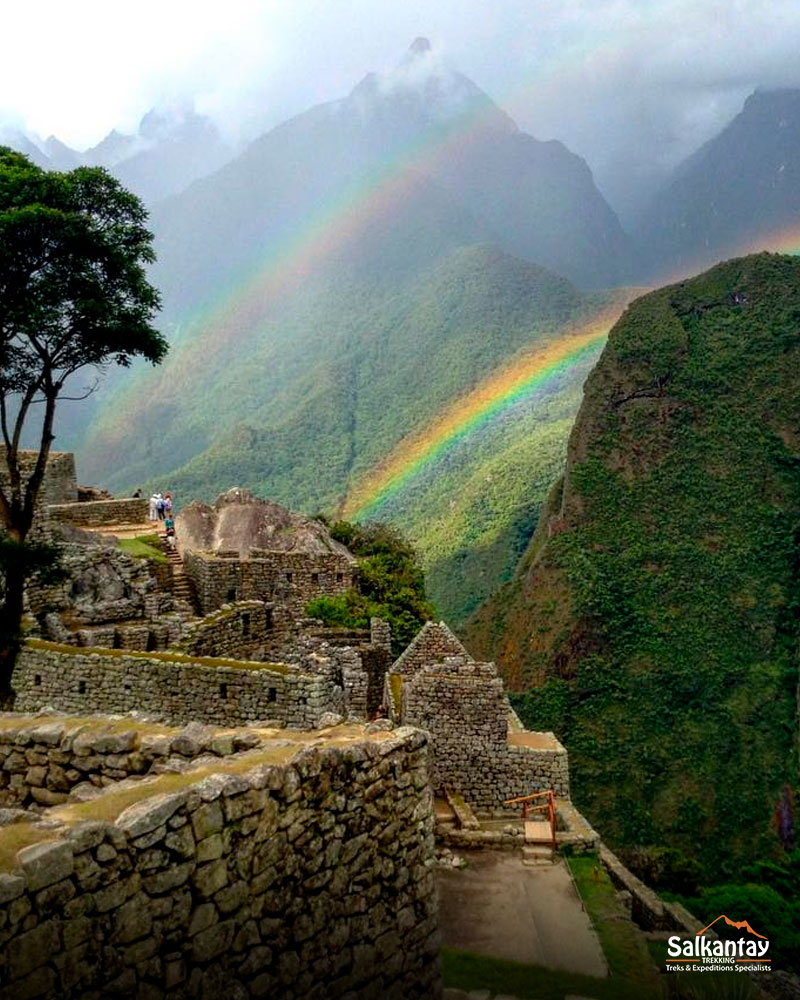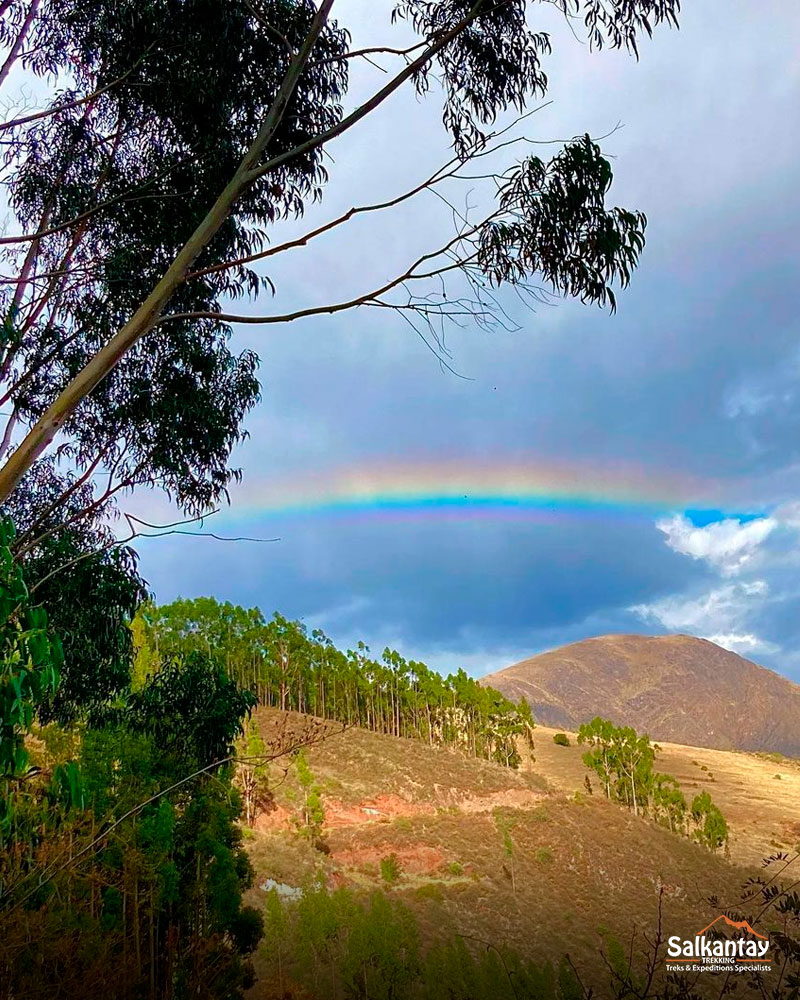 Cons of the Rainy Season
There are, of course, some things you should know about the rainy season as you plan your trip. If you do decide to visit in these months, the cons are just a part of the experience you'll have to accept:
Fog can obscure the views for a time at Machu Picchu and other sites, especially in the morning.
You'll have more humidity and mosquitoes at lower elevations like Machu Picchu and the Inca Trail.
Your clothes and shoes can get soaked through if you're not prepared; you'll always need to carry a rain jacket with you.
Camping and exploring in wet, muddy conditions can be frustrating.
The stone streets and stairs in the city of Cusco and archeological sites, including Machu Picchu, can get slippery.
From time to time, there are landslides that can temporarily block roads or train tracks.
Even though these present specific challenges during your time in Cusco, each of them is manageable and will not keep you from having the time of your life. These won't prevent you from creating the best memories to hang on to! The pros far outweigh the cons.
Can You Still Go Hiking in the Rainy Season?
Yes! All of the hiking trails around Cusco are open all year except the Inca Trail, which closes in February for maintenance. Trekking through the Andes in the rainy season is totally doable. Rains don't last all day long; they come in spurts, more often in the afternoons. It's actually pretty refreshing to get a bit of rain if you're hiking in a warm area like the Sacred Valley!
You'll usually have time to dry out between rain spells if you're wearing moisture-wicking hiking clothes. Make sure you bring a waterproof jacket and waterproof shoes with a good sole, for sure, and have an extra change of clothes with you just in case you get uncomfortable. Expect mud! If you're packing your own tent, make sure it's waterproof, and bring an extra tarp for the base.
It should be noted that on the higher altitude treks, like Ausangate and the Rainbow Mountain Vinicunca, you're likely to get snow, and that can make the path difficult to find or more dangerous to traverse. The weather is warm in Cusco and Machu Picchu in the rainy season, but that doesn't apply to high-altitude trekking. You'll need to have very good, warm clothes and layers, gloves, a hat, and a scarf. Don't ever overestimate yourself or head out without having done some excellent planning.
You ought to travel with a reputable company like Salkantay Trekking to ensure your safety on the trail. Unfortunately, several times a year, there are stories of independent hikers who get stuck high in the mountains and pass away due to freezing, dehydration, or getting hurt or lost.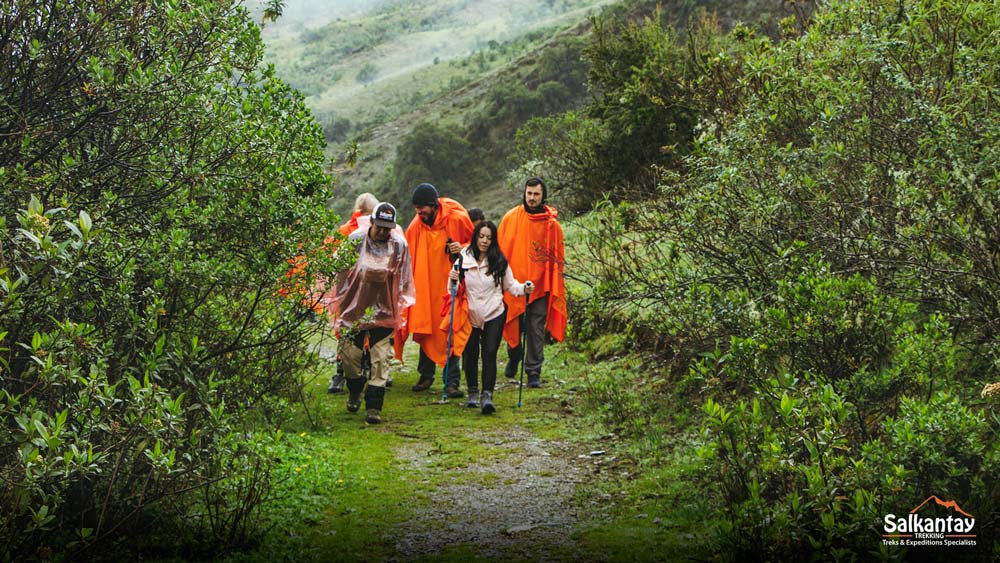 How to Be Prepared
Don't fight it! If you've decided to travel to Cusco and visit Machu Picchu between November and March, take that in wholeheartedly! If you have proper expectations of what the situation will be like and are fully prepared, you'll be happy and excited during your tours and excursions instead of being frustrated and disappointed. Try to always find the silver living; I promise you, there are a lot of them! Here are some of the best tips to make the most of your time in Cusco during the rainy season:
Never leave your hotel or Airbnb without a rain jacket. Don't buy plastic ponchos!
Test your waterproof clothes, shoes, and camping equipment before you leave home to make sure they're actually waterproof. You don't want any surprises.
Don't skip the sunscreen when it's cloudy. You will still burn badly!
Bring a great bug spray for Machu Picchu, the cloud forest, and the Sacred Valley.
Use waterproof shoes with textured soles – nothing flat or slippery. Bring extra socks with you, just in case.
Wear DriFit clothes that will dry quickly if they get wet in a rainstorm.
Bring a rain cover for your backpack/suitcase and for any important equipment (camera, phone, laptop, etc.)
Keep your itinerary flexible and add in some extra days. Be free to change activities if they get rained out.
Final Thoughts
Don't let a little rain ruin your fun! The rainy season in Cusco and at Machu Picchu is so beautiful, and everything you wanted to check off your bucket list here can still be done in the wet months! You'll have the place to yourself, spend less on your vacation, find more available options, be able to book at the last minute, and enjoy the most gorgeous, green, rainbow-laden landscapes of the Andes Mountains, all in pleasant springtime temperatures. All you have to do is come prepared, my friend!
If you're in Cusco, you'll find so much to do during the rainy season and lots of ways to spend the day around the city.
Then, zip up your rain jacket, and head out to see these 9 magical ruins and these outside-the-box things to do in the Sacred Valley.
Don't forget, you can still do all the hiking you want in the rainy season! Try one of these 7 treks to Machu Picchu, maybe our flagship Salkantay Trek! Here's what it's like in the rain.
See you soon!
Written by: Bethany Iversen Marrou
---
---
You might also like
---