You have arrived in Peru and landed in Cusco, the gateway to the Wonder of the Modern World, Machu Picchu, and an unforgettable experience awaits you. Imagine the excitement that takes over as you venture through the Inca citadel. But did you know that within the citadel and its astounding ruins, three additional hikes will allow you to immerse yourself in the grandeur of this place from unique perspectives?
Machu Picchu is not just a collection of ancient structures; it is a window to the past that transports you to the greatness of the Inca civilization. However, for those seeking an experience beyond the conventional, the citadel offers Machu Picchu Mountain (which this blog is about), Huayna Picchu Mountain, and Huchuy Picchu Mountain. Before embarking on this exploration, let's briefly pause to admire the magnitude of what you are about to discover.
What is Machu Picchu Mountain?
Machu Picchu Mountain, or Machu Picchu Montaña, is an imposing elevation located in the vicinity of the globally renowned Inca citadel of Machu Picchu, Peru.
This impressive mountain, the tallest among the three surrounding the citadel, will offer you the most breathtaking panoramic views. Picture yourself contemplating the vast scenery of the cloud forest, towering peaks, deep valleys, and the Urubamba River winding in the distance. All of this from Machu Picchu Mountain, the "ancient mountain," as its name translates in the native Quechua language.
Why is Machu Picchu Mountain so special?
Unlike the more famous Huayna Picchu, Machu Picchu Mountain offers a less challenging option in terms of difficulty and danger, making it an ideal choice for active families and adventurers of all ages. The additional advantage? Reservations for this hike are more accessible, as they don't sell out as quickly as those for Huayna Picchu.
Elevation
Machu Picchu Mountain in Peru is an imposing elevation near the globally famous Inca citadel of Machu Picchu. With an altitude of approximately 3,082 m / 10,111 ft, this mountain provides a unique experience for those seeking to explore the area from an elevated perspective.
The trail leading to the summit offers a challenging journey, with steep steps and a significant ascent. However, the rewards are unparalleled. Machu Picchu Mountain hike has become a popular destination for those looking for a quieter and less crowded perspective of this iconic archaeological site.
Entrance Schedules
If you have set your sights on conquering the imposing Machu Picchu Mountain, the key is to secure your ticket in advance, as demand varies by season and spaces fill up quickly. However, before making your reservation, it is crucial to consider the type of excursion you plan to immerse yourself in.
With the Machu Picchu Mountain + Circuit 3 tickets (Montaña MachuPicchu + Circuito 3), you can enter the enigmatic Inca citadel of Machu Picchu and climb to the summit of Machu Picchu Mountain.
First Shift (7:00 am – 8:00 am)
The first shift, from 7:00 am to 8:00 am, is ideal for those staying in Aguas Calientes the night before. After boarding the early buses, you will ascend before sunrise and enjoy unique views. You must enter the citadel between 6:00 am and 7:00 am—an unforgettable morning experience.
Second Shift (8:00 am – 9:00 am)
The second shift, from 8:00 am to 9:00 am, is ideal for those who have completed routes like the Short Inca Trail, Salkantay trek, Lares trek, or train tours. We suggest exploring the Machu Picchu citadel before ascending the mountain, which takes about 1.5 hours to reach the summit and a similar time to descend.
The Trail
You will journey uniquely along an ancient Inca trail steeped in history and possibly used for rituals and astronomical observation. But what is most captivating is the breathtaking view from the summit and along the trail, one of the most stunning panoramas in Peru.
You will enjoy an astonishing perspective of the majestic Inca city from the summit, in harmony with the surrounding wilderness. The green mountains, snow-capped peaks, deep valleys, and the Urubamba River compose a surreal backdrop framing the carefully designed Machu Picchu.
The trail, with 1,600 stone steps, offers varied topography. The stones can become slippery in the rainy season, adding excitement to the journey. It starts with a gentle slope but narrows and rises towards the summit. You'll find strategic points to rest and capture the beauty in images. Note the limited shade, so wearing a hat and sunscreen is essential for a comfortable journey. To prepare appropriately, here are some key statistics:
Walking distance: 3.9 km / 2.4 mi
Difficulty level: Moderate
Walking time: 3.5 hours round trip (approx.)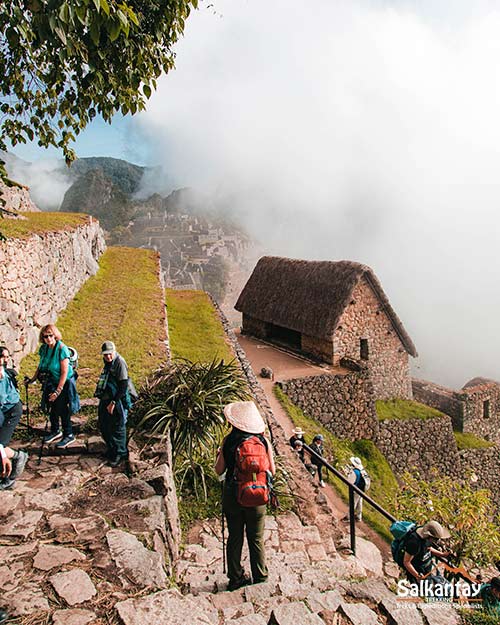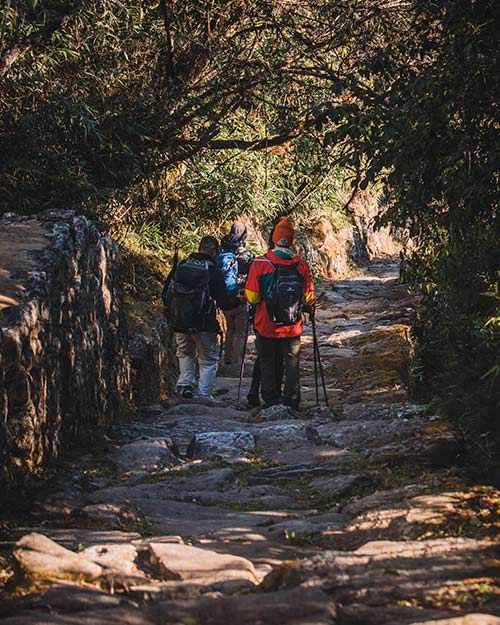 Machu Picchu Mountain Tickets
To obtain all the detailed information about reservations for the Machu Picchu citadel, including the thrilling option to explore Machu Picchu Mountain, here's how to purchase the "Machu Picchu Mountain + Circuit 3" ticket.
Ticket Type:
Opt for the "Machu Picchu Mountain + Circuit 3" ticket to ascend Machu Picchu Mountain.
Available Time Slots:
Choose between the time slots of 7-8 AM or 8-9 AM, marking the beginning of your adventure on Machu Picchu Mountain between 8-9 AM or 9-10 AM, respectively.
Limited Availability:
There are only 100 daily tickets to Machu Picchu Mountain, 50 for each time slot. Secure your spot by booking at least a month in advance; the sooner, the better!
Includes:
The entrance to the captivating Circuit 3 of the citadel is included. During your citadel tour, you will visit:
Qolqas
Agricultural Zones
Water Canal
Dry Moat
Temple of the Sun Complex
Inca House Complex
Water Fountains
Mirror of Water Complex
Pisonay Plaza
Archaeological Reserve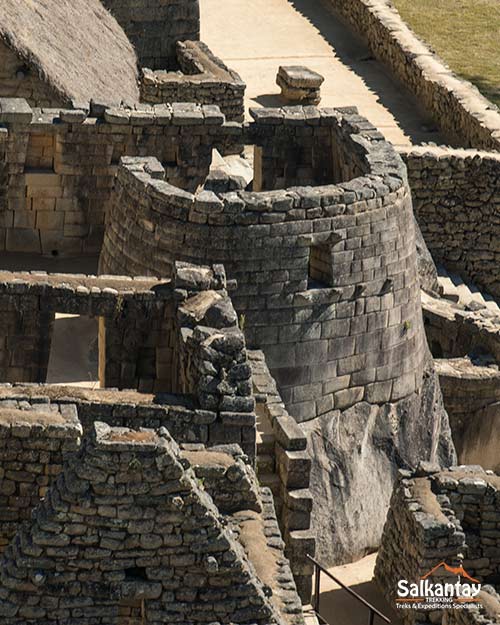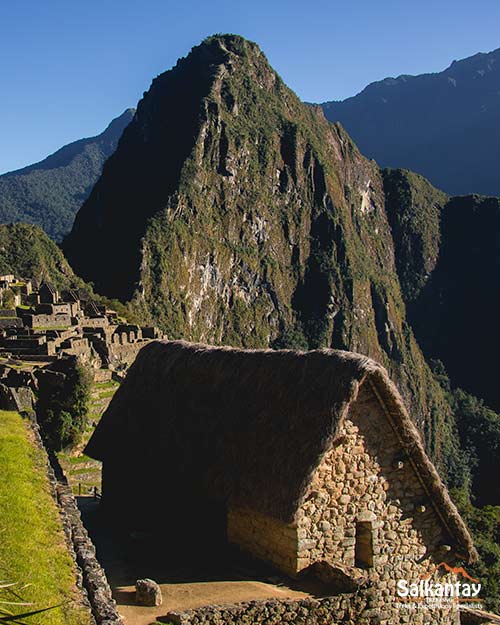 Costs 2024:
Adults: 221 soles
Higher education and/or technical students: 111 soles
Children (3-17 years): 55 soles
Children under 3 years: Free! (Prices for foreign visitors). There is no age limit for this unique experience.
Time Allowed:
Enjoy the Machu Picchu citadel + Machu Picchu Mountain in approximately 5 hours.
Essential Preparations:
Remember to bring a printed copy of your ticket for smooth access.
For Inca Trail Enthusiasts:
If you're embarking on the Inca Trail adventure, purchase a second Machu Picchu ticket to explore Machu Picchu Mountain. Inca Trail hikers can only access Circuit 5 of the citadel.
*Follow these steps to ensure a memorable experience on your visit to Machu Picchu.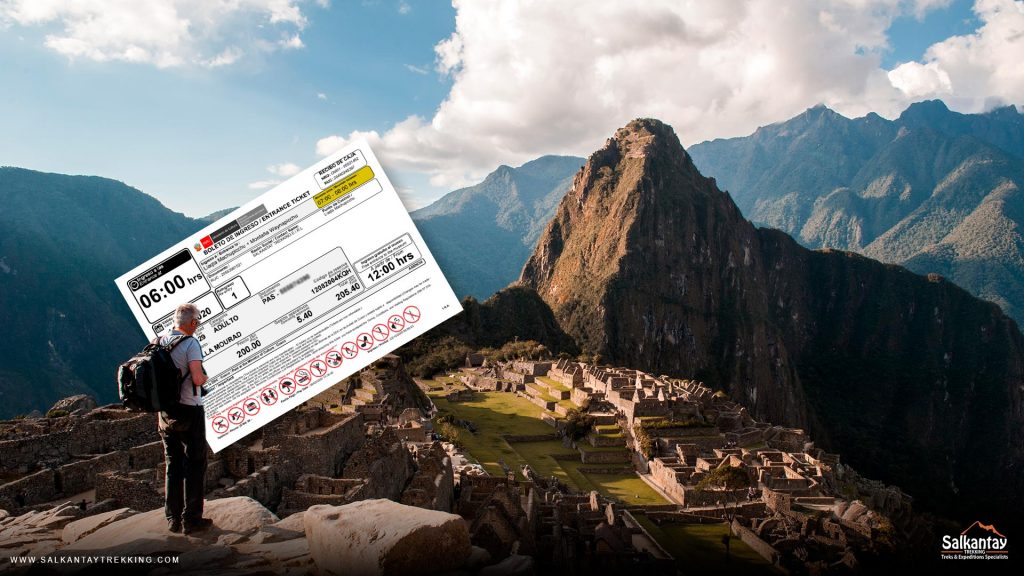 Frequently Asked Questions
Is Machu Picchu a mountain?
The Machu Picchu citadel and the mountain, known as Machu Picchu Mountain, are distinct. The Machu Picchu citadel is a primary archaeological site, while Machu Picchu Mountain and Huayna Picchu Mountain offer additional hikes requiring advance permits.
How hard is it to climb Machu Picchu Mountain?
Is considered of moderate difficulty. Those in good physical shape and accustomed to hiking will find the experience rewarding. However, caution and personal assessment are recommended before undertaking the ascent.
What is the best time of year to hike Machu Picchu Mountain?
Machu Picchu is impressive in any season. During the dry season, from May to October, although less rain is expected, bringing rain gear is advisable. The wet season from November to April brings early rains, but conditions in the cloud forest are unpredictable.
The ideal times to visit Machu Picchu citadel and Mountain are the intermediate seasons of April, May, September, October, and November, offering more favorable conditions and fewer crowds.
How long does it take to climb and descend Machu Picchu Montaña?
The duration to climb and descend varies, but generally, the complete hike takes around 3 hours. This time includes the ascent to the summit and the descent. The hiker's total distance is approximately 3.9 kilometers (2.4 miles).
Are there age or physical fitness restrictions to climb Machu Picchu Montaña?
There are no specific age restrictions, but visitors are recommended to be in good physical condition. It is important to assess one's physical ability and take precautions, especially for children, older individuals, or those with pre-existing medical conditions.
How many tickets are available per day for Machu Picchu Mountain?
There is a daily limit of 400 tickets available. These are divided into two shifts of 200 tickets each, corresponding to different time slots for the hike.
Can I buy the ticket on the same day of the visit?
It is not recommended to buy the ticket on the same day of the visit, as these tickets often sell out quickly, especially during the high season. It is advisable to book in advance, preferably at least a month, to ensure availability and plan the visit accordingly.
Is Machu Picchu Mountain dangerous?
The trail is steep in some parts of the mountain with stairs and can be dangerous; you should always be careful and follow the signs and instructions of your tour guide to ensure a safe journey and fully enjoy the experience.
What are the entrance hours to Machu Picchu Montaña?
First Shift: You can enter the citadel at 6 a.m., and Machu Picchu Mountain from 7 to 8 a.m.
Second Shift: You can enter the citadel at 7 a.m., and Machu Picchu Mountain from 8 to 9 a.m.
Is a guide needed to climb?
While having a guide to climb Machu Picchu Mountain is not mandatory, it is highly recommended. A guide provides detailed information about the site, ensures a more educational journey, and can be essential for safety, especially in challenging terrain.
What points of interest are there on the route?
Offers an enriching experience with highlights such as Qolqas (Granaries), Agricultural Zone, Water Channel, Dry Well, Temple of the Sun, House of the Inca, Water Fountains, Water Mirrors, Pisonay Plaza, and Archaeological Reserve. These archaeological sites provide a unique insight into Inca history and culture.
Can I bring food and drinks during the hike?
Yes, you can bring food and drinks during the hike. It is advisable to carry water to stay hydrated, as well as some energy snacks. However, visitors are encouraged to be responsible for waste and follow park regulations regarding environmental conservation.
Is the climb worth it?
The ascent can be challenging. The sun is intense, and you might find yourself wandering along the trail, wondering, "Why am I doing this?" You'll discover the answer once you reach the summit and enjoy a fantastic view of Machu Picchu, the Inca Trail, and the surrounding mountains.
What is the difference between Machu Picchu Mountain and Huayna Picchu?
The main difference between Machu Picchu Mountain and Huayna Picchu lies in their location and geographical features. Machu Picchu Mountain is located south of the citadel and offers panoramic views of the entire area, including the Inca city and its surroundings. On the other hand, Huayna Picchu is located north of the citadel and is known for its steep trail and stunning views from the top. Both offer unique experiences, but the choice depends on your preferences and physical conditions.
Machu Picchu Mountain: Offers broader panoramic views of the citadel and its surroundings. The hike is challenging but less steep than Huayna Picchu. It is an excellent choice if you prefer wider landscapes and have more time to enjoy the walk.
Huayna Picchu: Known for its steep and narrow trail, adding excitement to the experience. From the top, you'll get breathtaking views of Machu Picchu. Huayna Picchu is ideal if you're looking for a more intense hike and closer views of the Inca citadel.
Both options require additional permits, and availability may be limited, so plan. Huayna Picchu might be the choice if you enjoy more intense challenges and closer views. Machu Picchu Mountain might be the right option if you prefer a longer hike with panoramic views.
Best Time to Visit Machu Picchu
In the Peruvian Andes, the rainy season spans from November to March, while the dry season is from April to October. The high tourism season aligns with the dry season. Machu Picchu is in the Andean cloud forest, resulting in a consistently warm and humid climate with numerous mosquitoes.
The rainy season is considered summer, whereas the dry season is considered winter. Temperatures throughout the year range from 7 °C to 28 °C (44 °F to 83 °F). The humidity averages 50% in dry and 90% in rainy seasons.
Advantages of the Dry Season:
Less morning fog (better views)
No need for a raincoat
Lower humidity
Fewer insects
Stones are less slippery
Advantages of the Rainy Season:
Less crowded
Easier to get tickets with less advance notice
Rain provides refreshing relief
Cheaper airfare to Peru
So, what's the best time to visit? Try the intermediate months of September/October or March/April to enjoy the best of both worlds!
Note: June and July are the two busiest months of the high tourism season.
Machu Picchu Packing List
Breathable sportswear (long pants and sleeves to avoid insect bites).
A hat.
Sunscreen.
Insect repellent.
Water in a personal bottle.
Zero-waste snacks.
Raincoat.
Sturdy walking shoes.
Sunglasses.
Camera and extra batteries.
Printed entry ticket.
Passport.
Cash for the restroom (costs 2 soles outside the entrance).
Note: Trekking poles and selfie sticks are not allowed at Machu Picchu.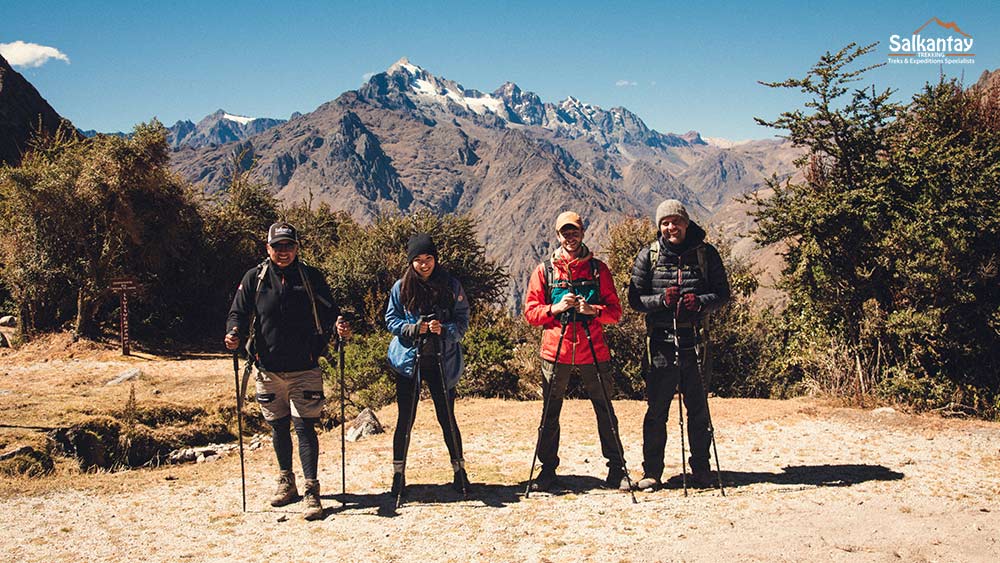 Let's go!
You're ready for your hike! Make your reservation as soon as possible!
Are you interested in a multi-day trek to Machu Picchu? Here are the 7 best treks to Machu Picchu.
And, of course, the rest of Peru is also filled with incredible hikes to try.
How about a hiking trip across the entire South American continent?
Now, that's what I call an actual vacation!
You might be Interested:
---
---
You might also like
---