A few hours' drive from Cusco is the incredibly beautiful Vilcanota mountain range. It´s usually called Ausangate because it´s the highest peak and is home to some of the most outstanding landscapes on the planet.
There aren't many traditional pastoral societies remaining across the globe, but here they thrive off the land in their rural communities.
Throughout the Ausangate region, there are some fantastic treks where you get up close and personal with the small communities and experience how life is like so far away from the closest town. You learn all about ancient Andean traditions while observing astounding landscapes.
So, don't worry about not finding spaces on the Inca Trail; this is Cusco's most amazing alternative trek and really deserves a place on your itinerary. Don't believe us? Check out these 15 photos that will make you want to trek across this beautiful part of our world.
Stunning Scenery in Ausangate
To begin with, let's take a look at the epic views you can expect on the routes in and around Ausangate. You'll be astounded by colorful mountains, turquoise lakes, snow-capped peaks, bright green hills, and dramatic contrasts.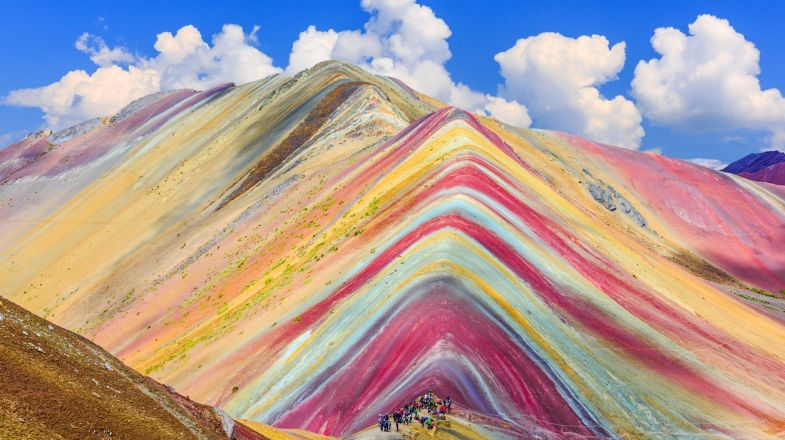 You'll need to have your camera ready the whole way as there's definitely no shortage of amazing sights. One of the most well-known across the globe is Rainbow Mountain, which many visitors flock to daily to see the fascinating contrast of colors, all created by Mother Nature.
Those aren't the only outstanding colors on display, however. You'll find deep red earth and Mars-like scenes as well as red rivers and lakes from the soil beneath. The mixture of green hills, red mountains, and blue waters in the same landscape are truly breathtaking.
You're in for a real treat when it comes to snowy mountain tops. Ausangate is the dominant peak in the range, but there are so many to observe. It's a special feeling standing like a small speck in front of huge white backdrops. You'll want to spread your wings like a condor and soar across the skies.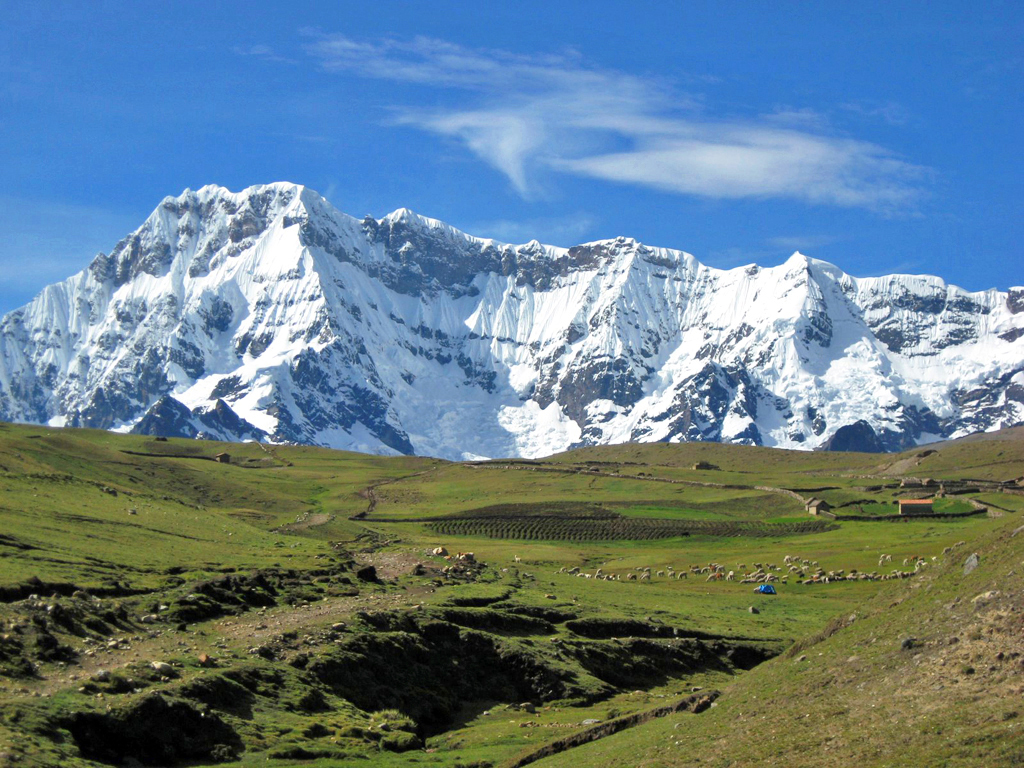 While the snow-capped mountains provide stunning backdrops, you'll find lots of glacial lakes beneath them that are full of crystal clear turquoise waters. The color comes from minerals on the lake beds and makes them shine in the bright sunlight.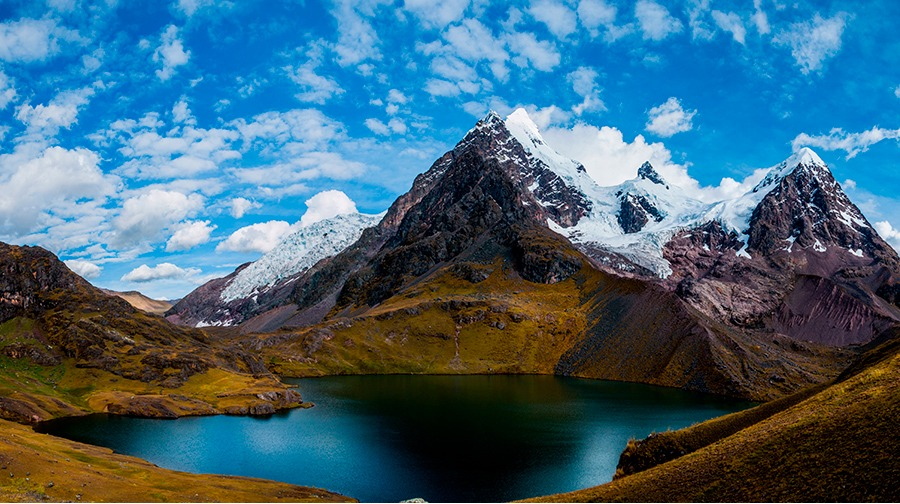 The lakes look like gems in the middle of the mountains when you observe them from afar, almost like opals. They provide some spectacular scenery.
An Adventure of a Lifetime
If you opt to go on one of the Ausangate treks, you're going to have one of the greatest adventures ever. The hikes are challenging and renowned for attracting adventure lovers. The routes aren't for the faint of heart and require some trekking experience or at least a lot of acclimating beforehand.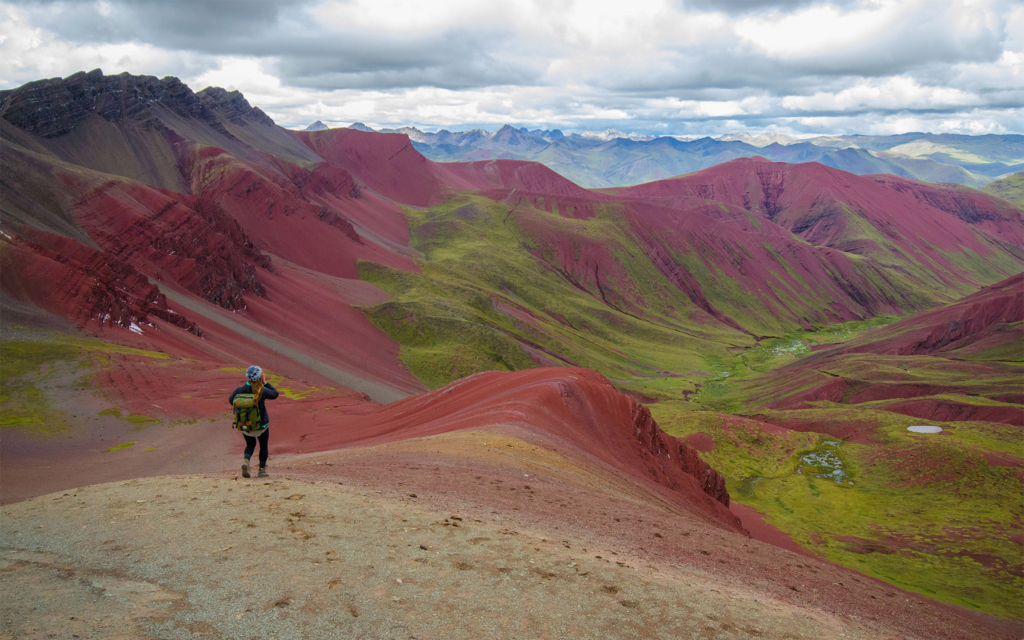 You'll get such an overwhelming sensation of freedom as you become one with nature and its fantastic creations. It's a mountaineering paradise, and there are even thrilling activities like ice climbing to enjoy.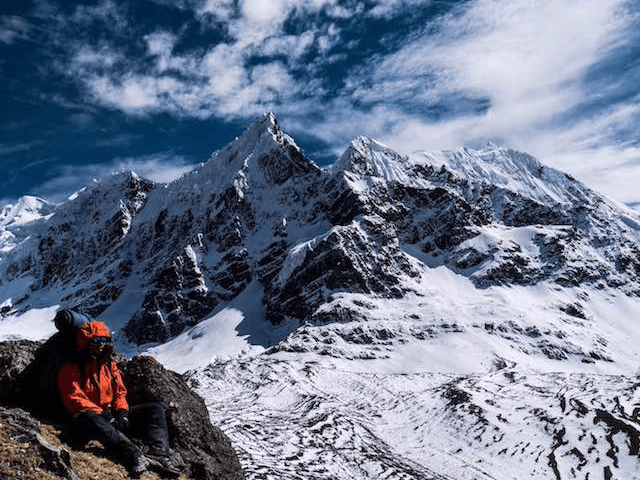 One of the greatest things about this route is that it's still not visited by many, so you get to enjoy the overbearing mountains all to yourself, or almost. Many visitors head to Rainbow Mountain but don't venture any further. It's a great chance to spend special moments with yourself, your nearest and dearest, and the snowy mountain range.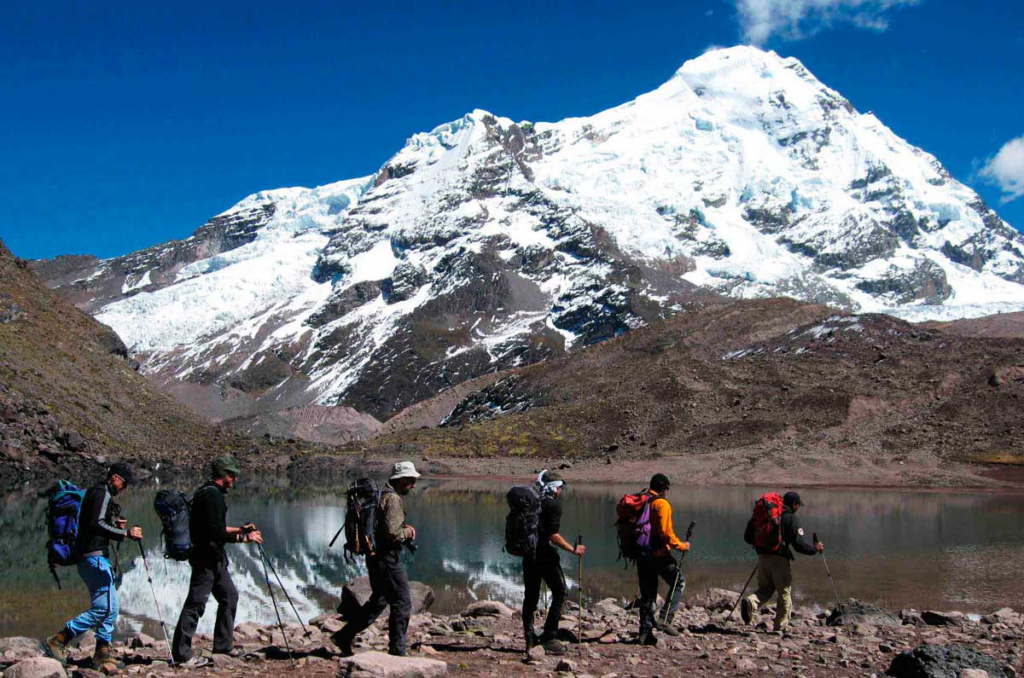 Unique Wildlife
In Cusco, you'll see plenty of alpacas around the city, dressed up for a photo opportunity. It's not every day, though, that you get to observe them in their natural habitat, grazing on the land, and in their hundreds.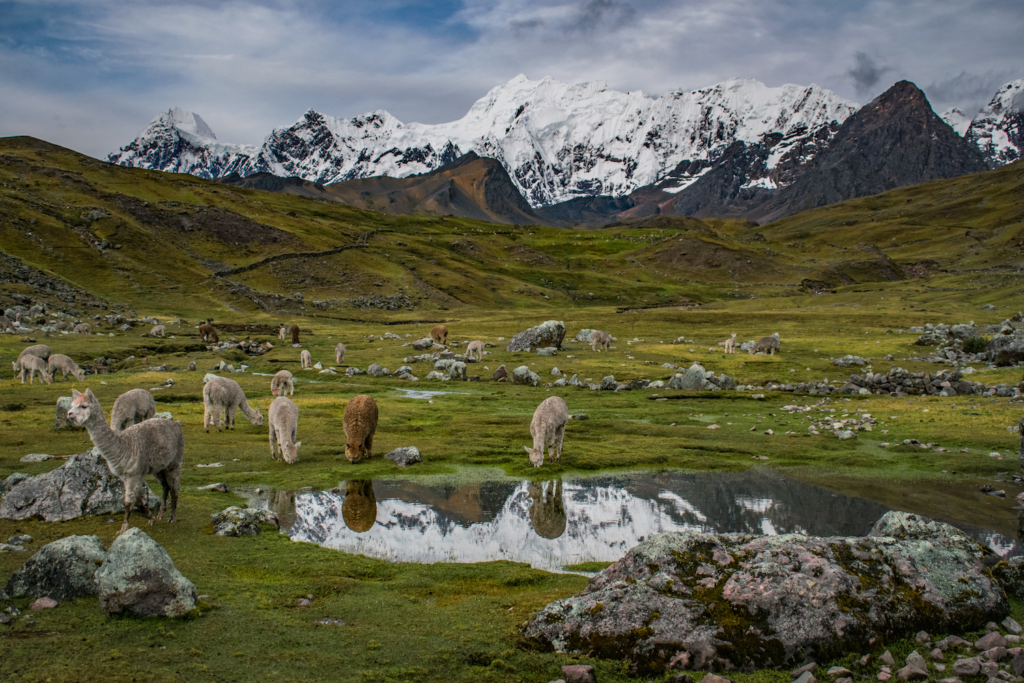 Along the trails, you'll spot many alpacas and llamas. These animals are also very important to the communities in the area and are frequently used for their extremely soft wool. They're very friendly creatures and make the perfect addition to your scenic photos.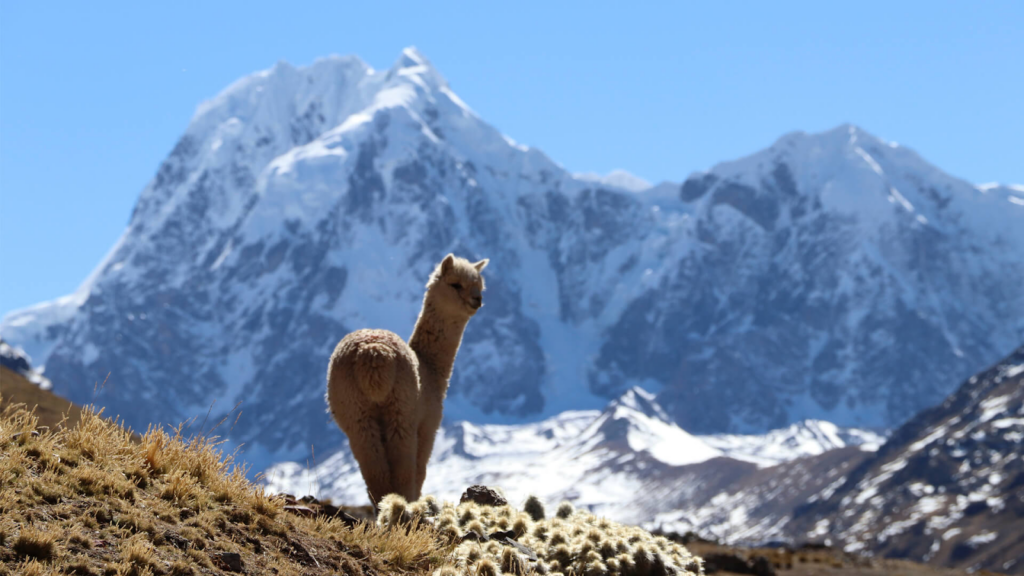 If you're lucky, you might even get to witness some shearing in one of the small villages. Purchasing some alpaca wool clothing or bags make great souvenirs or for friends back home, too. You can't get much more authentic than in an Andean mountain village far away from everywhere else.
The Communities and Culture
We've already mentioned how experiencing the rural Andean way of life is one of the most fascinating parts of this trek, and it's a real eye-opener. It's incredible how these few families survive up here and so remotely. It's a complete contrast to what you're likely used to.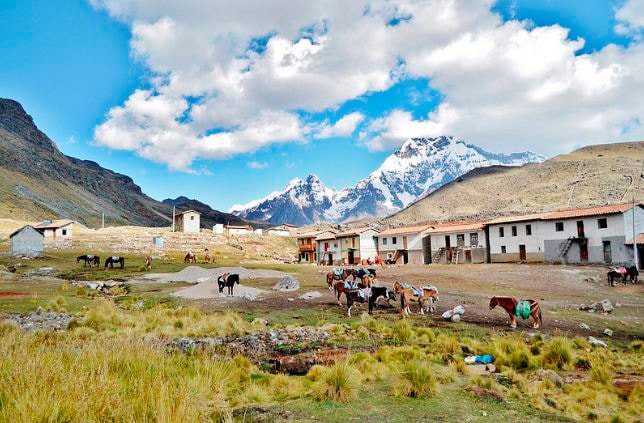 Most of the folk who call this part of the world home are alpaca and llama farmers. They earn their living from the wool and are able to sustain themselves and their families living entirely off the earth, which they call Pachamama (Mother Earth). In fact, the trails you hike along aren't ones that were specially made for trekkers; the locals have been using them for trading for generations.
Due to the extremely close relationship the villagers have with Pachamama, she is their one and only god. You'll see that local shamans often perform rituals to thank her for everything she provides, and they give offerings of meaningful items to them, including coca leaves, flowers, and food. You may well receive a blessing yourself from a shaman along the way to guide you safely to your destination.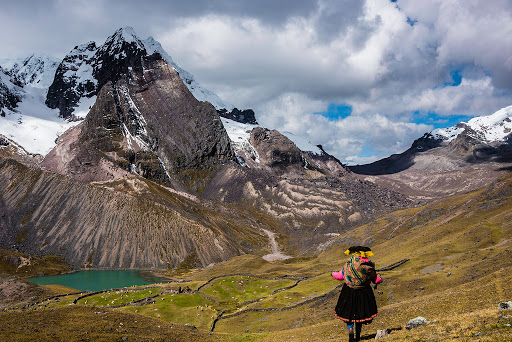 The women in Ausangate are extremely good at weaving, and you'll find them wearing a traditional dress full of colors, resembling the Rainbow Mountain. You might get to see them at work, and you'll be astounded by their handicrafts.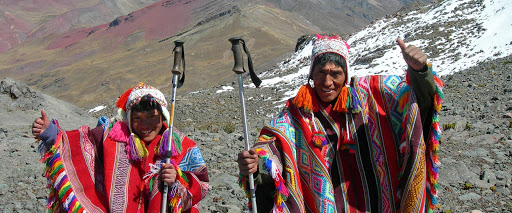 One of the loveliest parts about these communities is the many smiling faces you'll see. Everyone is wonderfully friendly, and they'll always greet you with open arms. They are full of energy and always willing to show you their way of life and share experiences with you. Their beautiful souls will warm you in the chilly mountains, and you'll never forget them.
It was difficult selecting these photos to share, as there are so many more that deserve to be seen. We think we might have convinced you by now to come and experience this incredible trek for yourself and take your own memorable snaps. Make sure Ausangate is part of your next trip to Peru; you won't be disappointed!!
---
---
You might also like
---