Peru is a land that's full of surprises, both naturally and culturally. The country has a beautifully vibrant landscape that inspires visitors daily from around the globe. The wildlife native to Peru is diverse and shocking in so many ways. In fact, Peru is said to contain the most biodiverse places on earth!
On Peru's coat of arms, you'll see the most important representations of Peruvian national pride, including a prime example of natural wonder, heroism, and freedom: the vicuña. In fact, they have their own holiday, National Vicuña Day, on November 15th. These unique creatures are like prancing pieces of living poetry perfectly adorning the windy Andean highlands!
Read on to discover everything you need to know about Peru's representative and emblematic species, the vicuña, considered a jewel in the mountains.
What is a Vicuña?
The dainty vicuña is a 4-legged mammal of the camelid family native to the Andes Mountains. Peru is home to 2 domesticated species – the llama and the alpaca – and 2 wild species – the guanaco and the vicuña. While guanacos are the genetic ancestors of llamas, vicuñas are the ancestors of alpacas. The vicuña is the smallest of all camelids, generally weighing about 35-65 kilograms and measuring 75-85 cm tall as an adult. They generally live 20-25 years.
Vicuñas have incredibly soft and fine wool covering their entire body! The chest, belly, and back of the legs have white fur, and a longer mane hangs from the chest. Their long neck, back, head, and front legs have a tan or cinnamon-colored fur covering.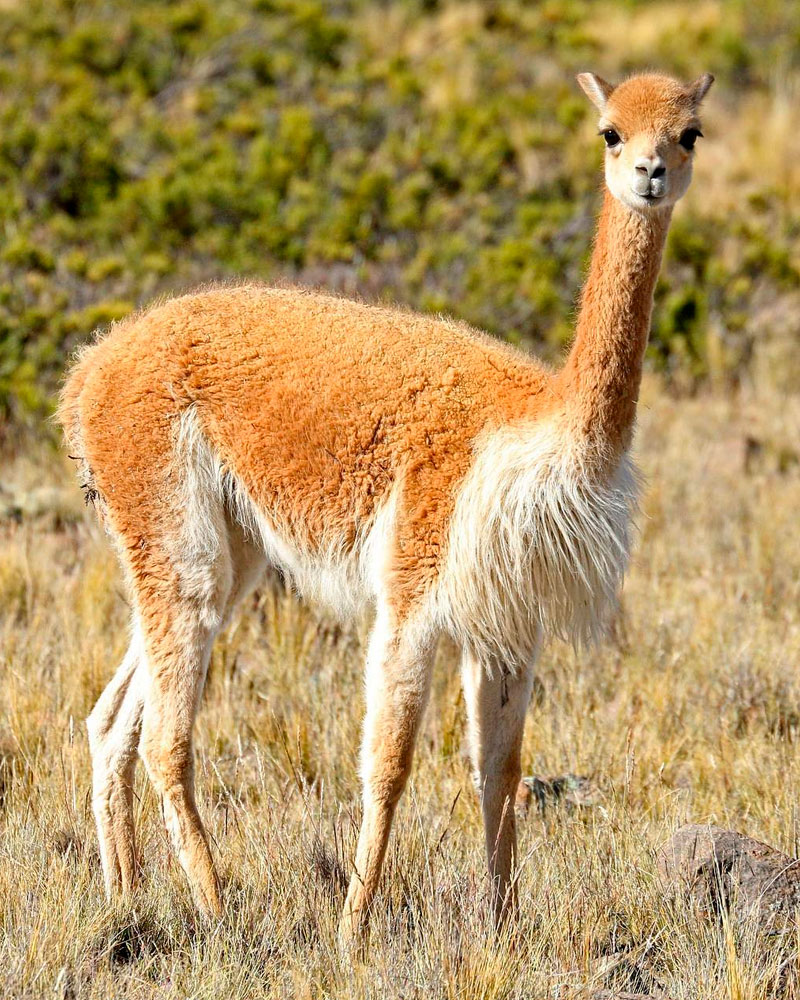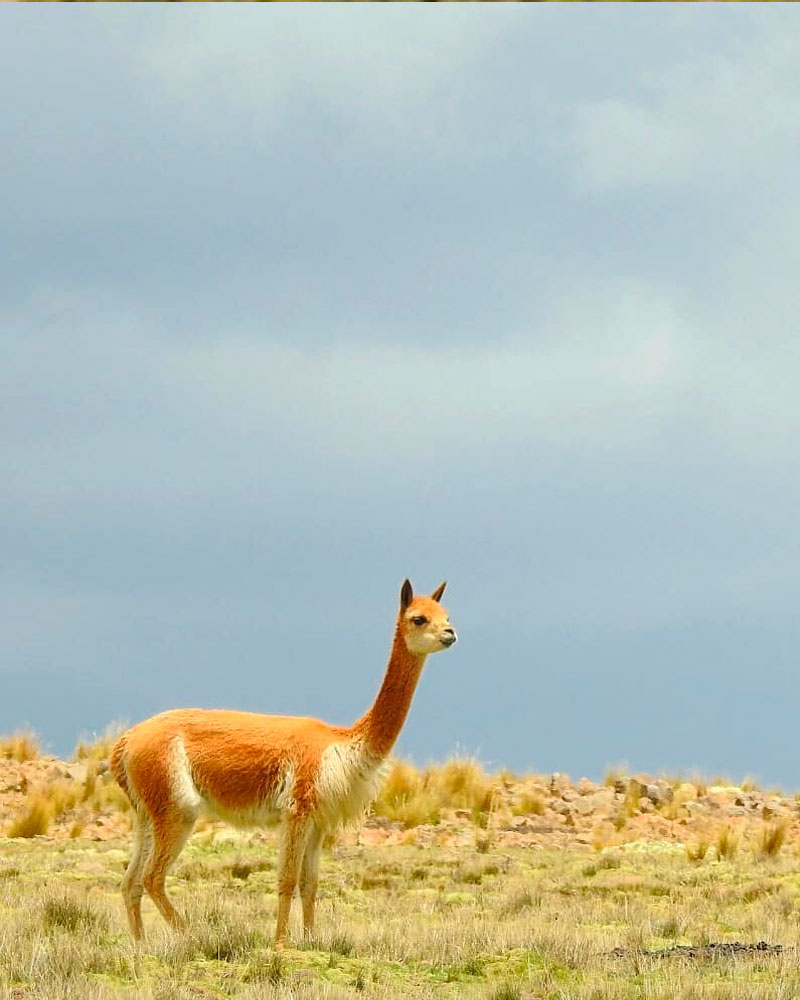 Vicuñas Through Time
Since the first inhabitants of Peru stepped foot on these mountains, there's been a relationship between these endearing animals and the human population. Vicuña fibers, bones, dung, and meat were used by these hunter-gatherer communities for survival in the highlands.
Later, the Inca Empire revered vicuñas and protected them through governmental sustainability policies, capturing them to shear their wool and then releasing the majority back into the wild. They were considered sacred animal who was directly connected to the gods, and their precious fibers were only allowed to be crafted into textiles by selected weavers, the "virgins of the sun," and worn only by the elite of society.
When the Spanish conquistadors arrived in the Andes, vicuñas suffered greatly. As they did with all resources found in these lands, vicuña wool was exploited as an expensive commodity to sell in the European market. In fact, the Spanish charged taxes to the native people in the form of vicuña skins. These distinguished animals were slaughtered by the thousands until the Spanish king declared them as a possession of the crown and prohibited the killings.
When South America regained independence, the liberator Simon Bolivar and his companions implemented regulations for vicuña protection. However, the exportation of vicuña skins continued. By the 1960s, there were only about 6,000 vicuñas in existence until conservation efforts were started in 1969 at the Vicuña Convention involving the Andean countries of South America. Initiatives for vicuña recovery continue still today, and the global population has thankfully grown to about 500,000!
Herds & Habitat
Vicuñas live only in high-altitude Andean shrubland plateaus between 3500 MASL (11,480 FASL) and 5750 MASL (18,865 FASL). They operate within various types of herds. There are small 6-10 member family groups (headed by one dominant male who mates with all females) and larger conglomerate herds of 30-150 members. Vicuñas also have young bachelor and sorority groups of unmatched males and females, respectively. The group leader will let out a high-pitched whistle at the first sign of danger to warn and protect his herd. If a fight ensues, the male will spit at his opponent!
A baby vicuña is called a fawn, and the gestation period is about 11 months for a single fawn, starting during the breeding season in March and April. Fifteen minutes after birth, they begin to walk. The babies nurse for about 10 months and then begin to function independently from their mother at about 1-1.5 years old.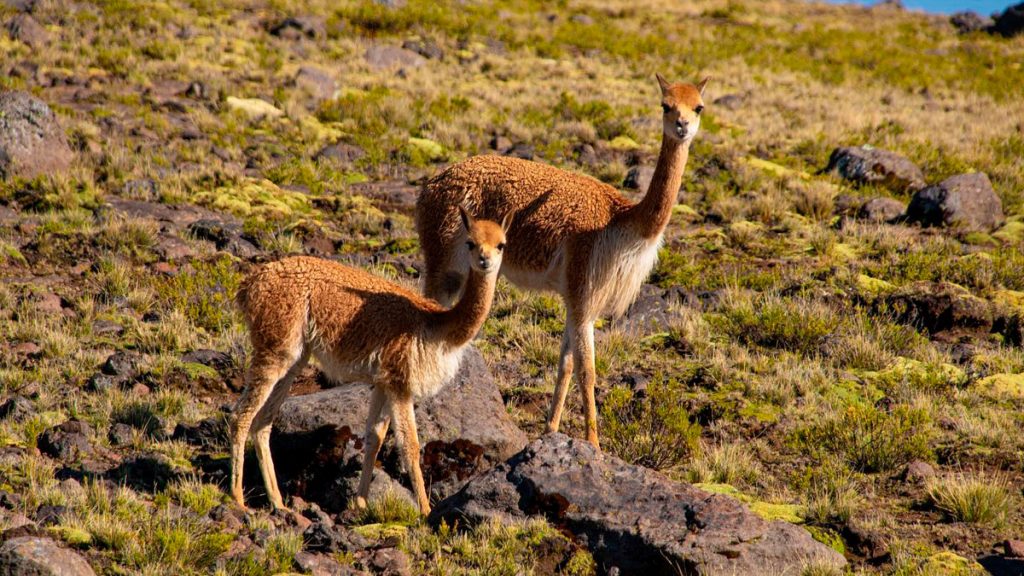 Diet in the Altiplano
The herds graze and sleep in distinct areas of the grasslands they call home, heading to higher-altitude plains at night to rest. Each herd stays within a certain territory, and that territory is defended by the group leader. They are herbivores who eat the clumped grasses and shrubs of the Andean plateaus using their rodent-like teeth.
Ecological Importance
These animals are an important part of the altiplano ecosystem, contributing nutrient-dense droppings to the arid landscape. This allows for soil development and organic plant growth that wouldn't otherwise be able to exist in the cold and rocky Andean highlands. Curiously enough, vicuñas establish communal toilet areas, and patches of bright plant life emerge, creating a striking contrast to the surrounding craggy landscape and providing a food source for the vicuñas, themselves, and other local wildlife.
Vicuñas, as the main symbol of life in the highland plateaus of the Andes, inspire protection and sustainability in these areas, allowing for the rest of the local fauna and flora, in general, to be protected, as well as flourish naturally.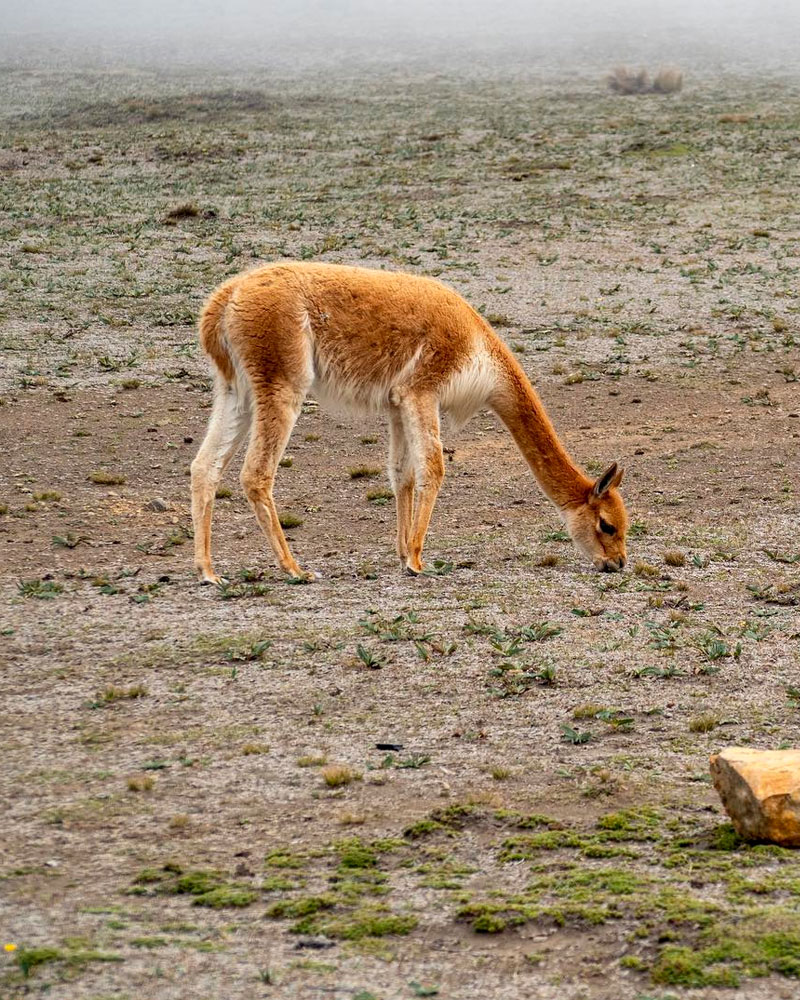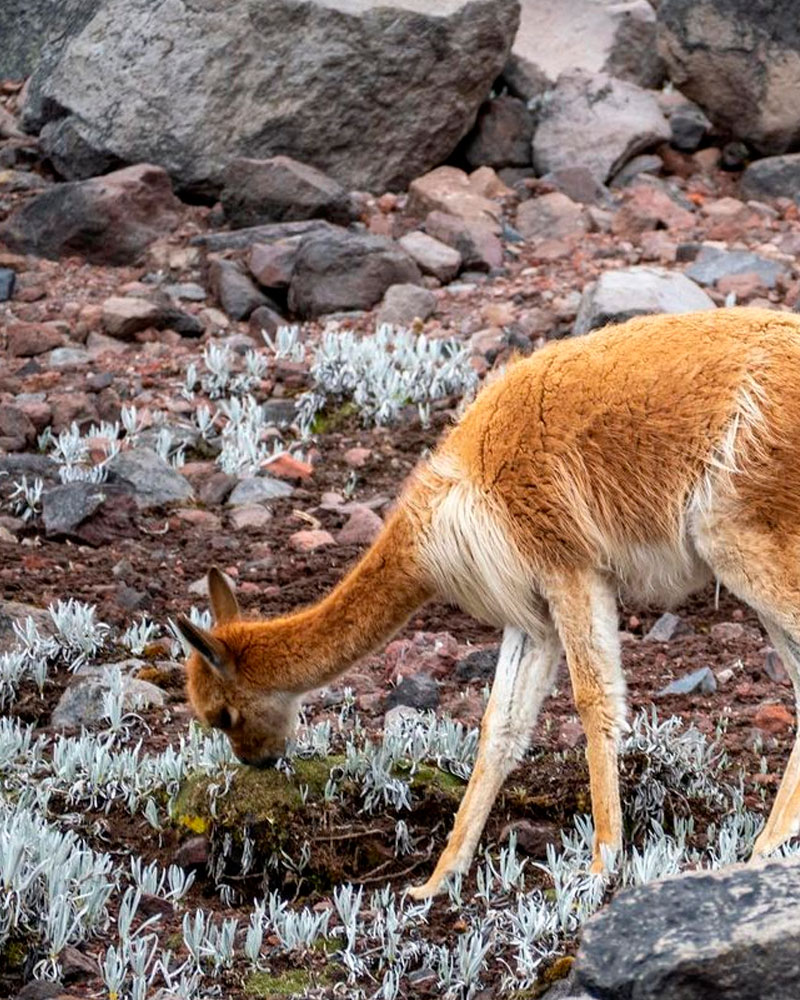 Vicuña Wool
The amazingly soft fleece of vicuñas has been collected since before the time of the Incas. Today, it's the most scarce and most expensive luxury wool in the world. Its micron count is 8-13, making it the slimmest stranded, finest, and most comfortable out there, compared to cashmere's 14 microns and merino's 19 microns. Its quality is superb, its warmth per thickness is excellent, and it's hypoallergenic.
The fibers are so durable that a textile of vicuña wool can be passed down from one generation to the next. It's beautiful, natural colors combine easily with any wardrobe choice, making it prime for the fashion industry. Unfortunately, their fur was the main promoter of the vicuña's downfall, driving them to the brink of extinction due to overexploitation.
In recent years, breeding has begun between alpacas and vicuñas to create the "pacovicuña," an animal with higher quality wool than alpacas, closer to that of vicuñas. It's easier to obtain this fiber because pacovicuñas are domesticated, plus they produce more wool than vicuñas and reproduce at a faster rate than alpacas. This all creates a convenient and cost-friendly product for the international fiber market.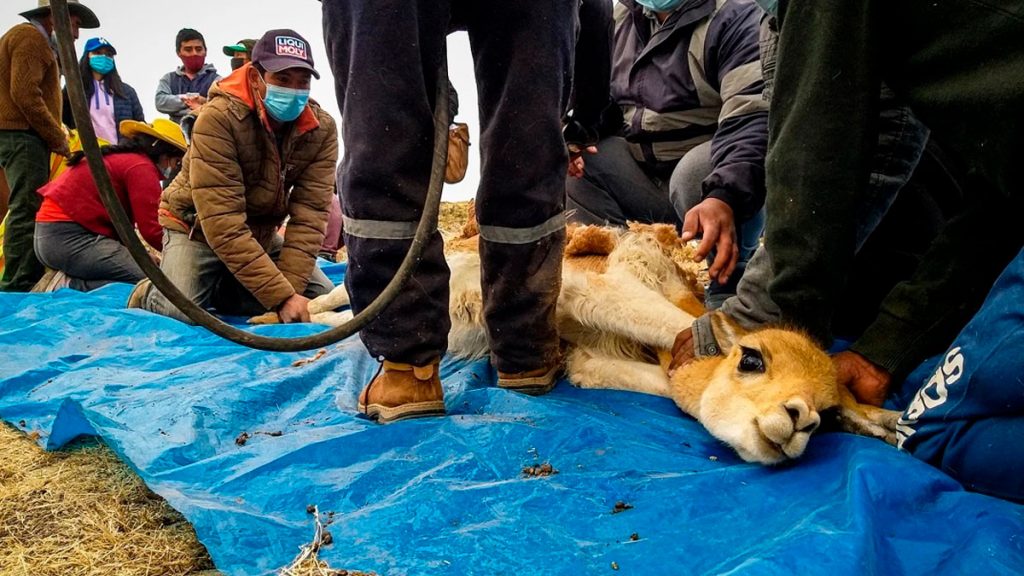 The "Chaccu"
Vicuñas can only be sheared once every 2-3 years, and it takes the fur of 4 vicuñas to produce 1 kilogram of wool, which sells for between $300 – $600 (cashmere sells for $80). As non-domesticated and protected animals, the only legal way to collect vicuña wool is in a "chaccu." This is a ceremony that was established by the Incas and is still a sacred and important cultural practice with an air of awe and celebration in the local community.
During a chaccu, the wild vicuñas are rounded up into a fenced-in area, gently sheared, and then released immediately, creating the least stress possible for the animal since they are nervous, timid creatures and can react negatively. It can take up to 30 workers to carefully corner an elusive vicuña herd! Only those ready for shearing are selected to continue the process. The event takes place annually in the spring, giving the sheared vicuñas time to regrow their fur before winter.
This practice reduces illegal poaching, providing a sustainable collection technique so local communities can still benefit from the luxury fibers of the vicuña without hunting them.
Vicuña wool has become a solid source of support for low-income communities high in the mountains, but that is constantly threatened by outside interests from wealthier international parties who are looking to invest and turn a profit. To best support the locals, buy from small companies that work in tandem with local communities. Or better yet, visit Peru and buy directly from the artisans, themselves!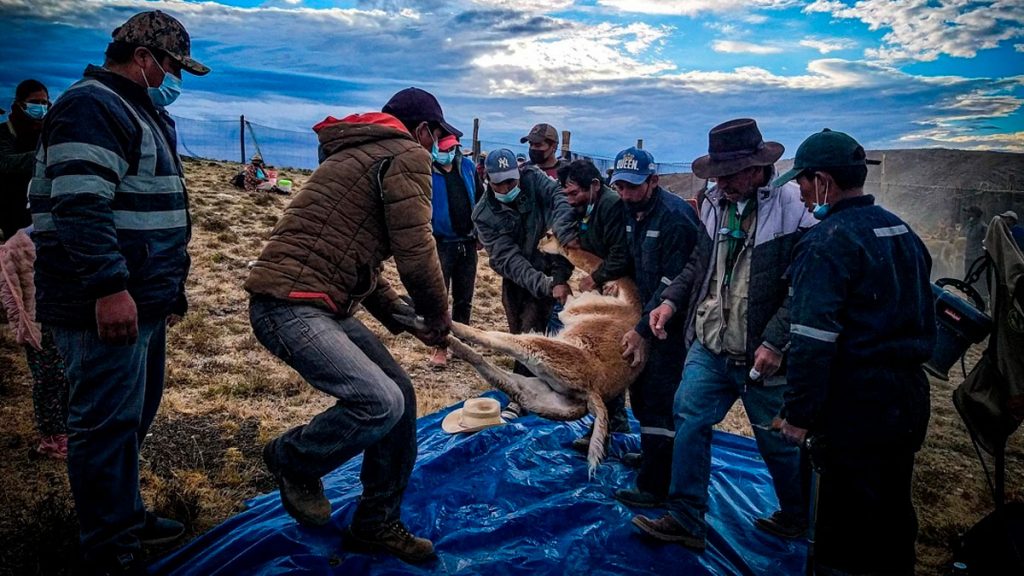 Where Can You See Vicuñas in the Wild?
As mentioned, vicuñas live in the altiplano – the high-altitude plateaus – of the Andes above 3500 MASL (11,480 FASL). They are native to Peru, Bolivia, Chile, and Argentina and have been introduced into the Andes of Ecuador. In Peru, you'll be able to see them prancing across windy plains in the regions of Ayacucho, Apurimac, Ancash, Cusco, Cajamarca, Huancavelica, Huanuco, Pasco, Puno, Tacna, Ica, Moquegua, La Libertad, Lima, and Arequipa! Here are the best spots to find them:
Pampa Galeras National Reserve and surrounding areas (Puquio / Ayacucho)
Salinas and Aguada Blanca National Reserve (Arequipa)
Huascaran National Park and the Cordillera Blanca Mountain Range (Santa Cruz and Lake 69 Trek – Huaraz)
Vilcanota Mountain Range (Ausangate Trek and Rainbow Mountain Vinicunca – Cusco)
Pampachiri (Andahuaylas / Apurimac)
Puno (Titicaca or Andean Explorer train rides by PeruRail)
National Sanctuary of Huayllay (Cerro de Pasco / Huanuco)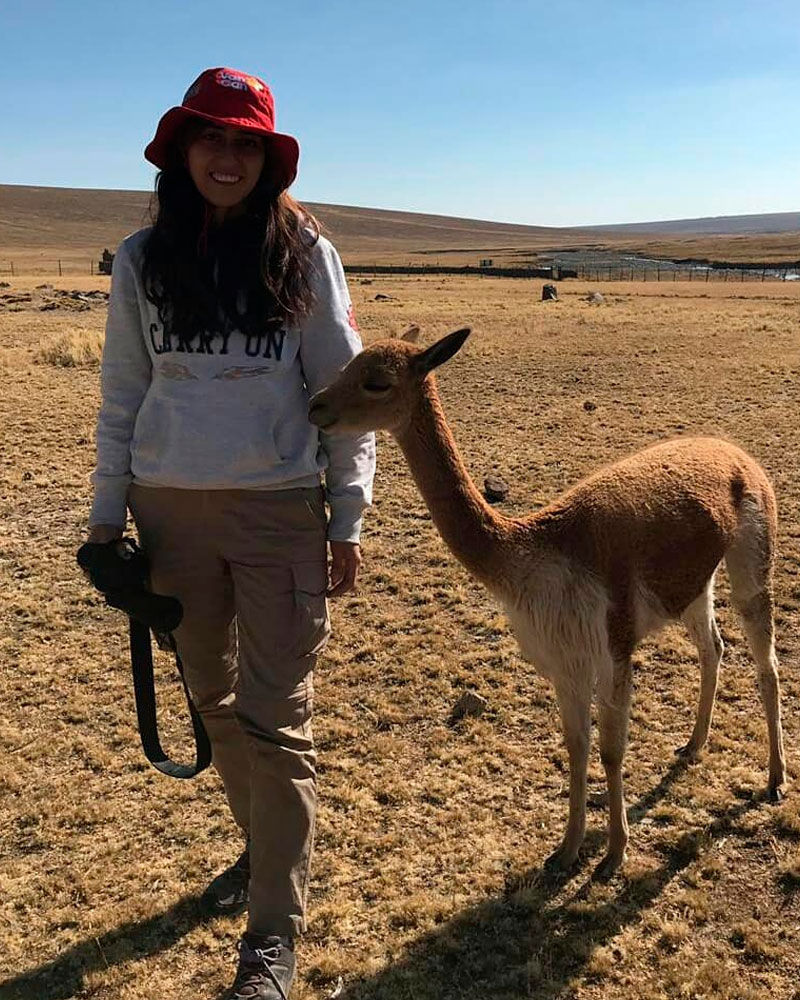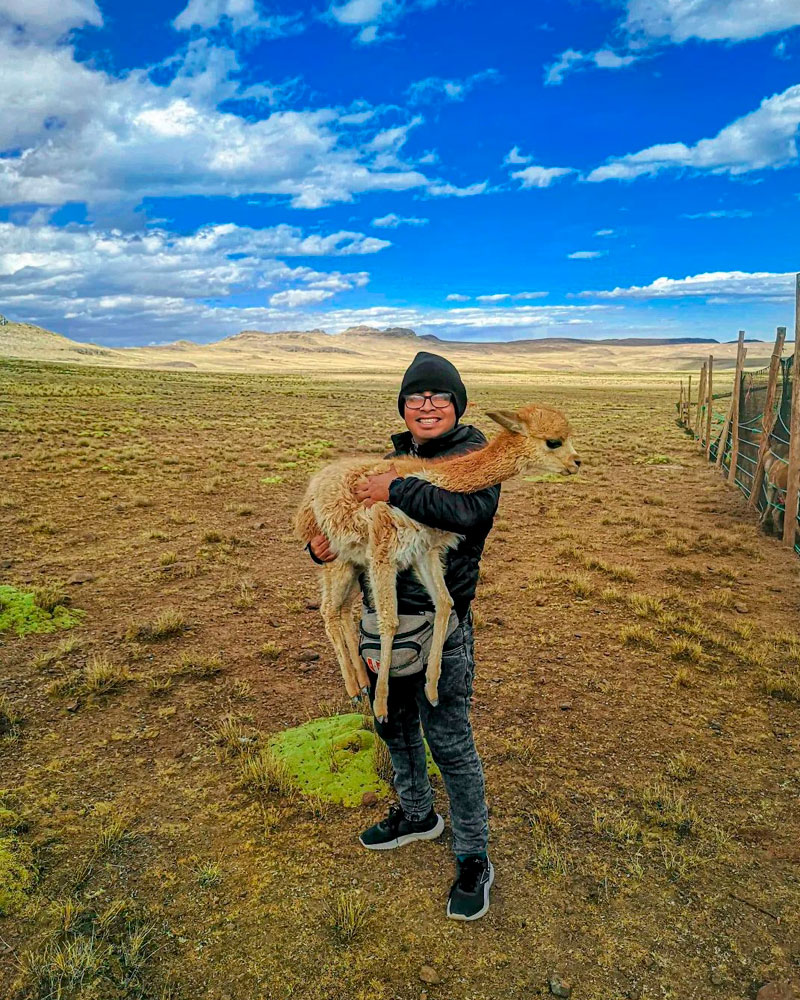 Conclusion
The vicuña is one of the most awe-inspiring animals on our planet, and their grace and gentleness have left a lasting impact on society throughout the years. They've been the subject of wonder, inspiration, art, music, myths, legends, and rituals, as well as human greed and exploitation. It's our turn to give back to these sacred creatures and help them flourish to continue surprising the people of future generations and preserving the landscape of the Andean highlands!
---
---