It's all about respect.
We are all part of the same human race. Beautiful differences and peculiarities across the world make each of us unique and wonderful in our own way. To travel responsibly, you'll need to foster a deep appreciation and acceptance for all people with their beliefs and traditions: clothing, food, household norms, religious practices, communication, etc. Peruvians aren't "exotic"…they just live in a different culture than you. Maybe you're the strange one!
This respect will naturally manifest in supporting the native people while you're on vacation. Unfortunately, the general population of any country is often the very last to benefit from a tourism boom, especially in a country where political corruption is rampant. But no fear: every visitor has the power to help change that with a few itinerary adjustments and small choices! Here are some practical way you can support the locals while visiting Cusco:
1. Tip Well:
Don't skimp on the tip for your hard-working waiter when you eat out. Their family thanks you.
When you take a tour, show your appreciation through a great tip. It will go a long way for your local guide.
If you hike to Machu Picchu you should realize the importance of what your trekking team does for you.
The guides are constantly worrying about and keeping an eye on every person under their care, not to mention teaching you about your surroundings and their history, showing you the way and making the trek fun.
The cooks…well, they feed you. And they feed you well. They work from before you wake up until after you sleep so that you're nourished, filled, and content.
The porters are the rockstars of any trail. They carry everything. I've done treks where I carried all my own gear, and I've done treks accompanied by a porter. Let me tell you, it's a big difference. They leave camp after you, having packed everything up, and somehow still arrive at the next campsite before you do to set up the tents and gear once again.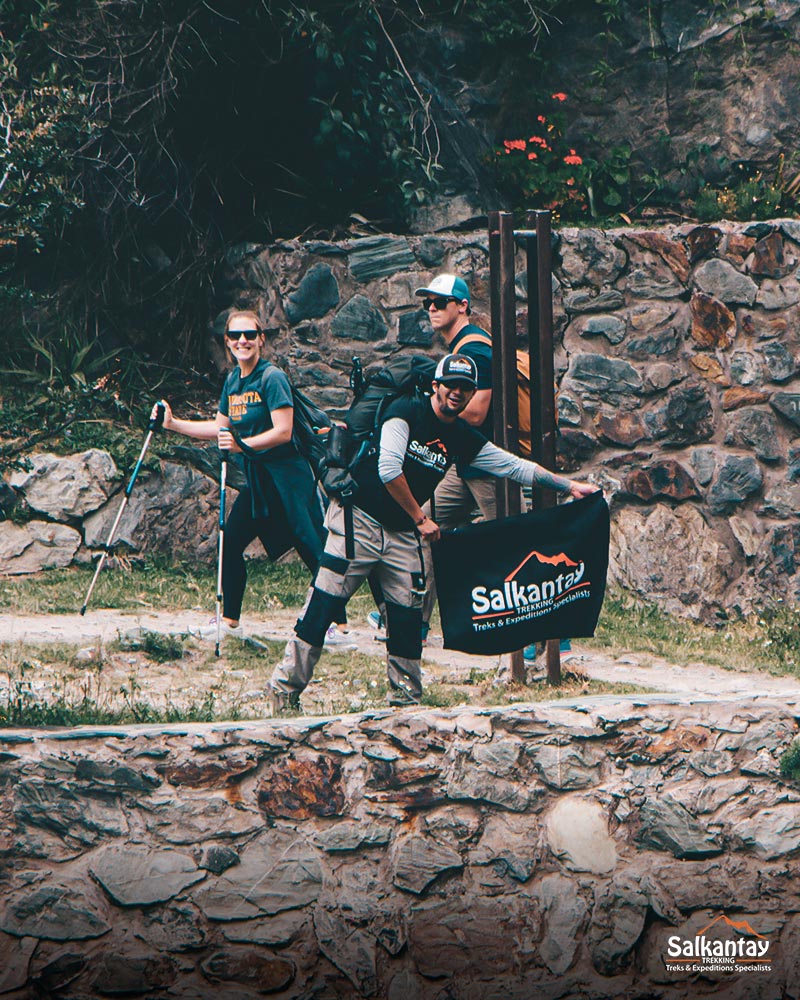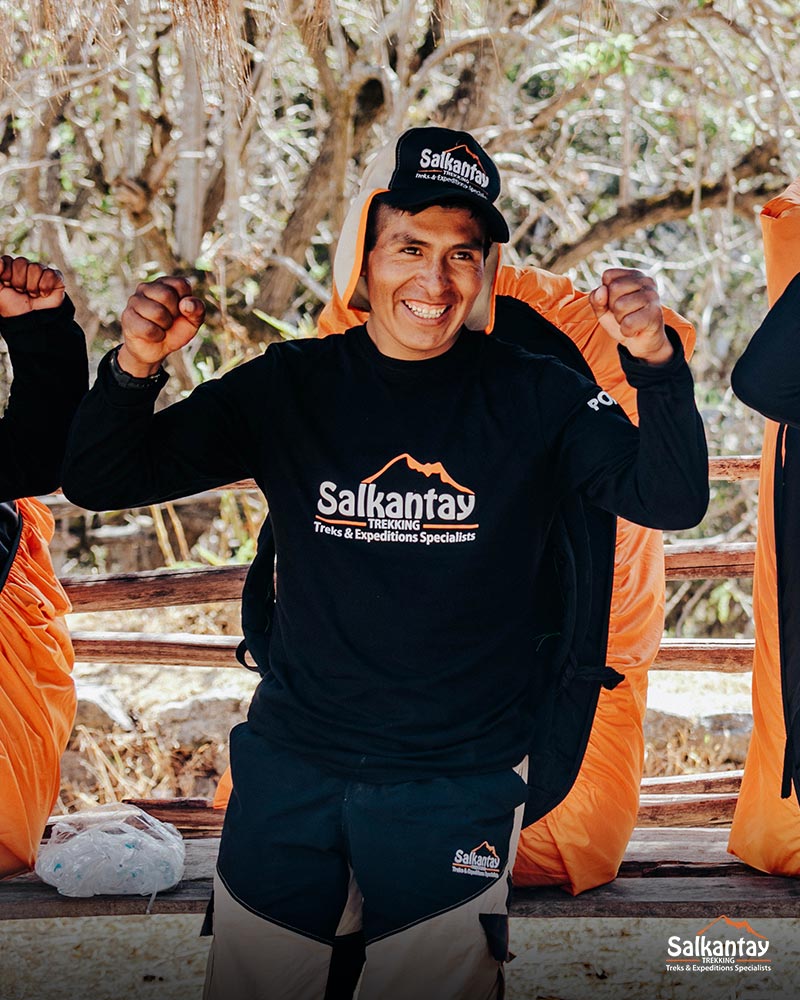 2. Limit Haggling
Haggling is expected in Peruvian culture, but don't take it too far. Don't try to knock it down too low unless the price seems unfair. Five soles for you is probably not much, but that means something to a local worker. The minimum wage here is 1025 soles, about $260, per month for 48 hours a week of work. That's just over $3000 a year. And most who work independently make less than that.
If you can, pay full price for the taxi ride, the fresh produce, the tour, and the souvenir.
3. Prioritize Local Businesses
Local businesses create that cultural flavor we all love to find while traveling! You'll probably have a better experience than with international chains and get a more authentic one.
Stay in locally-owned accommodations. Skip the chains and instead choose small Peruvian hostels/hotels or AirBNBs. These places have so much more character than the global hotels you see in every city worldwide. Peruvian flair will shine through, and you'll get a much more genuine experience in this beautiful country we call home.
Have locally-grown coffee at a cozy shop in Cusco instead of heading to the one you're used to from back home. Local shops often started out as a personal or family dream! Cusco has literally so many amazing cafes that take pride in what they do. On top of that, they support local coffee farmers by creating a supply chain for their delicious product (considered one of the best in the world).
Eat at restaurants that only exist here and showcase Peru's world-renowned gastronomy. Why would you travel across the world just to eat the same fast food burger you grab on your way to work? If you venture out, you'll discover some of the best meals you've ever had!
Book tours with local companies and guides directly instead of through international trip planners. You'll pay less and likely have a better trip overall. For example, Salkantay Trekking is a trustworthy, locally-owned tour operator specializing in high-quality treks and expeditions.
Shop in stores you've never heard of before, whether it's a clothing store, an art store, a bookstore, a jewelry store, a ceramics store, etc. The shop probably belongs to a Cusco native, and they depend on that income to support their family and achieve their future goals. Your preference will mean the world to them.
4.- Support Growing Tourism Initiatives
Branch out from the most popular and well-established activities, including the new ones. The lives of local families change when people take the time to enjoy the attractions and destinations they launch! Destination development means a more stable future for local families. If you try to get off the beaten path, not only will you have a more amazing time in Peru away from the crowds, but you'll be playing a part in providing food, housing, education, and financial freedom to Peruvian people through the income you'll help provide. Go to less popular destinations, and try activities and tours that don't have any reviews yet!
There is so much to explore around Cusco. One example is Airbnb Experiences, an online platform where locals offer visitors authentic cultural experiences in their homeland. You can go horseback riding, take a cooking class, book a photo session, or be part of a traditional ceremony. Some other places to visit are Huaypo and Piuray Lakes in the Sacred Valley, the Morada de Los Dioses near Cusco, Cconoc hot springs a couple of hours from the city, the alternative Rainbow Mountains of Palccoyo and Pallay Punchu or the Kantisqa fabric factory museum in Lucre.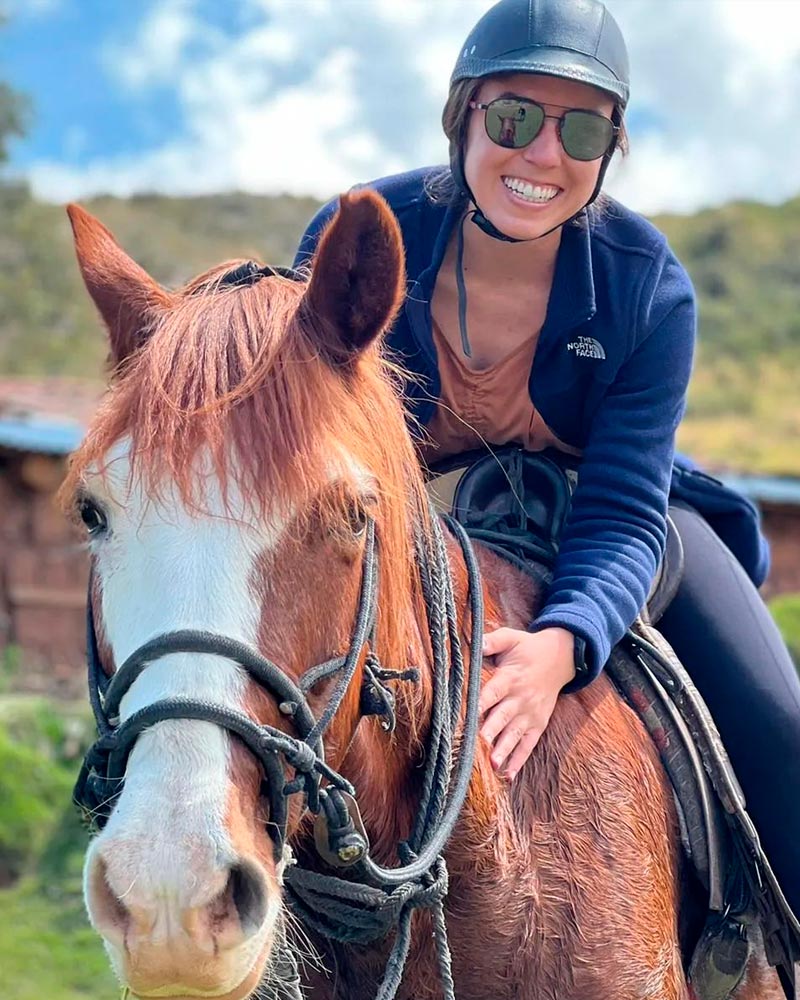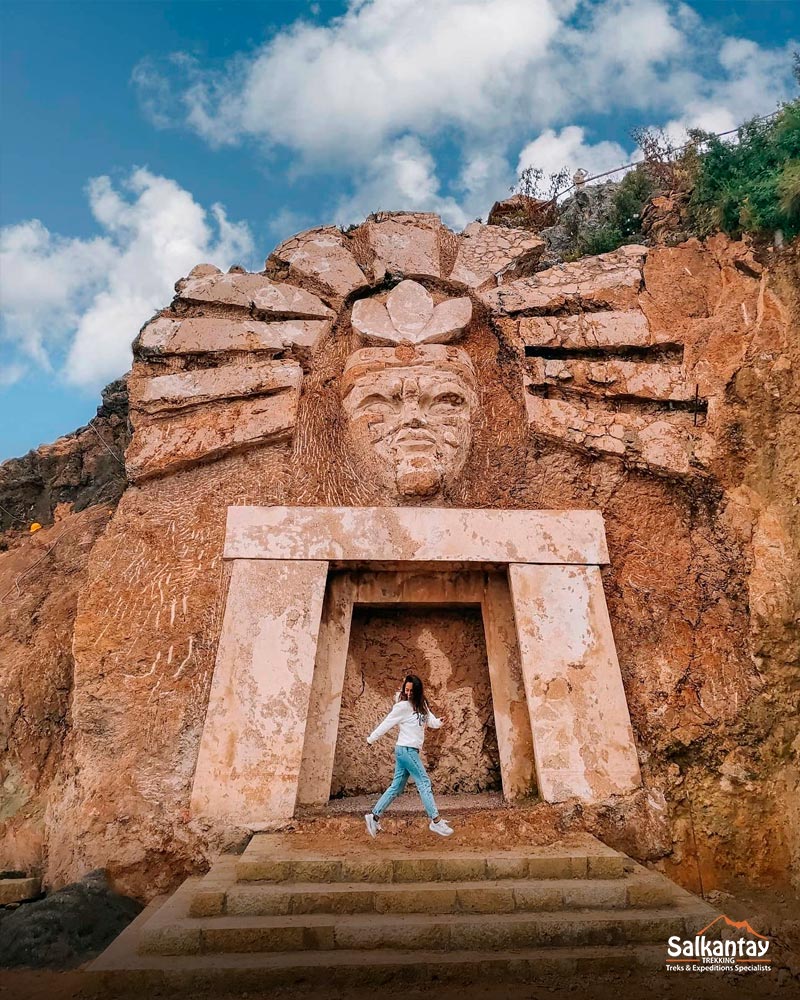 5.- Leave Glowing Reviews
Reviews are everything! What's the first thing you look at before booking a service? One of the best things you can do to support the locals as you travel is to leave amazing reviews online for all the local businesses you visit. That includes AirBNBs, hostels, restaurants, cafes, laundromats, tours, guides, taxi drivers, delivery drivers, attractions, parks, destinations, shows, stores, and anything else you can think of. When leaving a review, be honest and positively descriptive. Let the world know how amazing of a time you had and that you would do it again in a heartbeat. If something did go wrong, try not to be too harsh, mean, or exaggerated. Let your host know privately so they can improve for future clients. Your words have a HUGE impact!
6.- Buy from Street Vendors
Lots of locals don't work with an established company and search for ways to create their own income by selling goods on the street to passersby. As I mentioned above, these workers usually earn less than the minimum wage, only $260 a month. They work hard to provide every day for themselves, their family, and their future. If you don't want to buy their product, still be respectful to them. Just say, "No, gracias."
Street food: Peru has some of the best food in the world, and some of the most delicious is the huge variety of street foods sold around the city. You can try churros, the herbal emollient drink, fresh-squeezed orange juice, giant white corn on the cob with Andean cheese, anticuchos (cow heart skewers), tamales, potatoes with hard-boiled eggs, breakfast sandwiches, the sweet quinoa drink, Arroz con Leche and mazamorra, picarones, quail eggs, stuffed yuccas and more.
Artisan products: As you're traveling around Cusco, whether in the city or its outskirts, you'll likely be offered souvenirs on the street. Support these locals! Some sell paintings, carved gourds, hats, sweaters, keychains, pens, stuffed animals, and other trinkets.
Convenience kiosks: Through the city, there are small, portable carts wheeled around by vendors filled with convenience store goodies, mostly junk food or "chatarra." Grab yourself juice, a bag of crackers, some papas fritas, or a chocolate bar as you walk around. Some also sell phone chargers, USBs, sunglasses, pens, notebooks, etc.
Shoe shiners: After all, how long has it been since you cleaned your shoes?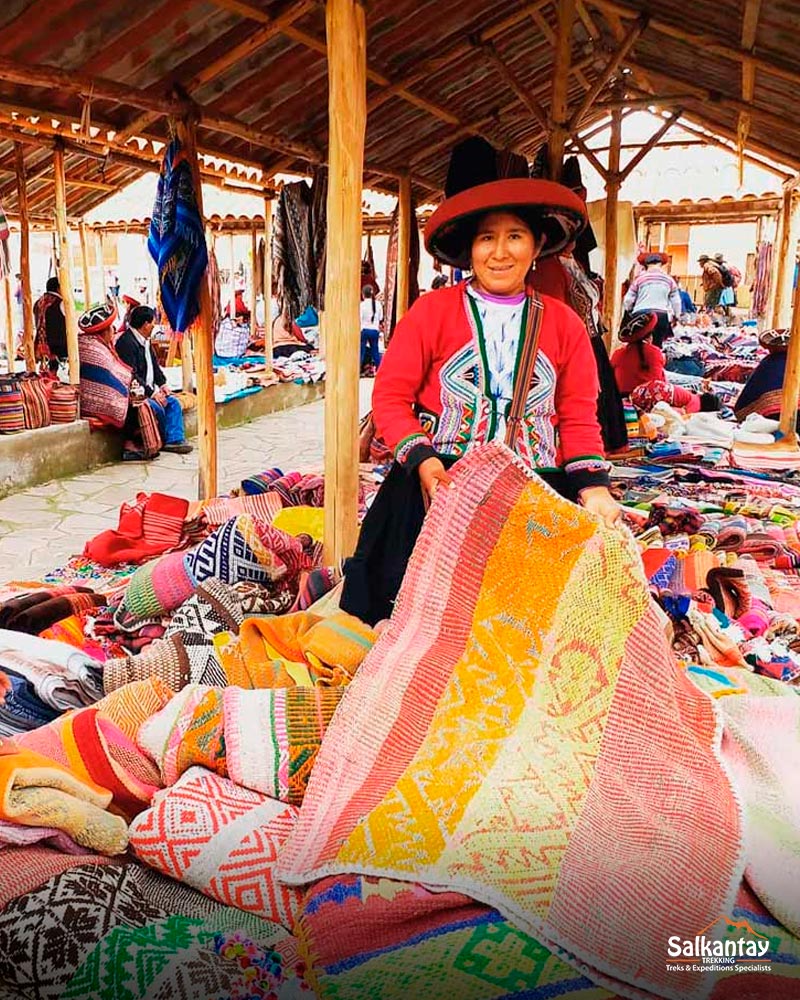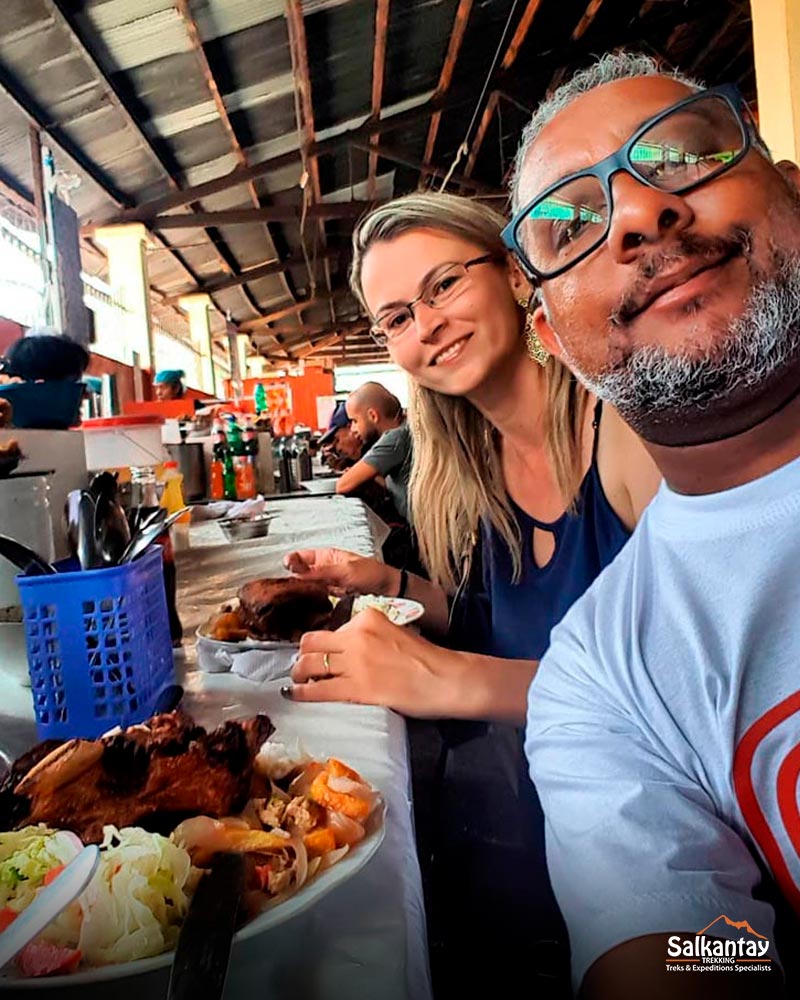 7.- Shop at the Farmer's Market
Instead of the supermarket, head to one of Cusco's many colorful open-air markets! You can be sure that the produce is locally grown, and you'll spend less. You'll be supporting native agriculture and Peruvian farming families instead of big chains. You'll also have a cool cultural experience and probably learn several new Spanish words. Some of the best markets are San Pedro, Ttio, Wanchaq, Ccascaparo, and Vinocanchon.
8.- Be Squeaky Clean
Clean up after yourself, whether it's in the city or the middle of nowhere. Follow "Leave No Trace" principles. Put trash in the trash can where it belongs. Don't litter. Don't pollute. Leave everything as you found it – or better! All this will be a physical manifestation of the respect and wonder you feel for the pristine places you'll visit. Locals are often devastated when the beautiful places so close to home get trashed, damaged, or destroyed by tourists.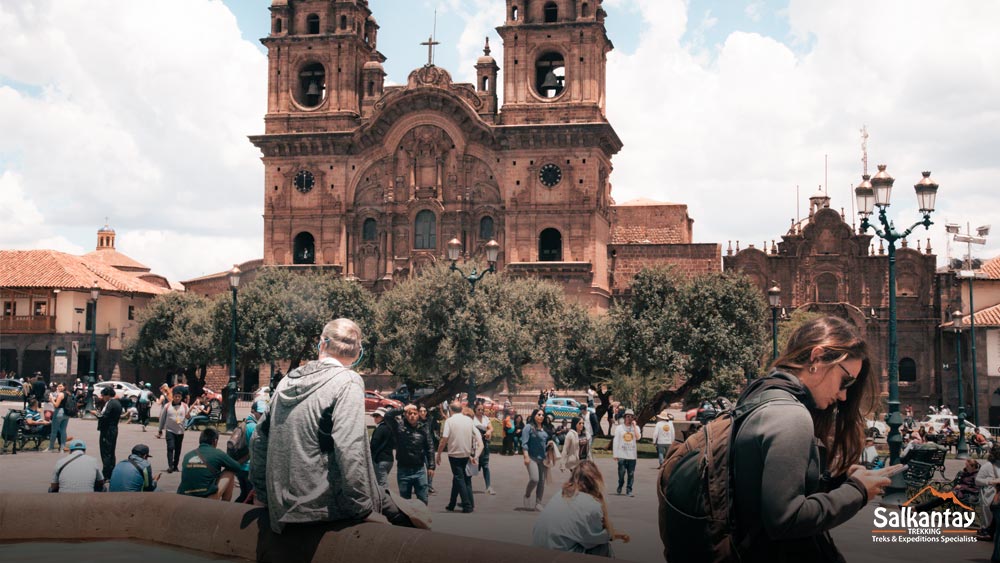 9.- Do Homestays
An amazing way to get an insider's perspective on Peru is to live with Peruvians! This can be done on a short-term (1 night) and long-term (months) basis. It provides income to a local family and allows you to create a genuine connection with your hosts, both of you learning and growing as humans due to your interaction with the other. Plus, you'll learn better Spanish faster, try authentic Peruvian foods and understand the culture from the inside out.
10.- Go to a Cultural Show
Of course, the ones putting on the show will be locals! Your presence and support will be special. Visit the Centro Qosqo de Arte Nativo to see an exciting performance of traditional dances from around the country. It's even included on the Boleto Turistico (tourist ticket of Cusco)! You can also visit the Teatro Municipal de Cusco to see theater productions and concerts, mostly by local actors and musicians.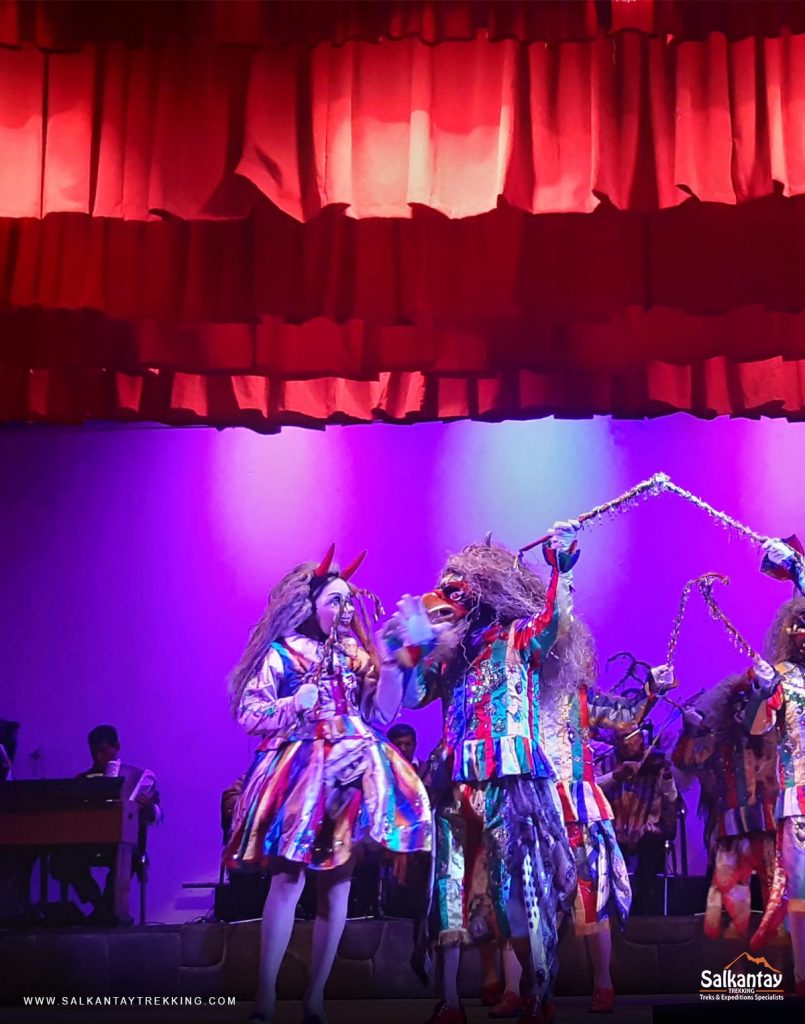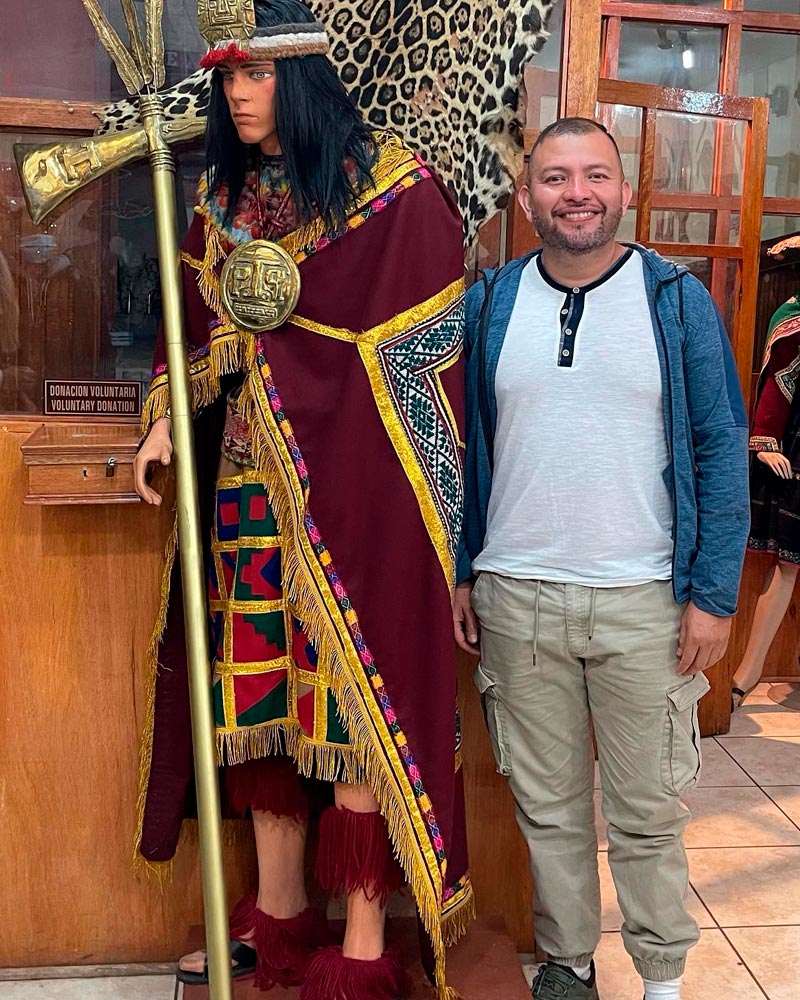 11.- Choose Handmade Souvenirs
The best souvenirs aren't machine-made! Cusco has a huge concentration of talented artisans carrying on their people's generations-old artistic traditions. For example, the weavers of Chinchero are one-of-a-kind. No one else in the world weaves as they do. Buy their textiles! Tater Vera Ceramics is a shop in San Blas where a local artist sells amazingly intricate, handmade ceramics of all shapes and sizes. In Pisac, you'll find unique silver jewelry and decorations made with local materials. Grab a hand-woven alpaca sweater instead of a (fake) machine-made one! These are just a few examples.
12.- Visit a Farm
Across Peru, there are stretches of incredibly fertile land producing lots of the world's superfoods and favorite products, and you can visit! For example, coffee and cocoa farm tours can be rolled into one and are found across the highland jungles of the country. There are also alpaca farms that grow many other local products. This is one of the best ways to see a more traditional view of Peru, as you'll spend time in a family home on a plantation. It's a cultural and gastronomic experience unlike any other, and it's a perfect way to directly support the local people! This will show the farmers that their work is important and appreciated. You can also help by purchasing some (sealed and labeled) goods from the farmers to bring home with you!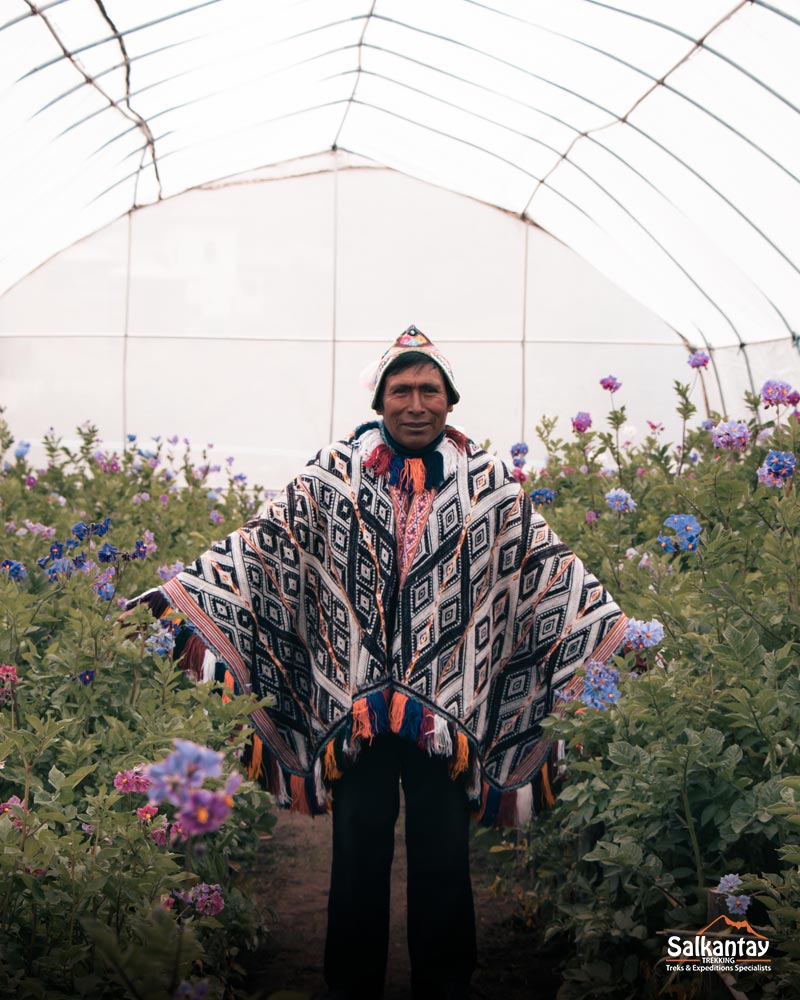 13.- Volunteer as a Partner, Not a Savior
The Savior Complex is downright destructive to local communities. There is no reason for a volunteer to do what a local person or population can do for themselves. That teaches unhealthy dependence on outsiders instead of motivating locals to take the initiative and feel self-reliance and personal pride instead of helplessness. Especially where there's a high level of unemployment, this takes jobs away from those who need them.
Some forms of volunteering are even more damaging, namely in orphanages. Volunteers come, make a connection with the little people and then leave. Kids learn to expect abandonment more than anything else. Many times, it's more effective to skip the trip and donate the money to the organization to hire locals or buy the supplies they need.
The only type of volunteering that is ethical and truly helpful is collaboration via the empowerment of local people.
Here are some examples:
Instead of this → do that
Painting: Donate the paint, encourage locals and give art classes
Construction: Donate the construction materials or hold a construction training workshop
If you're an architect, you could create the blueprint and work alongside locals. (Unless there's a local architect that could do it).
Child care: Educate local teachers on learning styles and education strategies and donate materials
Cooking: Teach a class on nutrition and hygienic cooking practices, donate equipment
Farming labor: Hold a workshop on safe, sustainable, and effective farming practices
In general "doing" is not helpful, but "teaching" is. The exception would be specific, extremely skilled labor, such as providing high-level medical care (if there aren't local doctors that can do it), complicated engineering jobs, etc. There is a lot of teaching in developing countries, such as in language learning, carpentry, welding, greenhouse construction, financial freedom, emergency preparedness, family planning, public health, conservation, sustainable tourism, effective business practices, etc.
But it's not about stuffing the American lifestyle down the throats of Peruvians. Training includes classroom theory and realistic implementation within the locals' cultural comfort zone. This is why it's essential to work alongside native people in a respectful and collaborative environment, not in groups of "foreigners who know best" and "Peruvians who are helpless."
The best practice is not to help people but to help people help themselves!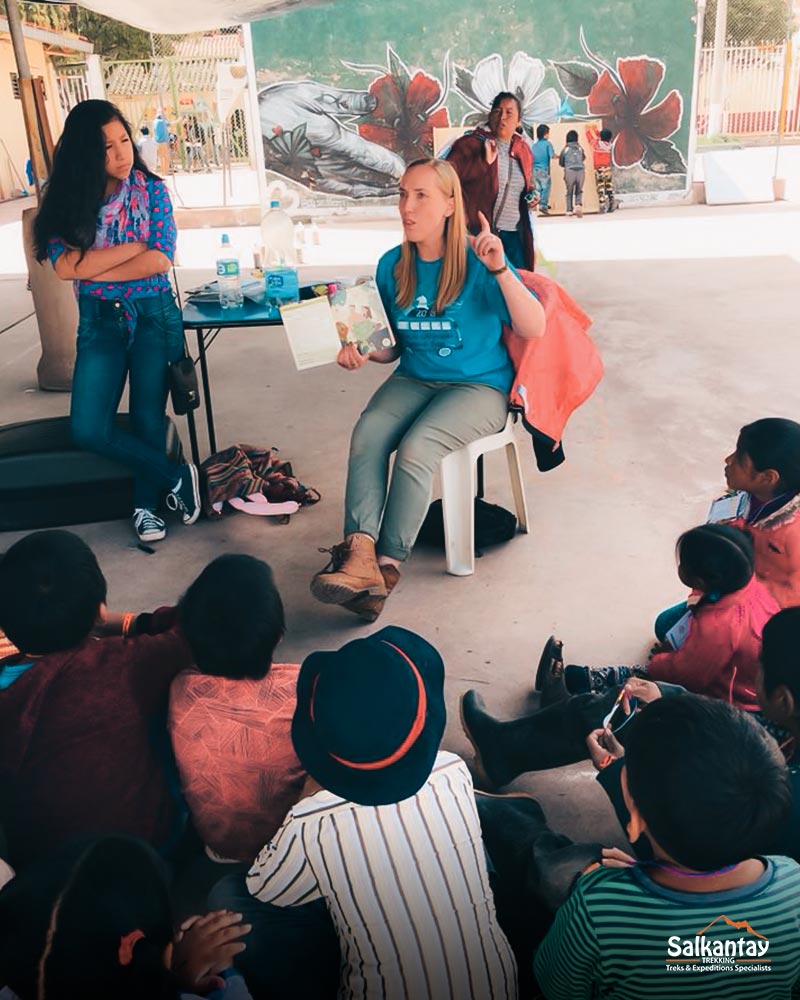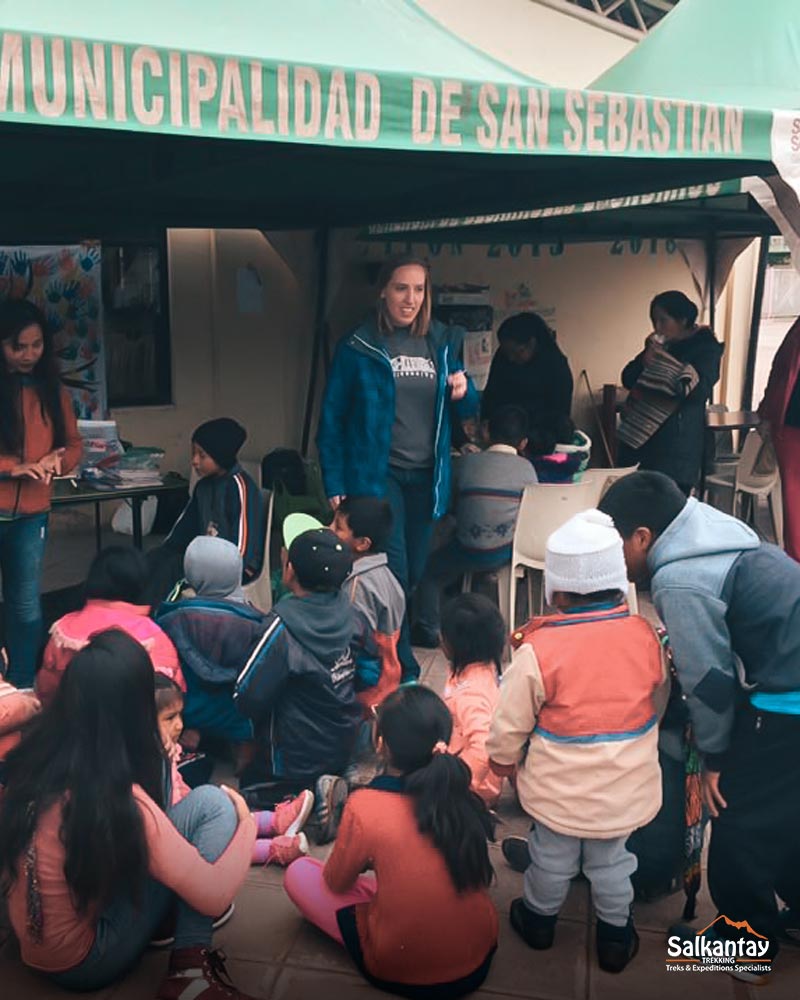 In Conclusion…
Traveling around the world is, and should be, fun! And as a tourist, you're in a great position to support the local people who call Cusco home. Your decisions hold a lot of weight; did you know that? Choose wisely how you'll use your time and money in order to give back a bit to the place that gives so much to you!
---
---
You might also like
---