Glamping (glamorous + camping) is for people who just can't get enough of the outdoors! It's for active, adventurous travelers who want to explore, as well as relaxed travelers who just want to retreat to nature for a minute. Each and everyone is in some extremely spectacular natural location, heaven-sent to reset your life. Get ready to be immersed: here are the best places to go glamping in South America!
The glamping lodges we offer on the Salkantay Trek provide an out-of-the-ordinary, luxury mountain experience to any hiker! When you join us, you'll get to stay in not just one glamping spot but THREE, each showcasing the world-famous Peruvian Andes and providing daily comforts that you wouldn't expect in the wilderness. Each perfectly emphasizes its breathtaking natural environment and connects you with nature in style. Experience the Andes like this:
Glass igloos in Sky Camp between the Salkantay and Humantay glaciers
Cozy, a-frame cabins in the Andean Huts Camp
Incredible adobe hut/glass palace hybrids in Mountain Sky Camp (on the premium trek)
Green glamping domes immersed in the forest at the Jungle Domes Camp
They are so incredibly unique, comfortable, and totally unexpected in such a remote place, welcome after a long day! This is truly a glamping opportunity like no other in the world! On top of the out-of-this-world accommodations, there's top-notch, gourmet Peruvian cuisine at every single meal. Dedication to sustainable and eco-friendly tourism, first-class customer service, and competitive pricing are also won! The mountain guides, cooks, and porters who accompany you on your trek level up your entire trip, too – seriously.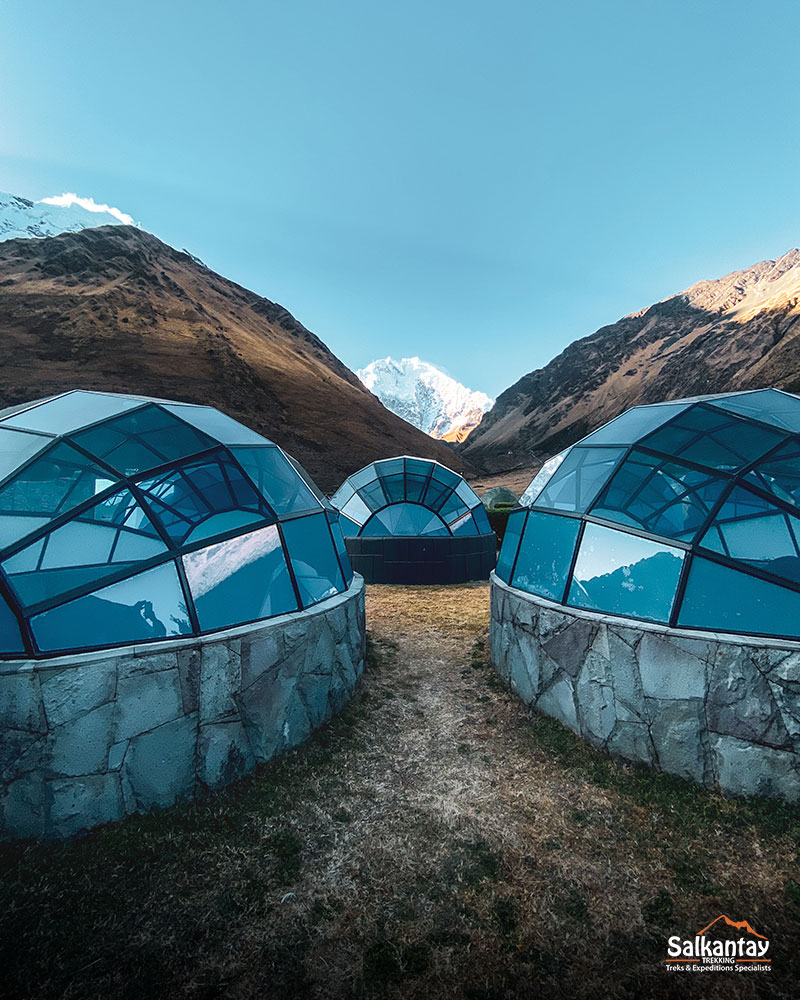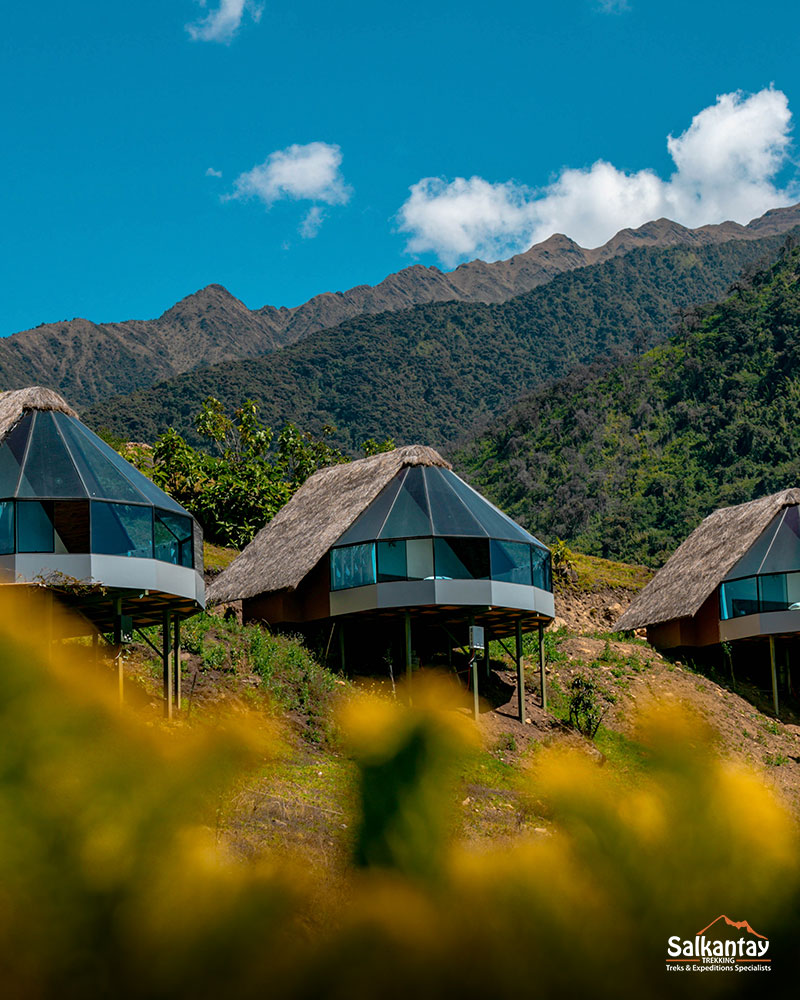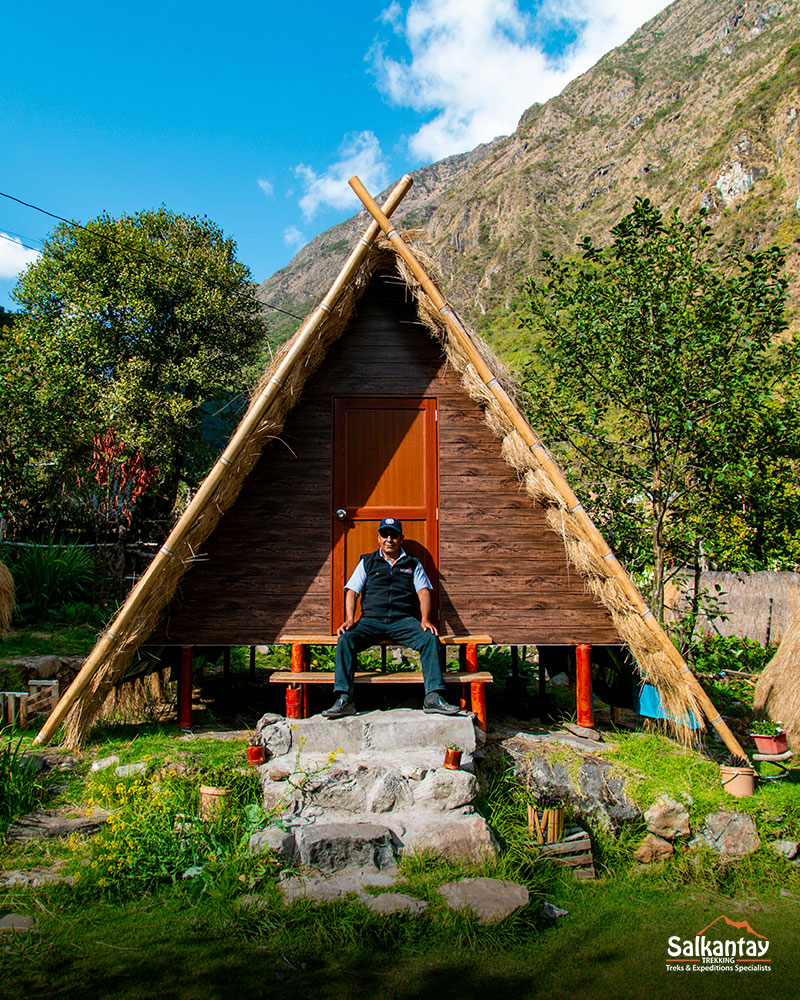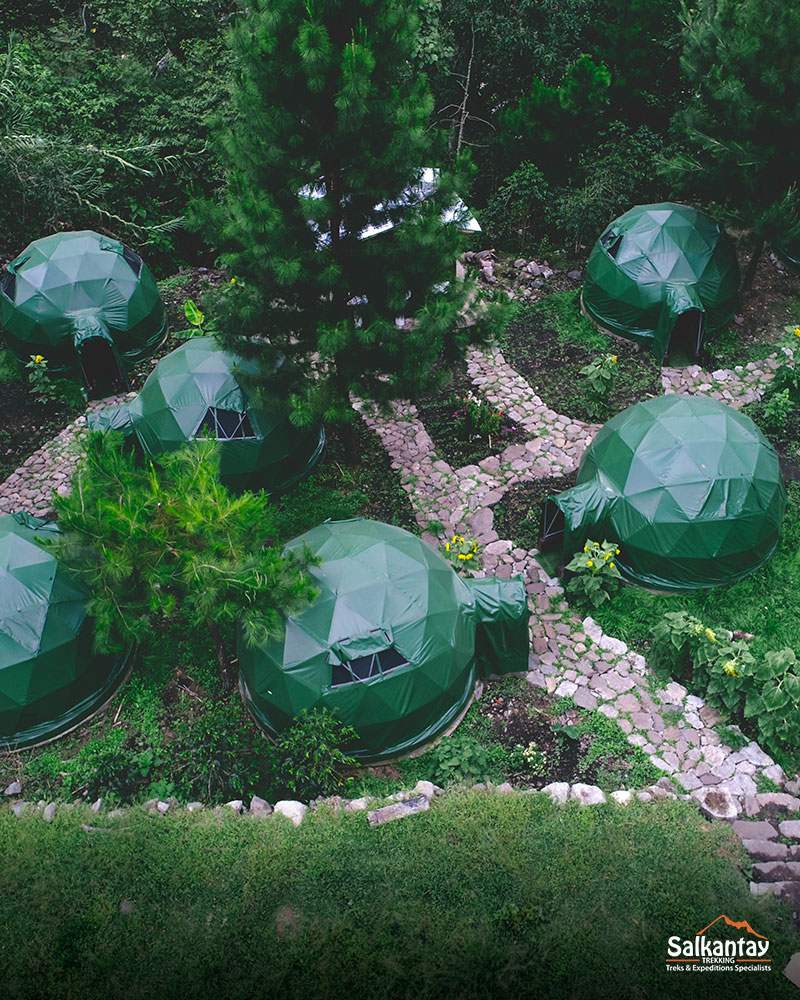 These teepee-shaped glamping huts are so adorable! When you're inside, the surrounding woodlands call you out, and when you're outside, the inviting, luxurious atmosphere inside the tent calls you back in! This extraordinary campsite is nestled in the mountains, surrounded by the woodlands and tall peaks of a 20-hectare nature reserve. There are lots of activities to do in the area, like trekking, biking, yoga, rock climbing, spelunking, massages, tree-planting, picnics, and various workshops! What a perfect way to get back to your roots and connect with nature alone or with loved ones.
Choose from the standard or superior "nidos" or nests in the woods or the cabin-like Nido of the Rocks tent in a more rocky, mountainous landscape. Each nido has a private bathroom, tea station, and heating unit. There's also WiFi in common areas, and pets can stay for an extra fee. All food served at Niddo is sourced locally within 20 km of the campsite! This is a place that's not only a great stop for glamping but because of the huge variety of things to do in nature around the campsite.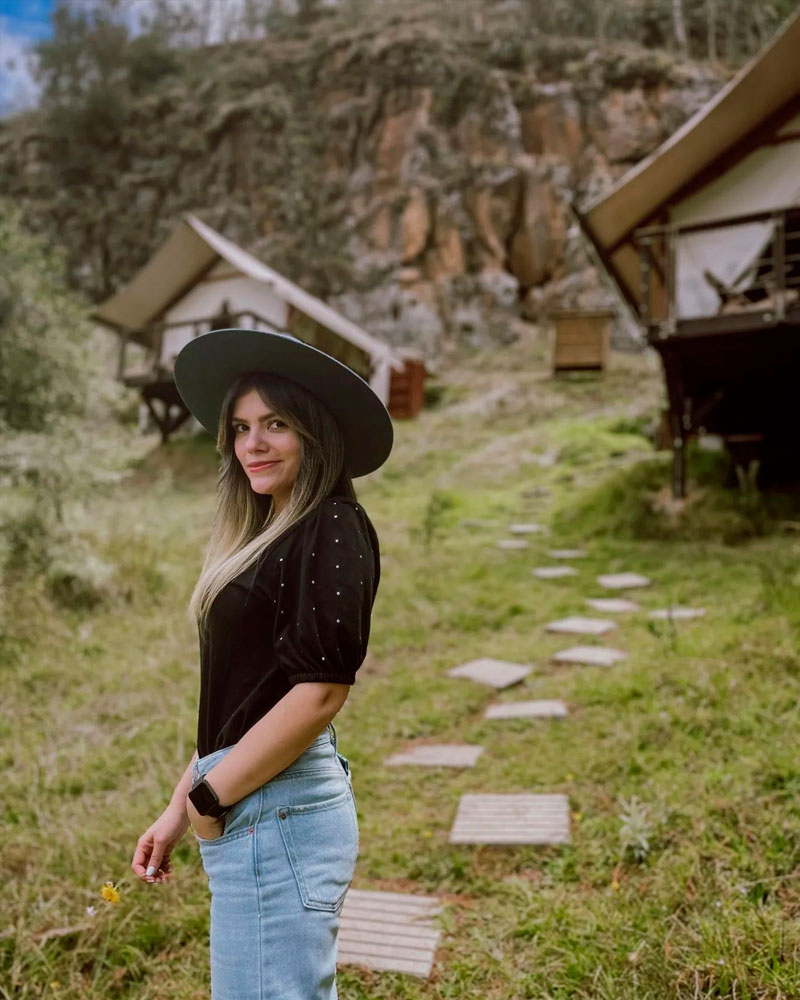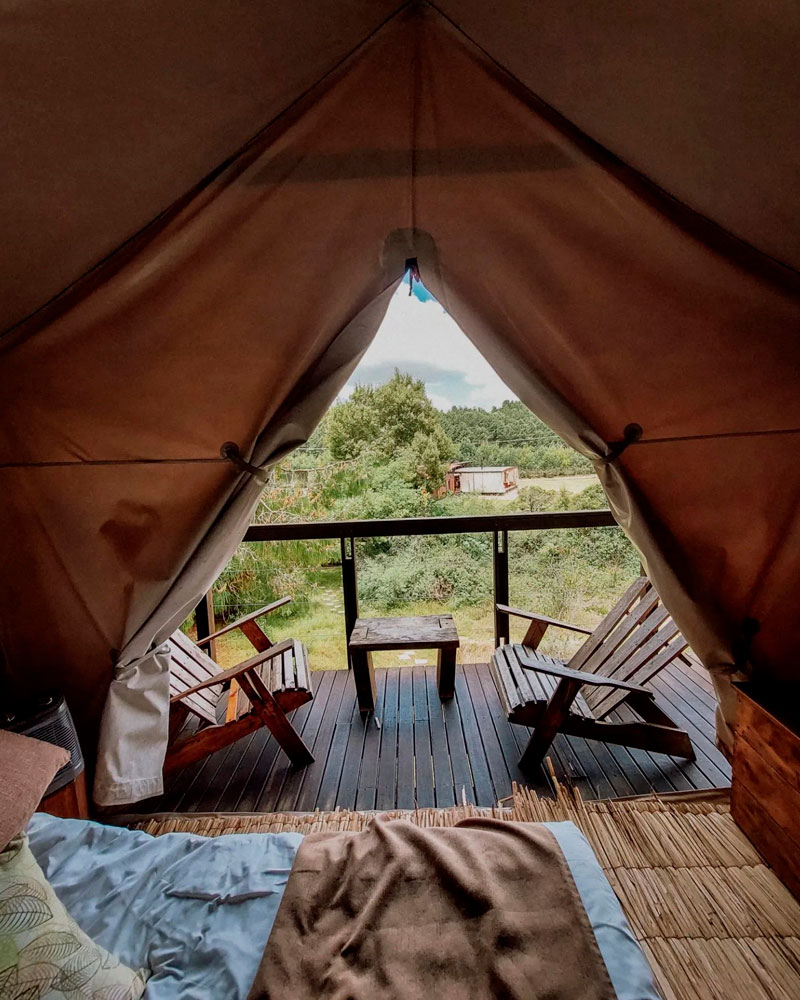 This is the glamping site that'll give you a Garden of Eden feeling and a fantastic home base from which to discover the unusual Galapagos Islands teeming with peculiar wildlife and landscapes. These large canvas lodges are tucked away in the middle of the dense rainforest of Santa Cruz Island, intimately connecting you to nature each night! These luxurious tent homes are huge and set on top of solid platforms, including a private balcony for each pod and a beautiful private bathroom.
The campsite includes 5-star common areas: a pool, indoor and outdoor lounge areas, a library, a bar, a dining area and a fireplace. On the grounds, you can take the hiking trail to a viewpoint of the surrounding islands, as well as enjoy gourmet Ecuadorian cuisine. It's important to note that the accommodations can't be booked alone, only included in a multi-day safari exploring the islands as part of a guided tour. There is so much to see on these unique islands, and I'm sure you'll have an unforgettable time here!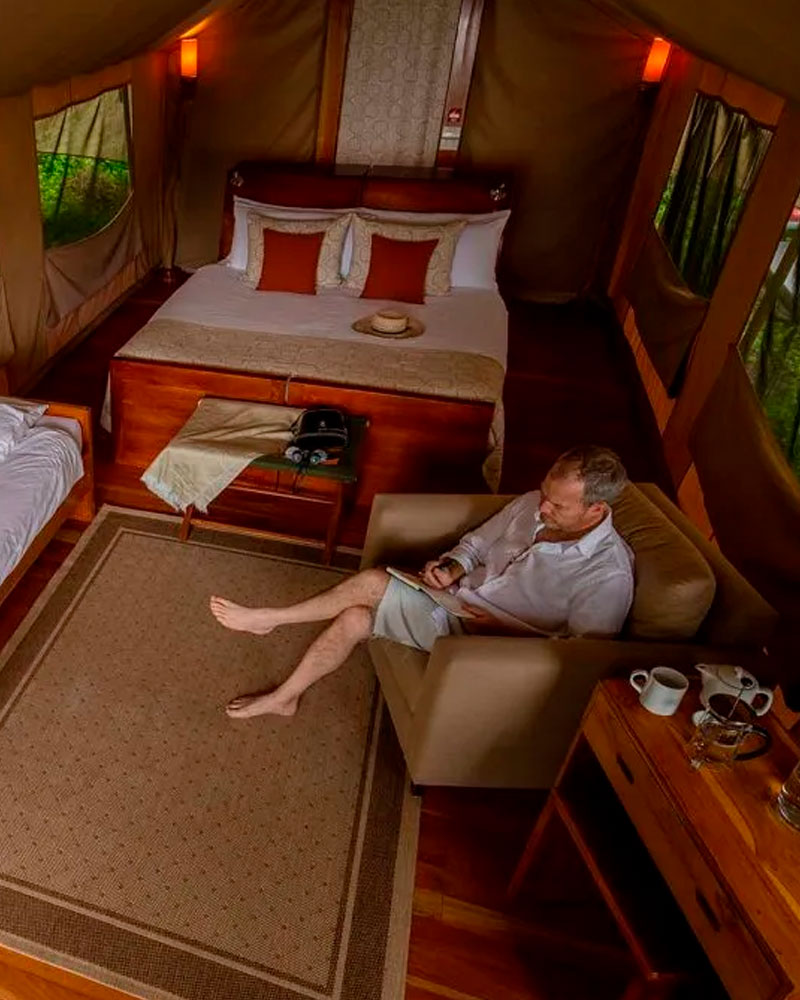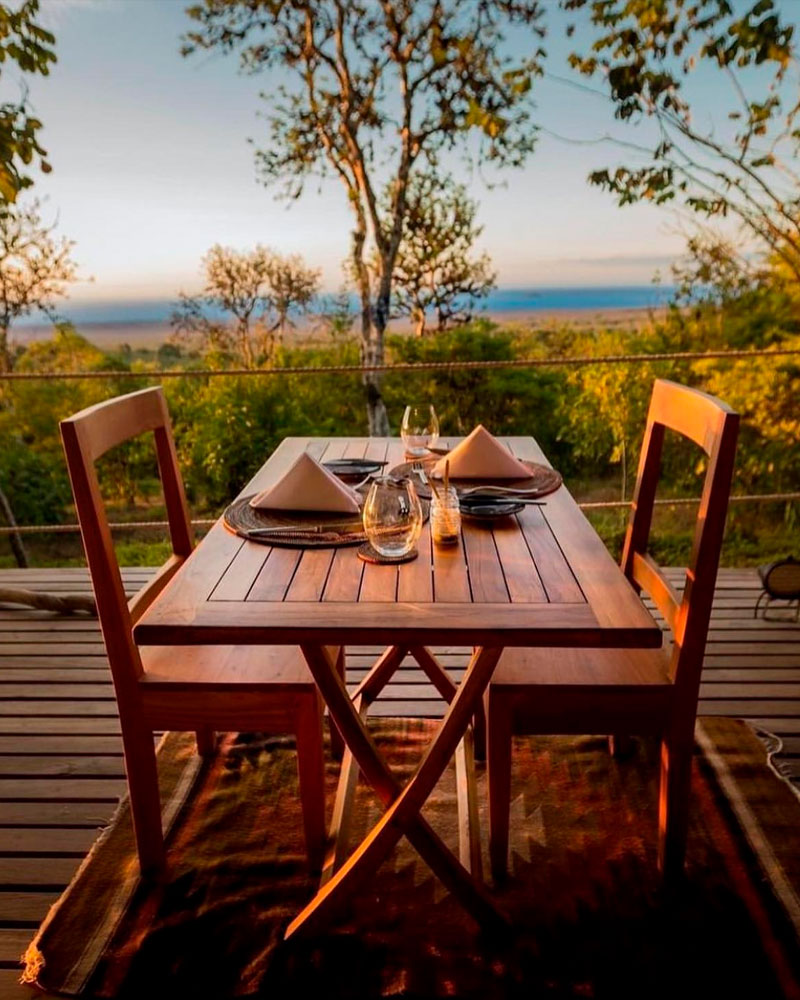 4.- Torres del Paine National Park – Chile
When we're talking about prime locations, this one's definitely it. This park is one of the most visited in the world for its unbelievable, rugged landforms and whitish-gray coloring that looks like something from a storybook. Two worthwhile glamping campsites in Torres del Paine are EcoCamp and Patagonia Camp.
EcoCamp was the first hotel in the world to use the geodesic dome glamping model! The site is situated 11 km (a 4-hr hike) from the famous stone towers of the park, and you can also catch a glance of the towers from the campsite! On the eco-friendly grounds, you have 4 options: standard, superior, suite, and suite loft domes. Each has a private bathroom and heating unit except the standard. They provide locally-sourced, organic meals on-site. You can only stay in these lodges as part of a multi-day tour in the park, and your stay includes transportation from and to the 2 closest cities, park entrance, all meals, and corresponding excursions.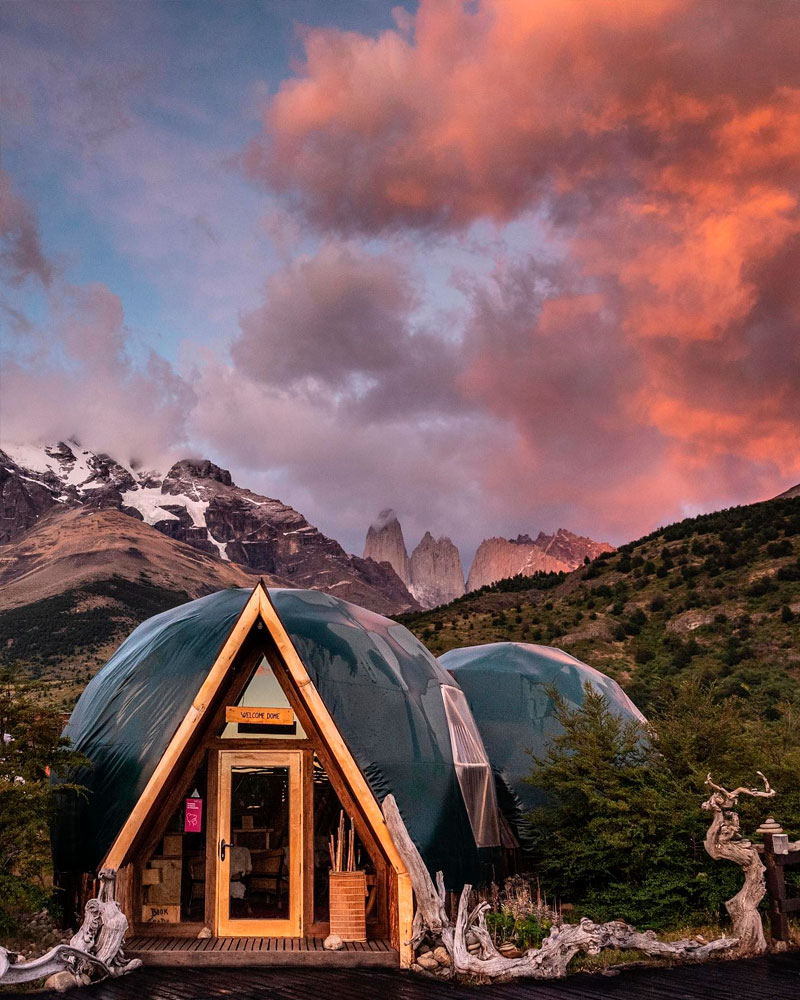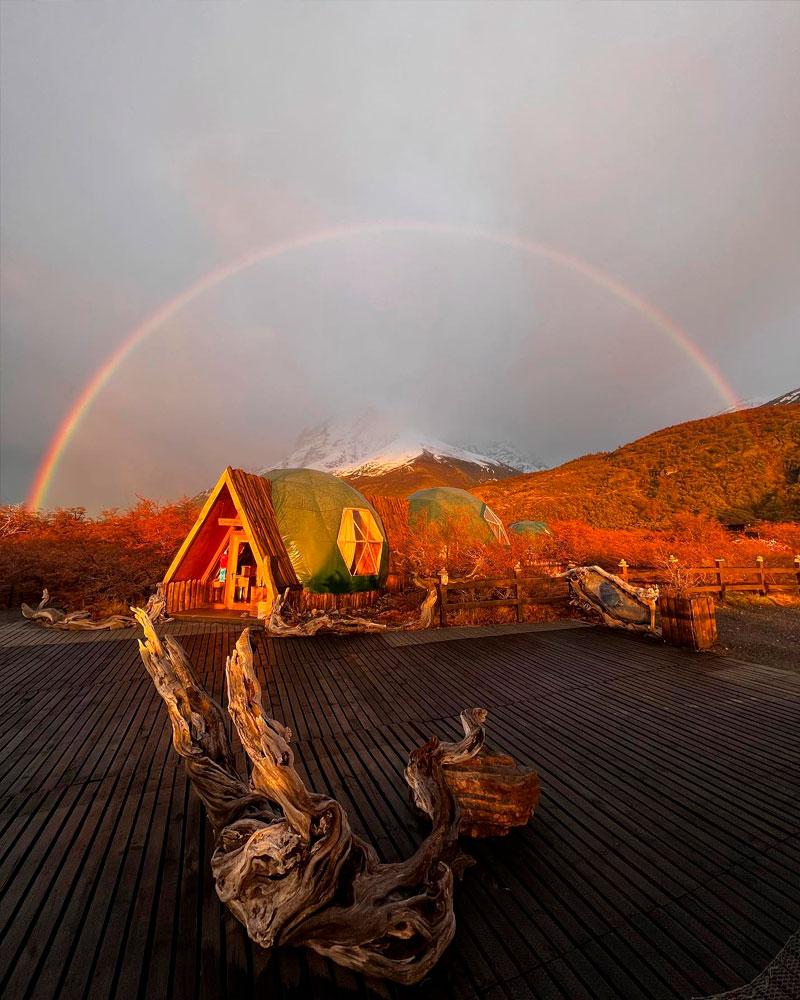 Patagonia Camp is a place where the lodging of choice is yurts! These surprisingly spacious, circular + teepee-shaped spaces feel like a 5-star hotel, but in the middle of wonderland, right on the edge of a picturesque alpine lake. They offer deluxe, deluxe jacuzzi, suite, and family suite yurts, all of which include a private balcony, ensuite bathroom, and central heating. They also all have an outdoor jacuzzi except the deluxe. These lodges can also only be booked as part of an all-inclusive, multi-day package, which gives you access to guided tours and excursions in the park, all meals, an open bar, lounge, park entrance, and transportation from and to the closest cities.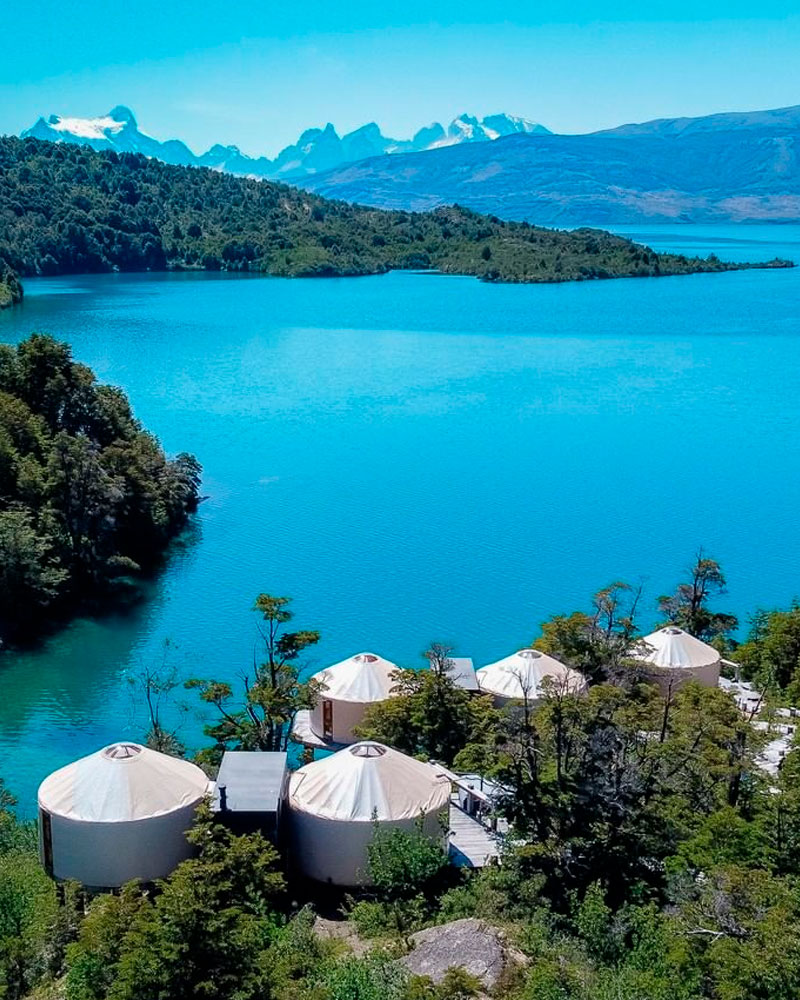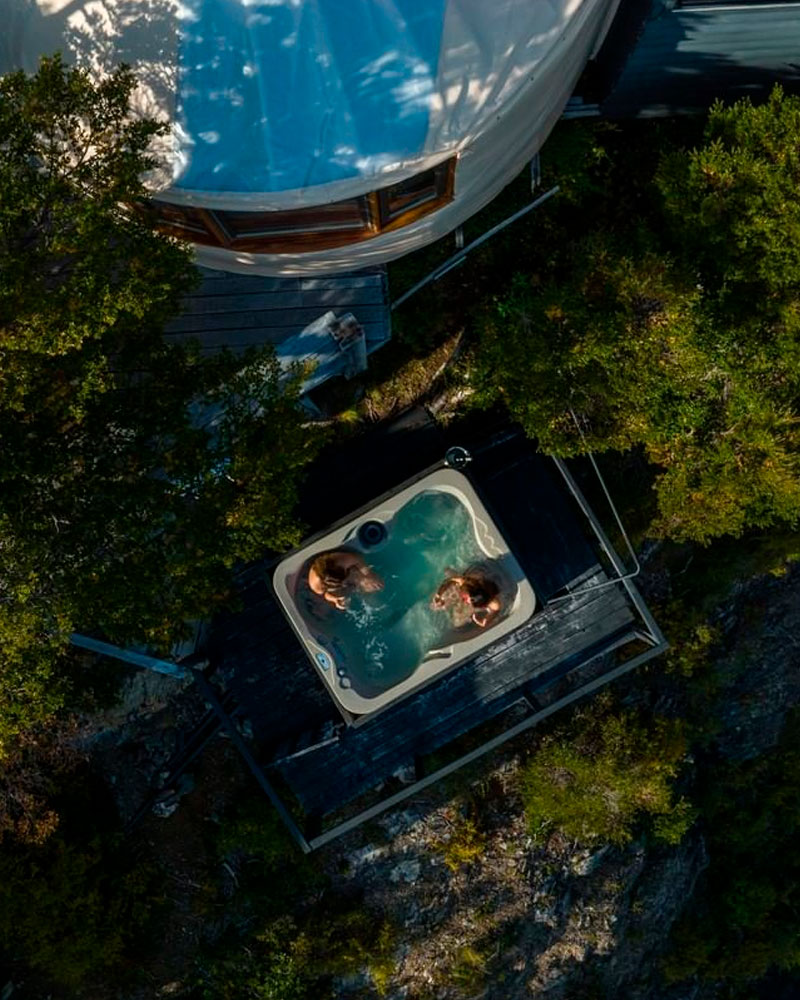 This jungle lodge is absolutely a bucket list destination! You'll feel you've been transported into the enchanting and wild world of Tarzan or the Swiss Family Robinson. It's located near the Pacaya Samiria National Park. The 12 luxury treehouses are hidden deep in the Peruvian Amazon, all connected by raised wooden walkways and cable bridges crossing through the lush vegetation, creating a canopy walk circuit for all guests to use. In the grand main treehouse, you can enjoy local dishes at each meal and the relaxing lounge area on the second floor (with hammocks!). The entire treehouse is wrapped in mosquito netting, so you'll be at peace inside.
At Treehouse Lodge, you can spend your time hanging out around the treehouses, as well as enjoy excursions into the Amazon! Some of the best are sunrise or sunset on the Amazon, swimming, fishing, a canoe or kayak trip, a blowdart gun workshop, jungle walks, wildlife viewing, a river cruise, a mud bath, or a visit to a local community. This lodge can only be accessed by boat, and you'll be accompanied by pink dolphins, monkeys, sloths, macaws, parrots, tigers, jaguars, caimans, piranhas, and giant river otters! Your minimum 3-day package will include pick up and drop off at the Iquitos airport, as well as all meals and excursions.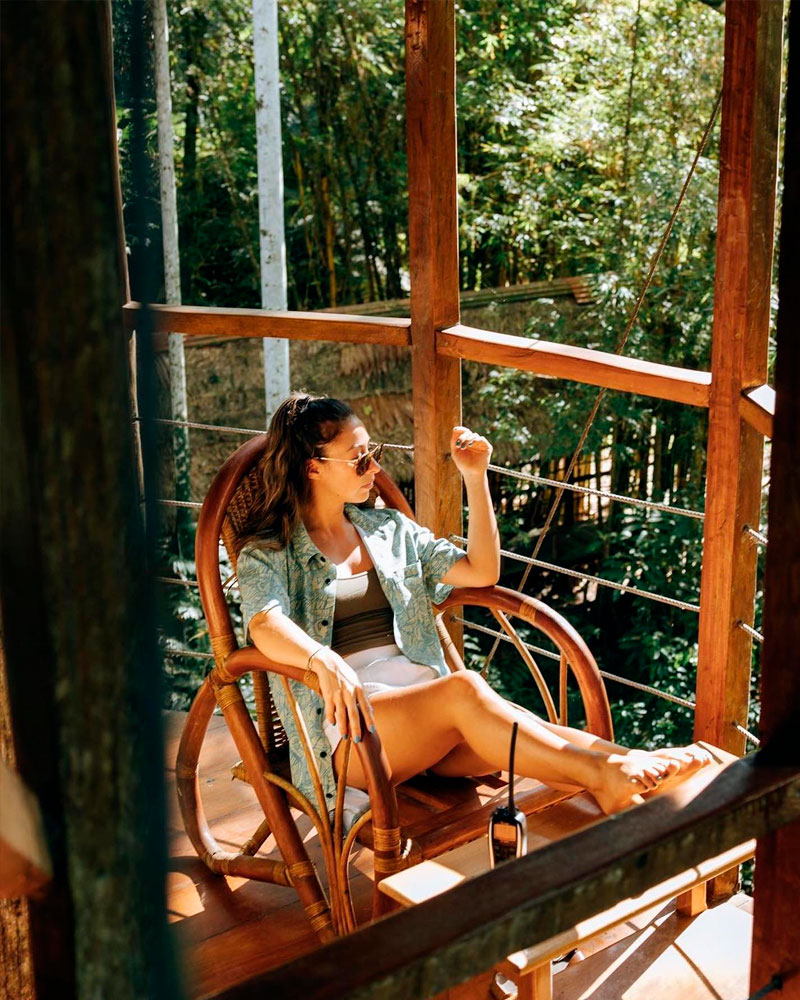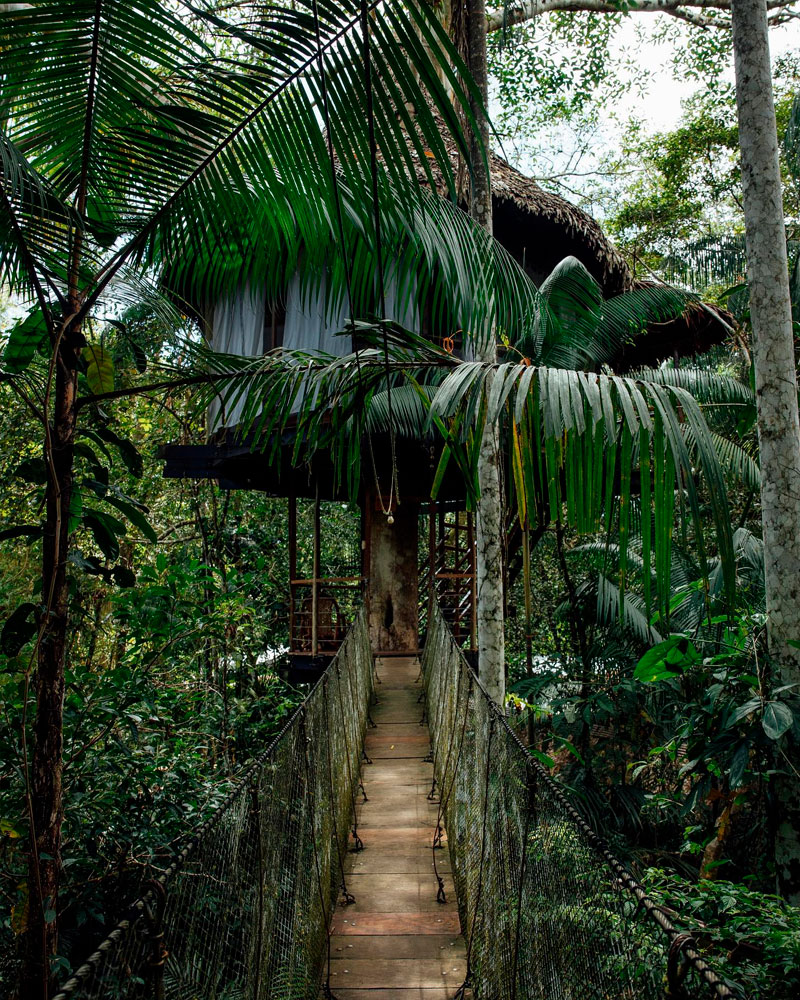 6.- Deluxe Airstream Camper – Salar de Uyuni, Bolivia
Crillon Tours offers a one-of-a-kind experience on the world's biggest salt flats at 12,000 square km – Salar de Uyuni! Airstream campers are the star child of vintage glamping, and these silver bullets are parked in one of the best landscapes on earth. They're spacious, comfortable, and unique! In the rainy season from December to April, it all becomes a giant mirror, covered in a thin layer of water that creates a perfect, inverse image of reality. It's absolutely mesmerizing! In the dry season, you can take perspective pictures since the landscape is endlessly flat and open. People seem to be the same size as toys, and animals can be made to look like giant monsters compared to their owners. It's so fun to experiment with this strange phenomenon!
Your 3-day tour includes transportation to and from the Uyuni airport, tours around the salt flats and surrounding national reserve, all meals, and Airstream accommodations in the deep silence of Salar de Uyuni, including outdoor lighting and a dining area plus camping chairs. It's a perfect setting for stargazing, relaxing, connecting and reflecting, embraced by the earth's wonders. In the evenings, after dinner, the staff will leave you alone to enjoy the night on the flats. You can either choose a round trip from the town of Uyuni or a connecting tour between Uyuni and Atacama. You'll enjoy biking and riding across the salt flats and visiting volcanoes, villages, caves, and colorful highland lakes, complete with flamingos!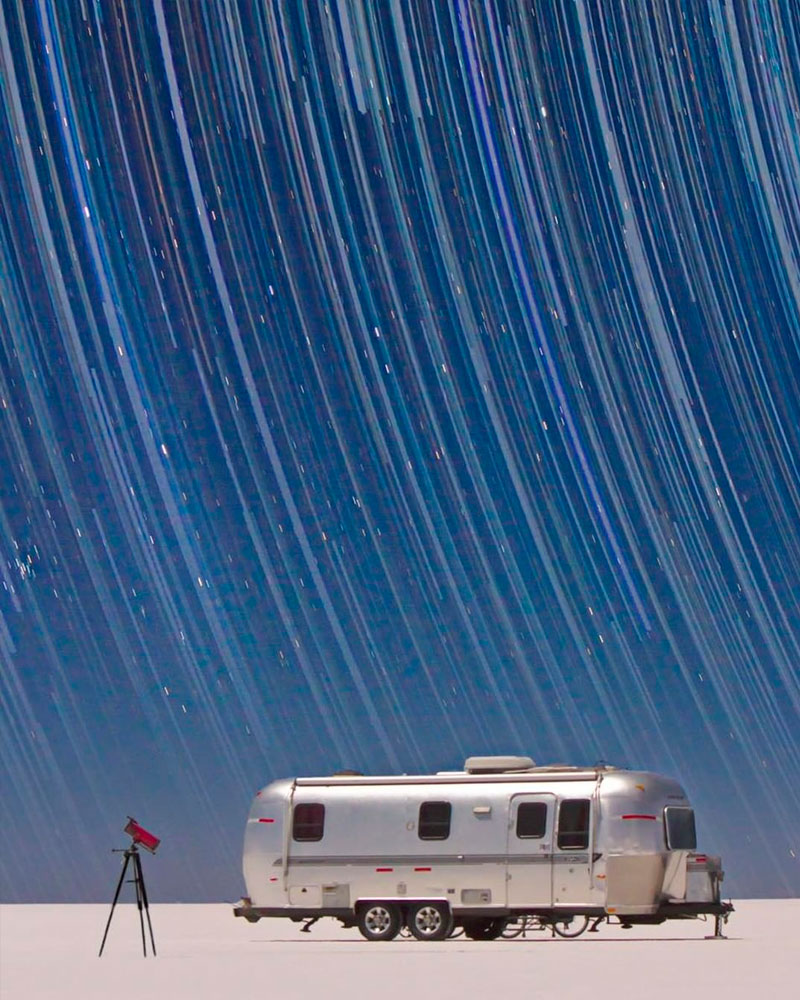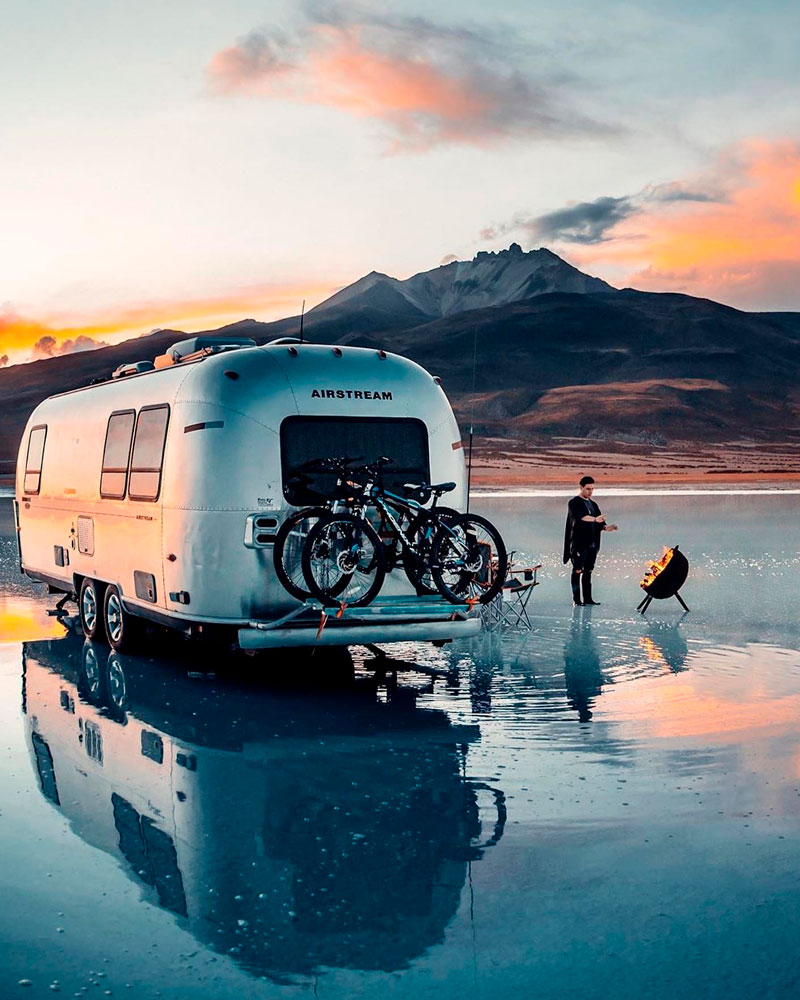 7.- Tedesco EcoPark – Porto Alegre, Brazil
Tedesco is the place to go to get away from the stressors of city life for a while. It's a serene escape, a paradise on earth! The campsite is in a 100-hectare area of natural beauty and offers a waterfall, pine forest, and an enormous lake, to name a few. During your stay, you'll have a woodland home on the water's edge like you've always dreamed of! Make memories with friends and family or just recharge and relax. The posh glamping tents/log cabins are on a raised platform and designed in a mixture of Arabic and African styles. All of them are über-cozy, spacious suites seemingly built for royalty! They have a seating area and table, bathroom, balcony and panoramic window looking out to the forest and lake.
Within the natural surroundings of Serra Gaúcha, there are way more things to do than you could fit in! The park has a panoramic restaurant on-site and a pool, game room, campfire area, event hall, community center and hiking trails for guests to use. At an extra cost, you can use ATVs, boats, bicycles, Gator buggies, and horses. Tedesco also has a spa and massage center! Pets and kids are welcome. The lodging price includes all meals plus afternoon tea time. You'll choose between a master suite tent with a hydromassage tub, a basic master suite tent or a deluxe suite tent.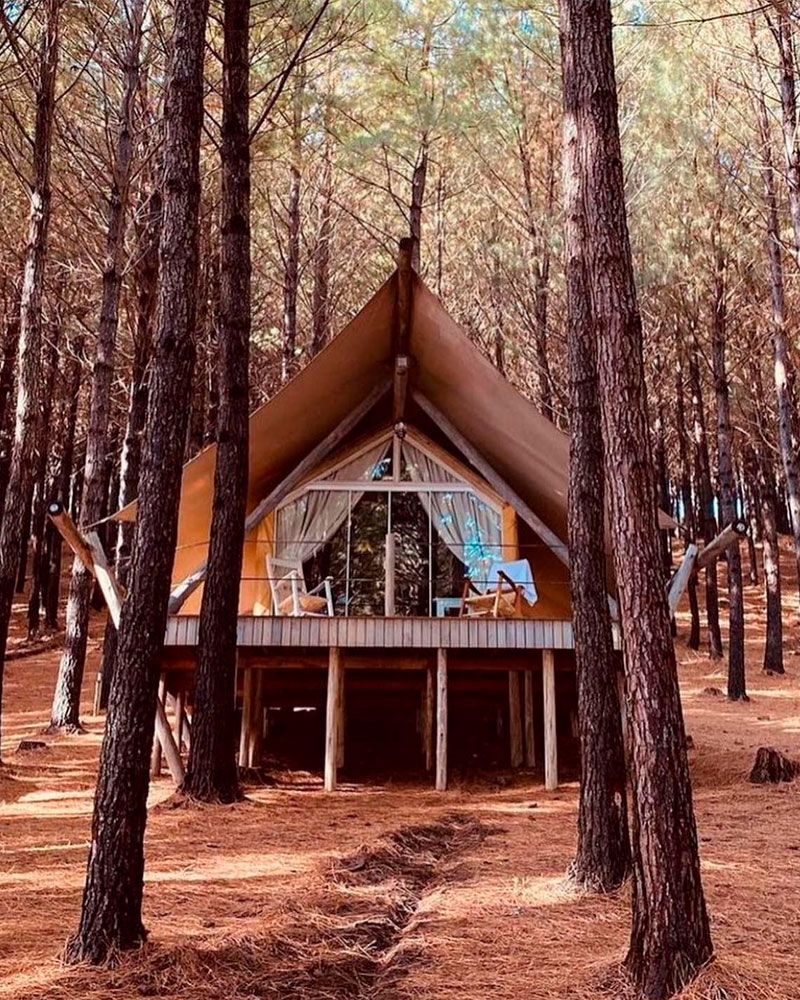 8.- Chalten Camp – El Chalten, Argentina
Chalten Camp's 8 geodesic domes in Argentinian Patagonia are in a picture-perfect location with a view of the famous Mount Fitz Roy! In true glamping fashion, it's just like camping but in extreme comfort. You won't miss out on any of the rugged landscapes by staying in a luxury lodge like this one, and the environmental impact is little to none. Each roomy dome has a panoramic window toward Fitz Roy, as well as a wood-burning stove, queen bed, private bathroom, and charming decor. In the main lounge and dining dome, each gourmet meal will be served alongside the enchanting atmosphere created by the mountains and amplified in this homey, vintage-inspired space.
At the campsite, you can hang out in hammocks with a view, relax on the riverside, take nature walks through the woods or have a picnic in nature. In the surrounding Los Glaciares National Park, you can trek, rock climb, visit the Perito Moreno Glacier, kayak, fish for salmon, go bird-watching or try mountain biking. You can book a B&B stay with breakfast or a full board stay with all meals included. Excursions around the park can be arranged through the concierge when you arrive!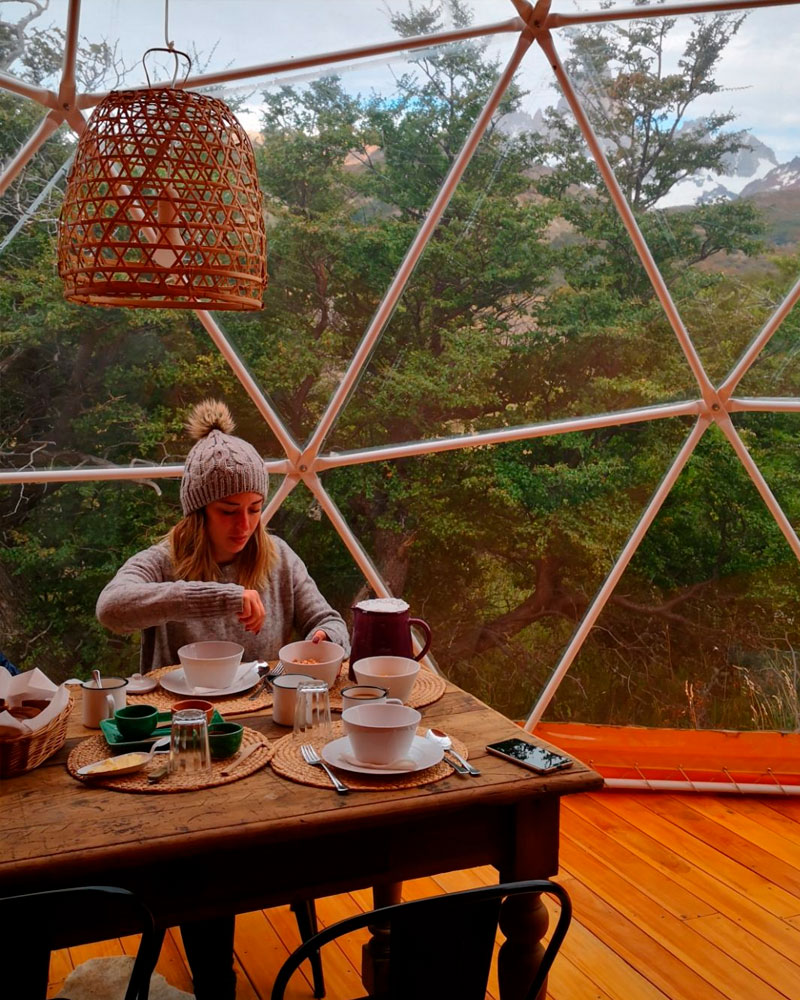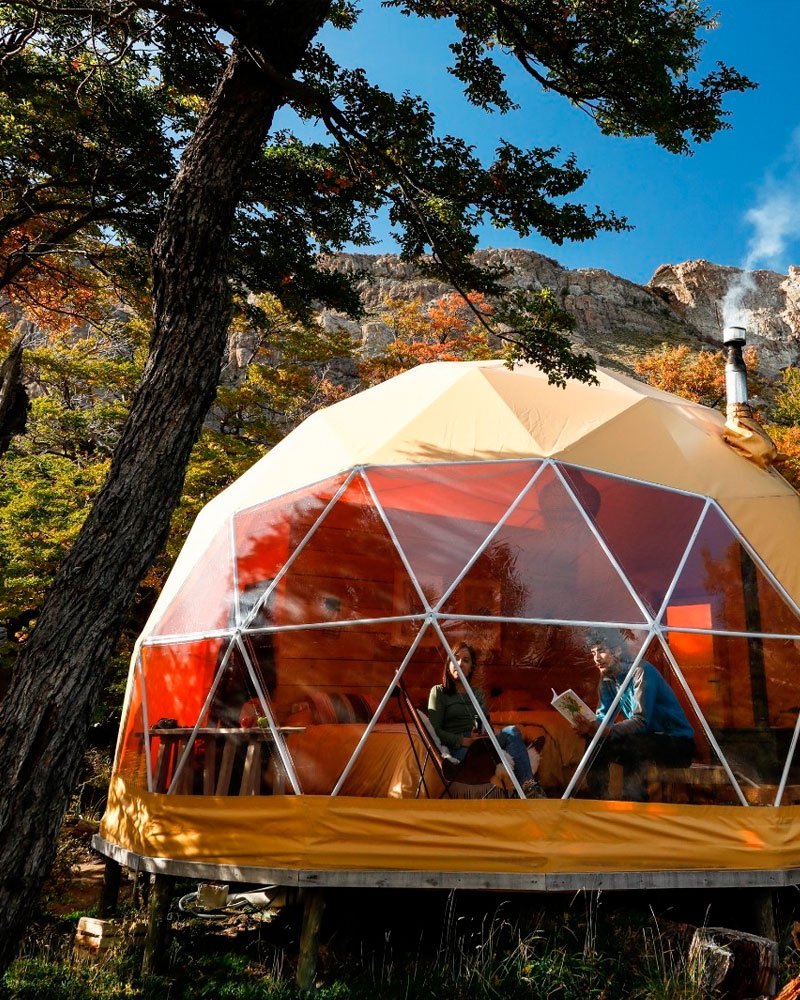 As far as I know, Huacachina is the only place to go desert glamping in South America! Though the Atacama desert stretches 1600 km through Peru, Chile, Bolivia, and Argentina, the oasis of Huacachina is Peru's desert home base. These fantastic, bohemian glamping tents are settled far out into the desert! And that's one of the most peaceful environments I've ever experienced. It's a feeling of true bliss to sit on a sand dune or stroll around barefoot, so much silence you can hear your own heartbeat. It's the perfect place for yoga, meditation, and stargazing, a moment of personal reflection or a romantic night. The spaces are wide open and yet cozy, with rolling hills of wavy sand perfectly designed to inspire. Take a moment to simply breathe!
These fanciful tents are reminiscent of an Arabian desert camp, and they draw you in mystically from the moment you set foot on the campsite. Your 2-day tour will include a boat ride on the oasis lake, an exhilarating dune buggy ride, sandboarding on the slopes, dinner (with a private chef and waiter), a bottle of wine, lodging in the tents, breakfast, and transportation back to Ica. The camp has 7 first-class tent rooms, as well as dining tents, a bathroom, a campfire area, a bar, a kitchen, and lounge areas, completing the Arabian nights theme with mood lighting and colorful rugs and floor pillows to sit on!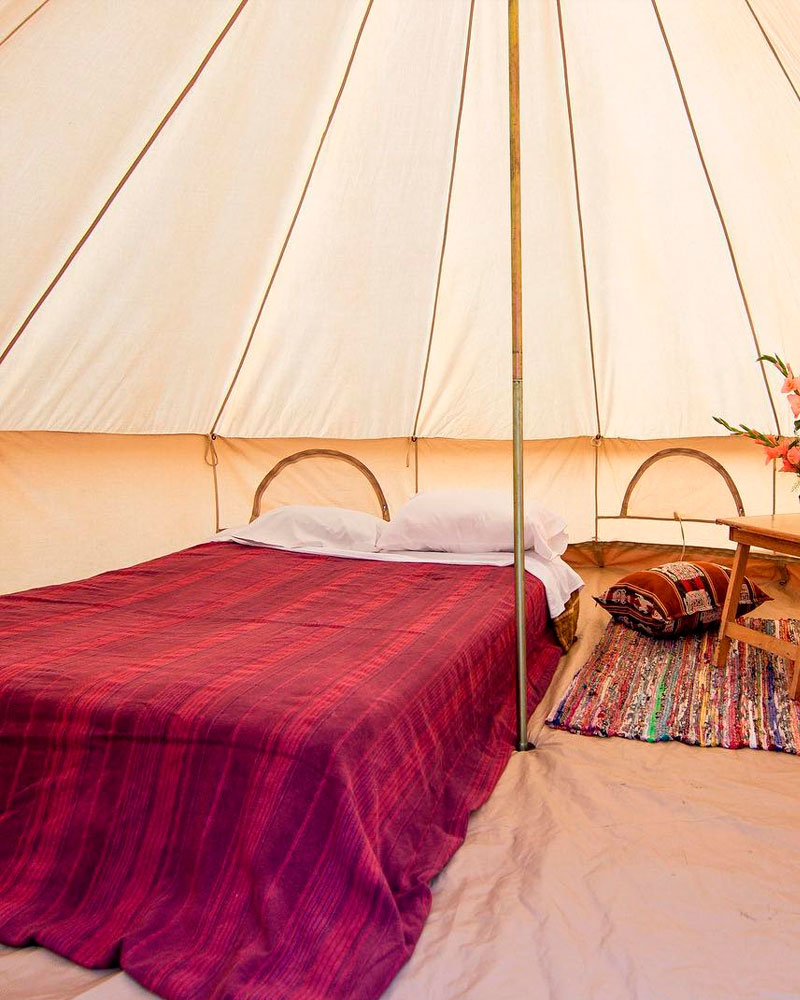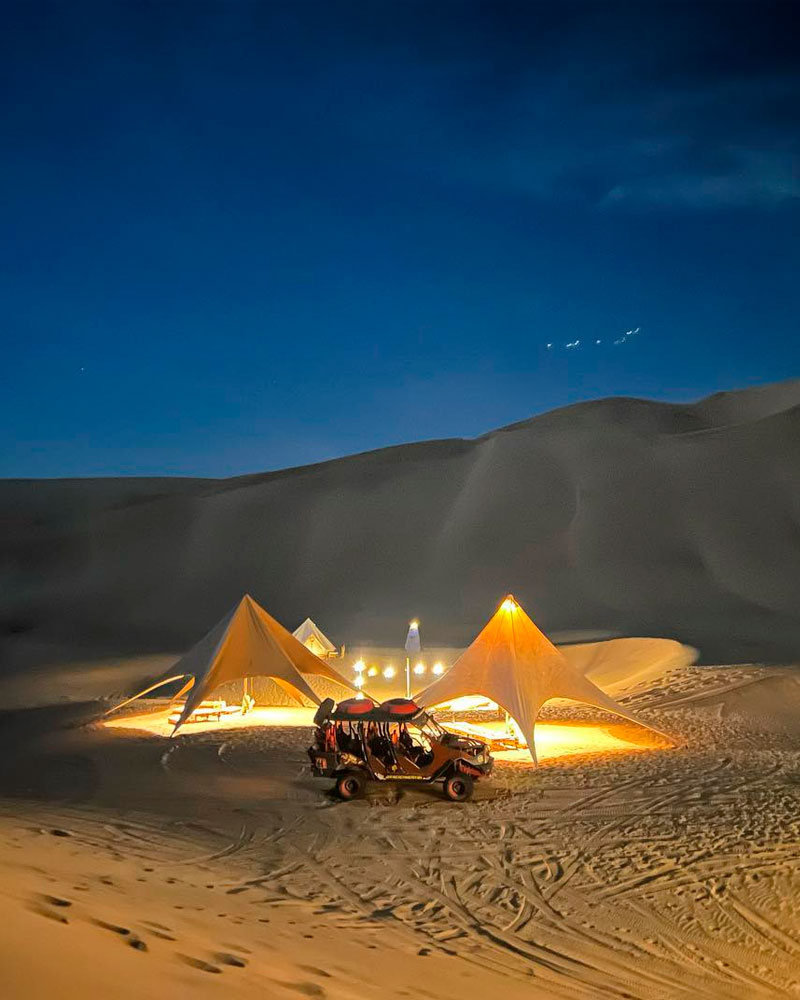 This campsite is perfectly placed in a peaceful coastal forest on the Atlantic, allowing for that fun, beachside vibe to penetrate every moment you spend here! Under the trees, you can choose between three unique types of lodging: circular yurts, rectangular tent rooms or tiny house cabins on the grounds, each with all the comforts of a luxurious hotel. The windy coast makes for some delightful moments of hammock-swinging on your porch, too! The weather is warm and inviting, the sparkling waters eternally waiting for you to arrive.
A cool feature here is that an organic garden is maintained year-round to provide fresh produce for guests! There's a well-designed, shared pool to cool off in and lounge and grilling area to help you make the most of your time at Pueblo Barrancas with your loved ones. Staff also offer lessons in kitesurfing, traditional surfing, and paragliding on the ocean, plus all the opportunities for swimming, beach walking, and relaxing on the sand! You can also do some bird watching or whale watching. Venture outside the campsite to Rocha, and you'll find mountains, hills, streams, and valleys next to secluded beaches.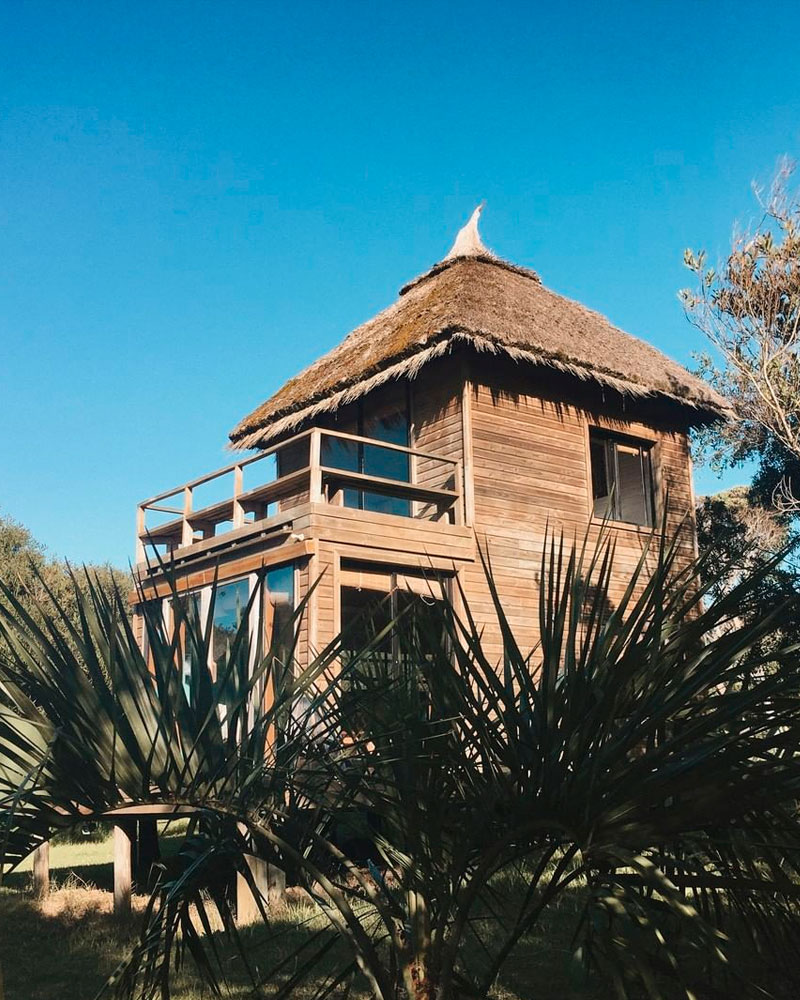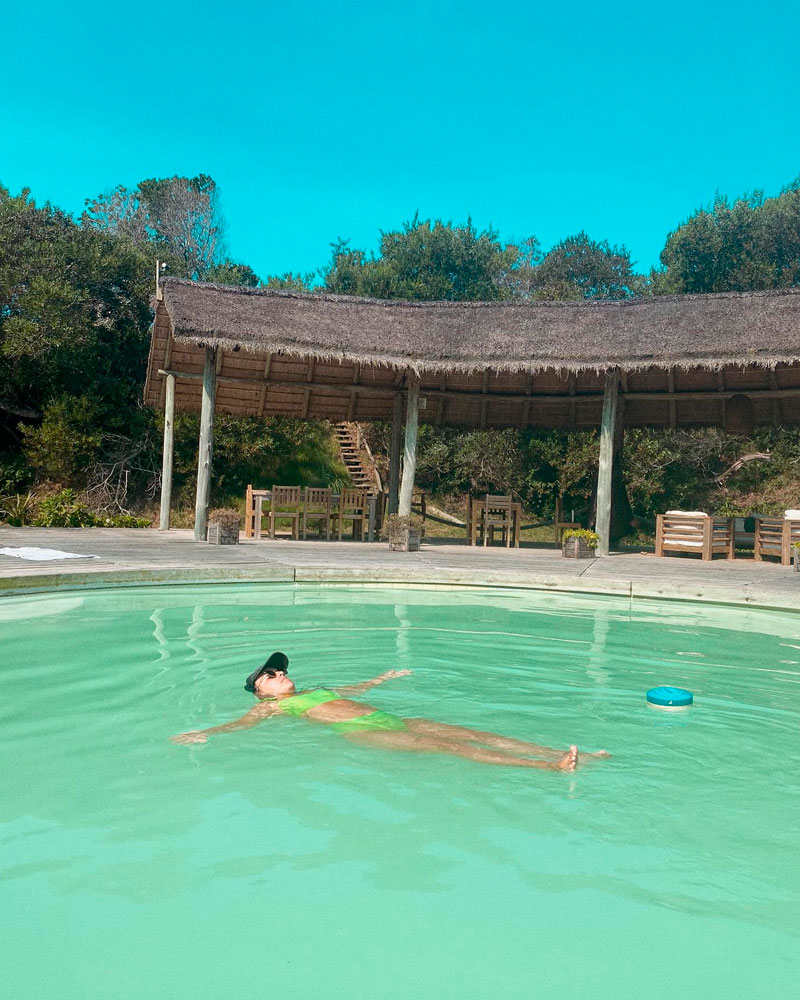 Final Thoughts
Glamping in places like these can, and should, be a soul-wrenching, life-changing experience. In my opinion, it's the very best way to experience the natural wonders of our world, intimately intertwining the human experience with earth's reality. You've got to add it to your bucket list!
P.S – Of course, we're partial to what we think is the most amazing country on the globe – Peru. Here are the best treks in our corner of the world! And here's the best glamping and trekking experience in Peru. Enjoy!
Written by: Bethany Iversen Marrou
---
Chalten Camp
,
Deluxe Airstream Camper
,
Duna Camp Huacachina
,
EcoCamp
,
Galapagos Safari Camp
,
Glamping in South America
,
Niddo Suesca
,
Patagonia Camp
,
Pueblo Barrancas
,
Tedesco EcoPark
,
Treehouse Lodge
---