One question we get asked a lot by those booking tours is 'how much should we tip in Peru?' Well, there's no one simple answer, and it depends on where you are and what you're doing.
Perhaps you've just enjoyed a delicious meal in one of the top restaurants in Peru, and when confronted with the bill, you're not sure how much to tip or if it's even the norm. Or you might be coming to the end of your trek to Machu Picchu and wonder if you should tip all the trekking team and how much.
Every country has tipping etiquette, and in some, it's even rude to leave anything at all. So, you must understand the tipping culture in Peru before you come on vacation. This way, you can avoid uncomfortable situations and always be prepared with some cash on hand.
In this article, we'll cover how much to tip in various situations and what to do if you're confronted or a tip in a moment that doesn't merit one.
Is Tipping Customary in Peru?
To begin with, tipping is generally considered good practice amongst travelers to Peru and is generally encouraged. You'll find you're expected to tip at most establishments that you would normally, such as restaurants, bars, hotels, airports, on tours, etc. You can also tip in a situation where you feel you received outstanding service.
Quick tip: Just a little note before we get started; we recommend you always keep a handful of coins and small change on you. In many situations, it's customary to give a very small amount. The local minimum wage is only around $260, so you want to give something relative to what they earn. A good way to think of it is that in a month, they should receive enough tips to double their normal wage. Only a few people will get paid more, such as guides and managers of hotels, for example.
Tipping Etiquette in Peru
Now you know what's expected of you generally, let's go over each place or situation and how much you're expected to give.
Airport
The first place you'll experience when you arrive in Peru is the airport. You'll likely notice a lot of porters offering to help with your bags who'll expect a little in return. You don't need to accept their help if you prefer to do things by yourself. Just kindly say no to them.
Also, if you already have a tour meeting you at the airport, there should be someone with a board or piece of paper with your name on it. They'll likely have someone to help you with your bags, so you definitely won't need the help of an extra porter in this case. A reasonable tip if you do use a porter is about two soles a bag.
Restaurants and Bars
Let's start by saying that in most bars and restaurants in Peru, gratuity isn't included in your bill. If it is, it'll only be at high-end places, and you'll see it mentioned at the bottom of the ticket where it'll say something like '10% service charge.'
The general rule at restaurants, especially in a busy zone and the touristy areas, is 10%, but feel free to give more or less if the service deserves it. In some, you can tip with a credit card and will often be asked if you want to, but most prefer it in cash if you have it to hand.
The smaller, local places don't usually expect you to leave anything. However, there's no harm in leaving a couple of soles on the table when you leave.
At bars, most people tend to leave 1 or 2 soles per drink, but if you order any food, you'll need to apply the 10% rule.
Extra tip: You'll often hear the waiter ask you boleta or factura. You should always say boleta because factura is only for Peruvian companies registered with SUNAT. The same applies in shops.
Guides and Trekking Staff
While you're on your vacation in Peru, we're sure you'll be enjoying many tours and hikes. It's expected to tip the guides, drivers, and all trekking staff.
On a Day Tour
If you head on a guided tour in a group for the day, we recommend 15-17 soles ($5-$6) per person for a half-day tour and for a full-day trip 20-25 soles ($7-$8) per person to give to the guide.
Say you go on a guided private tour; you'll be expected to tip a little more per person as there are no other people in the group. For a half-day tour, we suggest 30-35 soles ($10-$12) and for a full day 50-60 soles ($17-$20).
For the bus driver, the going rate is around 10 soles for the day, so about $3.50.
On a Multi-Day Tour
Things change when you head on a multi-day trek as you'll be expected to tip the guide, cooks, porters, and/or horsemen.
Trekking Staff: This includes everyone apart from the guide, and they are an extremely important part of the trek and sometimes undervalued.The average for a trekking staff team is about 150 ($45) per trekker. However, it'll depend on the length of your trek as these can range from 3-8 days. You can also work it out like 35-40 soles per day ($10-$12). You'll usually give the tip to the guide, and they'll share it out amongst everyone.
The Guide: When you're on your trek, you'll see that your guide gives you attention around the clock and helps out in every way possible to ensure you have the most wonderful time. They'll share local and historical knowledge with you and keep you safe along the trail. A fair tip for a guide in Peru is between 60-80 soles ($10-$12) per person.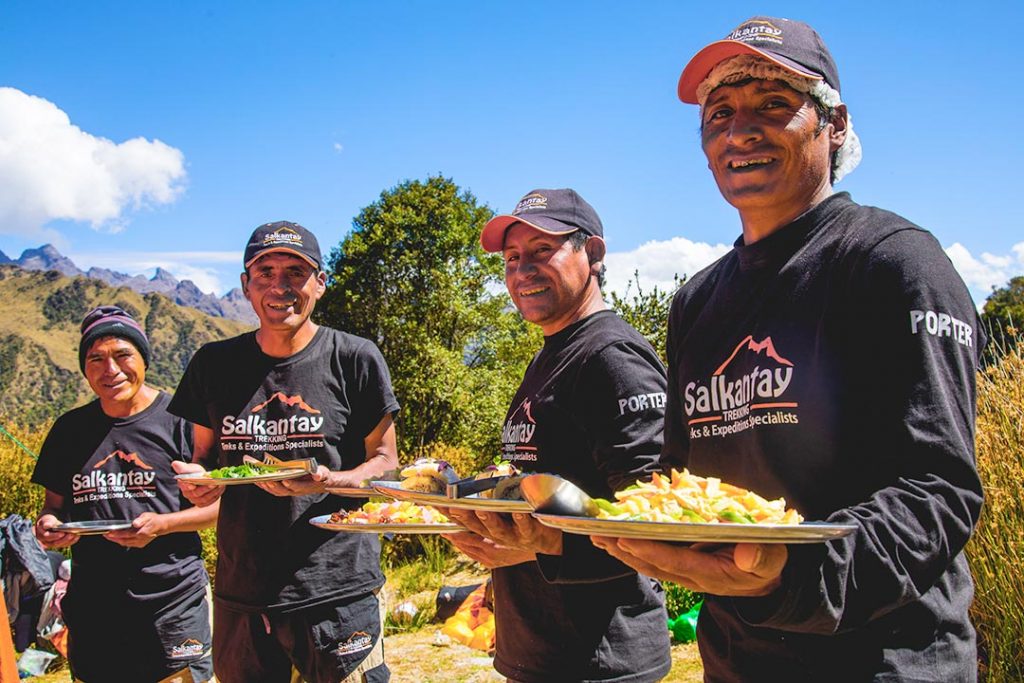 Hotels and Spas
Tipping in hotels in Peru often depends on the kind of hotel. More economical hotels and hostels often don't see tips, unlike the luxury hotels in larger cities. However, this doesn't mean that if you receive excellent service at one of these establishments you shouldn't tip. In fact, they're more likely to appreciate it.
If you stay in the larger chain hotels, about 3 soles ($1) per day is a decent tip for housekeeping and porters between $1-$3 a day for all their help. It likely isn't much to you, and it will mean a lot for them while making your vacation much easier.
In the Sacred Valley, there are many luxury spa hotels, for which around 10 soles should be well-received for each service. If you head to a smaller spa for the day in Cusco, 5 soles should be enough for each service.
Gas Stations and Public Restrooms
When you stop at gas stations, you'll notice that the service attendants fill your gas for you. You can tip for extra services like checking tire pressure and cleaning windows if you rent a car. 1 sol is sufficient.
For restrooms, you'll often find you need to pay a small fee (usually 20 cents) to use them. In some, there won't be a fee, and you'll see a little basket or pot inside for you to leave a little something inside for the maintenance.
Taxis and Public Transport
When you use public transport or taxis, it's not commonplace to leave a tip. Buses have a set fare, but taxis don't, so you should negotiate a price before getting in. You might feel the urge to give a little extra for great service, but most Peruvians would tell you it's not needed. You could give 2-3 soles if a driver helps you take your bags into your accommodation.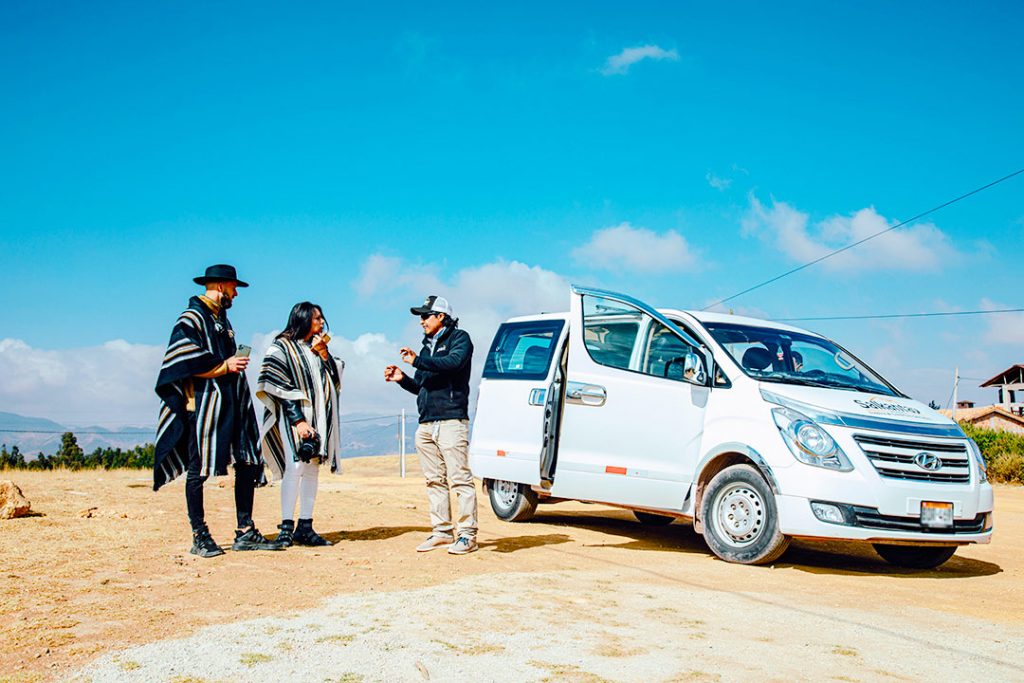 What to Do When Confronted with an Unexpected Tipping Situation
Occasionally on your vacation in Peru, you might sometimes be asked to tip someone out of the blue. This can happen in larger cities with a bigger influx of tourists, like Cusco, Arequipa, and Lima.
For example, in Cusco, you'll see women in traditional dress with alpacas that look like something you'd really like to snap a photo of. However, when you do, you're quickly confronted and asked for money. To avoid this, always ask before you take a picture of someone and keep in mind that they may expect a small tip.
Another instance where someone might expect a tip is if you ask for directions and they take you where you want to go. If they approached you rather than the other way around, it's more likely they're looking for a tip rather than doing it out of the kindness of their heart. Ensure you politely turn down the assistance if you don't need or want it.
Stick to the Tipping Customs in Peru
When you come to Peru, remember the tipping etiquette. In general, it's a wonderful way to show your appreciation of services, and those who receive the tips are very thankful. Many employees in the country work very hard and are often exploited, so your small tip will go a long way.
Ensure you always carry small coins with you or small bills to tip accordingly when needed. This way, you'll always be ready to reward great service, and someone's hard work.
---
---