You simply cannot visit Peru without finding your new favorite food. Crafted through generations and across all types of landscapes, Peru is home to one of the most diverse gastronomical scenes on the planet. Its fertile lands produce an abundance of fruits, vegetables, and grains. Several of the globe's superfoods are indigenous to Peru and thrive here, such as quinoa, maca, kiwicha, chia, avocado, purple corn, tarwi, cacao, lucuma, and goldenberries.
Thanks to Gaston Acurio, a world-renowned chef, Peruvian cuisine is now recognized worldwide as being among the very best. At the 2021 World Travel Awards, Peru was named the World's Leading Culinary Destination for the 9th time, more than any other country on the globe EVER!
Definitely take a traditional cooking class on your trip to taste Peru back home with you to enjoy it over and over again.
Here are the best Peruvian dishes to look out for.
The Best Peruvian Dishes
Ceviche
This one has to be first. It's Peru's national dish, and it's unique, healthy, and so scrumptious. It's at the heart of Peruvian cuisine and you absolutely must try it. It has a strong, spicy, and acidic flavor, so some foreigners are caught off guard. But keep an open mind; it is SO good!
The famous ceviche is made of raw fish marinated and "cooked" in a mixture of lime juice, garlic, ginger, cilantro, hot peppers, and other ingredients.
It seriously turns color from raw pink to cooked white, as if it had been cooked with heat! That is then served on top of lettuce and sliced purple onions and with boiled Inca corn, sweet potatoes, fried cuttlefish, corn nuts, and maybe plantain chips on the side. Give it a chance; you won't be disappointed! After the ceviche, you'll be served a yummy fish soup called chilcano. The best place to eat ceviche is in the capital, Lima!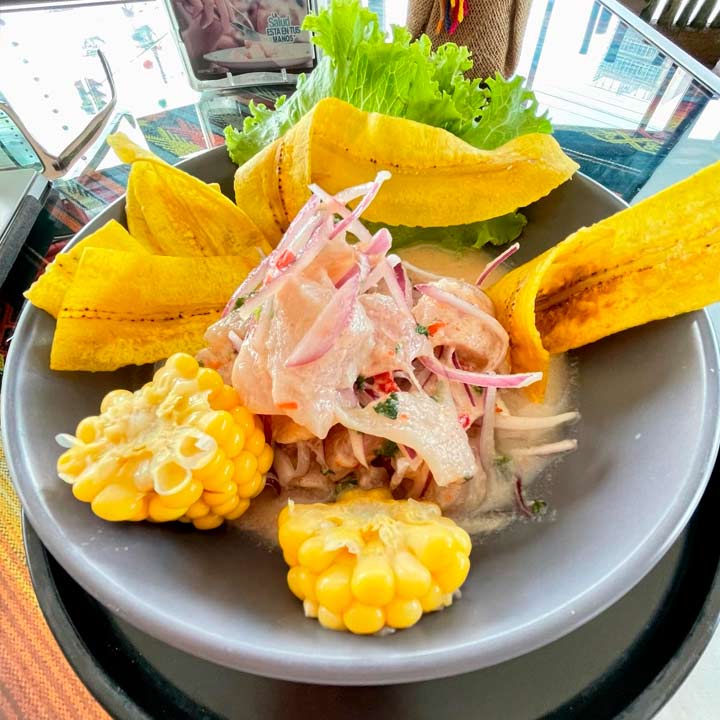 Arroz con mariscos (Rice with Seafood)
This is a great combo to eat along with ceviche. It's red rice with seafood: octopus, calamari, mussels, clams, prawns, and scallops. Add in some green peas, garlic, and onion plus the red sauce made from tomatoes and dried aji peppers, and voila! So yummy.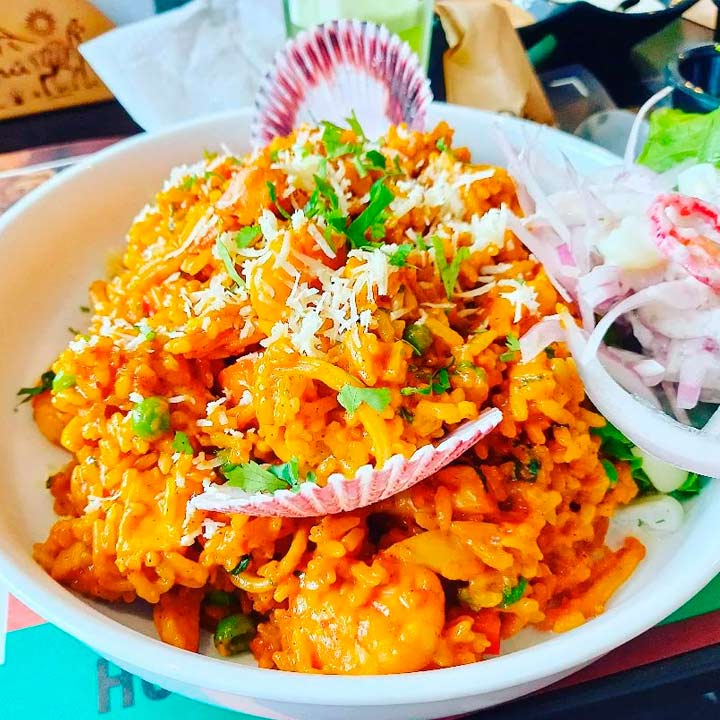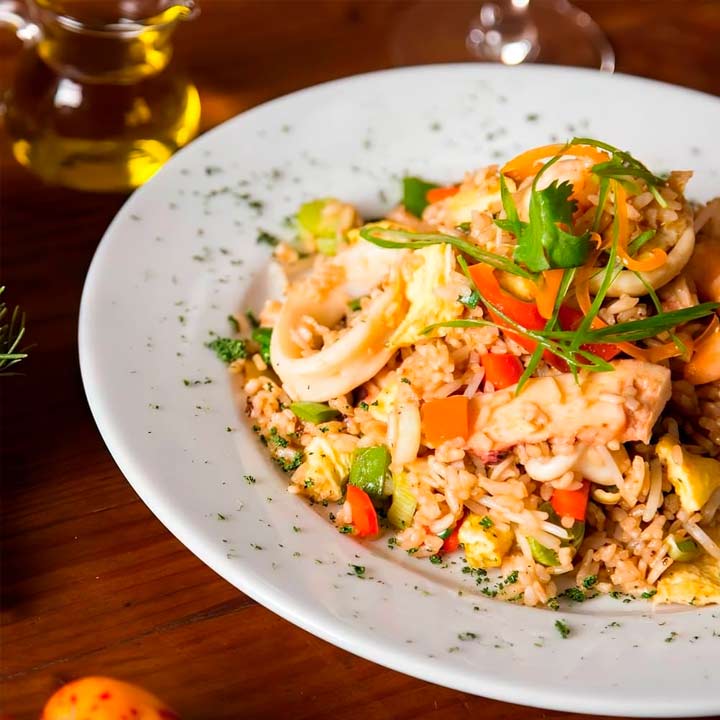 Leche de Tigre (Tiger's Milk)
This is ceviche in the form of a drink! It's basically the same taste, but some of the fish is blended, making the liquid thicker and more substantial. It's served in a large glass with un-blended ceviche and Inca corn inside, plus the fried cuttlefish, sweet potato, and corn nuts on the side. In restaurants, you'll often be given a bit of Leche de Tigre in a shot glass while you wait for your ceviche to be prepared.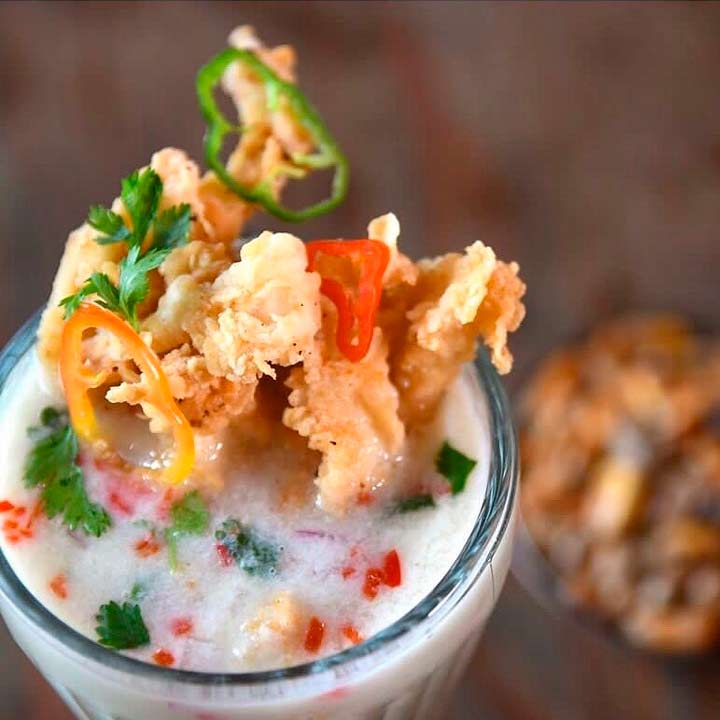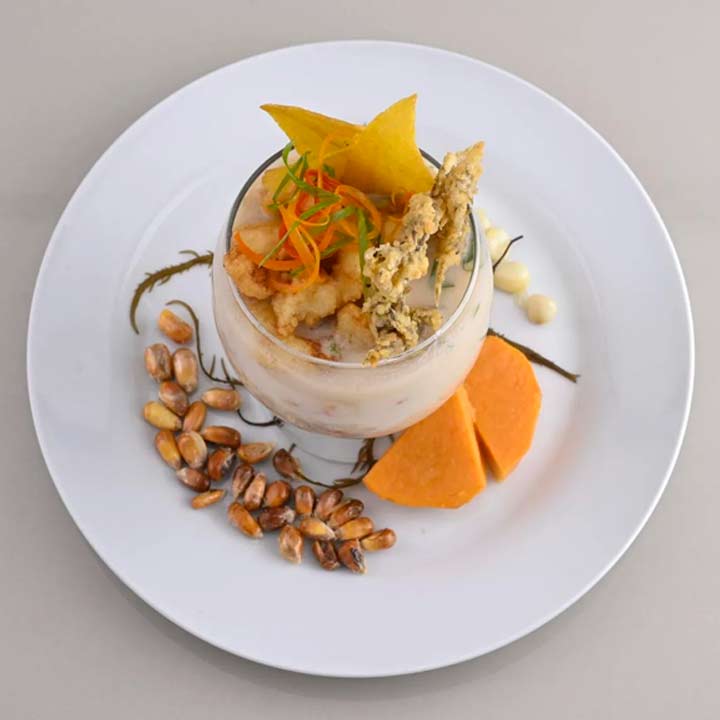 Cuy (Guinea Pig)
Did you know that guinea pigs are native to the Andes? Since before Europe introduced cows, pigs, and chickens to South America, even before the Inca Empire began, guinea pigs were domesticated as a main source of protein for locals.
As a testament to that, the Cusco Cathedral houses a painting of the famous Last Supper, but in the center of the table is a cooked guinea pig! It can be baked with local herbs like huacatay, or it can be fried. Its taste is gamey and wild, and it's often served whole, with its head, tail, feet, and even nails!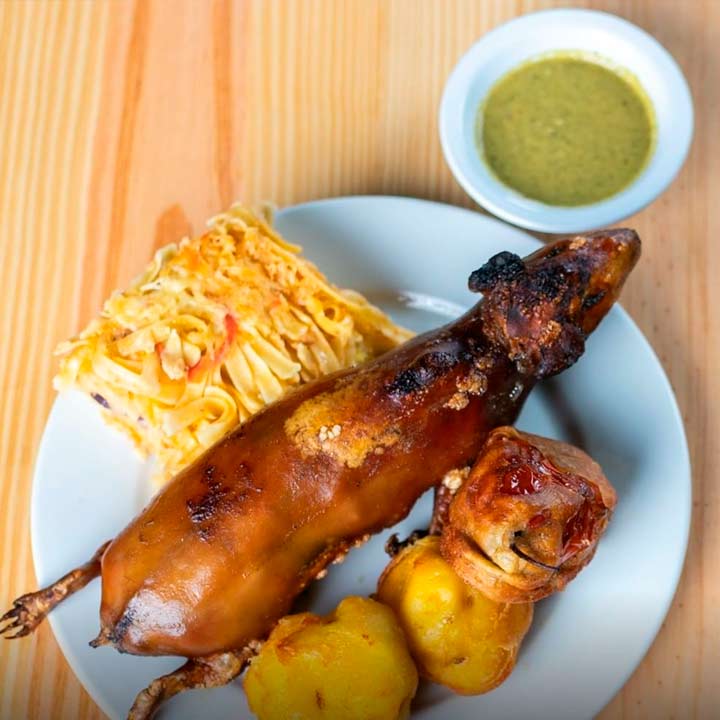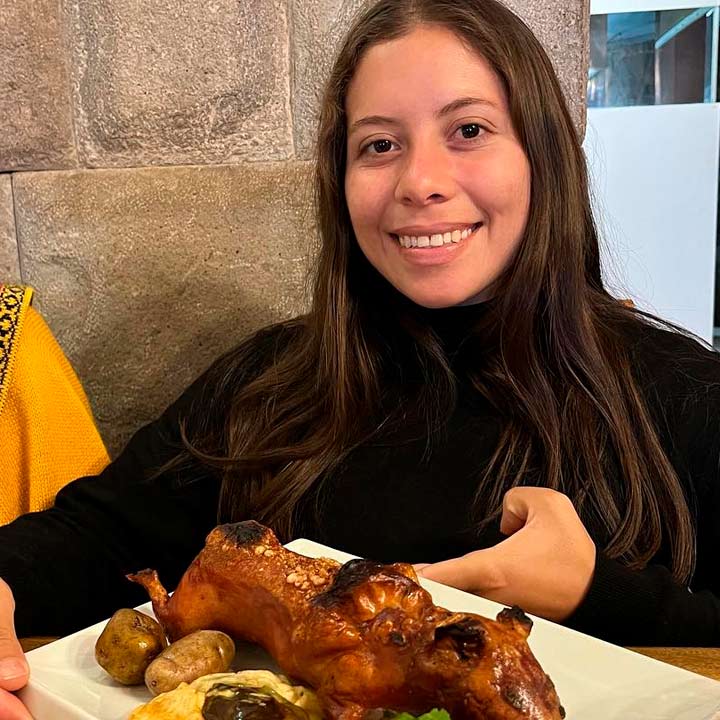 Arroz con Pollo (Rice with Chicken)
Some think cilantro tastes like soap, but you'll never hear a Peruvian say that! It's a tasty addition to many different dishes in Peru, and one of the most popular is arroz con pollo. But it's not just any rice! A whole bunch of fresh cilantro is blended up, and the chicken is cooked in it, along with some vegetables like diced carrots, bell pepper, green peas and giant Inca corn. That's then all mixed with rice, creating a flavorful green meal! For an added bonus, it can be eaten along with ceviche and papa a la huancaina or carapulcra con sopa seca. So many great combos!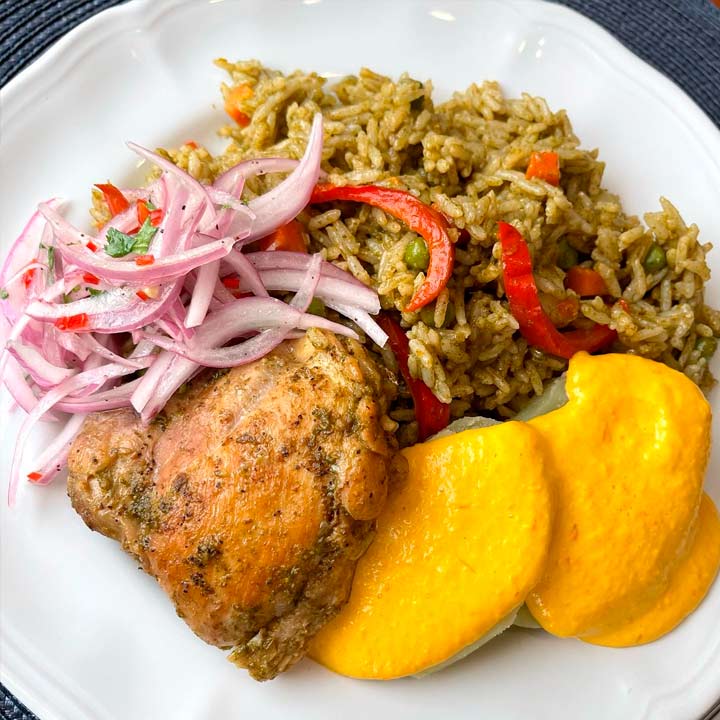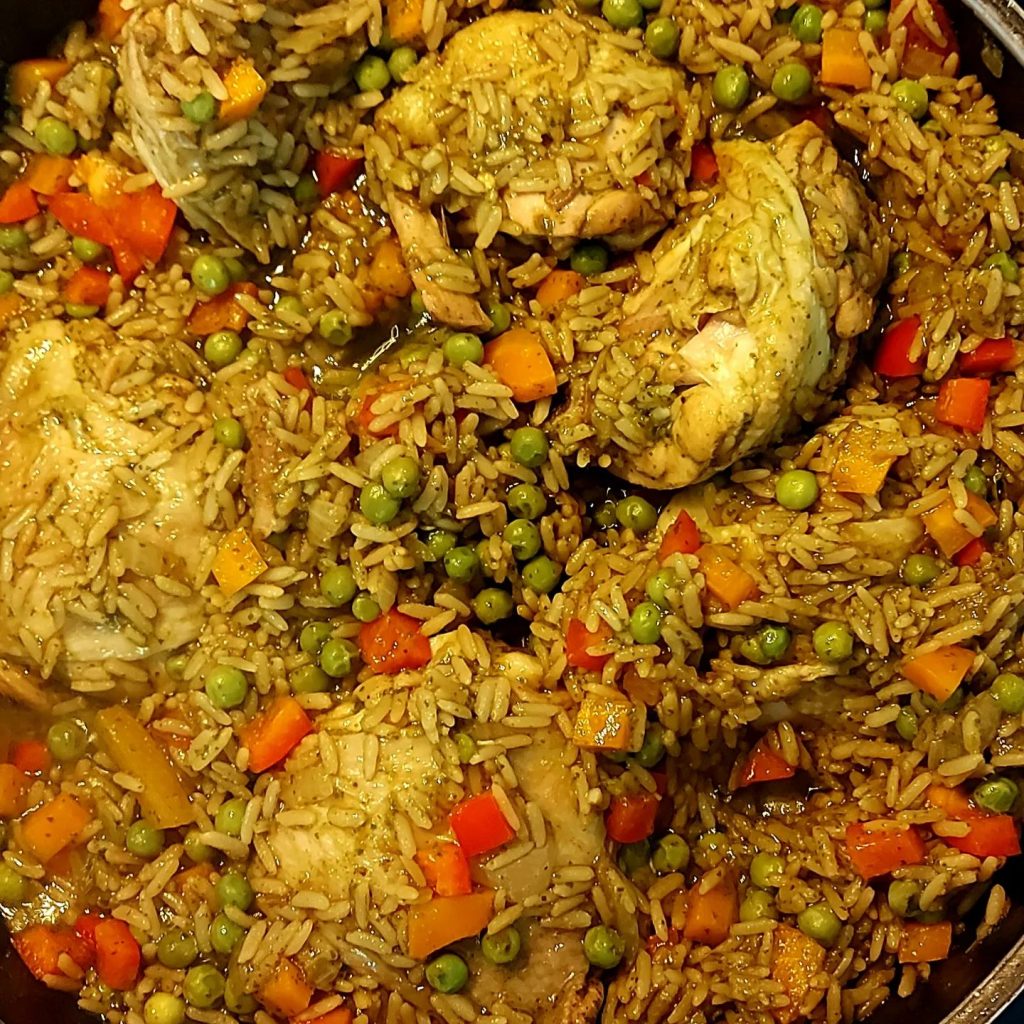 Aji de Gallina & Papa a la Huancaina
The yellow aji pepper native to Peru is another main character is Peruvian cuisine. One of the most common ways to use it is in making a creamy, spicy sauce called huancaina. That sauce is served over potatoes, creating the papa a la huancaina. A very similar sauce is mixed with shredded chicken and served on lettuce and with boiled egg and black olives on top, accompanied by white rice. That's called aji de gallina! It can be made as mild or as spicy as you like, because when the seeds and veins are removed from the peppers, they aren't spicy.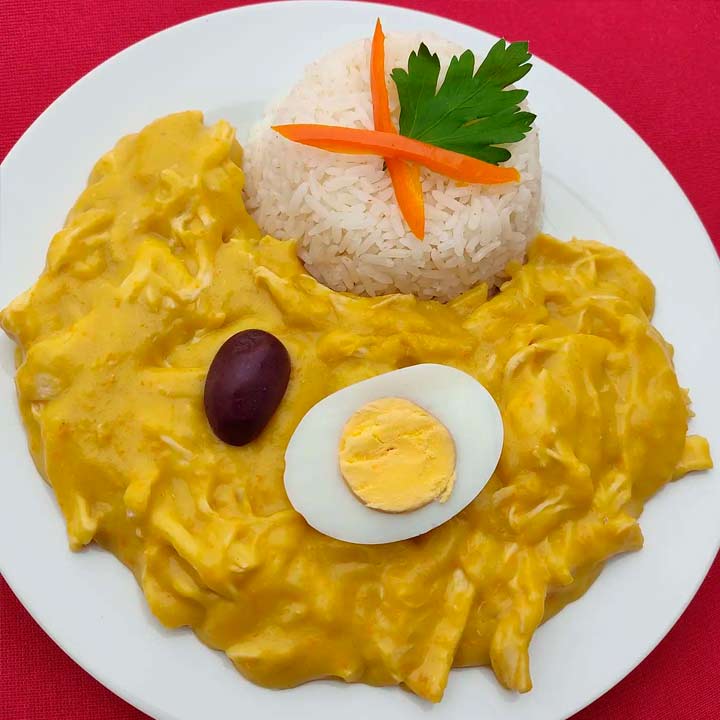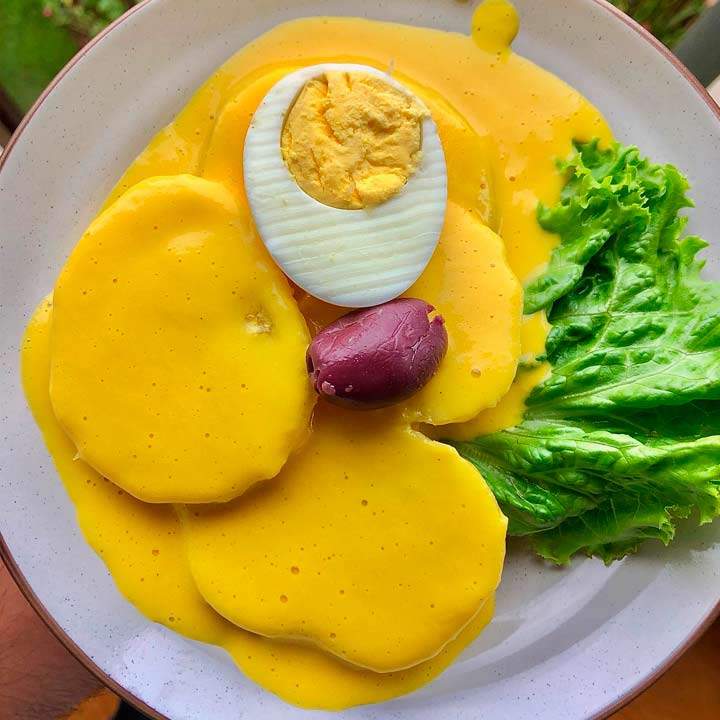 Causa
Causa is a casserole of 4 layers. First, mashed yellow potatoes mixed with blended yellow aji peppers. Second, a layer of something like tuna salad or chicken salad. Third, another layer of mashed potatoes. Lastly, it's served with sliced avocado on top! There are several variations of this dish, but this is the most typical. Causa is delicious served with ceviche, too!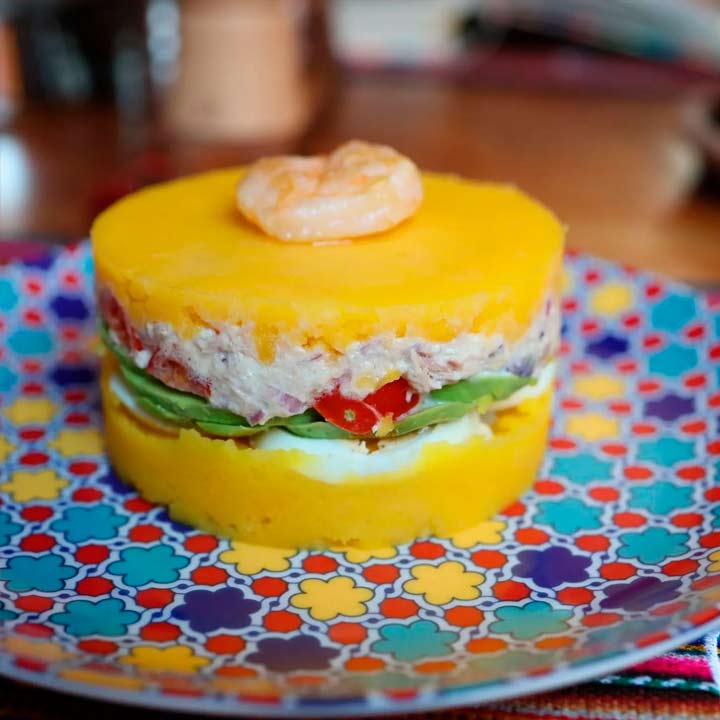 Stuffed rocoto pepper / avocado / potato / caigua / yucca
LOTS of vegetables are prepared by stuffing them with a tasty filling! These are some of my personal favorites. Rocoto peppers are the spiciest pepper in Peru, but when they're stuffed and fried or baked, they aren't as spicy as when raw! Caigua is a hollow, long, green vegetable that can be stuffed and baked. Potatoes and yuccas can be boiled, mashed, and formed into pockets to be stuffed and then fried.
Avocados are simply cut in half and topped with their filling! The fillings are usually shredded chicken or ground beef with diced carrots, green peas, boiled eggs, black olives, and cubes of cheese. Of course, there are so many delicious combinations of ingredients that can be used in any of these.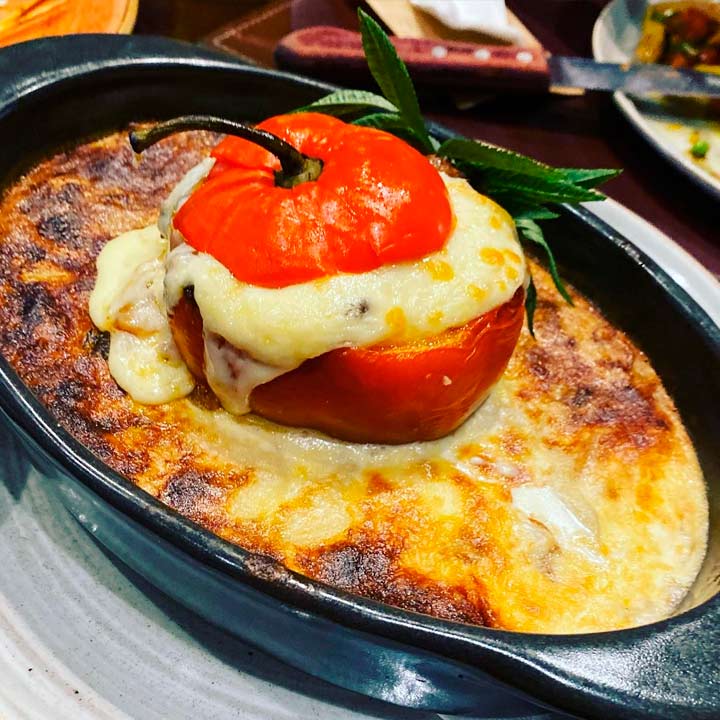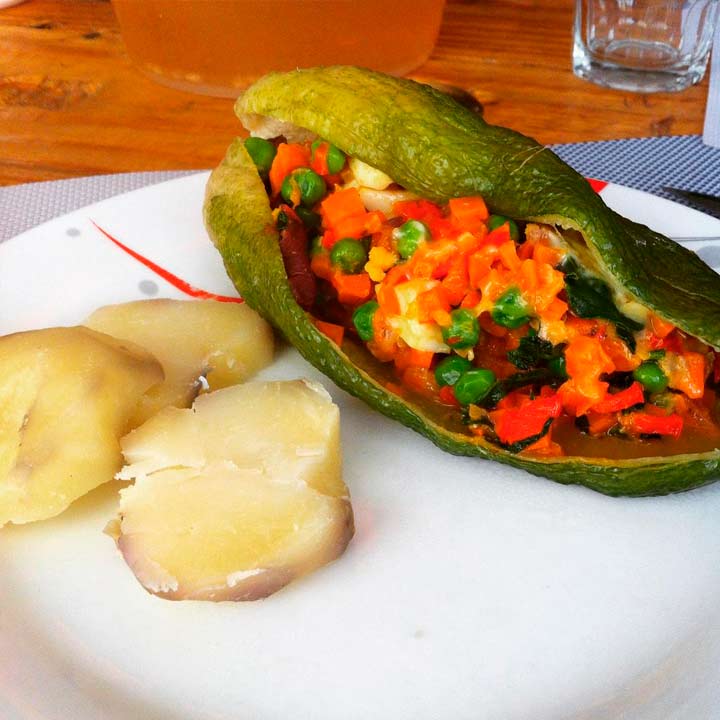 Carapulcra con sopa seca
This meal is prepared from pieces of diced-up, dehydrated potatoes! Doesn't sound that appetizing, but I can assure you it is. They're soaked and boiled with pork, aji paste, ground peanuts, onion, garlic, cloves, anise, cumin, and sometimes even cacao. The name of the dish literally means "carapulcra with dry soup." Weird, right? The dry soup part refers to something like pesto spaghetti that's cooked without water. The sauce is made in a pan, and the dry noodles are added, cooked with the sauce until it's dried up and nicely coating the spaghetti.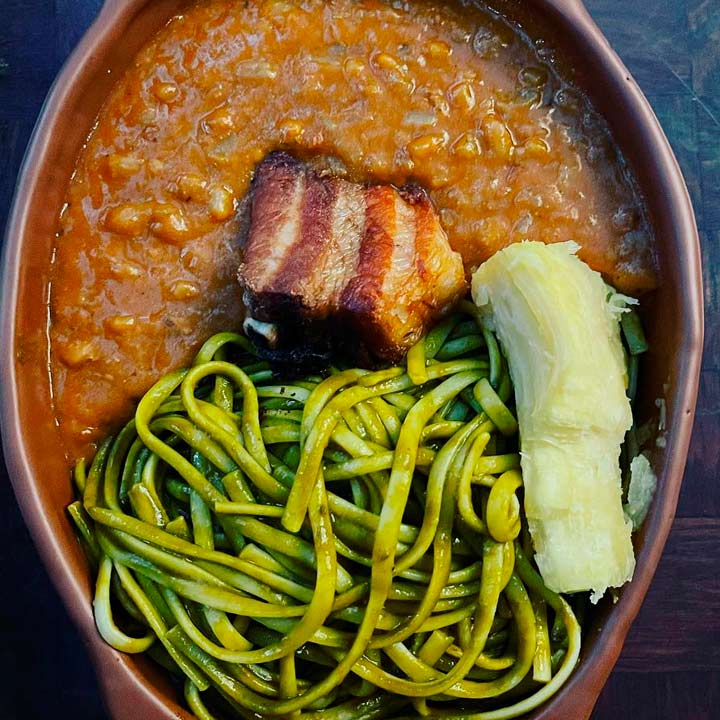 Pachamanca or Huatia
These are the most traditional meals in the Peruvian Andes! You don't need a stove, pots, pans or even silverware. Local ingredients are cooked in a handmade, underground earthen and stone oven. Huatia and Pachamanca are versions of basically the same thing called by different names in different parts of the country. Each can include a combination of potatoes, sweet potatoes, Inca corn, chicken, guinea pig, pork, trout, haba beans, plantains, or tamales with local herbs.
Getting to see one of these ovens dug out, prepared and used is one of the coolest experiences you can have in Peru, and they're always accompanied with amazing mountain views! Locals will often make a huatia or pachamanca on holidays with family or during long days working out on remote farmlands.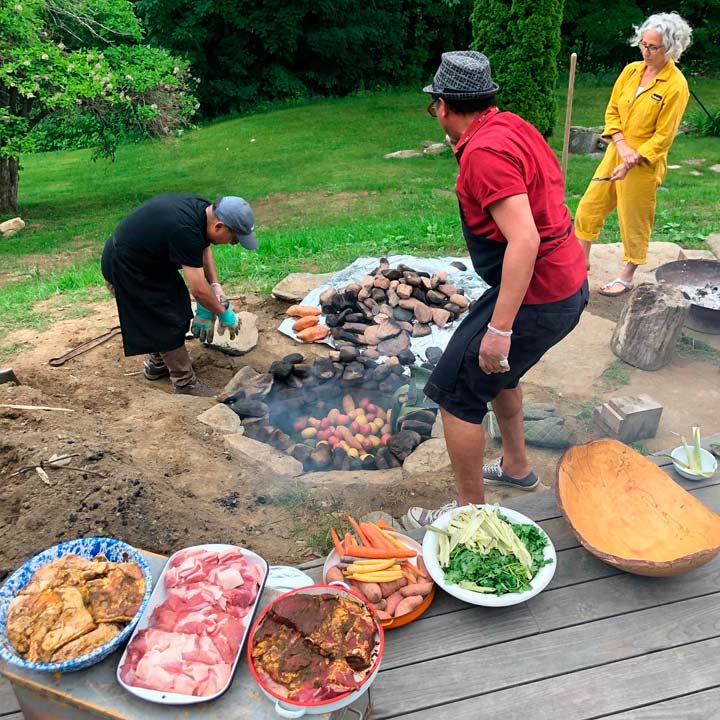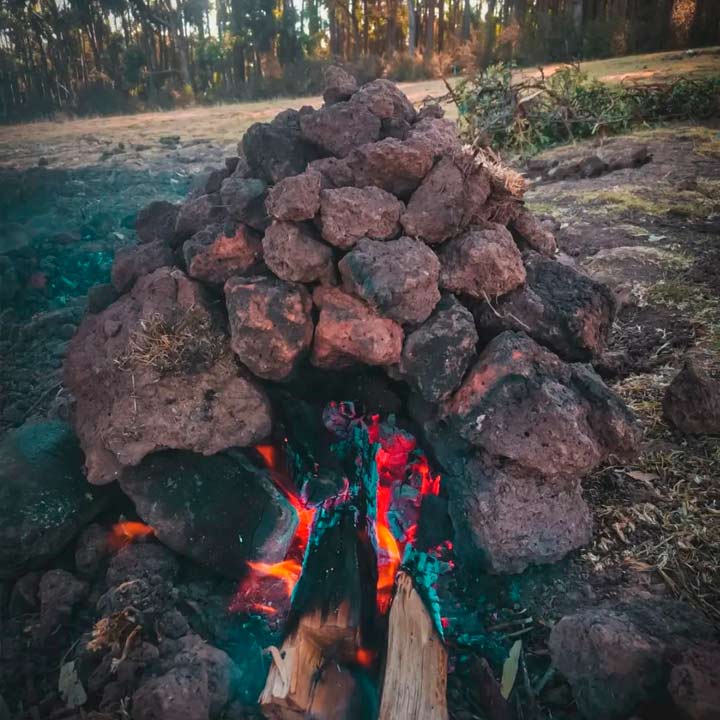 Chupe de Camarones
This is a hearty, creamy shrimp or crawfish stew from the Peruvian city of Arequipa made from a fish broth and tomato base. It's full of a variety of ingredients apart from shrimp: potatoes, Inca corn on the cob, haba beans, cabbage, squash, poached eggs, milk, cheese, parsley, and the local herb huacatay. This chowder is said to have evolved from a traditional llama stew made before the time of the Incas.
The Spanish arrival to Peru then introduced eggs, milk, and cheese, as well as the practice of capturing shrimp, and it became what it is today. It was listed as one of the 20 Best Soups in the World by CNN!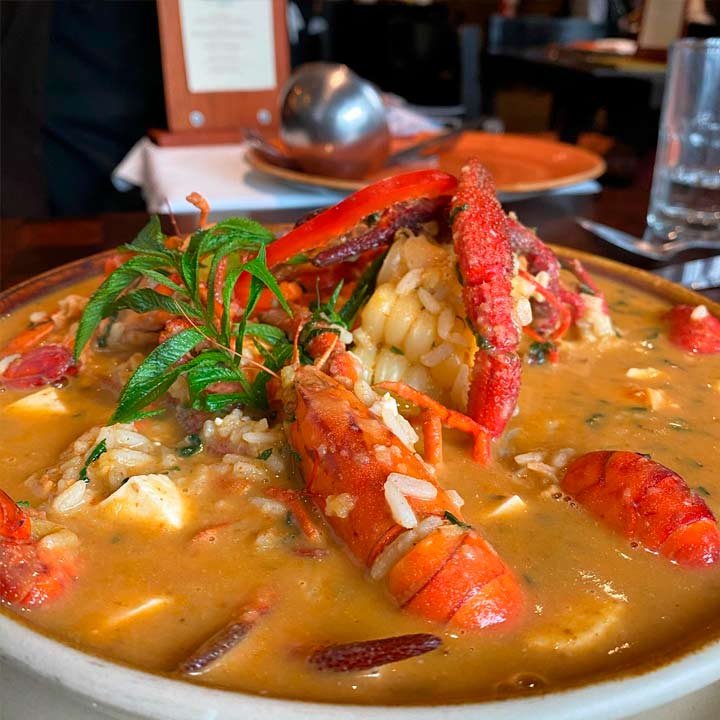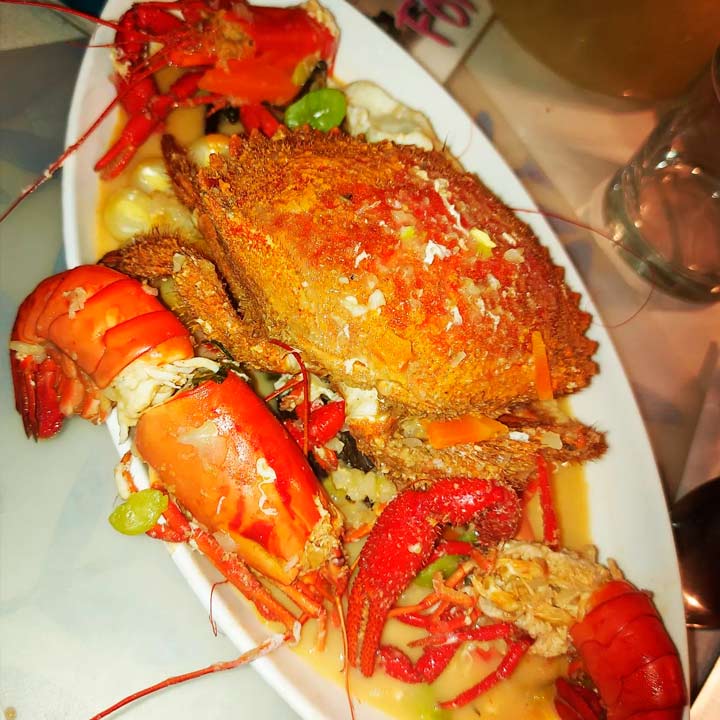 Caldo de gallina
This hen soup wins the prize as Peru's comfort food. It's referred to as "levantamuertos": it raises the dead! It's good for a hangover, after a long day or night at work, to celebrate a special occasion or when you're sick or sad. There are two versions: coastal and Andean. The coastal version includes spaghetti noodles, potatoes, and boiled egg. The Andean version uses rice, potatoes, dehydrated potatoes (moraya), yucca and boiled egg. Each is served with corn nuts, chopped green onion and spicy rocoto pepper paste to add on. It's great at any time of day – even for breakfast!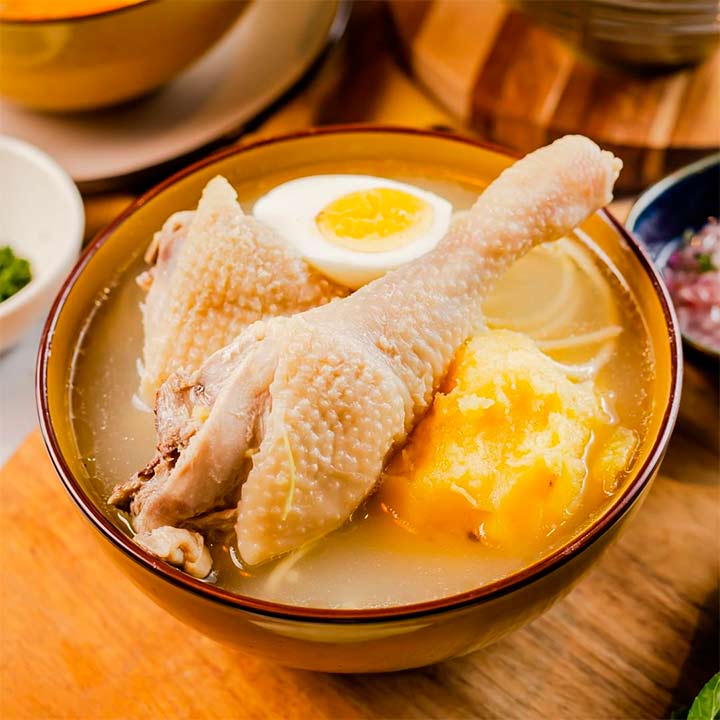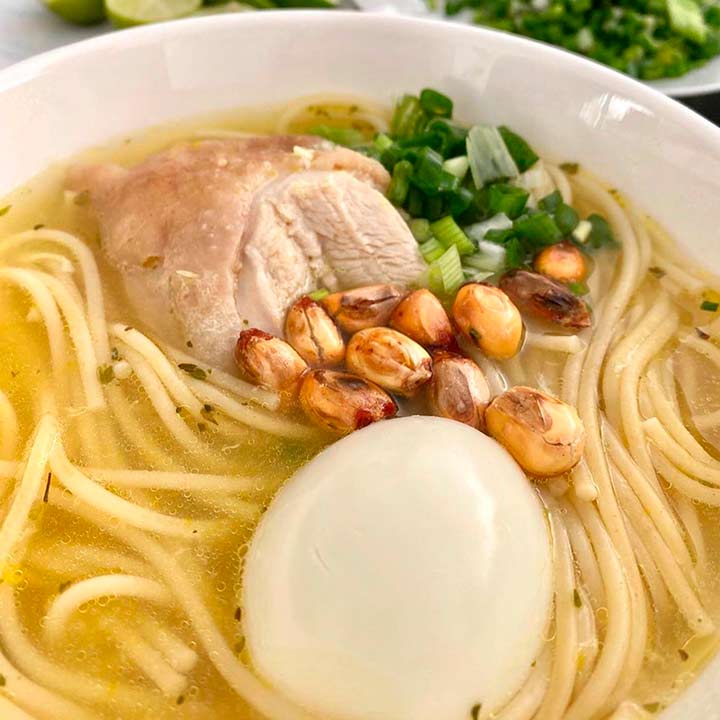 Aguadito
Another of Peru's many restorative soups is cilantro based (I did say Peru LOVES cilantro!) and filled with rice, potatoes, vegetables and chicken or seafood. You can add carrots, peas, onion, bell pepper, and Inca corn. It's pretty much arroz con pollo in soup form! The chicken version includes everything: heart, liver, gizzard, feet, neck, etc. The seafood version will include octopus, calamari, mussels, clams, prawns, and scallops, usually.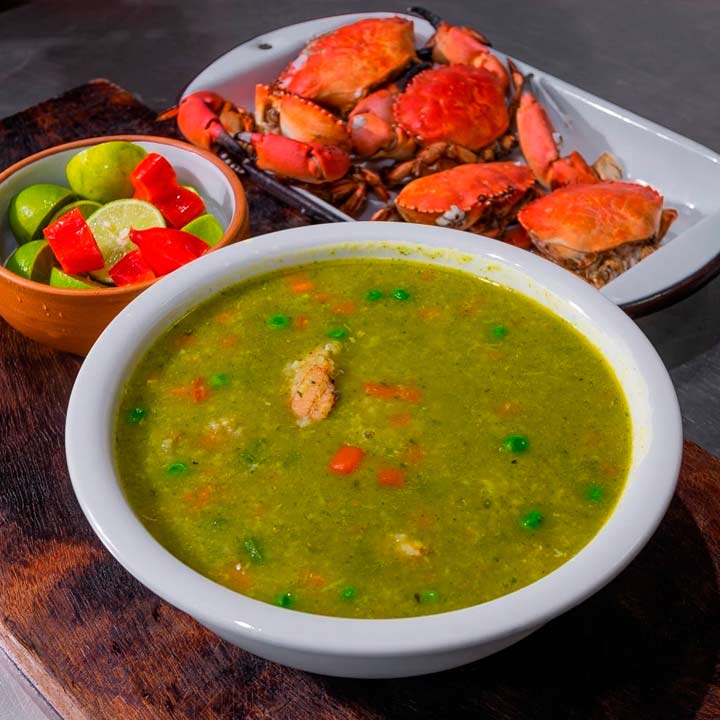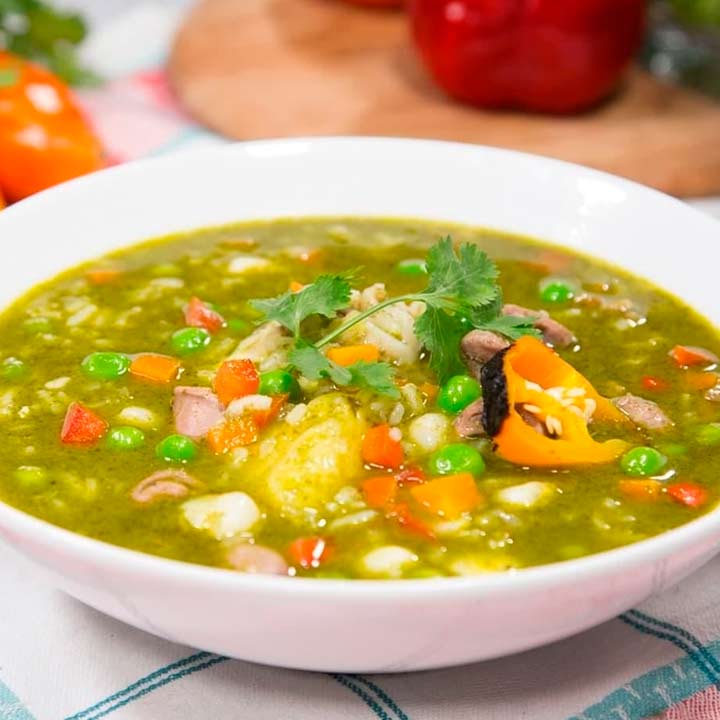 Parihuela
This one is a mouthwatering fish and aji pepper-based seafood stew consisting of shrimp, scallops, calamari, crab, mussels and a whole fish. In the stew, you'll also find yuccas, tomatoes and onions, which are fantastic additions. On a separate plate, you'll be served white rice to mix with your stew as you eat it, little by little. Every bite packs a punch of savory flavor!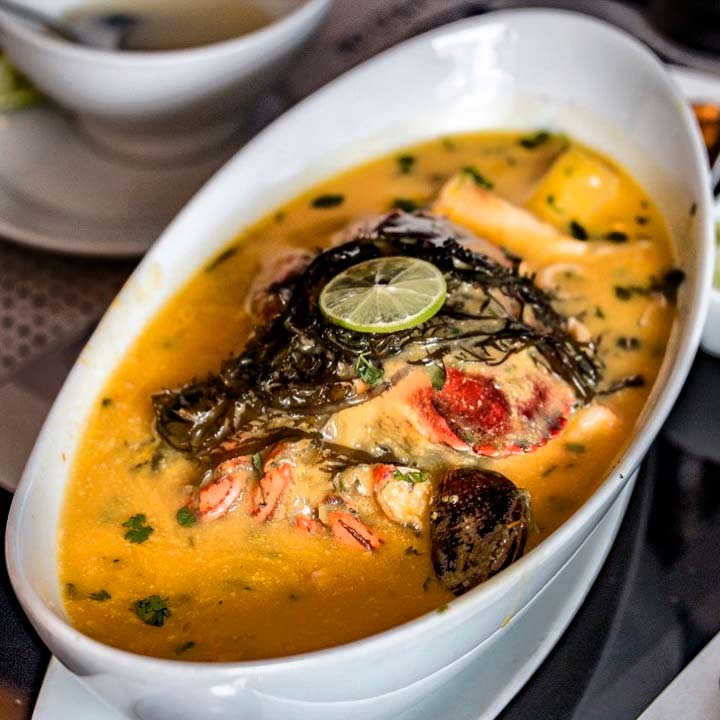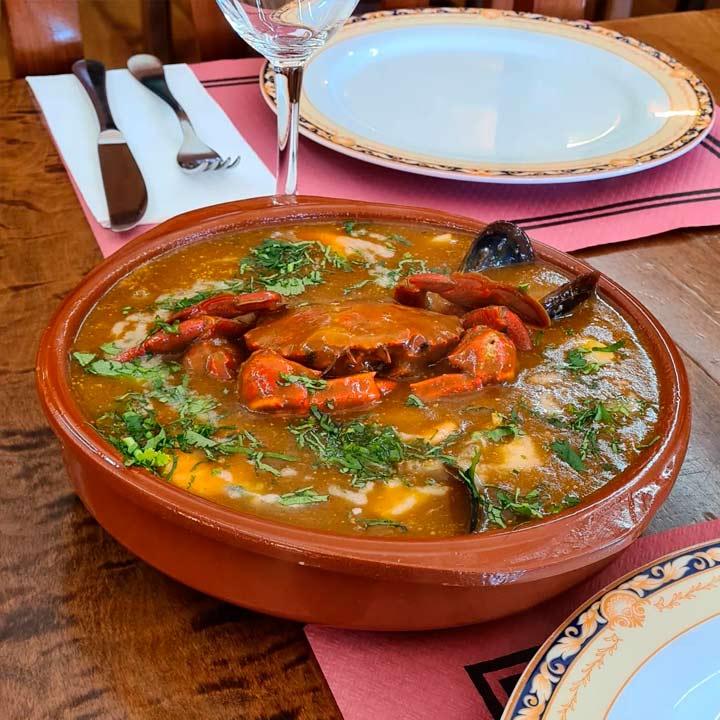 Juane
Juane is the most traditional dish originating from the jungles of the Peruvian Amazon Rainforest. It's made of yellow rice, chicken, boiled eggs and black olives wrapped in banana leaves and boiled in a clay pot! It's especially common to eat it each year on June 24 for the Festival of Saint John the Baptist. In fact, the ball shape that the dish takes on when it's wrapped in the banana leaves is representative of the decapitated head of John the Baptist, commemorating his sacrifice and dedication.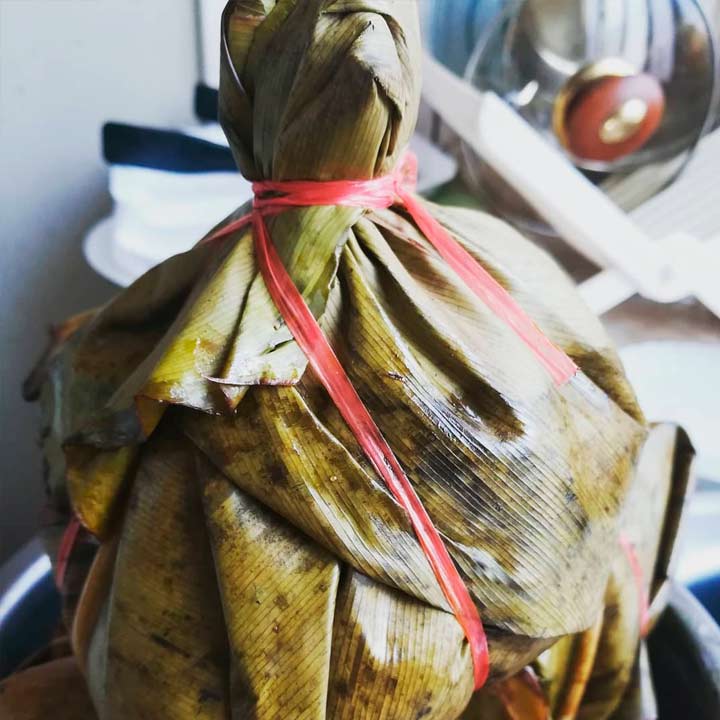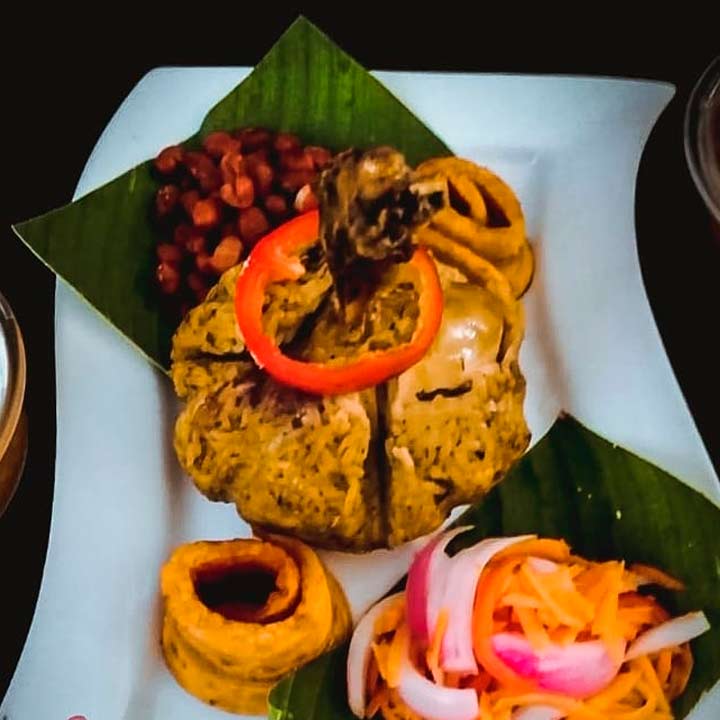 Suri
Grub. Yep, in the northern jungles of Peru, you can eat giant slugs just like Timon and Pumba: "Slimy…yet satisfying!" Specifically, they're the larvae of the palm weevil. They'll be marinated and grilled on a spit, and you can find them as street food across the jungle and in the local markets of the city of Iquitos. They're the largest edible insect in the Amazon! Locals say they're crunchy on the outside and creamy on the inside. Eat adventurously!
Frejol con Seco
A typical plate from northern Peru, this involves canary beans with chicken or beef in a cilantro sauce (surprise, surprise, another dish with cilantro!). The canary beans are cooked with onion, garlic and aji. Separately, blended cilantro and spinach are mixed with a fermented corn drink (chicha de jora), as well as aji, tomatoes, onions, garlic, and sliced carrots. The chicken or beef is then cooked in that concoction. This dish is served with white rice and a purple onion salad.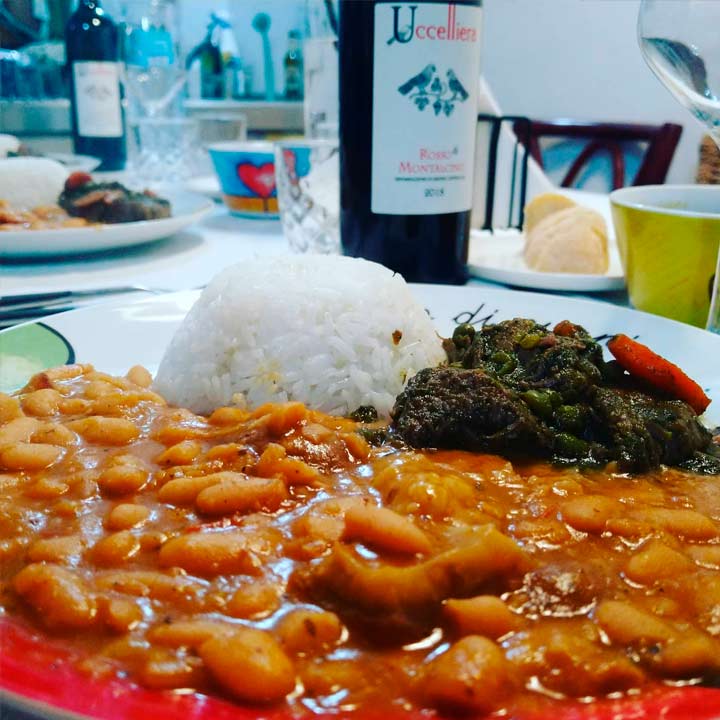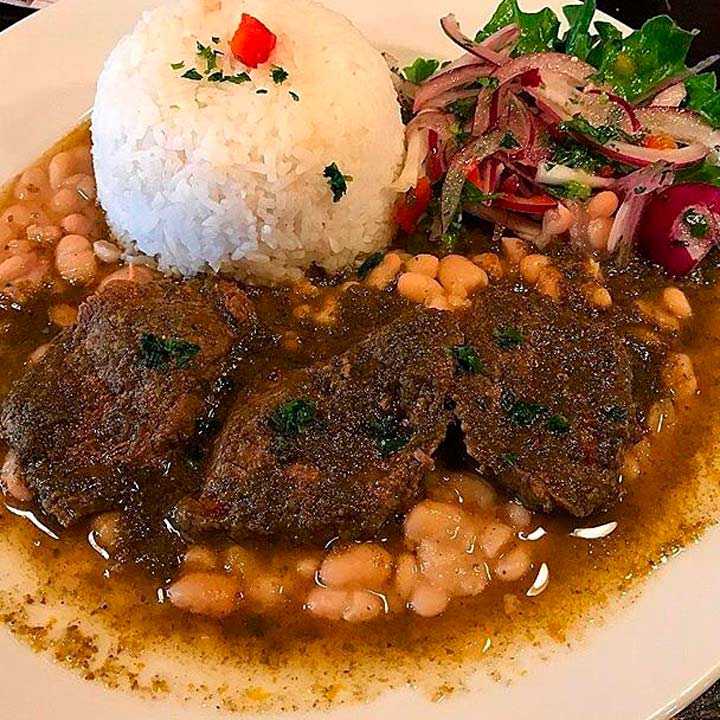 Chiriuchu
Chiriuchu is an extravagant festival dish from Cusco served in June for the Corpus Cristi Festival. It's a dish that's served cold. "Chiri" in the native language of Quechua means "cold." On your plate, you'll find baked guinea pig, hen, beef or pork jerky, sausage, yuyo (a type of seaweed), a thick corn cake, a piece of local cheese, corn nuts, and fish eggs. This is a great way to taste a variety of foods from the region!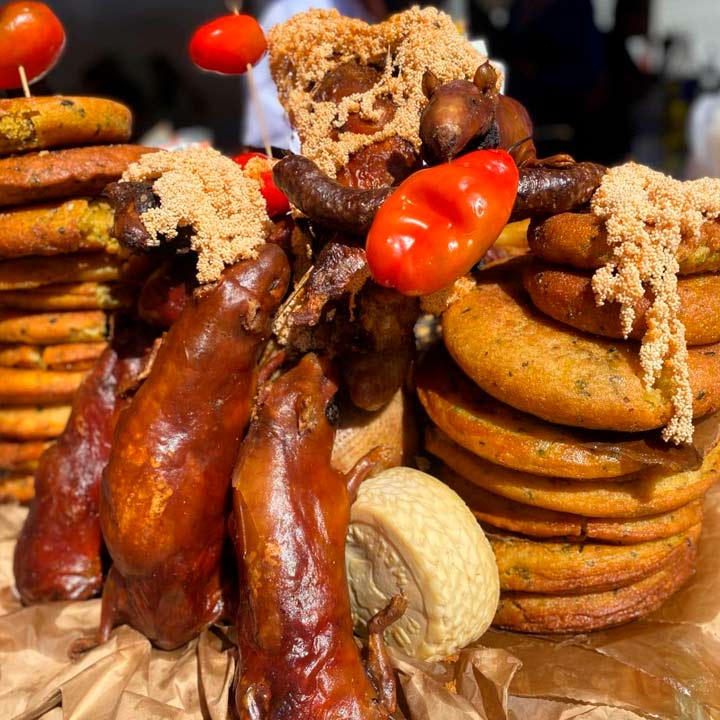 Drinks
Of course, no meal is complete without refreshments. Here are some you can find in Peru!
Chicha morada – a drink made from purple corn, pineapple, cinnamon, and cloves
Coca tea – A hot tea made from native coca leaves. It's good for nausea and altitude sickness!
Inka Muña Tea – Hot or cold tea made from local Andean mint! So delicious.
Pisco Sour – This is the country's national drink, made using grape liquor developed in Pisco, Peru. In true South American style, it's lime-based! And great for cold nights. There are lots of wonderful variations using local fruits like mango, strawberry, and passion fruit.
Passion Fruit Juice – This is a favorite for breakfast or any time of day! Delightfully sour, this juice gives you energy to carry on.
Inka Cola – The most-loved soda in Peru. It's bright yellow and tastes like bubble gum, but it became more popular than coke in Peru, so the Coca-Cola company bought the brand!
Chicha de Jora – The fermented corn beer of the Peruvian Andes. It's homemade from native, giant Inca corn and can be used in cooking (no sugar) or in drinking (with sugar). It's the most popular drink in the countryside, and workers drink it all day long – instead of water – as they toil away on the farm! I wouldn't recommend trying it if you're not in Peru for a long time. It's difficult to get used to the taste, and since it's homemade, it could also make you sick. There's another version mixed with strawberries that's called frutillada.
Emoliente – A hot drink sold from carts along the street, made from several local herbs and products with medicinal properties: barley, horsetail, cat's claw, flax, lime juice, pineapple, lemongrass, chamomile, plantain leaf, and alfalfa sprouts.
Oregano tea – Yes, you can make tea from oregano! It's wonderful for an upset stomach, and it's actually delicious with a bit of sugar!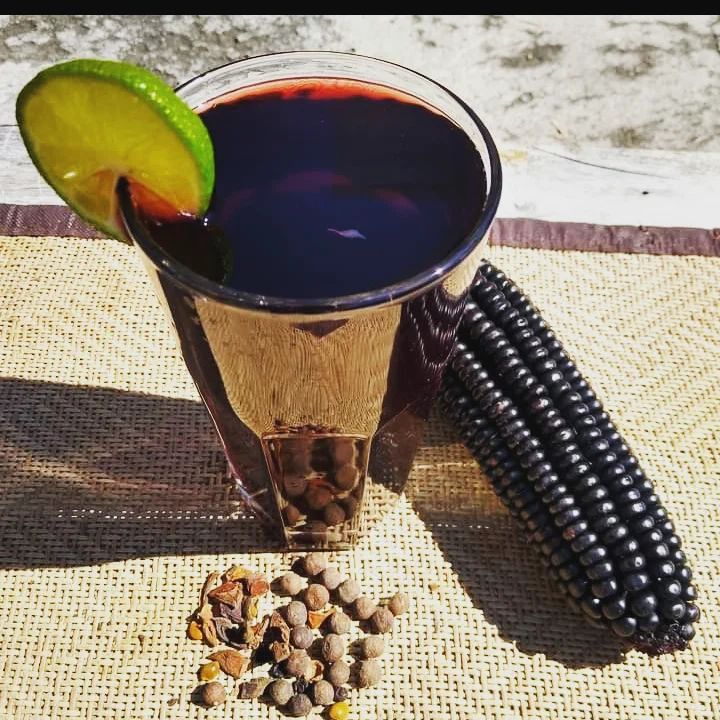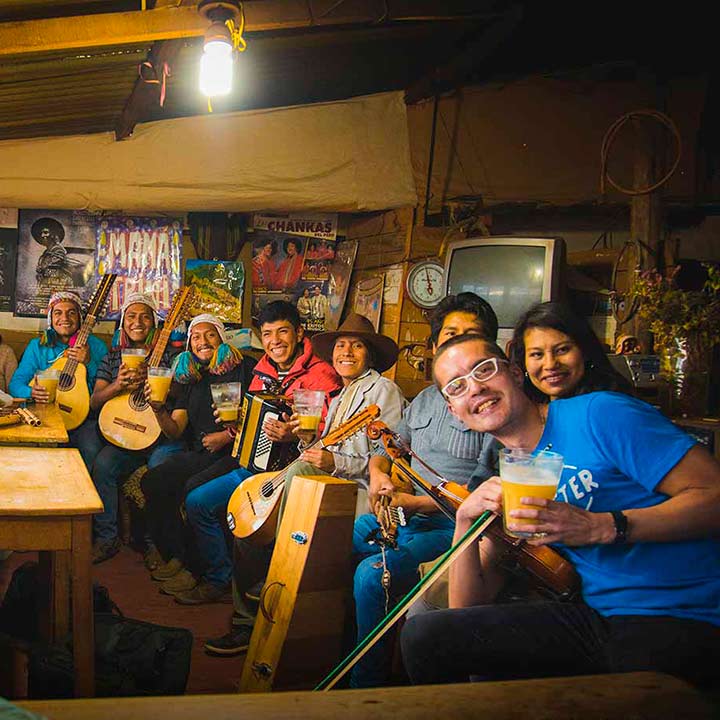 Al ataque! (Bon appetit!)
Now that you know all the best foods to try during your Peruvian adventure, you're ready to get out there and explore! On top of all of these dishes, there are an infinite number of other options to try out.
A fabulous, cheap way to try lots of authentic, local foods is to buy a "Menu del Dia." They can cost between 6 and 20 soles. Restaurants offering this will usually have a chalkboard outside their door with the day's options written. You'll get soup, choose a main course and then also be given a refreshment! Even if you have no idea what something is, order it and see what happens!
Written by: Bethany Iversen Marrou
---
---
You might also like
---