The mouth-watering dish of ceviche is the national dish of Peru and is a fresh explosion of flavors that's also healthy. Once you make it, you'll see that it isn't too difficult. Make sure your ingredients are fresh, and you'll likely find that it's one of the most delicious things you've ever tried.
In Peru, it's the most popular food along the coast, made from fresh fish of the day. It's a must-try for anyone visiting Peru, and Lima is the top place to taste this incredible plate of food.
If you haven't made it to Peru yet but want to try this classic dish, or perhaps visited before and want to recreate the incredible mix of flavors, look no further. We've put together the ultimate ceviche recipe that'll impress any Peruvian as well as friends and family back home.
What Is Ceviche?
The seafood dish is made from pieces of raw white fish that are marinated in lime juice. The citrus juice causes a reaction with the fish protein and 'cooks' it, turning it white while infusing all the tasty flavors. It has a similar effect to cooking with heat, but this dish is cold.
Often mixed in with the lime juice and fish are chili, garlic, celery, and ginger. Many top recipes also have a little fish stock to boost the flavor.
Once the fish is ready, it's usually served with some of or all of the following colorful ingredients:
Sweet potato
Raw red onion
Cilantro
Tender corn
Lettuce
Toasted maize
Plantain chips
Ceviche is simple to put together but has some powerful flavors and looks very attractive once served.
History of Ceviche
Raw fish is eaten all over the world and is an excellent source of protein, omega-3, fiber, and carbs. The first ceviche dishes were created out of a way to preserve food in South America.
No one is one hundred percent sure where the dish officially originated, but we do know that the Incas preserved fish in a similar way with the juice of different fruits, some salt, and chilis.
It wasn't until the Spanish invasion that limes made their way into Peru. Despite the uncertainty of where ceviche is from, one of the best examples (we think the best) varieties is the Peruvian version.
There are other versions, including one from Ecuador where they toss shrimp in a tomato marinade, which is also similar to the Mexican variety. Caribbean methods use coconut milk to give the dish a creamy texture. Ceviche made its way to the US in the '80s through Caribbean flavors from Florida.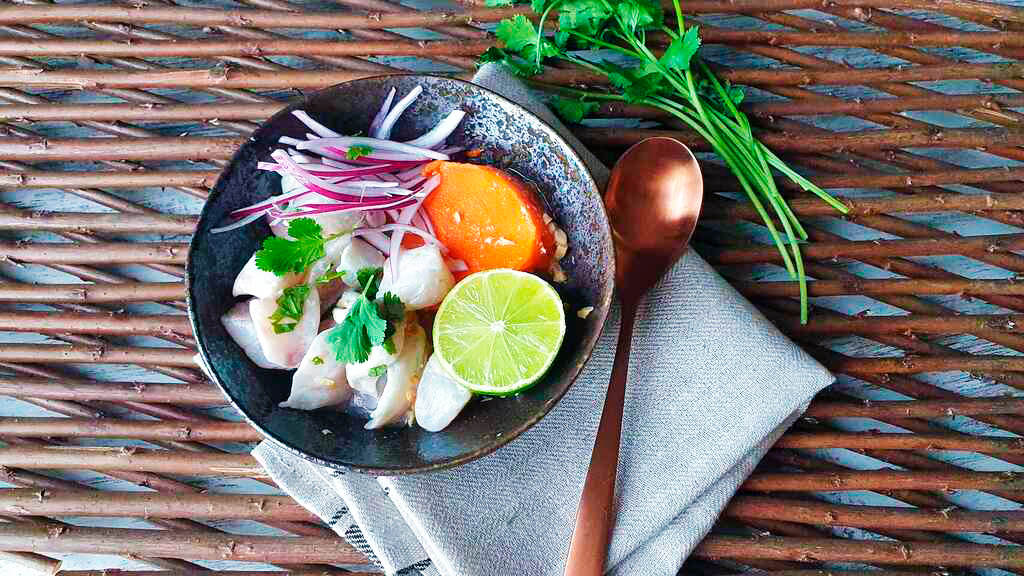 Ceviche Recipe
Course: Lunch
Cuisine: Peruvian
Preparation time: 20-30 minutes
Cooking time: 10 minutes
Resting time: 30 minutes
Serves: 6 people
Calories: 400 kcal
Ingredients
For the Ceviche:
1 kg of white fish filleted (can be any white fish from your area)
750g lime
1 red onion sliced
3 medium spicy chilis cut into tiny pieces
½ a cup of fresh cilantro finely chopped
1 teaspoon of grated ginger
1 teaspoon of finely chopped garlic
½ a stalk of celery very finely chopped
A few teaspoons of fish stock
Salt and pepper to taste
Oil for frying plantain and maize
For the accompaniment (all or any you like):
3 medium sweet potatoes
2 cups of freshly cooked corn kernels
1 cup of toasted maize
2 handfuls of plantain chips
A few lettuce leaves
Method
First things first, you need to wash the fish thoroughly and dry it. Then cut it into 2cm cubes or strips. Make sure you take great care in removing any scales, skin, or little spines that might be leftover. You only want cubes of lean meat. Once it's ready, put it to one side in a bowl.
Next, you need to prepare your lime juice. Wash the fruit, and then squeeze all the juice into a large bowl. Be careful not to let any seeds fall into the liquid.
The lime juice is for cooking the fish by the marinating process we mentioned earlier. So, add your fish cubes to the juice and ensure that it's all covered by juice. Put a cover on the bowl or container and pop it in the fridge for 20-30 minutes while you prep the rest of the ingredients. Every few minutes, you'll need to toss the fish with a spoon to make sure it's thoroughly cooked. It all needs to have contact with the lime juice.
While the fish is in the fridge cooking away, you need to get your accompaniments ready. Wash your sweet potatoes and place them in a pan of boiling water or in a steamer for about 30 minutes. Test that they are tender after this time, peel the skin, and then slice them into large circles about an inch thick.
For the plantains, you'll need to cut them in half across the middle and peel. You can then cut long strips very thinly with a potato peeler. Put them in a pan that has sufficient oil to cover them completely to allow you to deep fry them properly. You'll need to stir with a wooden spoon now and again to stop them from sticking to each other or to the pan. Don't let them touch each other at all. Remove them carefully from the pan and place them on absorbent paper on a plate.
For toasted maize, you'll need to use uncooked maize and then cook it in a similar amount of oil as the plantain. You can take it out and put it on absorbent paper, too.
If you want to serve your ceviche with corn, you'll need to boil it. In Peru, they use very large corn, which can take between 20-30 minutes to cook. You'll need to cook your corn depending on the variety you use.
Wash the chili peppers and red onion thoroughly. Washing the onion gets rid of the strong and bitter taste. Take out the seeds from the chilis and then cut them into very tiny pieces. The onion needs to be cut into thin strips. You'll also need to finely cut the coriander at this point.
Now, take out your fish from the fridge, which should be cooked by now. The outer part of the meat should be white, and the middle should be opaque and easy to break apart. Add the onion, chili, cilantro, ginger, garlic, celery, a little fish stock, salt, and pepper, and mix it all together well. Put it back in the fridge again, covered, for another 10 or so minutes.
Get your plates ready for serving. Add a couple of slices of sweet potato, a small fistful of corn and maize, and place a leaf or two of lettuce on the bottom. Now, grab your ceviche and serve it on top of the lettuce leaves. Place your plantain chips on top, 2 or 3 will do, and finally, sprinkle with a little more chili and cilantro. Voila!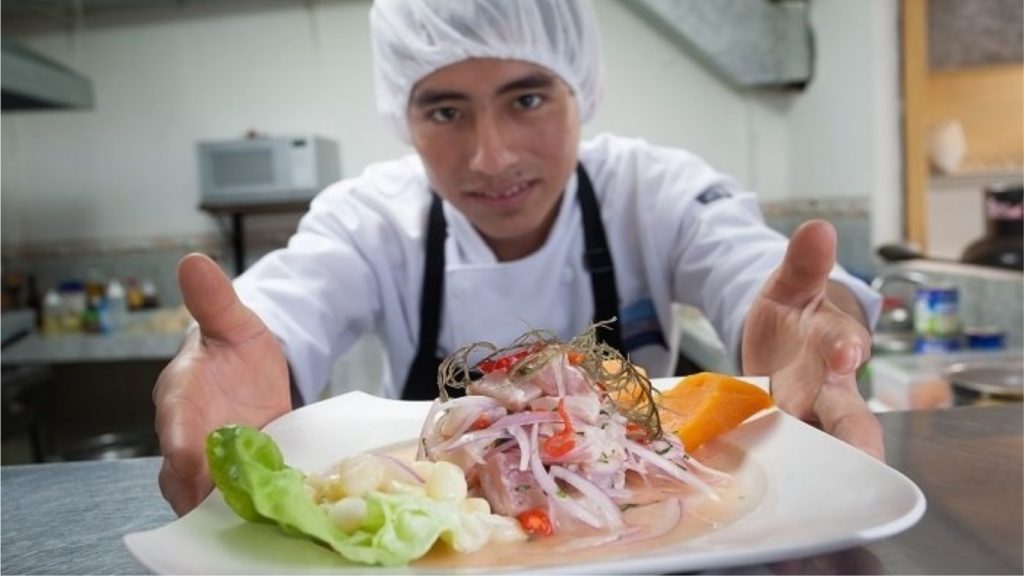 Ceviche Tips
Below are a few extra tips for you to try different ingredients and some things to keep in mind when making your ceviche.
We can't stress enough the importance of using fresh fish. This makes the dish taste amazing and ensures you don't get sick from an old product.
Experiment with the different accompaniments. You can use them all or mix and match each time. You can even add some of your own if you find something else you like or think would go well with the plate.
You can use different fish. White fish is the most common variety of ceviche in Peru, but in Cusco, for example, you'll find some made with trout, which is also delicious. Salmon would also be a tasty option. Avocado is another tasty side and also from Peru.
You don't need to use the fish stock, but this really enhances the flavor and can lower the acidity if you wish.
When serving, we recommend using a spoon with holes, and then you can pour more juice over the top if needed.
Another twist you can make on the recipe is to add a little chili paste to the lime juice. It gives the ceviche an extra kick and a unique and delicious flavor.
The juice/sauce you make for your ceviche is known as 'Leche de Tigre' in Peru, which translates to tiger milk. This is delicious by itself as a little appetizer, too. Serve it in tiny glasses with toasted maize or another delicious seafood favorite in Peru, chicharron de calamar. This is deep fried squid in batter and goes very well with the cold ceviche and tiger milk.
Shopping List
So that you don't need to scan the whole article again, here's a shopping list you can use to take to the grocery store with you. Simply take a photo or screenshot and save it on your phone.
1kg white fish
750g lime
1 red onion
3 medium spicy chilis
1 bunch of fresh cilantro
1 thumb of ginger
1 garlic bulb
½ a stalk of celery
3 medium sweet potatoes
3 heads of corn
1 plantain
1 small lettuce
Get Cooking
Now you've got the recipe, the shopping list, and some useful tips; it's time to try the recipe for yourself. As long as you use the freshest fish you can find and follow these steps; you'll be enjoying this delicious Peruvian dish. We're sure that once you've tried it, you'll be making it over and over and impressing friends and family at dinner parties.
Written by: Liv Palmer
---
---
You might also like
---