Peru is a country full of cultural and gastronomic wonders. Suppose there's one thing you should notice during your Peru trip. In that case, it's the delicious ceviche, a national dish that combines fresh ingredients, vibrant flavors, and an ancestral tradition that will transport you to the shores of the Pacific.
It's an essential dish for anyone visiting Peru, and Lima is the best place to taste this incredible dish. In this blog, you will learn the culinary jewel: Peruvian ceviche, discover its origins, the secrets of its preparation, and how to fully enjoy it. Are you ready for an unforgettable gastronomic journey?
What Is Ceviche?
Ceviche is made with pieces of raw white fish marinated in lemon juice. The citrus juice causes a reaction with the fish protein and "cooks" it, turning it white while infusing it with all the flavors. It is similar to cooking with heat, but this dish is served cold.
Lemon juice and fish are often mixed with ají, garlic, celery, and ginger. Many of the best recipes also include a bit of fish broth to enhance the flavor. Ceviche is easy to prepare but has robust flavors and an appealing appearance once served.
Peruvian Ceviche
Peruvian ceviche is one of the most recognized and popular variations of this dish in Latin America. You can enjoy this flagship dish on various occasions. Some of them are:
Informal lunches or dinners: Ceviche is a popular choice for casual gatherings with friends or family. It is usually served in individual portions as a main dish or as part of various Peruvian dishes.
Celebrations and festivities: Ceviche is a critical element of many Peruvian celebrations, such as Independence Day or New Year's. It is a way to share and celebrate the culinary richness of the country.
Hot days: Due to its freshness and lightness, ceviche is particularly appreciated during hot summer days. It is a refreshing option that helps combat the heat.
Specialized restaurants: Peru has numerous restaurants specializing in ceviche, where you can taste this delight in different presentations and with various ingredients.
History and Origin of Peruvian Ceviche
Peruvian ceviche has its roots in the pre-Columbian era, where the ancient inhabitants of the Peruvian coast prepared it by marinating fresh fish in lime or lemon juice. This technique allowed them to preserve the fish while lightly cooking it.
With the arrival of the Spanish, ingredients such as red onion and lime were incorporated, further enriching the flavor. Peruvian ceviche has become an emblematic dish representing Peru's culinary identity. It is recognized worldwide for its freshness, intense flavors, and variations. It is an unmissable culinary experience.
National Ceviche Day
National Ceviche Day is an annual celebration in Peru that pays homage to one of the most emblematic dishes of Peruvian cuisine. The history of National Ceviche Day dates back to the 1970s when renowned Peruvian chef Gastón Acurio proposed establishing a special day to celebrate this iconic dish. His goal was to highlight the importance of ceviche in the country's culinary identity and promote its consumption nationally and internationally.
During National Ceviche Day, Peruvians indulge in different varieties of ceviche. From the classic ceviche with white fish to more creative options like mixed ceviche with various seafood, octopus ceviche, or even vegetarian options with ingredients like mushrooms. It is an opportunity to celebrate the richness of Peruvian cuisine and enjoy one of its most representative dishes.
Peruvian ceviche is a true culinary treasure that should be celebrated and shared.
Ceviche Ingredients
The essential ingredients of ceviche are:
Fresh fish: Fish is the star of the ceviche. The most common varieties used in Peru are corvina, sole, grouper, snook, or red snapper. It is essential to choose high-quality fish that is fresh and firm.
Lime or lemon: Lime or lemon juice is essential in ceviche preparation, as the citric acid in the juice lightly "cooks" the fish. Peruvian lemons are particularly appreciated for their distinctive flavor and aroma.
Ají Amarillo: Ají Amarillo is a Peruvian chili pepper that adds a unique flavor and a touch of spiciness to ceviche.
Red onion: Finely sliced red onion is added to ceviche for a crunchy texture and flavor.
Cilantro: Fresh cilantro, finely chopped, is another essential element in Peruvian ceviche.
Salt: Salt is used to season the ceviche and enhance the flavors. It is added to taste, but it is essential not to overdo it.
These are the main ingredients of traditional Peruvian ceviche. However, each cook and region may add variations and additional ingredients according to their preferences and availability, such as corn, sweet potato, rocoto (Peruvian chili pepper), ginger, or seafood. The versatility of ceviche allows it to be adapted to different tastes and create unique combinations.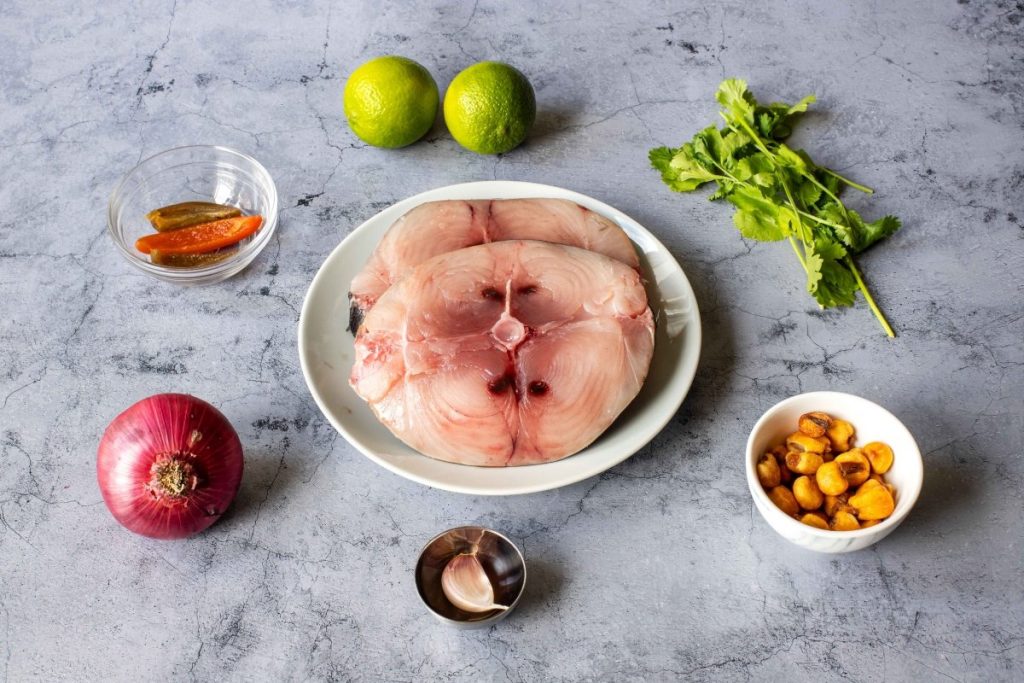 How to make ceviche?
Below, we explain the ceviche recipe:
Start by washing the fish thoroughly and drying it. Then, cut it into 2 cm cubes or strips. Carefully remove any scales, skin, and bones that may be left. Once ready, place it in a bowl.
Next, prepare the lime juice. Wash the fruit and squeeze all the juice into a large bowl. Be careful not to let any seeds fall into the liquid.
The lime juice is used to cook the fish through the earlier marinating process. Therefore, add the fish cubes to the juice and ensure that the juice covers everything. Cover the bowl or container and refrigerate it for 20-30 minutes while you prepare the remaining ingredients. Every few minutes, stir the fish with a spoon to ensure it's well-cooked. Everything must come into contact with the lime juice.
While the fish is marinating in the refrigerator, prepare the accompaniments. Wash the sweet potatoes and place them in a pot with boiling water or steamer for about 30 minutes. After this time, check if they are tender, peel off the skin, and cut them into large circles about two centimeters thick.
For the plantains, cut them in half and peel them. Then, use a peeler to cut skinny long strips. Put them in a pan with enough oil to cover and fry them well. Stir occasionally with a wooden spoon to prevent them from sticking together or to the pan. Make sure they don't touch each other at all. Carefully remove them from the pan and place them on absorbent paper on a plate.
For toasted corn, you'll need to use raw corn and cook it in a similar amount of oil as the plantains. You can also remove it and place it on absorbent paper.
To serve your ceviche with corn, you must boil it. In Peru, large corn is used, which can take between 20 and 30 minutes to cook. You'll have to cook the corn depending on the variety you use.
Wash the chili peppers and red onion thoroughly. Washing the onion removes its solid and bitter taste. Remove the seeds from the chilies and cut them into tiny pieces. Slice the onion into thin strips. At this point, you'll also need to chop the cilantro finely.
Take the fish out of the refrigerator, which should be cooked by now. The outer part of the flesh should be white, and the center should be opaque and easy to flake. Add the onion, chili pepper, cilantro, ginger, garlic, celery, fish broth, salt, and pepper, and mix everything well. Cover it back in the refrigerator for about 10 more minutes.
Prepare the serving plates. Add a couple of slices of sweet potato, a handful of corn, and place one or two lettuce leaves at the bottom. Now, serve your ceviche on top of the lettuce leaves. Place your plantain chips on top, 2 or 3 will be enough, and finally, sprinkle with more chili pepper and cilantro. Ready to enjoy!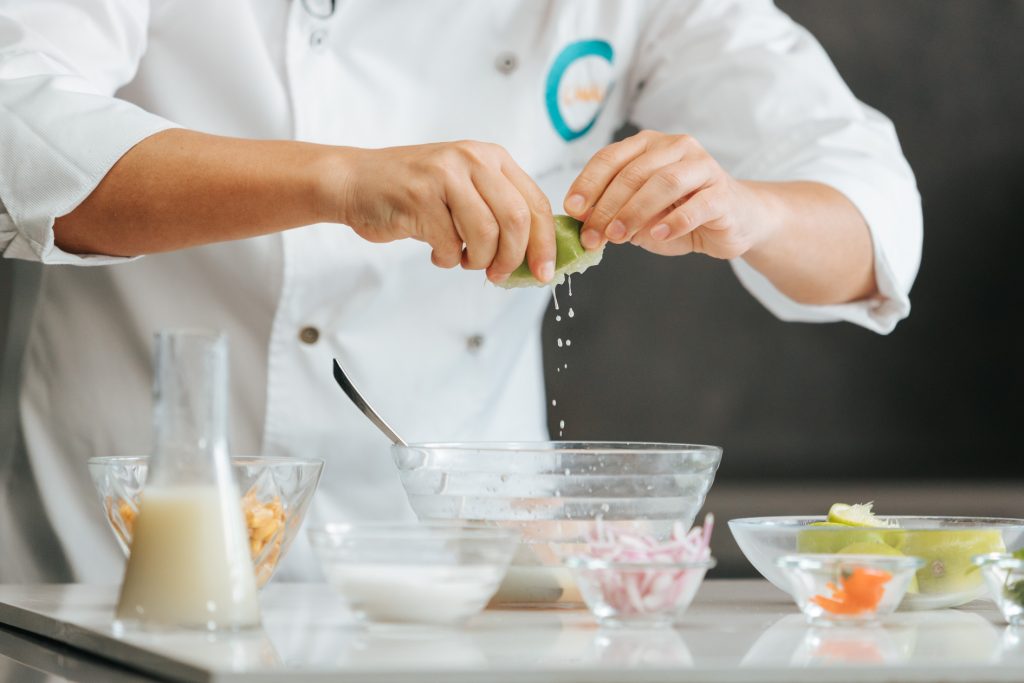 Ceviche Tips
Here are some additional tips for trying different ingredients and keeping in mind when making your ceviche.
We cannot emphasize enough the importance of using fresh fish. It enhances the dish's flavor and ensures you won't get sick from old fish.
Experiment with different accompaniments. You can use them all, mix and match, or even add your own if you find something you like or think will go well with the dish.
You can use different types of fish. Whitefish is the most common variety of ceviche in Peru, but in Cusco, for example, you'll find some dishes with trout, which is also delicious. Salmon would be another tasty option. Avocado is another tasty Peruvian accompaniment.
Using fish broth is not necessary, but it enhances the flavor and can reduce the acidity if desired.
When serving, it is recommended to use a slotted spoon to pour more juice on top if needed. Another twist you can add to the recipe is to mix a little ají paste with lemon juice. It gives the ceviche an extra touch and a unique and delicious flavor.
The juice/sauce prepared for the ceviche is known in Peru as "tiger's milk" (leche de tigre). It is also delicious on its own as an appetizer. Serve it in small cups with toasted corn or with another favorite Peruvian seafood, chicharrón de calamari (fried breaded squid). They complement well with cold ceviche and tiger's milk.
Everything you need to know about Ceviche
Raw fish is consumed worldwide and is an excellent source of proteins, omega-3 fatty acids, fiber, and carbohydrates. The first ceviche dishes were created to preserve food in South America.
No one is entirely sure where the dish originated officially, but we know that the Incas preserved fish similarly using the juice of different fruits, some salt, and ají peppers.
It was during the Spanish invasion that lemons arrived in Peru. Despite the uncertainty about the origin of ceviche, one of the best examples is the Peruvian version.
There are other variations, such as the Ecuadorian one, where shrimp is marinated with tomatoes, similar to the Mexican version. Caribbean methods use coconut milk to give the dish a creamy texture. Ceviche arrived in the United States in the 1980s through the Caribbean flavors of Florida.
Let's start cooking!
Now that you have the recipe, the shopping list, and valuable tips, it's time to try it yourself. If you use the freshest fish you can find and follow these steps, you will enjoy this delicious Peruvian dish. We are confident that you'll make it repeatedly once you've tried it, impressing your friends and family at dinners.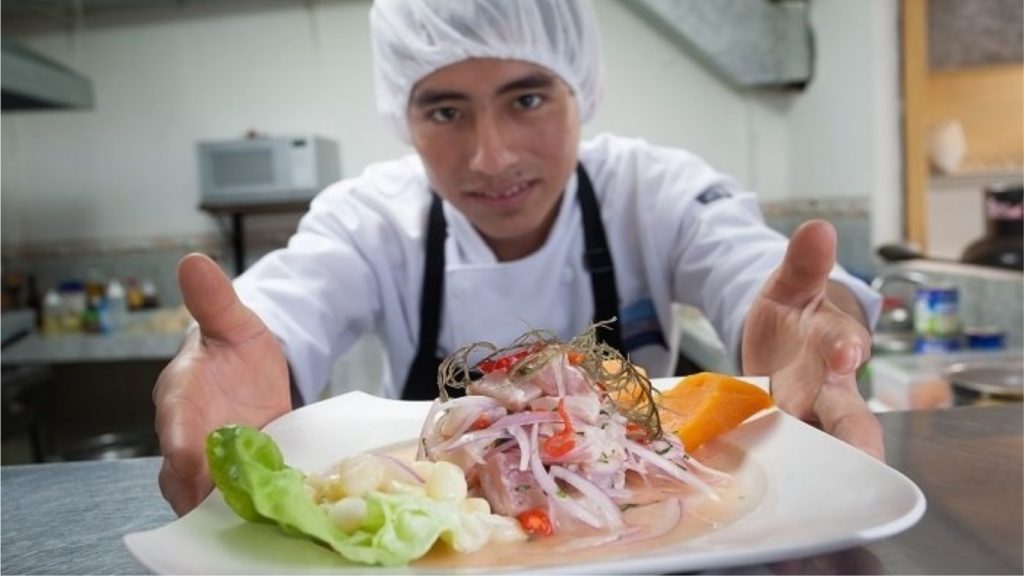 ---
---