Peru is popular the world over with trekkers, and it's no surprise when you learn about the fantastic options they have.One of the most famous in the world is the Inca Trail, however, the Salkantay Trek, also to Machu Picchu, is becoming just as popular.
In this article, we explore both by giving you a description of each and looking at the highlights of each to help you decide which one you'd prefer to hike on. So, let's get started.
The Salkantay Trek Overview
The Salkantay route towards Machu Picchu has become known as the best alternative to the Inca Trail. It's a real adventure that also provides you with some of the most amazing landscapes you've ever seen. You'll be heading down from snowy mountain peaks to the warm jungle.
Along this route, you can see a lot of different animals, from alpaca to exotic jungle breeds, as well as some exotic flora. You'll also pass through some small communities and see how the people live out in rural regions.
The highest point of the trek is at 4,650 masl, so you need to be well-prepared for the altitude and spend a few days in Cusco before you set off. The classic route is 5 days long.
Why Choose Salkantay?
There are so many reasons to choose this fantastic route, so we've compiled a list to help you decide if this is the one for you.
No need for permits. This means that the trek is 'always available' so to speak and you don't need to worry about spaces being available. You will, of course, need to check the tour operator has spaces available.
Incredible scenery. Many say that this is the most scenic route in the region, and they're right. You get to experience some fantastic views and also pass through a variety of climates from cold snowy mountainous regions to humid jungle.
Humantay Lake. In the last few years, this stunning lake has become part of many bucket lists. You can opt to visit it on a day trip, but if you go for the Salkantay trek, you'll visit it on the first day.
More amenities. On the Salkantay trek you'll have access to bathrooms along the way and spend the last night in a hotel in Aguas Calientes, meaning you can shower and clean up before going up to Machu Picchu.
Fewer tourists. The trail is becoming more popular each year, but that doesn't mean it's as packed as the Inca Trail. You'll be able to enjoy moments of peace and quite as you walk along the route.
Horses. If you're finding things really tough on the way up to Humantay Lake or the Salkantay Pass, you can opt to hire a horse to take you up. Just be aware that they won't take you down the other side.
Price. This route is much more economical than the Inca Trail due to the fact you don't need to buy a permit. This makes it more accessible to everyone.
The Inca Trail Overview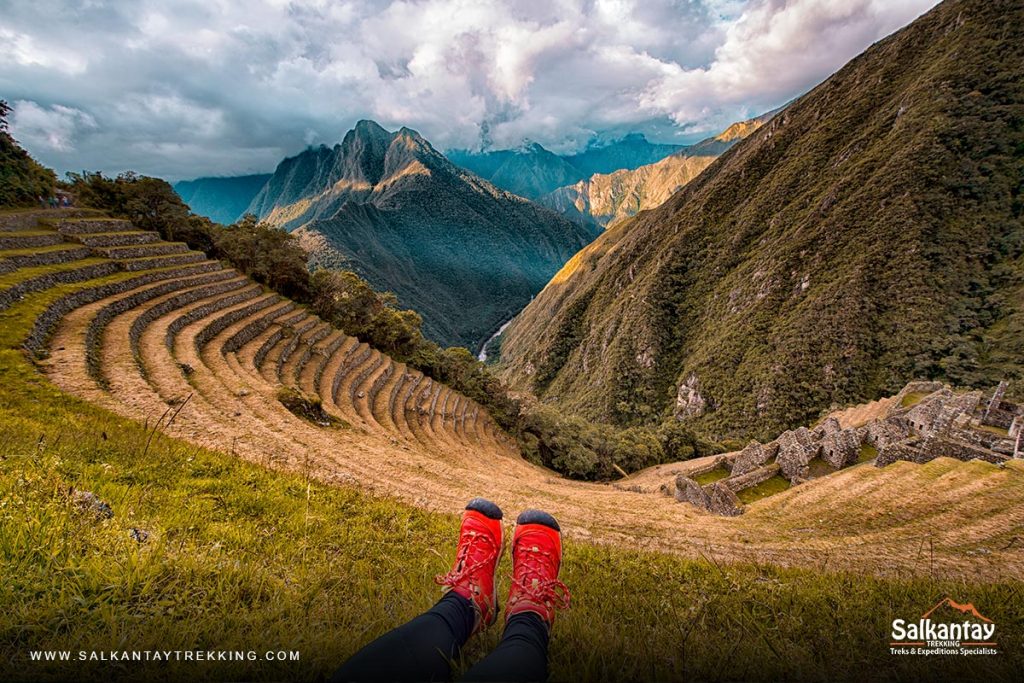 The Inca Trail is one of the best-known routes in the whole world, and it's no wonder why. It combines a historical adventure visiting ancient ruins along with the sense that you're walking along the same paths that the Incas used themselves. These trails connected the Incan Empire all those 500 years ago.
You'll be walking up and down many steps, stopping along the way at different sites. All the while you're surrounded by the stunning Andes and the spectacular wildlife as you rough it with 3 nights of camping.
The ascents and descents can take their toll on your legs, as well as the altitude, so make sure you're well-prepared. The classic Inca Trail is 4 days long.
Why Choose the Inca Trail?
There's no doubt that this is a top option for many trekkers coming to Peru, but if you haven't yet made up your mind, check out our reasons why you should go for the Inca Trail.
Walk along ancient paths. The name is the Inca Trail because you literally walk along the routes of our ancestors. It's a special feeling knowing this and it takes you back in time to a moment where you can imagine how it was for this ancient civilisation.
One of the top treks in the world. The Inca Trail has won many awards, making it one of the most sought after routes. It's exciting knowing you're walking along such a famous trail.
Inca ruins. If you're a history lover, this trek is for you. You'll visit many sites along the way that you can only view on this route. It's an excellent insight into this ancient culture. You'll learn a lot from your guide about how life was back then and be able to imagine it for yourself as you look out on the sites.
Back to basics. If you love roughing it and enjoying feeling at one with nature for a few days, this is a great option. There are no real bathrooms or villages to stol at along the way.
Machu Picchu entrance. This is the ONLY trek where you get to enter Machu Picchu from the sun gate rather than the main entrance. This is truly a once in a lifetime experience.
Difficulty. The Inca Trail is a little less challenging than the Salkantay Trek. This means it's a little easier for those who don't want anything so strenuous. However, this doesn't mean it's a simple walk.
The Verdict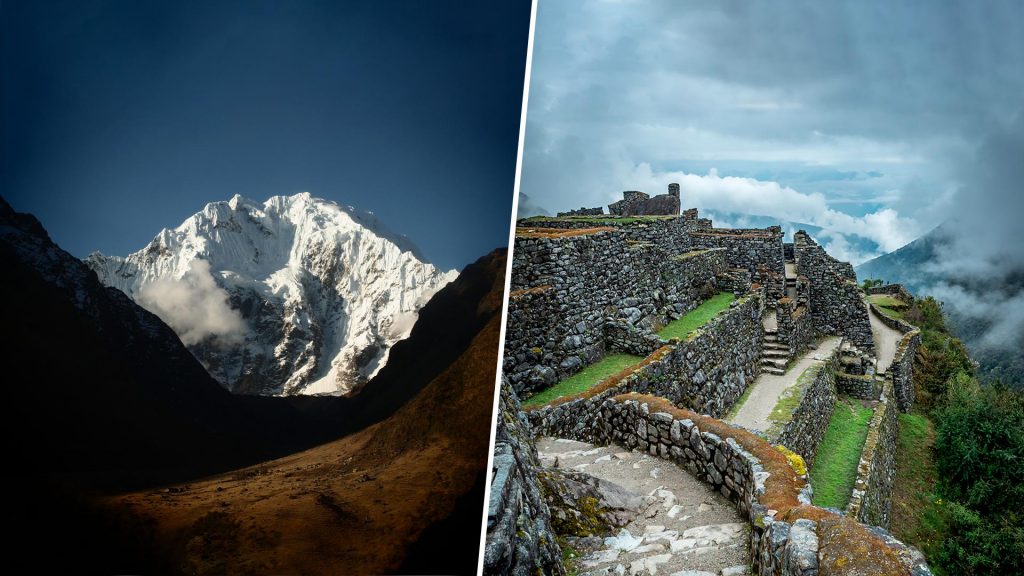 So, now you know a little about the two treks and the advantages of choosing either. While we can't say one is superior to the other, we can guarantee you'll have an amazing time whichever one you go for.
If you like to trek some of the most well-known hikes around the globe and love to learn about the history of a place, then we say go for the Inca Trail. If you prefer a quieter route with some fantastic scenery and not to spend too much, we recommend the Salkantay Trek.
Keep in mind that both routes have stunning landscapes and lessons to be learnt about the surroundings and the Incas history, it's just that both offer more in different ways. We wish you all the best with whichever you opt for and know you'll take home some unbelievable memories to treasure for a lifetime.
---
---
You might also like
---