Everything you need to know before you go
The Inca Trail is a modern-day adventure with a deep connection to the past! It's won numerous travel awards and is lauded as among the best in the world by the big names in the travel industry.
The Qhapaq Ñan, as it was called by its most recent constructors, the Incas, was the 30,000 km road network connecting the Inca Empire from one extreme to the other. These breathtaking paths are truly a feat of engineering because of the difficult mountain and jungle terrain they were built to traverse. The trail stretched through 6 South American countries, but the most well-known portion today is the part leading from the Sacred Valley of the Incas to Machu Picchu, entering through the Sun Gate above the grand city. There's no better way to experience the cloud forest of the Peruvian Andes!
If you're just discovering the Inca Trail for the first time, here's why you need to book your Inca Trail hike right now. If you're already convinced that this is the trek for you, then let's jump on in!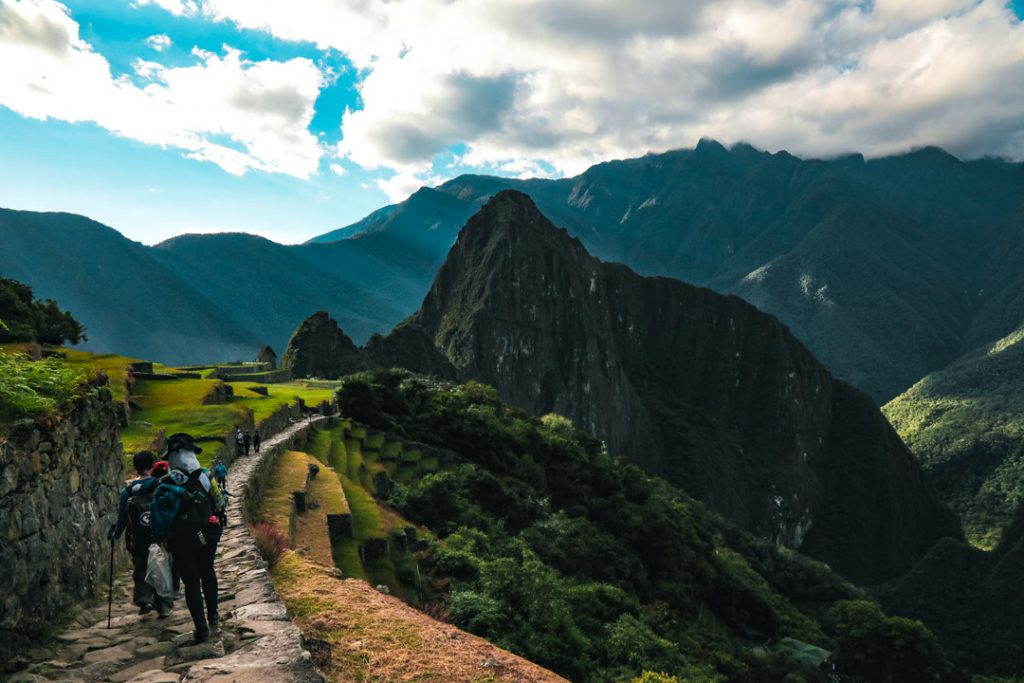 First things first: How do I snag a spot?
Ok, you've decided to have a go at the Inca Trail! Don't get too excited until you check availability during your travel dates. The Inca Trail Trek usually has to be booked at least 6 months in advance, and sometimes more than a year out, due to the limited number of people allowed on the trail per day. Of course, there are exceptions and lucky people who find a spot last-minute, but definitely don't count on that. Check anyway, just in case; your best bet for an open spot is in the low tourist season/rainy season from October – March.
You can only enter the trail with a certified guide. It's closed in February for maintenance. If your trip to Peru is soon or scheduled for February and you don't find an opening, you can try the Salkantay Trek to Machu Picchu instead. It's amazing! There are also other treks you can take to the grand citadel.
How many days should I trek?
There are treks offered on the Inca Trail of 1, 2, 3, 4 and 5 days – take your pick! Keep in mind that the shorter the trek, the less of the trail you'll visit or the more rushed you'll be. I recommend at least 3 days for avid hikers or 4 days for newbies for the best bang for your buck and a fuller experience.
1- and 2-day treks are the same hike at different speeds, starting at Km 104 of the train tracks. You get very little time at Machu Picchu on the 1-day trek for obvious reasons.
The 3-day trek can be either the same portion as the 1- and 2-day treks at a slower pace, or it can coincide with the 4- and 5-day treks, moving at a faster pace. Be sure to check the details with the tour company you decide to travel with.
4- and 5-day treks include the entirety of the modern Inca Trail and are the same hike at different speeds, starting at Km 82 of the train tracks.
Take advantage now to book any of the Inca Trail tour options before they're all filled up!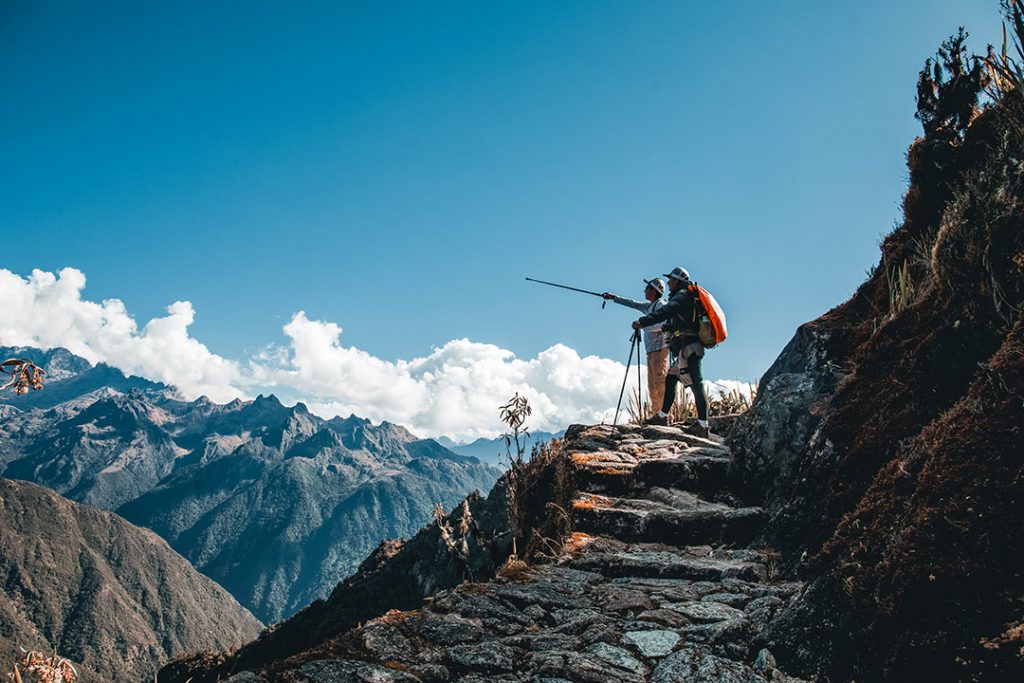 Is the price right?
The Inca Trail is a world-renowned hike unlike any other. It can only be done with a certified guide, and the trail itself has an entrance fee, so it's not the cheapest option. If you're into budget travel, try one of the other treks to Machu Picchu or any of these day trips from Cusco.
If you're set on the famous Inca Trail, you can expect to spend $400 – $1300 for an all-inclusive tour, even up to $2000 for a private, luxury tour. It's definitely a once-in-a-lifetime experience, so if you have the money saved up, go for it! It's the ONLY trek that enters the Historical Sanctuary of Machu Picchu from the Sun Gate. Carpe diem, my friends! If you're able, I think it's better to spend the money once than to be thinking "I wish I had…" afterward.
For the sake of comparison, here's a bit of info from Salkantay Trekking: you could spend 1 day on the Inca Trail for $400 (4 days for $650), 5 days on the Salkantay Trail for $495 or 7 days in Ausangate for $750, among other options. Whatever trek you choose, I know you won't be disappointed!
Am I physically prepared for the altitude and difficulty?
The full Inca Trail is 43 km (26 miles) and ranges in altitude from 2,400 meters (7,874 feet) above sea level to 4,215 meters (13,829 feet). On a scale, I would say it sits at a moderate difficulty level. If you've done some light hiking, this is a good first multi-day trekking experience (and one that can't be beat!). It has a mixture of uphill and downhill portions and doesn't reach to such high altitudes as the Salkantay and Ausangate treks. If you have any knee problems, though, it's important to note that the trail contains over 3,000 stone stairs.
If you live at sea level, you could experience more altitude symptoms (shortness of breath, racing heart, headache) than fellow travelers who live in the mountains. Be sure to enjoy at least a couple days in the city of Cusco at 3,400 meters (11,154 feet) before your trek to help your body naturally acclimatize and prepare for what's to come. This will help prevent sickness and discomfort on your long-awaited hike so you can enjoy it to the max. If you have time, take a day hike or two around Cusco or walk up to Sacsayhuaman and the White Christ statue above the city before taking off on the Inca Trail. Avoid drinking alcohol and be sure get lots of sleep in the days before your trek.
If you're still worried about the altitude, you could get a prescription for Diamox from your doctor to take before and after you arrive or bring over-the-counter chlorophyll pills. Of course, you can also drink coca tea when you get to Cusco and do it like the locals! Your guide will always carry an emergency oxygen bottle in case you need it, too.
In the end, almost anyone who sets their mind to it can hike the Inca Trail! Both kids and people over 70 have conquered it. You are the one who knows you best!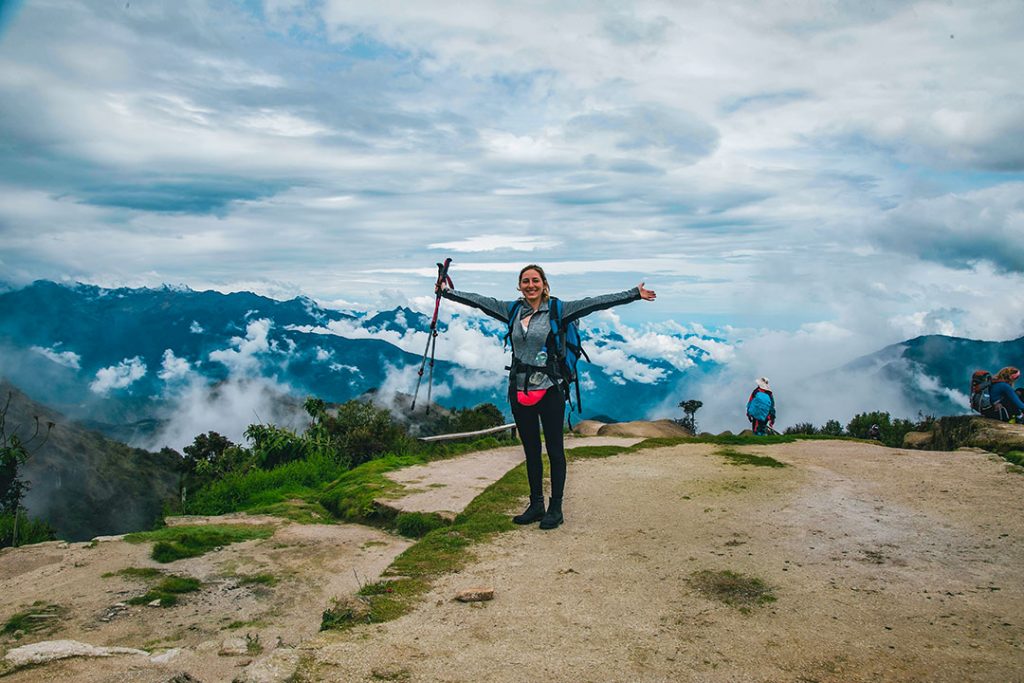 What commodities should I expect to have?
Don't forget that you'll be in the remote wilderness of the Peruvian Andes on the Inca Trail, and that's the best part about it! While there are luxury treks you can book, the mid-range treks that most will do offer only basic commodities. Chances are, you won't have a shower or use a real toilet while you're on the trail, and you'll likely sleep on the ground in a tent, possibly with a thin sleeping mat.
Don't expect more than that, and you'll be a happy camper when the occasional rustic bathroom pops up or you're offered the chance to rent a cold shower. Neither toilet paper nor shampoo, soap or towel will be included, FYI.
There's so much excitement to look forward to help you endure the less-than-desirable conditions and stink on the trail! Anyways, you'll be distracted enough by the amazing landscapes, historical sights and emotions running high that you'll feel it was all worth it in the end. That's the magical thing about camping: your daily norms are stripped away, and you're connected anew to Mother Earth.
What should I pack?
All tour companies will have their porters carry the camping and cooking equipment, and most will also carry one small duffle bag per hiker. The rest will be your responsibility to carry along the trail unless you hire an extra porter for yourself. There'll be warm days and chilly nights, especially in dry season from April to September. Here are some helpful suggestions for you as you're preparing your bag:
**Passport or Peruvian ID Card**
Without this, you'll be sent straight back home.
Clothing
Long-sleeved dri-fit shirts (1 per 2 days)
Breathable pants or leggings (1 per 2 days)
Optional:

Hiking shorts
Tank tops/t-shirts
NOTE: I do not recommend these even though it gets hot during the day because they offer too much opportunity for sunburn and bug bites, which can really make you miserable. I also don't recommend cotton or jeans for trekking.

Light fleece sweater/pullover (1)
Puffy jacket or other thermal outer layer (1)
Raincoat or poncho (October-March) (1)
For sleeping on cold nights:

Cotton pants (1)
Thick socks (1)
Beanie (1)

Hiking socks (1 per day + 1-2 in case they get wet)
Underwear (1 per day)
Sports bra (1 per 2 days)
Ballcap or wide-brimmed hat
Hiking boots (already broken in)
Open-toed sandals (for campsites, to wear with socks)
Extras
Reusable water bottle – A MUST!
Sunglasses
External battery for camera and phone, preferably solar powered
Light day pack for personal items
Snacks: apples, oranges, chips, nuts, raisins, granola bars, etc.
Hygiene supplies: travel shampoo, soap, toothbrush, toothpaste, deodorant, wet wipes, hand sanitizer, toilet paper, pads or tampons
Medications: personal prescriptions, tylenol or similar for headaches or body aches/soreness and an anti-diarrheal like immodium, just in case
Moleskin or bandaids and triple antibiotic cream for blisters or scrapes
Sunscreen and bug spray
Trekking poles, if you'd like
Travel towel (if you want to shower)
Cash
Tips for porters, cooks and guide
Snacks
Bathrooms (1-2 soles each) and showers (10 soles each) on the trail
Souvenirs and food in Aguas Calientes
What NOT to pack
On the Inca Trail, no single-use plastic is allowed, so pack your reusable water bottle.
You'll be allowed to use no speakers, so leave it at home, and enjoy the scenery with the sounds of nature, instead!
And just in case you're traveling with your dog, note that no pets are allowed on the trail, unfortunately.
What's the weather like?
Generally, hot days and cold nights. Here in the Peruvian Andes, wet season is from October to March, and dry season is from April to September. Dry season hosts colder temps at night, especially in June and July. In wet season, you'll usually get rained on at least a couple times a day, and that can also make the stone trail a bit slippery and the views less than perfect. Both seasons will give you a scorching sun during the day (between rain showers in wet season) that burns quickly due to the altitude.
You can enjoy the Inca Trail in any part of the year (except February, when it's closed for repairs) as long as you're prepared! It's more popular in dry season and, thus, more difficult to book a spot. Check out the availability of Inca Trail packages during your travel dates as soon as possible.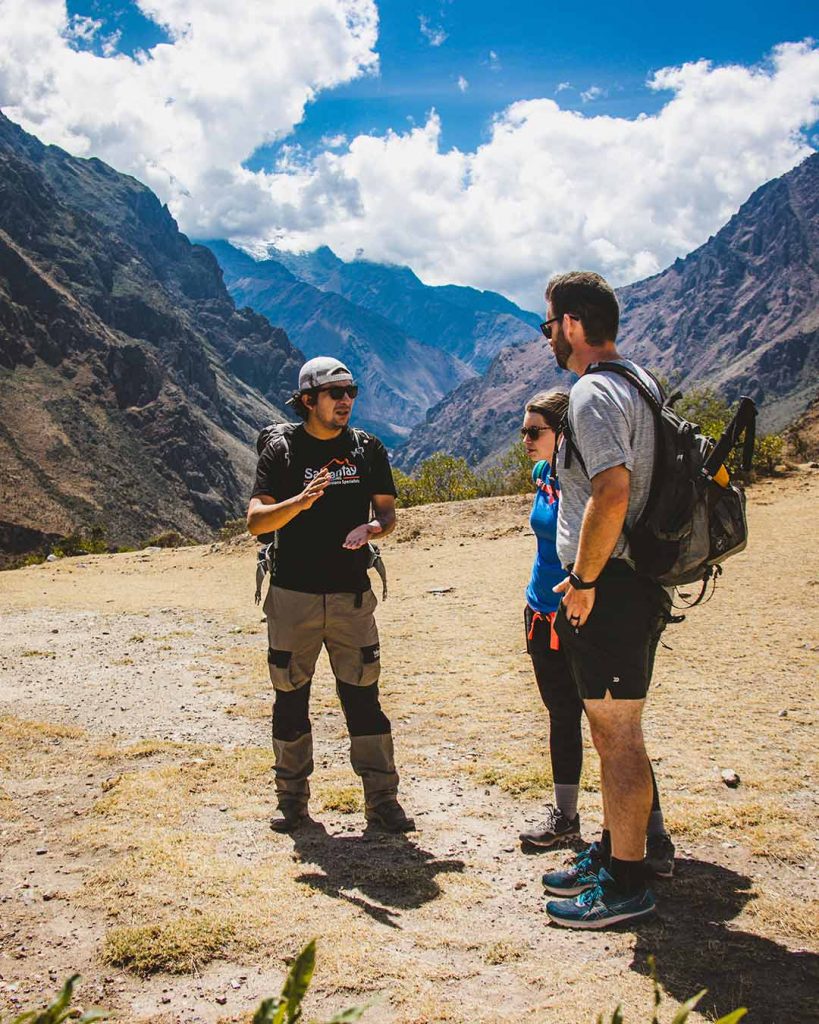 What's included in the tour?
Tour companies vary in the details of what's included and what's not, but all should include or offer these basic necessities:
Food on the trail
Boiled water for drinking
Professional trekking guide who speaks your language
Shared, 2-person tent (you can pay extra for a private tent)
Sleeping bag (may cost extra)
Sleeping mat (may cost extra)
Accommodation in Aguas Calientes (depending on the itinerary)
Porters and cooks
First aid kit
Entrance fee to the Inca Trail
Entrance fee to the Historical Sanctuary of Machu Picchu
Transportation Cusco – Ollantaytambo
Train ticket Ollantaytambo – Km 82 or Km 104 (the starting point of your trek)
Bus ticket Machu Picchu – Aguas Calientes
Train ticket Aguas Calientes – Ollantaytambo
Return transportation Ollantaytambo – Cusco
In conclusion…
Here, we've gone over the good and the bad of the Inca Trail. Hopefully, this blog has served to give you a realistic and practical view of the trail. But I'm here to remind you that going for it on the Inca Trail is 100% worth it, all in all! None of the cons I've mentioned takes away from the value and incredulity of this one-of-a-kind ancestral trekking experience in the Andes of Peru.
You absolutely will not regret, even for one minute, taking advantage of this opportunity. Here's why you should definitely book a spot on the Inca Trail right now!
---
---
You might also like
---