You've come to Peru and landed in Cusco, ready to see that mysterious Wonder of the Modern World! You're finally here! You'll be rewarded with panoramic landscapes across glaciers and forests. This is Machu Picchu! Did you know that inside the citadel, there are 3 extra hikes you can do to see the site from a different perspective and explore its surroundings? They are Machu Picchu Mountain (the one this blog's about), Huayna Picchu Mountain, and Huchuy Picchu Mountain!
Why Machu Picchu Mountain?
The tallest of the three mountains surrounding the citadel, and the one that affords the best panoramic views, is Machu Picchu Mountain (pronounced maw-choo peek-choo). The name means "old mountain" in the native language of Quechua. You'll get an eye-full of the lush, green cloud forest, high peaks, deep valleys, a powerful river and even the Salkantay glacier in the distance.
It's less difficult, less steep, and less dangerous than the more famous Huayna Picchu and, thus, has no age limit. This is a good option for active, able-bodied families to do together. It's also easier to snag a reservation for this hike because it doesn't sell out as quickly as Huayna Picchu.
So here's everything you need to know about Machu Picchu Mountain!
Buying the Ticket
For all the detailed information about national park reservations, here's how to buy your Machu Picchu ticket with entrance to Machu Picchu Mountain. In short, you need to get the ticket for "Montaña Machupicchu + Circuito 3".
You'll choose either the 7-8 AM or 8-9 AM entrance time (which means you'll enter the trail either between 8-9 AM or 9-10 AM, respectively). It will be printed on the upper lefthand corner of your ticket.
Only 400 of these tickets are available per day, 200 for each time slot. You should make a reservation at least one month in advance and, if possible, longer.
It includes entrance to visitation circuit 3 of the citadel.
It costs 200 soles for an adult, 125 soles for a student with ISIC, 118 soles for a child between 3-17 and free for a child under 3 (prices for foreigners). There's no age limit for this hike.
The total time limit for your visit to Machu Picchu, generally, is 7 hours.
You must bring a printed copy of your ticket to the entrance gate.
Note: If you're hiking the Inca Trail, you'll need to buy a second Machu Picchu ticket to hike Machu Picchu Mountain. Inca Trail hikers are only allowed entrance to circuit 5 of the citadel.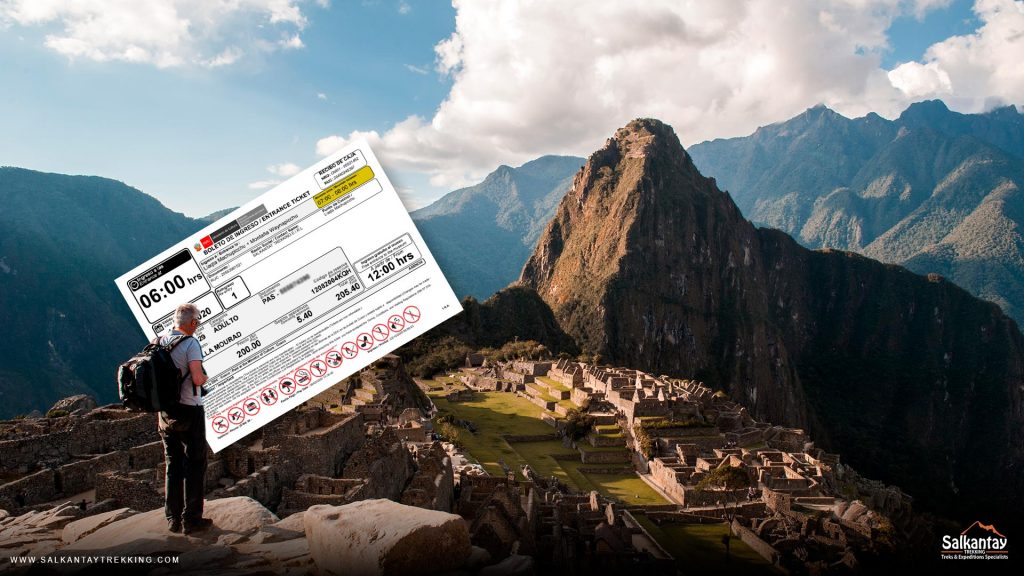 Getting to the Trailhead
The time slot for entrance to the trail is designated for 1 hour after your entrance time slot to the National Park. For example, if you enter Machu Picchu between 7-8 AM, you'll need to enter the trail between 8-9 AM, so it's better to arrive at the beginning of your 60-minute time slot (7 AM) rather than at the end (8 AM).
First, you'll pass through the entrance gate for circuits 1 & 2. Go upwards to the left, following the wooden signs toward Machu Picchu Mountain (the same trail that goes to the Sun Gate). It will take about 30 minutes for you to walk to the trailhead from the park entrance. Once the signs have led you to the control point for the trail, you'll check-in and show your passport and entrance ticket. After the hike, you'll exit the park by the same trail (without completing circuits 1 or 2) and re-enter the park to visit your designated route, circuit 3 of the citadel.
Tip: As you make your way to the trail from the Machu Picchu entrance, take time to appreciate the archeological sites you're passing, as they're not included on the circuit where you'll do your guided tour.
To take full advantage, you could enter at the earliest time of your ticket (for example, 7 AM) and then spend 1 hour and 45 minutes enjoying the citadel between the Machu Picchu entrance and the trailhead to then begin your hike at 8:45 AM. Just make sure you pass the mountain's checkpoint before your time slot ends (in this case, 9 AM).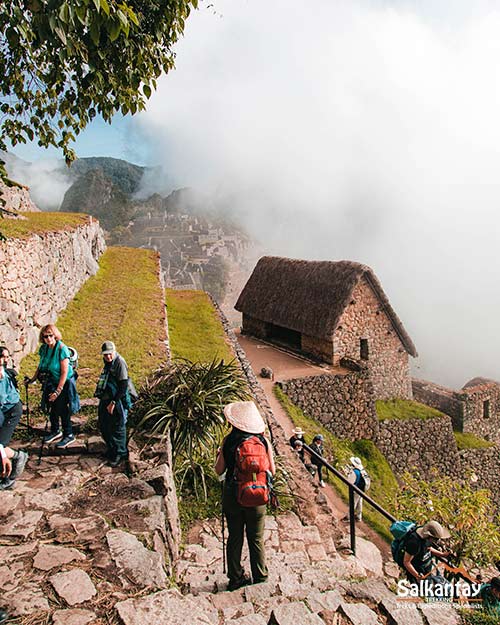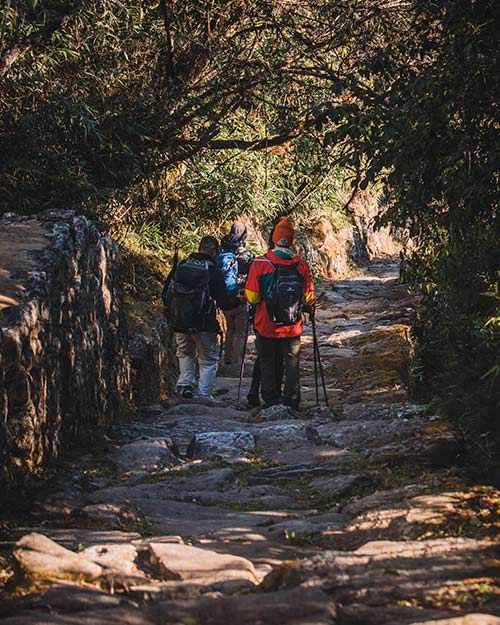 The Trail
The path goes along an original Inca stone path and leads to a site probably once used for rituals, astronomical observation and surveillance. The view from the top and along the trail is absolutely stunning! It's one of the best panoramic views in Peru. From the summit, you'll get the most amazing bird's eye view of the majestic Inca city, as well as the surrounding green mountains, snowcaps, deep valleys and Urubamba River. It's surreal to see vast, untamed wilderness on all sides accompanied by the obviously once-inhabited and thoughtfully designed Machu Picchu jutting up in the middle of it.
The trail includes 1600 stone stairs. Some parts of the path are rock and some are gravel or earth. The stones do get slippery in rainy season (November-March). The path starts out broad with a slight incline and gradually gets steeper and narrower toward the summit. In that portion, there are some places where the trail is slim and has a drop-off on one side. There are a lot of places to stop and rest or take pictures along the way. There's little to no shade cover as you hike, so be sure to use a hat and sunscreen.
Here are some stats:
Max elevation: 3082 MASL / 10,111 FASL
Elevation gain: 652 m / 2,139 ft
Hiking distance: 3.9 km / 2.4 mi
Difficulty level: Moderate
Hiking time: 3.5 hours round trip
Exploring Circuit 3
There are 5 established visitation circuits to traverse the Historical Sanctuary of Machu Picchu. You can find maps of each on Peru's official Machu Picchu website. Here's a map with the 4 main circuits shown together. Each is designed to cater to different schedules (ex: allowing time to hike an extra mountain) and activity levels (ex: those who walk/hike well VS those who have limited mobility).
When you buy a ticket including Machu Picchu Mountain, you can only enter circuit 3. The route takes about 1.5 hours to explore. It's a shorter circuit and only visits the lower portions of the citadel. The attractions you'll pass are:
Qolqas (Granaries) → Agricultural Zone → Water Canal → Dry Well → Temple of the Sun → House of the Inka → Water Fountains → Water Mirrors → Pisonay Plaza → Archeological Reserve
The best option is to do a guided tour to understand what you're seeing! You can visit with a tour from Cusco, do a multi-day hike to Machu Picchu or hire a guide outside the entrance gate if you arrive on your own.
Note: The Temple of the Sun is only open for visits from 1-4 PM.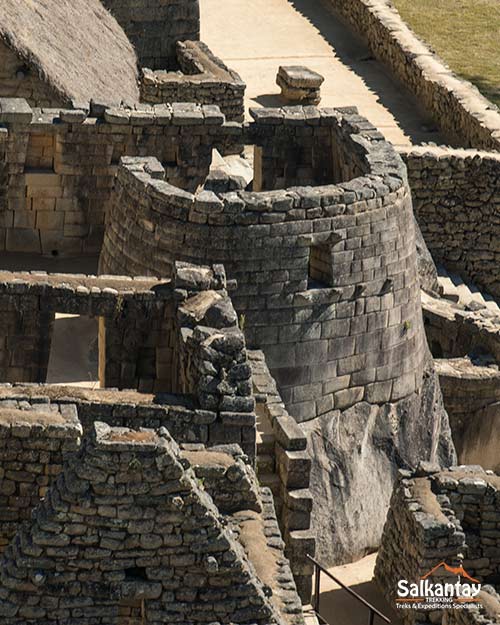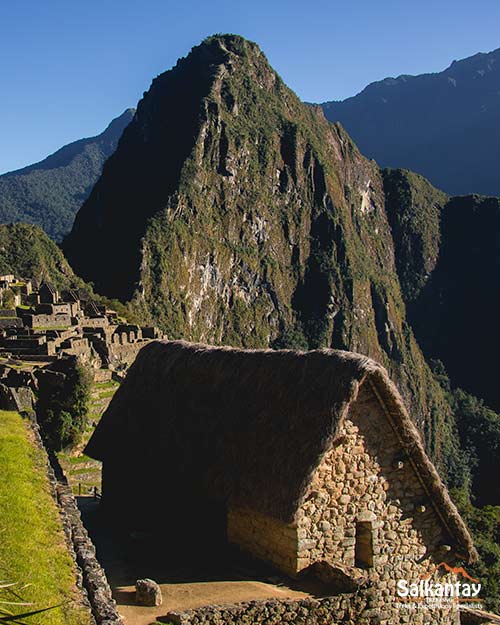 The Best Time to Go + Weather
In the Peruvian Andes, the rainy season is from November to March, and the dry season is from April to October. The high tourism season coincides with the dry season.
Machu Picchu is in the cloud forest of the Andes, and, therefore, the weather is always warm and humid, with lots of mosquitoes and biting sandflies.
The rainy season is considered summer, while the dry season is considered winter. Temperatures year-round range from 7°C to 28°C (44°F to 83°F). I can say from personal experience that it feels hotter than that during the day! It's just a few degrees warmer in rainy season and a few degrees cooler in the dry season.
Humidity is, on average, 50% in the dry season and 90% in the rainy season.
Dry season pros:
Less foggy in the mornings (better views)
No need for a raincoat
Less humidity
Not as many bugs
Stones aren't slippery
Rainy season pros:
Less crowded
Easier to get tickets on shorter notice
Rain will cool you off
Cheaper plane tickets to Peru
So when's the best time to visit? Try the shoulder months in September/October or March/April for the best of both worlds!
Note: The two busiest months of the high tourism season are June and July.
What to Wear & Pack
Breathable activewear (long pants and long sleeves to avoid sunburn and bug bites; shorts and tank if you prefer)
A hat, preferably a wide one that covers your ears and neck
Sunscreen
Bug spray
Water in a zero-waste bottle(s)
Zero-waste snacks
Raincoat and extra socks (in the rainy season)
Sturdy walking/hiking shoes
Sunglasses
Camera and extra batteries
Printed entrance ticket
Passport
Physical or virtual covid-19 vaccination card (3 vaccines) OR negative PCR test
Cash for the bathroom (costs 2 soles, located outside of the entrance gate)
Cash for the bus ticket from Aguas Calientes to Machu Picchu and back
Note: Trekking poles aren't allowed in Machu Picchu except for the disabled and elderly and with prior permission from the governing authorities. If you do get permission, they must be rubber-tipped.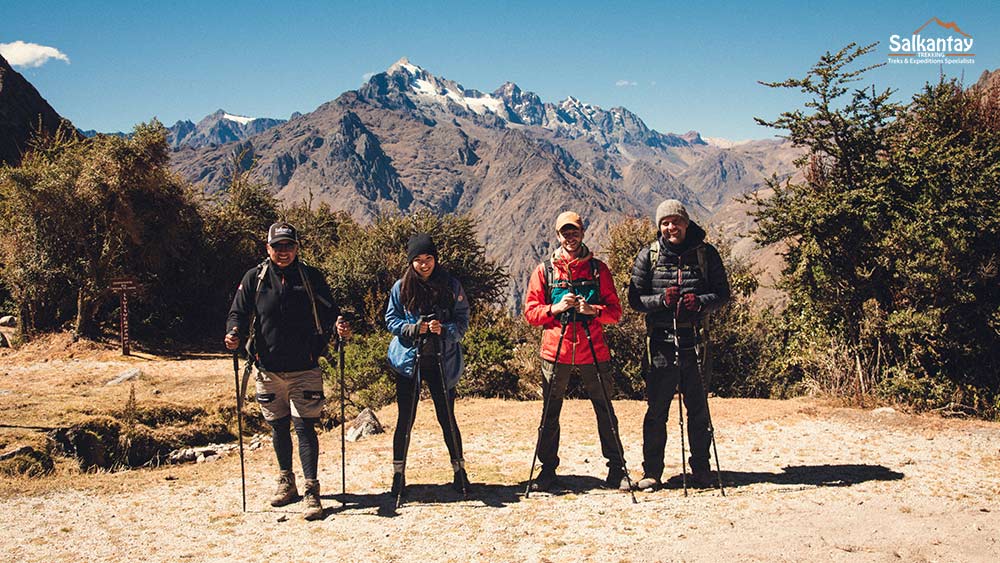 Let's Go!
Ok, you're all set for your hike up Machu Picchu Mountain! Get your reservation made ASAP!
Interested in doing a multi-day trek to Machu Picchu? Here are the best 7 options out there!
And, of course, the rest of Peru is also full of amazing hikes to try out.
How about just taking a hiking trip across the South American continent?
Now THAT'S what I call a vacation!
Written by: Bethany Iversen Marrou
---
---
You might also like
---