Peru is an incredible destination and is well-known for its delicious gastronomy, rich culture, interesting history, and so many natural wonders. As with most destinations, tourists flock to see the same sites, and deservedly so. Machu Picchu is one of the New Seven Wonders and is also a recognized UNESCO World Heritage Site.
There are also a few other spots that are frequented by visitors, including Lake Titicaca, Colca Canyon in Arequipa, and many other archaeological sites around Cusco.
However, there are those travelers who sometimes like to get away from the crowds or explore those places that only a handful of visitors get to see. In this article, we've dug deep to find the best off-the-beaten-path destinations across the whole of Peru, so that next time you plan your vacation, you can include some of these trips for a unique experience.
Choquequirao
While everyone is heading to Machu Picchu, you should be organizing your trip to Choquequirao. It's even bigger than Machu Picchu and is just as impressive. However, it was discovered much later and a lot of it is still uncovered. 
The only way to get there is on foot, so this is perhaps a reason why there are fewer visitors. There are classic treks of 4 and 5 days, which go there and back along the same route. Or, for the more adventurous, you can go on an epic trek that includes a visit to Choquequirao and Machu Picchu. One of the best things about this archeological site is that you're likely to have the whole place to yourselves to explore and soak up the magic.
Paracas Nature Reserve
If you're travelling with kids or are a true nature lover, the Paracas Nature Reserve is where you should be heading. There's some incredible marine life here, including sea lions, penguins, and whales. Take a day trip in a boat and see what you can spot.
You can also enjoy the expansive desert landscape that creates a stunning contrast against the blue ocean. It's easy to get to, too, as it's just outside the town of Paracas and there are plenty of agencies around offering tours. If you want a more exhilarating adventure, you can rent bikes and explore the area by yourself.
Kuelap Ruins
This site is in the north of Peru and is rarely visited. It seems to be left off many itineraries, but we aren't sure why when there's this place to stop at. This citadel is said to be at least three times older than Machu Picchu and experts believe that it was built in the 6th century AD by the Chachapoya civilization.
This culture is often referred to as the Warriors of the Clouds, and it's no surprise when you witness Kuelap sitting at 3,000 masl. You'll likely use the town of Chachapoyas as your base and head to the site from there. There you can see circular buildings and many temples hidden among the foliage. It's a really impressive site, especially considering how long ago it was constructed.
One of the Alternative Rainbow Mountains
We're pretty sure you've seen Rainbow Mountain photos all over the internet. Well, most of these will be of the well-known Vinicunca, which, of course, is a fantastic sight to see. However, two other mountains that are just as spectacular exist. We're talking about Palccoyo and Pallay Punchu.
Either can be visited from the city of Cusco in a day and boast the same impressive rainbow-like pattern. If you're up for a challenge, we recommend Pallay Punchu, but if you want a flat hike that's not so tough, go for Palccoyo.
A Wine Tour in Ica
If you fancy yourself as a wine connoisseur, you need to get over to Ica. This is where a majority of Peruvian wine and pisco is made as the earth produces the best grapes here. Wine has been made in Peru since the Spanish arrived and colonized the country.
Surprisingly, perhaps, Peru has some really delicious wines on offer. In Ica, there are several vineyards where you can spend a few days and drink some delicious vino. They are in the middle of some beautiful scenery and you can also enjoy swimming and bike riding, among other activities.
Huacachina
We're still in Ica for this one, and for a place that seems out of this world. We're talking about the incredibly beautiful Huacachina. It's a very small town that sits in the middle of the Peruvian desert and surrounds a serene oasis. You can't get much more relaxing than that.
However, it's also a perfect spot to spend a few days if you love adventure. There are some exhilarating activities to choose from here, including sandboarding and sand buggies, that jump extremely high over the huge dunes. You can unwind with some dinner and local wine by the oasis at night.
Marcahuasi
If you really want to get away from the crowds and the famous 'tourist trail,' we recommend a trip to Maracahuasi. Very few Peruvians have even heard of this place, so you can imagine how quiet it is. It's an archaeological site that no one knows whether it was man-made or due to natural erosion. It sits at a whopping 4,000 masl.
It's not easy to get to, either. You'll need to endure a difficult hike from San Pedro de Casta for 4 hours. You'll need to travel from Lima in various different transportations to get to the town, where you can spend the night before heading to the incredible site of Maracahuasi.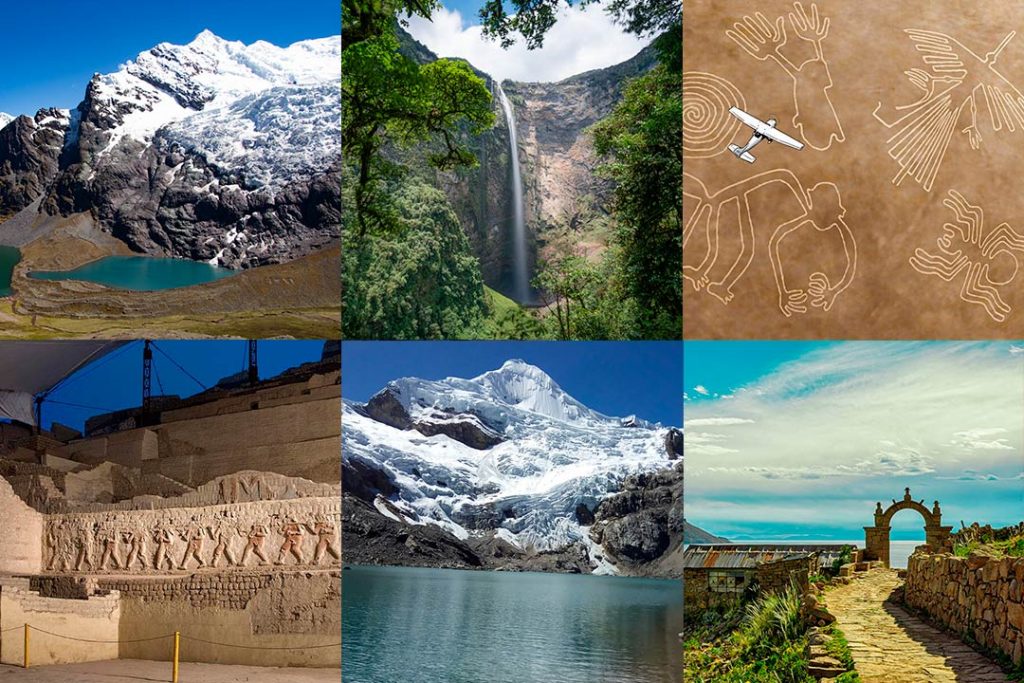 Gocta Falls
If you love waterfalls, then you need to add Gocta Falls to your itinerary. In the past, it was thought that there was a curse of a mermaid, which is why the place was kept a secret for such a long time. It's still rarely frequented by tourists but we believe it's one of the best 'quiet' spots in the country.
The hike there is a little challenging, but you get to see some stunning scenery and wildlife. You can start your trip by bus from Chachapoyas and then hike from Cocachimba. The waterfall is super impressive and you shouldn't miss it on your trip.
Taquile Island
If you head to Puno, we're sure you'll spend some time out on Lake Titicaca and visiting Los Uros floating islands. You'll also probably head to Amantani Island. Well, why not leave the crowds and visit Taquile Island instead?
To get there, you'll have to go on a tour of Los Uros, to begin with, but once you reach Taquile, you'll be rewarded with peace and tranquility. You can enjoy this trip to the fullest by spending a night on the island to enjoy meals with the island dwellers and learn more about their life there. It's best if you can speak a little Spanish here, as they don't speak English and most only speak their native language of Aymara.
The Apurimac River
For adventure and water-lovers, the Apurimac River is a must. You'll see on other tours, like the trek to Choquequirao, but we recommend a trip to the river by itself. The best and most adventurous way to see all the river has to offer is on a three-day white water rafting trip. You'll also witness the powerful Black Canyon.
The trip starts about a 4-hour drive away from Cusco, and you'll see the dark canyon walls rise around you as you head downstream. This river ride isn't for the faint of heart, and experience is recommended. After 3 days, you'll spend 3.5 hours in a car on your way back to Cusco.
Ausangate Trek
When most people visit Cusco and want to go on a trek, they'll opt for one of the popular ones to Machu Picchu, like the Inca Trail or Salkantay Trek. Although these are both fantastic options, if you want to experience rural Andean life, no crowds, and some of the most stunning scenery you've ever witnessed, we recommend the Ausangate Trek. 
On this trek, you won't be heading to Machu Picchu. You'll be walking around the towering glacier of Ausangate and observing locals working in the fields and gathering their harvest. You'll also get to spend time with families from the region and learn about how they live. If you want to add a 'tourist' attraction on, you can combine your trek with a visit to Rainbow Mountain.
Chan Chan
This off-the-beaten-path site is near the 3rd most populous city in the country, Trujillo. It's known as the city of eternal spring as the weather is always fantastic, so it's a wonder why very few tourists visit the place.
Close to Trujillo are the ruins of Chan Chan that date back to the 850s AD. It was run by the Chimu Empire and is a truly huge site. The ruins expand over 20 kilometers-squared and are in very good condition due to the excellent climate. It's an interesting day out and a must if you visit this gorgeous city.
Chachapoya Sarcophagi
We're at Chachapoya again for another incredible site in the cloud forest. One of the most stunning and fascinating pieces they left behind is the painted sarcophagi in tough-to-get-to gaps in the cliff face at a place called Karajia.
Experts believe the sarcophagi are at least 600 years old and are made from grass, sticks, and clay. Warriors from the culture were buried here and their enemies' skulls were placed on top. You can head here on a day trip from Chachapoyas and enjoy views that barely anyone gets to witness.
El Brujo Archaeological Complex
This fascinating site is in Trujillo and in 2005, an incredible discovery was made. El Brujo is made up of adobe pyramids that were built around 2,000 years ago. In the most important pyramid, the Huaca Cao Viejo, explorers discovered the body of a Moche ruler, who was later discovered to be a woman.
The mummified remains also showed intricate detail on her arms and legs of spider and snake patterns. It appeared that she was a shaman or of another high status. It's out of the way, so not many people make it here, but it's a real gem if you get the chance. In the museum you can see gold and silver items that she was buried with and also get to see what she would have looked like, thanks to computer 3D reconstruction.
Helicopter or Plane Ride Over the Nazca Lines
Another ancient civilization in Peru was Nazca, and they occupied the south coast of the country between 100 AD and 700 AD. They were well known for engineering some excellent irrigation systems. What most people know them, for now, are the lines they left behind.
Over a whopping 450 km square, they created line formations with great precision. Some of their designs include a hummingbird, monkey, and whale. However, there isn't much written about the lines and no one is sure exactly what they were used for or why they were formed, even though there are many theories.
Akilpo-Ishinca Trek
Most people are well aware of the amazing treks available in Cusco, but Huaraz also has some stunning hikes throughout the Cordillera Blanca and Negra mountain ranges. You'll be heading up to high altitude to appreciate some gorgeous glaciers and lakes.
The Santa Cruz Trek is the most famous, and if you opt to hike it, you'll see lots of fellow trekkers on the route. If you want something less crowded and with views to die for, the Akilpo-Ishinca Trek is a wonderful choice. You might find that you see no one else along the way at all!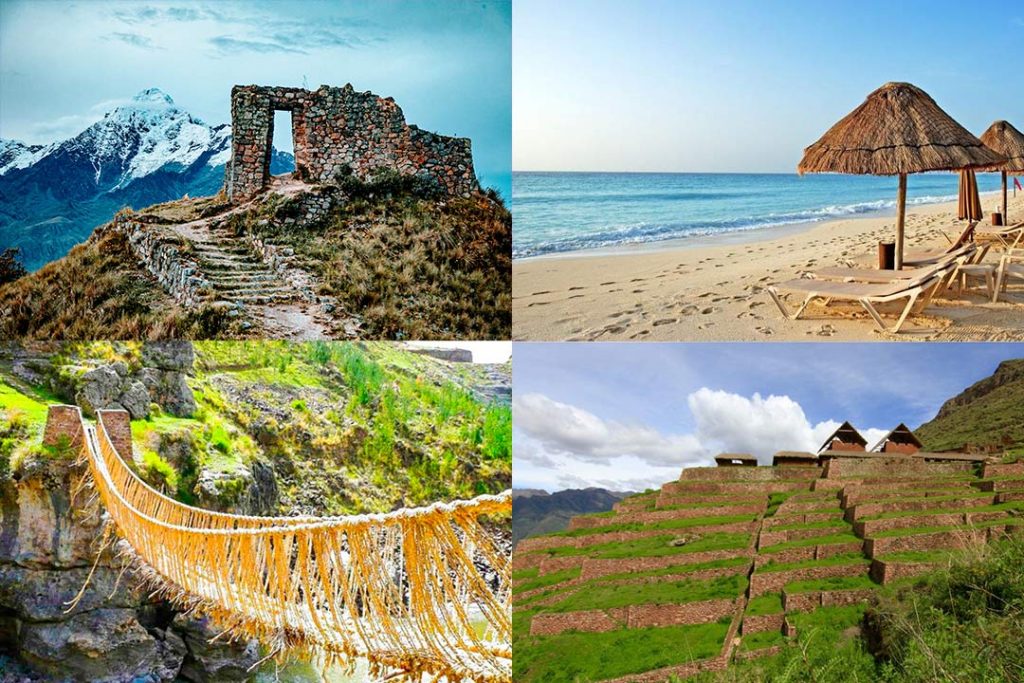 Inca Quarry Trek
When you're planning your trek to Machu Picchu but really don't want to be surrounded by lots of other people, why not consider the Inca Quarry Trek? It's also sometimes known as the Cachicata Trek and is perfect for history lovers who want to know more about the Incas and for those who want a unique insight into Andean life.
The trek is now in the top 6 alternative routes to Machu Picchu, as declared by National Geographic. You can expect to see some astounding scenery and visit Inca sites that not many get to witness, including the quarry where the stones for Machu Picchu were taken from.
Millpu Lagoons
This hidden spot in Ayacucho is almost as far off the beaten track as you can get, which makes it a little difficult to get to. There are around 20 natural pools grouped together of gorgeous turquoise water in the countryside.
Even though they may look incredible to dive in and take a swim, don't. They're freezing cold! They are very beautiful, though. You'll need to make your way to a small town called Circamarca, pay a small fee, and then take a 30-45 minute hike to the pools.
Mancora
Perhaps beaches and chilling out are more your thing. Mancora is a paradise town on the beach in the north of Peru and boasts glorious Sandy beaches and big waves for those who love to surf. It's the perfect getaway from the big cities and you can enjoy some well-deserved peace and quiet.
There aren't so many activities here but more of a chance to unwind. You can, of course, head out to ride the waves in the day, tan yourself on the beach, or walk along the gorgeous coastline. The nightlife here is vibrant so you can let your hair down after dark and enjoy a nice dinner then drinks in the lovely bars.
Q'eswachaka Rope Bridge
This is a really interesting place that not many visitors to Peru are able to visit. It's the last handwoven Inca rope bridge remaining today and spans over an impressive 100 feet. As you stand on the bridge, you'll be 60 feet over the roaring Apurimac River and astounding canyon.
The bridge is reconstructed every year by the local community who still follow Inca traditions to this day. It's a fascinating place with an incredible story behind it. You can get there on a day trip from Cusco in around 3 hours. It's close to Checacupe bridge and Palccoyo Mountain, too, so you can visit them all together.
Huchuy Qosqo Trek
One of the smaller treks around the Cusco region and one that isn't hiked by many is the Huchuy Qosqo route. You can opt to go for just a day hike or up to 3 days. You'll be walking above the Sacred Valley of the Incas and you get some amazing views of the towns below and surrounding hills and mountains. 
At the end of your trek, you'll visit the Huchuy Qosqo archaeological site, which includes some unique Inca constructions that you don't really see at any others. The path down to the entrance is also well-preserved with original Inca stone and will send you back in history as you imagine those who once walked there.
Plan the Perfect Itinerary for Your Vacation in Peru
With this list of epic destinations in Peru, you should have no trouble putting together the ideal itinerary. We recommend selecting some of the more popular sites and combining them with some of these off-the-beaten-path options.
This way, you'll make sure you see some of the most incredible places in Peru known by many and others that very few get to see. This way, we're sure you'll have the most amazing time in our wonderful country and see everything it has to offer.
Witten by: Liv Palmer
---
---
You might also like
---