There are many more skills and responsibilities that a guide must follow on the route than one imagines. For this reason, in Salkantay Trekking, we take care of training our collaborators year after year, with the aim of strengthening their knowledge in order to provide excellent service to visitors. Guides training allows the team to plan, improve and perform their tasks more efficiently, as well as reach their full potential through learning.
For this reason, we successfully carried out our "Salkantay Trekking 2023 Training," this time aimed at our tour guides.
It was a productive week of lectures, training, group dynamics, and route recognition that our team of guides carried out in order to achieve a competitive advantage and differentiate ourselves in the Cusco tourism market, thus creating unique and unforgettable travel experiences.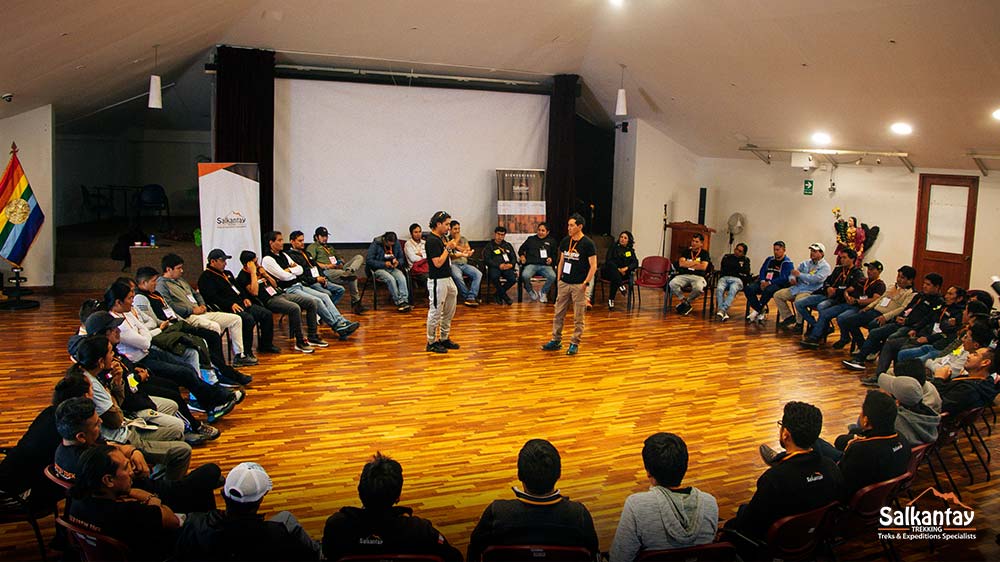 Guides Training
Our tour guides are people who provide informative and entertaining tours in a specific area of the Cusco region, in addition to providing good customer service and friendly treatment to visitors so that their trip is more than enjoyable.
On February 22 and 23, the auditorium of the Regional Management of Foreign Trade and Tourism, Cusco (GERCETUR), received the family of Salkantay Trekking. From very early on, we began the training for our tourism ambassadors, presided over by Mr. Edgar Catunta Guillén, CEO of the company.
The participation was massive, with a total of 45 people, including guides and assistants. The sessions lasted around 10 hours per day, where our guides were instructed in corporate and specialized talks. In addition, they carried out various dynamics in order to interact with their colleagues, not only in the professional field but also on a personal level.
Experienced trainers put all the participants to work in groups to enable effective learning while sharing their experiences.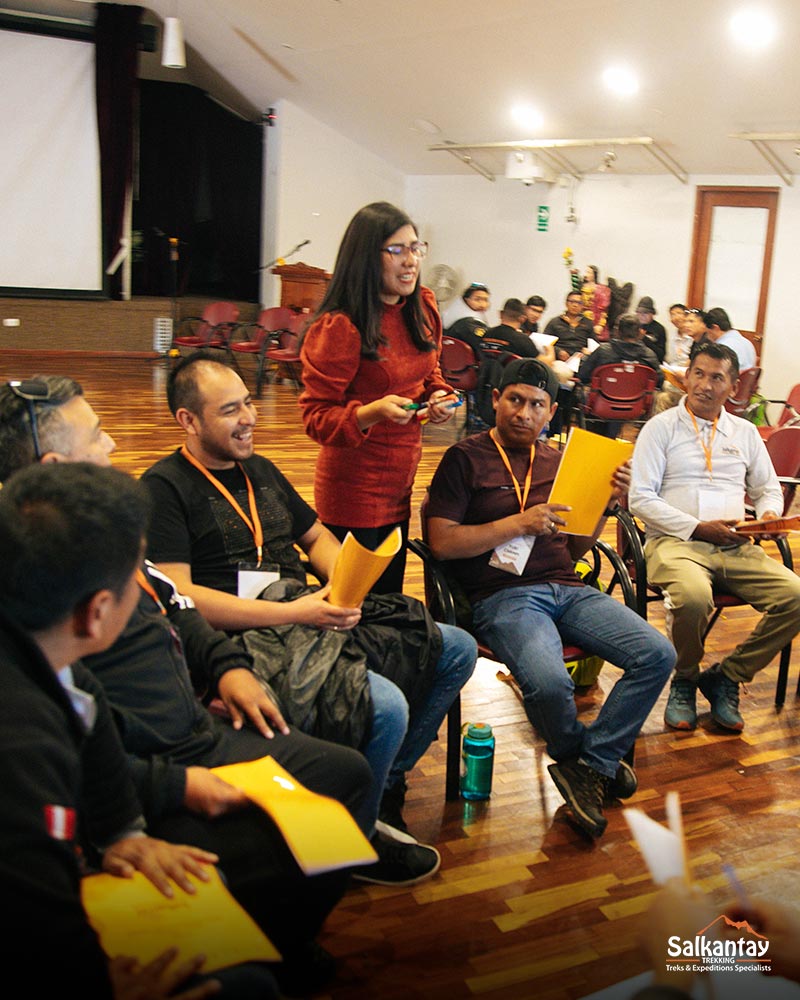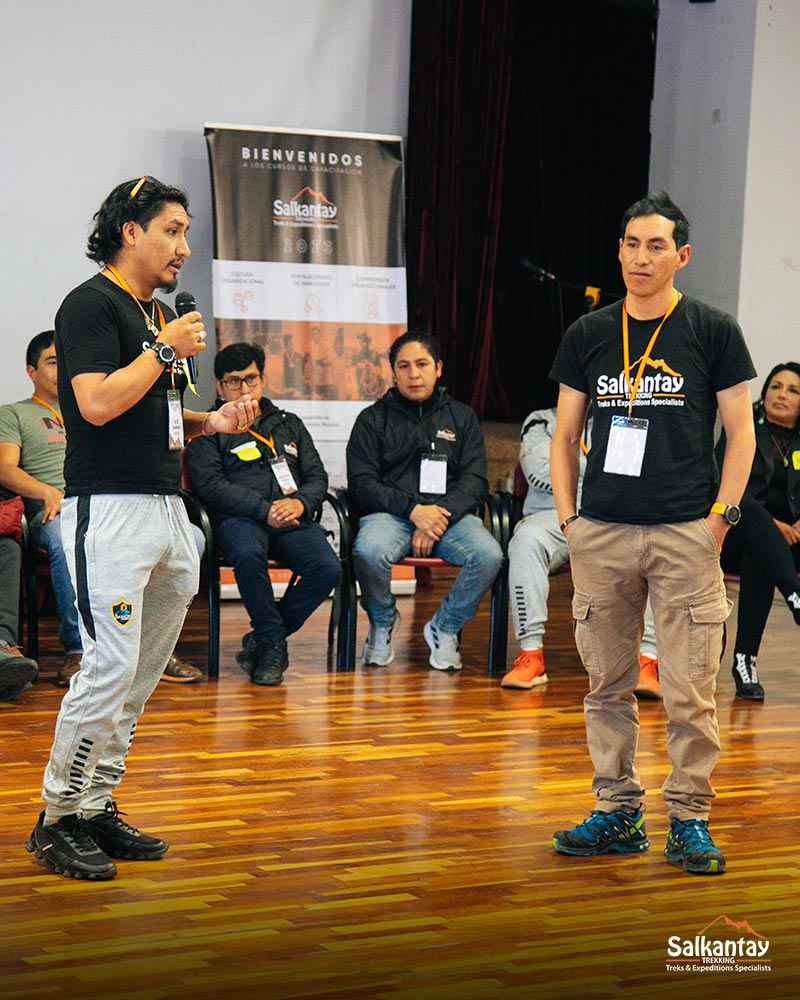 Salkantay Trekking guides
All of our guides are specially selected for their professionalism, experience, responsibility, passion for what we do, and seriousness. They are also people who constantly read and stay informed about current events, international culture, history, and nature.
Our ambassadors provide travelers with security as they are capable of properly responding to any mishaps or problems that arise on the journey. Additionally, they are companions who share and enjoy the mountain experience with our travelers. They have the mindset that a trek should be a great experience.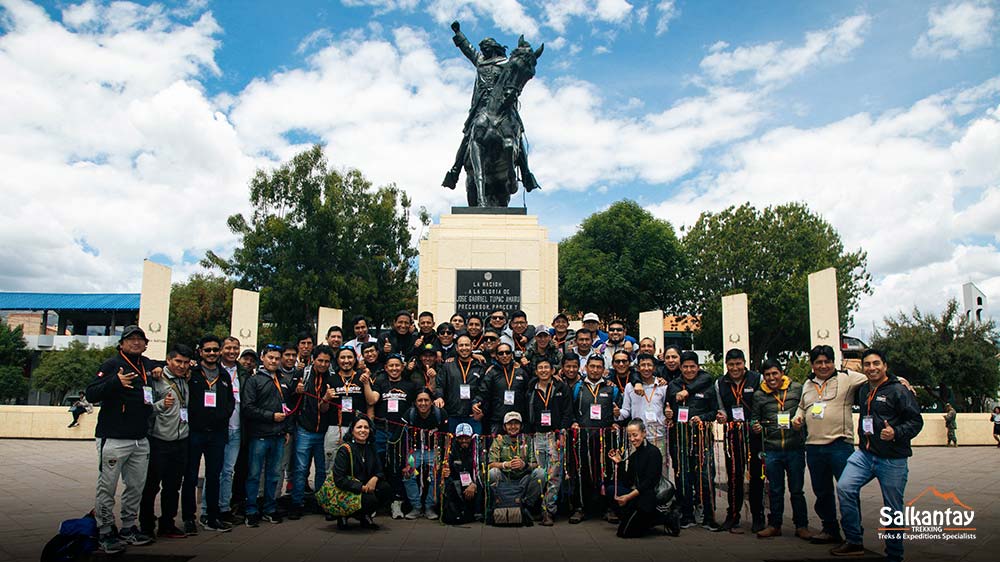 The trainers
At Salkantay Trekking, we know that training our tour guides is truly helpful for service excellence. Therefore, we have enlisted the support of highly qualified individuals to enrich our ambassadors with the knowledge that they will use on the route and provide passengers with the best travel experience.
Theoretical classes
During the training days, our guides received informative talks about company policies and processes, as well as the functions they must perform during each trip, as well as dynamics to improve their personal skills.
On the first day, we had the following topics of exposition:
Soft skills, led by psychologists Iña and Dioni: The facilitators conducted different group activities in order to improve the assertive communication, problem-solving, and teamwork skills of our guides.
Organizational culture: To reinforce the commitment to the company, fulfilling the objectives set for this year, and promote positive cultures.
Customer service: "Customers don't expect you to be perfect. They expect you to provide solutions when they have a problem." -Donald Porte. It is something that we keep in mind at Salkantay Trekking and transmit to our collaborators.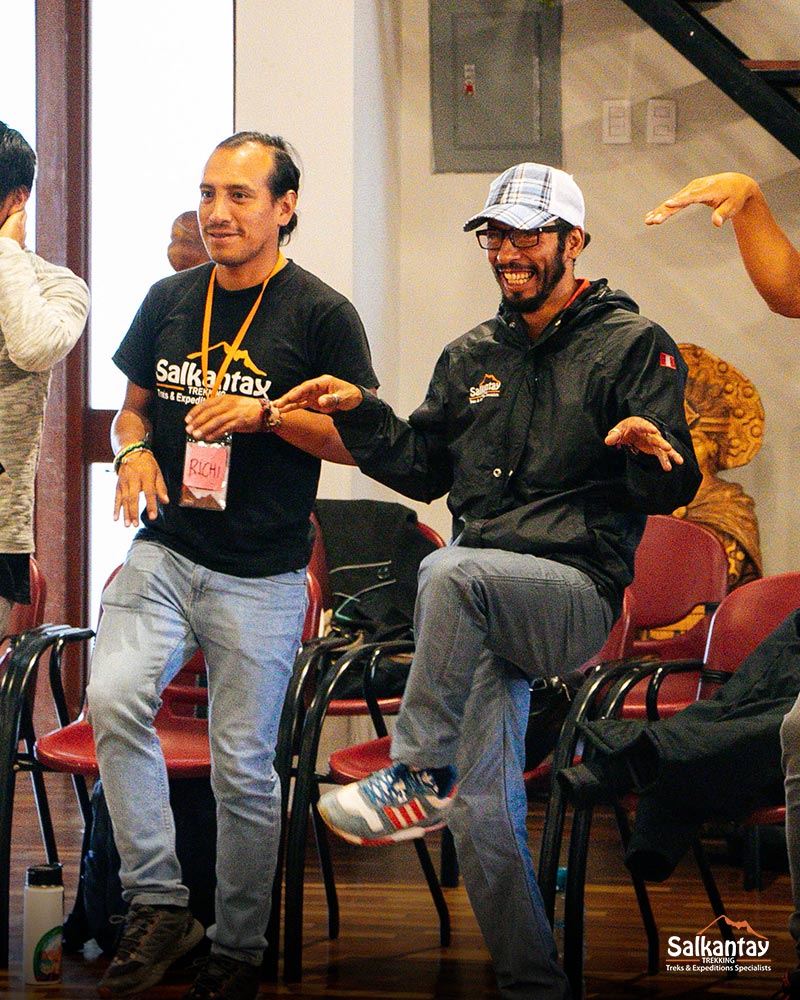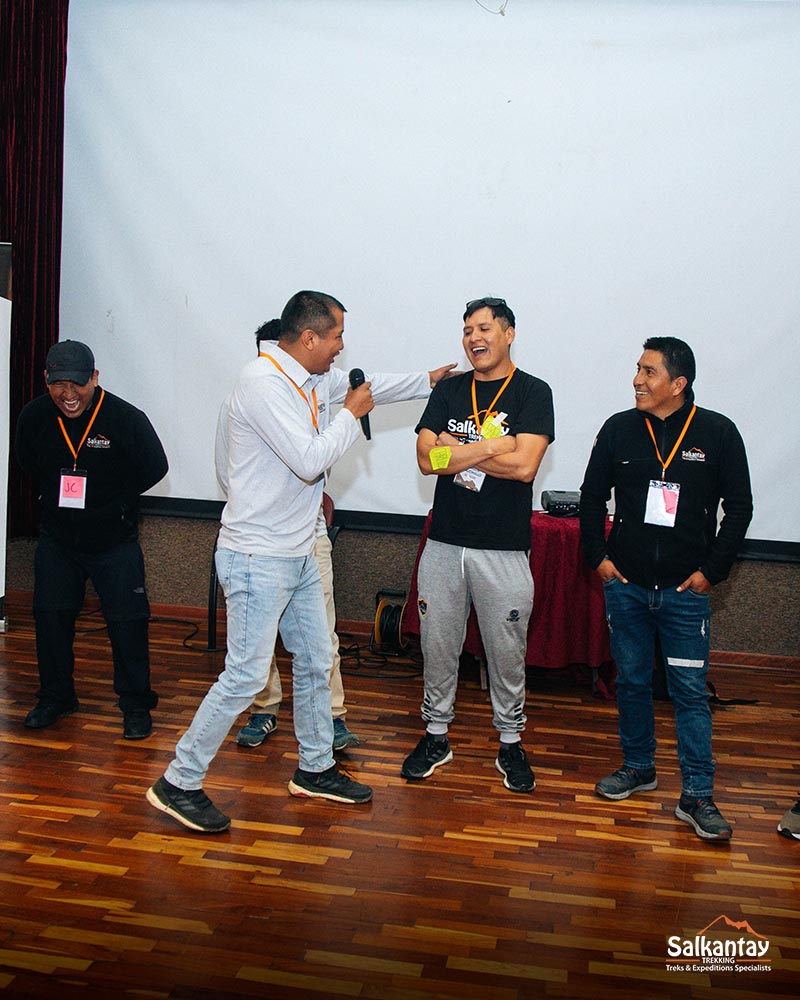 On the second day, we had the following topics of exposition:
Andean botany, led by biologist Justo Mantilla Holguín, professor at the National University of San Antonio Abad del Cusco. The use of medicinal plants has been and will be a preventive and curative alternative for health. When exploring the Peruvian Andes, you will encounter a variety of medicinal plants that Mother Earth (Pachamama) gives us.
Health contingency plan, with the support of the O2 Medical Network Clinic: Our guides must be prepared for any emergency and/or problem that may arise on the way.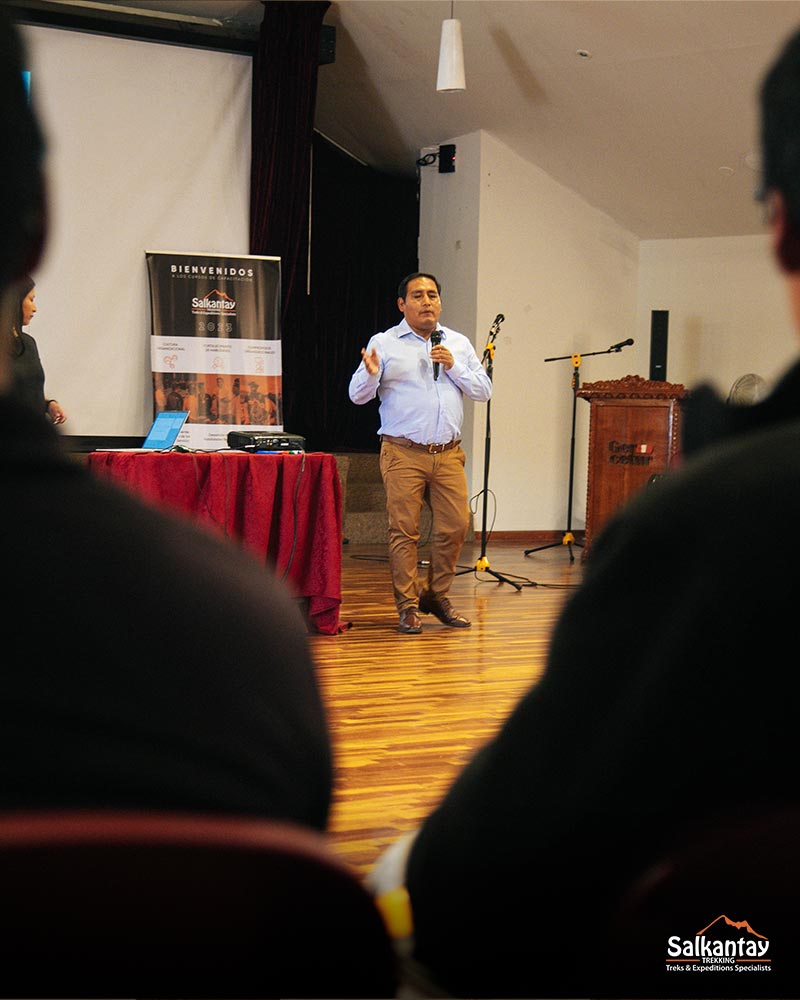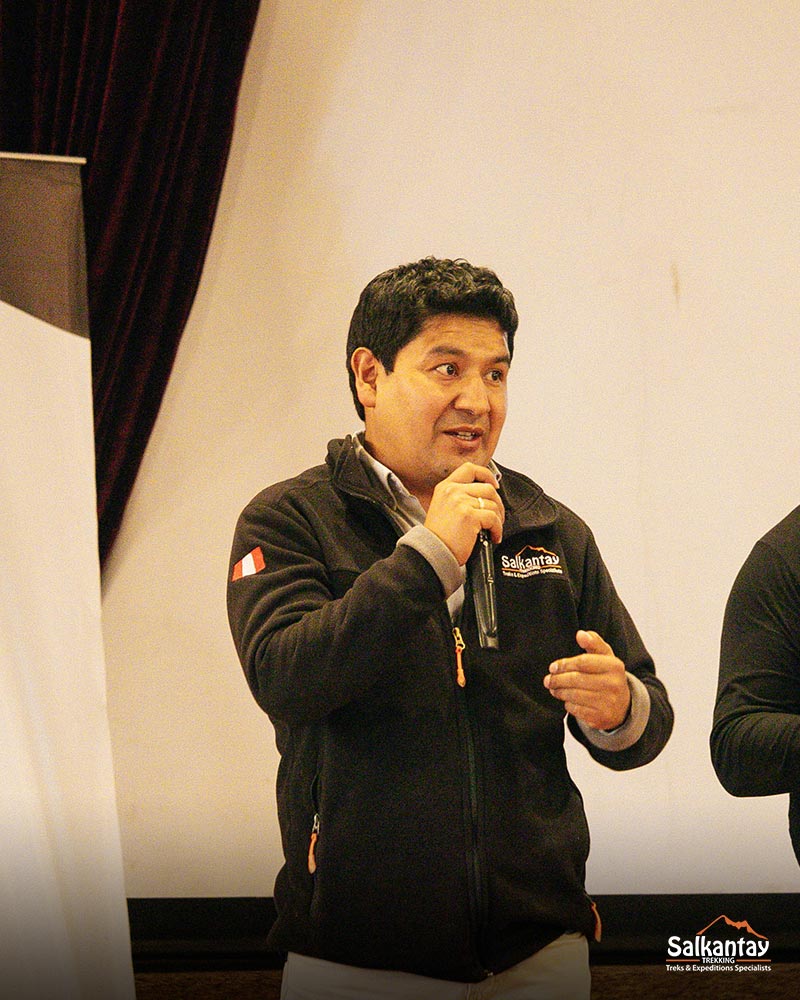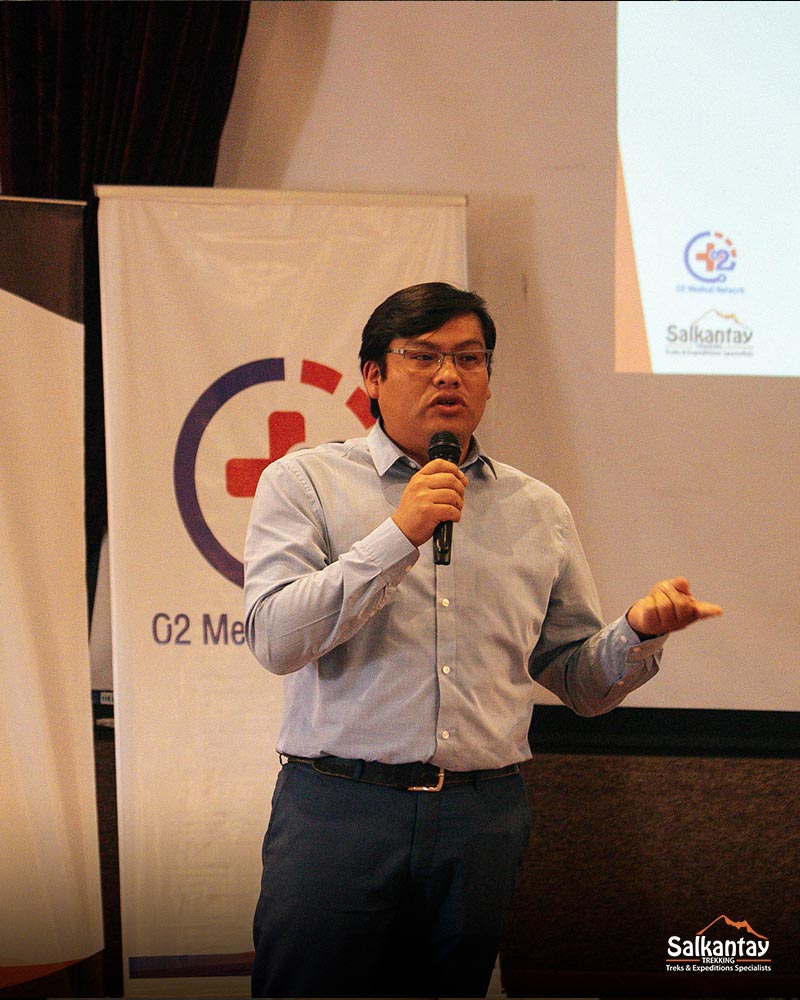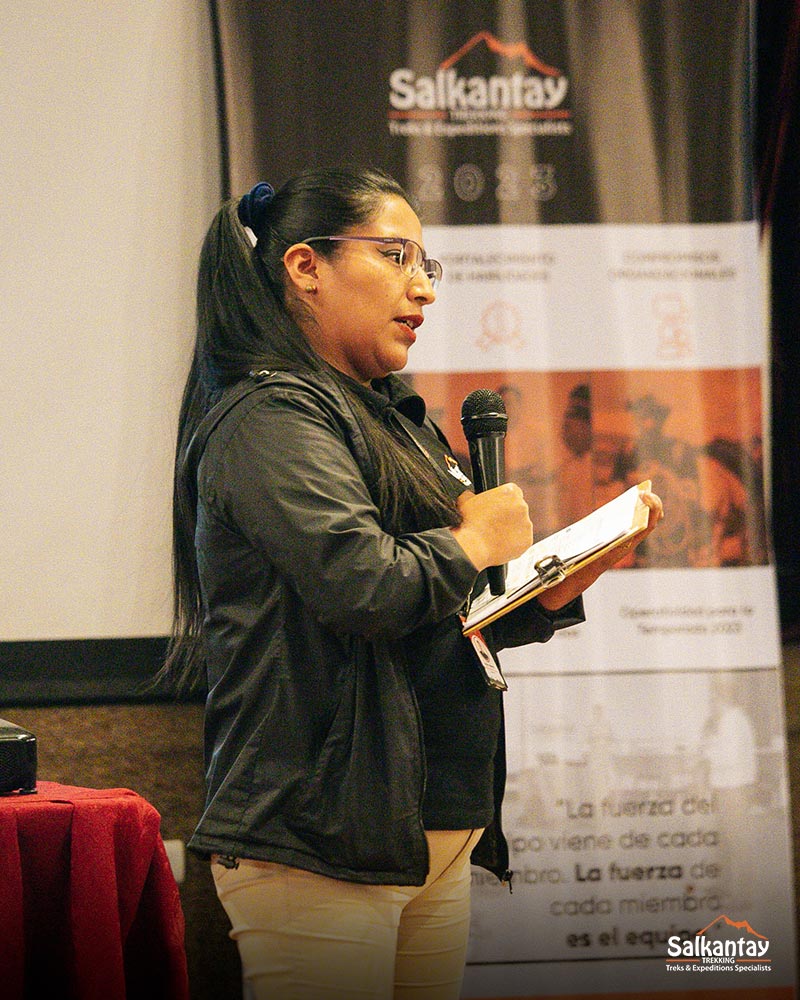 Practical classes
Our ambassadors carried out various group activities and dynamics to enhance their skills, abilities, attitudes, and technical knowledge that they will put into practice on each trip they make.
Physical aspects when guiding:
Posture
Eye contact
Body posture
Group position
Smile
Confidence and authority
Leadership
Personal hygiene and appearance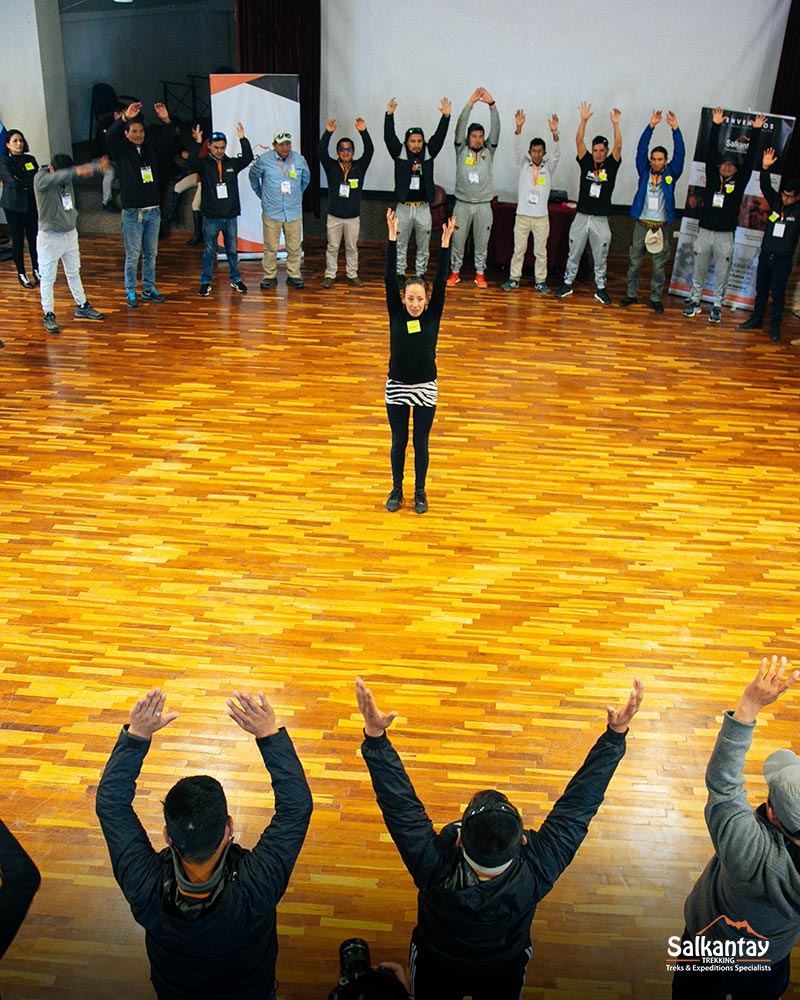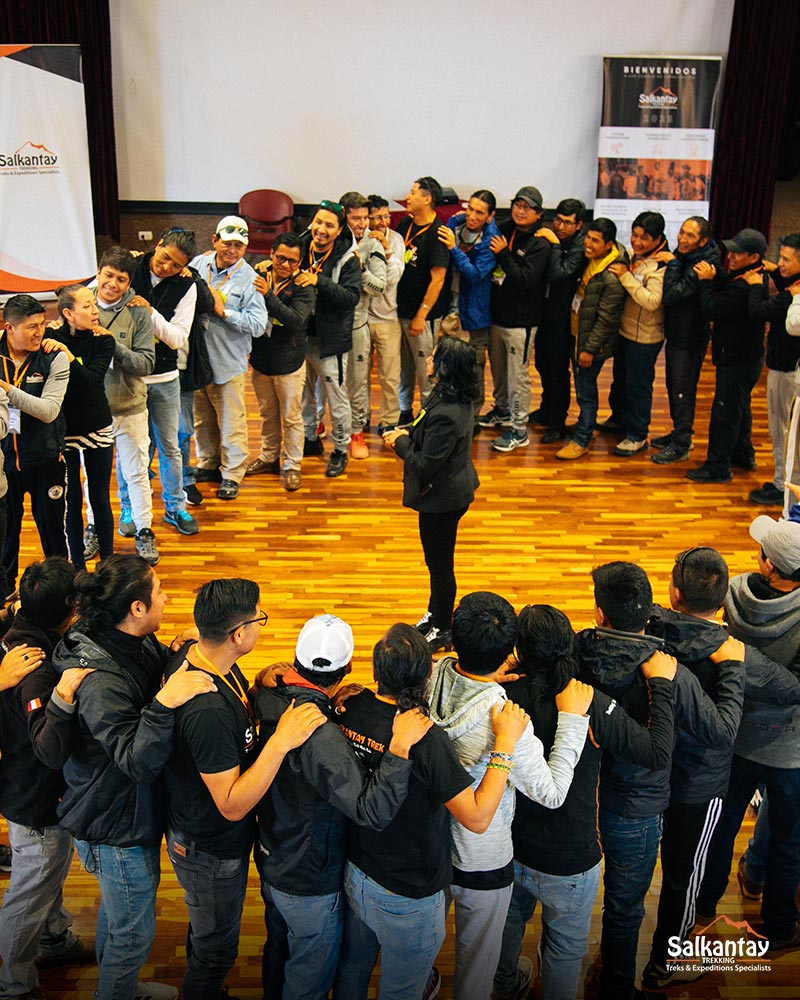 Route reconnaissance trip
On February 24th, the third and final day of training for our guides, a route recognition outing was conducted to the Sacred Valley of the Incas. For this, the 45 guides were divided into small groups to explore the new itinerary.
We departed from Cusco in the morning, and our first stop was at the Chinchero Textile Center. There, we had a demonstration of wool dyeing and witnessed the wonderful garments that local women weave with their own hands. Then, we headed to Maras to visit the famous Maras Salt Mines and appreciate its more than 4,000 salt ponds.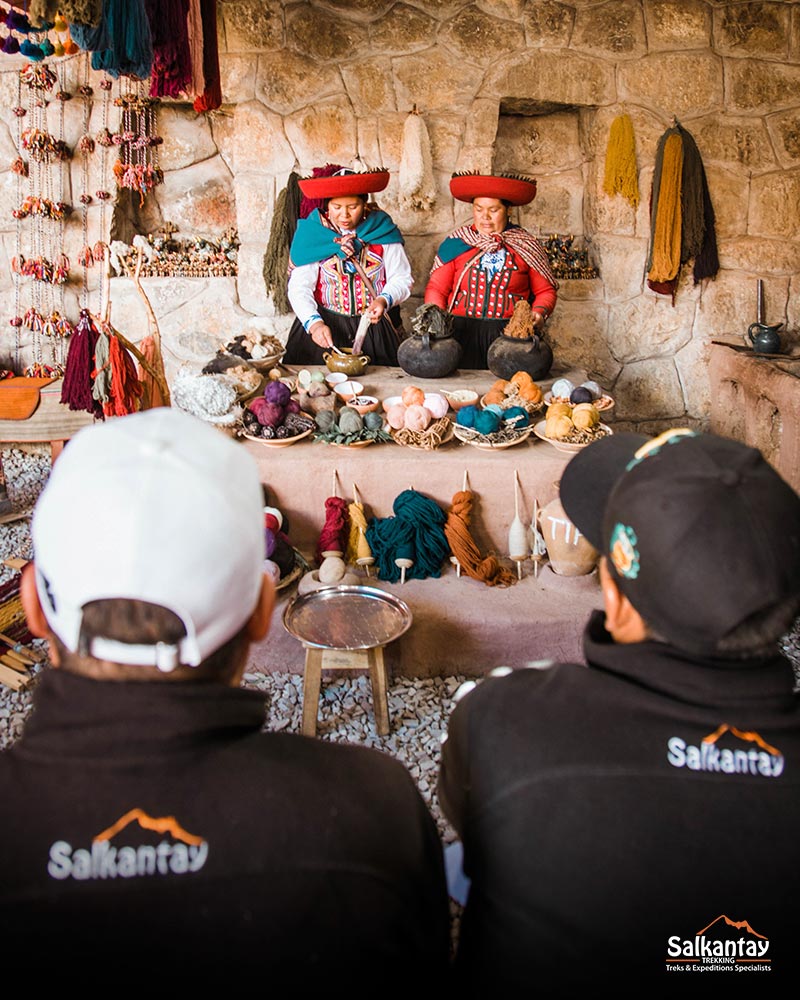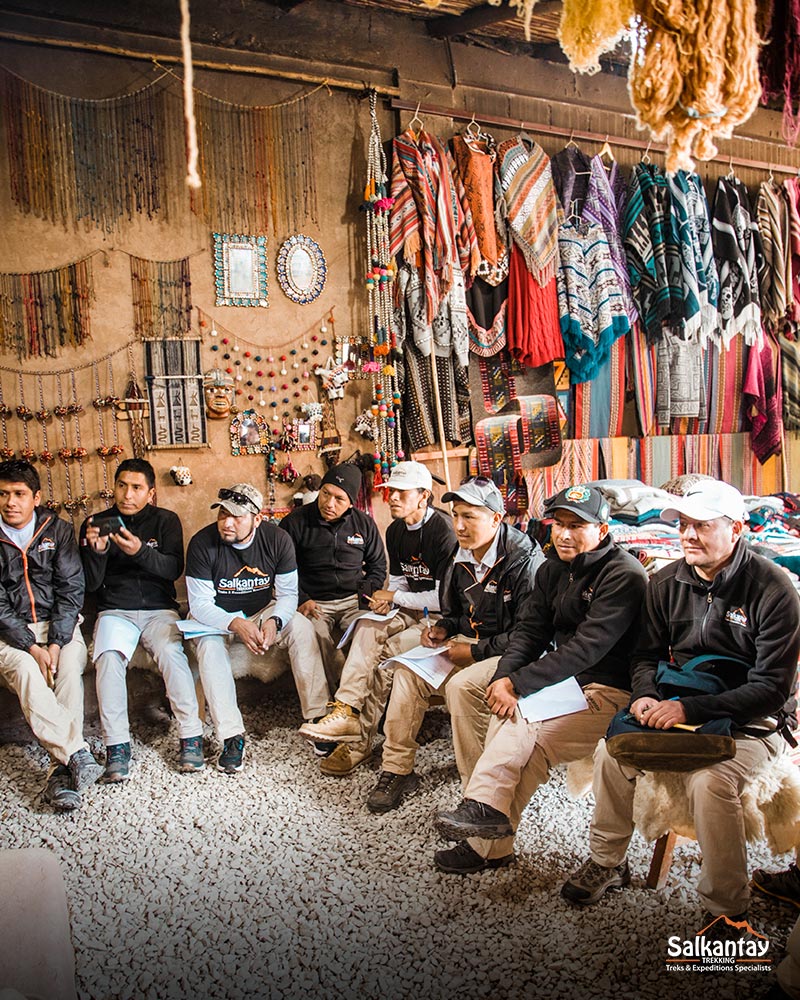 Later, we arrived at a local community house, where we were explained about the fermentation of chicha and had a small tasting. Afterward, we headed to Moray to observe its agricultural laboratory. This place is truly impressive and mysterious.
Later, we enjoyed a delicious and traditional lunch in Misminay. Additionally, we used the batán, an ancient instrument used by the Incas to grind corn, which with the arrival of the Spanish, was used to extract the maximum mixture of spices to create the most majestic dressings.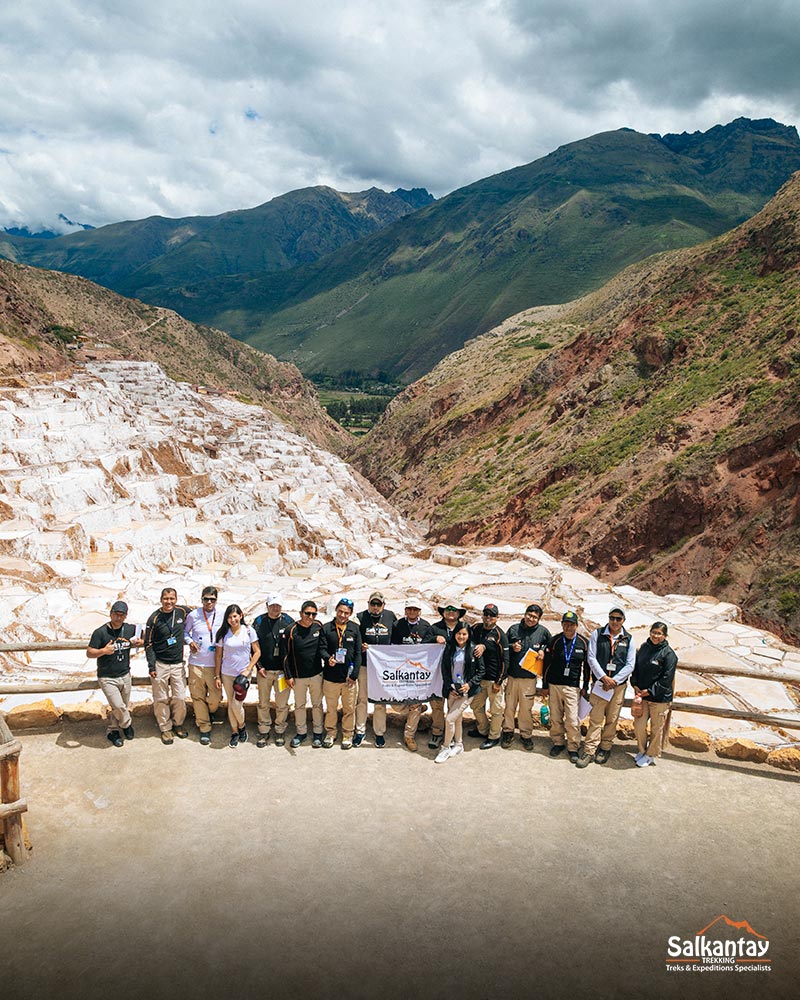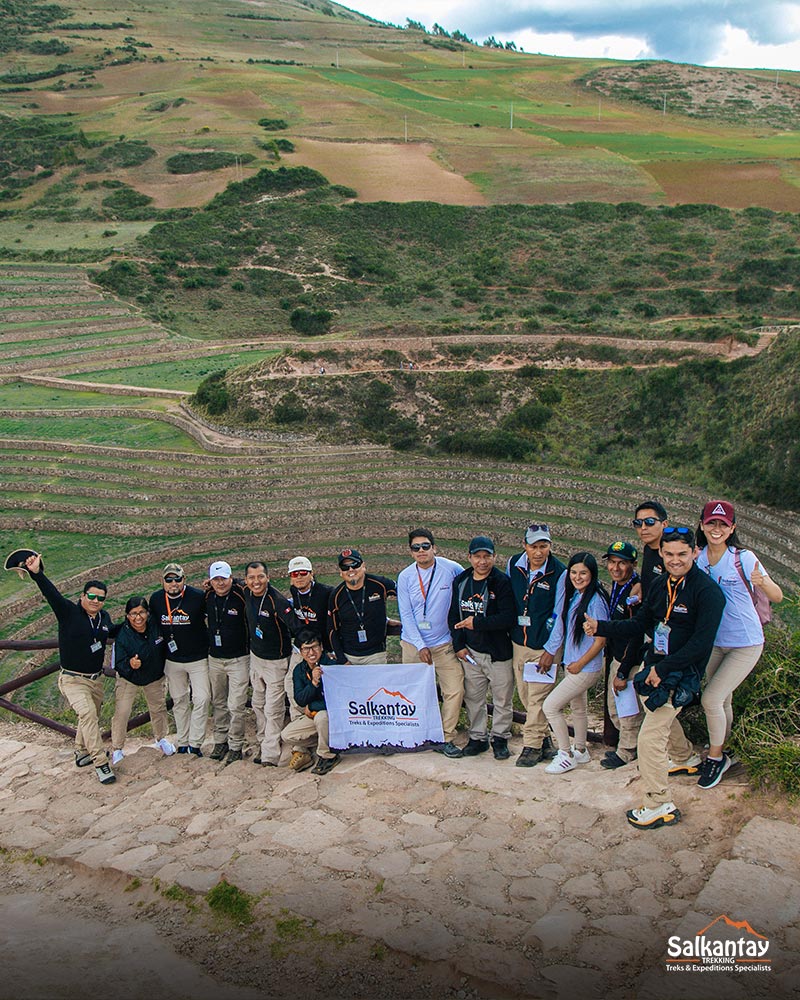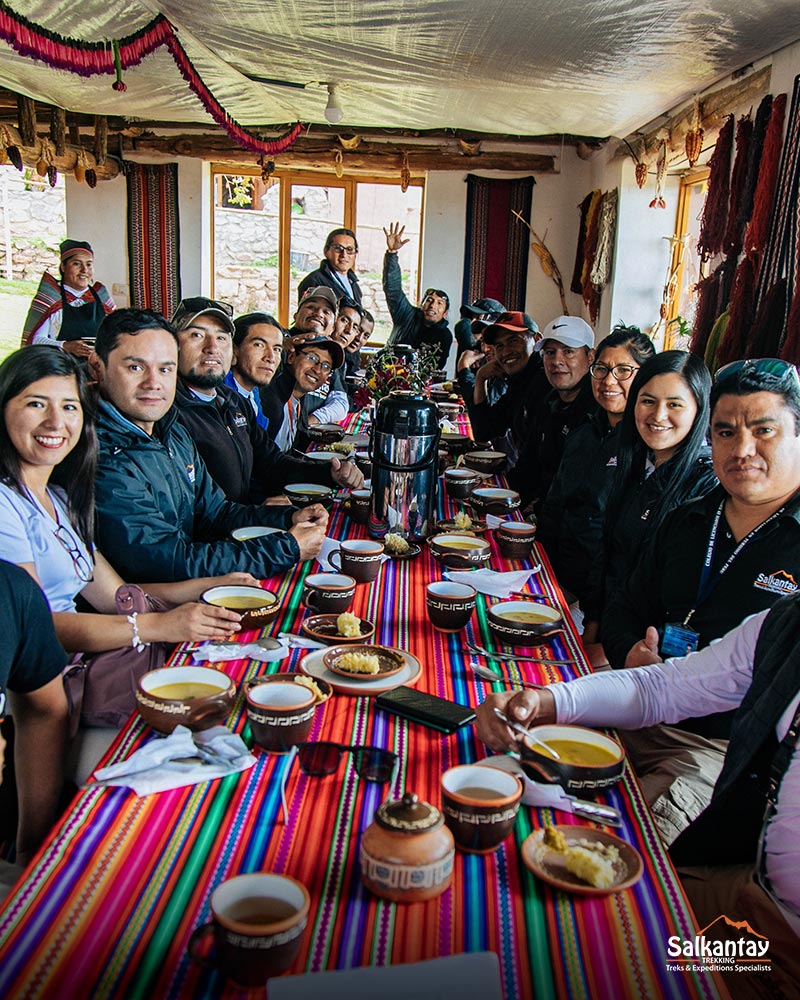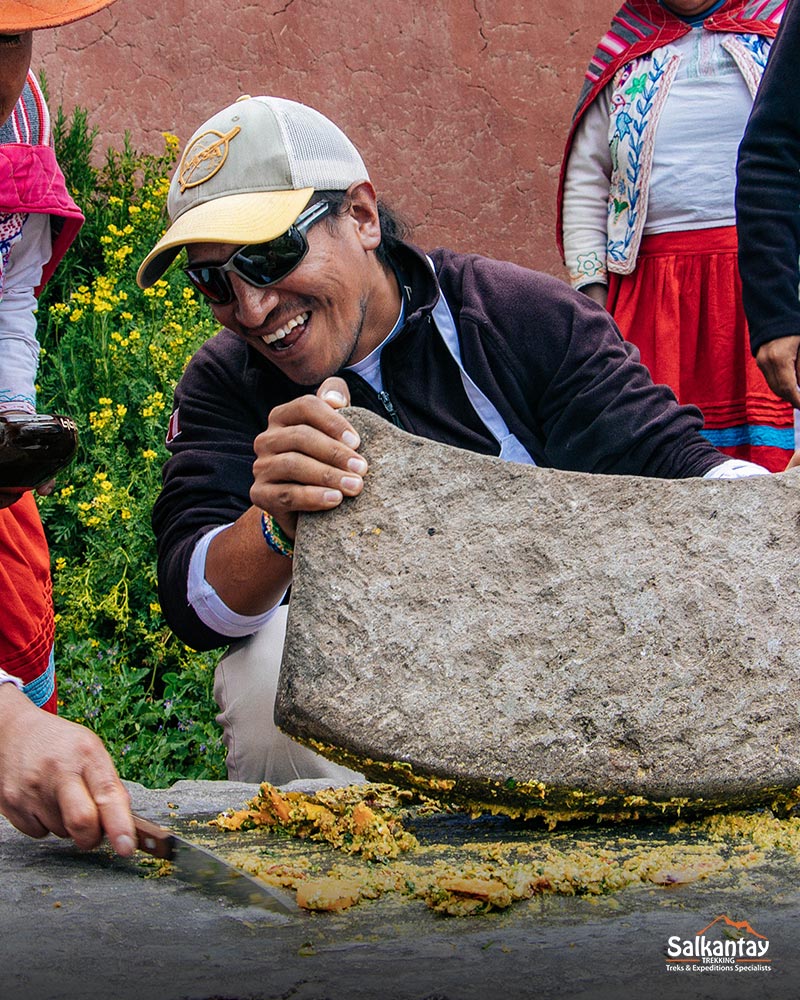 This route recognition outing was of great help to our guides to thoroughly explore the incredible Sacred Valley of the Incas and share the history that Cusco holds.
At Salkantay Trekking, we know that without adequate and precise guide training, we can endanger our results. That is why we invest so that our collaborators can enrich themselves with knowledge and demonstrate it to passengers who come to explore Peru.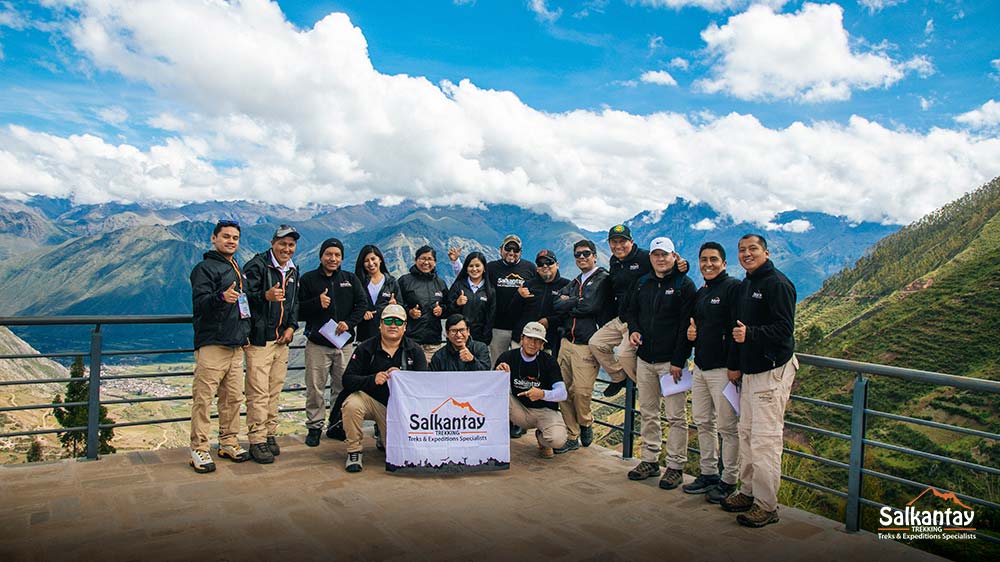 Written by: Estefany Huamaní
---
---
You might also like
---