The Incas left a lot of things behind that are still common practice in Peru today. One of the most impressive and innovative is the dish Pachamanca. It's enjoyed all across the Andes as a preserved tradition and is a truly unique way of cooking. So, what exactly is this baking method, and how can you get to try it? We explore Pachamanca in depth below. 
What Is Pachamanca?
The Incas spoke a language known as Quechua and many who live in the Andes still speak it today. Pachamanca translates to English as earth (pacha) pot (manca). This name is a very literal one, given that it consists of an underground earthenware pot that's covered in hot stones and earth.
There are signs that Wari culture consumed the dish as far back as during the Wari culture, approximately from 500 to 1,100 AD.
Pachamanca represents the strong bond that the Incas and other ancient cultures had with Mother Earth, or as the locals call her, Pachamama. The ritual and preparation of the dish is a tribute to everything the earth gives us, as can be seen in the ingredients. Common inclusions are meat, potatoes, beans, and Andean herbs. 
Preparing Pachamanaca is an excellent way for friends, families, and whole communities to spend valuable time together. The entire process begins every time with constructing the oven. You'll find that locals tend to make a day out of it and build the oven early in the morning and then let the food cook for a few hours while enjoying some family games and having fun together. 
Pachamanca is thoroughly nourishing and once provided a well-balanced meal to our ancestors. Even though there are staples that always make up the dish, you can add anything you like.
How to Make Pachamanca?
The traditional method of making the pachamanca starts by heating the stones, which can take a while. They're heated over an open fire and get extremely hot. While the stones are warming up, it's time to prepare the food. 
You can add potatoes, corn, beans, and any kind of meat you wish. The traditional way is to wrap them in banana or plantain leaves to not burn and bake nicely. Alternatively, you can use a clay pot. 
Once the stones are ready, a layer covers the bottom of the oven. Then, a pile of native herbs is placed on top, including a wild mint called huacatay. You'll find this herb adds flavor to many of the Andean dishes.
Now it's time to place your food parcels wrapped in the leaves. To finish it off, dirt is thrown all over the top to seal every possible hole and ensure even cooking. Another Incan ritual that's still often a part of the Pachamanca process is to pour over a bit of chicha de Jora, a fermented corn beverage that's been enjoyed for hundreds of years.
Time to eat! After an hour or more, it's time to remove the dirt. This is usually done by using shovels to avoid burning. Outcomes the tasty food and it is shared out on plates. The flavor is amazing and boasts lots of smoky tones due to the cooking method and herby hints from the layer below the ingredients.
Most people add a green homemade chili sauce to accompany the food and sometimes sticks of Andean cheese. These go perfectly with the potatoes. You can enjoy the food with more chicha de Jora, a Peruvian beer, or the famous Inca kola.
Where Can You Eat Pachamanca?
This dish is generally made by families outside their homes or up in the Andes, away from the cities. Different cities and regions of the mountains enjoy it, including Cusco, Ancash, La Libertad, Huanuco, Junin, and Ayacucho. 
You might occasionally be able to find it in a fancy restaurant in city centers, but if you want a real authentic experience, check out if any local tours or treks include a Pachamanca feast. Some do, and it's a wonderful experience and a real insight into life in the mountains.
How Does Pachamanca Differ in the Regions?
Even though the basics are the same, there are few variations on the ingredients. Below we show you the typical ingredients in each region.
Cusco
In our beloved Cusco, the capital of the Inca empire, the main ingredients are as follows:
Meat: Pork, beef, lamb
Vegetables: Potatoes, corn, beans
Seasoning: Huacatay, chincho, salt
Additions: Cheese, humitas
Sauce: Green chili sauce, known as "uchucuta"
Drink: Chicha de jora or beer
Ancash
In Ancash, they use the following ingredients:
Meat: Guinea pig, pork, chicken, beef
Vegetables: Potatoes, beans, corn, sweet potato
Seasoning: Huacatay, chincho, garlic, green pepper
Additions: Humitas
Drink: Chicha de jora or beer
La Libertad
Next, we're off to La Libertad, where they use lamb as the main ingredient plus a few others.
Meat: Lamb
Vegetables: Plantain, potatoes
Seasoning: Salt, garlic, pepper, chicha de jora
Additions: Humitas
Sauce: Green chili sauce called "hapchi"
Huanuco
Now, in Huanuco, a city that promoted Peru's independence, there are slight variations, as follows:
Meat: Pork
Vegetables: Potato, sweet potato, yuca, corn
Seasoning: Chincho
Sauce: Hot pepper with onion
Drink: Chicha de jora
Junin
In Junin, there are changes again, as you can see here:
Meat: Guinea pig, alpaca, pork, lamb, beef
Vegetables: Potato, beans, corn, sweet potato
Seasoning: Salt, hot peppers, paico, achiote, chincho
Additions: Sweet and savory humitas
Sauce: Hot chili and cheese, known as 'hapchi'
Ayacucho
Ayacucho is well-known for carnival celebrations, and Pachamanca is made with these ingredients:
Meat: Beef, pork, chicken
Vegetables: Potato, beans, sweet potato, coriander, parsley, huacatay, spinach
Seasoning: Salt, garlic, pepper, cumin, yellow chili, chincho, chicha de jora
Additions: Humitas
Sauce: Hot chili, huacatay, and cheese, known as "hapchi"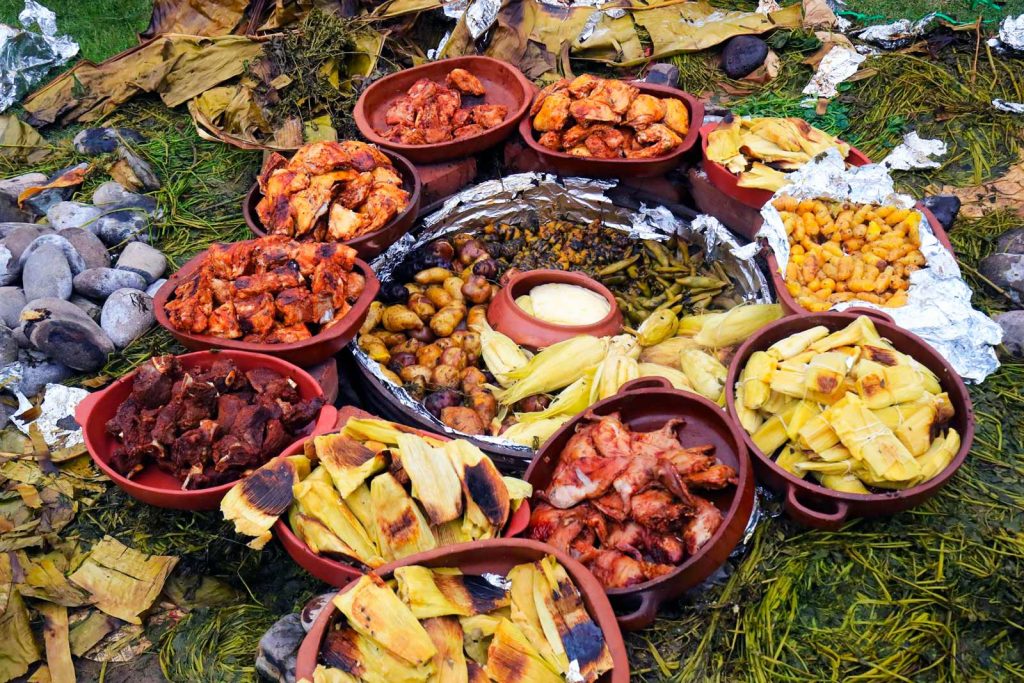 Try Pachamanca When You're in Peru
As you can see, Pachamanca is an ancient tradition that's been passed on for generations and still plays a huge role in the culture of the Andean communities today. When you're in Peru if you get the chance to try this incredible dish and witness the preparation, do it. We strongly recommend it. It's an amazing experience and very special to be a part of. Get in touch with a tour operator and see if you can arrange it as part of a tour.
---
---
You might also like
---