So you've booked your vacation to Peru and are really looking forward to heading to the Inca wonder that is the majestic and marvelous Machu Picchu. It's an attraction that's on everyone's to-do list when they come to the capital of the Inca empire, Cusco.
Visiting the archaeological site is a once in a lifetime experience and you definitely want to make the best of your time there. Well, what's one thing that can dampen your experience? The weather. Knowing everything possible upfront regarding dry and wet or hot and cold season as well as what to pack means you can enjoy your visit to the max.
In this article, we're going to go over all you need to know regarding the weather at Machu Picchu, when the best time to travel is, what to pack for each season, and more!
What Is the Best Month to Go to Machu Picchu?
There are a couple of times of the year when it's deemed best to take your trip to this world wonder. June and July are particularly popular with tourists due to the fact that it doesn't rain so much then However, you'll find that there are a lot of crowds during these months and if it isn't sunny, you'll feel a bit of a chill. It might be best to go a little before or after these months if you want smaller crowds.
The other month we recommend is October. The climate this month is nice and warm and the rainy season is still around the corner, so it's unlikely that there'll be showers. There are also fewer visitors, so this appeals to many as well.
Let's take a closer look at how the weather varies throughout the year in the rainy and dry seasons.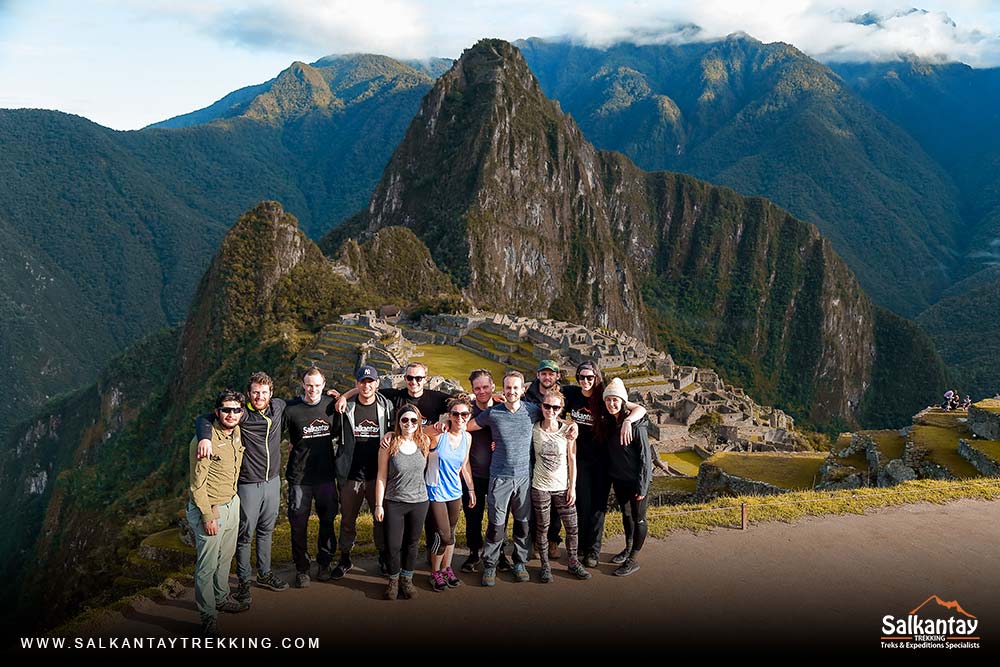 Machu Picchu Rainy Season: What to Expect
During the rainy season, the weather can be a little unpredictable. You should always expect rain, so have a lightweight poncho or raincoat with you, but you'll also find many days are still nice and sunny. The months with the most likelihood of showers are January to March, which are also the quietest months for tourism.
This might appeal to you if you prefer fewer people when you visit Machu Picchu, but this can also make it misty and difficult to see the site in its entirety. Below is a brief description of the weather month by month in the wet season.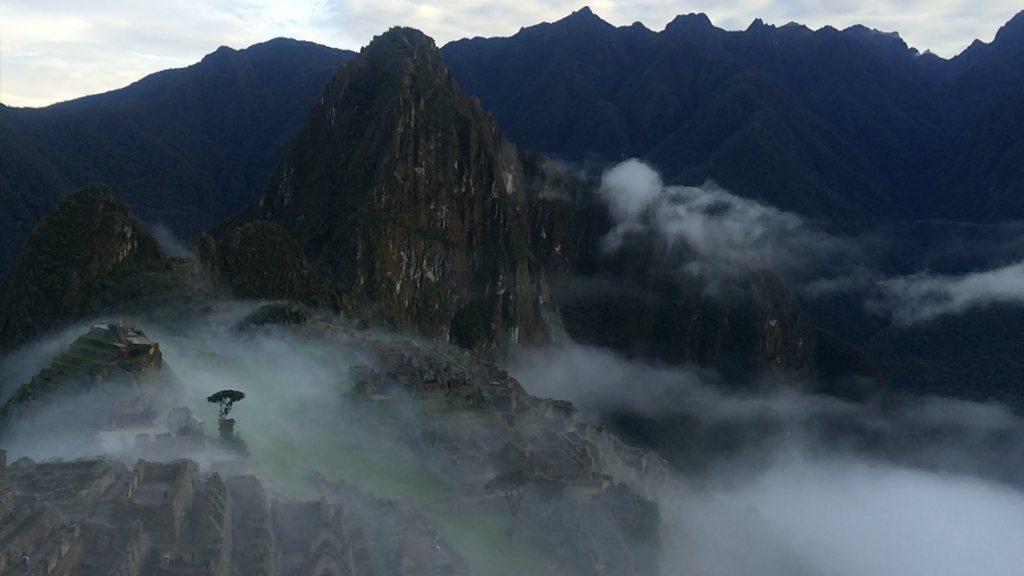 November
You'll find at the beginning of this month, the grass at Machu Picchu and the surrounding areas isn't as lush as it's been dry for many months, however, it does also start to rain a bit in November, so this month is a bit hit and miss. The temperature is relatively warm with a low of 13°C at night and a high of 26°C during the day. The average rainfall in November is 86 mm.
December
This is the start of summer in Machu Picchu and the rest of the southern hemisphere, so temps, on average, are warm again being similar to November with a low of 13°C at night and a high of 26°C in the day. However, it also marks the beginning of more heavy rainfall, despite being summer. It's still manageable in December, though, and you just need to make sure you have rainproof gear. The average rainfall is 121 mm.
January
You'll find the atmosphere at Machu Picchu becomes mistier in January due to heavy rainfall. There are also warmer periods when there are breaks in the clouds and the sun shines through. The rainfall average is 138 mm and the temperature ranges between 12.8°C and 23.9°C.
February
We're still getting wetter and you'll find that many treks don't operate this month. The Inca Trail is closed for maintenance and because it's too slippery and dangerous to walk. If you do visit Machu Picchu this month, you can expect it to be cloudy and mild temperature-wise ranging from 12.8°C to 24.9°C. However, you till need to be careful when the sun does make an appearance as you're at high altitude and can burn easily. The rainfall average in February is 141 mm.
March
In March we see the heaviest rainfall of the whole year with the average being 151 mm. Routes are all open again, but you need to make sure you have the right gear with good traction hiking boots and waterproof clothing. The climate is still nice and warm, though, with a low of 13°C and highs of 25°C. This is a good month to come to avoid big crowds.
April
Rainfall drops significantly this month with the average plummeting to 62 mm. You may see a little more at the beginning of April, which is why we still consider it the wet season, but overall you'll see the sun more and the view of Machu Picchu should generally be clear. You'll start to see more tourists this month with pleasant temperatures of between 12°C and 25°C.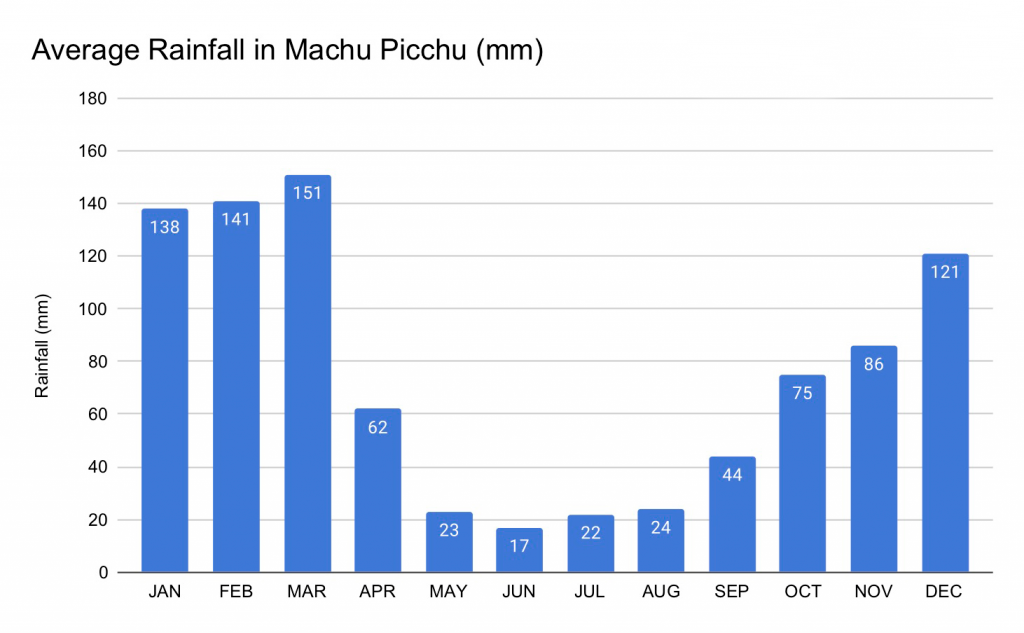 Machu Picchu Dry Season: What to Expect
During the drier months, you can expect to see the sun most days and are almost guaranteed a great view of the mystical Machu Picchu. This also means, however, that there are much bigger crowds and you'll find more hotels and restaurants are booked up.
If you want to hike Huayna Picchu during these months, you really need to book at least 3 months in advance as the spaces sell out very quickly. Now, let's look at the dry season month by month.
May
We're starting to get into the dry season properly now, and you'll see little to no rain. The average is a lot less than the previous month with just 23 mm of rainfall. The temperature is warm as well at 12°C at night or 25°C during the day. This is a great time of year to come before the high season kicks in and a nice time to hike the extra mountains.
June
This is the driest month of the entire year with just 17 mm on average of rainfall. This also marks the start of the busiest time of the year as it's the anniversary of Cusco amongst other celebrations. Expect big crowds at Machu Picchu with an average temp of between 11°C and 25°C. You'll notice this month starts to get a little chilly in the evenings.
July
This is another very busy month with patriotic festivities celebrating Peruvian independence. Average rainfall starts to go up again a little at 22 mm. Temperatures get colder at night at 9°C but stay warm in the day at 25°C. Rain isn't common in these months but there is the occasional hailstorm. You need to take extra care of the sun in these months as there are no clouds and you're at a high altitude. Sunblock, hat, and sunglasses are a must.
August
We're still in winter in August, so it's still pretty cold at night at 10°C but warm in the day with a nice 25°C being the average. Rainfall is also still low at 24 mm, so this makes it another very popular month to visit Machu Picchu. This is a great month to get the perfect postcard shot of the site with Huayna Picchu behind due to clear skies and low precipitation.
September
This is the mildest month of the year with the temperature being between 11°C and 26°C. Most days are clear and sunny and i's still a busy time of year, but you'll also see the rain start creeping in with 44 mm of rainfall. That's still not a lot, though, so this is a nice time of year to come when crowds start to die down slightly.
October
This is the last of the dry months, and you'll see rain starts to fall more with an average of 75 mm of precipitation. However, days are still mostly clear and this is an excellent month to get great views and avoid the large crowds. The temperature is nice ranging from 12°C to 15 °C. This is your last chance of the year to get one of the better views over the archaeological site.
What Is the Average Temperature of Machu Picchu?
Throughout the year, the temperature at Machu Picchu is very similar ranging between 9°C and 13°C at night and 24°C and 26°C during the day. The temperature is coldest from June through August.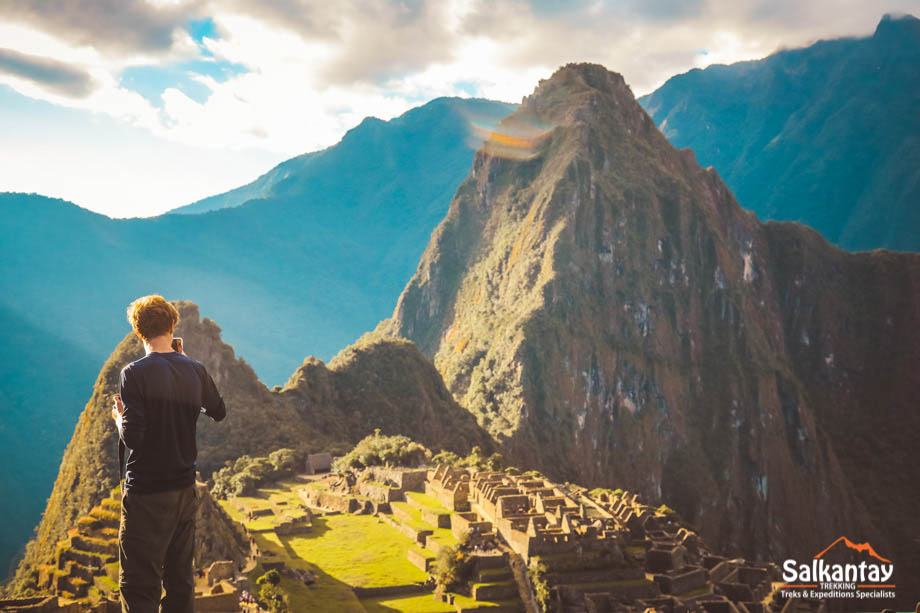 What Is the Coldest Month in Machu Picchu?
The coldest month of the year is August with a low of 9°C. However, the month is still a nice climate and you'll see little rainfall. During the day the temperature gets up to around 25°C.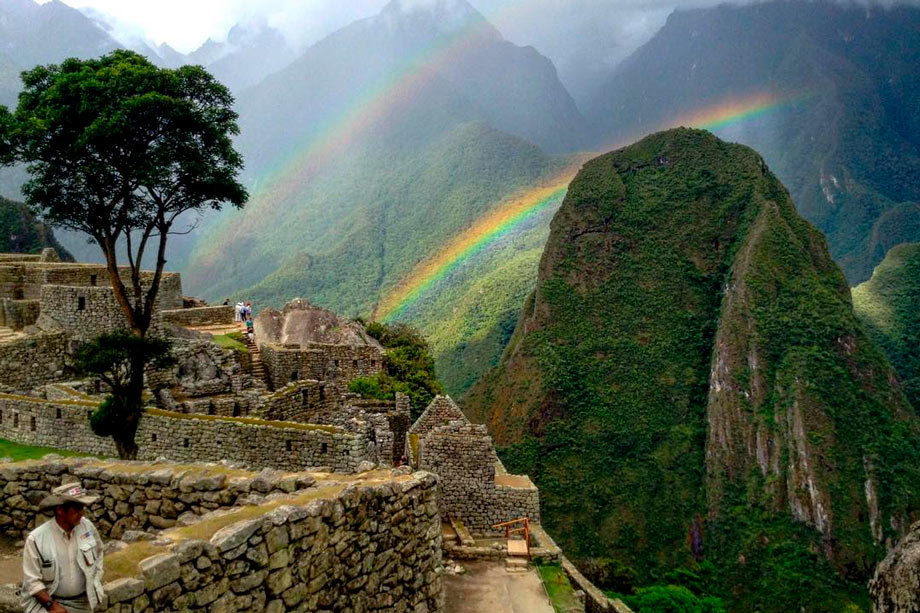 Does the Weather Affect Flights?
For the most part, flights come and go on time and without any issues. However, you need to note that if you're coming during the wettest months, the rain is sometimes so strong that flights get delayed or even canceled. Factor this into your planning when deciding when to visit Peru and Cusco.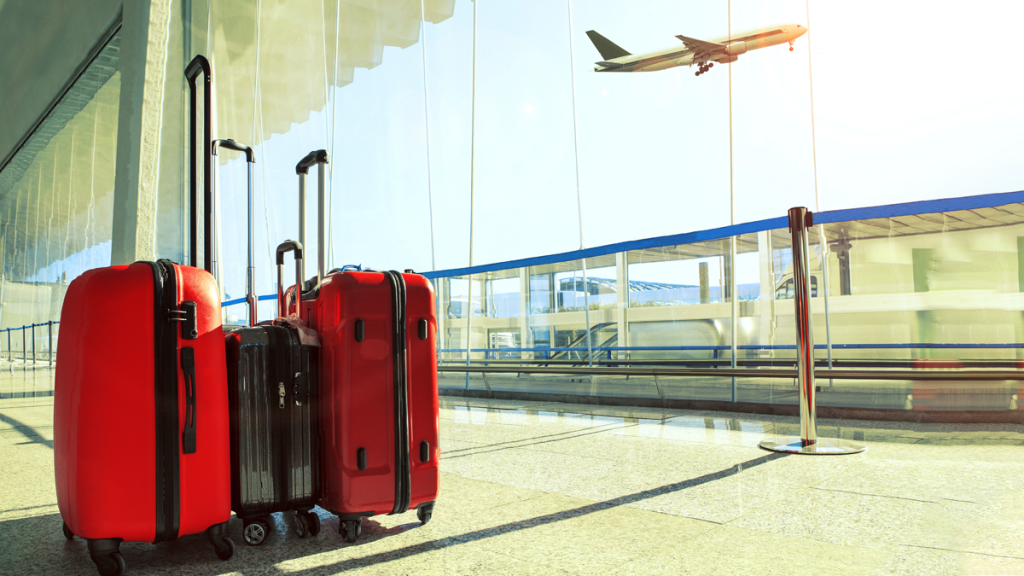 What to Pack When Visiting Machu Picchu
As you've seen, temperatures are relatively similar throughout the year, and although there are wet and dry seasons, there is always a chance of rain. Therefore we recommend you take this packing list into consideration whatever the month.
Thin layers of clothing to take on and off.
Sunhat and sunglasses.
Factor 50 or higher sunblock.
Bug spray.
Raincoat or lightweight waterproof poncho.
Worn in hiking boots or shoes.
Water
Backpack
Passport (You can't get in without this)
Tickets (You can't get in without this)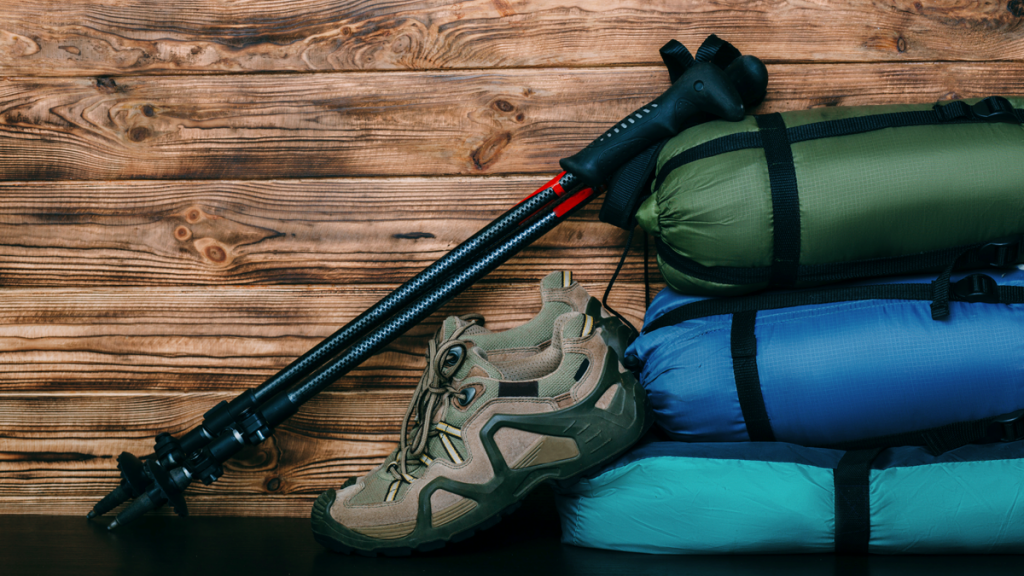 Time to Plan Your Visit
Now you know the best time of year to visit and when it's likely to be wet or dry, all that's left to do is book your trip. Remember to think about whether getting wet will bother you and if you like big crowds or not. Also, please make use of our packing list to make sure you have everything you need for your visit to the New Seven Wonder of the World, Machu Picchu. Enjoy your trip!
Written by: Liv Palmer
---
---