Machu Picchu is an incredible destination in Peru that thousands of tourists visit each year. Aside from trekking to this World Wonder, traveling by train is the next most popular option. It's perfect for those who:
Don't have a lot of time
Don't want to walk
Want a touch of luxury added to their trip
So, if you're looking at traveling to, from, or both ways on a train, you probably have a lot of questions. The most frequent query we get asked is which train to take. This is because there are two train companies that you can travel with and each of those also offers different trains and ticket types.
In this article, we'll cover what each train company offers as well as answer a few of the other frequently asked questions that surround train travel to Machu Picchu.
Inca Rail
One of the options you have is to travel on Inca Rail. They are a reputable company and offer four comfortable trains. Below is a description of each of the types of trains you can travel on to help you make up your mind.

Voyager
This is the most economical of the trains on offer, but that by no means makes it basic. These locomotives can seat up to 42 passengers and offer a table for each person to use as they wish. You get to enjoy panoramic windows to get a spectacular view of the beautiful passing landscape.
Along the way, you'll get the chance to savor a variety of hot and cold drinks; many of which are made from exotic Andean ingredients. You'll also enjoy a snack.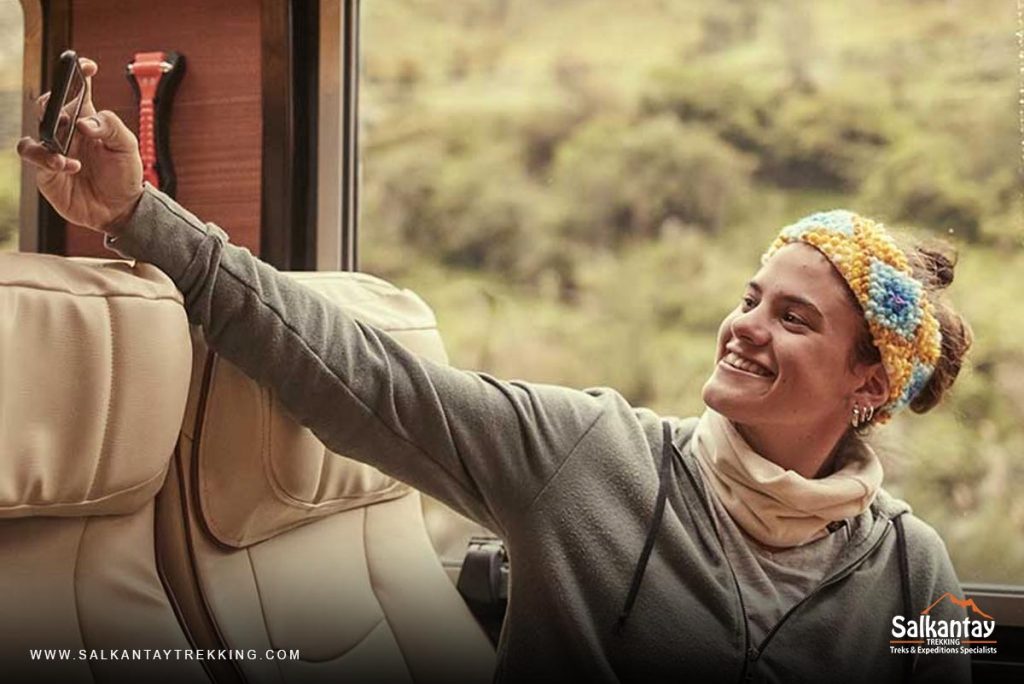 The 360° Machu Picchu Train
This is possibly the most popular service run by Inca Rail as it gives you an all-round view of the stunning Sacred Valley. The panoramic windows on this train cover all sides and the roof, so you really can see everything passing you by.
This newer train provides you with large, comfy seats with tables that allow you to taste local beverages and a gourmet snack if you travel in the afternoon.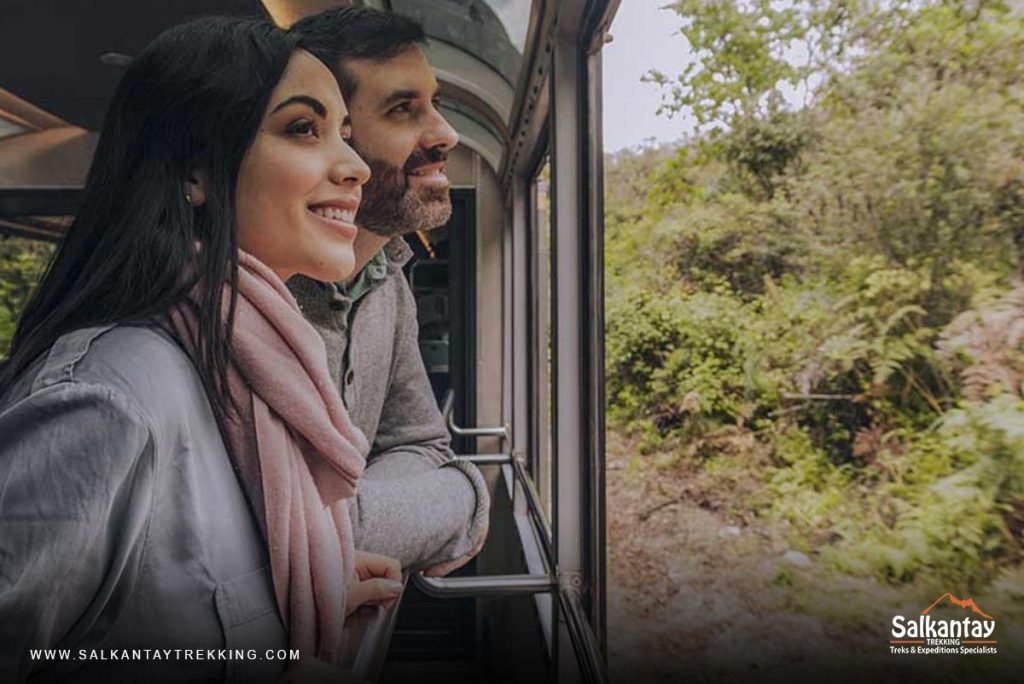 First Class
This train is a little more exclusive and only holds up to 30 passengers. You'll be welcomed warmly with a delicious pisco sour and a soft towel that gives off natural essences to refresh you once you're on board.
To make the experience even more magical, you'll be served a selection of Peruvian gourmet dishes that have been cooked with all local ingredients. You can enjoy this with a nice glass of wine. It's topped off with a tasty dessert and a variety of hot drinks. Of course, you also get the same amazing views as you travel.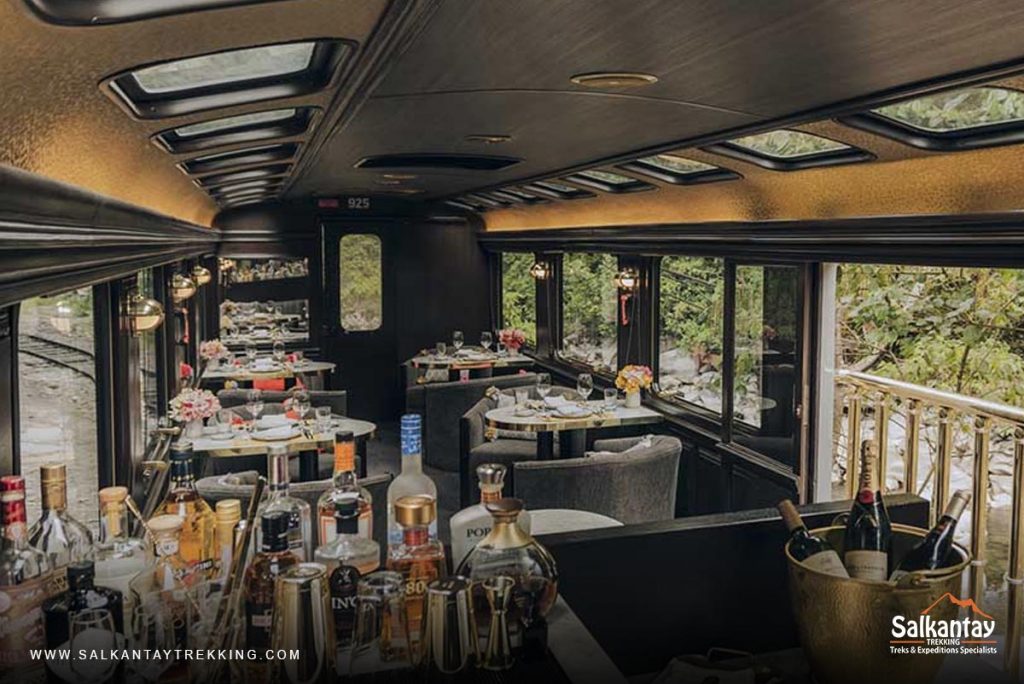 Presidential Train
This is the ultimate train from Inca Rail for those who prefer to travel privately with maximum luxury and comfort. It's an exclusive carriage that can be rented out for just 8 passengers. They provide a bar with delicious drinks and exquisite plates of food.
This is an excellent option if you're traveling as a group of friends or in a family and want to enjoy a private experience by yourselves while enjoying the incredible views and some tasty food and drinks.
Peru Rail
Peru Rail is a longstanding company that has been sending trains to Machu Picchu and back for many years. They offer 3 options for those traveling to the Inca citadel and here's a brief description of each.

Expedition
For those traveling on a budget, this train is an excellent option. You'll be able to enjoy all the comforts you need at a very reasonable price. This is one of the most popular trains to Machu Picchu.
Along your journey, you'll be able to observe the beautiful scenery as you go and enjoy being waited on by professional staff who offer a wide range of great food and drink products.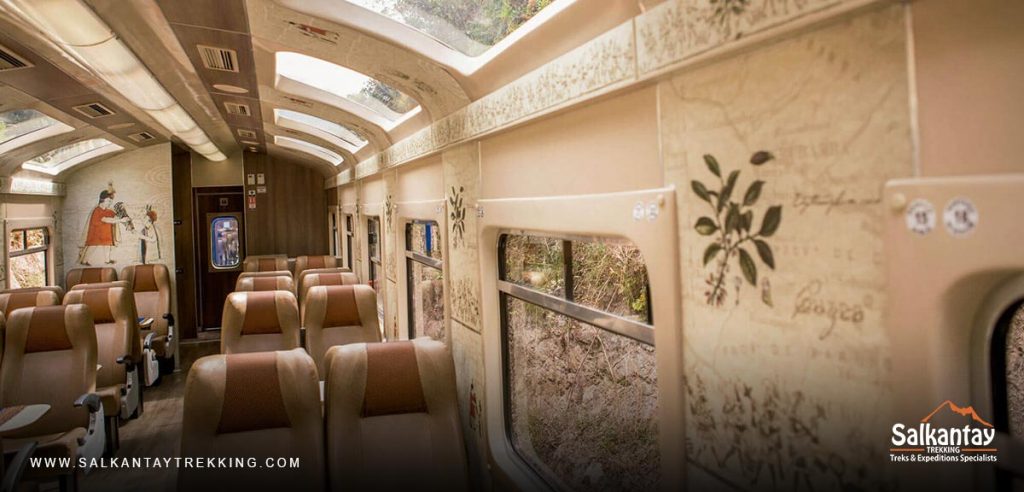 Vistadome
This train is perfect for enjoying the spectacular views of the Sacred Valley as you head to Aguas Calientes as it offers a panoramic view from windows on all sides and the roof. You'll get to enjoy a tasty local snack and drink onboard and the chance to buy local souvenirs.
In addition, this train offers relaxing background music and commentary on the surroundings on your way to Machu Picchu. As you head back to Cusco, you'll be treated to live music, traditional dances, and an Andean fashion show.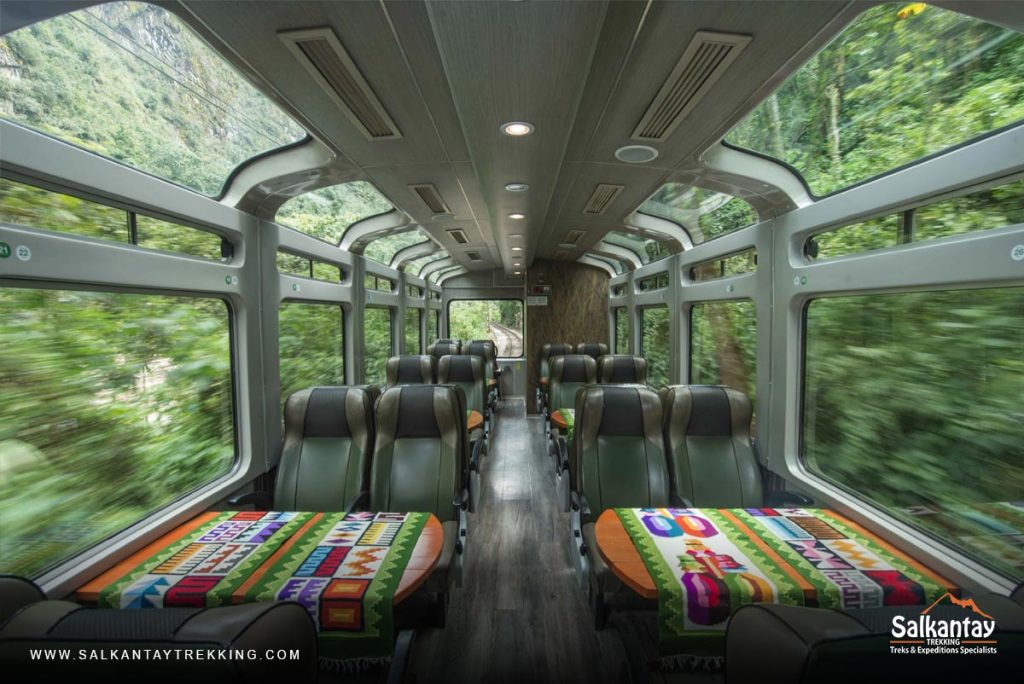 Hiram Bingham
This train is the ultimate luxury when it comes to traveling to the Wonder of the World, Machu Picchu. The carriages are modeled on Pullman cars from the 1920s, which makes for a really magical trip. You get to enjoy personalized service and sit back and relax.
This train offers an elegant dining car, a bar car, and an observatory for you to take in all the scenery that'll take your breath away. You can sip on cocktails and enjoy music from the region. You'll be served a gourmet lunch or dinner, depending on when you travel, and a selection of fine wine. You also get to enjoy live traditional and international music.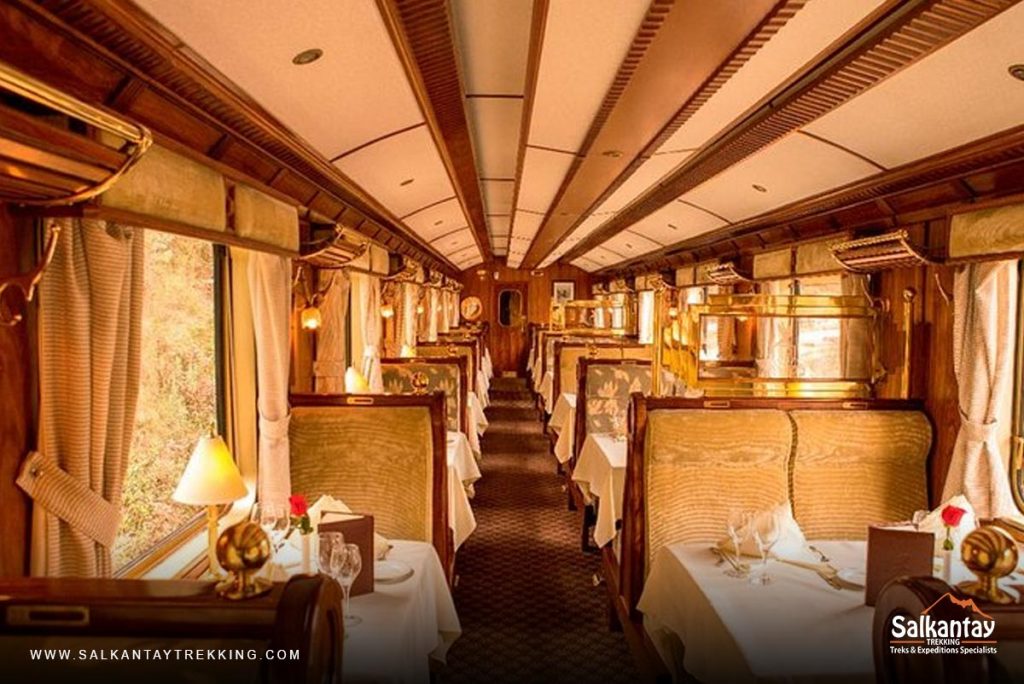 Which Company Should I Choose for the Train to Machu Picchu?
Both train companies offer an excellent journey and very comfortable options. We can't say one is better than the other. It's up to you to read through the options and decide for yourself what best suits your tastes and needs.
Where to Take the Train to Machu Picchu?
There are a few stations where you can board your train to Machu Picchu. The furthest away is from Poroy, which we recommend if you have enough time. This way you get to enjoy more of the Peruvian countryside and parts of the Sacred Valley you can't see by car.
You can also board at Urubamba, which is in the Sacred Valley. Finally, the most popular option is to board at Ollantaytambo, also in the Sacred Valley. This is the closest stop to Aguas Calientes and is where many tours leave from.
When you're coming back to the Sacred Valley and/or Cusco, every train leaves from the Aguas Calientes Station.
What Time Should You Take the Train to Machu Picchu?
Trains come and go from Aguas Calientes all day. If you're going to visit Machu Picchu the same day that you take the train, you'll want to get on one of the earliest in the morning to allow you all the time you need to get to the archeological site and back.
However, if you're planning on staying the night before you go to Machu Picchu, we recommend taking your time in the morning and opting for an afternoon train. This way, you'll enjoy a relaxing trip and won't be in a hurry.
What Kind of Train Should I Take to Machu Picchu?
Again, this depends on your preferences, but a majority of people travel on the more economical options. The 360 and Vistadome trains are excellent if you want to enjoy a panoramic view of the scenery all the way to Machu Picchu. If you want an ultimate luxury experience, opt for one of the high-end trains.
How Much Does the Train to Machu Picchu Cost?
Here's a table with all the standard prices for each of the trains run by Inca Rail and Peru Rail.
Price of Peru Rail Trains (Round Trip)

| | | |
| --- | --- | --- |
| Peru Rail Service | Price (Dollars) | Price (Soles) |
| Expedition | $140 | S/459 |
| Vistadome | $190 | S/623 |
| Hiram Bingham | $950 | S/3115 |
| Local Train (Peruvians Only) | $6 | S/20 |
Price of Inca Rail Trains (Round Trip)

| | | |
| --- | --- | --- |
| Inca Rail Service | Price (Dollars) | Price (Soles) |
| Voyager | $140 | S/459 |
| The 360° | $150 | S/491 |
| First Class | $398 | S/1305 |
What Are the Train Times to Machu Picchu?
Below are the train times to Machu Picchu for each service.
How to Book Train Tickets to Machu Picchu
To book your tickets, you have three options. One is to book online as soon as you reserve your Machu Picchu ticket. This guarantees that you get a seat on a train for the correct day before they sell out.
Another way to buy your ticket is to go into the office of either Inca Rail or Peru Rail in Cusco and buy it in person.
The final method is to book your entire trip through a tour agency or operator and they'll take care of reserving all tickets for you.
Are There Discounts for the Trains to Machu Picchu?
On any of the trains, both companies offer discounts to children.
Children under 3 can ride for free on Peru Rail as long as they travel with their parents.
Children aged 0-2 years can travel for free on Inca Rail if they sit on the knees of a parent or guardian.
Both companies offer a 50% discount for under 12's.
How Long Does it Take to Get to Machu Picchu by Train?
The trip duration depends on where you take your train from. The average travel time for each is a follows:
From Poroy station in Cusco, the ride takes around 3 hours and 15 minutes. The distance is approx 65.8 kilometers.
From the Urubamba train station, the trip is around 2 hours and 30 minutes. The distance is 47.6 kilometers.
From Ollantaytambo train station, the journey takes a little less than 2 hours. The distance of this trip is 30.5 kilometers.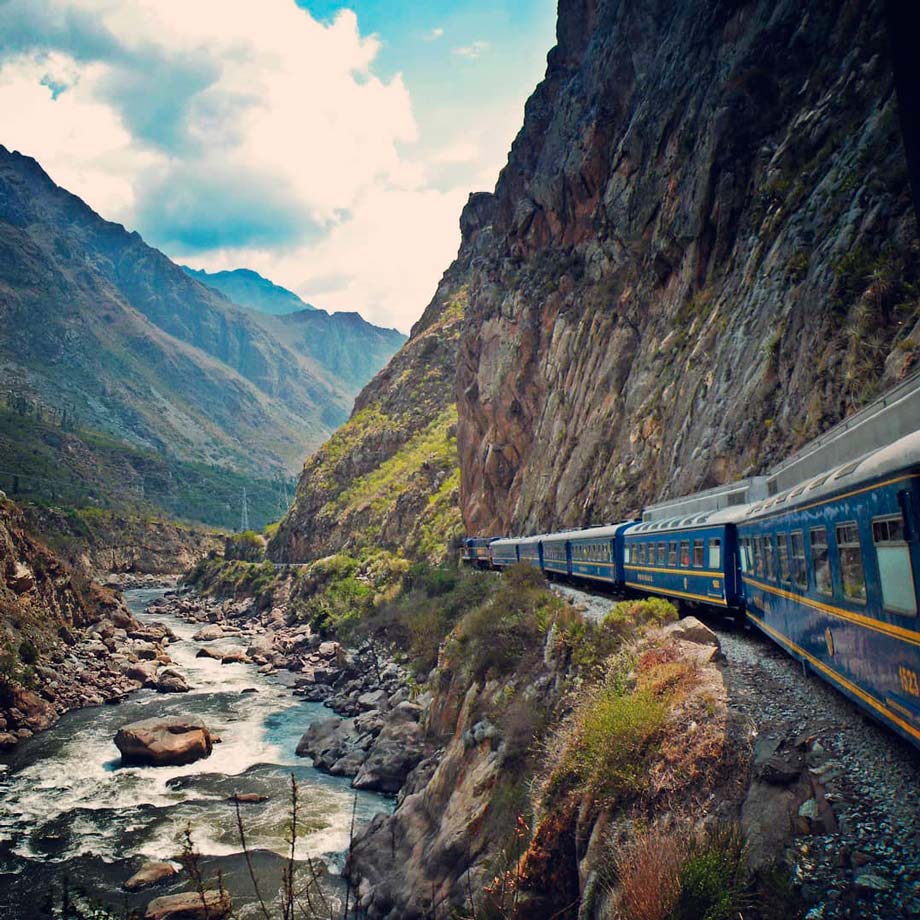 What's the Train Journey Like to Machu Picchu?
The train ride to the magical Machu Picchu is just as exciting as the anticipation to see the Inca fortress. You'll spot a lot of unique Andean flora and fauna and enjoy the stunning views of the Sacred Valley, Vilcanota River, and surrounding mountains.
Rules for Boarding a Train to Machu Picchu
The following are rules and regulations you need to make sure you follow when boarding any of the trains to Aguas Calientes and Machu Picchu.
Upon boarding, you need to show your train ticket and ID or passport with which you booked the ticket.
If you can't prove you're the owner of the ticket, you won't be allowed to board the train.
If your health is delicate or you're 7 months pregnant or more, you won't be allowed to board.
If you are obviously drunk or on any other substances, you won't be allowed to board.
Small children need to be accompanied by a parent or legal guardian.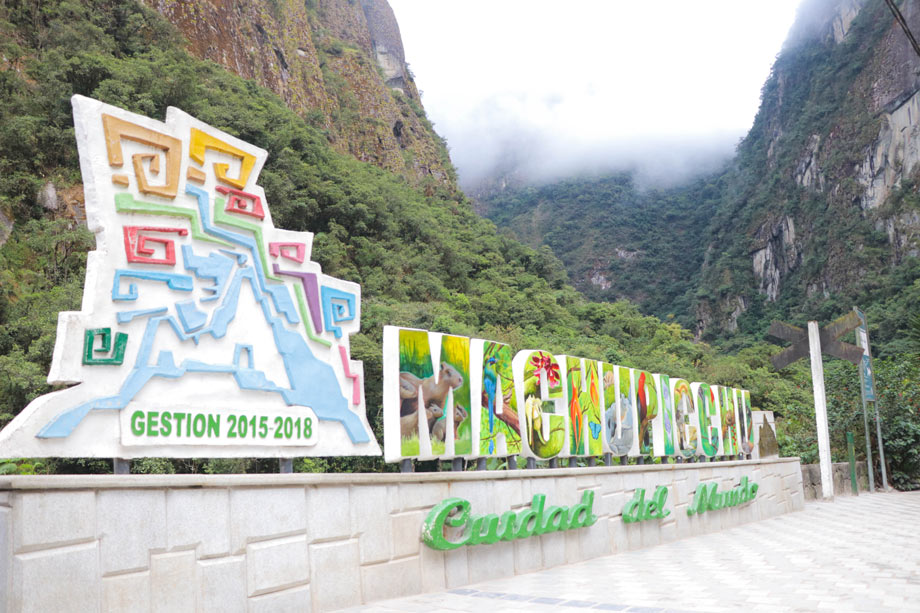 Written by: Liv Palmer
---
---