A few years ago, no one had heard about any rainbow mountain in Peru. Vinicunca was the first to become popular with tourists flocking to see the stunning colors that nature formed. Recently, another one named Palccoyo has started to grow in popularity.
This might cause a little confusion or a dilemma with those who aren't sure which one to choose. If you have time, we recommend checking them both out, but if not, read on to discover the main differences and decide for yourself which one you'd prefer.
Why Should I Hike a Rainbow Mountain?
Before we head in to the comparisons of the sites, you may be wondering why you should consider adding one to your itinerary. Well, there aren't many places on our planet with this type of view, making them a once in a lifetime opportunity to see something spectacular.
The treks are fun and exciting and provide you the opportunity to see local communities and rural parts of our beautiful country. You also get to enjoy food from the region.
Difficulty in Vinicunca and Palccoyo
This may be one of the biggest deciding factors for many hikers. Some of us like a challenge while others prefer an easier task. If you want something that'll pose a more difficult walk, then go for Vinicunca – Rainbow Mountain. There are steep parts and the high altitude really takes its toll if you try to go too fast. You need to take things slowly and focus on your goal.
On the other hand, Palccoyo – Rainbow Mountain is a much flatter and easier hike overall. You'll find it far less taxing on your body and it's a better option for those who like a leisurely walk and perhaps haven't put in the practice or spent so long acclimating in Cusco.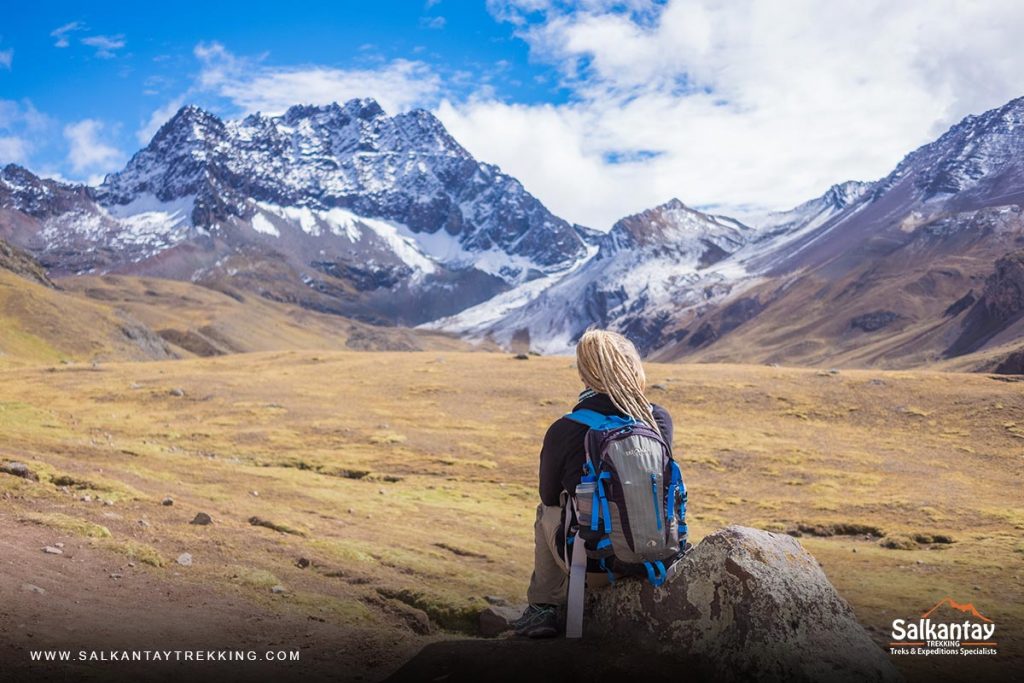 Popularity: Vinicunca vs Palccoyo
Another relatively influential point is how popular a place is. We often get visitors who want to go to the most well-known site or who like to be surrounded by others. Then we get others who like to away from the crowds and see something not so many get to.
If you're in the group who want to visit popular sites, then Vinicunca is the one you should opt for. It's becoming well-known around the globe and every day it receives many visitors. Palccoyo, on the other hand, is visited by far fewer tourists and is considered more an 'off the beaten path' kind of hike.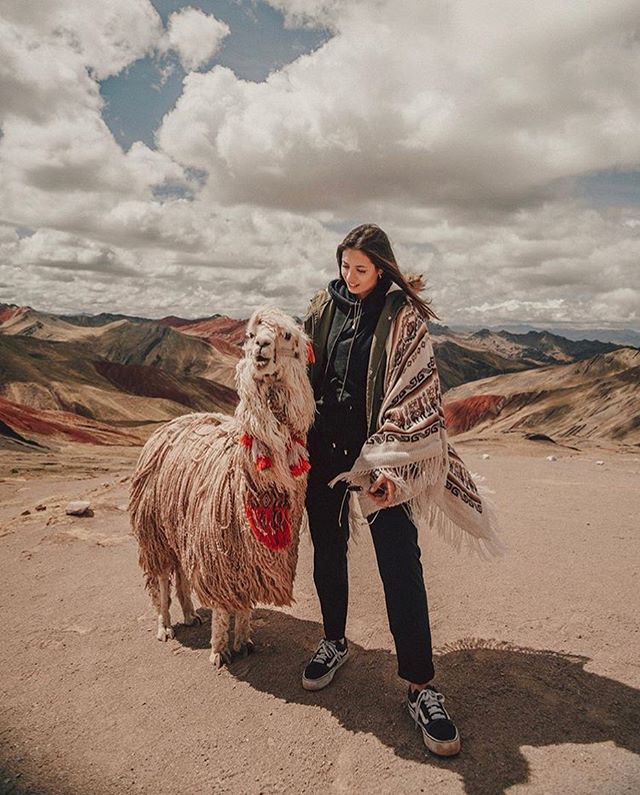 Altitude of Vinicunca and Palccoyo
This one doesn't present a huge difference, but when you get higher up, every meter counts. Vinicunca sits at a higher altitude of 5,200 masl, whereas Palccoyo is at 4,900 masl. This may become a deciding factor if you've found adjusting to the altitude a little difficult. In this case, we recommend going for Palccoyo.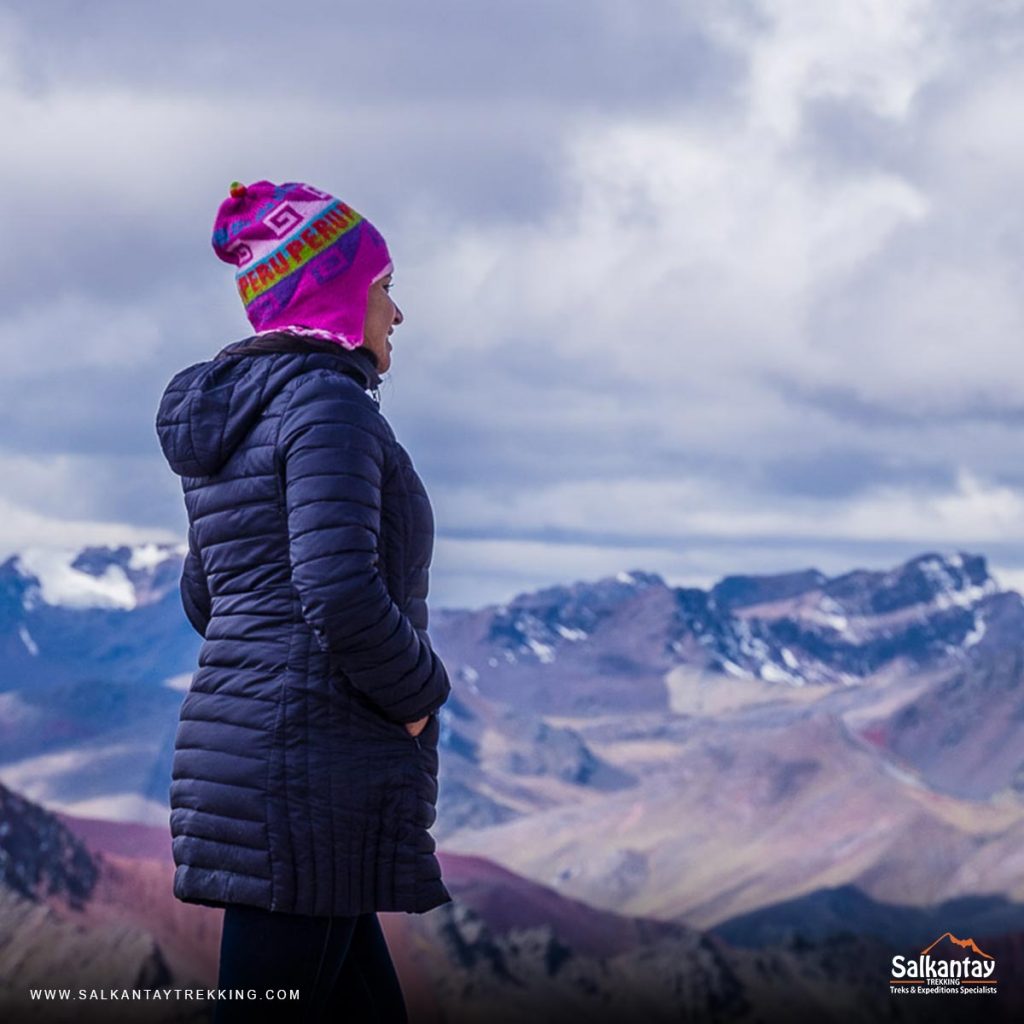 Distance/Time
Maybe you want to spend the whole day on an adventure, or you might want more time to fit in other activities or get a little more sleep in. Vinicunca takes about 2 hours to hike up to, but Palccoyo is only 45-60 minutes. The same goes for coming down.
The timing may not seem like a lot, but when you're hiking at such a high altitude, you can get tired quickly, so keep this in mind when choosing your mountain.
Landscape/Experience
Of course, both rainbow mountains offer you a stunning view of the Andes mountain range as well as the spectacular sights of the mountains themselves. But each offers other aspects that the other doesn't.
When visiting Vinicunca, you get to see Ausangate Mountain in the distance, which is the highest in the area. As you can imagine, this is pretty impressive. You can also opt to visit the Red Valley, which is a little like being on Mars!
If you choose Palccoyo, you actually see three rainbow mountains. If more is more to you, this may be the best option. You also get to observe locals working in the fields and their animals grazing. You won't see much of this when hiking Vinicunca. Many perceive Palccoyo to be a more authentic trip as you get closer to the Andean communities.
Weather
Another subtle difference is the weather you can expect at the two mountains. You'll feel chilly at either, but more so at Vinicunca. This is because the altitude is slightly higher and it's also closer to the towering snowy mountain, Ausangate. Palccoyo is further away and you won't feel such a chill. The level walk also means you won't be heading up and into a colder climate.
Comparison Table
| | | |
| --- | --- | --- |
| Comparison | Vinicunca Rainbow Mountain | Palccoyo Rainbow Mountain |
| Altitude | 5,200 masl | 4,900 masl |
| Difficulty | Hard | Easy |
| Popularity | Very popular, big crowds highly likely. | Off the beaten path, not many visitors. |
| Duration | 2-hour hike up | 1-hour hike up |
| Landscape/Experience | One rainbow mountain, Ausangate mountain in the distance, option to trek Red Valley. | Three rainbow mountains and the chance to see locals working on the land. |
| Weather | Can get very cold. | Cold, but not freezing. |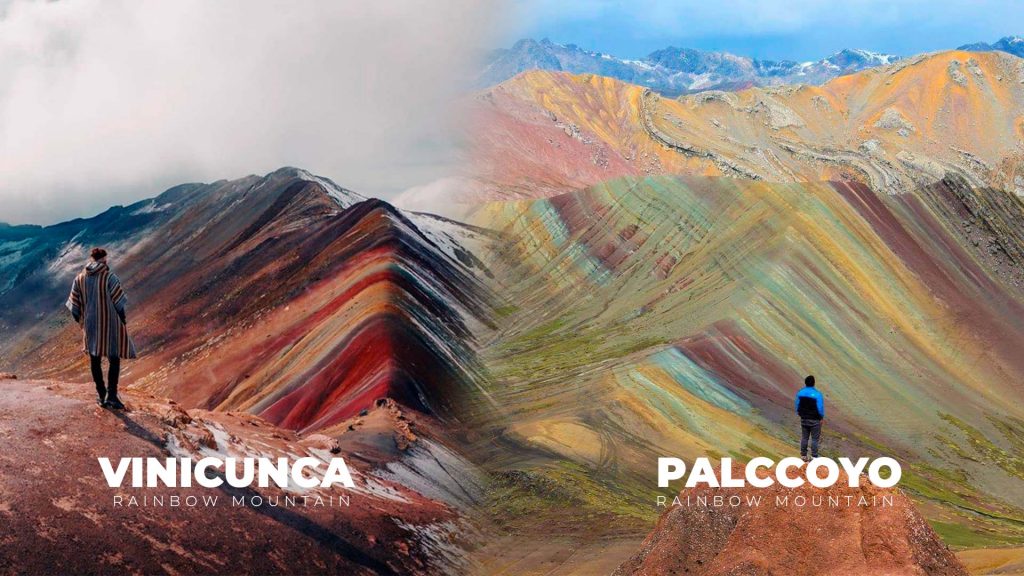 Things to Keep in Mind
When hikingat high altitude there are a few things you should do to make sure you're physically and mentally ready to take on the challenge.
Prepare for the Altitude
We can't stress enough the importance of preparing for the high altitudes. You need to spend at least 2-3 days in Cusco or the Sacred Valley beforehand to help your body adjust to the height. Failure to do so might mean you feel too unwell to go or start to feel bad during the trek, which is no fun at all.
If you do feel sick in the middle of the trek Vinicunca or Palccoyo, you'll have to come back down and won't be able to get to see the marvel you came to view in all its glory. This is a good enough reason alone to make sure you acclimate before.
Practice at Home
It's a great idea to go on short treks that go uphill when you're at home to help your muscles prepare for the strenuous hikes. You can gradually take on more difficult challenges to adjust.
Drink Lots of Water
During the trek Vinicunca or Palccoyo you'll need to keep topped up on water. The walking will make you thirsty, as well as the altitude. If it's a sunny day, that will add to the need to drink water. If you feel dehydrated, you won't enjoy the trek and may end up feeling ill.
Take Plenty of Snacks
On the tours Vinicunca and Palccoyo, you'll be given breakfast and lunch. This may seem like enough to get you through the day, however, hiking at such heights can really make you hungry, so we recommend some healthy snacks such as:
Fruits (Fresh or dried)
Energy bars
Nuts
Chocolate
Coca candies
Food Allergies
If you suffer from food allergies or have specific dietary requirements, you must tell the tour operator beforehand so that they are aware and can make sure there are plenty of options for you. You don't want to go hungry when exerting your body.
Respect the Areas: Vinicunca and Palccoyo
It's of great importance that we keep the trail clean and don't litter. We also need to respect those who live in the area and don't disturb their peace. Drones aren't usually allowed on the trail, but you can ask for permission before.
Time of Year
The best time of year to visit either of the mountains is between April and October. This is the dry season and you'll find that you usually get a good clear view of the mountain. You'll also enjoy the hike with few weather challenges.
If you decide to go between November and March you might find that it's raining, oreven snowing. This makes the trek difficult and more risky due to the possibility of slipping. You may even find the mountains covered in snow, so won't be able to see them in all their glory. However, they also look pretty impressive like this.
How to Book Vinicunca or Palccoyo
Most tour operators will take bookings in advance, which we highly recommend to avoid disappointment upon arrival in Cusco. In the high season, tours can sell out fast, so it's best to be well-planned.
You'll also find that mst accept bookings the day or two before in Cusco, but to make sur eyour spot is secured, we urge you to book before you arrive. This way you can enjoy your vacation without having to worry about anything once here.
Packing List for Vinicunca and Palccoyo
Being prepared is essential for any trip, and the best way to do this is to look at a packing list so you know exactly what you'll need during the day. Take a look at what we recommend you wea and take with you below.
Waterproof and windproof jacket/poncho (It can get very windy and rain or even snow on these routes)
Warm sweater/thermals
Warm socks
Comfortable pants
Long sleeved t shirt (Layers are good to take on and off depending on how you feel)
Woolly hat and gloves
Comfy walking boots/shoes
Trekking poles (optional; depends if you like to use them or not)
Sun hat
Sun screen
Sunglasses
Toilet paper (in case you need it)
Plenty of water
Snacks
High quality camera/phone
Cash for snacks/water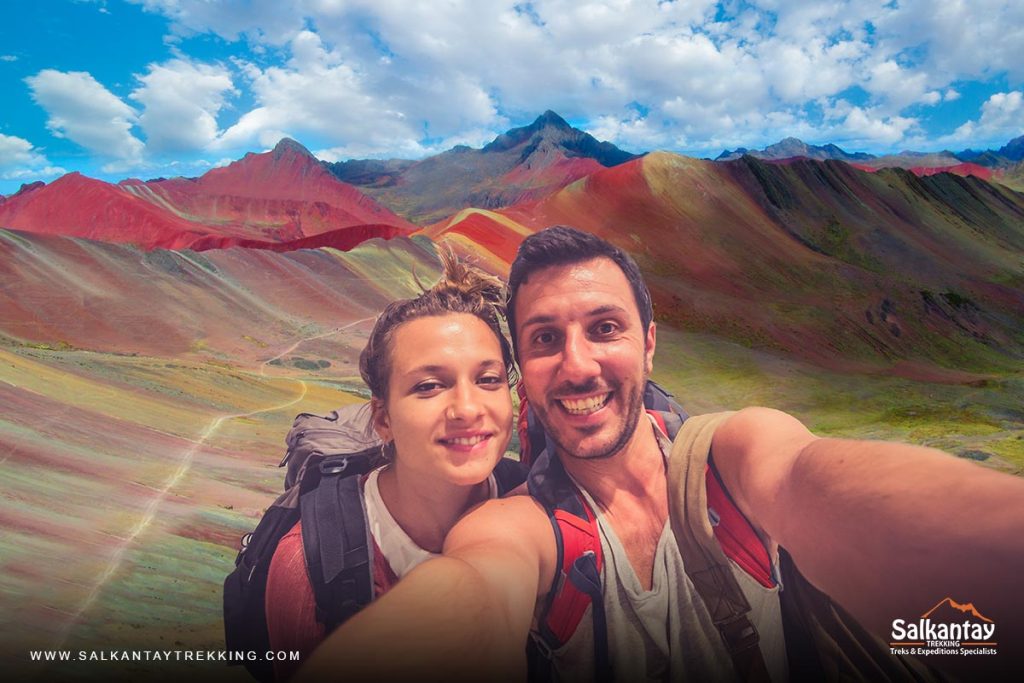 Your Choice
After looking at the distances and deciding which factors are more important to you, it's time for you to decide where you'll go. If you're looking for a real challenge and somewhere that's very popular, Vinicunca is the best choice. However, if you want an easier hike, to stay away from the crowds, and to see three rainbow mountains, then we recommend Palccoyo.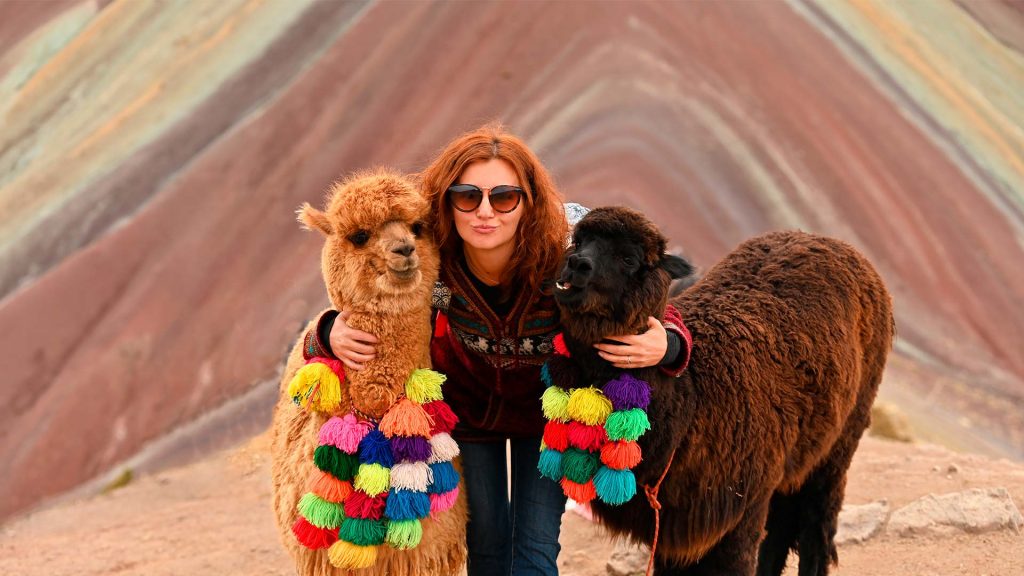 ---
---
You might also like
---