Heading out into the big wide world when you're vegan can sometimes be difficult, especially when you visit a country that predominantly eats meat. I once went to the north of Spain for two weeks as a vegetarian and only ate Spanish omelets and patatas bravas because everything else had meat or fish in it. Many places thought ham was vegetarian!
So, I can only imagine how tough being vegan is in a foreign country.
Although Cusco is a real meat-eaters place, well, the locals at least, grow and produce a huge range of vegan products and have some delicious vegan superfoods for you to really get a good meal in the city. In fact, in more rural parts of Cusco, families do eat a predominantly plant-based diet in which they eat a lot of potatoes, corn, and legumes.
The Andes provide a fantastic environment to grow a lot of produce, and as you travel through the Sacred Valley, you'll see a lot of terraces that the Incas used for agriculture. It played a big role in their lives, and many customs regarding food and preserving products remain today.
I must confess that I eat a bit of everything, but I often enjoy eating vegan food and visiting some of the vegan restaurants in Cusco. So, in this article, you'll learn more about vegan produce from the region, some vegan Peruvian dishes, and some of the best spots in the city to grab a quality vegan meal.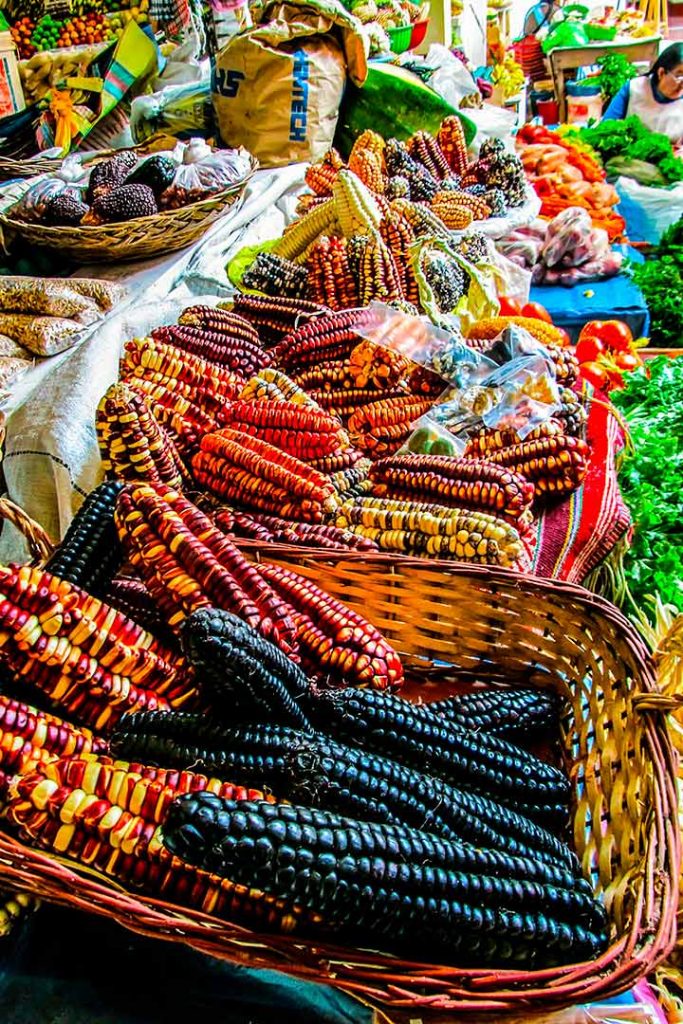 Vegan Products in Cusco 
The soil in this region is spectacular for growing crops, and there are actually some foods that are only found and sourced in this part of the world. In Cusco, you can eat a very well-balanced diet if you try and at a very reasonable price. Below are some of the best vegan products in the region of Cusco.
Quinoa and Kiwicha (Amaranth)
These are two of the most Andean products you can find. They both originally come from this part of the world and are now sought after across the globe, especially quinoa with its new superfood label.
They are both extremely nutritious and can be enjoyed in a huge variety of ways, including salads, soups, and quinoa risotto – quinotto! These grains are rich in B vitamins, protein, and dietary fiber.
Tarwi (Andean Beans)
These little beans are extremely popular with the locals, especially when they're blended and then cooked into a puree with potatoes and the popular herb huacatay. You can also find them in salads, and they are very high in protein. They come from a species of lupin, and you'll find them a staple in the Andes.
Potatoes
One of the most abundant crops grown in the Andes is potato. Peru has thousands of varieties, and they grow all year round, which is why they are a staple in all parts of the country.
As they are such a versatile food, you'll see them being cooked in many different ways and are often part of a meal. You can't go wrong with a potato!
Corn
Another one of the delicious local products is corn. It grows all year round but is particularly scrummy after the rainy season. You'll notice that the grains are much larger than what you're likely used to back home, but it has a really amazing taste and is a food that's been enjoyed since before the Incas ruled the country.
Avocado
This tasty food isn't exactly from Peru, but they sure do consume a lot. This fruit is widely consumed around the world nowadays, and you'll find it makes up a part of many vegan meals in some of the top restaurants. It adds a great texture to many dishes, and guacamole is also a perfect snack with some chips.
Beans and Lentils
Again, these nutritious and very healthy legumes aren't all native to Peru, but they feature very heavily in their diets, and they create some fantastic plates with them included. They're an excellent source of protein and can keep you full for hours.
Fruits and Veggies
Due to the nature of the soil and the different climates around, the Andes produce a wide array of fruits and vegetables to be eaten raw or as part of a meal. There's likely some you've never had before, and it's a real adventure heading to one of the local markets and picking out fruit that looks intriguing to try.
Chocolate
That's right! Chocolate is from the jungle regions of Cusco, and you can find raw cacao everywhere to enjoy. Take a trip to the Chocomuseo or buy some yourself and make it into scrumptious hot chocolate.
Vegan Peruvian Dishes
Now you know some of the best vegan ingredients around Cusco, it's time to recommend some top Peruvian dishes. Some of them are naturally vegan, and some can be made vegan by replacing certain ingredients.
Solterito
This is a classic dish with a version from Cusco and another from Arequipa. It's really just a fresh salad with beans, onions, tomatoes, and a few other bits. Cheese is usually included, but you can easily leave this out!
Chifles and Guacamole
Chifles or patacones are both fried plantain, which is a savory banana. They go perfectly with guacamole, which isn't traditionally Peruvian, but you'll find it made in many restaurants due to a large number of avocados available.
Cream Soups
With so many tasty veggies available, you'll find a lot of delicious creams served in restaurants around the city. Some of the best are pumpkin, corn, and mushroom. These are easy to whip up yourself and super healthy.
Vegan Ceviche
Ok, you've probably heard that ceviche is made with raw fish, and it usually is. However, you can find a tasty vegan version with mushrooms instead so that you don't need to miss out on the national plate of Peru. It's fresh and really nutritious.
Causa Rellena
This is another dish that's usually made with chicken, but it can easily be taken out without affecting the taste. It's layers of mashed potato with a filling in the middle. Instead of chicken and mayonnaise, you can opt for some veggies and creamy avocado.
Chaufa de Quinoa
The Peruvian twist on Chinese food, chifa, is one of the most popular cuisines amongst the locals. Chaufa is usually fried rice with chicken, egg, and green onion tossed in soy sauce. Well, you'll find many vegan versions made with quinoa and veg that's just as tasty.
Tarwi con Guiso
We've already mentioned how the lupin beans known as tarwi are turned into a sort of puree. Well, it's often served with beef or chicken stew, but you can easily do the same with vegetables and make a ragu. It's something you've likely never tasted, and they make the perfect combo.
Mazamorra
This is a traditional Peruvian dessert that's light, unique, and tasty. The most common one you'll find in Cusco is made from purple corn. It's a thick, sweet liquid that's also made with pineapple, cinnamon, and cloves to give it more taste and is often served warm. It's great on those chilly Cusco nights.
Picarones
Another delicious dessert that's 100% vegan is picarones. These are luxurious rings made from sweet potato and squash that are deep-fried like donuts. They're served with a sweet syrup made from figs that's out of this world.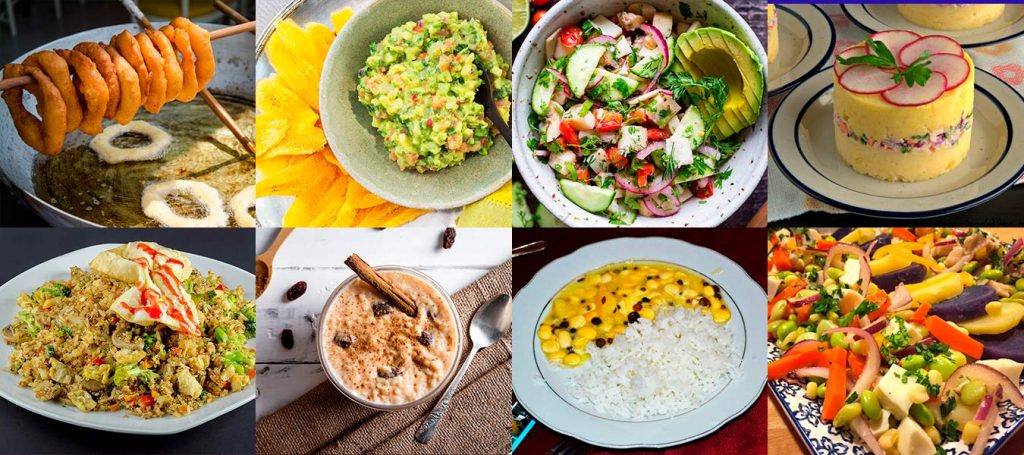 Vegan Restaurants in Cusco
If your mouth is watering imagining these incredible dishes, check out our list of top vegan and vegan-friendly restaurants to try some of the best vegan meals in Cusco.
Shaman Vegan Raw Center and Restaurant
This restaurant is 100% vegan, and it's truly unique inside with some cool decor and friendly staff who produce amazing food with some ancient shamanic food techniques. Every day they offer a 'menu del día' where you get a few courses for a very reasonable price. Portions are very reasonable, and you won't go hungry. Everything is freshly prepared, and their main menu also has some appetizing options.
Chia Vegan Kitchen
This is another excellent restaurant if you want to get a tasty and filling 3-course meal. Not only will you try some Peruvian foods, but you also enjoy some international favorites like lasagne, burgers, and falafel.
Green Point
This restaurant isn't 100% vegan but they have some really delicious dishes and a large menu with many different international options. The locale is also very intriguing, and you'll see travelers from all over come to eat here.
Vida Vegan Bistro
Here we have another top-rated vegan restaurant in Cusco with lots of Peruvian fares, like causa and ceviche, but they also have some excellent Italian options, such as pizza and pasta. The staff is very friendly, and there's a pleasant atmosphere.
Other Vegan-Friendly Restaurants
Apart from these vegan restaurants, there are plenty of others that are vegan-friendly and have delicious options, which are great for when you're dining out with others who aren't vegan. Here are some of our top choices:
PERUK
Jardin Organiko
Greens Organic
Avocado Toast and More
Qura
Eating Vegan in Cusco is Simple
Well, there you have it. Proof that traveling to Cusco as a vegan means you'll get to try a whole variety of flavors and some of the freshest ingredients possible. You don't need to worry about missing out on some of the country's signature dishes, as there's often a way around things to make it vegan-friendly.
You've got some restaurants to try and foods to taste for when you come to Cusco. If you love some of the flavors, why not try and make some of the recipes back home and impress friends and family? Peru is currently one of the best gastronomies in the world, and you'll see for yourself when you come to Cusco.
Written by: Liv Palmer
---
---
You might also like
---