When I first came to Peru, there was one thing I really wanted to do as soon as possible; The Inca Trail to visit Machu Picchu. I'd heard so much about it, what with it being one of the most famous treks in the world. I also knew that Machu Picchu was one of the New Seven Wonders of the World, and I hadn't seen any of them.
I usually like off-the-beaten-path treks where I'm not surrounded by a lot of other people, but I knew the Inca Trail was an experience not to be missed. I love history and was really intrigued by what I'd learn and was also enamored by the idea of retracing ancient steps by a civilization that achieved so much. 
I was, of course, still a little apprehensive and was picturing hiking with a huge group of people and not really being able to take in the surroundings and feeling the magic as I should. But, oh, was I wrong.
I'd spent a long time researching tour agencies and operators to see who I should travel with, and after a long while, I settled on Salkantay Trekking. I got in touch with their team and knew right away I'd made an excellent choice. They were friendly and helped me with everything possible.
The Inca Trail needs to be booked months in advance, and they made sure I knew that right away. This allowed me to reserve my tickets with anticipation for the trek and for a hike up Huayna Picchu once inside. 
This was a trip of a lifetime, and I want to share my experience with you all in the hope that you, too, can enjoy such a wonderful adventure.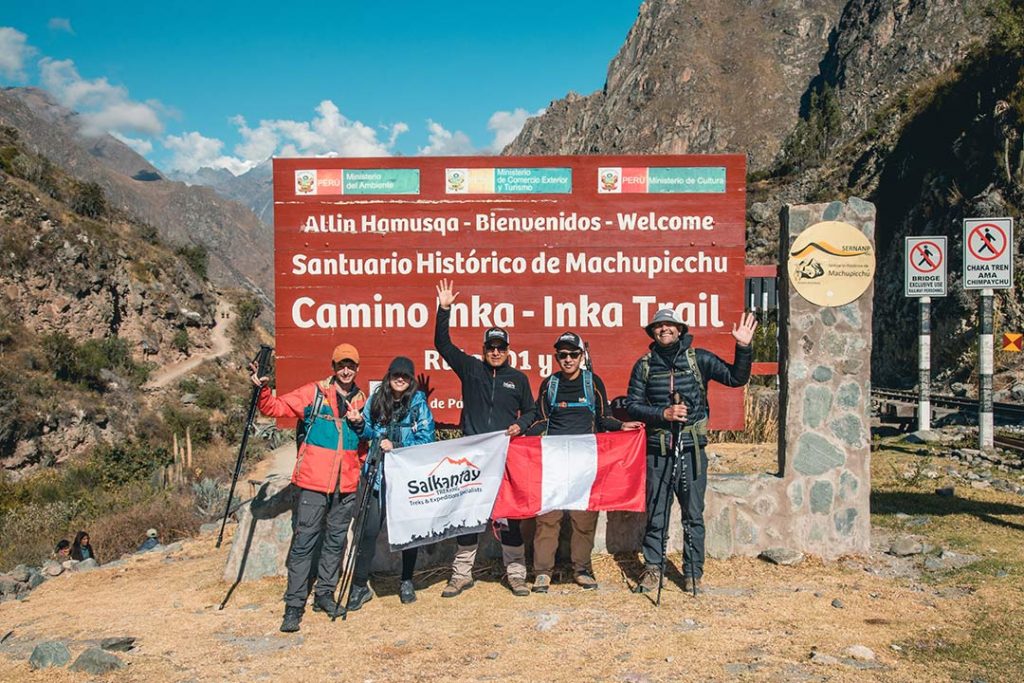 The Night Before
My excitement was heightened the moment I walked into the Salkantay Trekking office, just off the main square (Plaza de Armas) in Cusco. They were very welcoming, and I sat down with my small group to receive a briefing from the guide. I can't say how pleased I was that there were so few people in my group as I'd heard stories of others going in groups much larger.
Our guide was super friendly, and we all felt at home with him immediately. I had gone with a friend, and we were accompanied by two couples and another pair of friends. Everyone was very nice, and after hearing about what was in store for us, I couldn't wait to get started the next morning.
On The Inca Trail
Day 1
The first day we had to wake up very early to head out to the start of the trail. It was a chilly morning but after a warming breakfast and a bit of walking, I no longer felt the cold. The sun started to come out, and we really began to appreciate the stunning surroundings.
The natural beauty of the Andes is something I always remember, and you feel a sense of magic and special energy from the towering mountains. The first day was relatively easy as far as walking goes, and there were no parts that posed a challenge.
Our guide taught us about the water canals, and we learned all about the landscape and the spectacular glacier called Veronica. We also stopped off at the archaeological site of Patallaqta for our first interesting history lesson.
We were treated to an extensive lunch and dinner, all prepared on the route by the Salkantay Trekking chefs. I don't know how they created such delicious dishes in the mountains, but throughout the trip, we were constantly served buffet-style meals that really kept us going until the next time we'd eat. I can't congratulate the cooks enough!
Day 2
We enjoyed our first night under the incredible Andean sky and were awoken early again on day 2 by being greeted with a hot cup of coca tea. I'd heard all about the coca leaf and how it's been consumed since Inca times but wasn't sure of the effect it would have. You don't really feel many effects except the fact that you feel full of energy and are able to cope with the altitude better, which I think are the main reasons you're served the tea.
This was the toughest day of the trek by far, and in the morning, we spent around 4hours hiking up to the highest part of the route, Dead Woman's Pass (Warmiwañusca), at 4,215 masl/13,829 fasl. It certainly tired us out, but we were rewarded with spectacular views over the landscape. When you close your eyes up here, you can feel the spirit of the Incas and imagine them running these trails all those hundreds of years ago.
After another tasty meal, we stopped at a small Inca site and saw two grand waterfalls that were really impressive. We then made our way to another archaeological site called Sayamarca that I really enjoyed. I was very happy with the amount of Inca sites we stopped at and everything that our guide was teaching us.
We had dinner and then relaxed a little under the stars. Our guide told us some more about the fascinating constellations and what they meant to the Incas, which was really interesting.
Day 3
I was really looking forward to the day ahead when I woke up on day 3 as I knew the hiking would be a little easier again. Now, I love jungle landscapes and was really pleased when we started to enter lush greenery from the colder mountains we'd been hiking through before. It was an intriguing contrast and very enjoyable. We did manage to get a glimpse of the famous glacier Salkantay in the distance, which is another route to Machu Picchu that I was lucky enough to experience another time.
One of my favorite parts of the day was getting to Intipata. This was an agricultural place from where we got to enjoy the most spectacular view of the Sacred Valley of the Incas, which you'll hear a lot about in Cusco. The Urubamba River almost looks like a snake winding through the middle.
After a pleasant morning walk, we got to Wiñay Wayna, which was our next campsite and where we'd enjoy more amazing food. This afternoon we were able to relax a little and take a tour of the Wiñay Wayna archaeological site. Our guide really managed to bring this place to life with his explanation.
This evening, we enjoyed a fun little celebration as a group because it was our last night together, and we'd really bonded with the guide, cooks, and porters. It was a little sad knowing that it was almost over, but I was also filled with emotion because I knew that I'd see Machu Picchu the next day. We tried to go to bed early because we knew we were waking up during the early hours to get to the Inca fortress before the other groups.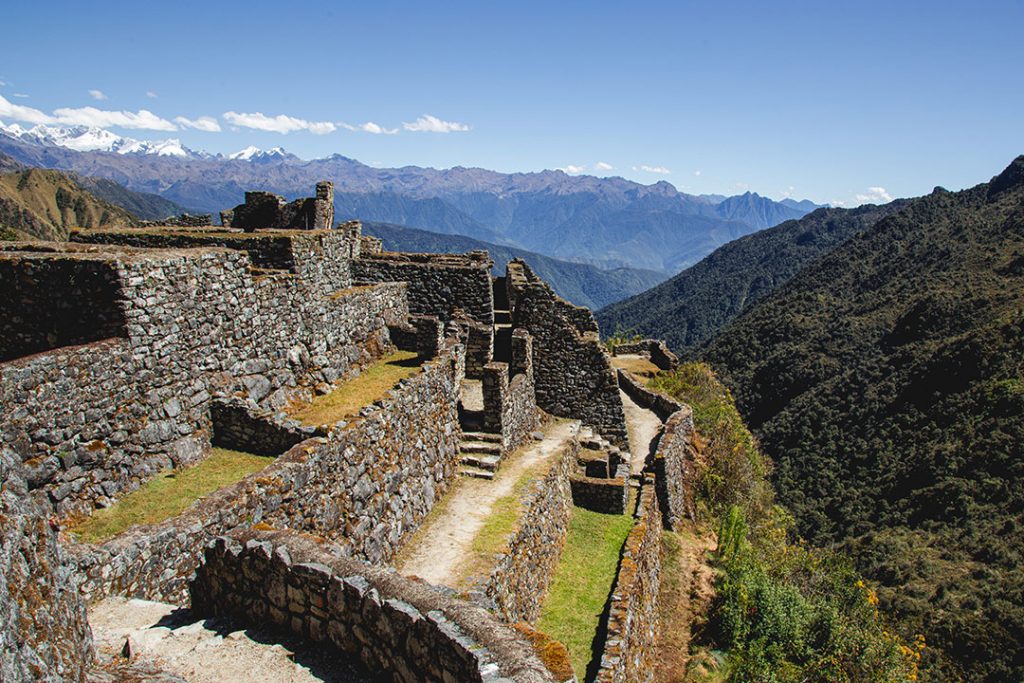 Day 4
The long-awaited day was finally here! I was the most excited I've ever been and knew that I'd made the right choice by opting for the Inca Trail with Salkantay Trekking. It's the only trek where you get to enter Machu Picchu through the sun gate, Intipunku, which was a really wonderful experience.
I remember feeling goosebumps all over as I first stepped out to see the grandiose Machu Picchu in front of me. We were all quiet for a few minutes, just taking in everything we were looking at. We were lucky enough to see the sunrise behind the site, and it was truly breathtaking.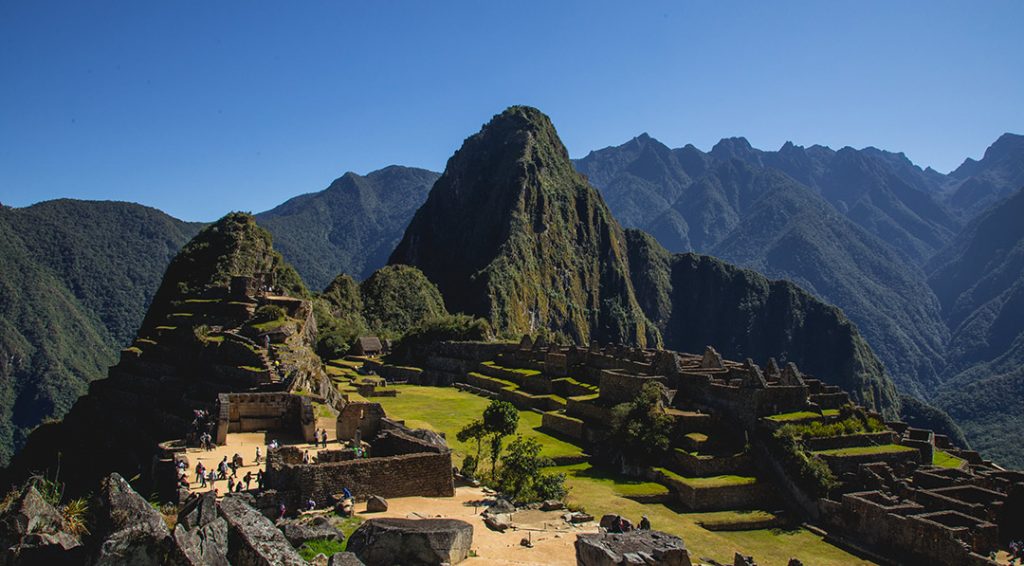 Once we made our way down from the sun gate, our guide treated us to a 2-hour tour of Machu Picchu and took us to all the important places while explaining everything about them. He was really knowledgeable, and I learned so much from him on the whole trip that I still remember to this day. His English was amazing, and we had no trouble with communication.
I still had my hike up Huayna Picchu to look forward to! I was very tired by this point, but I couldn't miss out on this extra climb while I had the chance. It was a difficult climb up and a little scary at times. I don't recommend it if you suffer from vertigo. However, once I was at the top, the views over Machu Picchu were incredible, and I also got to explore another small archaeological site at the top.
We'd done it! I hiked the Inca Trail, visited Machu Picchu, and hiked Huayna Picchu. What a feat!
We slowly made our way down to the small town of Aguas Calientes, where we chose a restaurant for lunch before boarding our train back to Cusco. Even the train journey was fun, and there was some spectacular scenery out the windows. I can't say I wasn't excited to get back and have a shower, though! There are no places to shower along the trek, only the chance to have a quick wash.
Once I made it back to my hotel, we went out for a quick bite to eat and then passed out from our incredible adventure.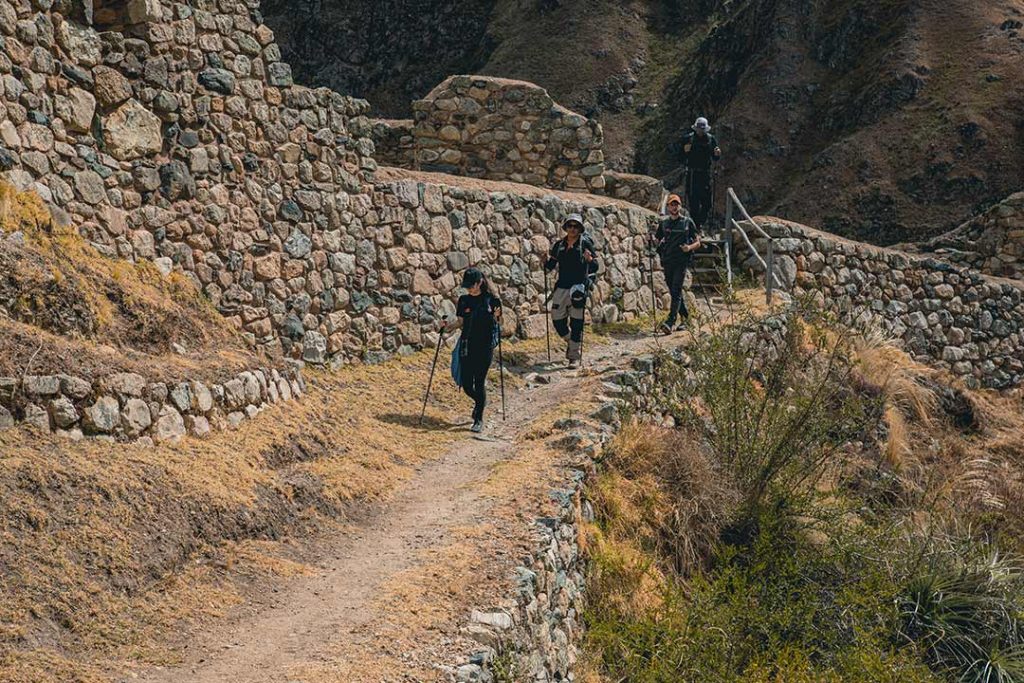 The Trip of a Lifetime
I can't stress enough how amazing the Inca Trail was and what a great time I had with Salkantay Trekking. Their whole team was extremely friendly, and they made everything go so perfectly that I had no regrets. I've recommended them to so many and will continue to do so. I also went back to hike the Salkantay Trek with them as well as other tours, but we'll leave that for another day. If you get the chance to travel with them, do!
Written by: Liv Palmer
---
---