Not far from Cusco, in the Sacred Valley of the Incas, lies one of the most intriguing archeological sites you'll see. We're talking about Moray. At first glance, it appears to look like an amphitheater or even something extraterrestrial; however, it actually served as an agricultural lab to the Incas. 
The site is in a rural and remote part of Cusco and doesn't appear in many guidebooks. This means that it's relatively quiet compared to other places in the Sacred Valley and is an excellent place to visit. 
So, for everything you need to know about this incredible site, read on for the ultimate guide to Moray, the center of Inca agricultural research. 
About Moray
As you walk into the site and first look over the spectacular view, images of a Roman amphitheater will come to mind. There are terraces in a circle climbing from the floor upward. Now, no one is one hundred percent sure of what they really meant, but it's widely believed that the Incas built them as an agricultural research center or lab.
Many experts believe this was the case because a variety of factors indicate as such, including the depth, design, and orientation regarding the wind and sun. Incredibly, there's a fifteen-degree celsius temperature difference from the lowest terrace to the highest.
We already know that the Incas were excellent agriculturists and that a lot of their designs were based around this idea. Experts believe that the different terraces all provided a varying microclimate in which they could grow different crops. It allowed them to test and see what worked best. They even used hybridization and modification, which let them adapt crops so that they could eat them. 
You've likely heard that Peru is famous for potatoes. In fact, they have thousands of varieties, perhaps over 6,000. This is all thanks to the Incas, who experimented and used science to create hybrids. Other crops that they grew here were quinoa, kiwicha, coca leaf, pumpkin, and many medicinal herbs.
The ancient culture was so intelligent that they were able to mirror climates of the coast and mountains to grow as many crops as possible. The Incas were innovative, and Moray is an excellent example of this. 
Studies have been done on the soil at the site, and it was discovered that it actually came from different regions. This means that it must have been brought to the Sacred Valley from elsewhere. All this points to the idea that it was used for experiments and research. 
One last important observation is that however hard it rains during the wet season, Moray never floods. This indicates the existence of an underground water channeling system to drain the water.
Where Is Moray?
The archaeological site of Moray sits at the top of the Sacred Valley of the Incas and is on the road to Urubamba out of Cusco. It only takes about an hour to get there and is close to the Maras Salt Mines. It's only 7km from the small town of Maras, where the mines are located. From Cusco, it's about 50km by road. Moray sits at an altitude of 3,500 meters above sea level. 
How to Get There from Cusco
You can visit Moray either by yourself or as part of a tour. To go in a group, get in touch with an agency or tour operator and see what options there are. Most days out will include a trip to the Maras Salt Mines. You'll get all transport included as well as an English speaking guide to tell you more about the area. 
If you would prefer to visit by yourself, you can either take a private taxi or head on public transport. You'll need to get in the vans that go to Urubamba and let the driver know that you want to get off at the Maras junction. From there, you can find taxis to take you to the 2 sites. After, you'll need to get a taxi back to the main road and flag down a car or van with space heading back to Cusco. 
There are a couple of other more adventurous options, including hiking from Urubamba or Chinchero to Moray, which takes about 2 to 2 and a half hours, or you can rent some mountain bikes and ride from Chinchero to Moray. 
What's the Weather Like?
The weather in the Sacred Valley is generally very pleasant. You'll find the climate is usually dry and moderate in Moray, and temperatures in the day tend to be around 21ºC (69ºF). It'll rain more often during the wet season, which is from October to April. May to September is the dry season, and the days will usually be warm and sunny. The best months to visit Moray are April, May, and June. 
What Will You See in Moray?
In Moray, you'll get to see the intriguing archaeological site and enjoy exploring the terraces and learning all about what they were used for. If you visit with a guide, you'll get a much more in-depth explanation and can ask any questions you like.
Around the site, there are some stunning landscapes to take in the surrounding valley and mountains. The Andes is one of the most beautiful places on Earth, and here is no exception. Make sure you take a good-quality camera to get some great snaps.
If you want to turn your visit into more of an adventure, you can opt for some extra activities or an alternative way to visit the site of Moray. There are biking and ATV options that you can book through tour operators in Cusco. 
Booking a Ticket to Moray
To enter Moray, you need to have the Boleto Turístico. This is a type of ticket that allows you to visit various places around Cusco in a certain number of days. You can go out of your way to buy the ticket in Cusco, or the easiest way is to buy it upon entering one of the sites included. 
Tips for Your Visit
To maximize your enjoyment at the archaeological site of Moray, we recommend reading our tips and take them into consideration.
Prepare for the altitude: Cusco and Moray are both at high altitudes, so it's essential you take proper precautions. Before you head out on trips from the city, you should spend a couple of days acclimating. You need to take things easy and not overdo it, or you might find you feel ill and have to cancel trips.
Always take water with you: At high altitudes, you can get dehydrated very quickly, so it's essential to always carry a bottle of water, preferably in a reusable bottle. You should take small frequent sips as it's also possible to become over hydrated.
Protect yourself from the sun: You'll find that at this elevation it's much easier to get a sunburn. We recommend using a factor 50+ sunscreen and a hat and sunglasses for ultimate protection.
Go with a guide: If you can, we recommend you go with a guide. This way, you'll learn all about the site and can ask any questions you might have. This will make your experience more enjoyable as you won't leave with doubts about the place.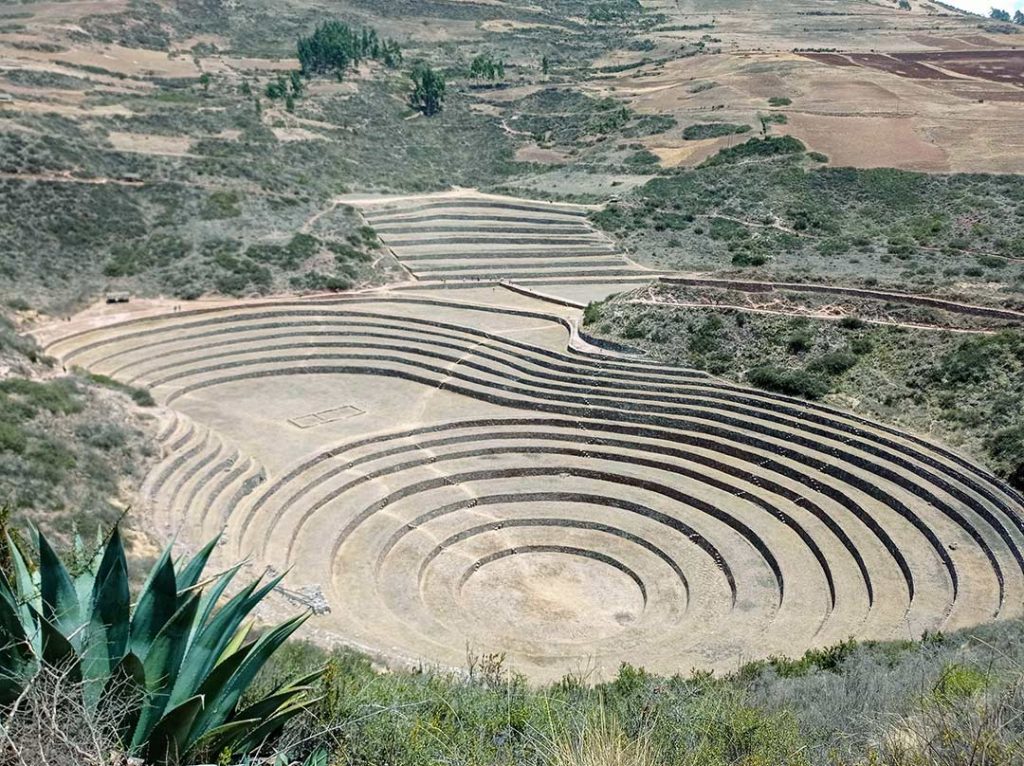 Where to Visit Near Moray?
With Moray sitting in the Sacred Valley, there are a lot of places nearby for you to visit as well. You can spend a night or two in one of the luxury hotels in Urubamba, which is a great central location in the region. There are also hotels in Pisac, Ollantaytambo, and some other small towns.
Once you're set up with somewhere to stay, you can enjoy some days out in the area or opt for a Sacred Valley trip from the city of Cusco. Apart from Moray, other important places to visit include:
Pisac archaeological site
Maras Salt Mines
Ollantaytambo archaeological site
Chinchero archaeological site
You can set up an itinerary that includes all the places you want to visit and plan out the logistics before your visit. This way, you'll have more time to enjoy yourself on vacation.
What to Take to Moray
You won't need to take a lot with you to Moray as you'll likely only be away from the city for half a day. However, there are a few essentials we recommend, as stated below. Carry them a day pack for ultra comfort.
Comfortable footwear
Long sleeves and pants to protect you from the sun and keep you warm
A lightweight rain jacket or poncho in case of showers
Sunblock factor 50+
Sunhat and sunglasses
Good quality camera or phone with a great camera
Reusable bottle of water
Snacks
Hand sanitizer
Toilet paper or tissues, just in case
Cash for snacks and water if needed and to buy your entrance
Visit Moray When in Cusco
As you can see, Moray is a fascinating archaeological site with an interesting history that's a great addition to any vacation. Decide whether you want to visit by yourself or with a tour company and plan everything out in advance.
Follow our tips for visiting Moray, and you'll have the best time possible. We're sure you'll be astounded by this site and enjoy every minute of your time there. Don't forget your camera!
Written by: Liv Palmer.
---
---
You might also like
---