Peru conjures up images of Incas, colorful clothing, panpipes, and, of course, the majestic Inca citadel of Machu Picchu. Thousands upon thousands of visitors come to see this World Wonder every year and soak up the magic of the Incas and the spectacular architecture on a mountainside that still baffles many to this day.
However, did you know there's somewhere just as outstanding and fascinating but that barely anyone makes it to? That's right! It's the last resting place of the Incas and although much of it is still uncovered, will still take your breath away.
You can only reach it on foot and will need to travel through stunning landscapes and over high hills to make it, but once you do, you'll realize it was all worth it.
So, what is this mystical place we talk of? It's Choquequirao. Sit back, relax, and let us take you on this amazing journey that'll make you skip the crowd and visit this marvelous creation of humankind instead.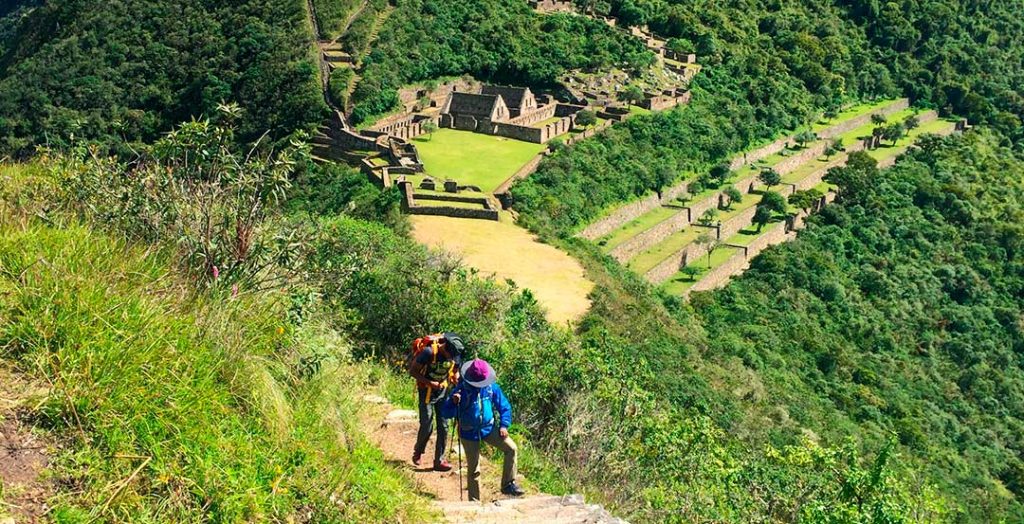 Choquequirao Overview
Choquequirao is an Inca archaeological site in Cusco in southern Peru. The structure and architecture are somewhat similar to Machu Picchu and it includes many terraces and sits upon a hill. It sits at 3,050 masl (10,010 fasl) in the Vilcabamba mountain range.
It's an expansive site at around 1,800 hectares and only around 30-40% has been excavated so far. Choquequirao overlooks the canyon of the Apurimac River and takes 2 days of intense trekking to get there. You can only go on foot, which is one of the main reasons it's still unvisited by many tourists and locals alike.
The structure includes many of the same buildings and layouts that other Inca sites do, including a ceremonial center, warehouses, and elite residences.
Choquequirao History
Choqueqirao was built by the Incas and believed to have been constructed in the 15th and 16th centuries. It was one of the last refuges of Manco Inca Yupanqui who fled Cusco after he failed to siege the city in 1535. 
Many believe that Choquequirao was one of a few checkpoints to Vilcabamba, another important site that was a political, social, and economical hub. It was also an important place regarding the link between Cusco and the Amazon jungle.
After the site was abandoned, it's believed that the first visitor was an explorer called Juan Arias Diaz in 1710. Through the 1800s there are various reports of visits and then in 1908, the man who 'discovered' Machu Picchu, Hiram Bingham, paid a visit.
The Hike to Choquequirao
From your accommodation in Cusco, we're going to take you on a five-day adventure through the Andes to this lost city of the Incas where you'll learn all about their history as well as the beautiful scenery and flora and fauna of the zone.
Day 1
Distance hiked: 18 km / 11.2 miles
Walking time: 8 hours
Get ready for an early start as the journey begins at 4:30 am. After traveling for 4 hours, you'll fill your body with fuel before you meet your trekking team for the next few days who'll accompany you on this incredible trip. It's time to start walking!
Luckily, the first part of the hike eases you in and is a pleasant 4-hour downhill trail to a stunning town that's full of fruit fields called Chikiska. Expect some out-of-this-world views this morning as you soak up the impressive landscape of the Apurimac Valley and two gigantic snowy peaks of Padreyoc and Wayna Cachora.
After another 2 hours, you'll make it to the bottom of the valley and experience the rushing River Apurimac, which rises from glacial meltwater and is a real sight to behold. It's often used for rafting for adventure-lovers and its name in Quechua means 'speaking God.'
End your first day ascending to the camp at Santa Rosa for a well-deserved rest and to take in your beautiful surroundings. You'll sleep well after all the hiking and a hearty dinner.
Day 2
Distance hiked: 10 km / 6.2 miles
Walking time: 7 hours
Today, you'll walk less distance and in less time, but you will be embarking on a steep ascent. To start off, a 3-hour zig-zag climb is awaiting us to get to an excellent lookout point in Marampata. Make sure you have a quality camera with you or a phone that can capture good shots as you'll want to capture some memories of the awesome canyon and snowy peaks. The views are truly breathtaking up here.
You're getting close to the long-awaited Choquequirao now, and all that's left to conquer is a three-and-a-half-hour descent. Upon arrival, you'll enjoy some lunch and set up camp, as you have plenty of time to explore the lost city and enjoy some rest and relaxation, too.
Today, you have some time to visit the most important places in Choquequirao before the sun begins to set, which is absolutely stunning might we add. Watch the sunset flood the valleys and white glaciers with its orange hue that makes for some perfect photo opportunities. Finally, it's time to enjoy dinner and get some sleep before a big day of exploring tomorrow.
Day 3
The greatest thing about opting for the 5-day trek is that you get a whole day to wander around and explore this ancient site. You'll enjoy getting up close and personal today and looking at every detail to really get an understanding of the culture and purpose of the structures.
Take things slowly and take a minute to really soak up the fact that you're in such an important place while being surrounded by the most beautiful landscapes and colossal Inca construction.
Contemplate how the Incas were able to construct such a wonder on the top of a mountain as you check out important structures and every corner of this site that's much larger than Machu Picchu, all the while without being interrupted by hundreds of other visitors.
One of the best things about this journey is that you'll see very few other people or perhaps even none! You'll get an overwhelming feeling that you don't feel at other sites due to the sheer number of visitors.
Make sure you explore all the following parts of Choquequirao:
The main square
Food stores
Temples
Platforms
Whitestone flames
Whitestone llamas
Experts say that there's still at least 60% to uncover and much still remains a mystery. Ponder the structure and location and see what you can decipher. If you're lucky, you might catch a glimpse of condors soaring over the valley below, which is really exciting.
After a long day of getting to know this fascinating place, fill up on dinner and rest your tired body.

Day 4
This morning it'll be time to say farewell to your incredible time at Choquequirao. Be thankful that you visited such an awesome site and that you got to go before it becomes more popular. You'll be walking downhill for 4 hours after you leave as you get to try tasty exotic fruits along the way and enjoy more spectacular views.
Your camp and dinner today are an exciting experience as you enjoy it in the backyard of a local family's home. It's the perfect chance to get to know people from the area and find out more about the Andean lifestyle in more rural parts of the country. You'll witness the close bond they have with Mother Nature, or as it's known to them, Pachamama. Enjoy a final night's rest before your last day of hiking tomorrow.
Day 5
Distance hiked: 8 km / 4.9 miles
Walking time: 7 hours
The river accompanies you again this morning and the powerful roar almost seems to relax you along the way. It's so peaceful and loud at the same time. It's a wonderful feeling. The energy of the mountains and nature will guide you on your 4-hour stretch to Capuliyoc for a last delicious lunch before it's time to head back to Cusco.
Instead of feeling sad that this wonderful journey is over, make the most of this last leg of the trip to look out the window and observe the snowy mountains once again that enveloped you on your way to the lost city of Choquequirao. You'll be tired and will be able to rest soon back in the city, but don't miss the last opportunity to take advantage of the stunning scenery.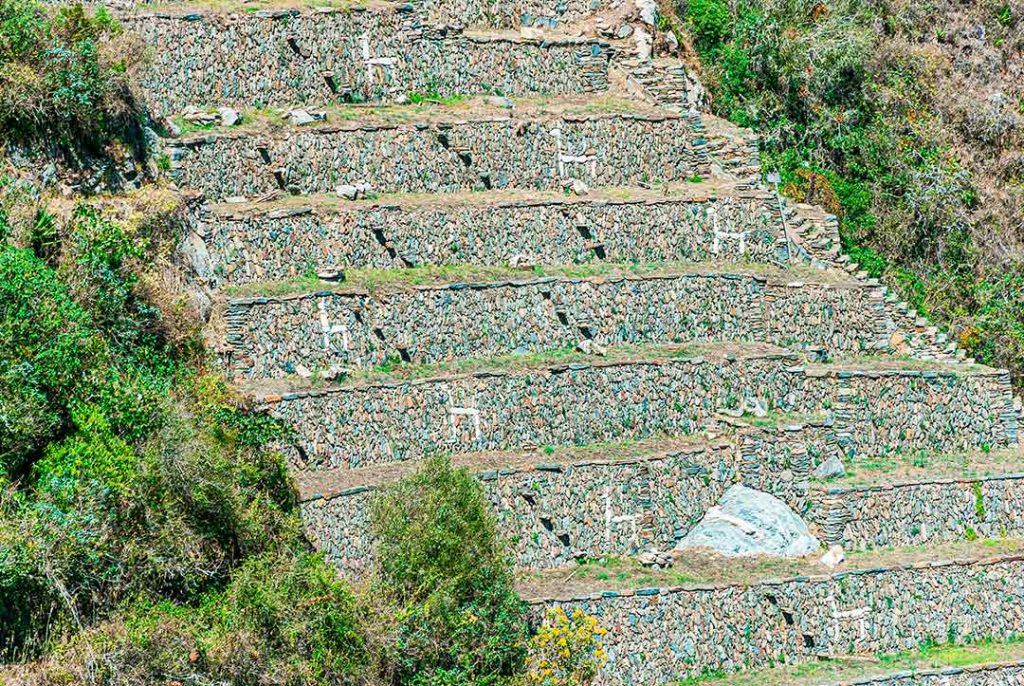 What the Future Holds
In the years to come, we'll likely see that more and more of Choquequirao is uncovered and it's very possible that more visitors will also make their way to the site. It's hoped that we'll be able to learn more about its purpose and expose some more incredible architecture that Incas are known for.
One thing's for sure; everyone that visits will feel their hair stand on end and experience full-body goosebumps as the mystical magic of the site and the aura of the Incas encaptures you in 'the cradle of God.'
So, next time you come to Peru and Cusco, why not venture on this road less traveled to this lost city and feel it for yourself? We guarantee you won't be disappointed.
Written by: Liv Palmer
---
---
You might also like
---